Turbulence On The Taste Buds: An Honest Look At The Good And The Bad Of Airline Menus
By Ishita P January 3, 2022
---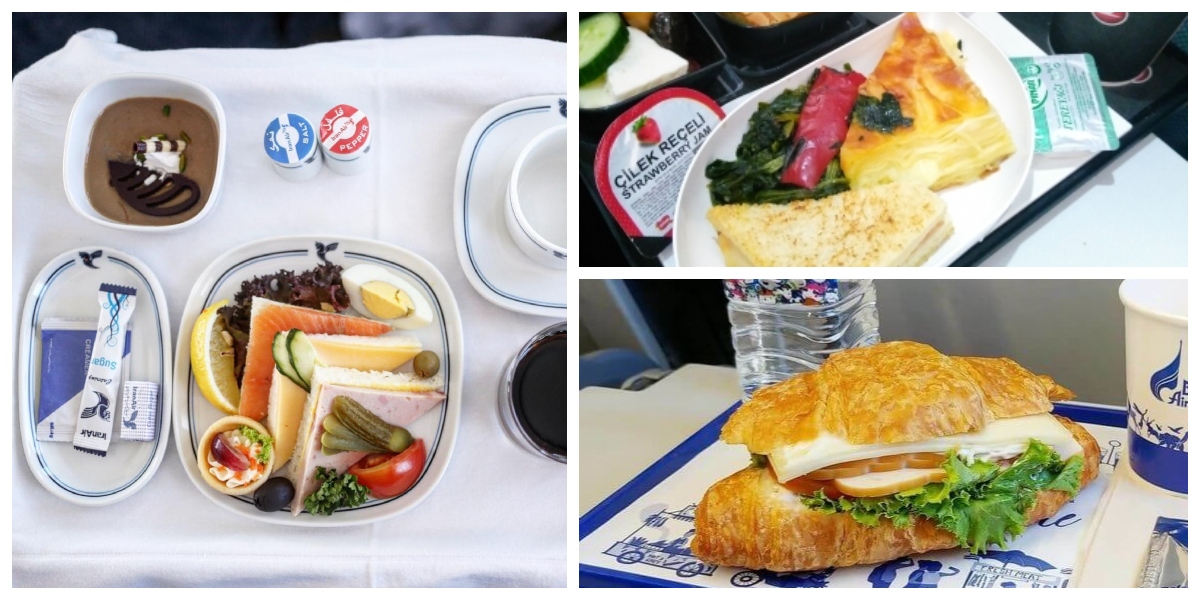 Food on airlines is a topic that excites passengers. One reason is the diversity in the cuisines incorporated in the food menu. For most airlines, their meals are international, not restricted to the country of origin of the airlines. But some airlines do make customizations based on the route of flight. It adds elements of fun and authenticity and perfectly caters to flyers' expectations. While traveling to a particular destination, nothing could be better than already getting the feel of being there by tasting the in-flight meal. A few airlines focus on unusual ingredients and exotic veggies, meat, or seafood, while some like to keep it simple with an elevation in taste and presentation. So, here's a list of 45 airplane meals served on flights worldwide.
Royal Jordanian Airlines
Passengers often assume this delectable plating of this Royal Jordanian Airlines' meal is the lunch served in the elite Crown Class. But the fact is that these golden chunks of potato served with fresh peas and carrots, along with a succulent chicken piece covered in rich and flavourful tomato sauce, do constitute a part of the lunch meal in the Economy class.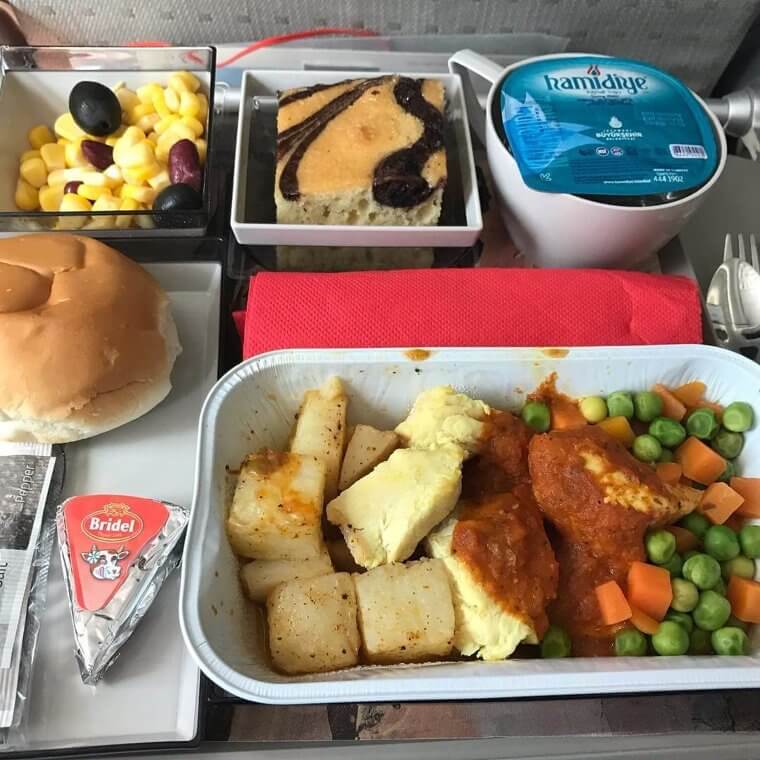 The bread roll and small cheese slice make a great start to your meal. Also, the light and refreshing corn salad is a delicious side dish. And lastly, the small piece of marble cake completes the entire meal. Well, just wonder if this is the quality of Economy Class Royal Jordanian Airline meals, what might be the food standards in their Crown Class?
China Airlines
During a 3-hour flight from Osaka to Taipei, you might require a light breakfast, lunch, or dinner. And the essence of the idea lies in the brevity and simplicity of the meal served in China Airlines. With most meals having a crowning element in the form of main course or appetizers, the airy and creamy cheesecake steals the crown here.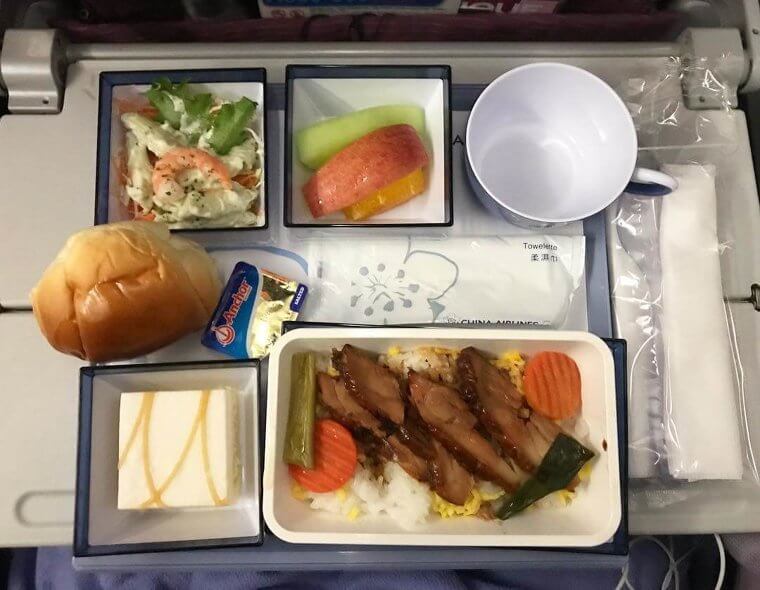 The main course carries the aroma of Chinese cuisine in those flavorful chicken steaks and steamed rice mixed with vegetable saute. Last but not least, with a bunch of fresh fruit slices and creamy pasta salad, China Airlines presents a meal that's light and filling for the journey.
Ana Air
If one is traveling on an Economy class flight of Ana Air, there is a good reason to envy the person. Well, that's because of the inspiring food this airline offers. Meals offered here can include Japanese, French, and Fusion cuisines, prepared from the kitchen of world-class chefs.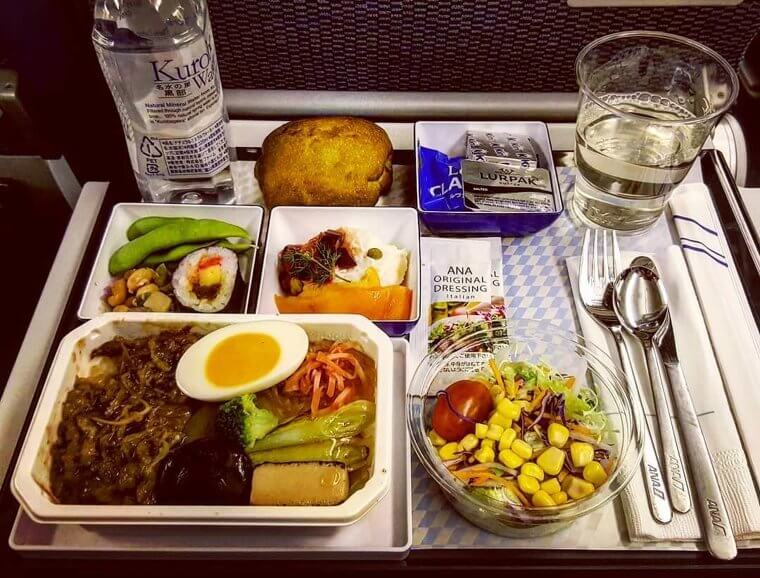 The meal primarily consists of traditional Asian salad and Japanese broth with a boiled egg. Asian-styled rice mixed with fresh veggies, sushi, bread rolls, crackers, butter, and cheese are also served. In taste and plating, Ana Air offers a mouthwatering flight meal experience.
Air Tahiti Nui
The flights of Air Tahiti Nui are designed with the theme of paradise as an epitome of the ethereal beauty of Tahiti islands. Though their flight meals are simple in terms of plating, nothing falls in the ordinary category when it comes to taste.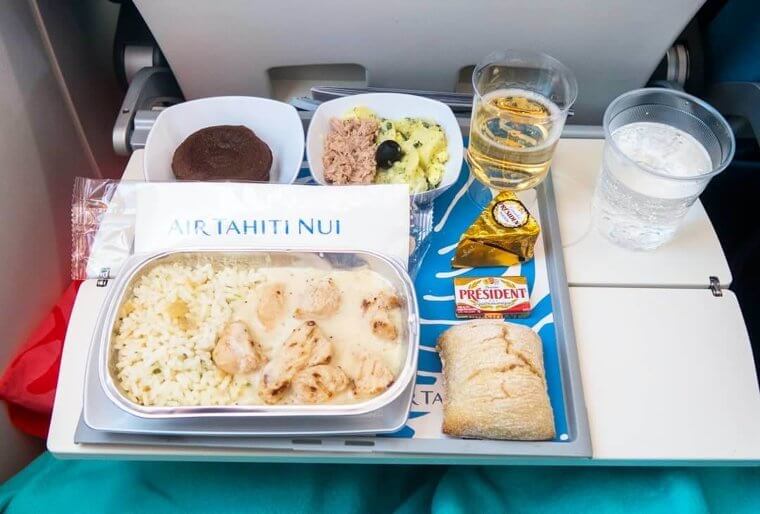 The rice and chicken served on the platter come with an exotic gravy of rich and creamy vanilla sauce. However, the beautiful blend of crisp and cream is not only restricted to the chicken, but it also extended its legacy to the little ciabatta roll stuffed with soft molten cheese. Besides, the chocolate lava cake is to die for.
Singapore Airlines
What if you could choose not only your menu but also the chef? Well, even fine dining restaurants generally don't provide this luxury. But the Business Class meals of Singapore Airlines have their dishes inspired by chefs of international repute. Besides, seasonal ingredients make their meals ever-changing.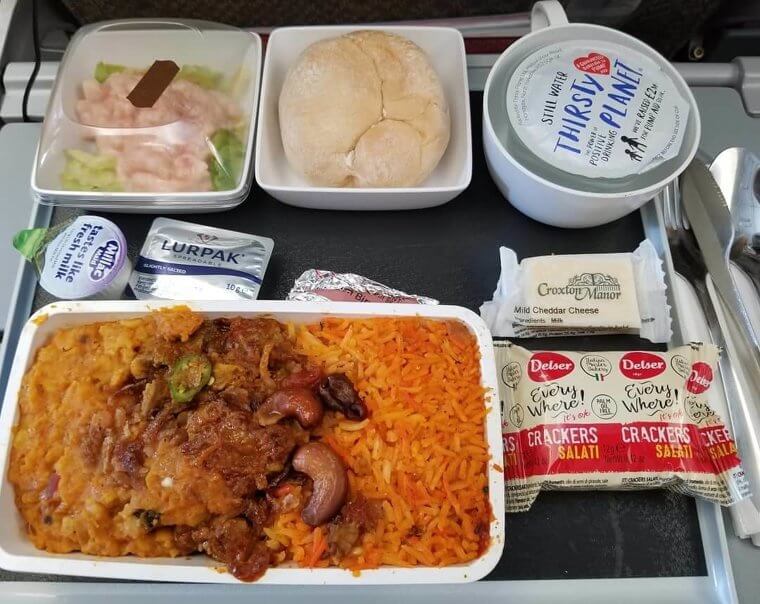 If you are traveling in the Economy Class with this airline, you won't be able to select the chef. But that doesn't diminish the quality of the food provided in meals. Although this mutton biryani might look odd with cashews, it bears a royal factor in terms of taste.
Qatar Airways
Presently, Qatar Airways stands to be the best airline. But what made them reach the top? Well, the answer is not only their top-class service, onboard hospitality, or world-class quality of food, but all of these in perfect harmony.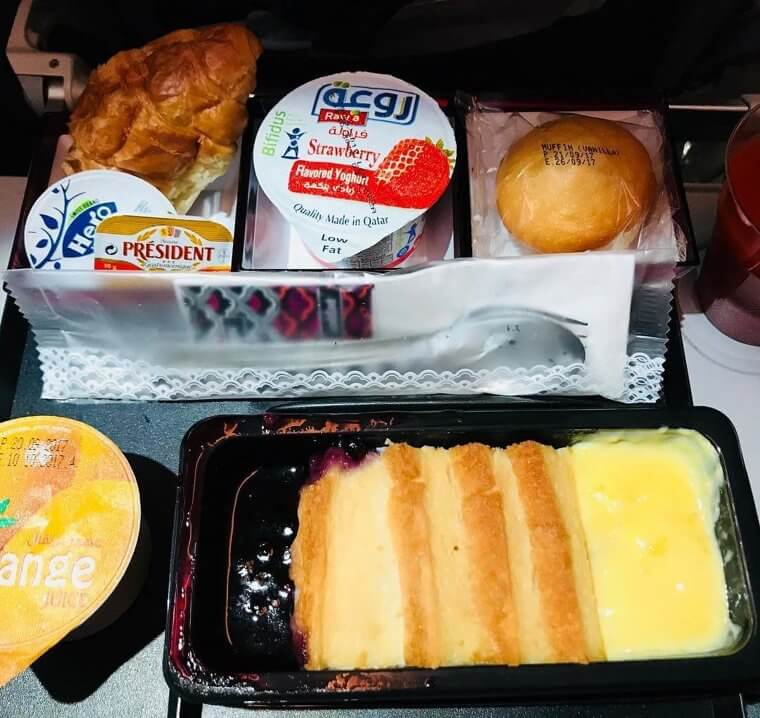 Their breakfast menu might look like a collection of exotic desserts, but there's undoubtedly a lot more than sweets. The crispy croissant pairs well with the creamy, luscious bread pudding and berry coulis. Also, the strawberry yogurt is apt to cleanse your palate, while the vanilla muffin pairs well with the fresh orange juice.
Thai Airways
Amongst the airlines listed in the category of best food providers in Economy class flights in 2019, Thai Airways occupied the first position. Going by the name, Thai Airways primarily concentrates on enhancing the flavors of Thai cuisine into their meals.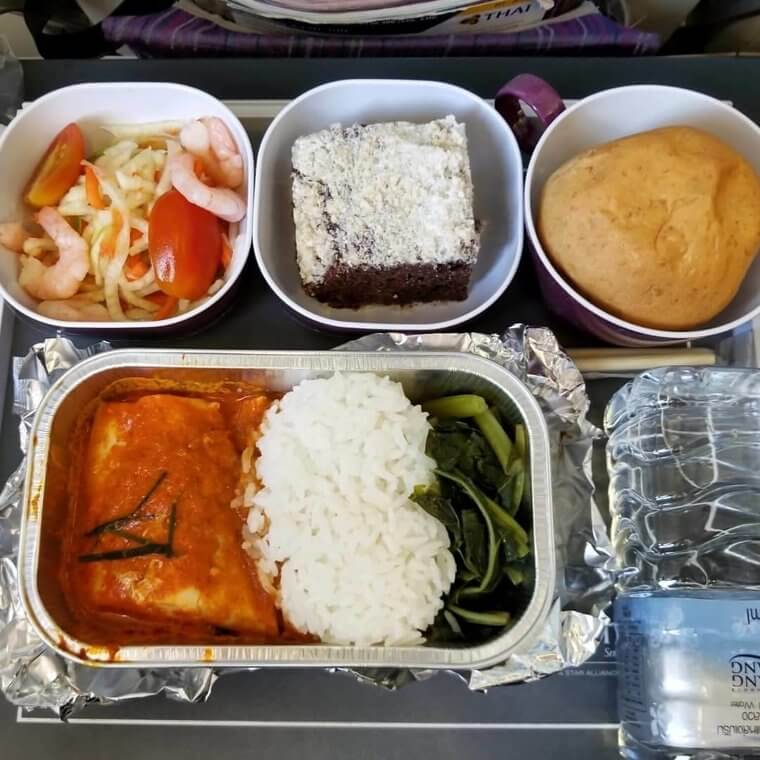 Thus, a classic lunch meal on this airplane includes traditional Thai fish curry and spinach rice, combined with a shrimp salad to cool down the tastebuds. Also, the chocolate sponge cake is light and airy. Although the taste of Thai cuisine is not for everyone, it's worth giving a try.
Lufthansa
While traveling from Washington to Munich, Lufthansa might not be the correct choice if you are craving a happy meal on-air. This German airline offers mostly dry foods. So, a chunk of brownie neither airy nor soaked in rum is expected from the land of the lip-smacking Black Forest cake.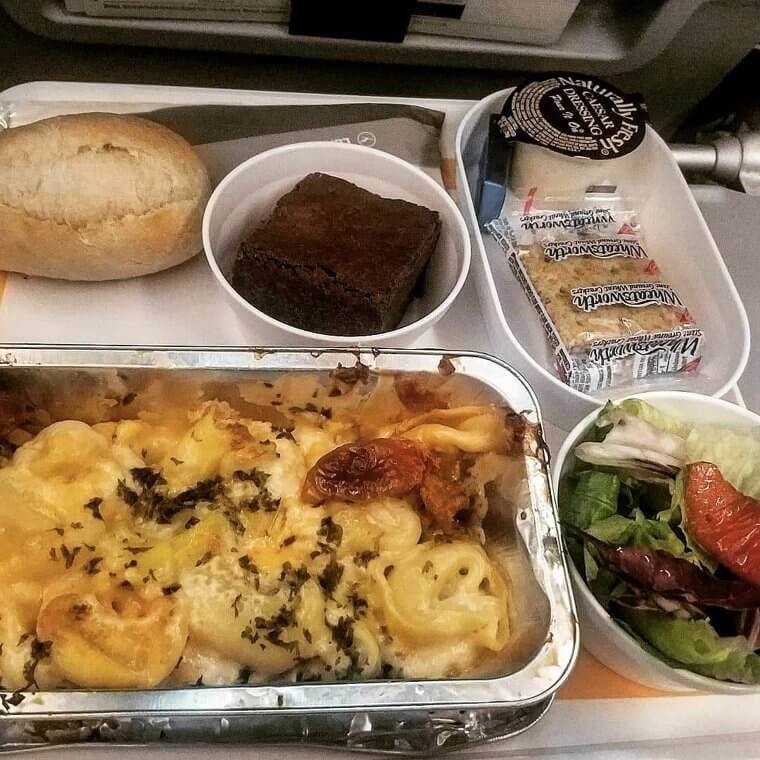 Besides, the green side salad, bread roll, and crackers also don't quench your thirst much. However, the cheese tortellini is somewhat a savior, with molten cheese adding some moisture to your taste buds. This is what we'd call your average in-flight meal.
Cathay Pacific
Have you ever seen soufflé in an airplane breakfast? This question finds its answer on the breakfast menu of Cathay Pacific airlines. While most airlines struggle to offer a crispy slice of bacon, Cathay serves it perfectly cooked, coupled with flavourful pork sausage, fluffy soufflé, and fresh tomatoes.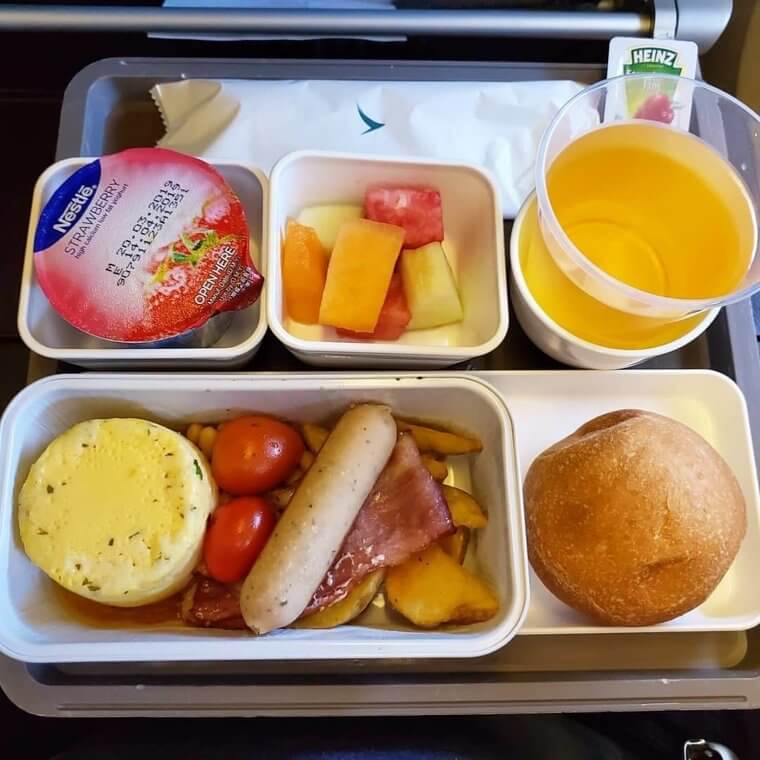 The soft soufflé made of egg and cheese is baked to perfection and served with a mini ketchup pack to add extra flavor to the meal. A soft and airy bread roll is provided with a glass of refreshing juice and a bowl of cut fresh fruit.
Delta Air Lines
Since its birth in 1925, Delta Air Lines has come up a long way. As a part of adding a modern touch to the amenities and service provided, Delta includes an exotic fish dish in their dinner menu. A honey-glazed salmon cooked to perfection awaits the passenger with a shrimp starter.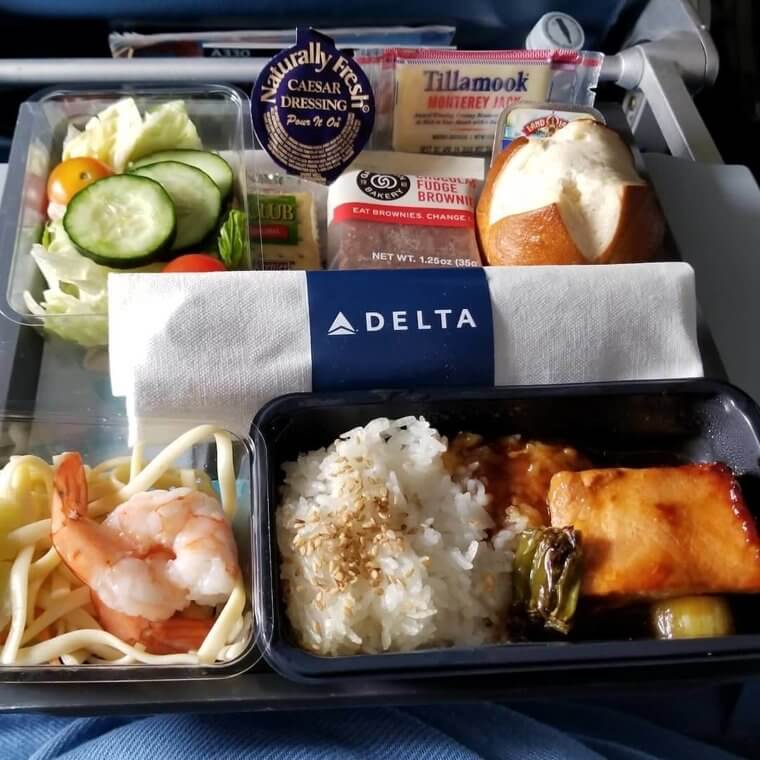 The white rice, with its simplicity, works well to bring out the authentic flavor of the main course. The dinner roll served is pretty spongy and moist. And on top of all, the fudgy brownie ends your meal on a good note.
Vietnam Airlines
While Vietnamese food is known for its variety, Vietnam Airlines goes an extra mile to make every meal full of excitement and intense flavor. Their dishes keep changing, as their in-flight chefs combine and fuse many Asian flavors to create something new every day.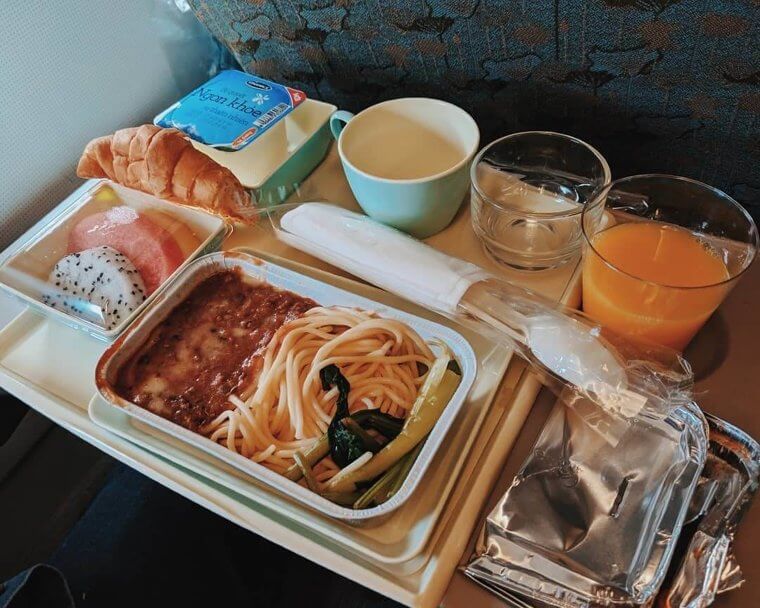 This exotic plate showcases an Asian-styled beef noodle dish as the star of the show. The fruit offered is a unique blend of exotic and unusual, like dragon fruit and papaya. Also, the yogurt and crispy croissant are palatable sides, along with a glass of fresh juice. The idea of this meal is to enhance the role of distinct flavors amidst relative simplicity.
Air Canada
Indeed, one can't expect the quality or quantity of food served in airlines to match the same as from the kitchens of renowned chefs like Michael Bonacini or Jock Zonfrillo. Yet, few airlines are open to the feedback of food critics to improve the quality, type, and presentation of the food served to their passengers.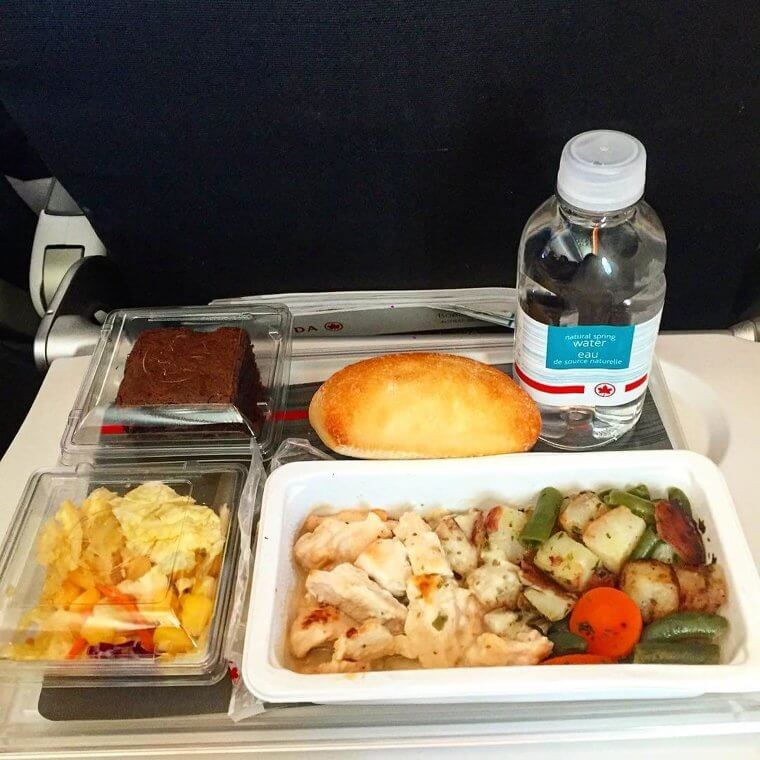 Air Canada could use a critic's opinion on their plating. An indistinctive collaboration of potato, chicken, and veggies fails to trigger the taste buds. Even the salad and roll offered in the airline's in-flight meals fail to satisfy the passengers.
British Airlines
Most airlines do not always adhere to their "native" cuisines while offering on-air meals. But British Airlines specialize in creating out-of-the-box British-based meals on a vegan end. And this platter from a flight is a prime example of such meals.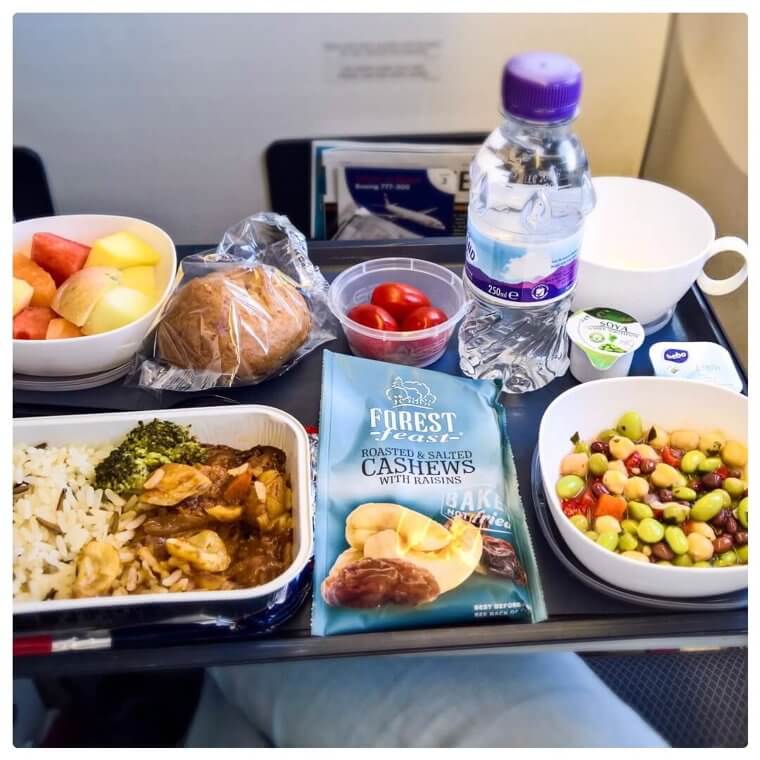 The aroma of British soil resides in the delicious chestnut curry, coupled with rice and broccoli. The salad, of course, contains traditional beans, while the snacks include roasted dry fruits like cashews and raisins. Cherry tomatoes and slices of seasonal fruits also contribute to the snacks, along with a melt-in-your-mouth bread roll.
American Airlines
American Airlines has hospitality down pat. Thus, on receiving a well-packed and well-planned meal box on this flight, anyone will have a good time opening and unboxing it. Once you unpack your meal, you'll simply fall in love with it.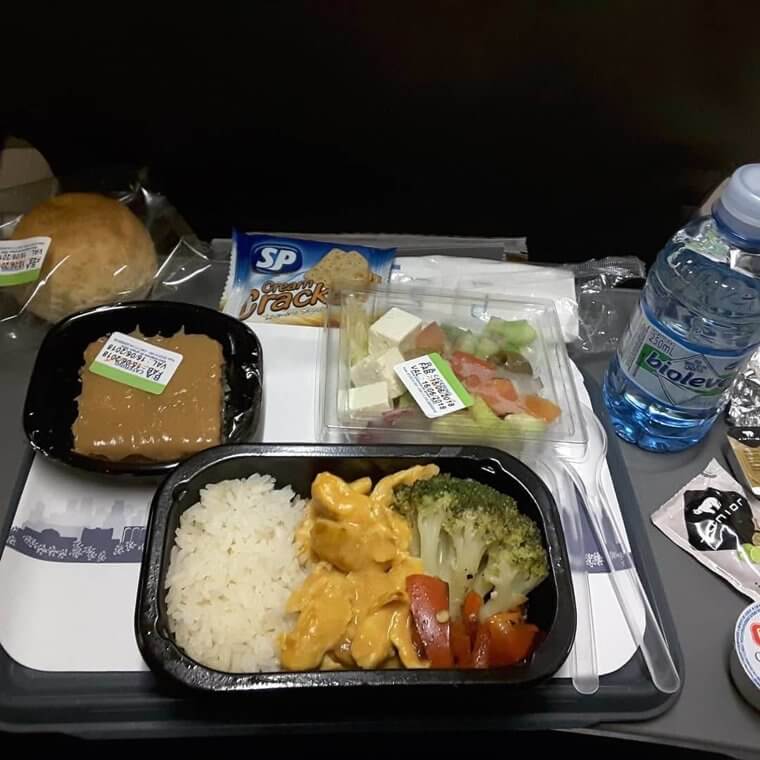 The platter comes with thin, nicely cooked strips of chicken tossed in a rich, creamy gravy and served with soft white rice and steamed vegetables. Also, it includes a crunchy, fresh Greek salad paired with a soft bread roll. Finally, there's a slice of caramel cake as the dessert for those with a sweet tooth.
Philippine Airlines
Do you think that all airplane meals focus more on plating and less on taste? Well, all that glitters is not gold, and all that looks plain and unimpressive is not delicious. And a prime example is this flavorful meal from Philippine Airlines.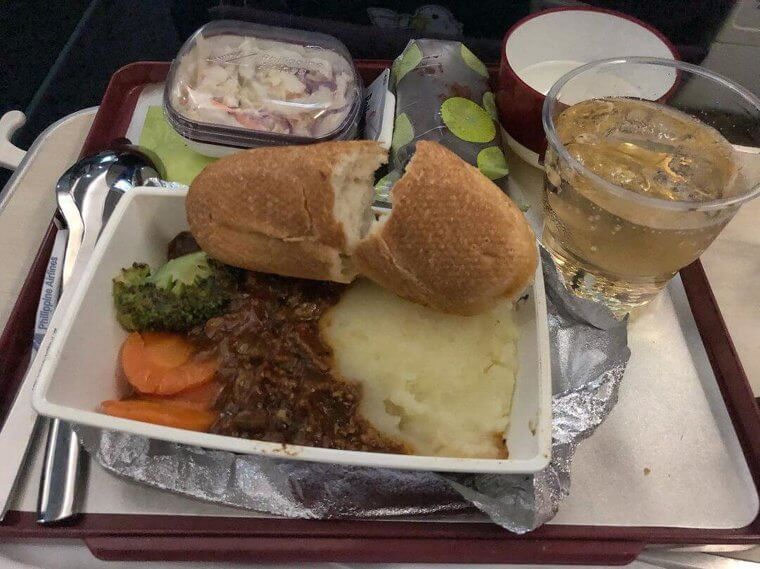 The incredible Hungarian beef stew, mixed veggies, chunk of fluffy mashed potatoes, and mini loaf of bread render the platter a high nutritional quotient. Along with it, the luscious sauce and colorful coleslaw as sides can add a tangy zing to your palate.
JetBlue
If you are looking for healthy food options while onboard, JetBlue is the best airline to fly with. They offer a vast range of options of flavor and cuisine. In this case, a healthy salad containing multiple variants of beans was served with an excellent dressing.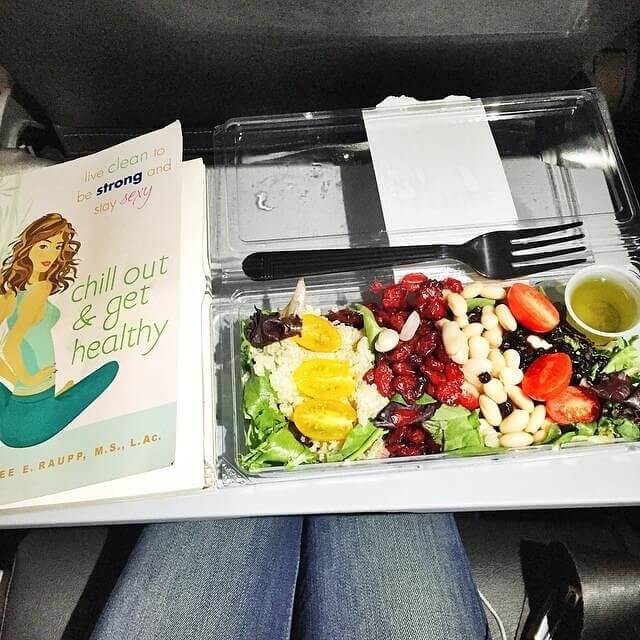 The airline incorporates some selected greens like spinach and kale, along with dried cranberries, making the salad a complete and well-balanced healthy dinner. The meals offered are undoubtedly unconventional, but that is what adds to the uniqueness of this airline.
Scandinavian Airlines
When one gets Smør as a part of the meal served on-air, the airline has to be Scandinavian Airlines. That's because Smør is a famous creamy Scandinavian butter. This airline particularly believes that the presentation is the key. Hence, their primary idea is to present simplicity in the garb of a fancy-looking meal.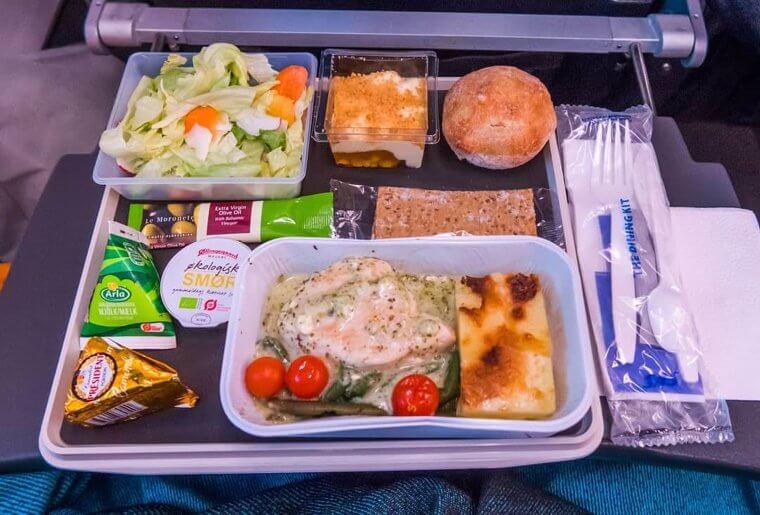 The creamy, rich pesto chicken is served with flavorful beans and cherry tomatoes, adding a lot of contrasting color to your platter. While the green salad contributes to freshness, bread rolls, crackers, and cheese satisfy your snacking urges. And the dessert is a light, airy cheesecake with a crunchy crust.
Finnair
Are you looking for the authenticity of Nordic flavors on a flight to Helsinki? Well, then the ideal choice is Finnair. They primarily focus on using the best ingredients for their internationally-inspired menus. The Finnish flavors are wrapped in crepe with a silky mushroom filling and soft sausage.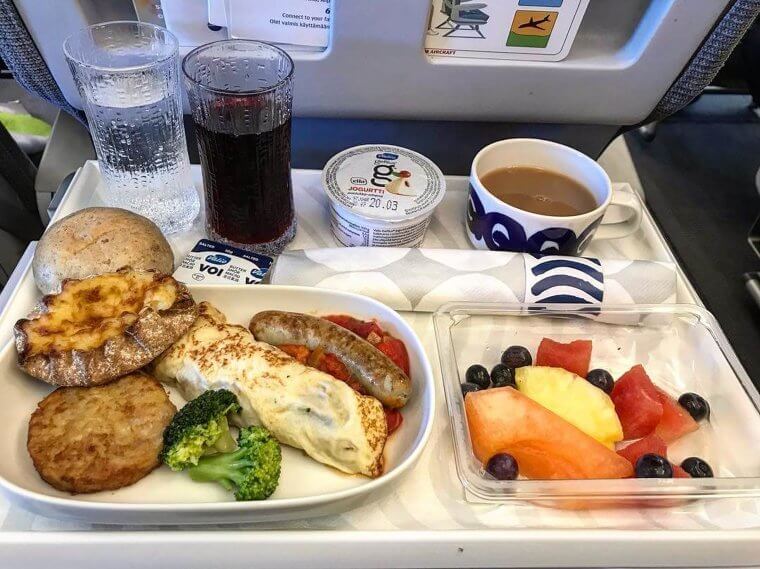 The bread roll filled with rice sings the hymn of Nordic love. And a few slices of fruit and an extra rye bread add to the glory of the entire meal. However, it is not easy to make this arrangement available to all passengers at 36,000 feet in the air!
Hawaiian Airlines
Hawaii is known for its delectable cuisine. And as far as Hawaiian Airlines is concerned, being in min-air is not a reason to skimp on good food. MW Restaurant Executive Chefs deliver exclusive island-inspired dishes on the flight, including lip-smacking main courses and delicious desserts.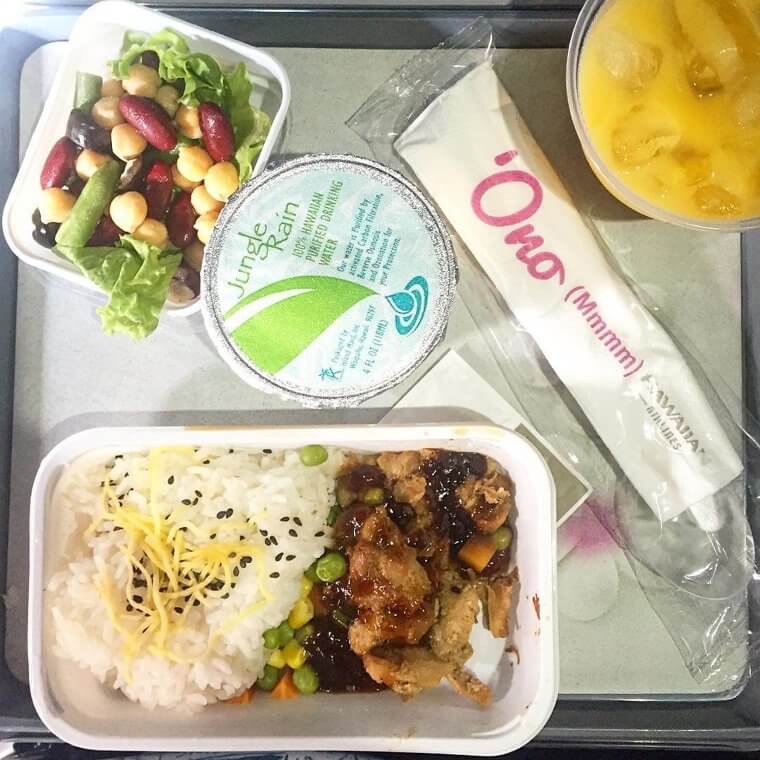 This meal includes chicken tossed in teriyaki sauce and served with steamed rice sprinkled with black sesame seeds. Other accompaniments comprise mixed vegetables, a healthy bean salad, and a glass of refreshing orange juice.
Egyptair
If one is traveling on a flight where fresh corn salad is served with pumpkin and cucumbers cut in flower shapes, the chances are that the flight chosen is none other than Egyptair. This airline offers kosher, diabetic, seafood, Hindu, vegan, and low cholesterol meals.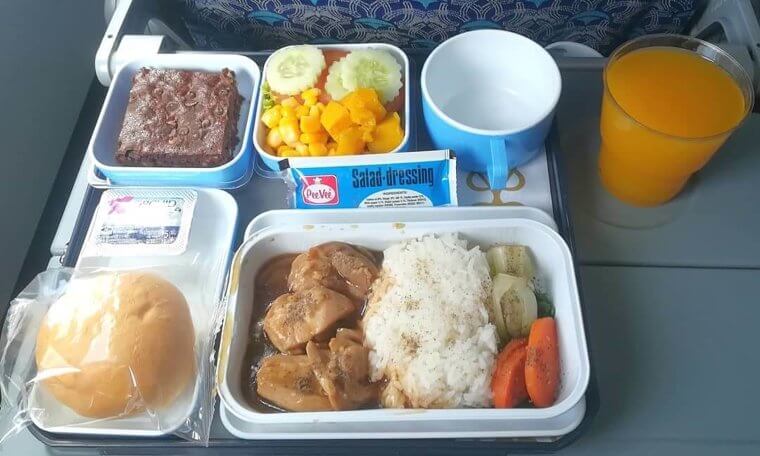 This particular in-flight meal of Egyptair includes a soft dinner roll and a meat stew paired with rice and veggies. For the sweet tooth, there's a moist chocolate brownie to complete your meal. Thus, Egyptair offers an excellent flight service with good food, giving passengers positive and healthy vibes as they travel.
Bangkok Airways
Snacking is the happiest kind of food because it can indeed go beyond limits. And if you are on a short flight to or from Bangkok, you need not order a bag of crisps or a slice of cake. Instead, Bangkok Airways prioritizes the need for a healthy snack and serves croissants with a crispy crust and healthy filling.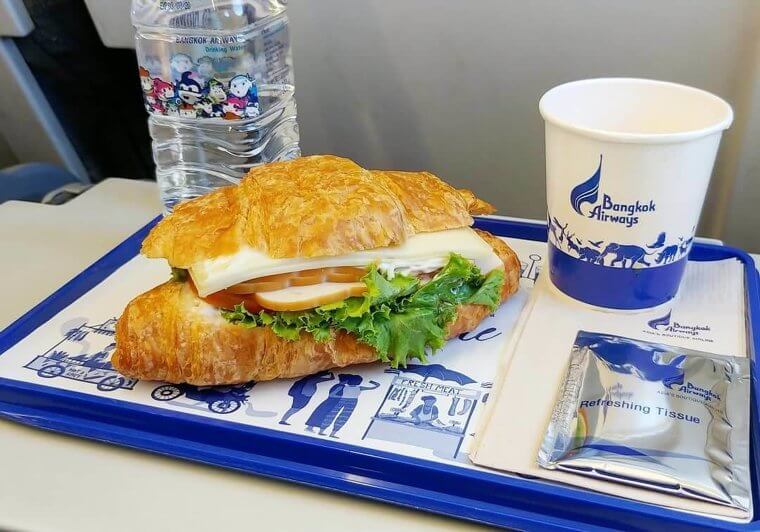 Fresh veggies like lettuce and tomatoes, along with juicy ham and velvety cheese, add to the taste and goodness of the snack. Alongside, fruit salts serve great refreshment. So, when most airlines focus only on onboard meals, Bangkok Airways succumbed to the thought of going the extra mile, making passengers travel on healthy and fulfilling snacks.
Air France
FAUCHON refers to the abbreviation for Air France airlines' specially designed a-la-carte menu. French food is all about combining unique ingredients and flavors, along with an additional touch that brings everything together. The French-style chicken dwelling in peaceful coexistence with infused rice is delightful to the tastebuds.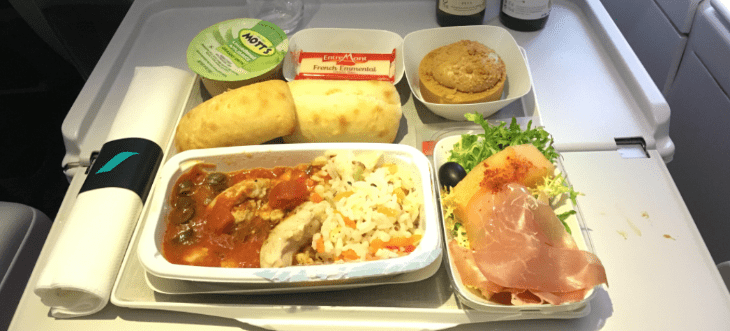 The deli salad on the sides is comforting for all. The culinary story is completed with a cake and an unsweetened apple sauce with cheese and high-class wine. So, this is a great in-flight meal that mixes familiar comforts and high-class cuisine.
Austrian Airlines
When one is served with Wiener Melange or Kaiserschmarrn as coffee options in mid-air, then the choice of flight has to be Austrian Airlines. They ensure that the flavors of Austria creep into the breakfast plate right on the flight.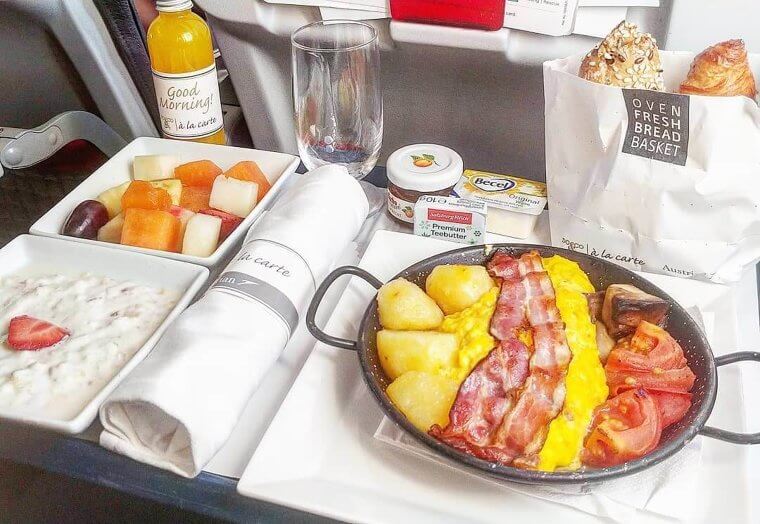 This plate of pre-ordered breakfast is of Business Class quality, providing soft scrambled eggs with baked potatoes, shiny, crispy bacon strips, and nutritious muesli. A bowl of fresh fruit slices is served to metabolize the extra oil consumed from bacon.
Emirates
Now let's talk about the food served in the most popular airlines globally, i.e., Emirates. Be it any distance across any part of the globe, Emirates never fails to impress borders. This airline offers a three-course meal with complimentary drinks as their main specialty.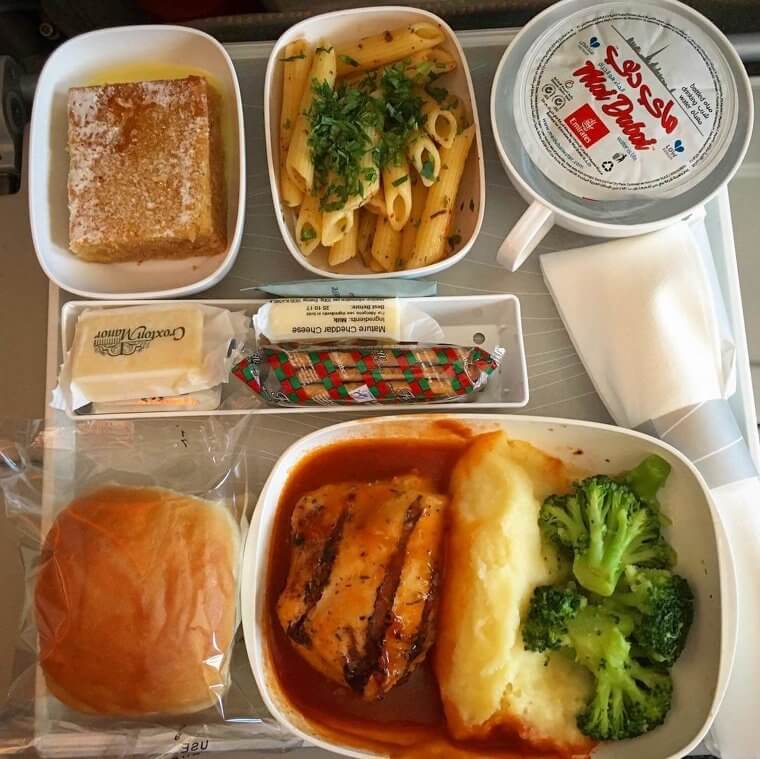 This chicken meal comes with a rich and thick gravy and flavorsome mashed potatoes and broccoli on the side. Also, the bowl of fresh pasta topped with finely chopped parsley and chili serves as the best appetizer. The dessert for the day includes a slice of delicious apple pie.
AEGEAN Airlines
Do you love Greek food? Then, fly with AEGEAN Airlines as they show off Greek cuisine in the form of meals served on their flights. Their motive is to render passengers a memorable experience of getting a feel of the place through flavor.
A lunch meal from the Business Class typically consists of meatballs prepared in Greek style, resting on a bed of infused rice. Oranges are cut to give a flower effect and alternatively placed between smoked beef slices and tomatoes. The other minute condiments add an extra touch, completing the experience.
Air China
Air China offers a healthy yet tasty blend of flavors from western and eastern cuisines, particularly – you guessed it – China. In addition, by changing their menu every month with seasonal ingredients, the airline presents a wide range of options.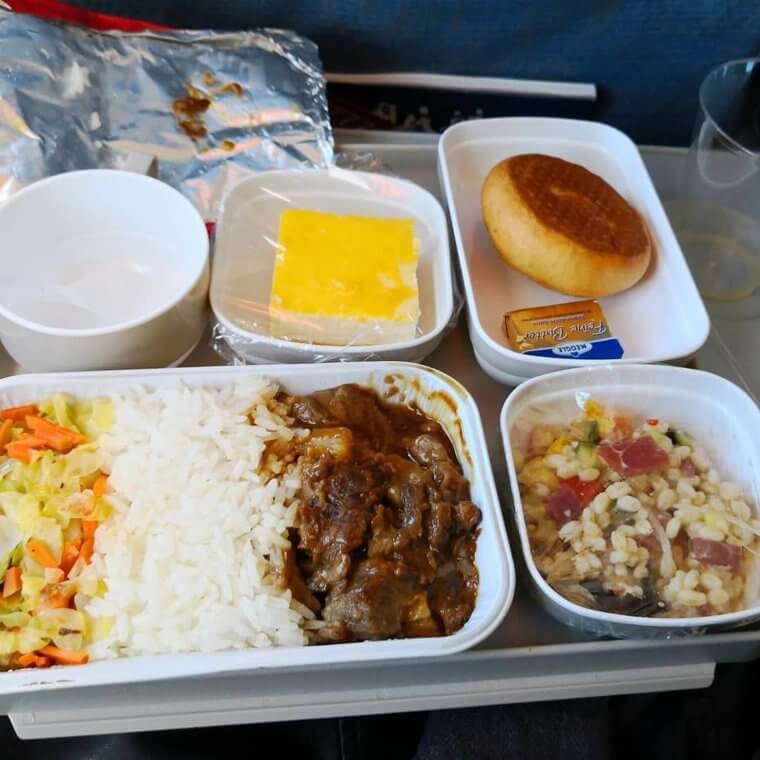 This Chinese-style beef meal served with steamed rice and vegetables is not only palatable but is also highly nutritious. While the cheesecake brings a western touch, the toasted bread roll renders a crunch of Asian flavors. And the fresh grain salad bridges this distance in the best possible way.
Swiss Airlines
Everything seems to have world-class quality when it comes from Switzerland, from watches to food. But unfortunately, the same cannot be said about the food served to passengers on Swiss Airlines. Why? Just look at this picture, and you'll find your answer.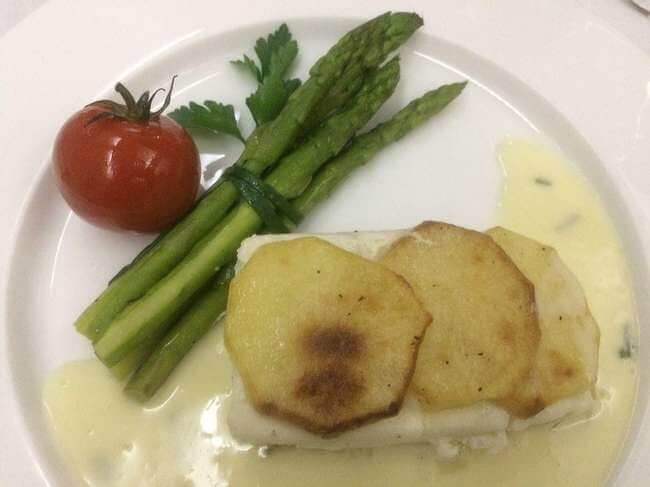 Although a fancy dish in itself, this potato-crusted halibut seems to have downgraded to its minimal level with accompaniments of a creamy white wine sauce and some asparagus. And to top all of it comes one whole cherry tomato, making it a smaller meal than desired.
Emirates Standards
Like Emirates, even Emirates Standards never think of lowering their standards. As a result, meals served look and taste like the signature dishes from top-notch fine dining restaurants across the globe. For instance, this meal from the First Class includes a braised lamb, caramelized beautifully with a touch of rosemary jus.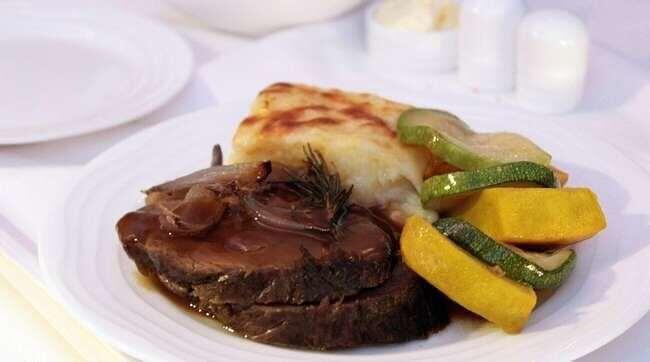 A few slices of roasted pumpkin and stir-fried zucchini are also served to balance out the richness of the lamb. The side of fluffy gratin potatoes goes extremely well with the steak sauce. So, food is bound to win the hearts of those traveling on Emirates Standards.
KLM Royal Dutch Airlines
KLM Royal Dutch Airlines offers a vegetarian Dutch sandwich filled with bread and cheese for short flights. In addition to this snack, a glass of juice is also served to quench your thirst. However, for flights with longer duration and hauls, KLM offers a complete three-course meal to their passengers.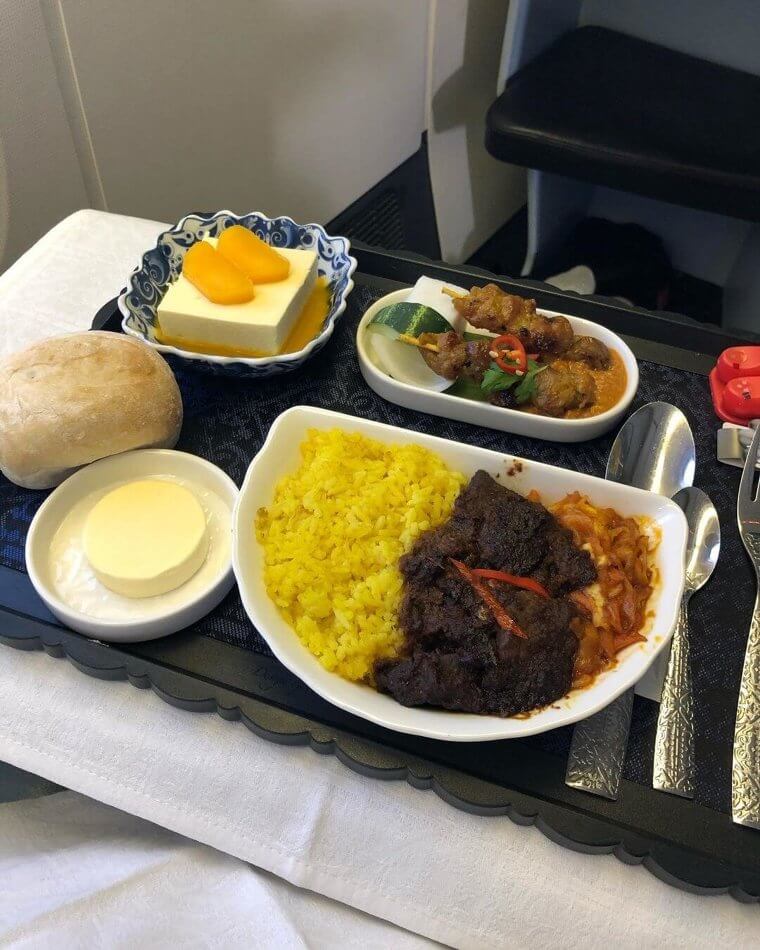 This image showcases a typical Business Class Indonesian lunch offered by KLM Royal Dutch Airlines. As evident, it includes a beef stew of sticky consistency served with saffron rice. Caramelized onions are also added to the sides, along with satay kebabs. They also provide a slice of flavorful cheesecake to satisfy your sweet tooth.
Japan Airlines
While flying on Japan Airlines, you'll experience different meals across different routes. In this airline, chefs are responsible for designing and customizing the food menu based on the flight course. A sumptuous Business Class meal from Taiwan to Tokyo includes many Japanese elements.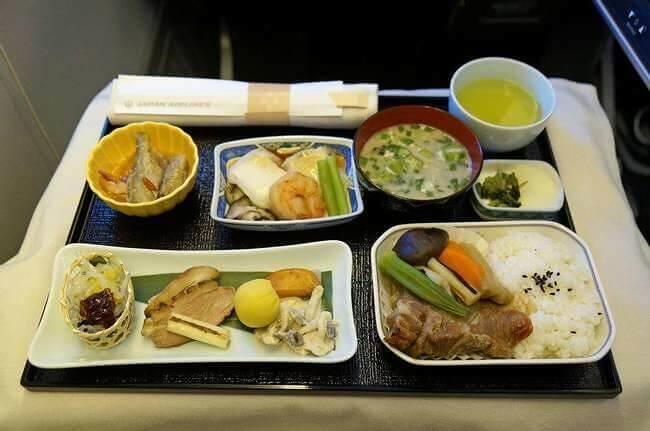 As seen in this image, the platter includes a flavourful miso soup, a fresh mix of seafood varieties, a bowl of pickled fish, and a dish of meat and steamed rice topped with a sprinkle of black sesame seeds. With many other vegetables and Japanese food elements, this meal on Japan Airlines is well-plated and served in reasonable quantities.
United Airlines
While traveling to New York City, if one airline excels in service and food, it must be United Airlines. With totally reclining seats, this airline offers a wonderful experience. As evident from the image of this meal, a large salmon piece is served with a combination of steamed white rice and a fluffy bread roll, alongside some sauteed sugar snap peas.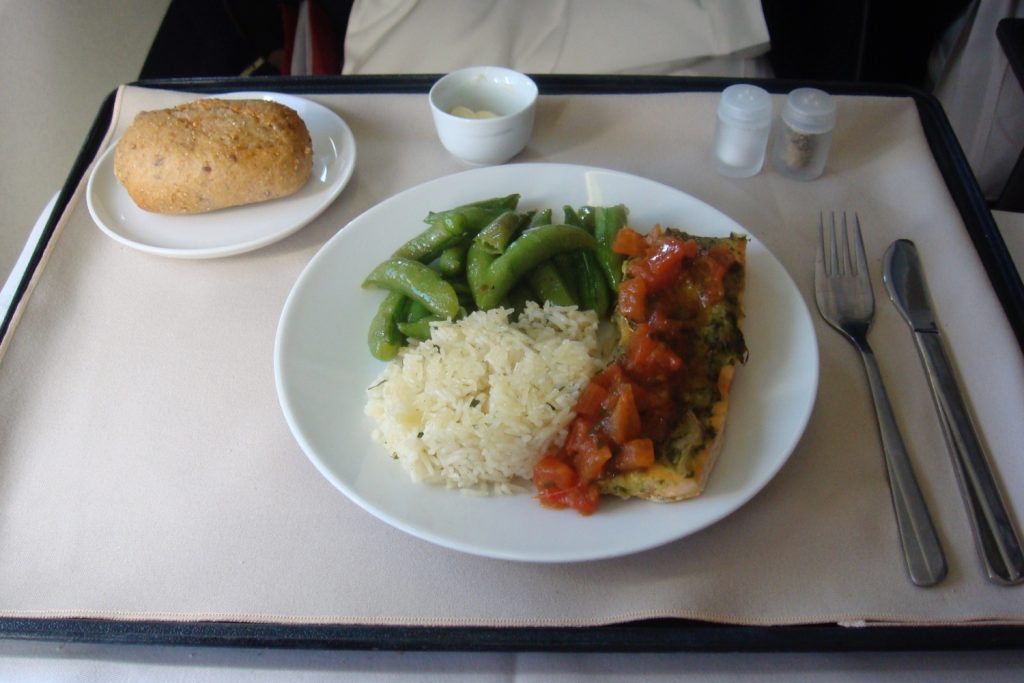 The succulent fish seems to have the best blend of tomatoes and seasoning, and the bread is higher quality than one expects on a flight. While shrimp and finely chopped salad form the appetizer, the dessert comprises an ice cream sundae followed by a cookie and hot milk.
Air Europa
Looking at this platter served in Air Europa to their passengers traveling to Madrid, this airline seriously needs to take some good tips from well-known cafes worldwide that serve great food from various cuisines. The crust of the pizza is too dry and chewy, while the toppings have a lot of extra oil, ruining the balance.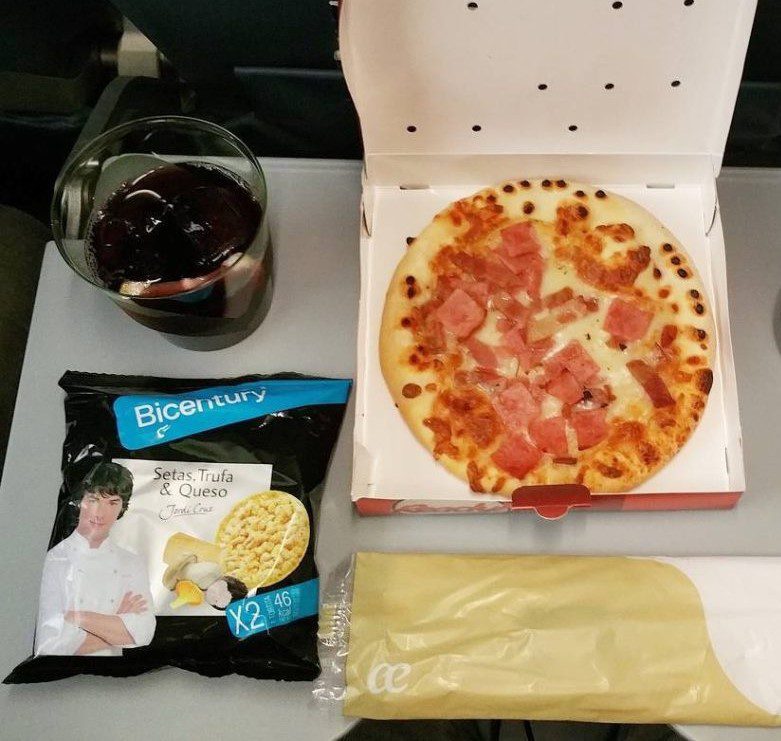 Next comes the rice cakes with mushroom and truffle with cheese. But in these cases, too, there's no sign of making things better. It looks like taking food from home or packed food from the hotel seems better than trying out meals on Air Europa.
Turkish Airlines
Feta cheese, an extremely popular type of cheese right up there parmesan, mozzarella, and cheddar, is seldom served on airlines. But, in this case, Turkish Airlines has made an exception for the better. The meal they serve on flights is a tad "cheesy."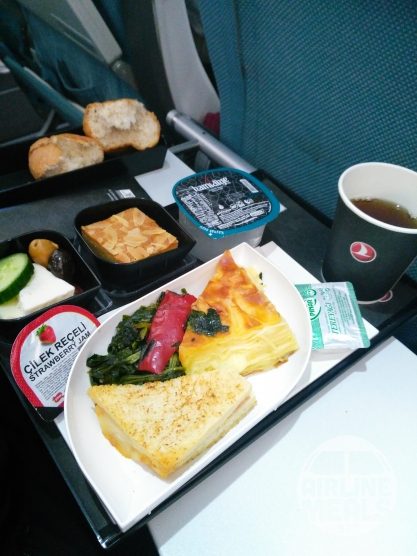 Crispy yet soft grilled cheese is served with a savory pastry. Furthermore, to balance the health and taste in the platter, sautéed spinach is included in the dish, along with cucumbers, tomatoes, and olives. The food tastes good and looks pleasing to the eye with exemplary plating.
Vanilla Air
Are you traveling to Tokyo? The Bento box offered by Vanilla Air has a delightful mix of foods. It comes with a Loco Moco-style rice bowl, along with soft meatballs and egg, as shown in the image below. There's also a cup of miso soup, which is neither too spicy nor too bland.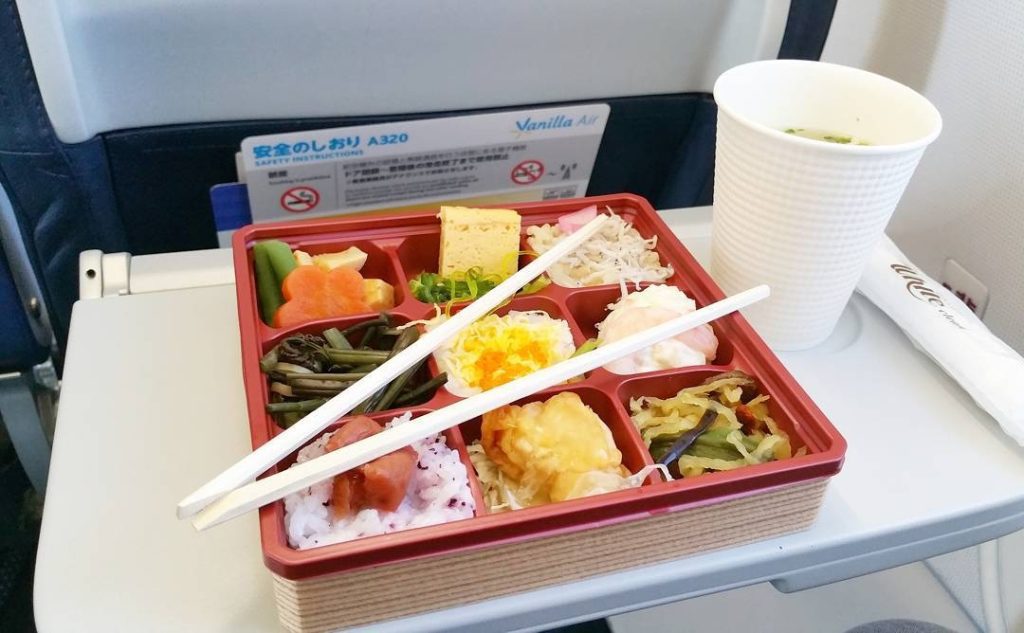 The beautiful balance exhibited throughout the platter is undoubtedly worthy of appreciation. Every passenger might not have a fair idea of what exactly they're consuming in terms of ingredients, but the taste would conquer this lack of knowledge. Vanilla Air offers many meal options, which makes them unique.
AeroMexico
Food served in AeroMexico doesn't have the hustle and bustle of a well-planned plating and garnishing. Instead, they primarily focus on the taste. Hence, this meal of AeroMexico comes with a succulent piece of chicken cooked in the most luxurious and flavourful tomato sauce. The sauce is thick and luscious but doesn't overpower the tastebuds.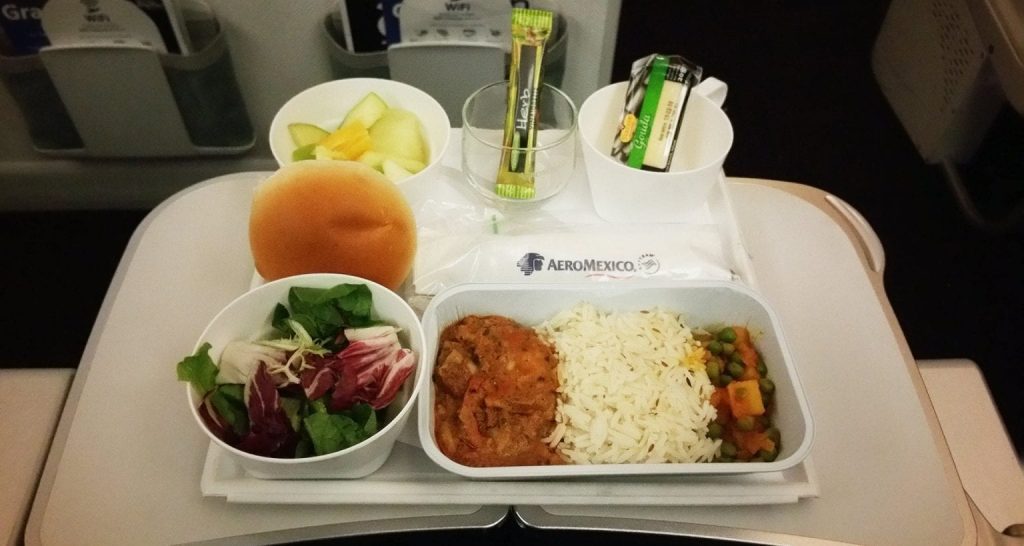 A good amount of wild rice and a mixed vegetable side is served with the chicken gravy to balance out the sauce's richness. The meal also comes with a bowl of green salad and freshly cut fruit, making the meal balanced and healthy.
Virgin Atlantic
Virgin Atlantic is pretty famous for its drinks and hand-plated meals. Though in 2020, they had minimized their service by ceasing alcohol sales and introducing boxed meals with healthy options, now they are back on track. Their complimentary drinks include wines and beers for both Premium and Economy classes.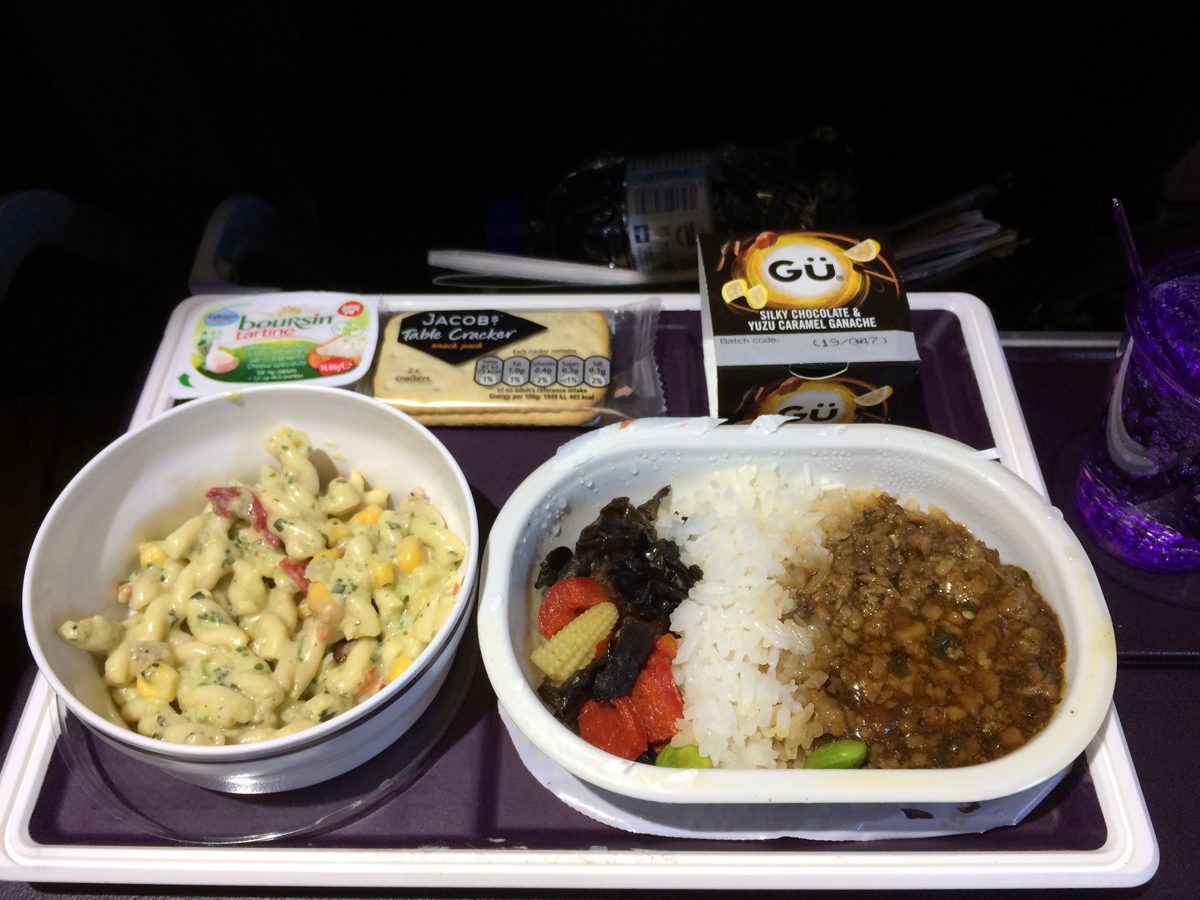 Also, they serve the Eric Lanlard Mile High Tea in every cabin, which is a formulation of the renowned French chef and patissier, Eric Lanlard. Usually, Prosecco or a hot beverage is offered to Premium Class passengers while the Economy Class passengers are flooded with lighter options.
Iran Air
While traveling to Tehran, Iran Air serves its passengers a wide range of uncommon combinations of sandwiches. And this below shown cheese-salmon sandwich is one of those heavenly delicacies. The thick fluffy slice of smoked salmon is well-seasoned and serves as a delicious layer in this double-decker sandwich.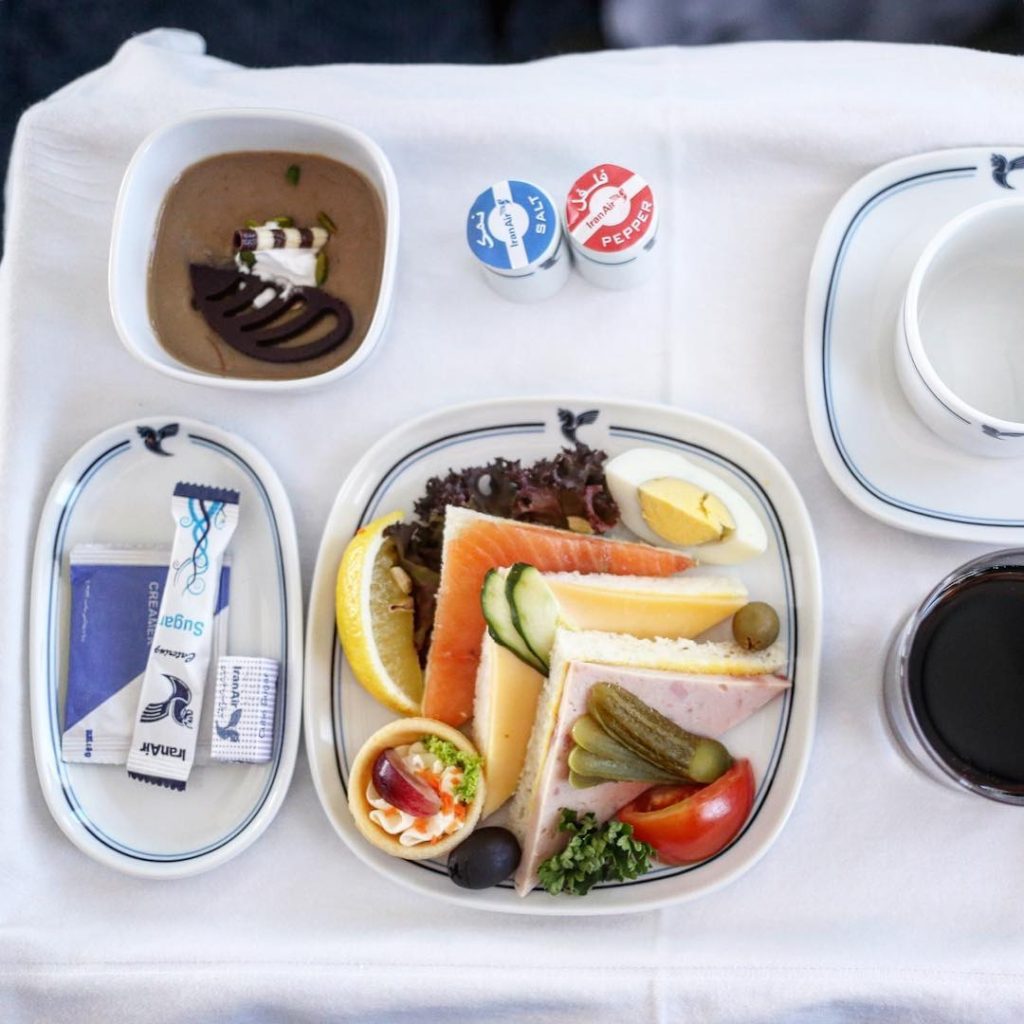 Also, to your utter delight, this cheese and salmon sandwich is accompanied by some slices of fresh fruits and a clean-cut piece of a boiled egg. And the delicate and light chocolate mousse serves as the perfect dessert for this meal.
Air India
When daal, curry, rice, and chapatti are served together on a flight meal with a bit of Tarka, you are flying with Air India. So, if you are traveling to Mumbai, this is the kind of meal you can expect to get. You'll be offered a luscious and flavorful prawn or chicken curry with perfectly cooked white steam rice.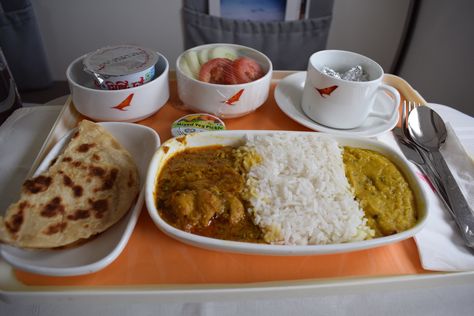 Indian flatbread or chapatti, the staple food of a considerable section of the country, has to be present on the platter. Indian meals are incomplete without a dessert on your plate. Hence, Air India serves a cup of yogurt and fruit to satisfy your sugar cravings.
TAP Portugal
The flight from Barcelona to Lisbon is just over an hour. And the airline chosen by many is TAP Portugal. However, while the other services of this airplane seldom call for negative feedback, their food service doesn't meet the flight standards, especially that of the Business Class.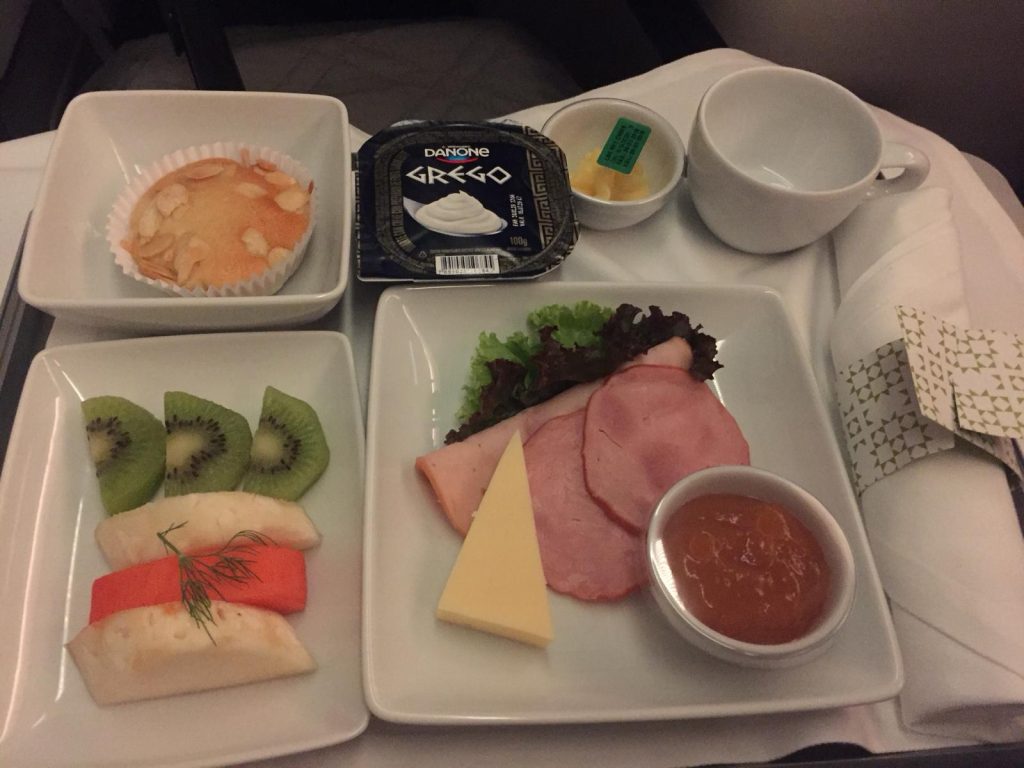 Some slices of papaya and olives are offered with a mushy consistency. A wide range of deli meats are served, but all taste bland. The meal comes with a cheese cube and mayonnaise, but it doesn't add much value. Hence, the overall meal service in TAP Portugal is not 5-star quality.
Korean Airlines
Although presented with a 5-star rating several times, Korean Airlines never took their food services lightly. Not always serving fancy steaks or creamy mac and cheese, they usually serve healthier options that are delicious – that's the style of food offered on Korean Airlines.
A typical Economy Class meal with this airline generally consists of white steamed rice paired with veggies, gravy, bread roll, and slices of fresh and juicy fruit. Thus, with less focus on garnishing, Korean Airlines aims at making their food top-quality.