A Cut Above The Rest: 40 Premier Steakhouses Across The USA
By Sachin P November 3, 2023
---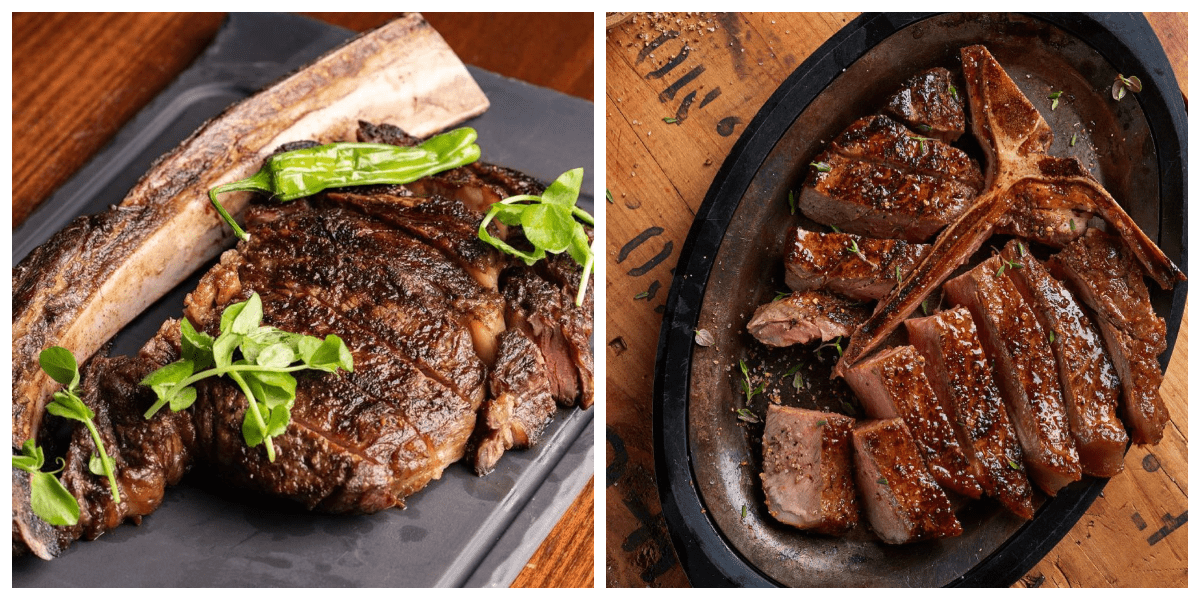 Beef, more so than any other kind of meat, is a favorite among Americans. While it's always possible to start the grill and cook your choice cut in the comfort of your home, there are numerous steakhouses throughout the nation where you can order excellent steaks, amazing sides, and an all-around luxurious experience.
Therefore, there is an excellent possibility of finding a steakhouse nearby that caters to your needs, whether you are searching for a modern take on classic dishes or an upscale establishment where you can wine and dine.
The American steakhouses we have listed here offer unforgettable culinary experiences that you will remember for weeks or even months by combining expertise, planning, and appreciation for regional products. (Friendly disclaimer: Don't read on an empty stomach!)
Dickie Brennan's Steakhouse
Dickie Brennan's Steakhouse in Louisiana is the place to be if you want to savor a superb steak. With six exclusive dining spaces, a stylish bar, an additional lower level, and a traditional atmosphere, the entire facility is always prepared to host a plethora of devoted patrons.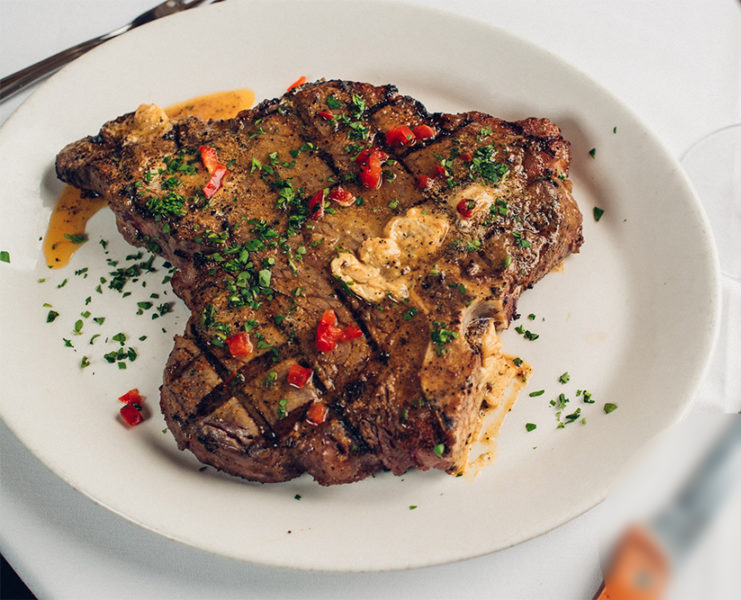 Notable dishes include a 6-ounce house filet topped with bearnaise sauce as well as fried oysters, a 16-ounce strip grilled in a cast-iron skillet, and barbecued rib-eye served alongside barbecue shrimp. Additionally, the USDA has cleared every steak served here.
Alexander's Steakhouse
When you go through a list of the greatest steakhouses in America, you are bound to come across Alexander's Steakhouse. It's located in sunny California, in the city of San Francisco. Luxurious choices, such as wagyu beef from various Japanese suppliers, are served here.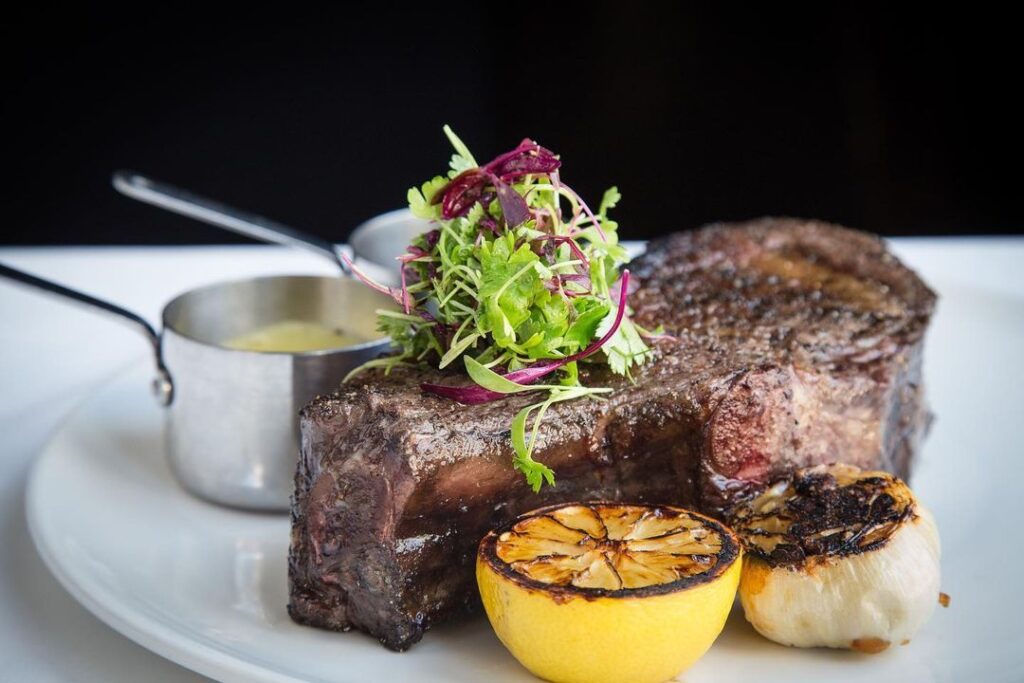 If you are a Wagyu fan, you'll be delighted to find the A5 Hyogo Kobe here. Additionally, there is a 19-ounce T-bone presented alongside black garlic miso sauce and leek fondue, as well as a 12-ounce bone-in filet, served with butter and caramelized onion glaze.
Metropolitan Grill
If you love a sizzling steak seared over charcoal made from mesquite, then the Metropolitan Grill is the place to be. You can expect to find items like Chateaubriand, porterhouse, New York strip loin, and Dungeness crab cocktail on their somewhat unique menu.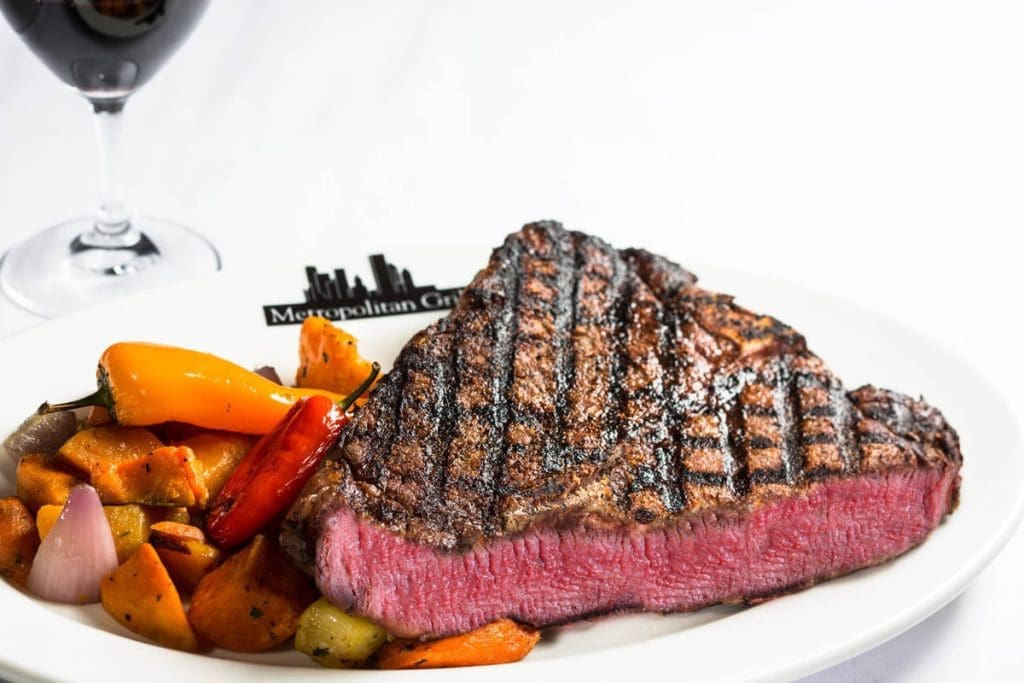 In addition to offering outstanding martinis, this steakhouse boasts an elegant bar that enhances the distinctive dining experiences it offers. Crown moldings, huge booths, high ceilings, and plenty more make up the incredible setting. So, if you find yourself in Seattle, you know where to eat.
Al Beirnat's
Al Biernat has overseen this steakhouse like his own child since its founding in 1998, accumulating knowledge and refining the flavor of his menu options. Add a very mellow interior setting to the mix, and you are in for a treat!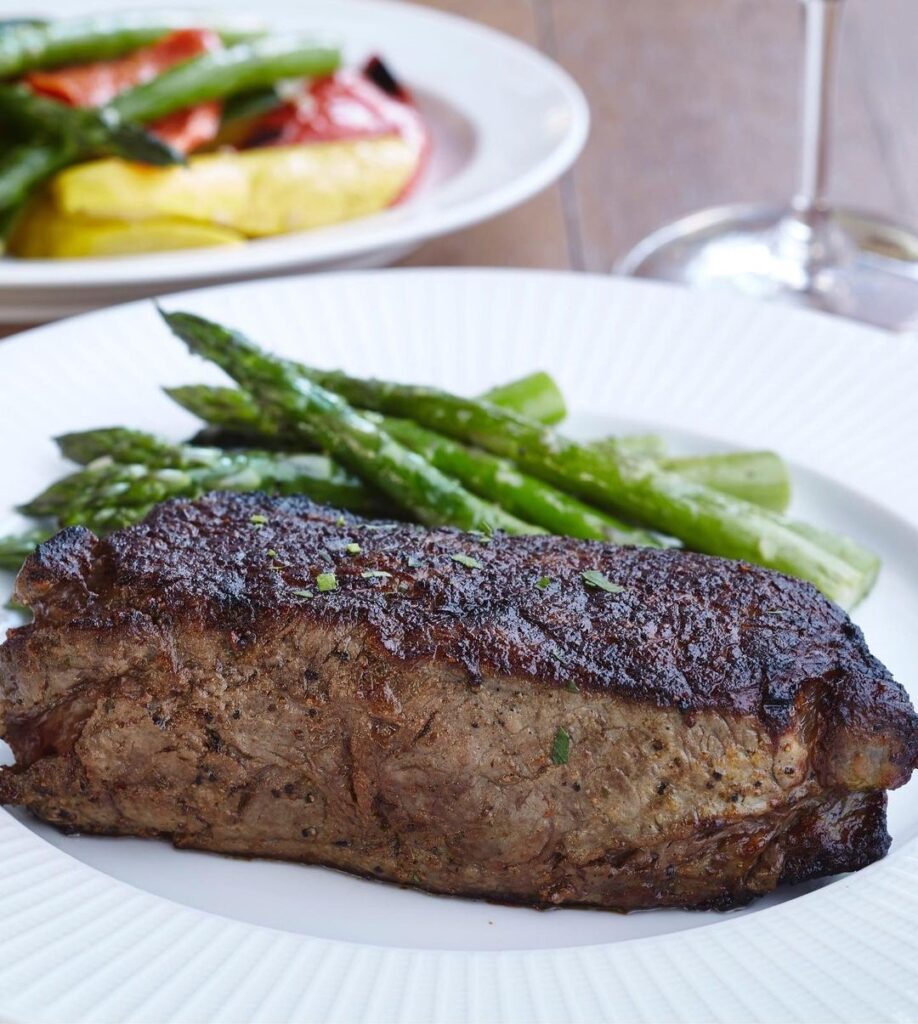 Their 22-ounce ribeye filet is a culinary experience unlike anything else in the world. In addition to the ribeye filet, a 30-ounce porterhouse, as well as a Prime New York strip, are the other options that grace their menu. On Fridays, they serve a delectable prime rib special.
Craftsteak
If you find yourself in this restaurant, you must try one of their five distinct roasted mushroom assortments. That said, the Craftsteak Steakhouse experience isn't limited to that! Not according to the regulars, who mainly consist of the local population of Las Vegas, Nevada.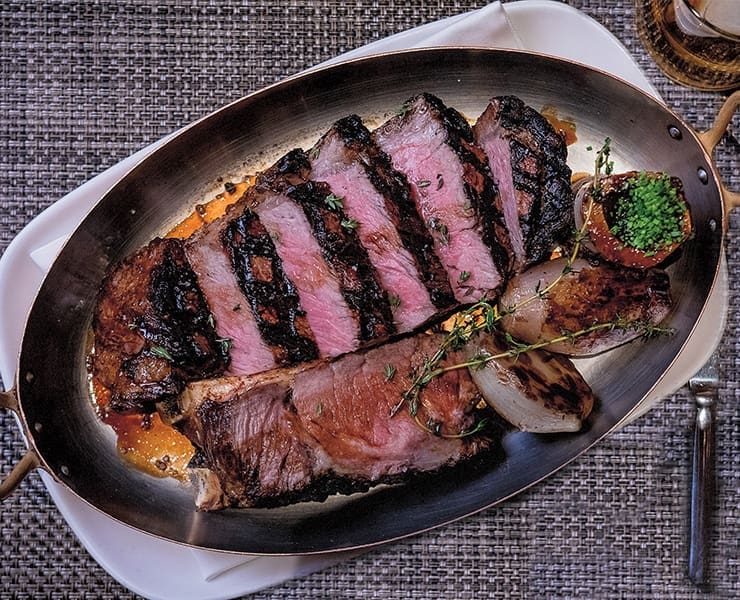 But this secret should not just stay in Vegas! The eatery offers a large selection of local meals in addition to Japanese Wagyu, New York strip, and in-house dry-aged Angus. You have about eight distinct steaks to select from this menu.
GT Prime
It's quite evident once you visit this place that sharing is necessary. That is mainly because the offerings include 8-ounce servings of American Wagyu, bison tenderloin, deer loin, and beef tenderloin. Requesting the Wagyu carnivore at GT Prime will make the experience even better.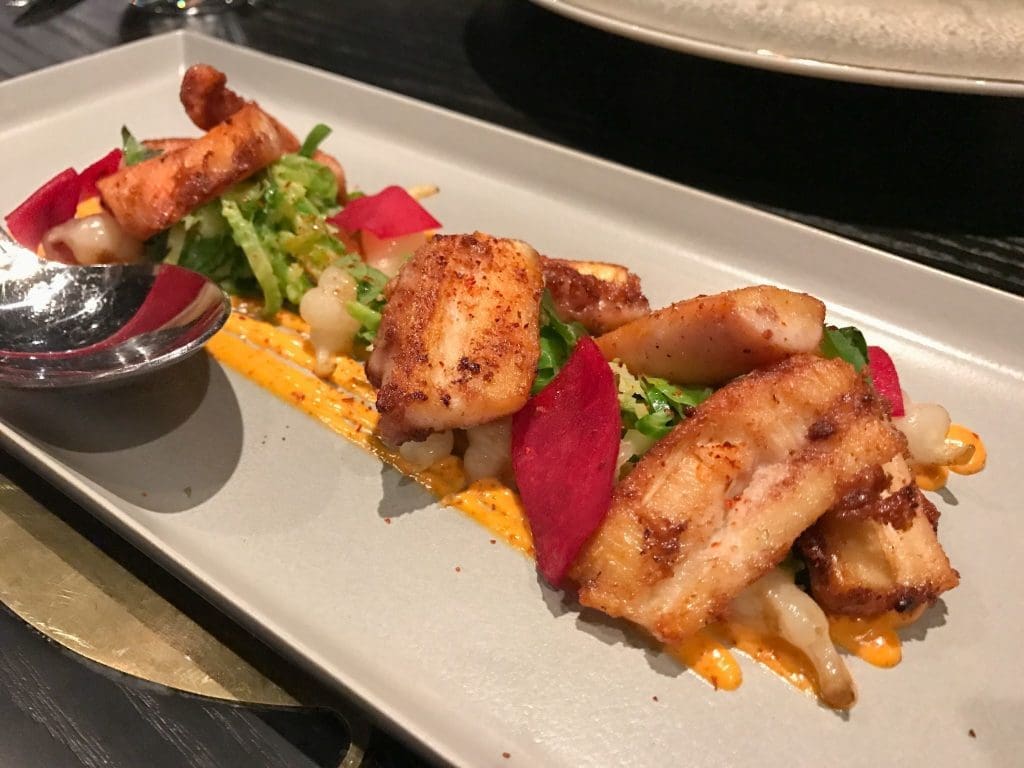 The Wagyu Carnivore includes the Australian wagyu filet and New York strip, American wagyu from Gabriel Farms, and the A5 Miyazaki strip. These simply have to be shared! For those who like to travel alone, there are both rib-eyes and 30-day dry-aged strips to suit every palate.
Kayne Prime
Bone marrow butter, foie gras, yuzu chimichurri, and truffle bearnaise are among the most beloved meals served in this joint. The steaks are cooked to perfection in a boiler set at 1200 degrees. Additionally, macaroni and cheese and risotto tater tots are available for sampling.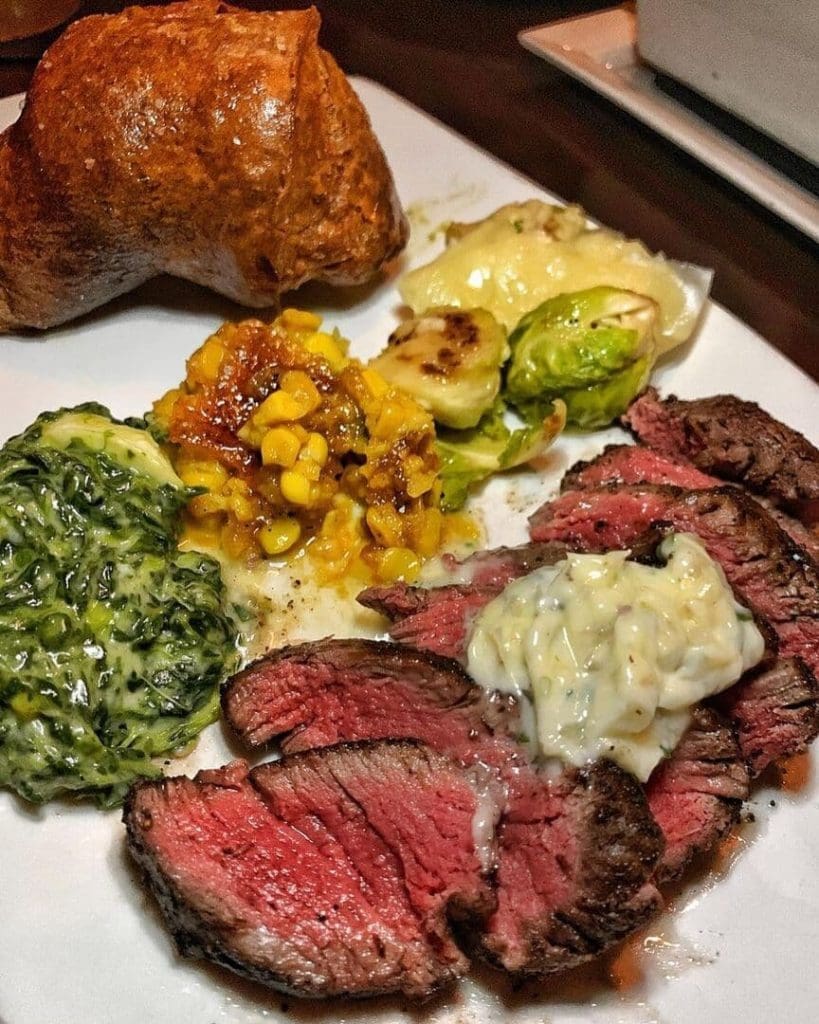 M Street is in the prestigious position of managing one of Nashville's most prosperous networks of restaurant chains. They also own and operate this fine eatery. If you're in the neighborhood, do visit for a taste. The effort will undoubtedly be worthwhile.
Murray's
If you have the chance to taste a good steak, take it. That's because the unique flavor of classic steaks is something everyone should taste. Considering that, Murray's Steakhouse in Minnesota is always open and pleased to offer a traditional dining experience.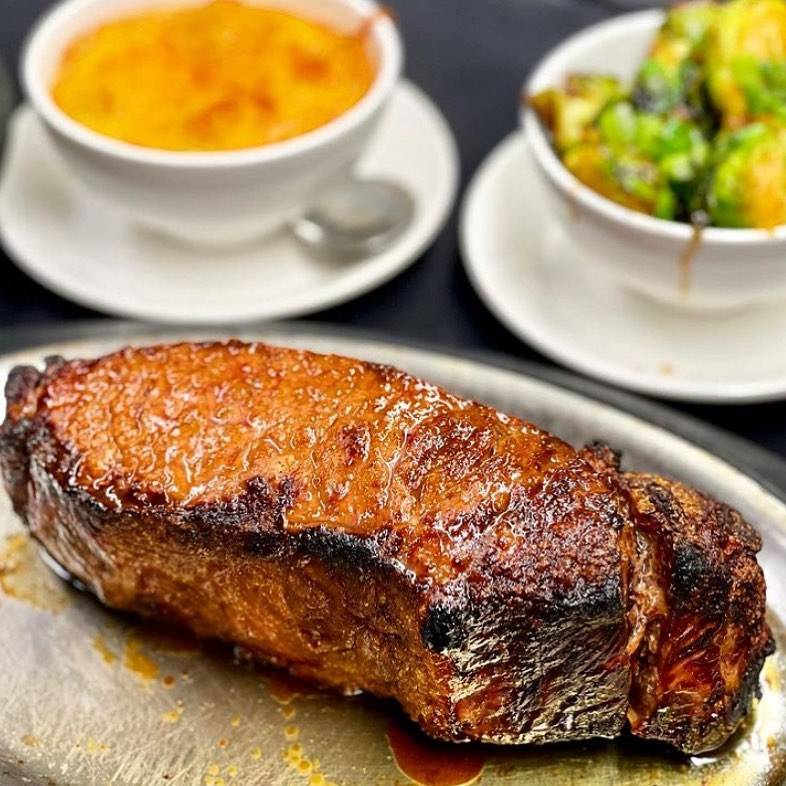 Among the choice cuts and menu selections offered in this establishment, a steak aficionado can expect various-sized porterhouses, a 28-ounce strip loin, New York strips, Chateaubriand for two, rib-eye, as well as an 8-ounce dinner steak of top sirloin. Quite the irresistible menu.
Oak Steakhouse
We can agree on the fact that Oak Steakhouse is, without a doubt, one of the greatest steakhouses in the nation. Despite having an extensive menu selection, every meal here is absolutely delicious. That said, the menu's most visually appealing items are the rib-eyes, filets, and strips.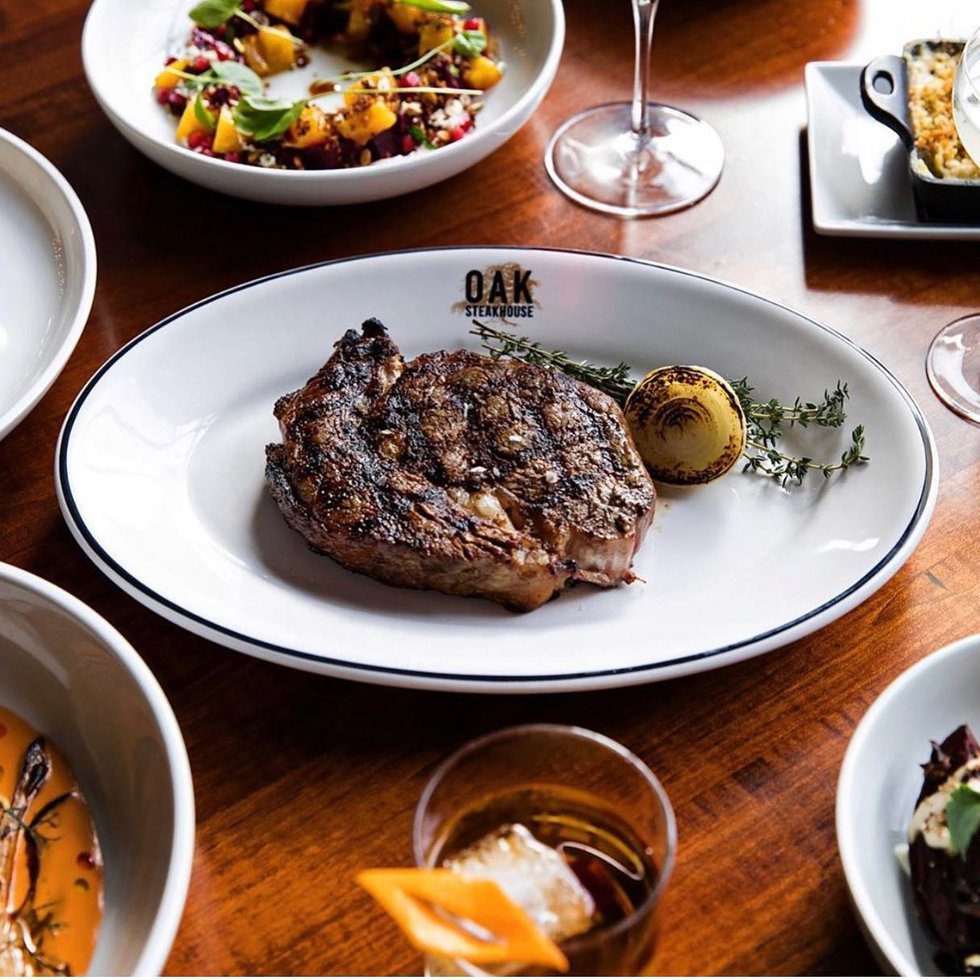 This restaurant has been around for more than ten years. It distinguishes itself from its rivals with unique dishes, including pan-seared sea scallops, roasted root vegetables, and house-made charcuterie. So, if you're ever around Charleston, we recommend that you give it a look.
Chamberlain's Steak and Chop House
If you want something out of the ordinary or something unusual and different, go to Chamberlain's. This steakhouse offers a fantastic array of starters to kick off the meat experience. Notable dishes include ahi tuna poke with sesame ponzu, fresh pea soup with smoked pig belly, and Vermont cheddar.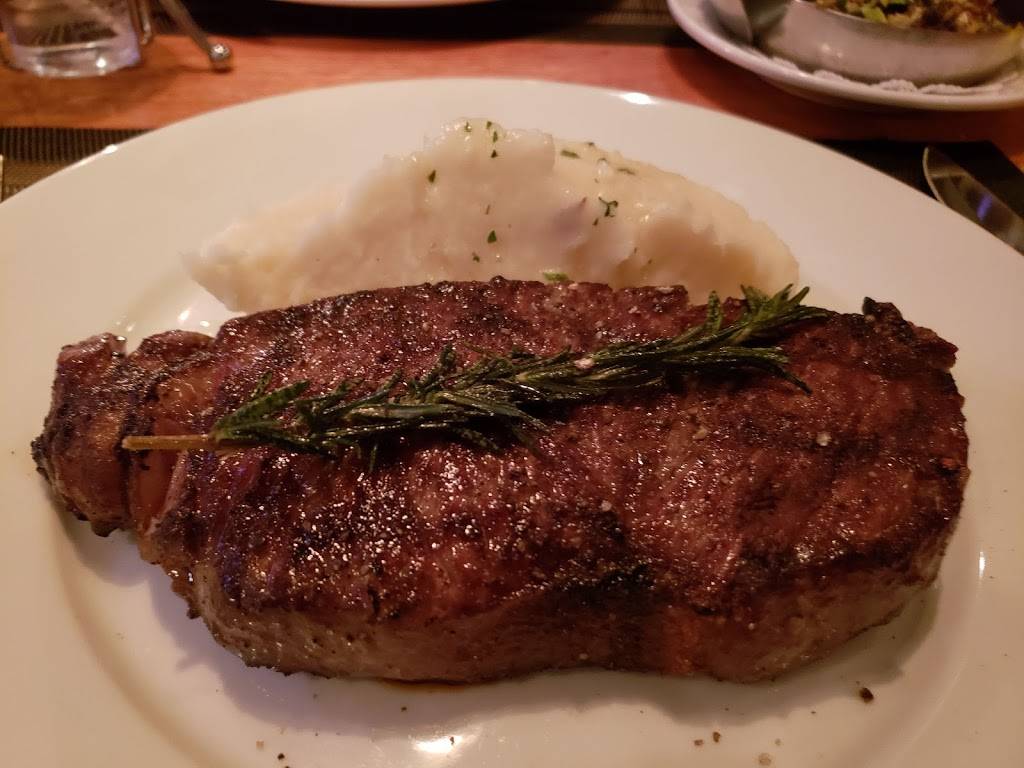 Want some Texas Wagyu to help get the party started? They have it! Their menu offers roughly sixteen distinct alternatives for steak. There is a 14-ounce Texas Wagyu rib-eye as well as a 40-day dry-aged filet mignon. No wonder Texans love the place.
Sparks
Top-notch beef cuts and superb customer service are the benchmark at Spark. This restaurant still takes a traditional stance on steak, even with all the developments in the culinary industry. It's a location that offers a cool vibe as well as the traditional Manhattan aesthetic.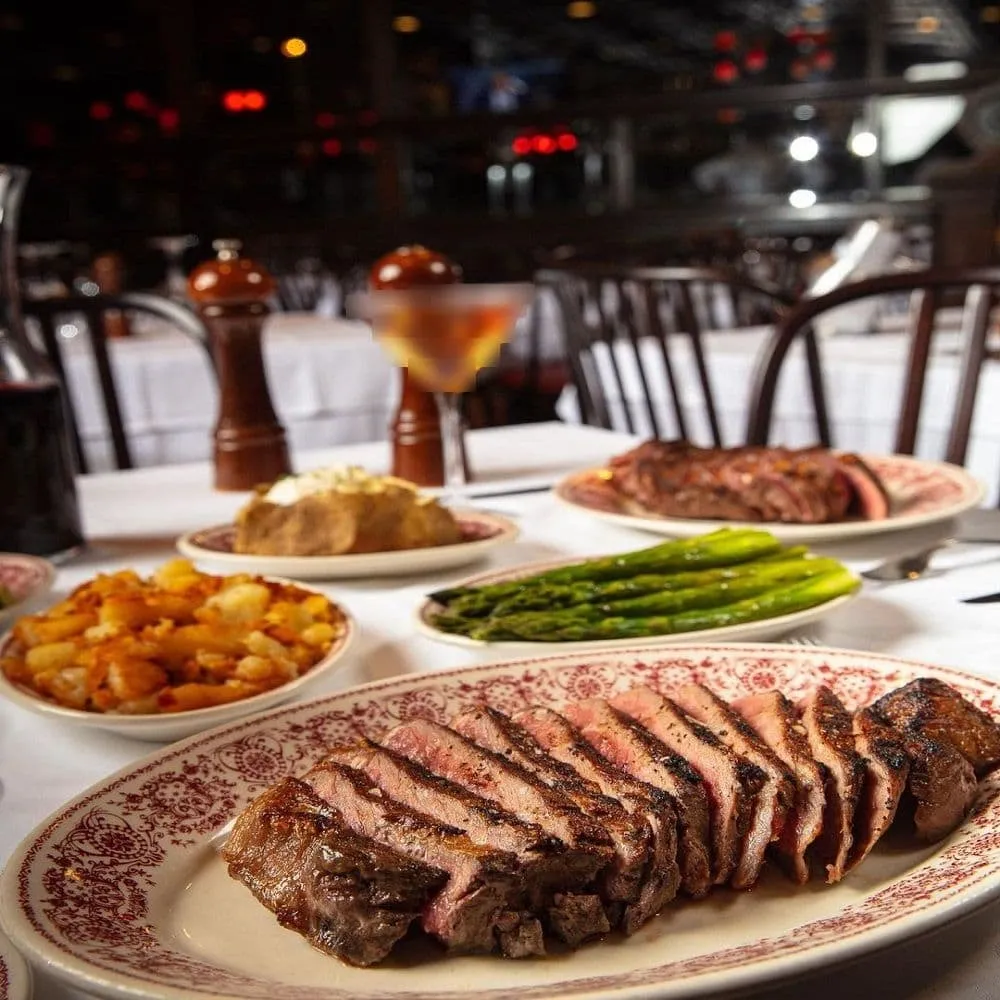 The filet mignon and the sirloin topped with a mountain of Roquefort cheese are among the restaurant's best offerings. Its preparation mode transports you to a more sophisticated taste setting, which is one of the best experiences you can have at the "Big Apple."
Cattleman's Steakhouse
The United States is home to several establishments that bear the name "Cattleman's Steakhouse." But this specific Cattleman's has set its roots deep in Oklahoma City. This restaurant is quite unique compared to the others on this list because of its 109-year history.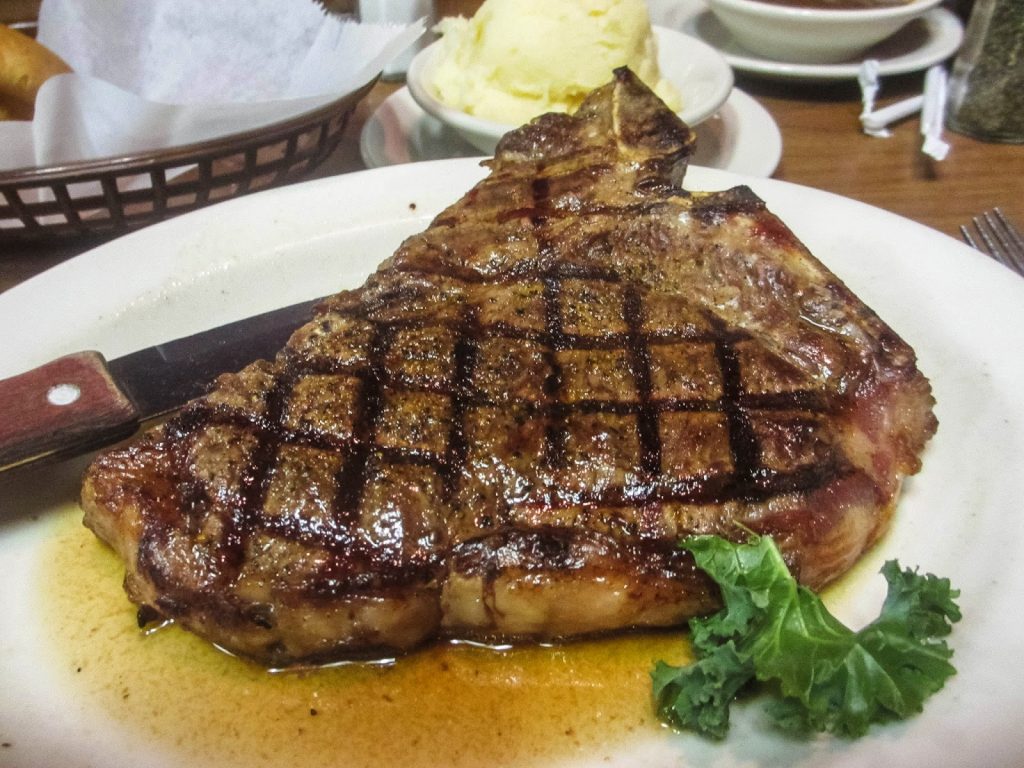 At Oklahoma's Cattleman, steaks are accompanied by natural jus. Also, they are grilled over a fierce charcoal fire. If you want to live dangerously like Austin Powers, try their sliced, deep-fried lamb testicles. Follow that with the T-bone and finish up with some fresh pie.
Hy's Steak House
What exactly does Hy's Steak House offer? A lot! Expect favorites like T-bone, boneless or with bone in the New York strip, rib-eye, and filet mignon, as well as a plethora of other dishes. Hy's has been serving USDA Prime for over four decades.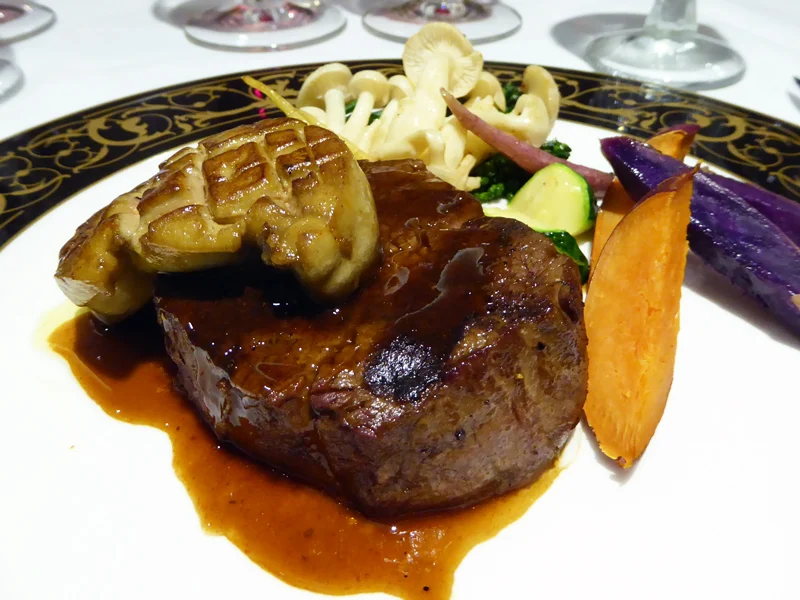 There is a reason the steaks here are unique. The meat is roasted over natural Kiawe wood, which is an additional intriguing detail. As a result, the meat has a rich, smokey flavor that lingers in the mouth and satisfies the taste buds. Hungry yet?
Jess & Jim's Steak House
Jess & Jim's Steak House is, hands down, a Missouri institution. Since 1938, the restaurant has been operated by one family. Every day, the beef is cut by hand, and the leftovers are pounded into hamburgers to make some of the greatest burgers in America.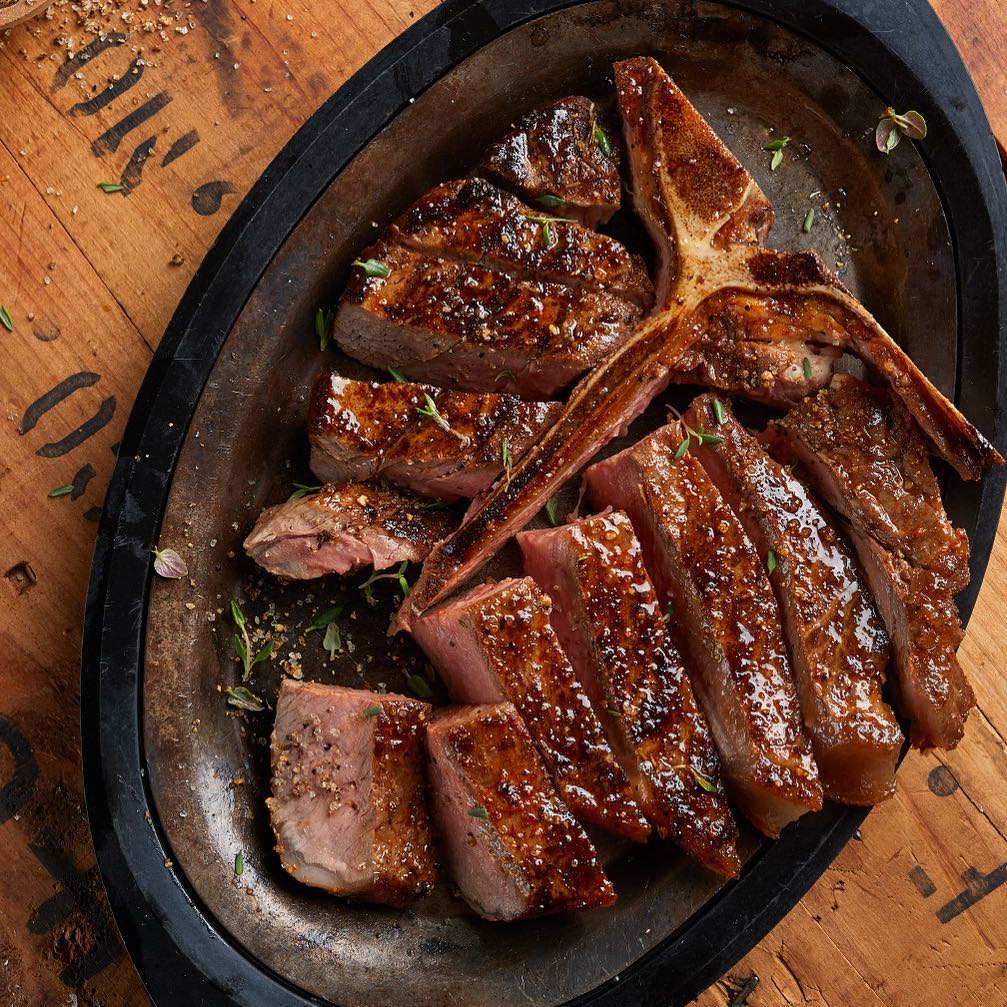 The steaks are delicious even with no spice; that's what makes them unique. For certain orders, the original flavor is preserved. The "Playboy Strip," which is a 25-ounce, two-inch-thick sirloin and among the joint's most popular options, will make any meat lover's day.
St. Elmo Steak House
Upon your first visit to St. Elmo Steak House, you will be surprised by the opulent, saloon-style, early 1900s decor. Still, there's far more to the eatery than is immediately obvious. The menu items include all the classics, but the taste profile is something else.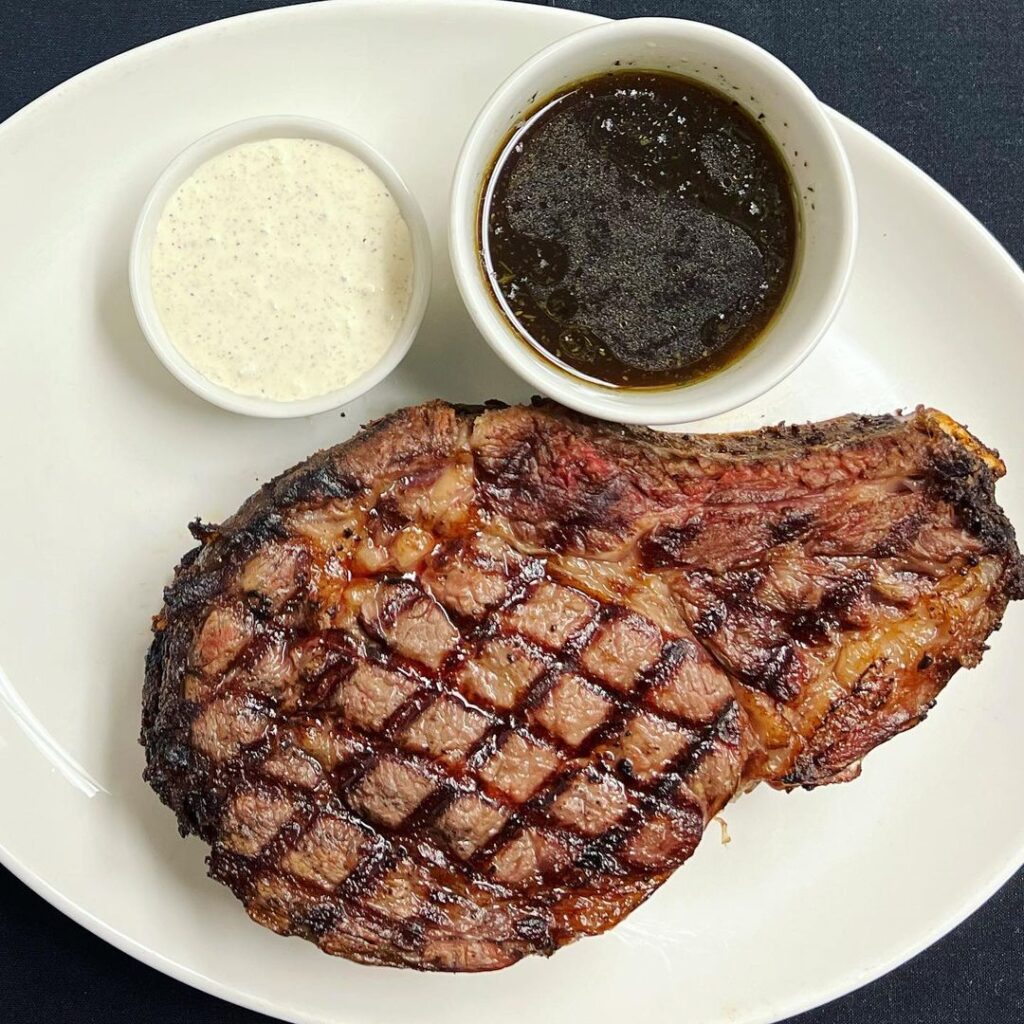 Specials include wedge salad, shrimp cocktail, loaded baked potato, and wet-aged and dry-aged steaks and chops. The steakhouse offers classic steaks prepared using modern grilling and preparation methods. This location offers a culinary experience that has been around for over 100 years!
Cattleman's Club
Cattleman's Club in South Dakota is among the most affordable steakhouses in the nation. That's because it combines economy and excellence. In its three decades of operation, the menu has seen very little change. There are various ounces of prime ribs, porterhouses, and top sirloins available here.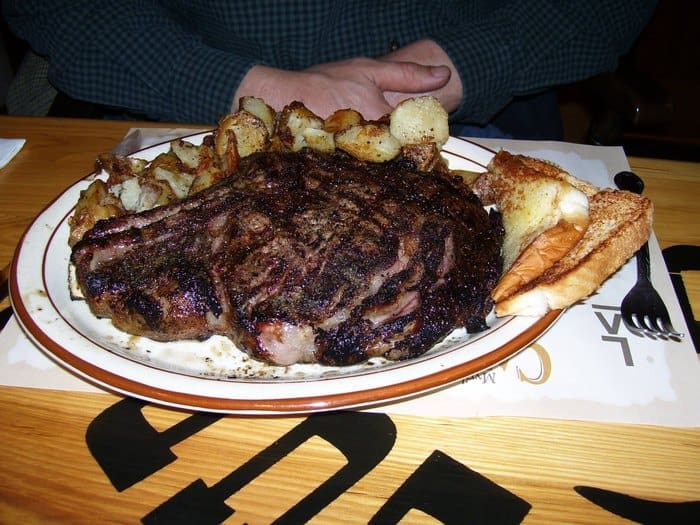 There are also spiced bone-in and T-bone rib eyes. In addition to that, there is a unique dish called "Chislic," that consists of deep-fried sirloin slices seasoned using house spices, which also happens to be a regional South Dakota specialty.
Mr. B's
When the conversation is about authentic Italian steakhouses, you must mention Mr. B's. These guys use a wood-burning oven where meat is grilled at a high temperature. This mode of cooking imparts a distinct flavor that has become exclusive to this eatery.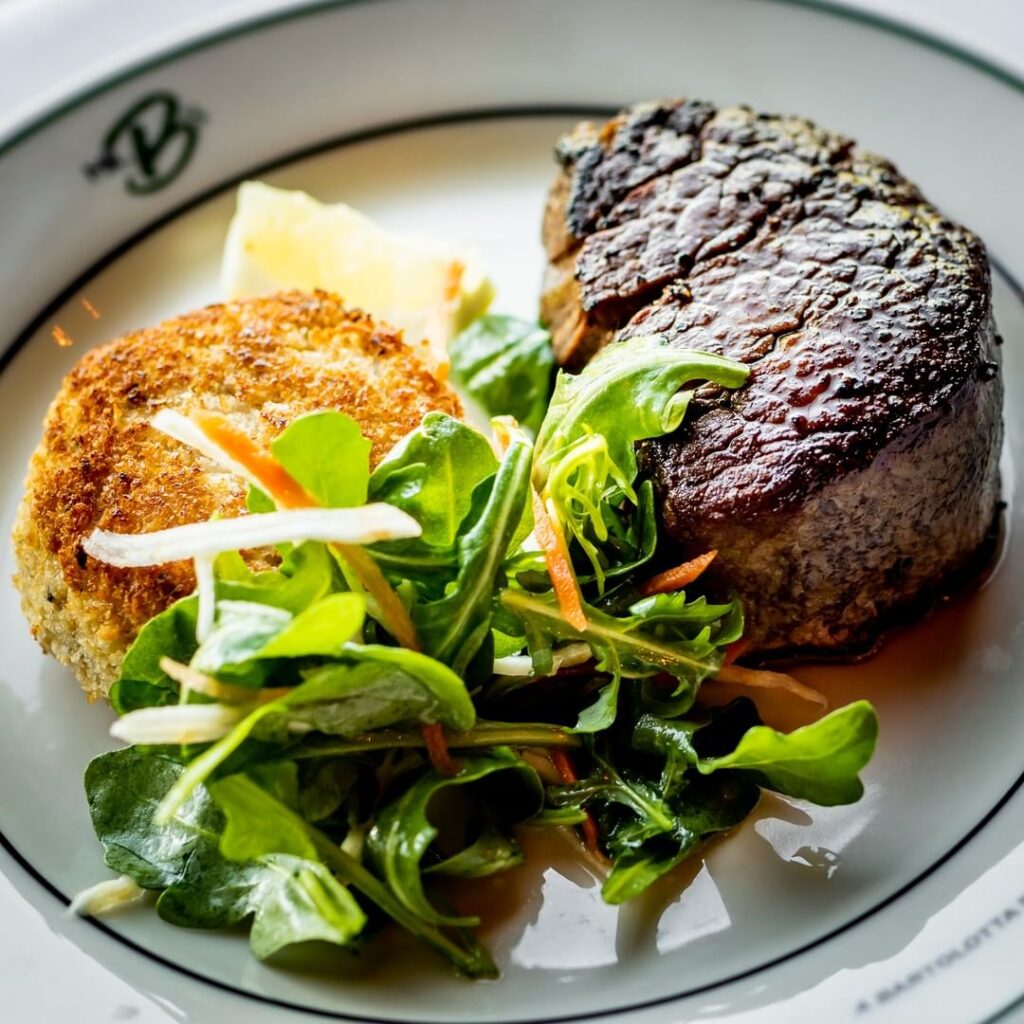 If it's a meal for one, you can choose between the New York strip and the Angus rib-eye. The 44-ounce porterhouse is a traditional choice for dining with friends or family. Their Diane sauce, which is created using brandy, mustard, cream, and mushrooms, elevates the flavor even further.
Harris'
A visit to Harris' Steakhouse is a must-do when visiting California. The beef cuts here are provided by the top farms in the Midwestern region and are dry-aged and cut on-site. Favorites in this beloved steakhouse include the Prime rib and American Wagyu rib-eye.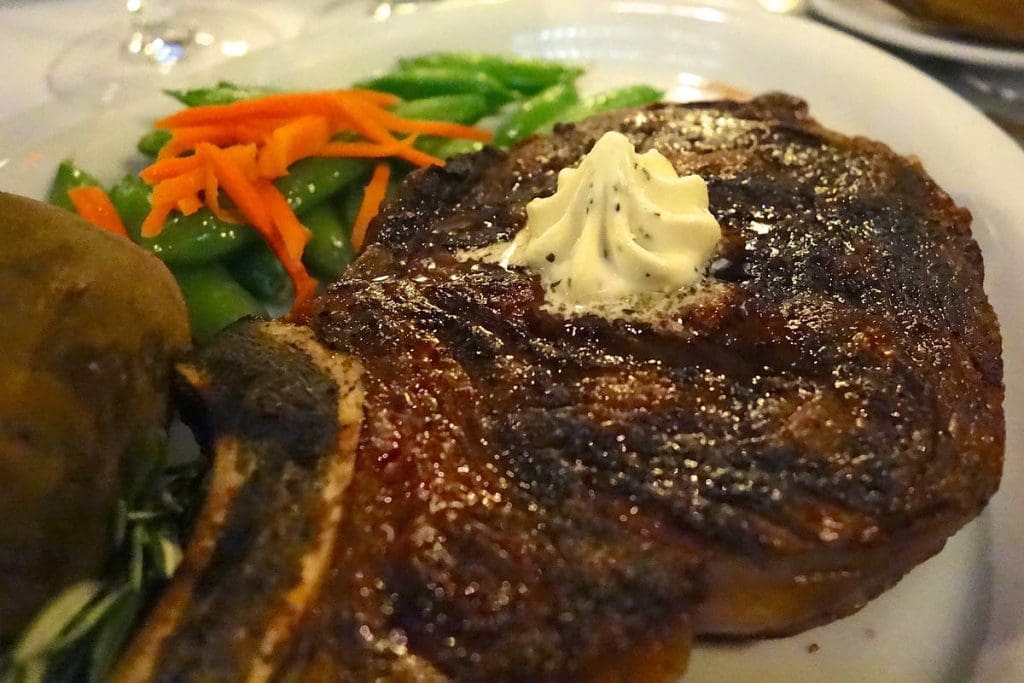 This joint offers the whole steakhouse atmosphere with its dark-colored booths, chandeliers, and potted palm trees. All in all, it serves as a wonderful demonstration of the love people have for a good steak ever since it started operations back in 1984.
St. Anselm
This restaurant has received numerous distinctions throughout the years for its delectable, unique offerings. Their dedication lies in providing the finest possible service at an exceptionally reasonable cost. St. Anselm prides itself on serving delectable Piedmontese ribeye (basically steaks with garlic butter).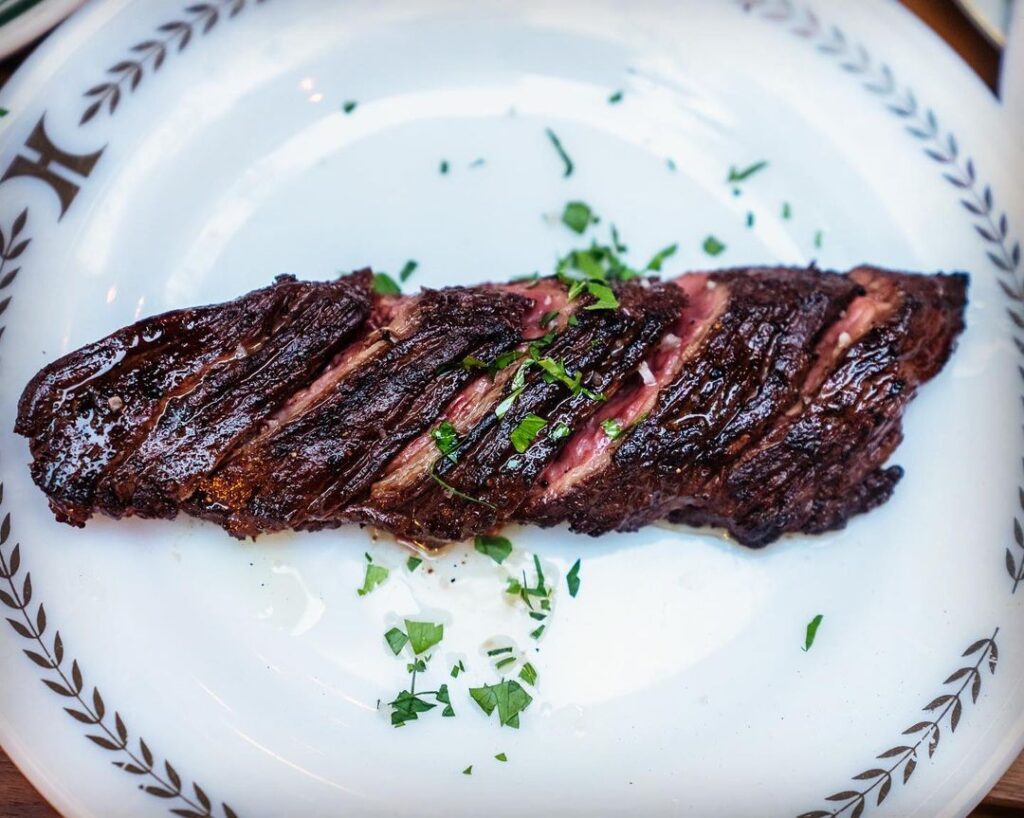 Their steadfast devotion to giving their clients an innovative approach to their cuisine has earned the proprietor the nickname "Danny Meyer of Williamsburg." It is a worthwhile place to try and savor as much as you can when it comes to delicious steak.
Pappas Bros. Steakhouse
Texas is renowned for its excellent beef, and Pappas has managed to uphold that heritage. This particular steakhouse can legitimately claim to be in the running for "best steakhouse," seeing as its food selection boasts over 3,000 items! Sounds crazy, but it's true.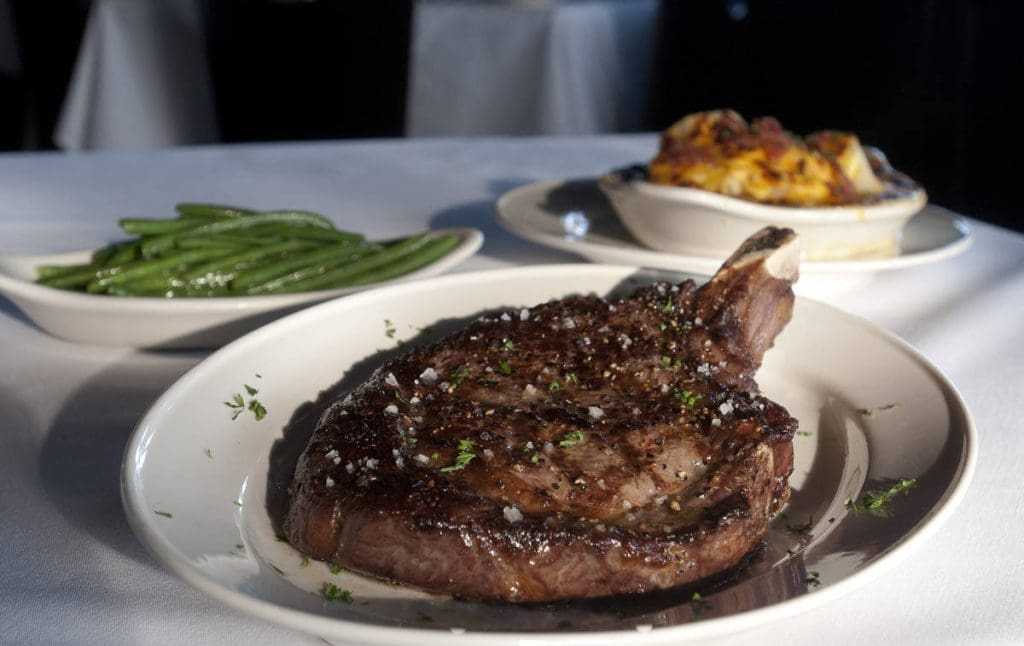 Pappas prime beef options are usually served bone-in or bone-out and are dry-aged in-house for a minimum of 28 days. Additional choices include an 8-ounce filet mignon, an 18-ounce New York strip with bone-in, as well as a Texas Akaushi filet mignon.
CUT
CUT can be said to be an establishment that's a cut above the rest. It's not simply this establishment's amazing layout that places it among the greats, but its offerings. Along with its Prime Creekstone Farms rib-eye, CUT offers Japanese wagyu rib-eye hailing from Miyazaki prefecture.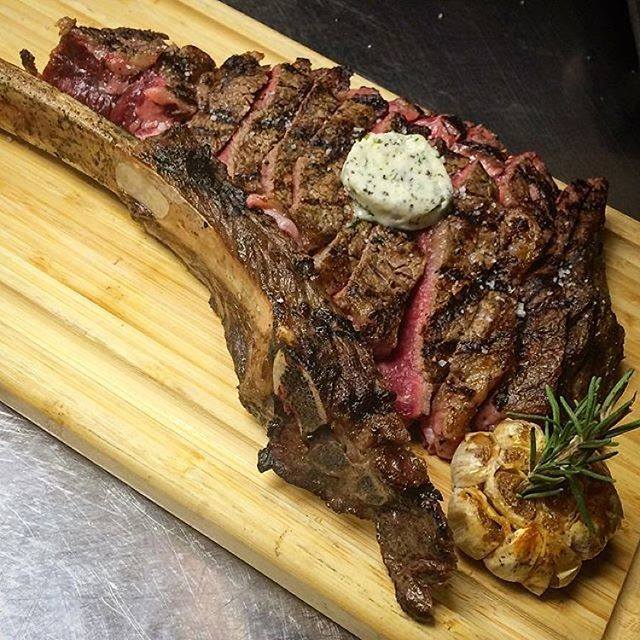 They are prepared over charcoal made from white oak and mesquite. A variety of seafood is also available, including Louisiana shrimp Louis, Alaskan king crab, and grilled swordfish, among many others. Anyone visiting Beverly Hills, California, should definitely experience this.
Killen's Steakhouse
With over ten years of experience on hand, you are in for a treat when you step onto Killen's Steakhouse. They provide customers with a multitude of alternatives and offer a variety of steaks. For wet-aged and dry-aged steaks, they have separate sections.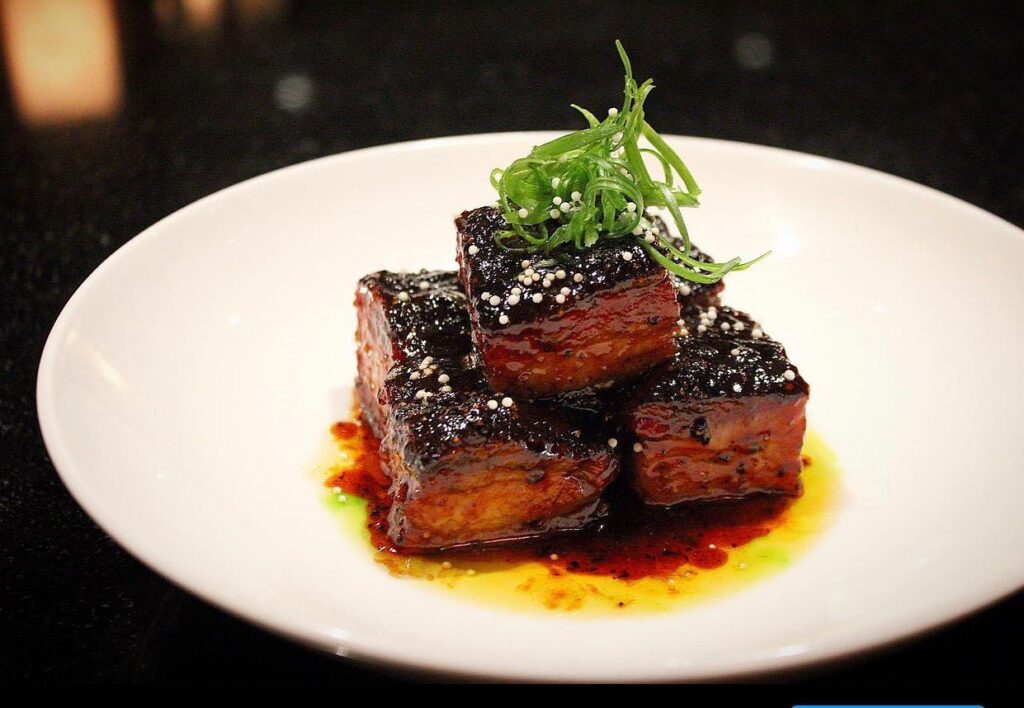 More luxurious options include Australian and Japanese A5 Wagyu. To further expand their excellent menu, they now provide pan-seared Gulf snapper, mesquite-smoked pork belly, as well as chicken fried steak. With such scrumptious options, it is no wonder they are placed among the greats.
Red
If you love a well-prepped cut of meat, then Red is the place to go. Here, certified Angus ribeye gets wet-aged for 20 days, followed by a dry-age phase of another 20 days. Thanks to that process, it's one of the most sought-after options available to people who come here.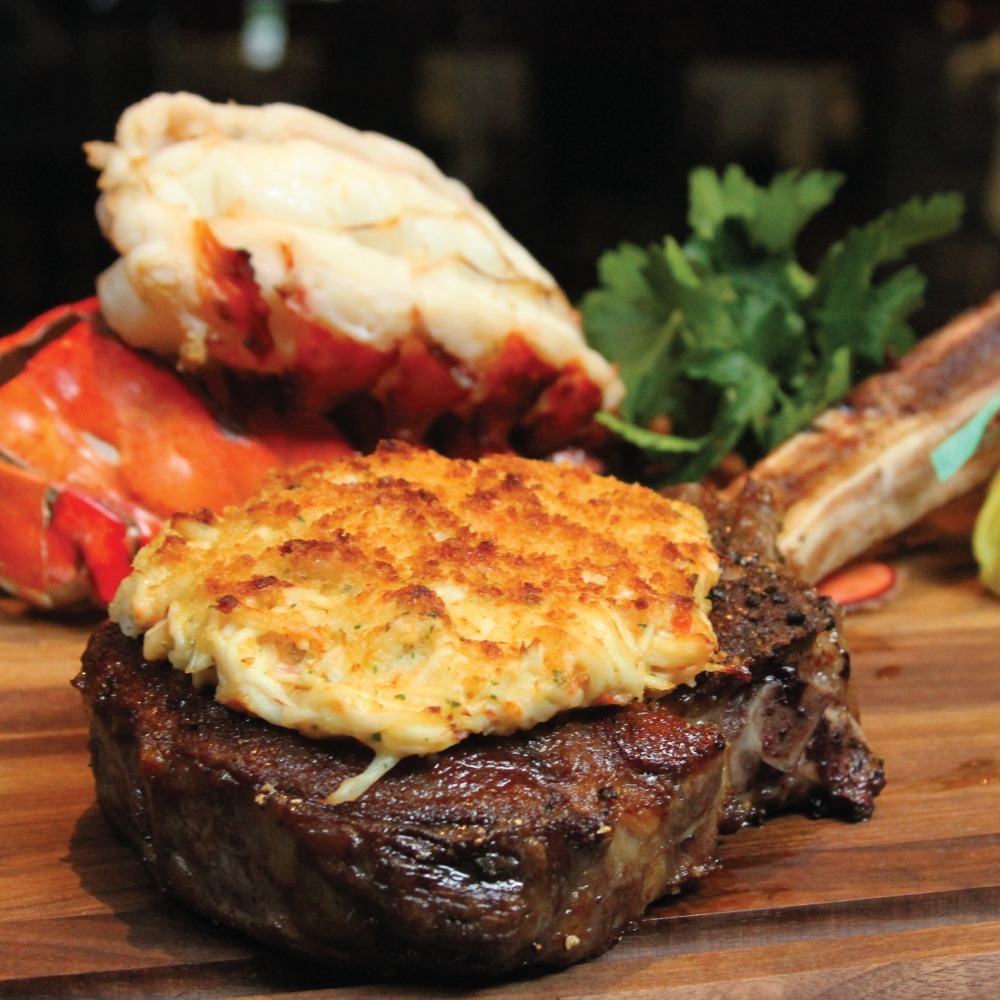 Shrimp cocktails, French onion soup, and oysters constitute the rest. Their Italian-inspired dishes include linguini with clam sauce, homemade Italian sausage, and parmigiana with free-range veal chops. This eatery is unique because of its toppings, which include blue cheese and bone marrow.
Gibson's Bar & Steakhouse
If you enjoy fine steaks that have matured for at least 40 days and are procured through Midwest producers, Gibson's Steakhouse is a "must-visit" on your itinerary. The menu features traditional steakhouse fare, such as a fiery lobster cocktail served with steamed artichokes.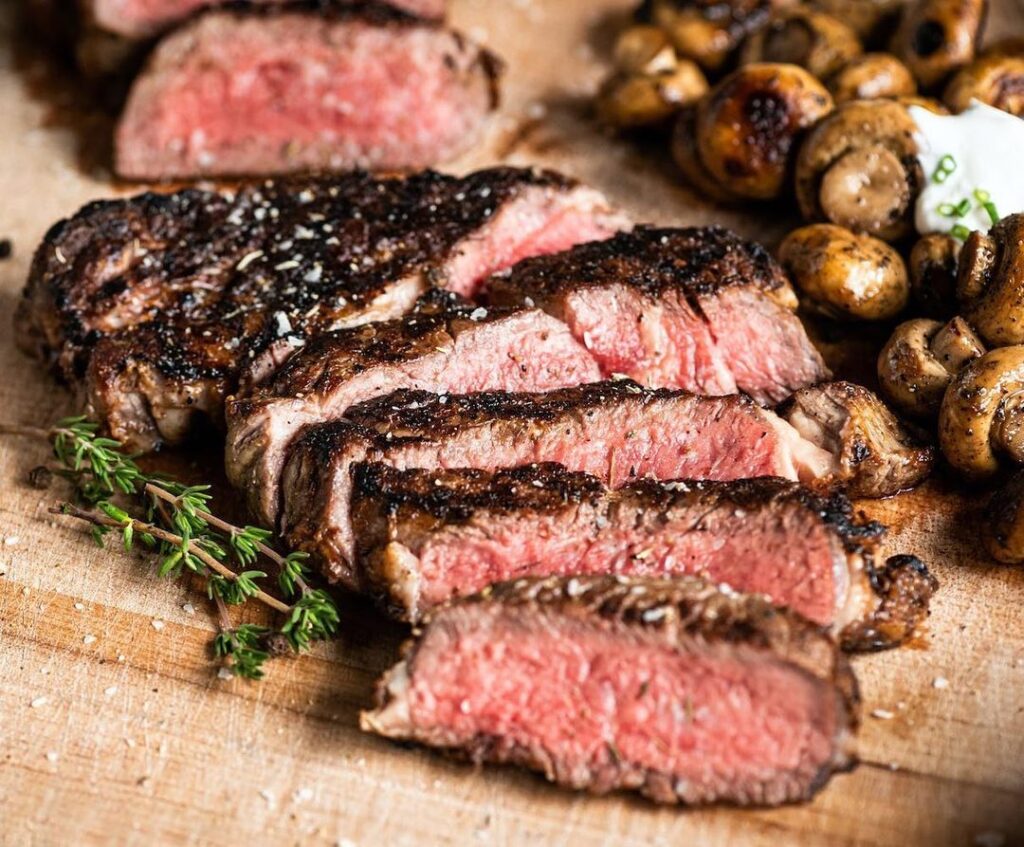 In addition to traditional beef cuts like bone-in filet mignon and 48- or 26-ounce porterhouses, there's also wedge salad. The food is well complemented by their lovely ambiance, chic wood paneling, delicious martinis, first-rate service, and so many other amenities. A trip to Windy City should definitely include a stop here.
Stripsteak
This joint is owned by chef Michael Mina, and it happens to be another one of Las Vegas's most popular steakhouses. The menu at Stripsteak Steakhouse is a skillful combination of classic and contemporary dishes that have been perfected by chef Michael's years' worth of experience.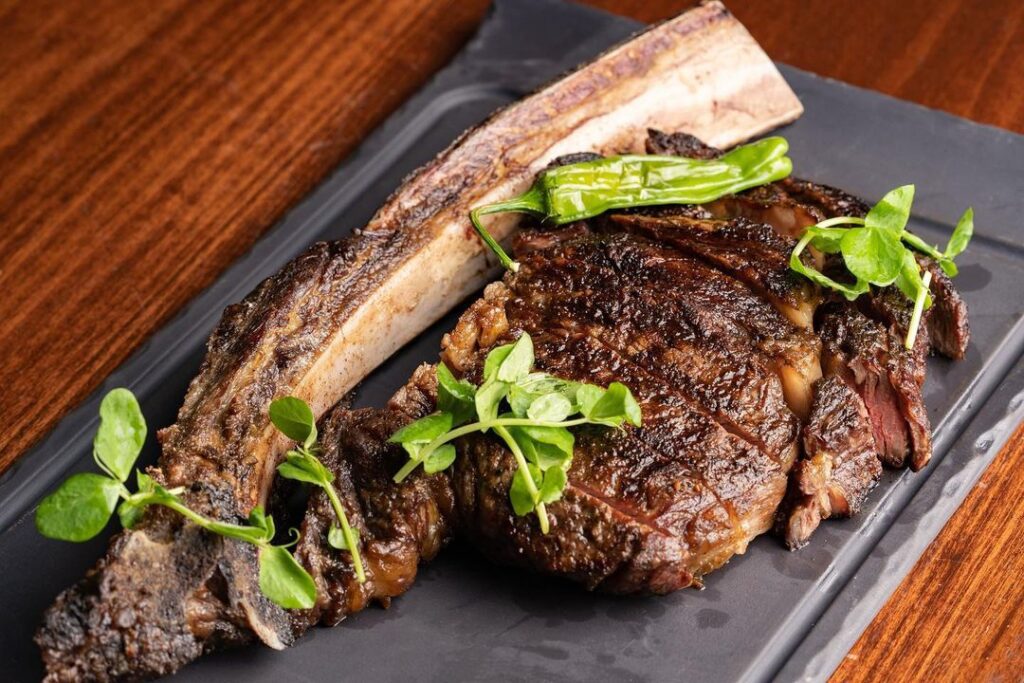 Favorites include Caesar salad and a tray of shellfish, Kaluga caviar "Twinkee," Mishima Reserve beef tataki, crispy rice cake-topped tuna "poppers," and Colorado lamb loin "katsu." All Japanese Wagyu and Angus steaks are prepared on a wood-burning grill to get that lovely char flavor.
Charlie Palmer Steak
Charlie Palmer is a well-known figure in the world of steak enthusiasts. He has established upscale steakhouses in several locales. Some of these establishments are in Las Vegas, Washington, DC, and New York City, and they all offer a menu that combines modern and classic steak dishes.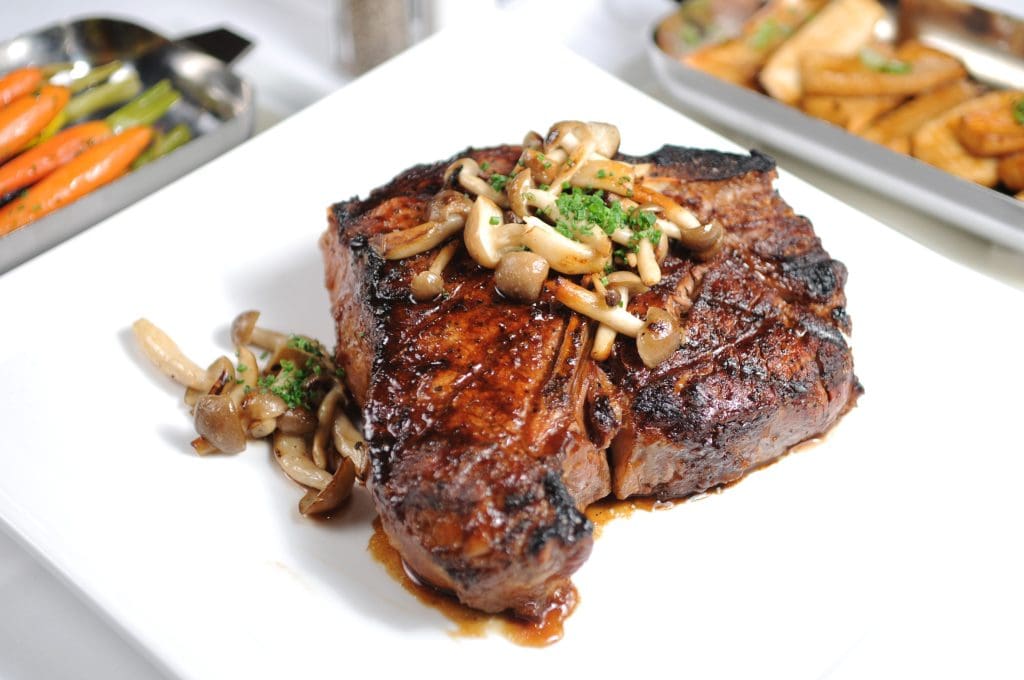 A 22-ounce bone-in rib-eye, an Imperial Ranch wagyu strip steak, as well as a porterhouse for two, are among the choices on offer. To make everything nice and tasty, top the meal with butter-poached lobster or sautéed foie gras, and you'll be in steak heaven.
Cattleman's Steakhouse
Dieter Gerzymisch, as the owner, has consistently focused on providing the highest quality meats since the steakhouse's establishment in 1973. This exquisite steakhouse is situated in the Texas community of Fabens. Top sirloin, filet, New York strip, and rib-eye are among the selections available here.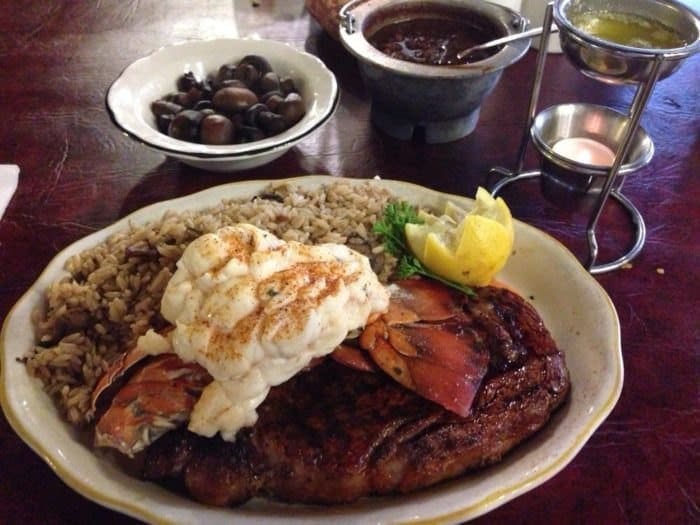 Here, the steaks are served alongside coleslaw, bread, butter, sour cream, baked potatoes, and beans. Without question, it ranks among the best steakhouses in the nation. What sets Cattleman apart is selections like their two-pound T-bone of The Cowgirl and the one-pound T-bone of Wagon Master.
Gene & Georgetti
If one were to compile the cities that take delight in good meat, particularly steaks, Chicago would undoubtedly reign at the top of the list. This explains why the city has a large number of steakhouses. But to keep people coming, you have to be creative.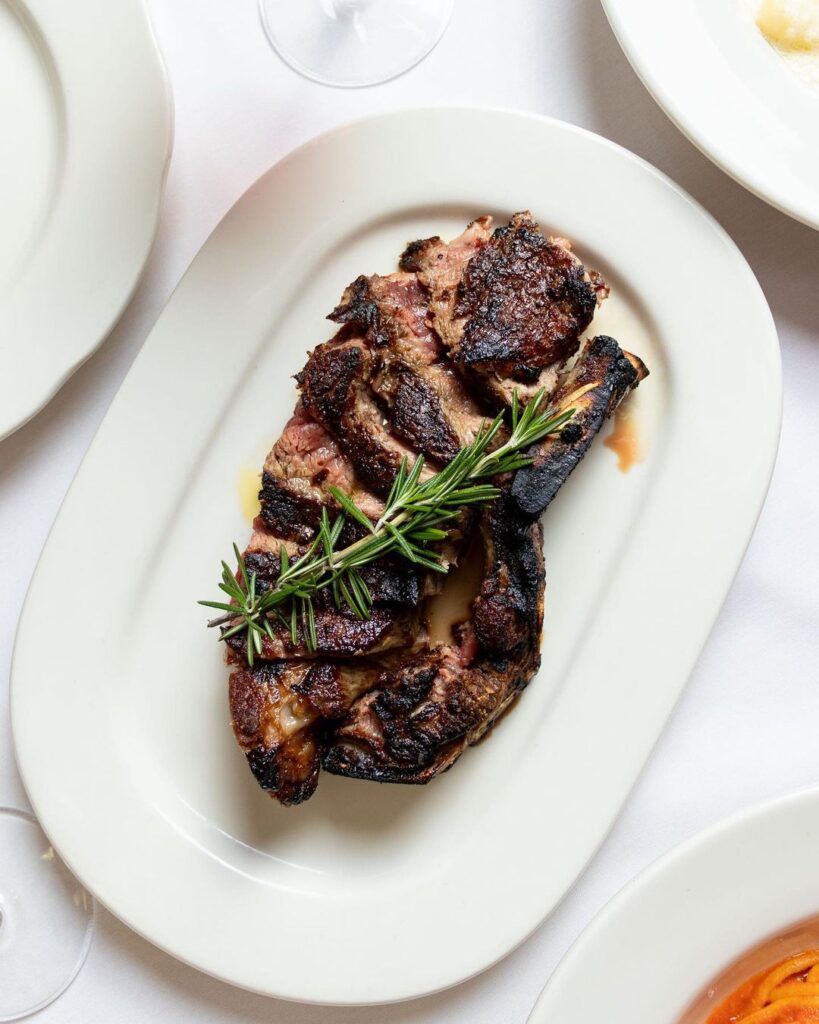 Since 1941, Gene & Georgetti has been providing the people of Chicago with excellent-quality steaks. If you find yourself here, start with a roast prime rib or a 24-ounce rib-eye. Fried ravioli, baked clams, and Italian sausage and peppers are also among the many delicacies the joint is known for.
MAPLE & ASH
The steakhouses in Chicago must be in a sporting rivalry with one another thanks to the windy city's passion for steaks. You have to stand apart from the crowd or risk going out of business. Among the giants in this race is Maple & Ash. Once you set foot inside, expect a unique selection of steaks.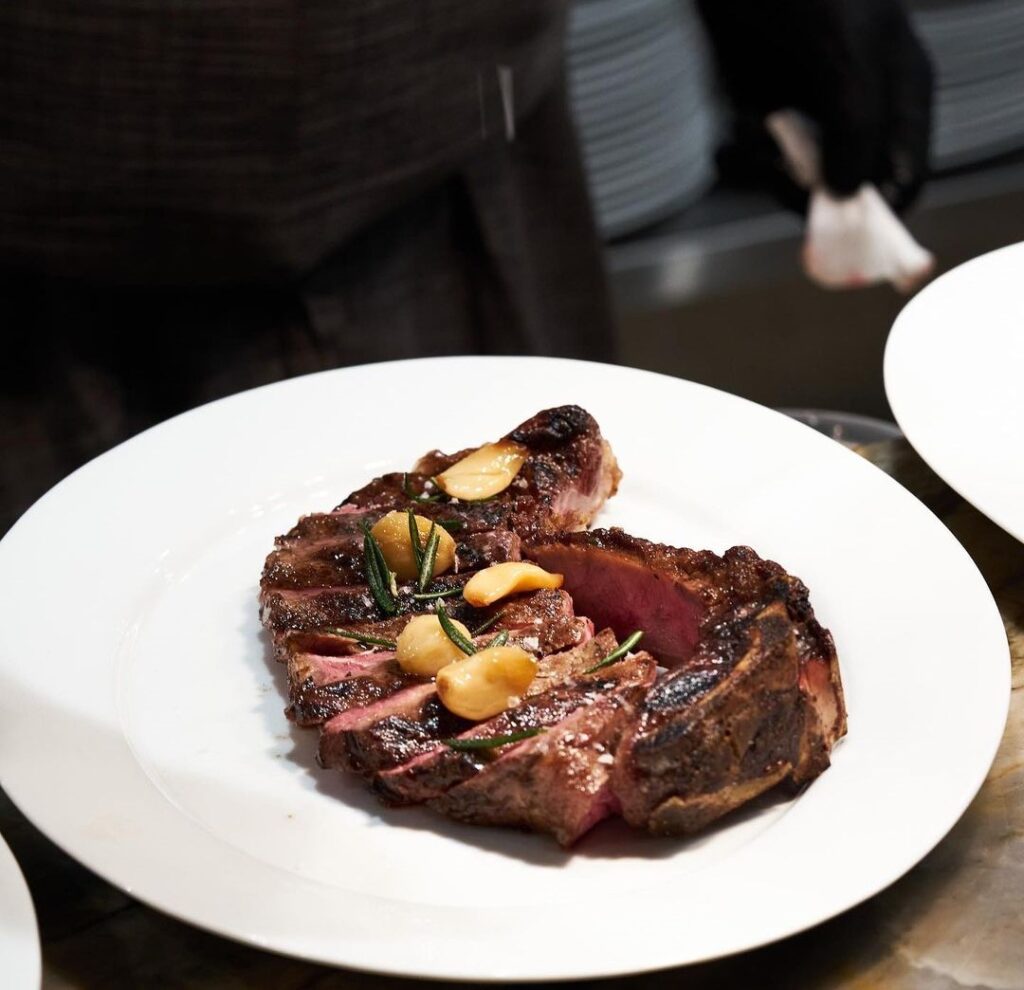 Favorites include the Pittsburg-sourced Wagyu filet mignon and the 80-day dry-aged New York strip. The Eisenhower, a 40-ounce porterhouse grilled straight over coals, also ranks as one of the finest. Because they offer something that no one else can, this place is an exceptional location for a lot of people.
Prime
Prime is the spot to visit when you're on the lookout for an outstanding view of the famous Bellagio fountains. With its lavishly cushioned chairs, bespoke art on the surfaces, Tiffany blue velvet drapes, and a large selection of traditional steak portions, this spot should not be skipped on a trip to Vegas.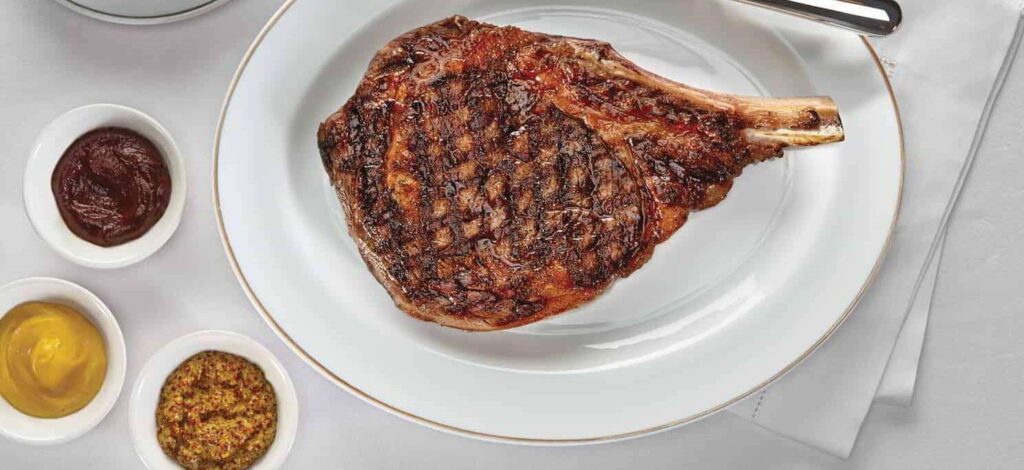 There are plenty of alternatives on the menu, including dry-aged bone-in rib eye, Dover sole, seared foie gras, and caviar. Also available is Japan's highly prized A5-certified Kobe beef. Prime has made quite a name for itself in the United States largely because of its outstanding customer service and flavor.
Kevin Rathbun Steak
For people who prefer the conventional classics, Kevin Rathburn offers a couple of premium choices. This Atlanta joint has seafood towers, cowboy rib-eye, and the tastiest New York strips. Believe it or not, these are a few from a lengthy list that is not available on the menu.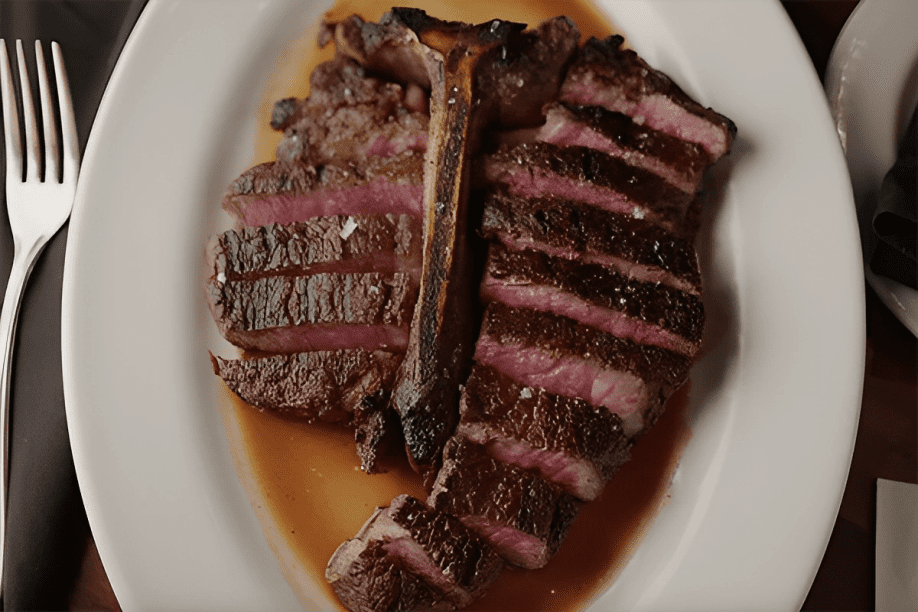 Notable dishes include smoked foie gras with red grits and sauce du Poivre, Sonoma Jack cheese pecan fritters with red pepper jelly, and Dover sole with field peas and preserved lemon. Talk about a spread that makes you hungry just by reading about it!
Bateau Steakhouse
Bateau goes the extra step when promoting its steaks. They assure customers that their produce is self-owned and fed on their grass, which guarantees the quality of the end product. To get the best results, their meat gets dry-aged for about three weeks.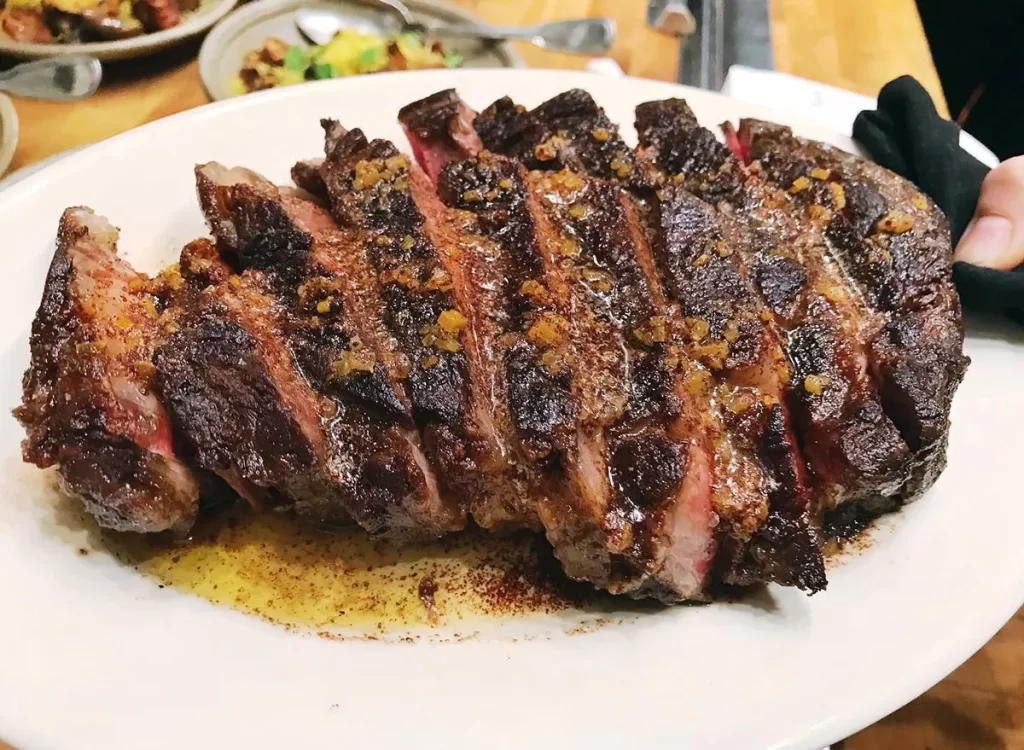 The look of this restaurant also happens to be among its distinctive qualities. It offers an alternative perspective from the conventional steakhouse layout, which is an open, light-filled environment. Still, it is just as elegant as it is unique. Locals in Seattle can't get enough of it.
Doris Metropolitan
All steaks in this joint are aged in-house, notably a month-long dry-aged rib-eye and strips. They also serve strip A5 Japanese Wagyu and tenderloin. Additionally, they provide a special alternative that lets customers take a portion of their dry-aged meat home with them. Classy.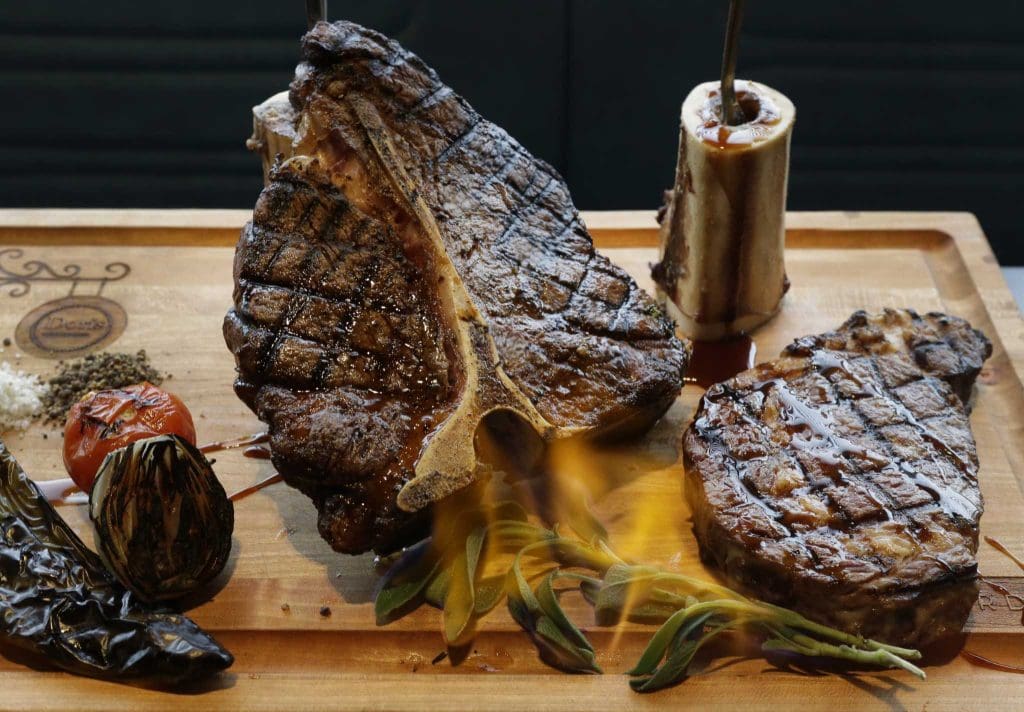 The majority of the customers that come to this steakhouse frequently make it a point to return. They are that good. You don't need to look much farther than Doris Metropolitan for one of the greatest steak experiences in New Orleans.
Georgia James Steakhouse
In the world of American culinary discourse, Georgia James is a well-known name. But even after he ventured into the domain of steakhouses, his popularity and repute have remained unaffected. This steakhouse has now been in operation for well over five years.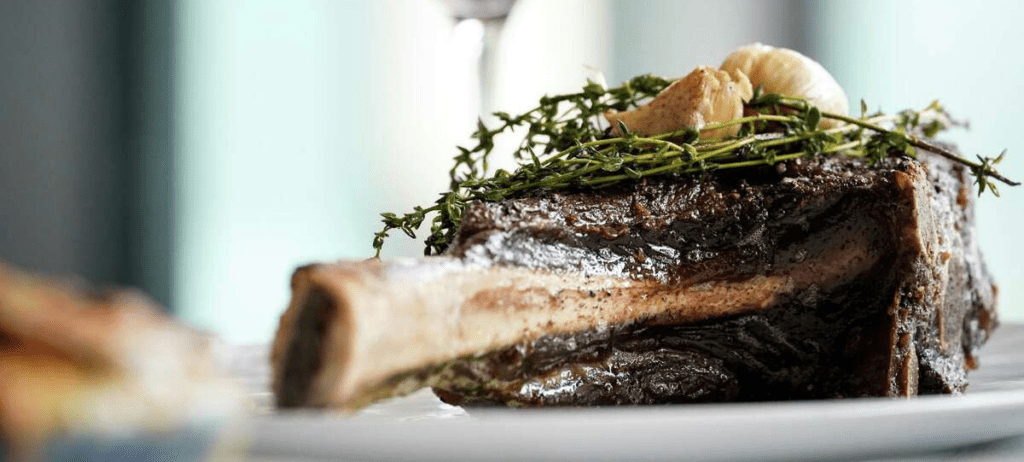 This establishment keeps raising the bar in all aspects. Both dry-aged and wet-aged steaks from a Black Angus producer in Cameron, Texas, are included on the menus. The menu also includes a 100-day fire-grilled hanger steak. Just reading that makes our mouths water!
Edge Steak and Bar
The truffle and foie gras bonbons served at Edge Steak and Bar are simply delicious. Their grain-fed prime porterhouse is another premium choice. How about a grass-fed Australian steak? That's an option as well. Another option on the menu is Imperial Real Wagyu from Miyazaki Prefecture in Japan.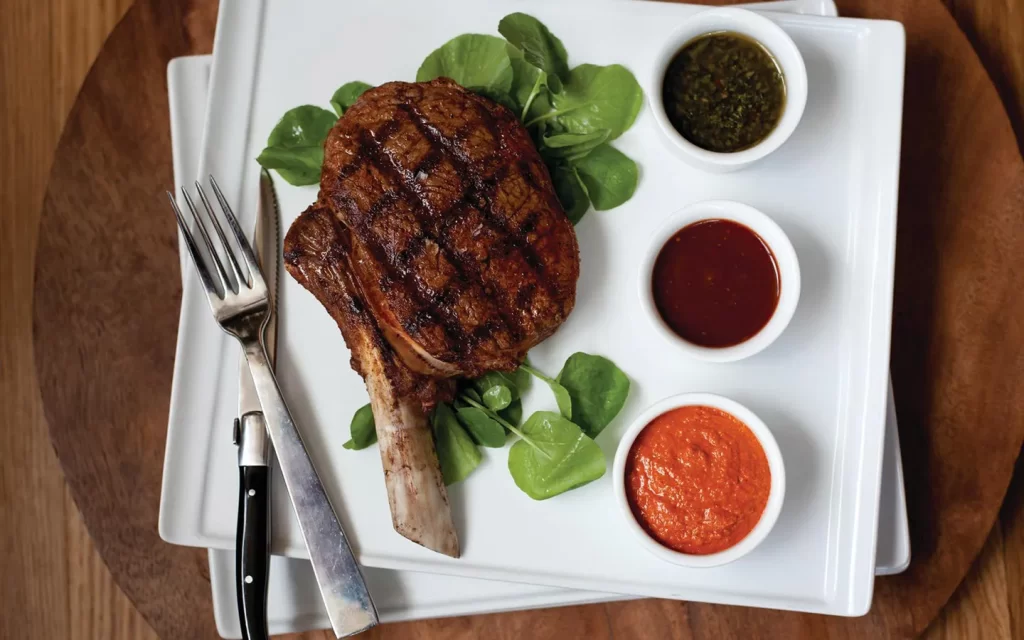 If you love ribeye, there is the 100-day dry-aged prime ribeye. These guys are undoubtedly sufficient offerings for everybody to have what they need. Thirsty after a good steak? Well, the Edge has a well-stocked bar to take care of that. Now you know where to get a steak in Miami.
Laurelhurst Market
This is definitely where you need to be if you're the type that enjoys meat that is obtained locally in Portland. The Snake River Farm Wagyu Coulette served with a magnificent charred green onion sauce, is a must-try. All steaks at this establishment are from Cottage Grove and are grass-fed.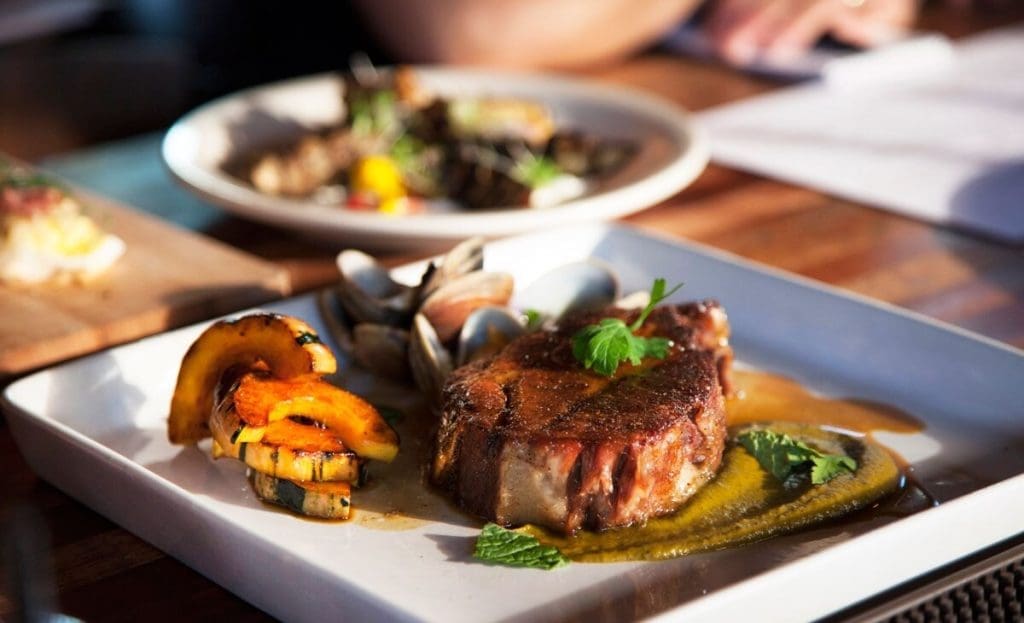 For those who like to keep it safe, there are also a couple of ounces of ribeye available in addition to the standard and traditional alternatives. With over a decade of expertise, Laurelhurst is well-equipped to provide optimal client service.
Stock Hill Steakhouse
The steaks available here are hand-selected, matured for 30 days, and, based on the kind of steak, meticulously procured from premium producers. You can savor the imperial Beef Wagyu Kansas City strip from Omaha, Nebraska, or the wet-aged bone-in ribeye from Quenemo, Kansas.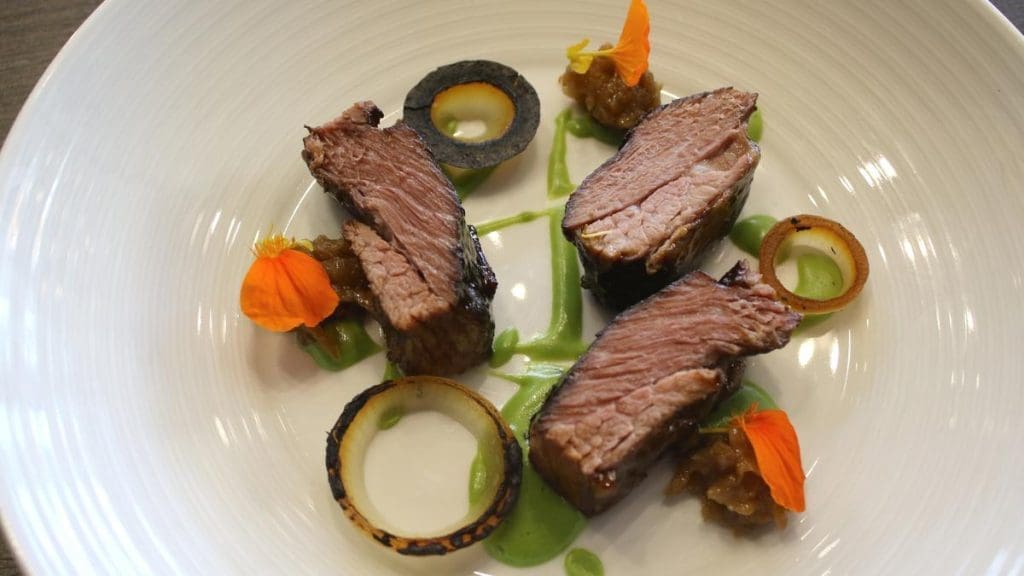 This wonderful steakhouse prides itself on serving up rather unique concoctions like hickory-smoked ice for its cocktails. This establishment, which is in Kansas City, Missouri, provides more than meets the eye. Dining here will make you appreciate their combination of breathtaking scenery with first-rate service.
Ringside Steakhouse
For over 70 years, Ringside has been a well-known steakhouse with a reputation for quality and classic portions. However, this restaurant goes beyond simply first-rate facilities. The menu features a large selection of varied meats, including hand-cut, 28-day dry-aged steaks.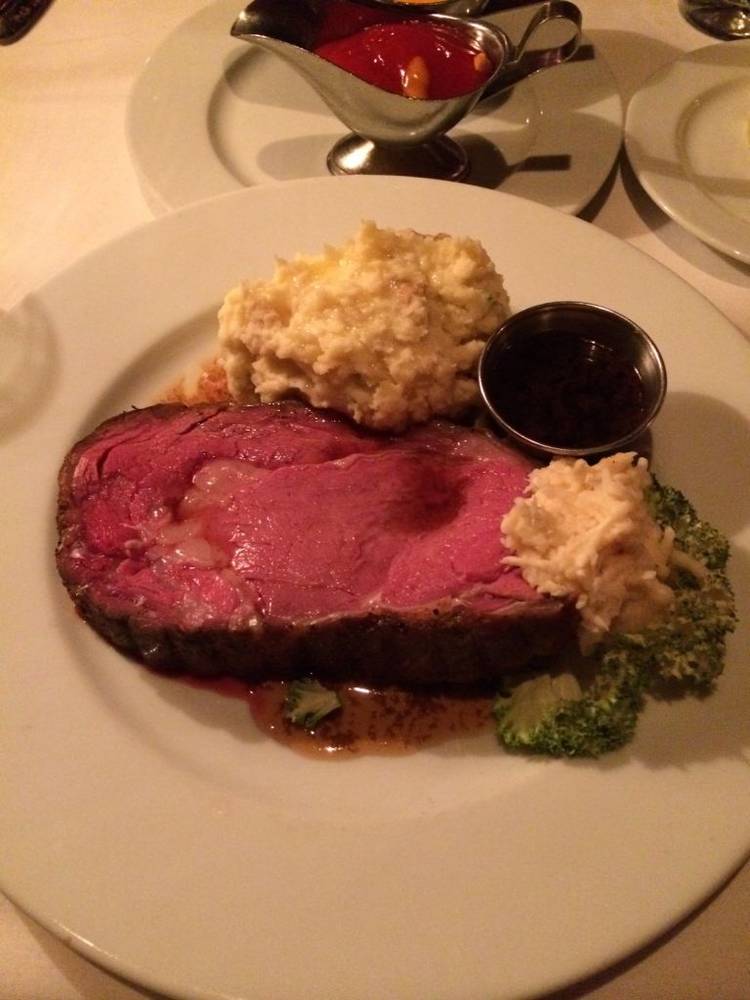 Their 34-ounce rib-eye, bone-in rib-eye, and bone-in New York strip are all available for sampling. The onion rings are also worth trying while you're at it. In addition to food, the wine aspect is well taken care of with Ringside's extensive wine list.
Alpen Rose
Alpen Rose offers a large selection of meats, such as 18-ounce New York strips, grass-fed fillets, and 45-ounce tomahawks, among many others. The majority of the steaks at this joint are dry-aged on the property. This creates a distinct environment for them.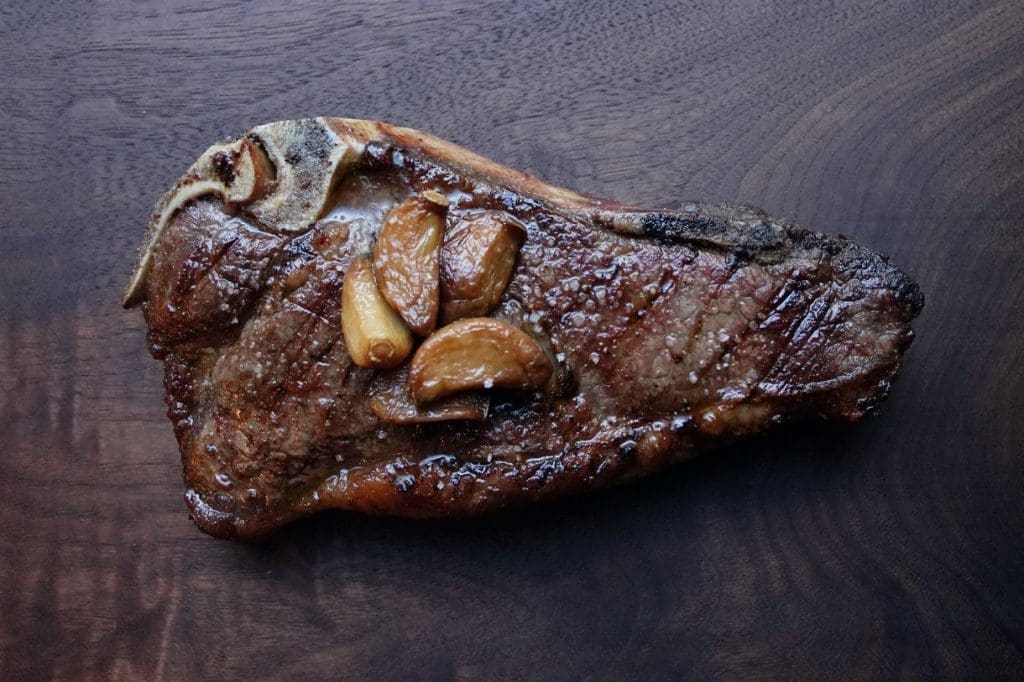 Also, don't worry, as there are always non-steak options available if you fancy any. One of the most notable dishes that are served here is classic Baked Alaska, an appetizer of bone marrow served with beef cheek. The steakhouse is cozy and has the feel of a family restaurant despite its modest size.
Cote Steakhouse
Have you ever tried galbi, a short rib marinated in soy sauce? If the answer is no, then quickly make your way to Cote Steakhouse in NYC! While here, also expect Japanese Miyazaki Wagyu, the 45-day dry-aged rib-eye, and the steak omakase, which consists of ten beef cuts, including dessert.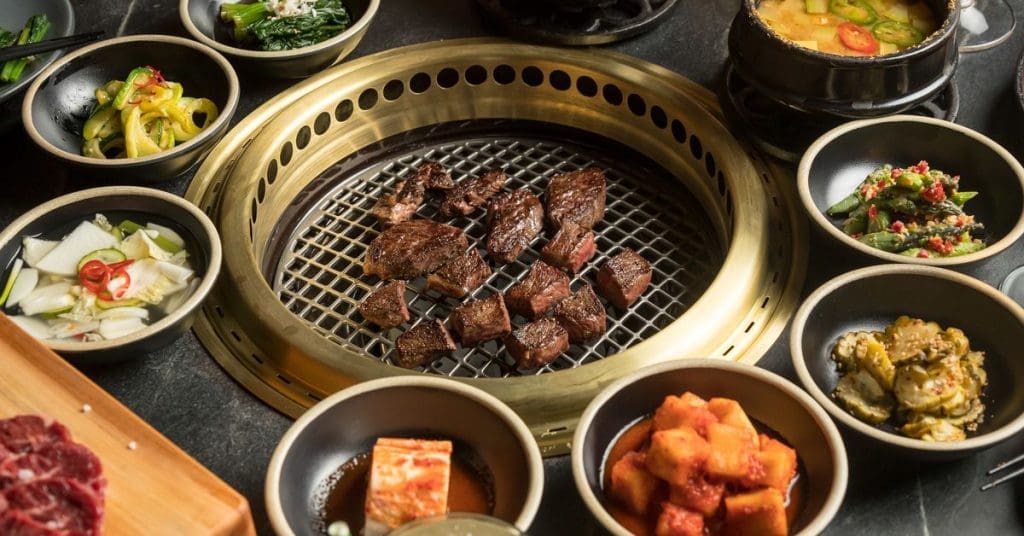 There are filets, hangers, finger meat, plus plenty more. Also, they're all USDA Prime-certified. Cote Steakhouse's cuisine, particularly its BBQ, reflects a bit of Korean culture. Because of its uniqueness, it is easily one of the most reputable steakhouses in the country.