From Fritters To Fritos: Classic State Fair Fare That's Worth Trying
By Jhoana C October 12, 2022
---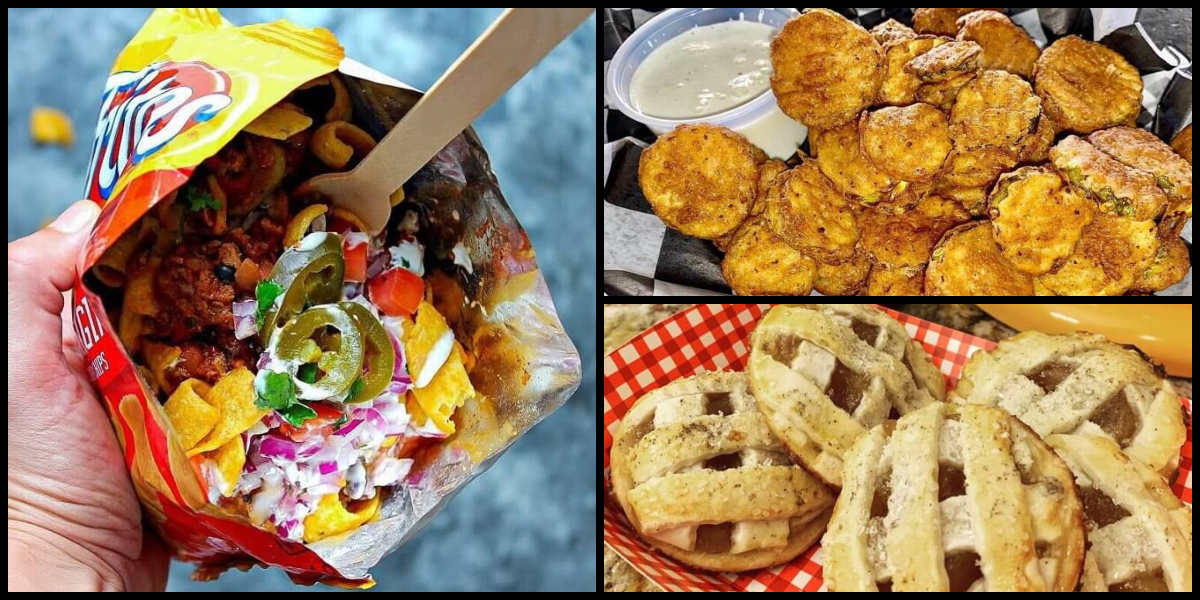 Depending on where you live, attending a county or state fair is either an annual tradition or a rare experience. If you've never been to a state fair, we'll fill you in on what you're missing. At these annual events, you'll meet hundreds of vendors, all showcasing their wares, some of which are edible.
That's right, food vendors are a huge staple of state fairs. And since attendees are used to seeing out-of-the-ordinary foods, the chefs need to be more creative to attract people's attention. Fried potatoes are standard fare, but fried pickles are hard to come by.
While some food items on this list aren't only found at state fairs, their food stall versions are prepared in a special way and are uniquely flavored. Scroll to the bottom of this list to see some of the most well-loved foods that will please your taste buds.
#1 Deep-Fried Oreos
Since its invention in 1912, Oreos have become a world-renowned treat. Over the years, Nabisco made waves by introducing new flavors and combos to the classic cookie — Funfetti, double-stuffed, etc. Although we prefer plain Oreos, many people like extra oil and swear by the deep-fried treat.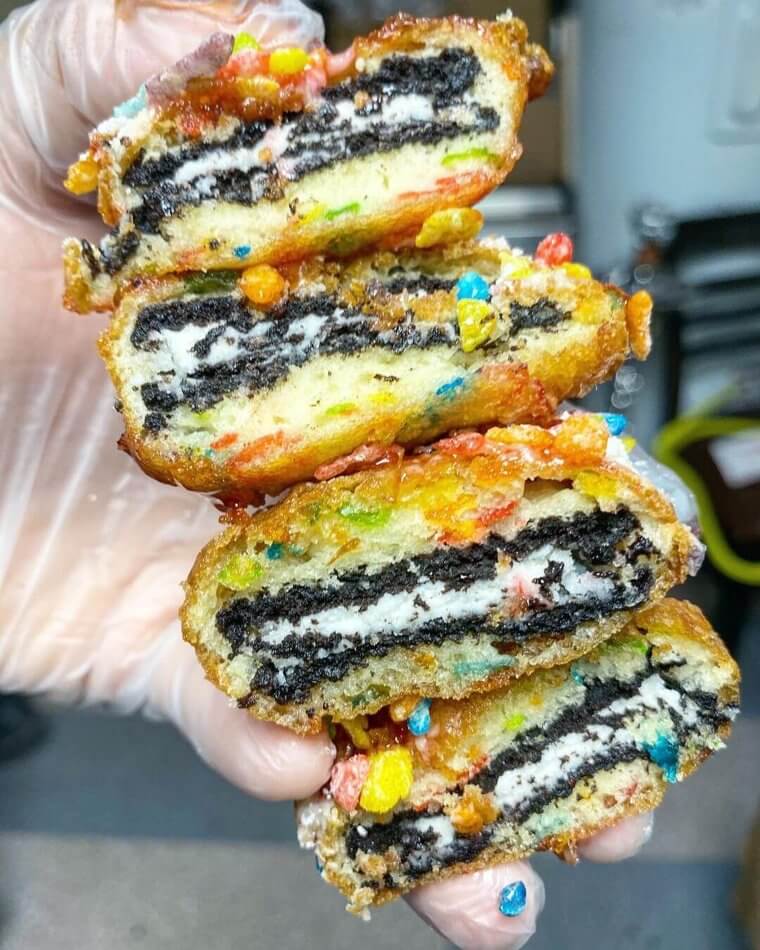 Deep-fried Oreos are dunked into a thick batter and topped with whipped cream and powdered sugar. Too much sweetness for you? Well, some people just can't seem to get enough extra oil and sugar on their cookie sandwiches. But don't knock it until you try it; they say its taste will bring you to Nirvana.
#2 Cinnamon-sugar doughnut bites
A doughnut bite has about 100 calories…so you know exactly how much you can eat in a day. One of the best flavors of doughnut bites is cinnamon sugar. These bite-sized goodies can make you want to eat more than you planned, so be careful.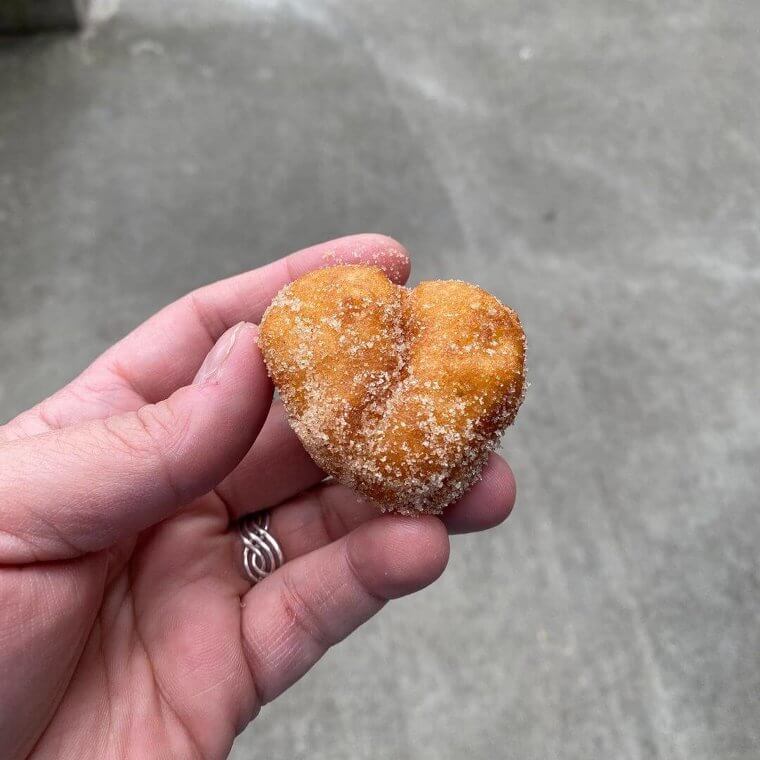 If you don't eat carefully, you'd find an unpleasant surprise when your plate is empty and your pants are a little tighter. Doughnut bites are fried until they are golden in color and slightly puffy. After they are taken out of the oil, they are tossed in cinnamon sugar and can even be topped with ice cream.
#3 Strawberry shortcake ice cream
Shortcake is the name given to sweet or crumbly cakes, and one of the most popular flavors is strawberry. These shortcakes are layered with whipped cream and strawberries. Although available worldwide, it is considered to have originated in North America.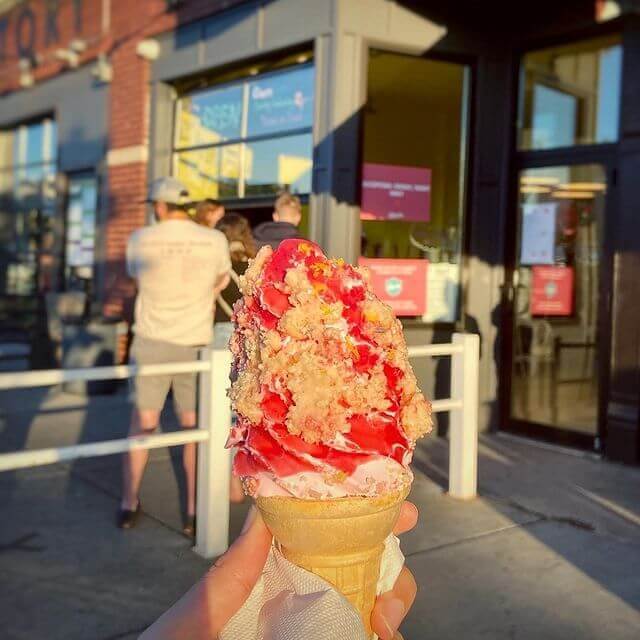 What's better than strawberry shortcake? Strawberry shortcake ice cream, of course! This ice cream is made with fresh strawberries and cubed angel food cake. Just forget about the calories and the extra pounds you might gain; it's all worth it.
#4 Jalapeno poppers wrapped in bacon
Bacon! Everyone thanks the day this thin strip of tasty pork was invented. Fun fact: the word itself means "meat from the back of an animal." Today, 70% of bacon in the United States is consumed during breakfast. What's better than plain bacon?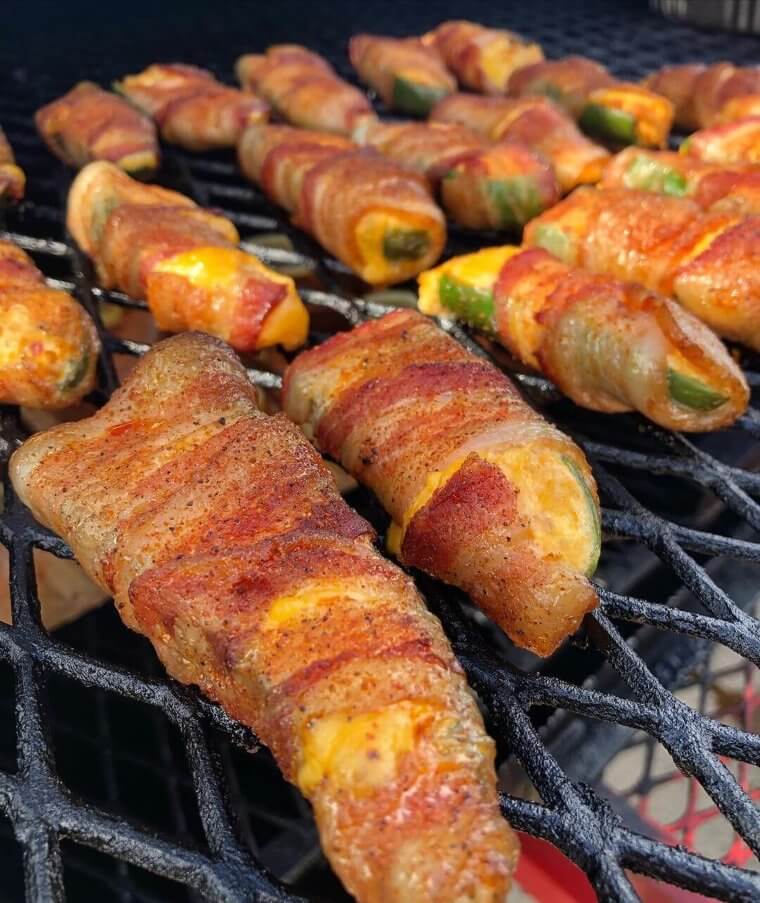 Bacon wrapped around Jalapeno poppers! It's the best appetizer and they sell like crazy at state fairs. You'll revel in the taste of fatty bacon, cream cheese, and jalapeno and it will open your appetite for more goodness and deliciousness.
#5 San Antonio puffy tacos
A specialty of San Antonio, hence the name, these puffy tacos are made from fresh masa puffs and chips in hot oil. The shells are crispy outside but soft inside and feature a rich corn flavor. They can be stuffed with a variety of fillings.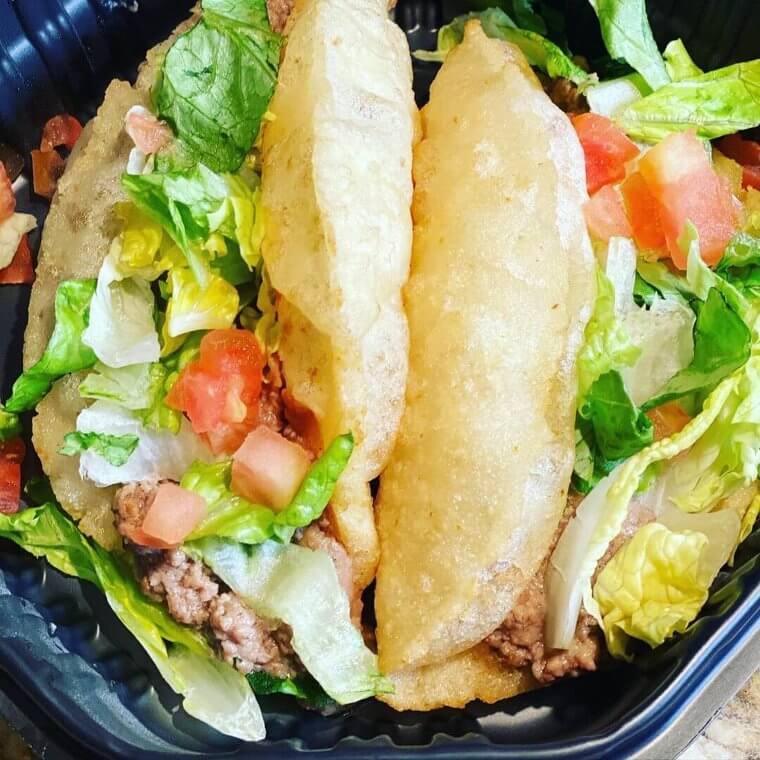 However, the typical filling contains cheese, tomato, lettuce, and ground beef that has a smoky, spicy, and earthly flavor. A few toppings can also be added to your order — for an extra fee, of course. Many people ask for guacamole on their meals.
#6 Chicken pot pie
The chicken pot pie got its name from a pie made aboard ships. The first frozen pot pie didn't hit the market until 1951 by the Swanson Company, and back then, it was made with chicken. Nowadays, you can find a variety of pies with fillings such as cornbread, biscuits, and mashed potatoes.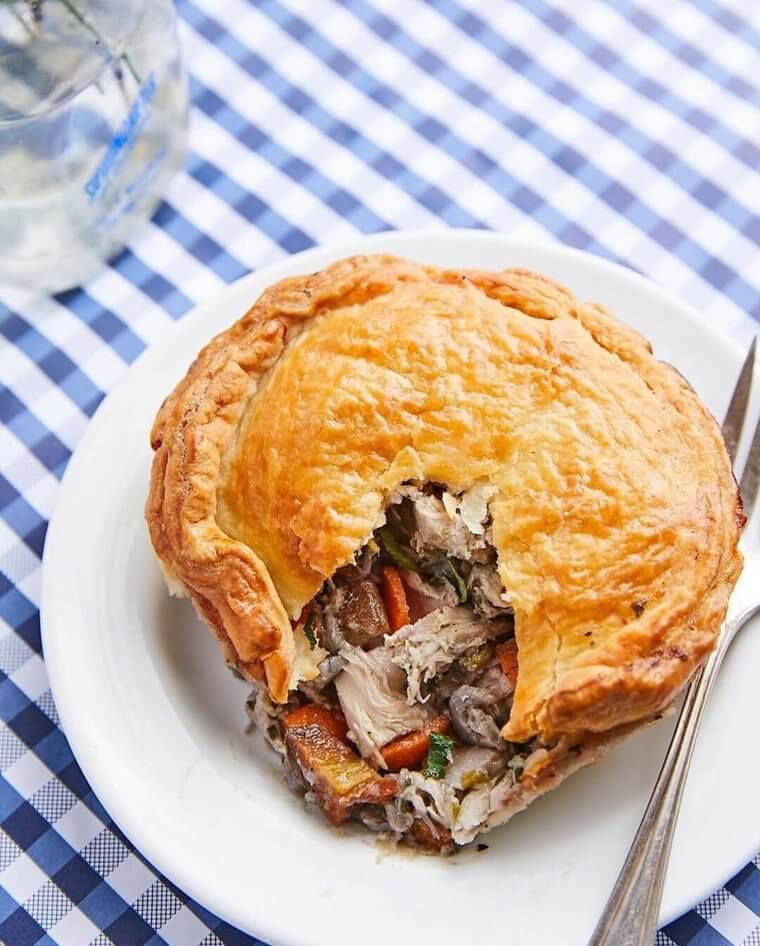 Chicken pot pies are familiar sights in state fairs, but if you'd rather make one from scratch, you can easily do so, as there are plenty of recipes on the Internet. The classic comfort food is a hearty meal to enjoy when you're feeling under the weather.
#7 Apple cider cinnamon doughnuts
Here's a little trivia for everyone: when doughnuts first appeared in the US, they were called olykoeks. Olykoeks means oily cake in Dutch. Doughnuts today may have a hole in the center, but it wasn't always that way. When they first came about, they were just fried balls of dough.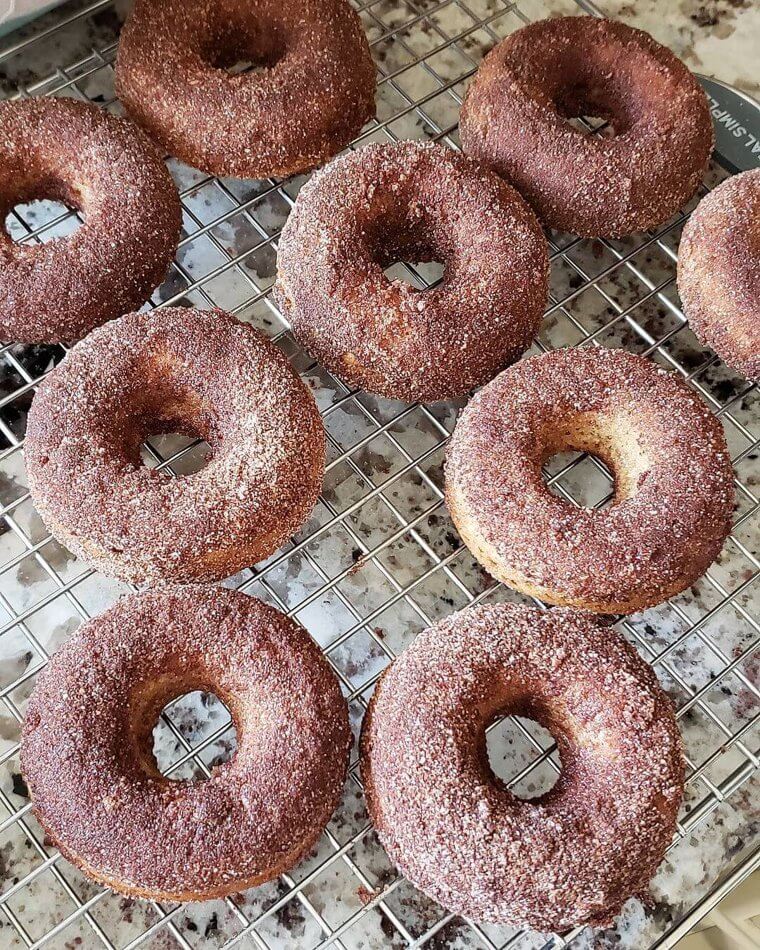 One of the best in the world, which you must absolutely try, is the apple cider cinnamon doughnut. It has a distinct and pleasant aroma that you can smell from a mile away. These donuts are staples in state fairs, and you won't find a shortage of stalls selling them.
#8 Buffalo-style waffle fries
This is something we'd wait in a long line for. And the longer the line, the sweeter the reward. Crispy and golden, these fried fries are topped with a tangy sauce. For those looking for a spicier variety, the vendor can top the fries with hot sauce.
You can find all sorts of hearty meals at state fairs and that's what makes them special and timeless. Most state fairs also have more than a thousand booths and exhibits that are not related to food, so you can snack while you explore.
#9 Alabama hush puppies
What can be more southern than Alabama hush puppies? The story goes that Confederate soldiers were making dinner around a campfire when they heard Yankee soldiers approaching. So, in order to keep their dogs quiet, they tossed fried cornmeal cakes their way and told them to "hush puppies!"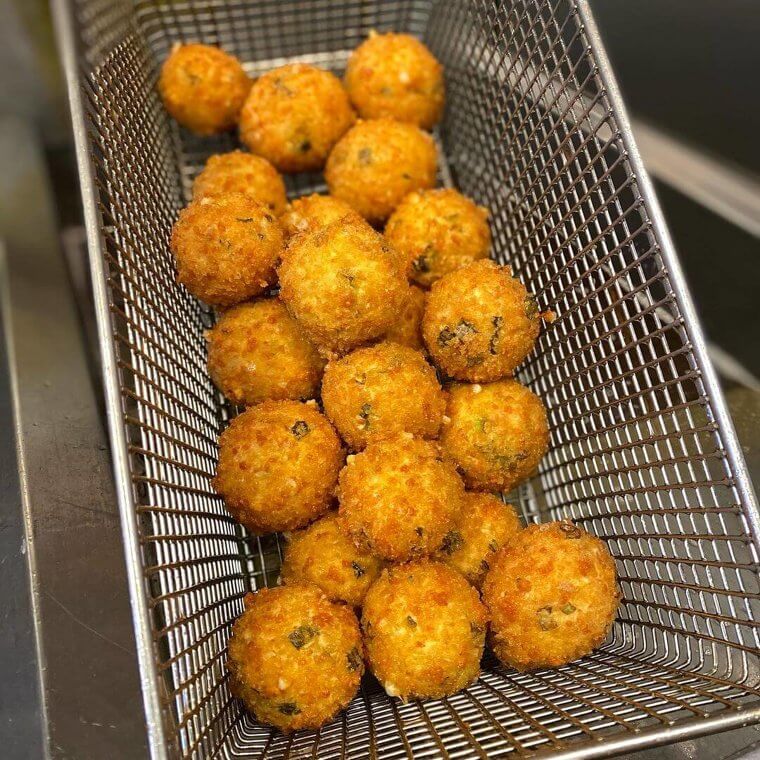 Quite a story, right? Whether real or not, we're just happy that these little deep-fried babies were made. Prepared with simple ingredients, this cornbread mixture includes bits of onion for flavor. Dip them in tartar sauce and you're in foodie heaven.
#10 Tater nachos
This isn't going to be the last nachos post here. That's how popular they are in state fairs — and how delicious they are. Some people call them tater nachos, but others call them totchos. Totchos bring a fun twist to your usual nachos.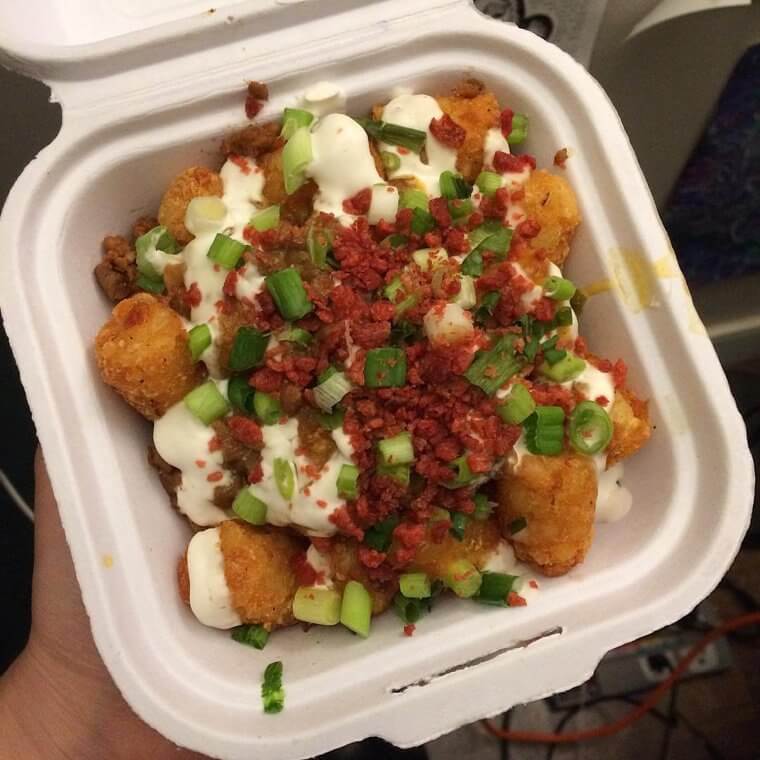 Instead of using tortilla chips, totchos use crispy tater tots which are covered with homemade taco seasoning and then baked. After baking, they are topped with the usual nacho toppings, our favorite of which is guacamole. Ok, all this talk is making us hungry.
#11 Curly fries
Curly fries or curly Q-style French fries are foods that must not be missed at state fairs. These uniquely formed potato curls also have a hazy origin story, but who cares, right? All that matters is they taste good, and people can't get enough of them.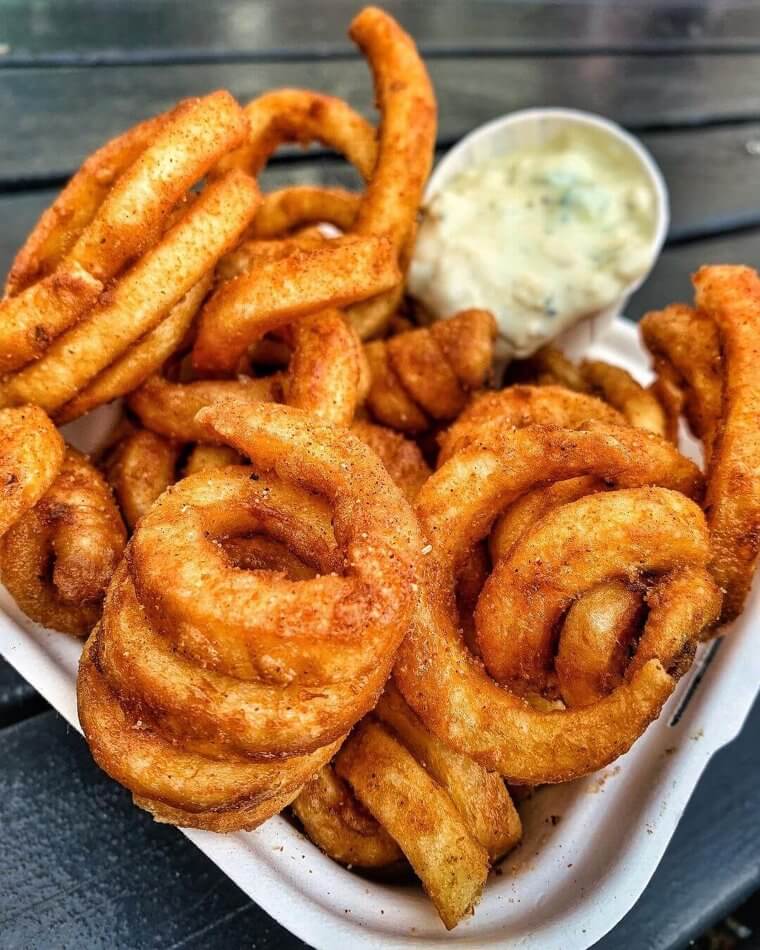 You can eat them plain or throw in a few extras, such as bacon, cheese, chives, and sour cream. Either way, they taste good; although we prefer them plain with just salt. As long as they are deep-fried to perfection, we're good.
#12 Soft caramels
According to history, the simplest form of caramel was made as early as 1,000 A.D. in an Arabic nation. They mixed sugar and water to form a crystallized and hardened form of the candy and it was referred to as a "ball of sweet." No joke!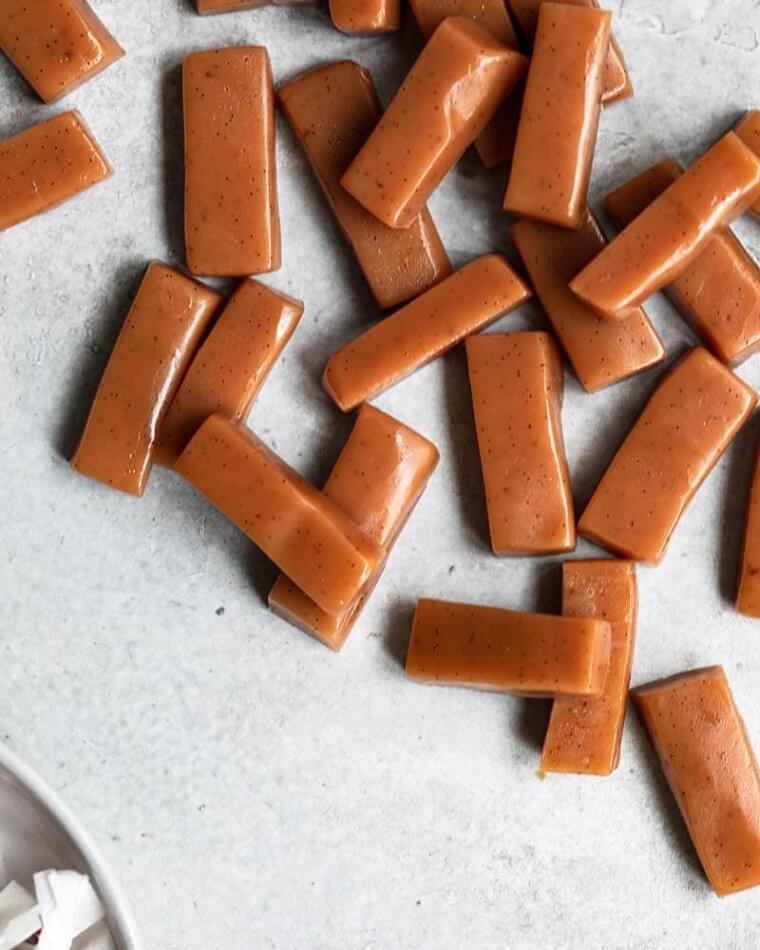 Soft caramels of today come with more ingredients and go through a more complex process of cooking before they are cut into strips and wrapped individually. If you need to up the sugar levels in your body or need a boost of energy, you can munch on these.
#13 Fried catfish
Some people just can't stomach the thought of eating catfish, but it's quite popular down south and is one of the most common foods sold at state fairs. You haven't been to a southern fair if you haven't tried their famous fried catfish.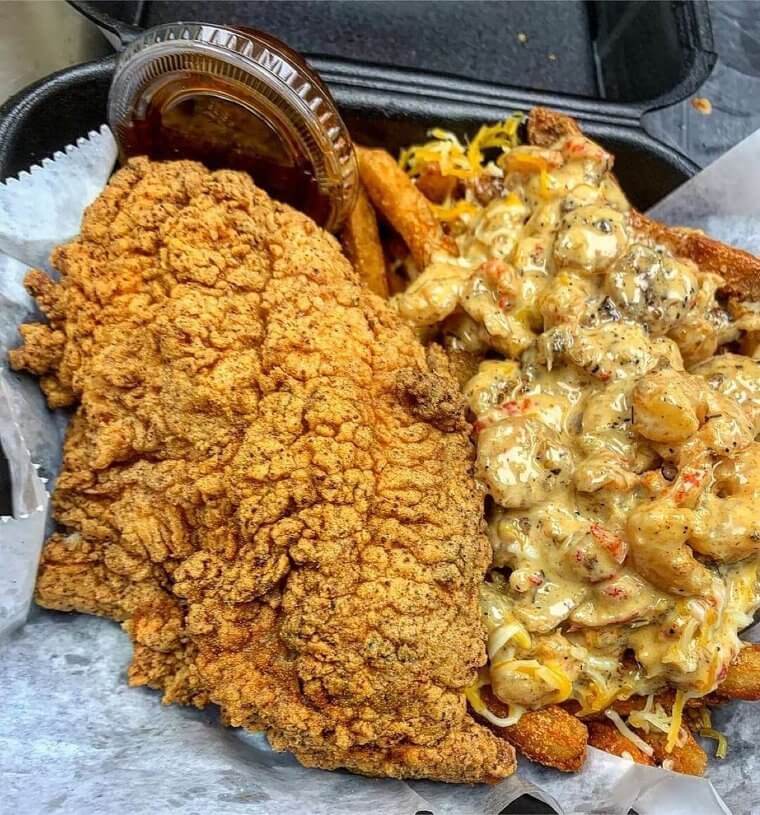 It's seasoned to perfection and deep-fried until golden. It's served with a dipping of tartar sauce and often comes with a few sides to complete the meal, such as coleslaw, fries, hush puppies, vegetable salad, and even mac n' cheese.
#14 Fried pickle chips
Pickles are a low-calorie food that can be easily accommodated in your diet, provided that you like pickles and don't already eat too much sodium, of course. Fried pickles were thought to have been invented by the Duchess Drive-In which put the food on its menu in 1963.
Frying pickles significantly increases their fat and calorie content, but they make the perfect snack. Salty, crispy, and crunchy, they are even better when dunked in a tangy dipping sauce or ranch dip. They fly off the shelves because people just can't get enough.
#15 Fried macaroni and cheese bites
Mac and cheese is the type of comfort food you reach for when you're lazy, sad, or nostalgic. It's a quick fix for hunger pangs that need to be sated relatively quickly. But would you believe us if we told you that there's something better than the regular pasta and cheese combo?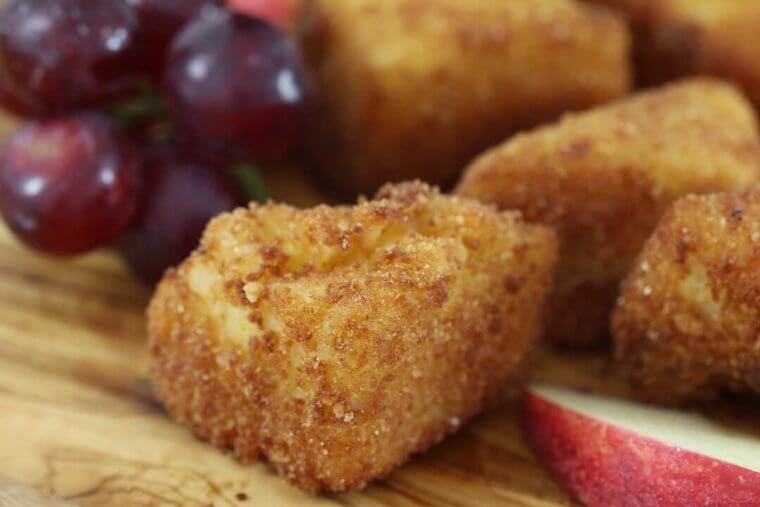 We are talking about fried macaroni and cheese bites. It's mac and cheese rolled into a ball and then deep-fried. It makes for an amazing appetizer, and when you're at a state fair, that's a good thing. They'll keep you sated while you wait in line for your next snack.
#16 Beef tamale pie
Thought to have originated in Texas in the 1900s, the tamale pie is not only a state fair food, but it's also a popular food in high school cafeterias. Aside from beef, tamale pie can also be made with chicken, cornbread, and cheese with vegetables.
The meat is usually grilled on the pan together with caramelized peppers and onions before all the other toppings are added. This is the perfect snack when checking out all the booths and the various rides at state fairs. Just make sure you don't eat some before going on the rollercoaster.
#17 Boiled peanuts
Boiled peanuts are simple and straightforward state fair foods that will keep you full and happy. Crack them open while waiting in line for your next ride; just make sure you don't throw the shells anywhere but the garbage can.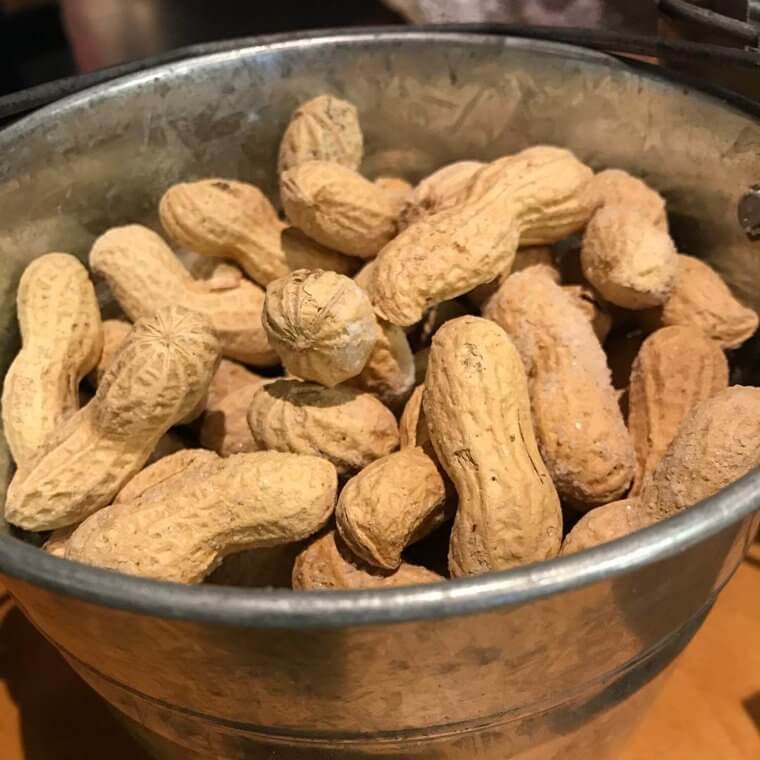 Most peanuts come in two varieties — plain and spicy. But when you're at state fairs, you'll never know which fun pack you'll get. Aside from being filling, boiled peanuts are also more affordable compared to other state fair foods, so hurray for peanuts.
#18 Candied apples
Candy apples are made by coating an apple with a layer of sugar that has been heated to the point of reaching the hard crack stage. Candy apples are also common at various autumnal festivals. You're sure to find them at any apple-picking event.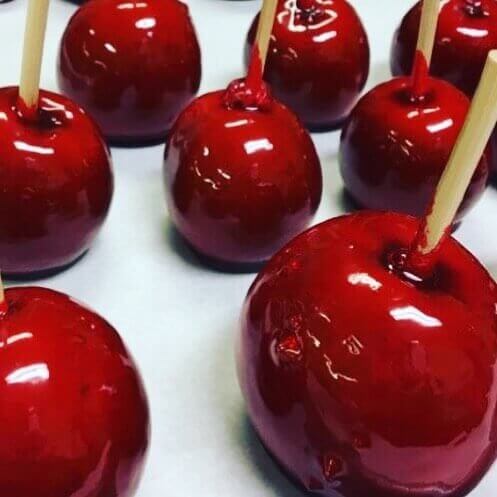 It's so popular that it's been featured in countless movies, but the first candy apple was not meant to be eaten. Rather, it was meant to be displayed. Candy apples are easiest to make during fall because it requires a hard sugar layer that doesn't set properly in hot weather.
#19 Corn Dogs
The corn dog was patented in 1927, and March 19th is known as National Corn Dog Day. Arguably, the greatest food creation in the US, the corn dog is a treat that appears not only in state fairs but in all sorts of places where good eats are available.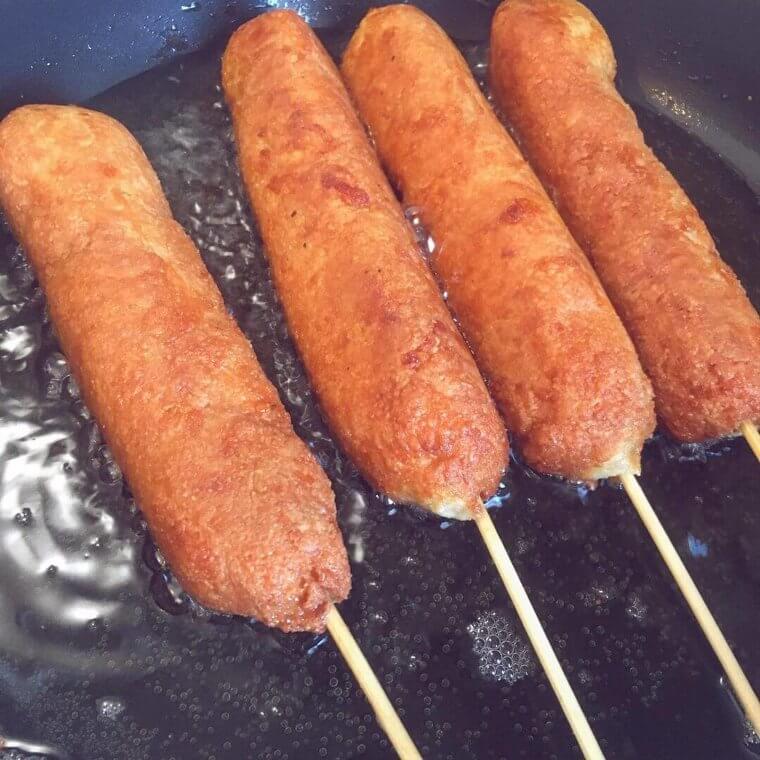 The Texas State Fair alone sells more than half a million dogs in a season, and that's only over the course of 24 days. Imagine the number of corn dogs people eat every day at state fairs. We made our point; you can't miss corn dogs at state fairs.
#20 Buffalo chicken bites
Buffalo sauce is one of the most popular sauces today. Can you imagine chicken wings without them? That's how intertwined the two are, but be prepared to eat more than you plan to when buffalo chicken bites are on the table.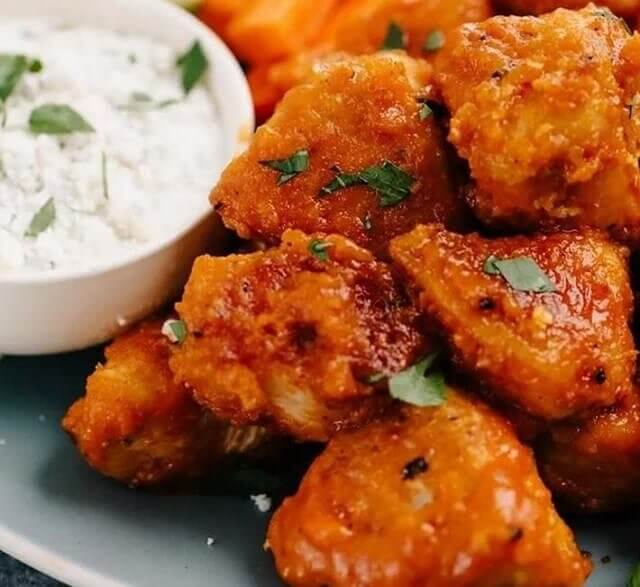 To borrow KFC's tagline, it's finger-lickin' good, and you'll be asking for more. The buffalo wings are fried, as usual, tossed in buffalo seasoning, and as if that wasn't enough yet, they are doused in sauce. You won't be able to control yourself when eating them, that's for sure.
#21 Caramel-peanut popcorn
Believe it or not, popcorn is more than 5,000 years old, though the first commercial popcorn machine wasn't invented until after 1885 by a man named Charles Cretors. The state that produces the most popcorn in the US is Nebraska, totaling 250 million pounds annually.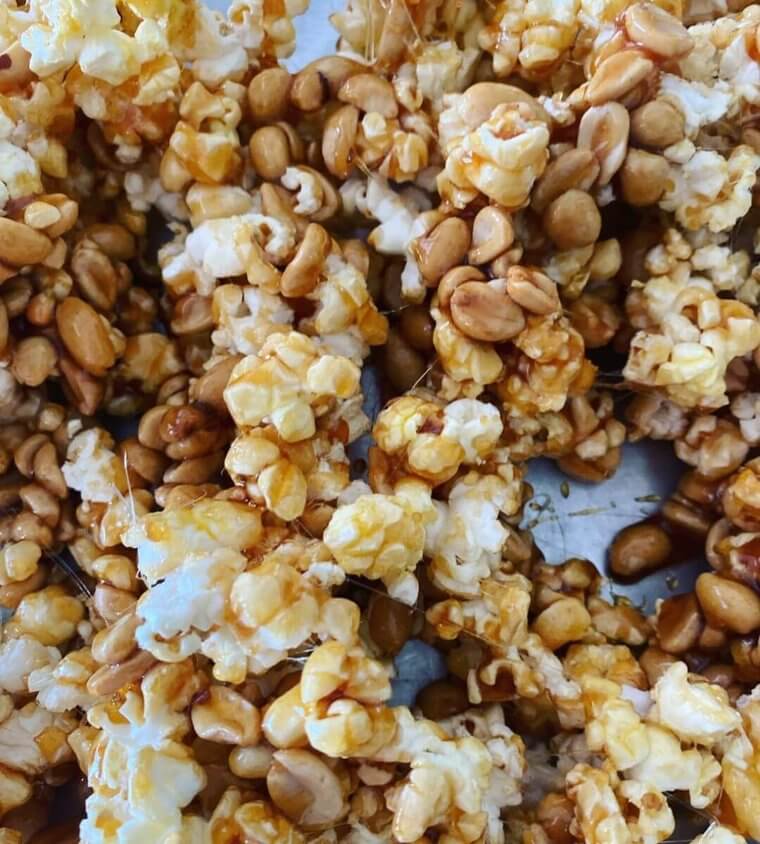 Of course, state fairs wouldn't be complete without the presence of popcorn. Popcorn is popped, as per usual, and molten caramel is poured all over the top, resulting in one of the best food inventions of all time. Salty and sticky, we wouldn't have it any other way.
#22 Hotdogs with Pickles, Parsley, and Relish
No trip to the state fair is complete without the consumption of at least one single hotdog. Hotdogs are easy to prepare, though maybe not the healthiest option. Having a hotdog is one experience, while having it at the fair is another story.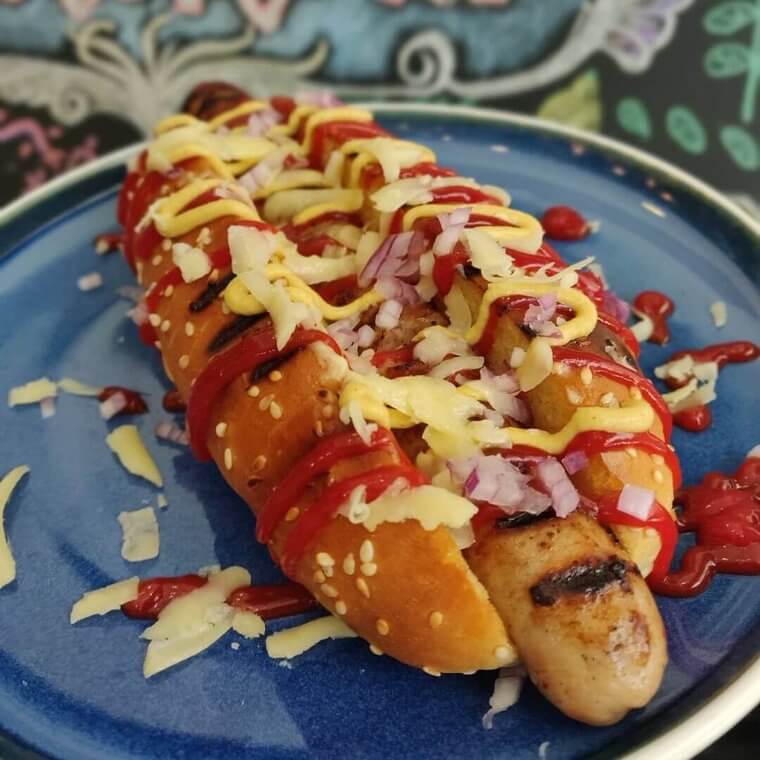 Although hotdogs at the fair couldn't be messier, people agree that it's the only way to eat them when at the fair. Hotdogs at the state fair are covered with all sorts of toppings, from pickles to parsley, onions, and all kinds of sauces.
#23 Chocolate-covered bacon
Bacon is wonderful, and chocolate is out of this world. Merge them with one another, and what dish do you have? One of the tastiest, albeit least healthy, foods at the state fair: chocolate-covered bacon. Weird as it may sound, it's a bestseller.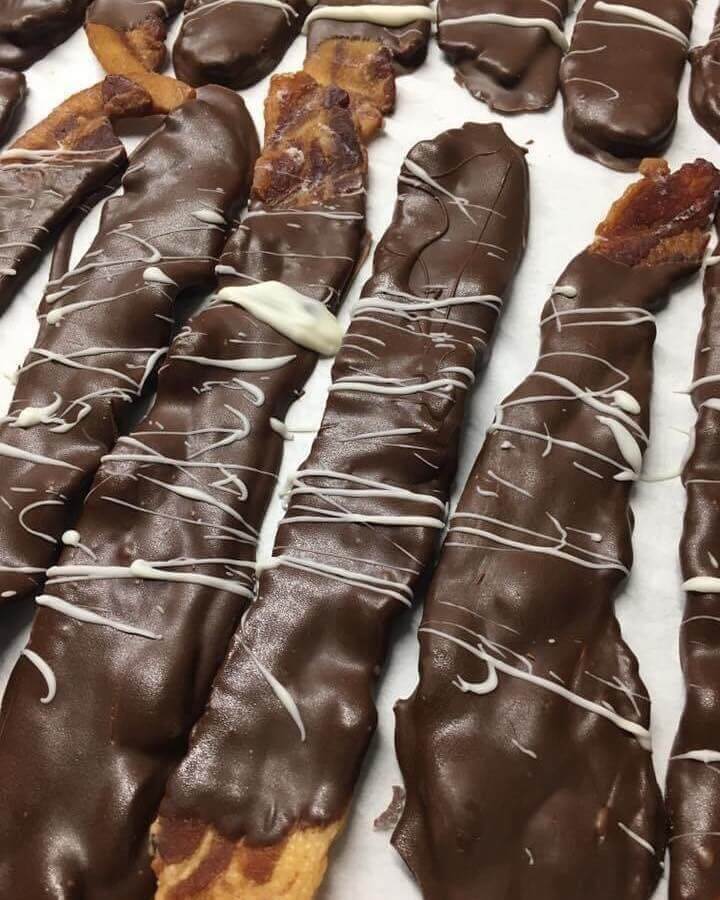 The name gives away the recipe. A strip of bacon is fried, skewered, and then covered in chocolate. You get a sweet and salty product that you'll be licking your lips for. On a diet? Forget counting calories right now and just indulge in a guilty pleasure.
#24 Chicks in a blanket
Why go for the simple sausage when it can be fancier and tastier? Perhaps that is the mantra of people selling chicks in a blanket at state fairs. Chicks in a blanket are chicken hotdogs wrapped in dough and baked til crispy.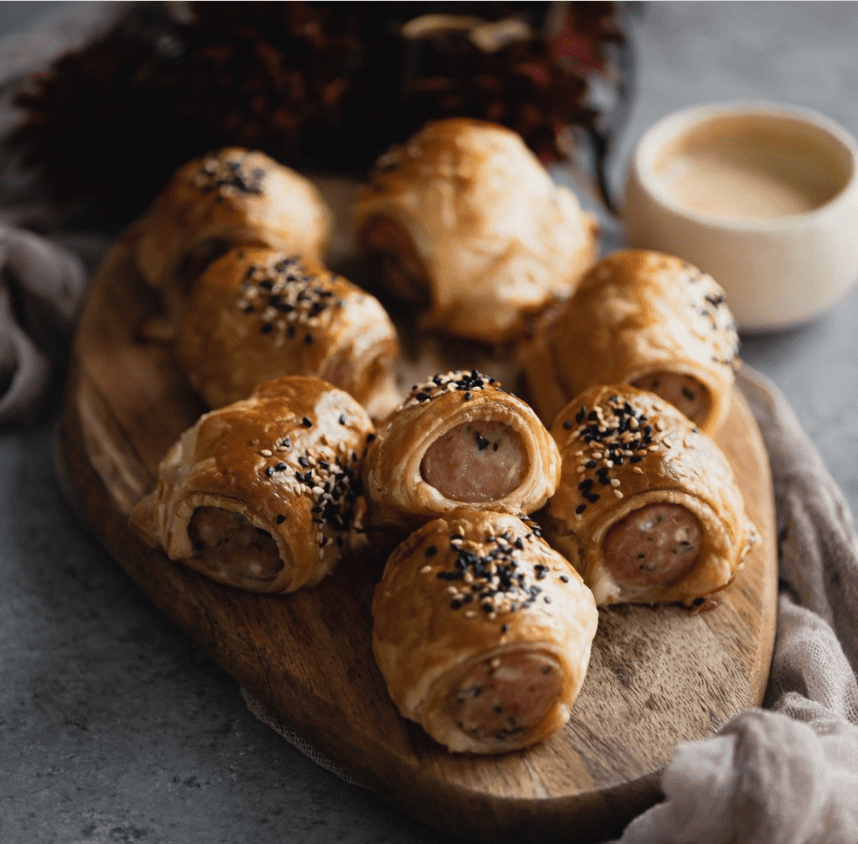 They are kind of like pigs in a blanket, but with chicken. Aside from being an excellent state fair food, it's something you can quickly and easily prepare if you've got friends coming over. You can purchase the ready-made dough from the grocery, for faster meal prep.
#25 Banana fritters
The banana fritter is made by deep frying battered bananas, also called plantains, in hot oil. It is common in Southeast Asia, the Indian subcontinent, and of course, state fairs in the south. Although, the cooked syrup and honey significantly increase its calorie content, but who's counting?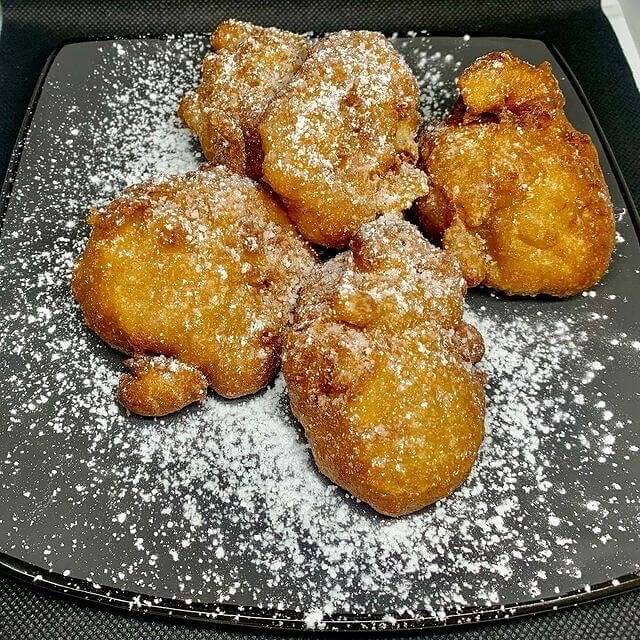 The type of banana fritter sold in state fairs is coated with cake batter before being fried until golden brown and topped with a sugary glaze. When you're at the state fair, there's only one way to have them: sweet; extra sweet.
#26 Fried green tomatoes
When we first saw the movie Fried Green Tomatoes in 1991, we thought it was just that, a movie title. But lo and behold, there is a culinary dish with the same name that's popular in the southern United States that's made with unripe tomatoes that are coated in cornmeal and then fried.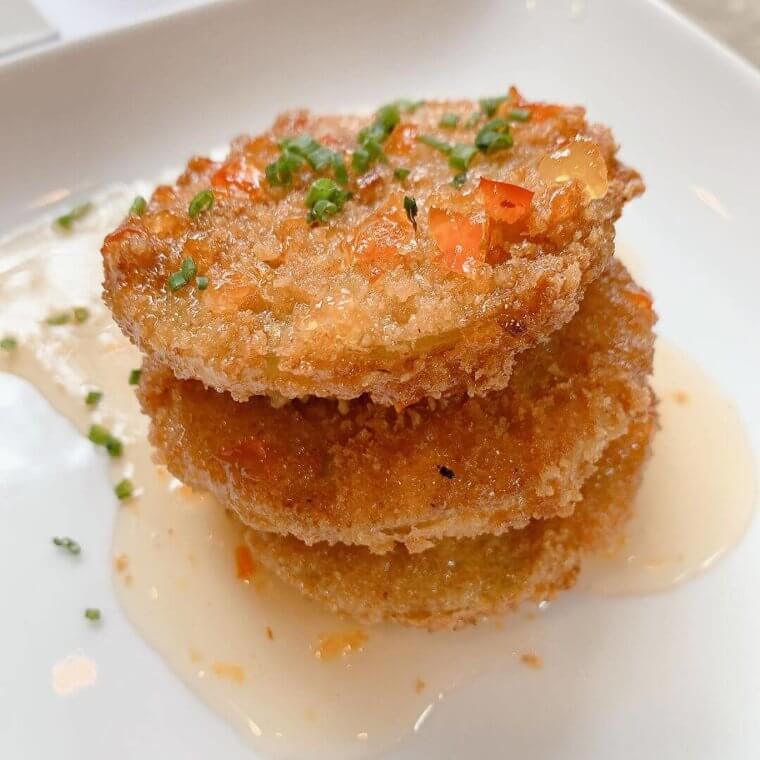 Fried foods are staples in state fairs and the event would be incomplete without at least one stall selling deep-fried treats. But we can tell you this much, though; all the fried foods are worth making the trip to the fair. Just think of all the takeaway goodies you can eat while driving home.
#27 Salted Caramel-Apple Hand Pies
Caramel apple pie is a fall favorite because autumn and apples go hand-in-hand. Another version of the caramel apple pie that's a familiar sight during state fairs is the salted caramel-apple hand pie, though they also come in a variety of flavors and sizes.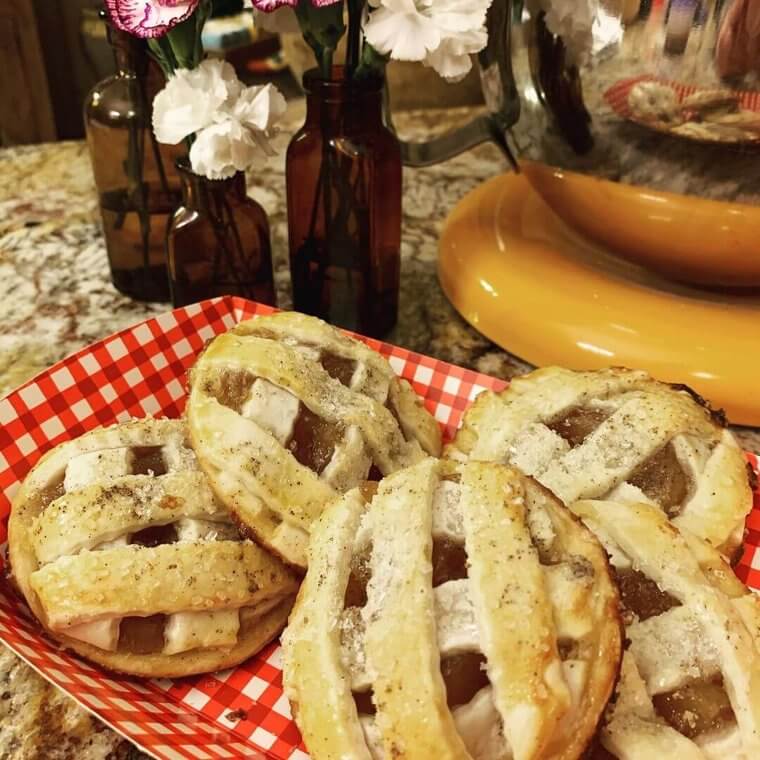 Most of these pies are smaller than the usual pie, and aside from caramel and apple, a few standard flavors are peach, cherry, and pumpkin. Can't go to the fair? Don't worry because you can easily prepare these pies at home.
#28 Cherry slushie
The slushy is a beverage made of flavored ice and it has a composition similar to granitas. The cherry slushie is one of the most popular beverages at state fairs, and it's impossible to resist it, especially if the weather is a little hot.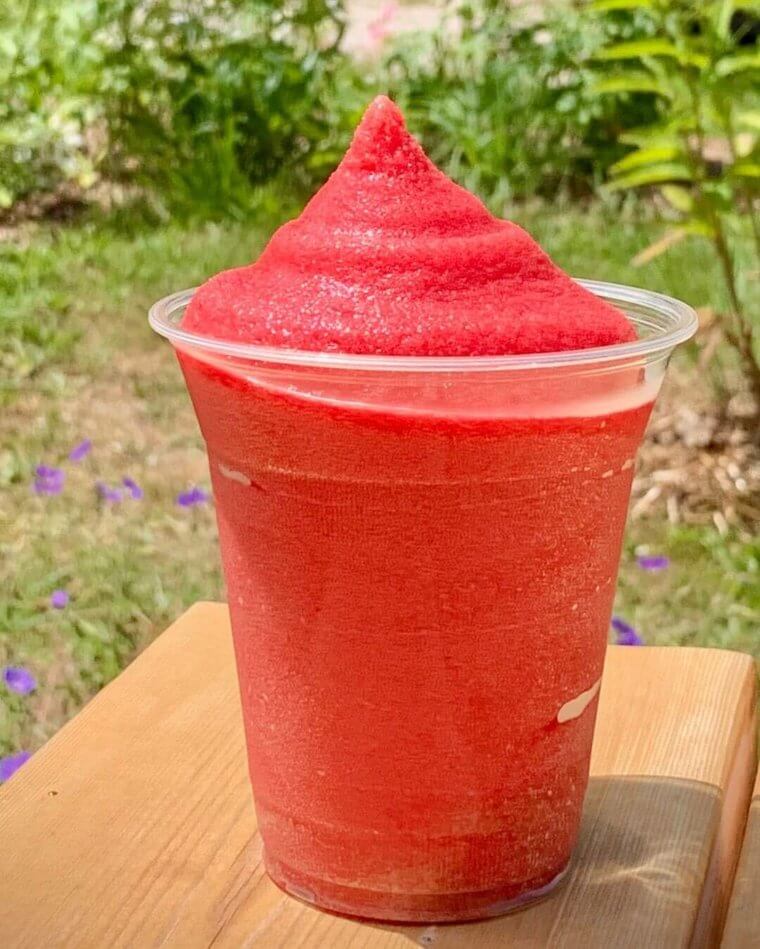 It's perfect for a hot day because it's cold, refreshing, and intoxicatingly sweet — all the things you'd want and need in a refreshment. But don't worry if you don't like cherry as the slushie comes in various flavors. Just be careful and go slow; don't consume everything in one go.
#29 Golden Corn Fritters
More evidence that you have reached the deep south of the United States is the profusion of corn fritters. Corn fritters are fried cakes of dough or batter that is made of maize. It originated from Native American cuisine and is a traditional sweet and savory snack in the south.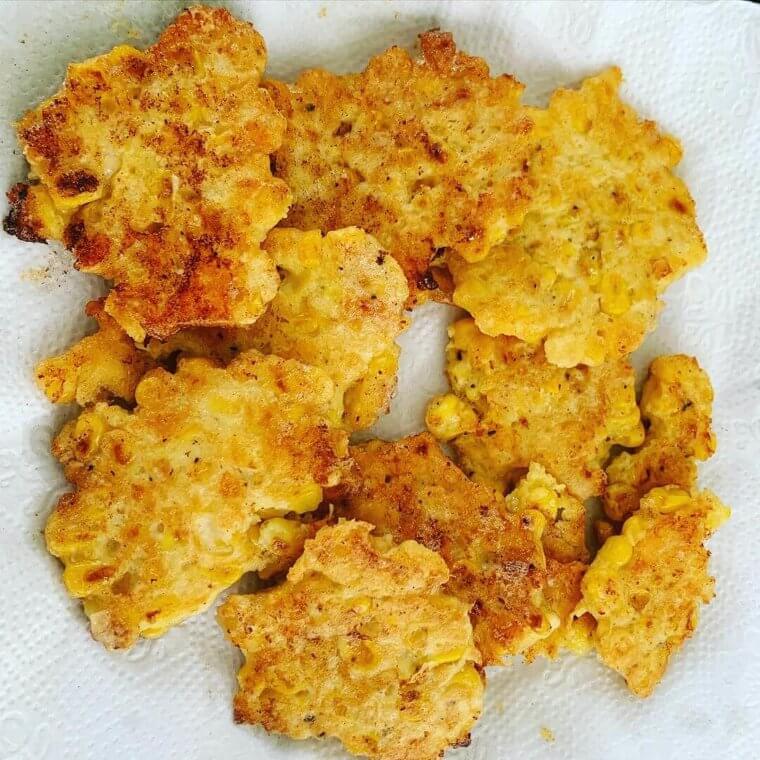 Corn fritters are also common in Indonesia, where they're known as perkedel jagung. If you've never tried them, it tastes like a less sweet version of a donut made with corn and topped with maple glaze. Eat them as soon as they're cooked for optimal pleasure.
#30 Funnel cake
Unlike most cakes, the funnel cake is made by pouring batter directly into hot frying oil through a funnel — hence the name. The result is a thin, swirly, delicate, and crisp cake. They were first mentioned in Anglo-Norman medieval cooking manuscripts under a different name: mincebek.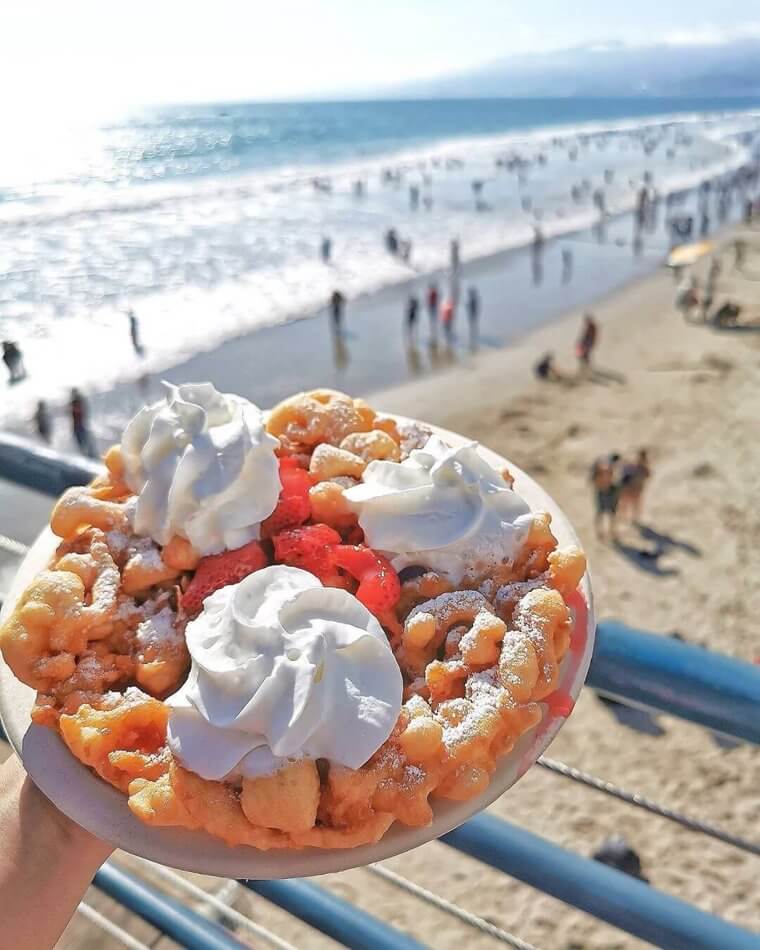 You'll see the funnel cake topped with all sorts of things, including whipped cream, cherries, powdered sugar, and all flavors of syrups. If it's your first time trying a funnel cake, opt for strawberry syrup and whipped cream — aka, the classics — and you won't regret it.
#31 Fried deviled eggs
Deviled eggs are boiled eggs with the yolks removed, mixed with seasoning and mayonnaise, and stuffed back into the whites. They are easy to prepare and personalize, but did you know that in the south they fry their deviled eggs?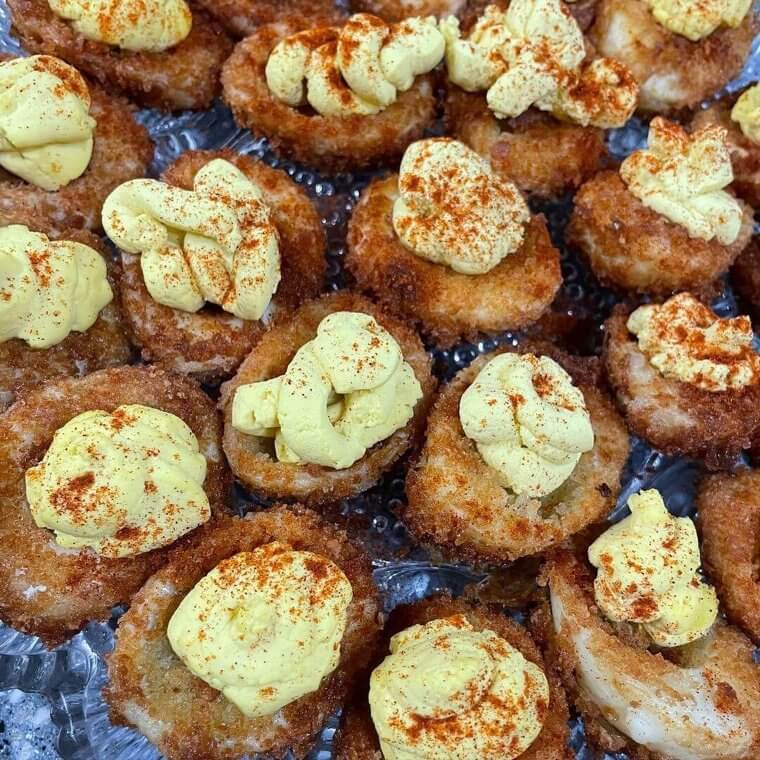 Fried deviled eggs are something you will find featured prominently on state fair menus. Fans of the food claim it's a testament that anything fried tastes so much better. They can be coated with bread crumbs and even pork rind crumbs. How can you go wrong with that?
#32 Beer-battered Fried Pickles
This might seem like a weird food for people from other places in the world, but this is another familiar offering at state fairs in the US. A lot of people don't like pickles, but it has made such a mark on state fairs.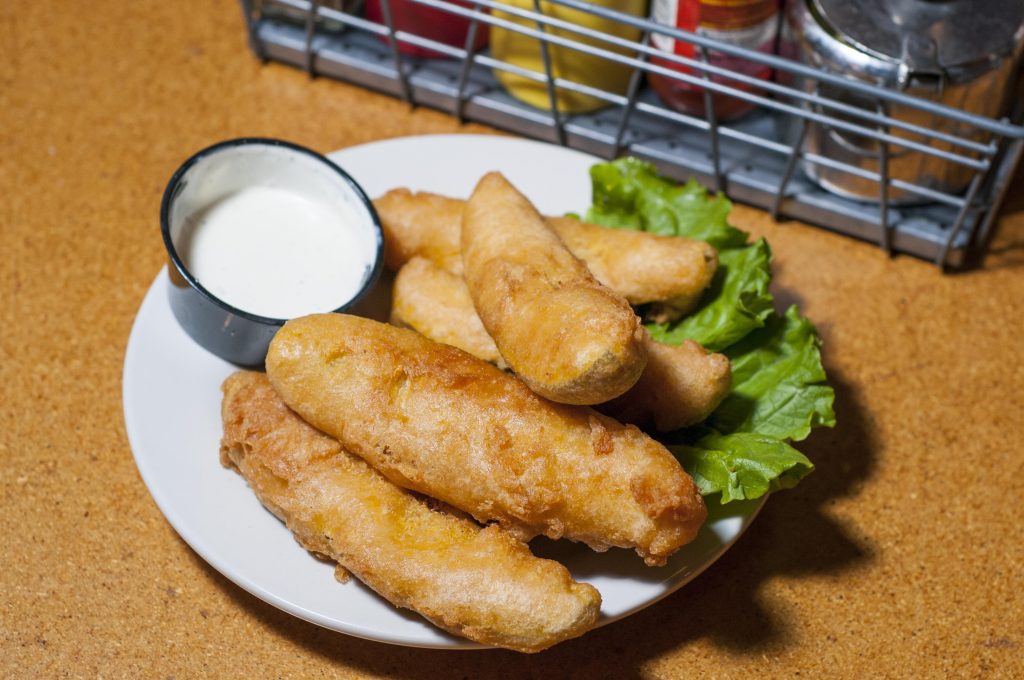 Thanks to the combination of bread crumbs and beer batter, the humble pickle has been elevated to new heights. Be open to trying new things because they may not sound good, but we can guarantee you, you'll be looking for them all the time after getting a taste.
#33 Cotton candy
Did you know that cotton candy was co-created by a dentist and a candy maker? Don't feel guilty about eating cotton candy, even at the state fair, because it is healthier compared to most desserts. Fun fact: cotton candy is known by many names, including fairy floss and daddy's beard.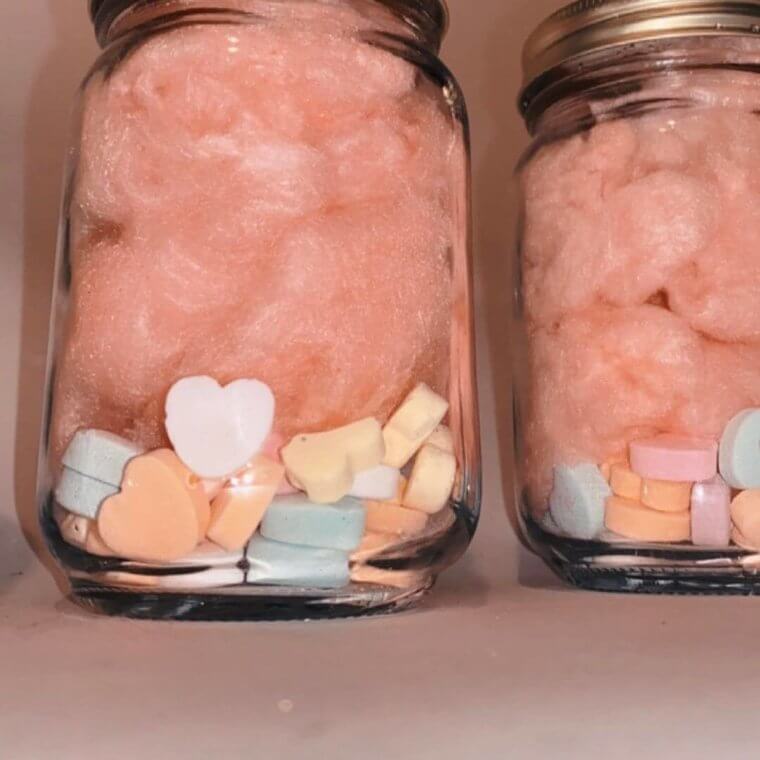 Well, a rose by any other name still smells as sweet, so we don't care what name cotton candy is called or what color it comes in; we'll still have it. For extra fun at the fair, stand near the cotton candy stall and pluck the stray strands floating in the breeze.
#34 Funnel-cake ice cream sandwiches
We've talked about strawberry shortcake ice cream and funnel cake, but we have something here that's much better, something that's going to make you salivate. It's none other than funnel-cake ice cream sandwiches, one of the best food inventions in the world.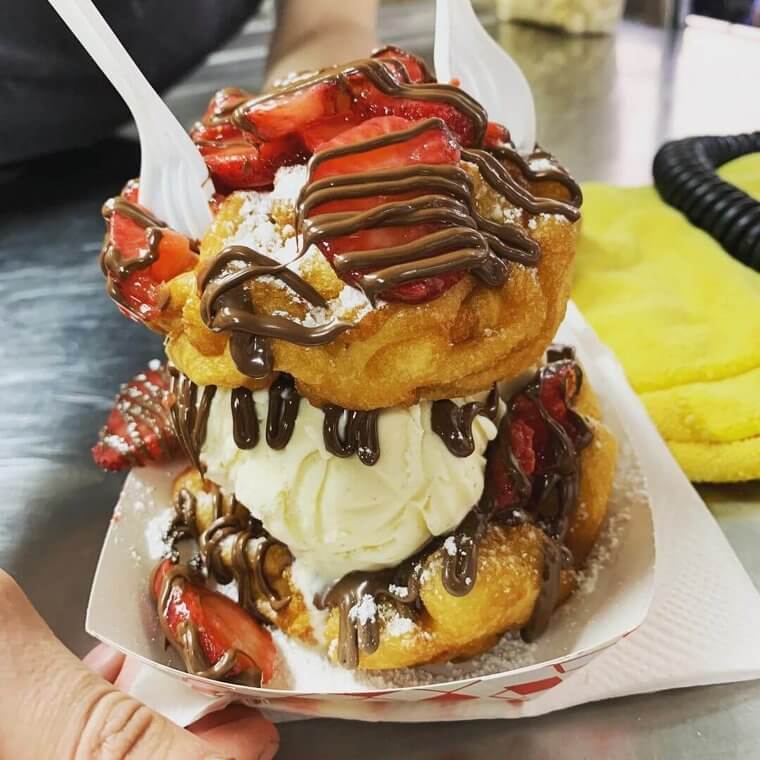 Stressed spelled backward is desserts, so it's only proper that we have something sweeter and with more toppings. Give in to your desires, satisfy your sweet tooth, and grab some of these ice cream sandwiches at the state fair. You'll thank us for it.
#35 BBQ Nachos
Among the best food imports from Mexico, nachos consist of fried tortilla chips covered in melted cheese and a variety of other toppings, one of which is BBQ sauce. Who can resist that? We know we can't, and there's no point denying it.
Cheese, chipotle sauce, onions, jalapeno peppers, and meat; are you hungry yet? Of course, state fairs wouldn't be complete without BBQ nachos. A single bite of this treat will surely brighten your mood. That is the power of good food.
#36 Pulled candy
Originally made to celebrate birthdays and other gatherings, old-fashioned pulled candy is also called ribbon candy. This candy can be customized and can have all sorts of flavors and colors. Do you like pink, strawberry-flavored treats? Have the candy any way you like.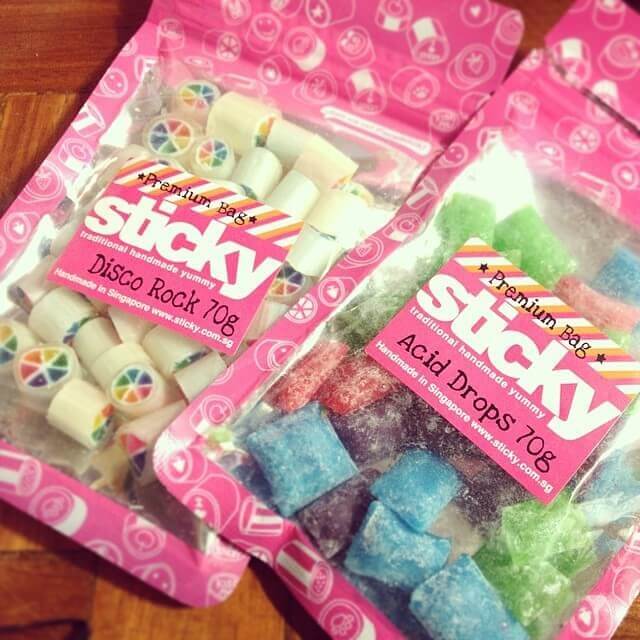 Pulled candy is made with a simple mix of sugar syrup after which it is colored and flavored to the customer's liking. It is then pulled to incorporate tiny air bubbles throughout, making the candy chewier and lighter. The result is a work of art that tastes good.
#37 Frito pie
The origin of the Frito pie is shrouded in mystery and is lost in the midst of time. But one of the most prevailing stories is that of Charles Elmer Doolin, a native of Kansas City, bought a bag of corn chips and decided to make a new concoction…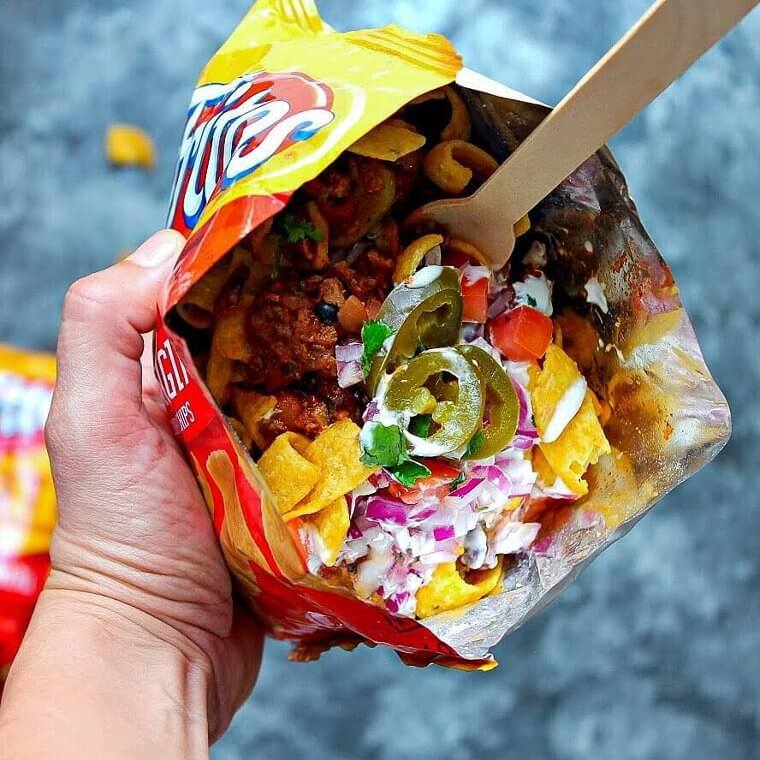 Frito pie, for those who don't know, is a walking taco — or, as others would describe it, nachos in a bag. A bag of Frito chips is popped open and then topped off with all the good and salivating things people normally put in their tacos.
#38 Pretzels
Pretzels are yummy and make great snacks, whether plain, paired with other food, or topped with salt. Pretzels without salts are called baldies, and in the 12th century, pretzels were used as symbols of good luck, given their religious roots.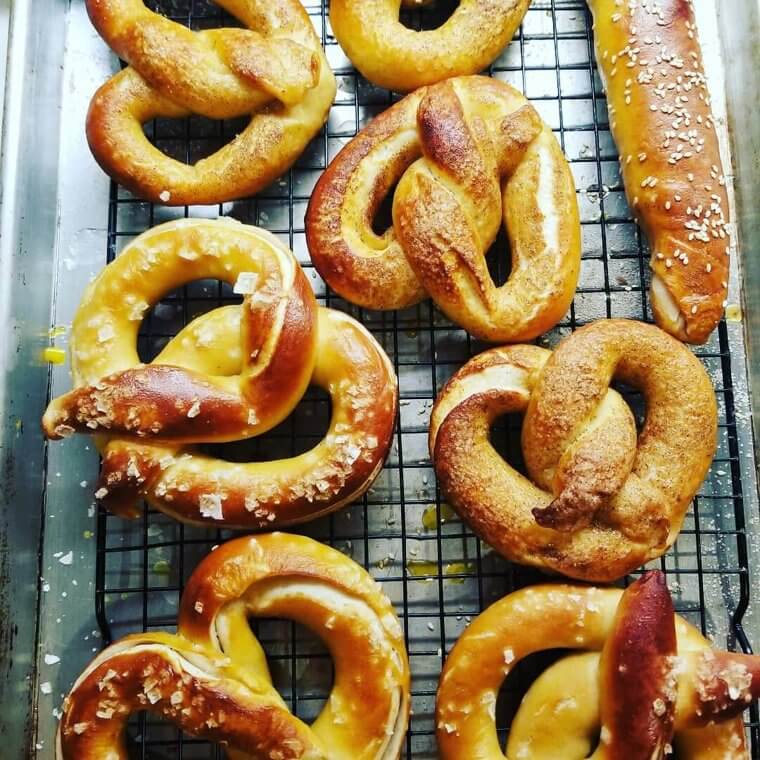 A baker had to cook them to perfection to earn the title of master. But enough talk of the history of pretzels; it's time to enjoy them in the present, either plain or dipped in cheese, guacamole, pizza sauce, or just about anything, really.
#39 Fried ice cream
Oh, did you think that we wouldn't include one of the most bizarre food items found at the state fair on our list? That's right, deep-fried ice cream is a real thing. How is it possible, you ask? Let's fill you in.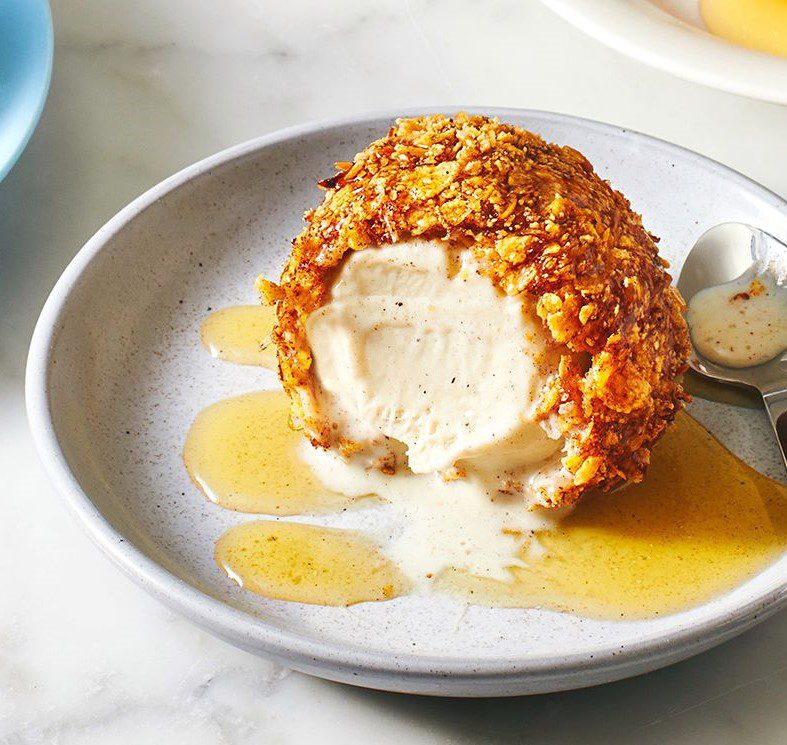 Since regular ice cream would melt right away, it takes special prep to get the fried outside. Take a ball of frozen-solid ice cream, coat it in batter, and flash-fry it to get, drum roll please, a ball of deep-fried ice cream!
#40 Fried Shrimp and Okra Sandwich Po'Boys
For the uninitiated, the poor boy sandwich, or po'boy, is a sandwich that uses a six-inch or foot-long bread, more commonly French bread. It is filled with roast beef or fried seafood such as oyster, shrimp, or crab and topped with tomatoes, mayonnaise, and pickled lettuce or dill pickles. Of course, hot sauce is a requirement for most people.
The sandwich has been in existence since the 1800s, and there are a lot of legends as to how it became referred to as a poor boy sandwich. Are you salivating now after reading the sandwich's description? We sure are — time to get a po'boy sandwich.