Easy Hacks For A Decluttered Kitchen
By Iulia P November 6, 2022
---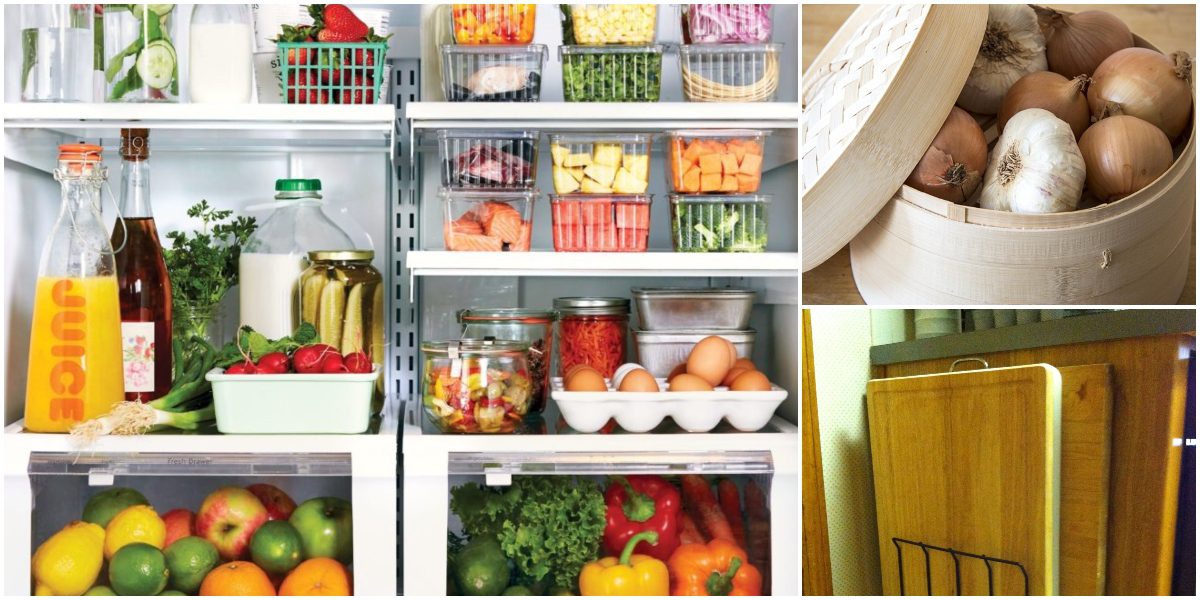 No matter how organized a person you are, there is a moment in everybody's life when one is too lazy to organize everything. And this is alright; it happens. The only bad thing about this is that all it takes is a couple of moments like this before your home gets unorganized and messy. One of the rooms that tend to get suffer from this the fastest is definitely the kitchen. And no wonder with all the utensils, the cabinets, shelves- not to mention the packages of various food items, it's hard not to get messy quickly. If you find yourself in the situation of having an unorganized kitchen, fear not! We have some cool decluttering hacks for you that will help save your kitchen from chaos.
Storage bins to save your pantry
Out of all the places in the kitchen, we think that the pantry is the most prone to getting messy. And it's obvious why. The pantry is usually hidden from the eyes of those guests who could potentially judge your level of order.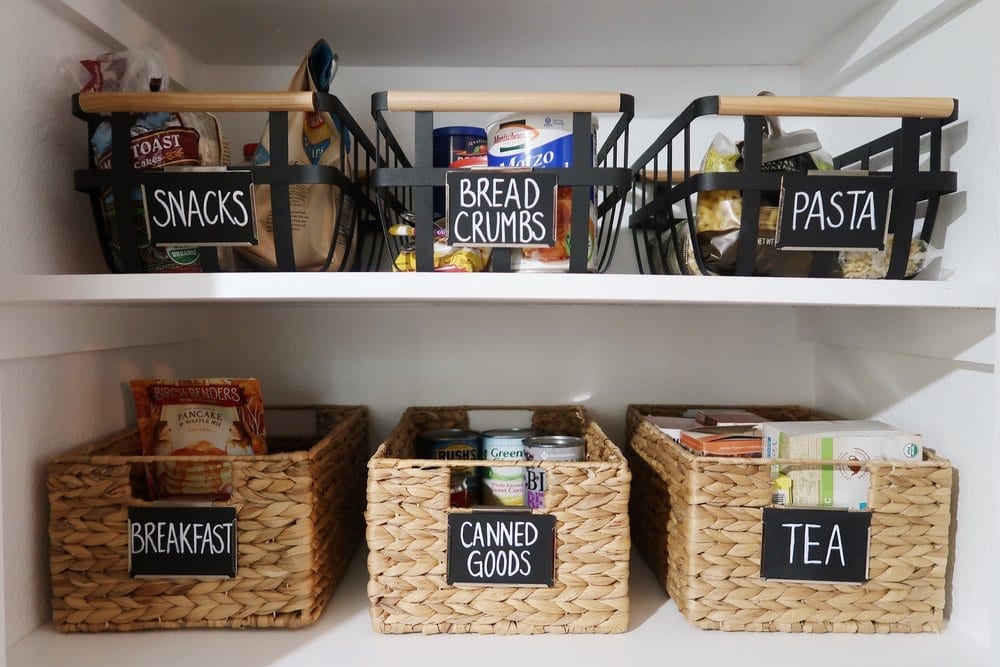 If your pantry is small, you really need this trick to make it more organized. All you need are some storage bins or some shoe boxes and some tags. Voila! Now your pantry looks neat; it's easy to clean and easier for you to find what you're looking for.
Ceiling rack
We're sure you have read our article on Joanna Gaines and her No-No's when it comes to decorating your house. As you might remember, she stated that she was against hanging pots on a ceiling rack, unless it happens in a restaurant's kitchen.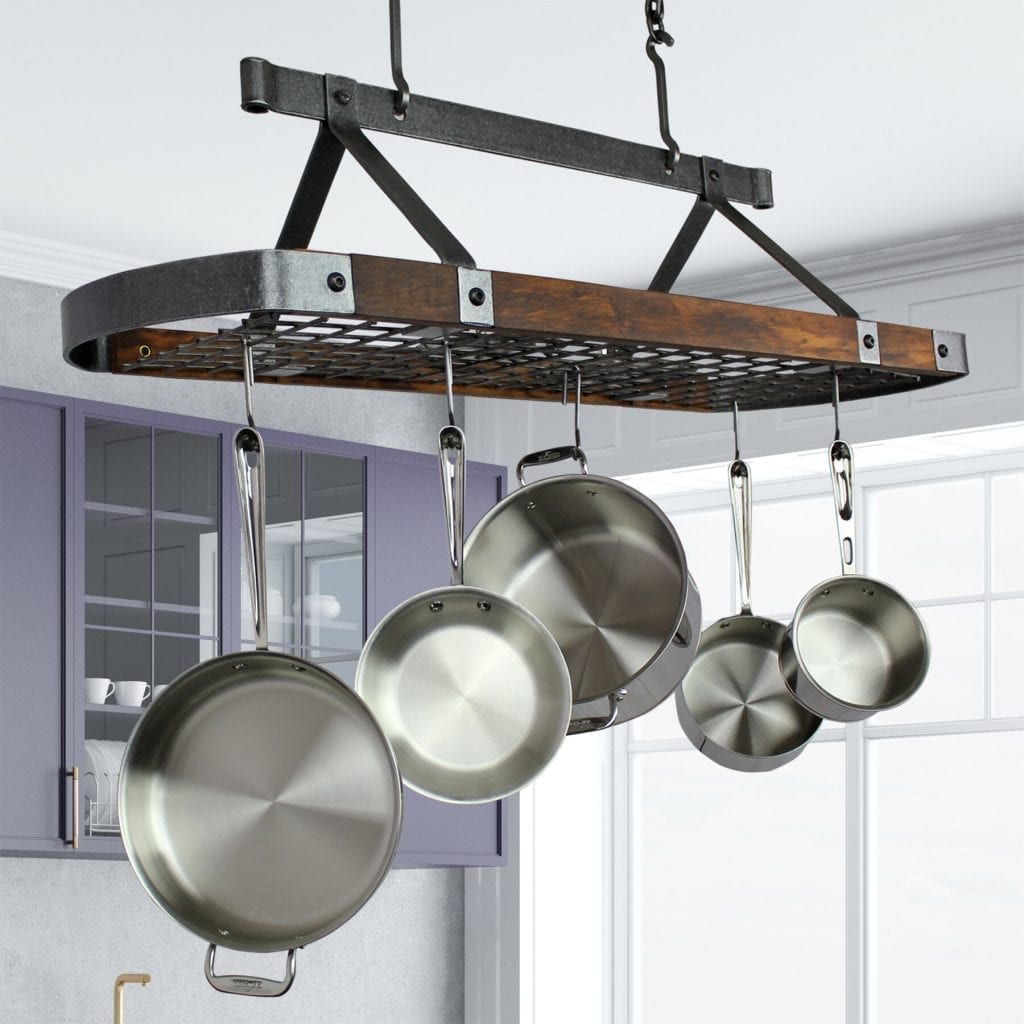 She might be the guru of interior design, but we have to admit it. Ceiling racks are an ideal solution to one of a kitchen's cluttering worst nightmares. Stacks of different pots and pans! Not only will this hack help keep your pots organized, but it will also free up some extra space in your kitchen as well.
Trash bags on a roll
This hack is so good and practical; we don't know how we haven't thought of this yet. How many times did you lose your trash bag roll in that cluttered pantry of yours? It happens to us all of the time, and it really gets annoying buying new rolls then finding the old ones right after.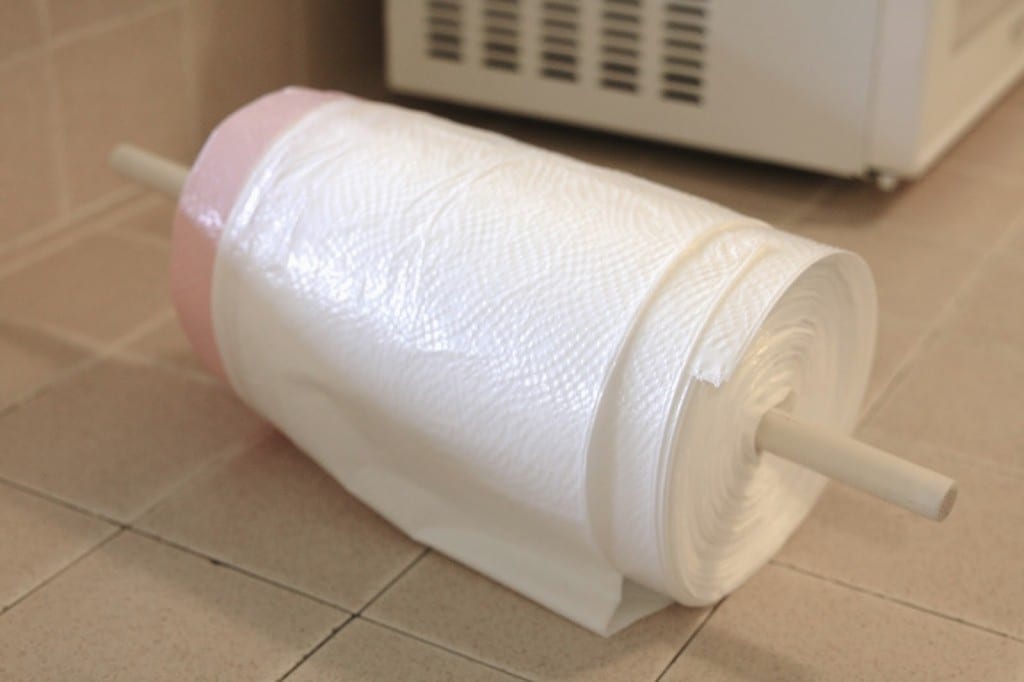 Well, this hack right here, we consider it a lifesaver. Or at least a "good mood" saver. Place a paper roll holder next to your bin and put your trash bags on it. No more losing the trash bags when you need them most.
Gripper clips
If you have a small kitchen and not enough kitchen cabinets, you might like this one. Did you know that you can actually use the doors of your kitchen cabinets too? When space is an issue, you have to take advantage of every last bit of free space avaialble.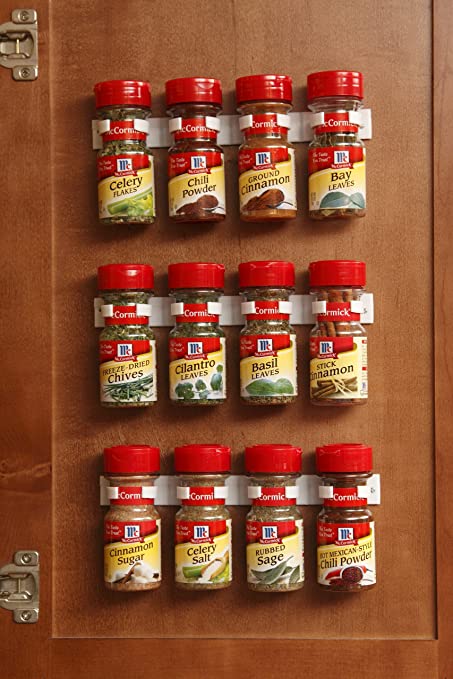 We all know that the spices can take a good amount of space in your pantry or your cabinets. Well, to use that space for something else, you can stick some grip holders on the doors of the cabinets and arrange your spices there. More space and being able to find what you're looking for faster is exactly what everybody needs.
Cabinet dividers
If you agree with Joanna Gaines and are against hanging your pots on a ceiling rack, this hack might be a better solution for you. All you need are some slats or panels and some time to do this DIY divider project. This, of course, if you don't want to ask for the help of a carpenter.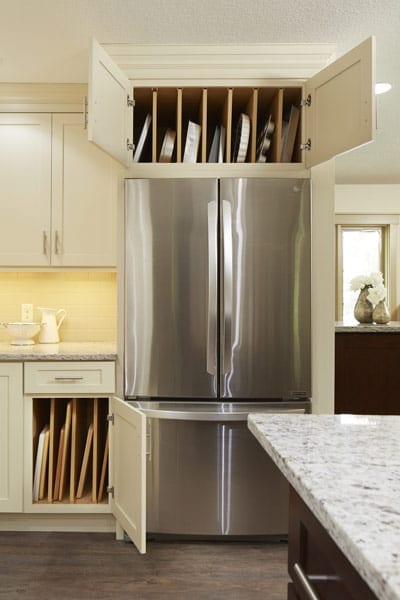 Measure the width and height of your cabinet, cut, glue, and screw the dividers into place, clean, and ta-da! As you can see in the picture above, the result is great, and the pots and pans look so much more organized and neat.
Cooking utensils
Since they are used often, cooking utensils should be placed as close to the stove and food prep area of your kitchen as possible. In order to make them look more organized and neat, we found this hack that will make your cooking space look really cool.
It's nice, cheap and it promotes recycling. In a word, this hack it's perfect. All you need is to keep those mayo jars and spray them with paint in your favorite color. You can put some tags or write something on them too for a unique look.
Storage system for your messy cutlery drawer
If you find yourself in the situation of having a very messy cutlery drawer, just like we used to have, you will love this hack. Even if a cutlery tray is not an expensive purchase, we could not find one that fits our narrow drawer.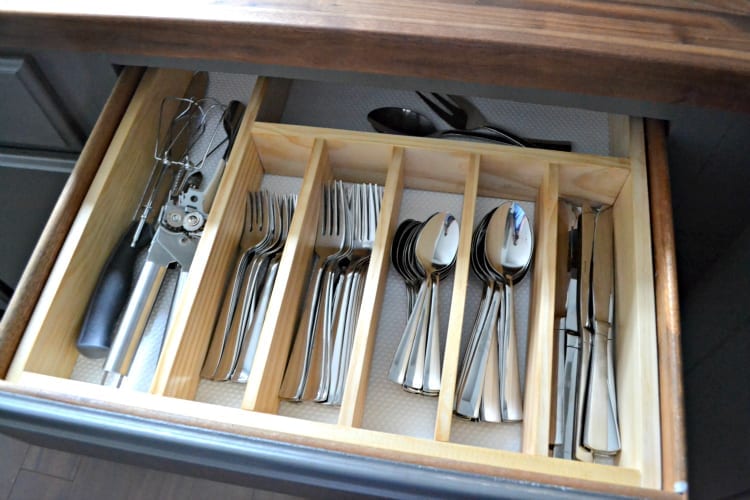 To stop a mess from happening in the cutlery drawer, we had to make one ourselves. All you need for this project are slats, measuring tape, wood glue, and a cutting instrument. The result of having all your utensils and cutlery neatly stored away will make the effort put into this worth it.
Sides of your cabinets can be used too
The sides of your cabinets are often an overlooked area in your kitchen. Even if you see them daily, you might not have stopped to think about their unused potential and how they could add extra storage space to your kitchen.Right?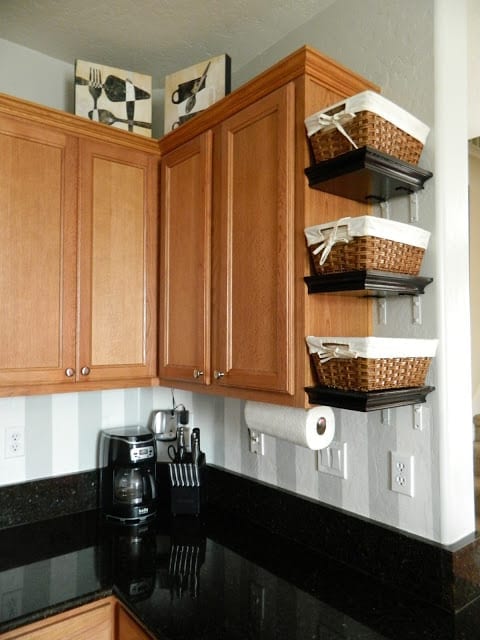 We don't know who came up with such a brilliant idea, but we owe them one. From hanging baskets to storing your spices or fruits and hanging kitchen towels and chopping boards, you can use the side of your cabinets for many different purposes.
Pans and plates sideways
If you don't have that much space in your kitchen and your kitchen cabinets are small, this hack will help you save a lot of space. Instead of storing your plates and pans the normal way, try storing them sideways.
You can find a lot of utensils and devices that will help you store your pots and plates sideways. Or if you are the DIY type you can create one yourself. You will need the same things needed for the other projects mentioned above: panels/slats, glue for wood, measuring tape and a good wood cutter.
Bamboo steamer
If you are into Chinese food, we are sure we could find a bamboo steamer in your kitchen. Usually used to make dumplings and buns, the bamboo steamer can be used to steam anything you can think of, and it can even be used for storage.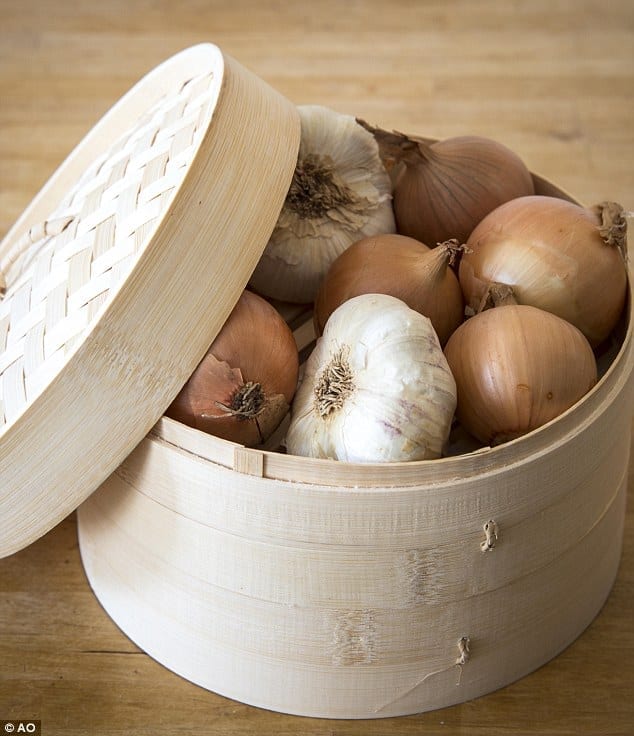 We had never thought of this hack either. Apparently, storing onions and garlic in a bamboo steamer makes them last up to 3 months without going off. Bamboo steamers are designed to let air flow. This way, your garlic and onions will stay fresh and protected.
Napkin holder
If you want to impress your guests who are coming for dinner with a nicely decorated table, we have the best trick for you. It's easy, it won't take much of your time, and the effect is guaranteed to be a conversation starter.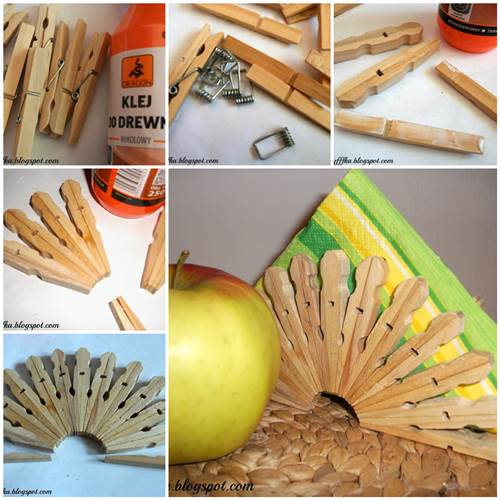 Take wooden pegs and that bottle of glue you have forgotten about and get to work. It would be best if you took off all the springs first, and you're ready to go. Start gluing your pegs into the shape of a hand fan. You need to make two fans that will be placed on two or four other pegs for support. Plastic pegs can also be used for this project.
Mason jars for storage
Mason jars are a perfect and modern object to store literally anything. Used in the kitchen, you can store everything from utensils to ingredients and spices in them. They look great and make your kitchen look tidy, but what if you don't have enough space?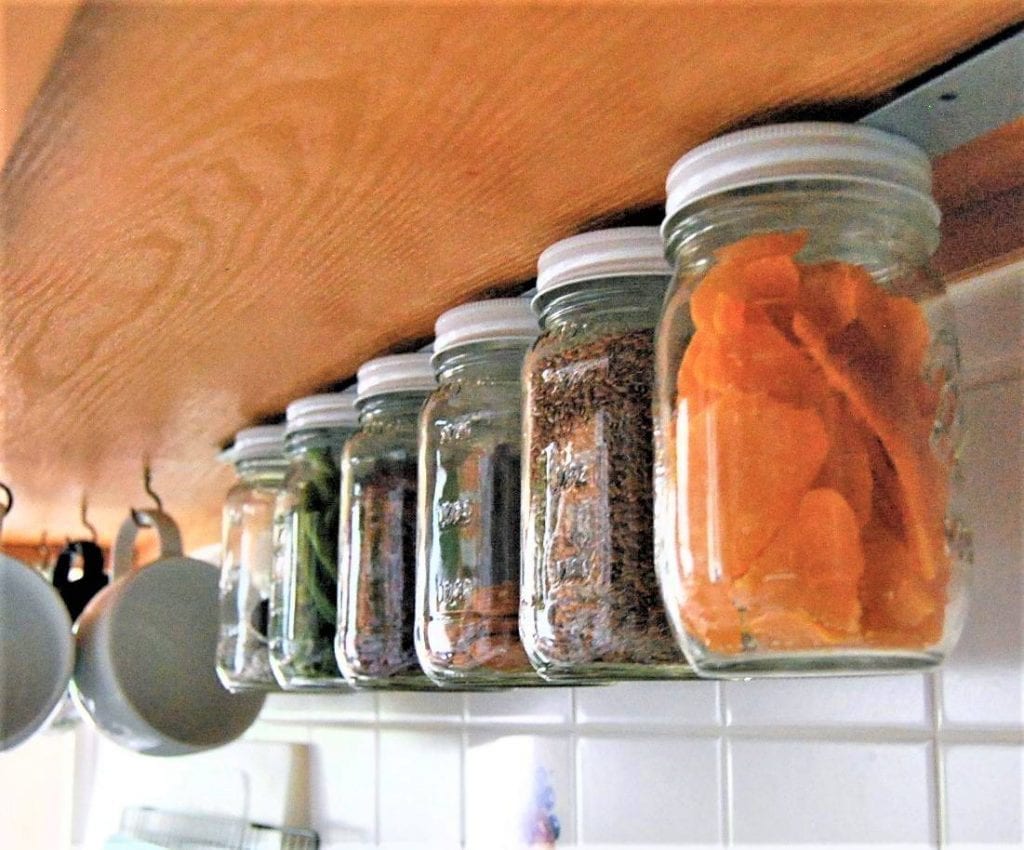 We might have a solution for this, too: the jars can be attached to the bottom of your kitchen cabinets. It's easy, looks awesome, and all you need for this is a screwdriver and some nails. Attach the lids of the jars with a screw and enjoy your new DIY jar storage that is not only pretty but practical too.
Knives stored in your countertop
We are not really a fan of this one, but you might find it interesting. To keep your knives right there next to your cooking space and to keep them out of the reach of little children, you can carve some holes into your kitchen cabinet for them.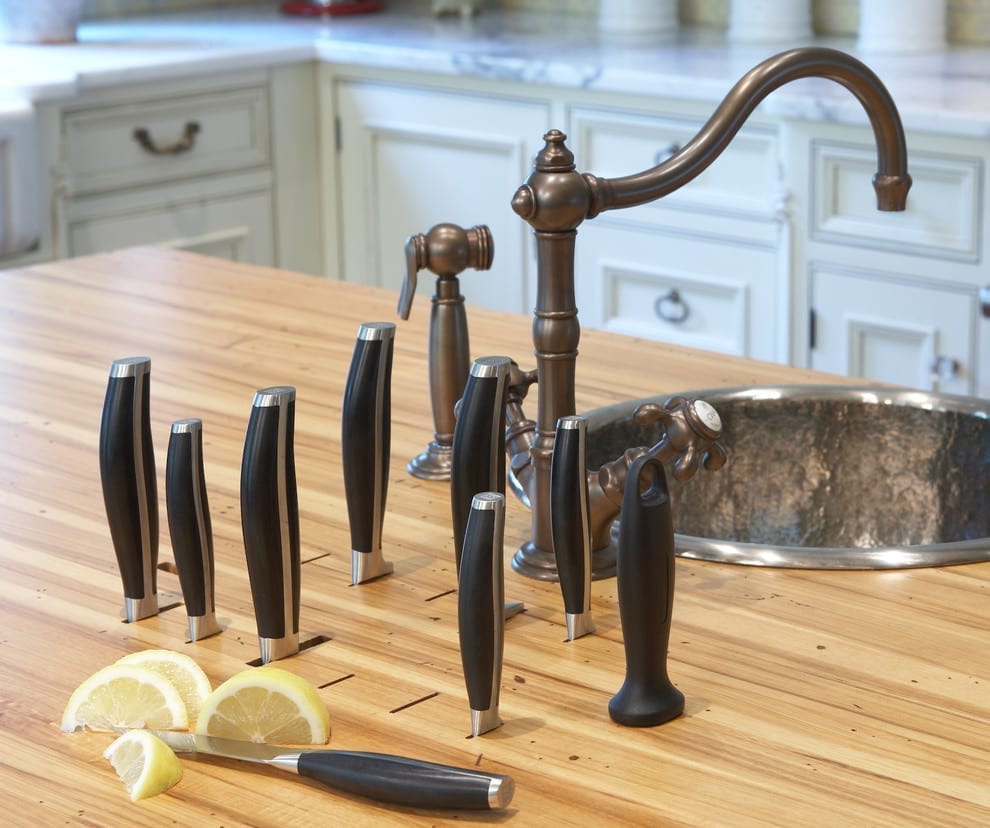 It looks interesting and is certainly a different and unique option for your knives. But if carving holes into your kitchen cabinet is not really the best solution for you, you can find many different knife holders that don't take a lot of space.
Lazy Susan for the win
It is alleged that Thomas Jefferson invented the Lazy Susan in the 18th century. He invented this because his daughter was always complaining that she was served her food last, and she never got to leave the table full. Who knew that an item from the 18th century would be a weapon against clutter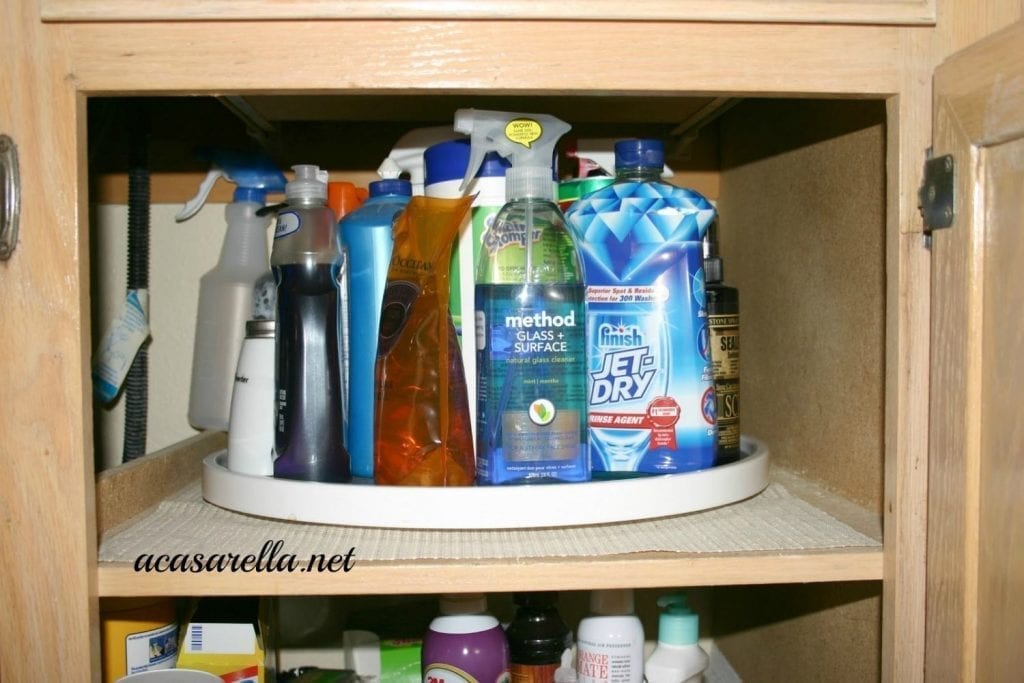 One way you can use your Lazy Susan is by organizing your cleaning products cabinet. Not only will it take less space but it will be easier for you to reach even those products that are in the back of the cabinet.
The side of your refrigerator
If the side of your refrigerator is not already full of pictures and magnets, this hack will blow your mind. Use a storage rack and hang it on the side of your fridge to store anything that your heart desires.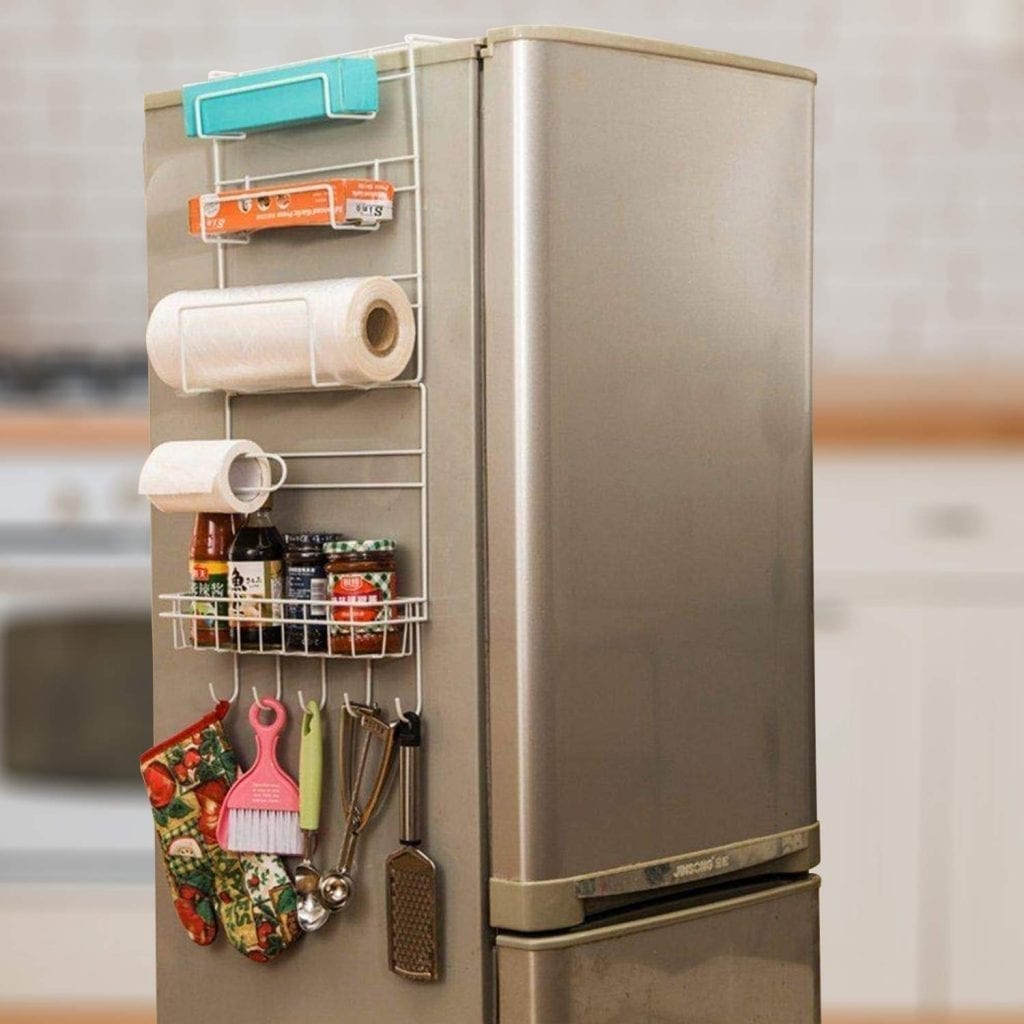 Of course, there is a wide variety of racks that can be hung on the side of your fridge, have a look at this one in the picture above. Look at how many utensils and random items one rack can store. The amount of space you gain using this hack will definitely impress you.
Towel holder placed inside the sink
How many times did you use your spongy kitchen towel, and you had no proper space to dry it? Well, this hack will definitely help you drain and dry your reusable kitchen towel while helping you save some space at the same time.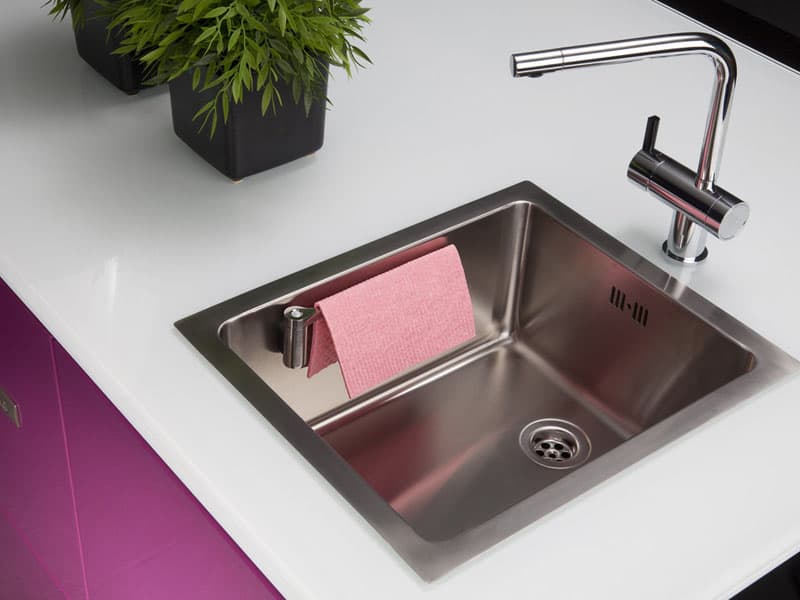 While this hack might be ingenious, we can not really call it perfect. These kinds of towels are prone to catching all sorts of yucky smells and bacteria if they stay wet or in humid places for too long. From this point of view, placing the holder inside and not above the sink might not be that good.
Drawers on shelves
No matter how big your fridge might be, you still think that it is not enough. We guess that's just a human thing. In order to get some more room in there, we have a solution for you, that you will love as much as we do: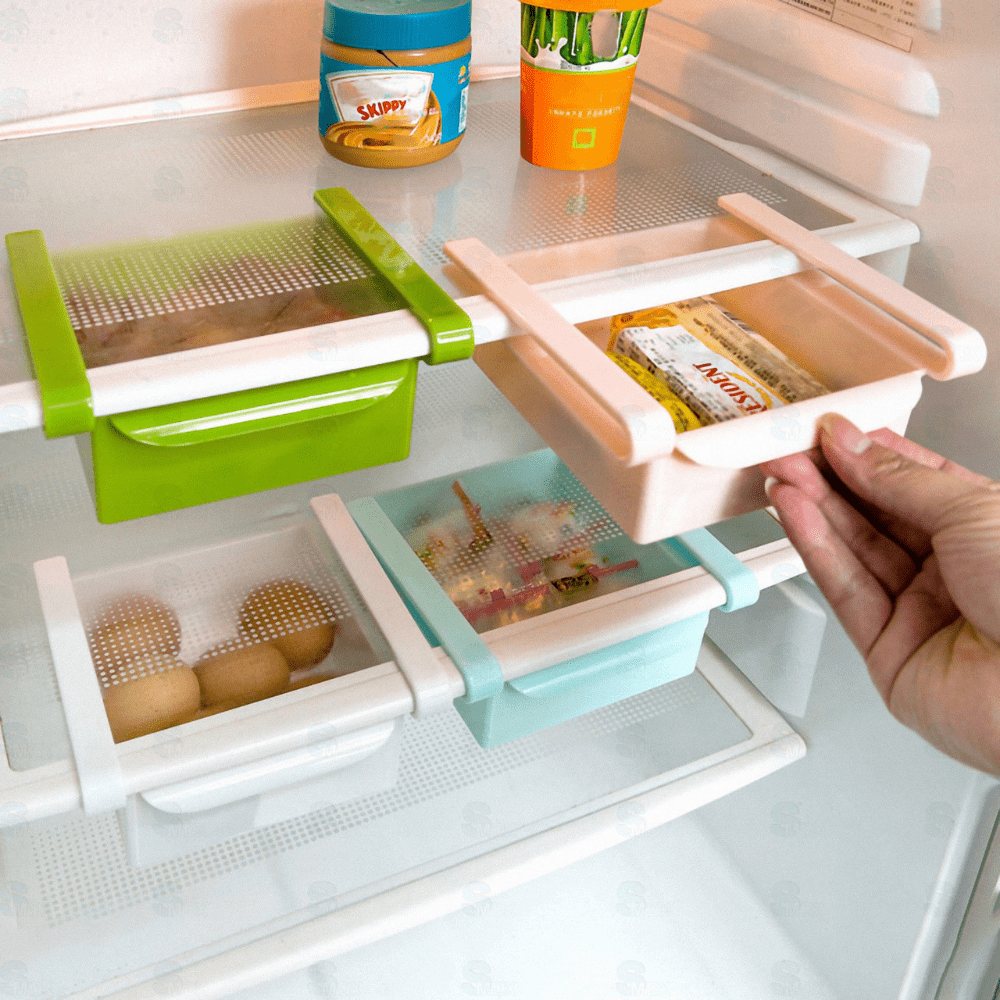 Shelf drawers! We don't know who came up with this ingenious idea but cheers to that person because this hack is a real-life and space saver. It helps you save some space in your fridge and helps you organize the products in your fridge properly. This one deserves the item of the year award.
Magnets on the fridge
If you're not that magnet on the fridge obsessed person and the outside of your fridge is empty, you will love this idea. To store your spices, you can actually invest in some spice fridge magnets. They are cheap, functional, and really stylish when it comes to the design they create.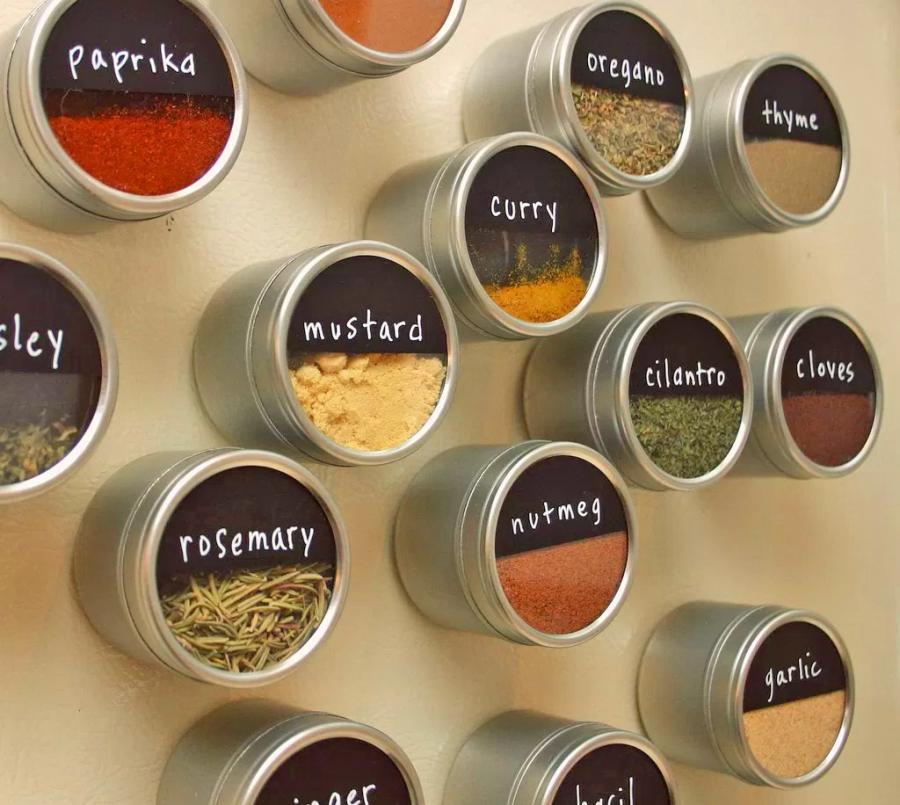 Not to mention you can arrange them in whatever shape or order you want. And if you want to make the design more personal and homey, you can add some family photos, your To-do list or even your shopping list to the fridge as well.
Mason jars for your baking ingredients
By now, we are sure that you understand how multifunctional mason jars can be and how good they are for storage. From storing kitchen utensils, cutlery to even storing food, spices, and other ingredients, the mason jar never disappoints.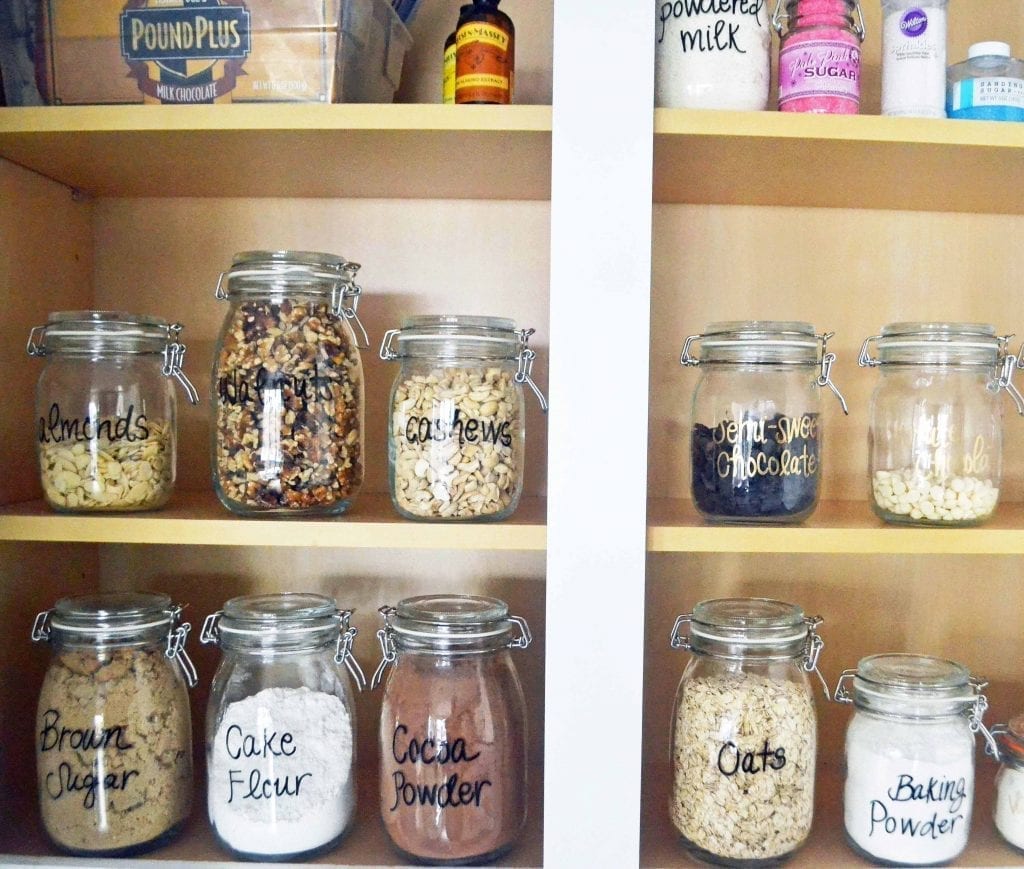 Well, if you are into baking, now that you have probably already decluttered your baking pans and trays with the help of the hack we shared with you earlier, it's time for you to organize your baking ingredients. Use as many mason jars as you can, and don't forget to stick tags or write the names on each jar.
More space underneath the sink
If you keep your cleaning products underneath the sink, the chances are that you don't have much space down there. We agree a Lazy Susan can work wonders when it comes to saving space, but if you don't care for that idea, we have a different solution for you.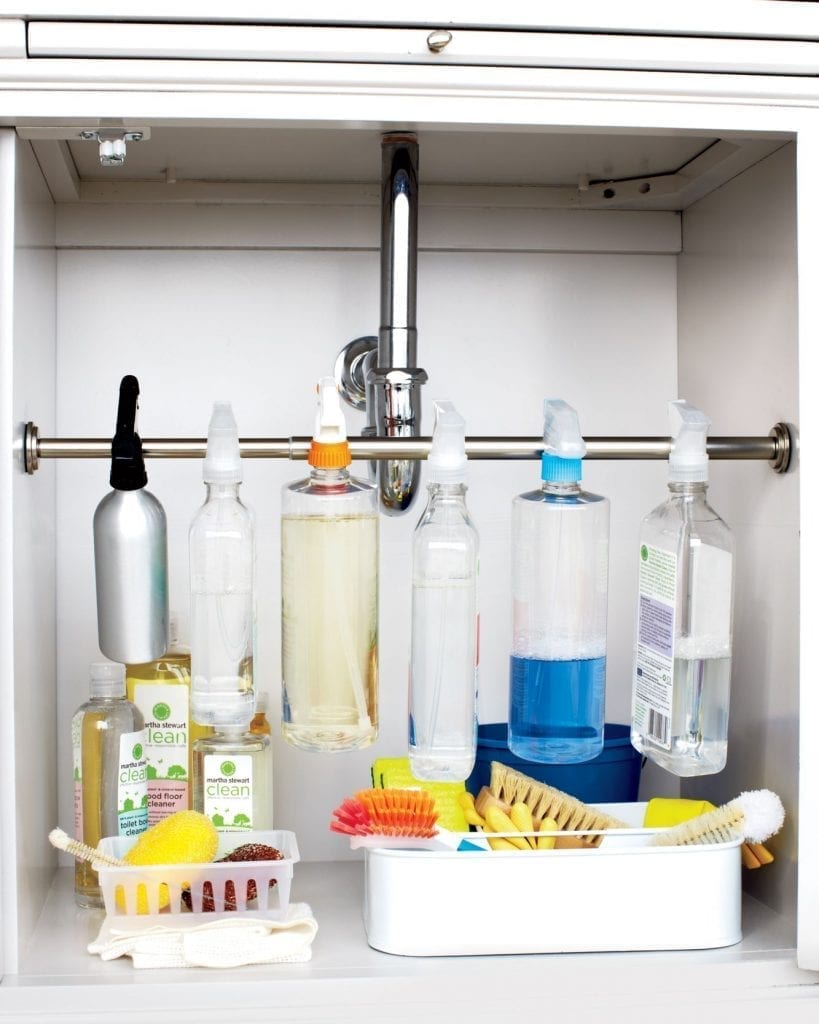 All you need is a bar that you need to screw or glue underneath your sink. You can hang all the products that have spray bottles on them. Considering that most of the cleaning products are in spray bottles, it's safe to say that you will free up a lot of space under your sink.
Pallet shelves
This one is another thing Joanna G. is definitely against. We have to admit, using pallets can be a bit tricky and hard if you don't combine them properly with the rest of the furniture in the room you choose to put them in.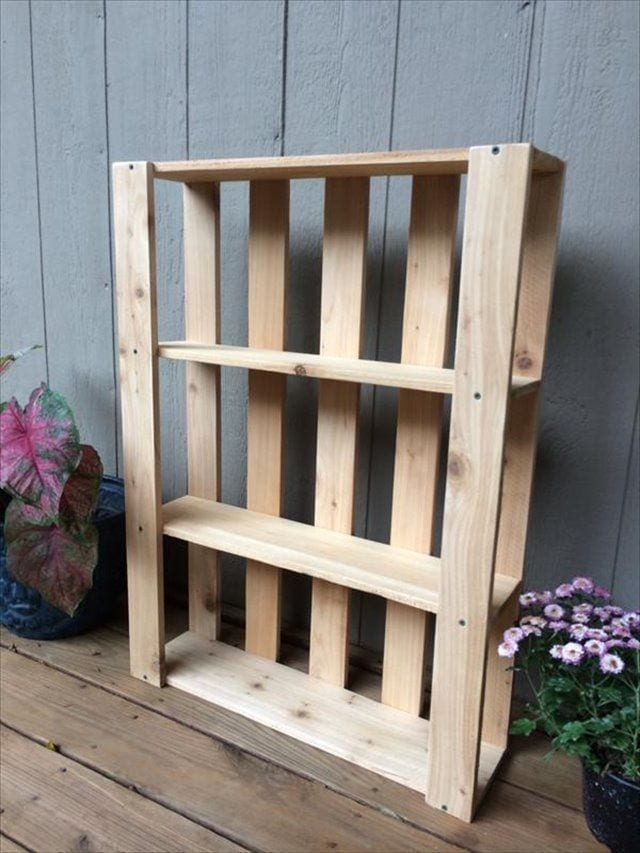 But if you know how to bring out the beauty of a good ol' pallet, then you might score the jackpot. Pallets can cost next to nothing, and they can be used in multiple ways, even as shelves. Fair to say that the person who transformed this pallet pictured above into shelves nailed it. Literally!
Pot lit holder
There is nothing more annoying than having to store your pot lids horizontally. We are sure that you agree with us. Lucky for all, we found a hack that might save us from that anger we get when we try to open to the kitchen cabinet and all the stacked lids fall on the floor.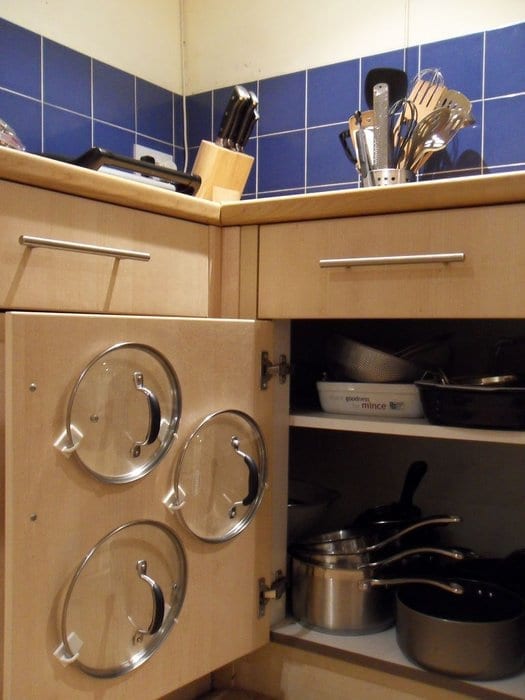 The answer: command hooks. Whoever came up with this was indeed a very clever person. All you need is to go to your one dollar store and buy some command hooks that you then can stick onto your cabinet door. Voila! No more pot lids flying all over the place when you open the cabinet's door.
The sauce box
Sauces, we all love them. And as much as we do, we have to admit that storing them all can be challenging if you have many of them. Not to mention that most of the bottles spill and leave marks in your cabinets or on your kitchen counters.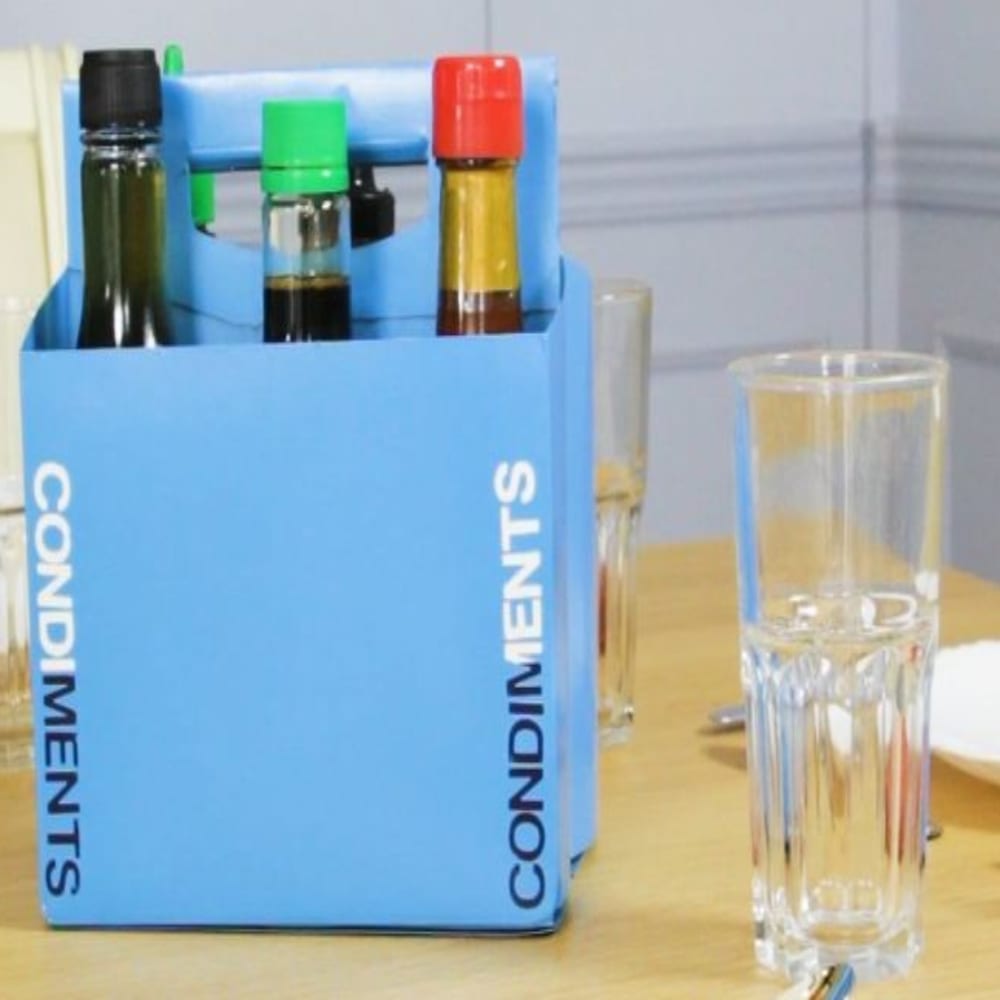 We found a hack that we think will help you a lot: the sauce box. No more untidiness, no more marks on the kitchen counter/ cabinet and way easier to find the sauce that you are looking for. It can also be brought to the table easliy.
Organize your fridge by food groups
We have to agree this one right here might be a little hard for most people to pull off and maintain, but it might bring satisfaction to those who love organizing everything in their life and their homes.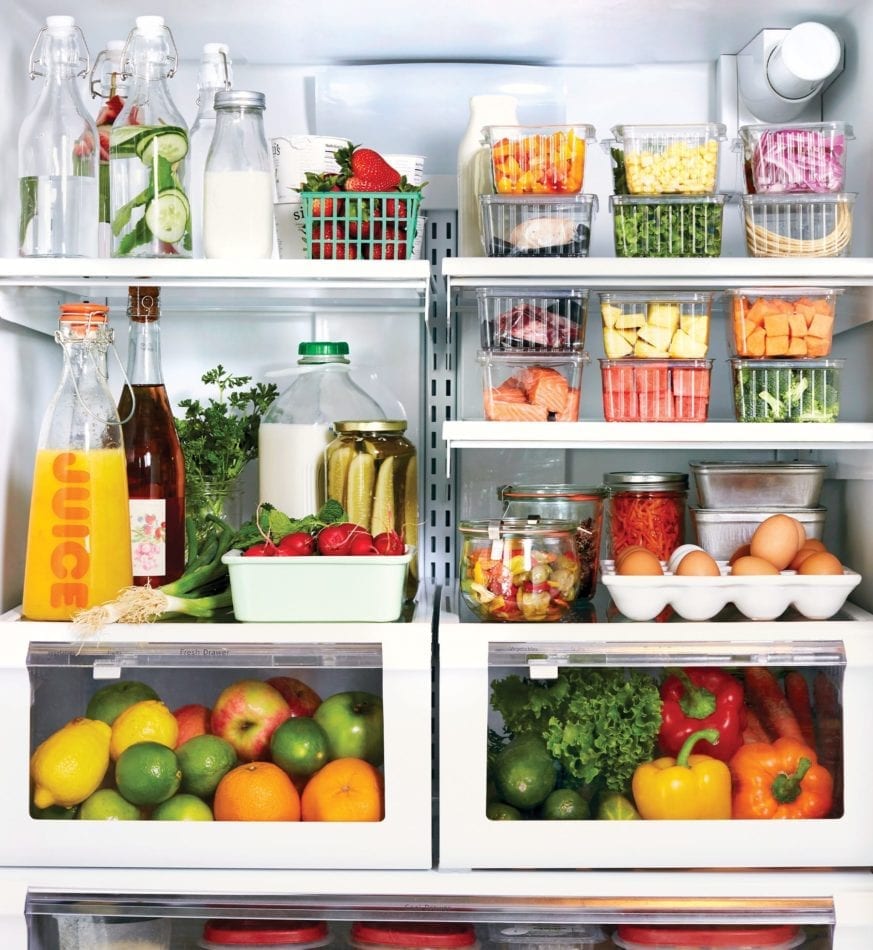 Food group organization is easy, store the dairy in one place, the fruits and veg in others, etc. It can also be arranged by color or container. Making your fridge a work of art and easy to navigate in a snack emergency.
Hooks and crossbars
In case the options we presented earlier when it comes to staking your pots are not really interesting to you, we have another hack: crossbars and hooks. This combination will give your kitchen extra space and also that industrial style feel.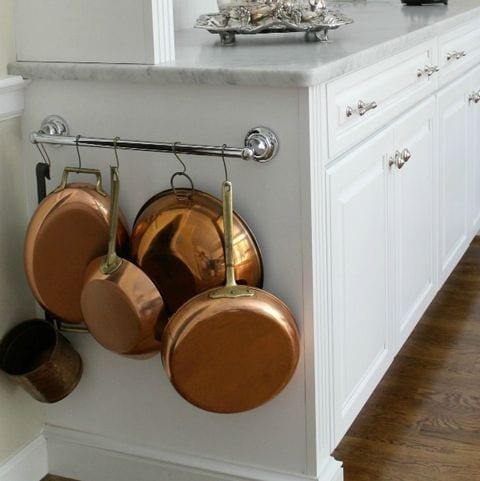 Not to mention if you feel like using that empty cabinet side, this might be a great idea. All you need are some hooks and a crossbar that you will need to glue or fix with screws into your kitchen cabinet. As pictured above, the result will look great.
Fruit baskets
Fruit baskets are an all-time favorite décor piece for every kitchen, and it looks like it will never get too old. Even if they might have taken other shapes during different times, like the ones pictured below, they will always be a go-to decoration for the kitchen and dining room.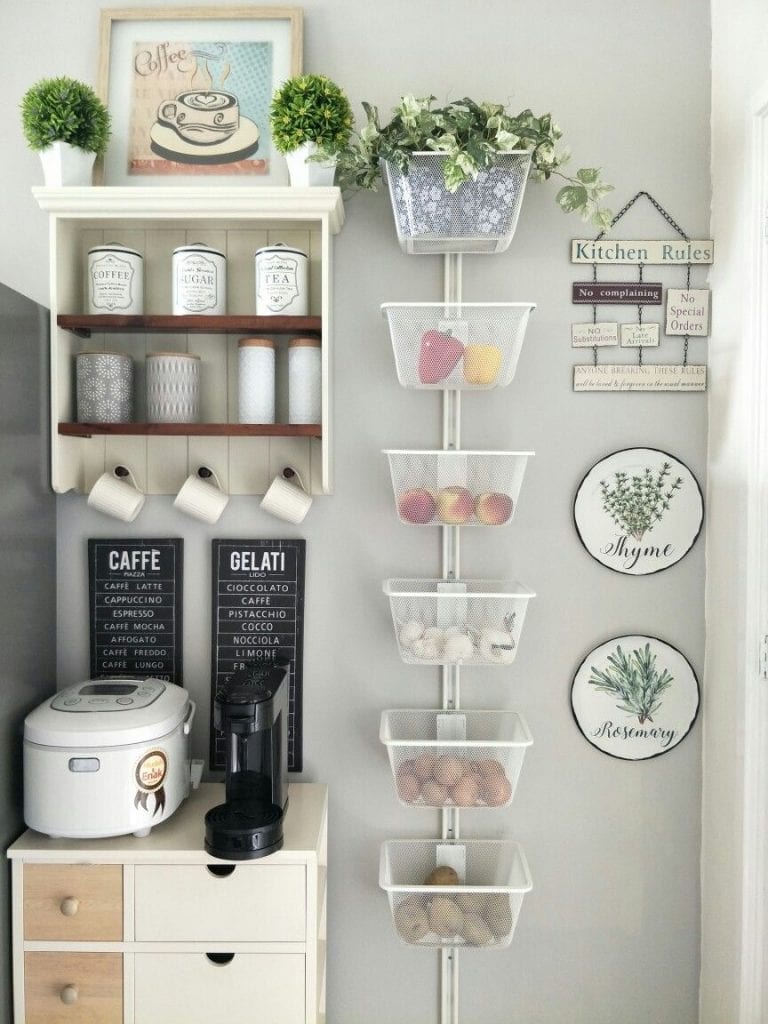 If you are a fruit lover and one basket it's just not enough for you, we got you covered with this DIY project you can do at home. For this project, you need: wire baskets, a metal track, or even some panels would work, glue or screws. Voila! You got yourself a very modern fruit station.
Magazine racks to store your chopping boards
While chopping boards don't usually take too much space in your cabinets, if you feel like organizing them, we have an option for you: magazine racks. Yes, you can use your magazine racks for organizing other things than just your magazines.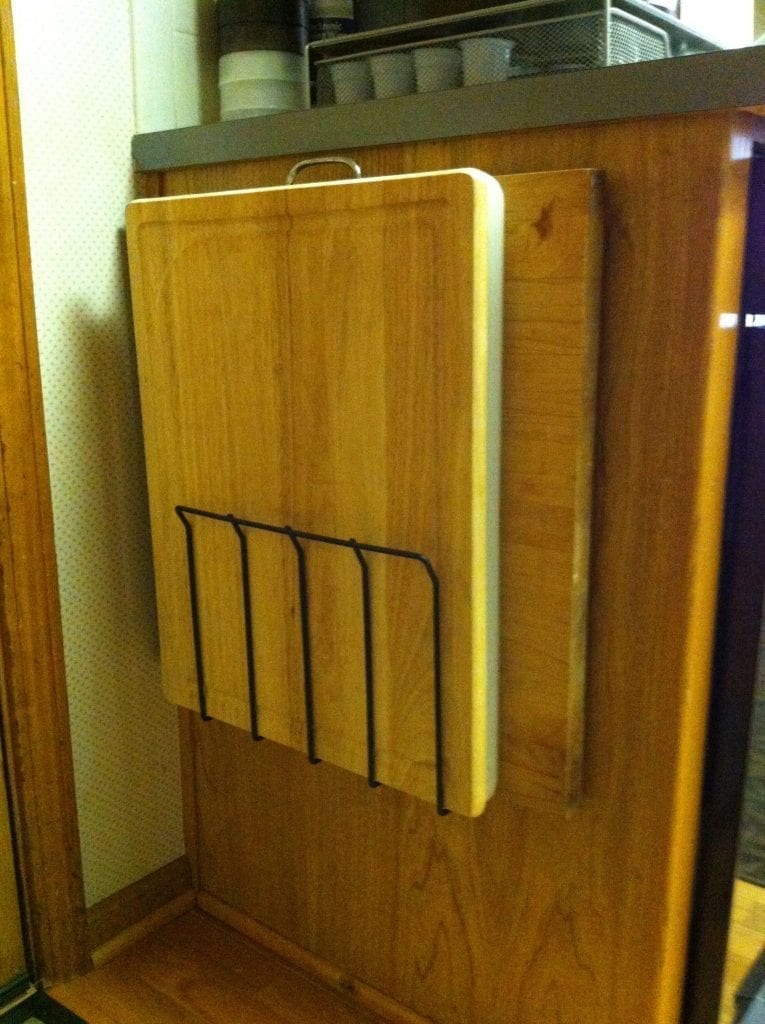 You can glue or screw your magazine racks everywhere you want from your cabinet's door to the side of your kitchen cabinet and even on the wall. All you need to do is to make sure it's close enough to your cooking station.
Kitchen island
Remember that dresser you took from your grandma's house in the hope that you would use it someday? Yeah, that dresser that has been in your garage for ages now. It's time to take it out and make use of it because we have a great idea for you on how to use it.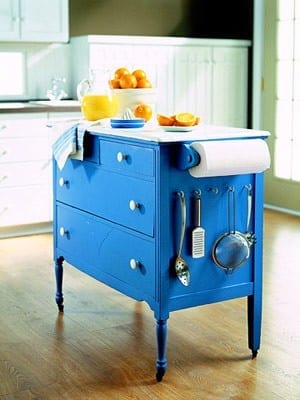 That extra space you have in the middle of your kitchen, we think it needs something to fill it. And what better thing to fill that space with than a refurbished dresser turned into a kitchen island? Not only can you give the green light to your creativity while refurbishing it, but think about the extra space and shelves it will add to your kitchen
Old containers
Yes, those old containers you got your ice cream in can be reused. Those mustard or ketch-up containers, those too can be reused. Don't rush to throw them away because we have some ideas for you and how to reuse and recylce them.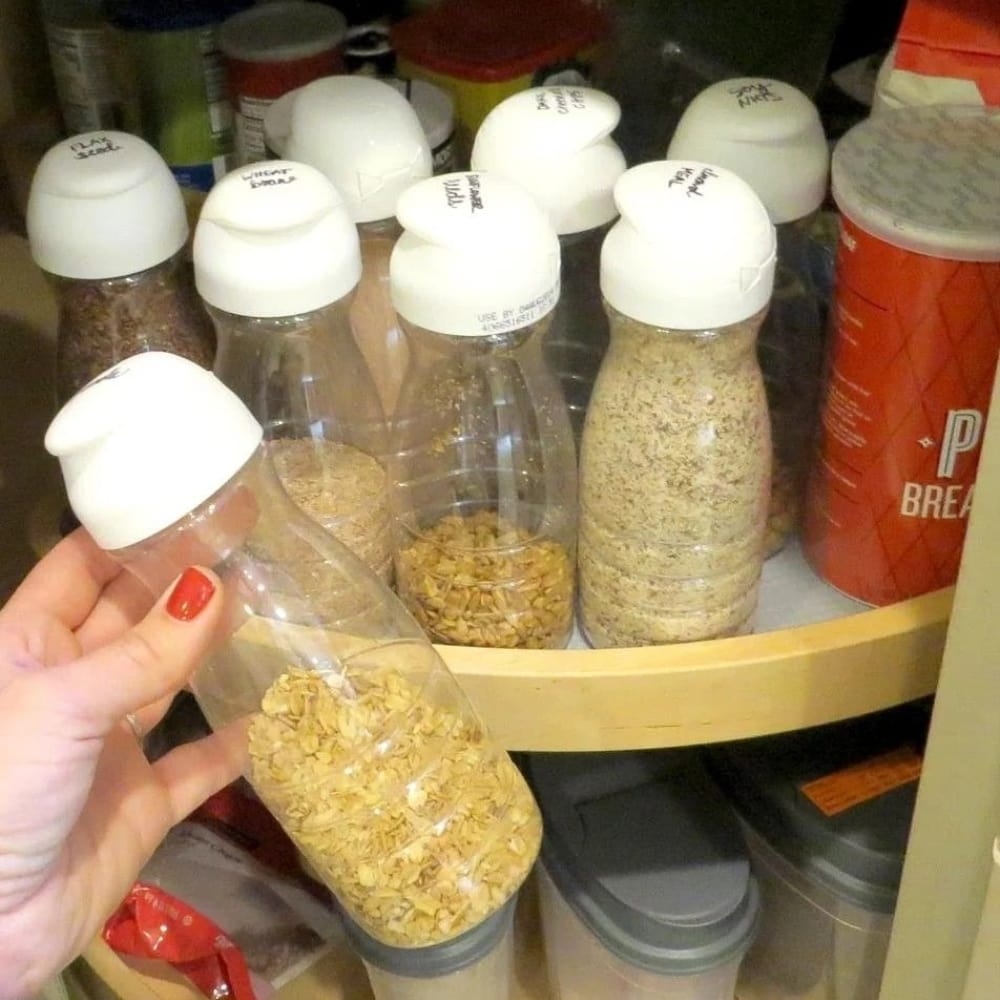 For example, those ice cream containers can be transformed into storage bins for your spices, or if they are bigger, you can even store your sauces in them. When it comes to mustard and ketchup containers, you can store anything from rice, oats to any cereals, nuts, or seeds inside.
Lift up apliances
If you have a small kitchen and not enough room on your counters, we have a good tip for you: lift up your appliances. This way, you can make space for other objects you want to place on your counter top.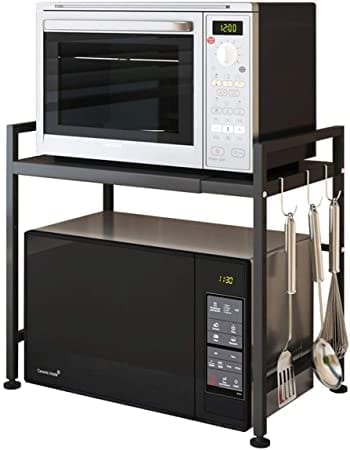 Not only will you save a lot of space, but, as pictured below, you can place some stuff on the sides of this rack too. It can be your cooking utensils; it can be your chopping boards or even your spices. No matter what you choose, this appliances rack is a must-have.
Magazine holder
Yes, again, magazine holders. Why? Because they are so multifunctional and so practical that there are many ways to use them other than for your magazines. For example, you can use them to organize the space in your freezer.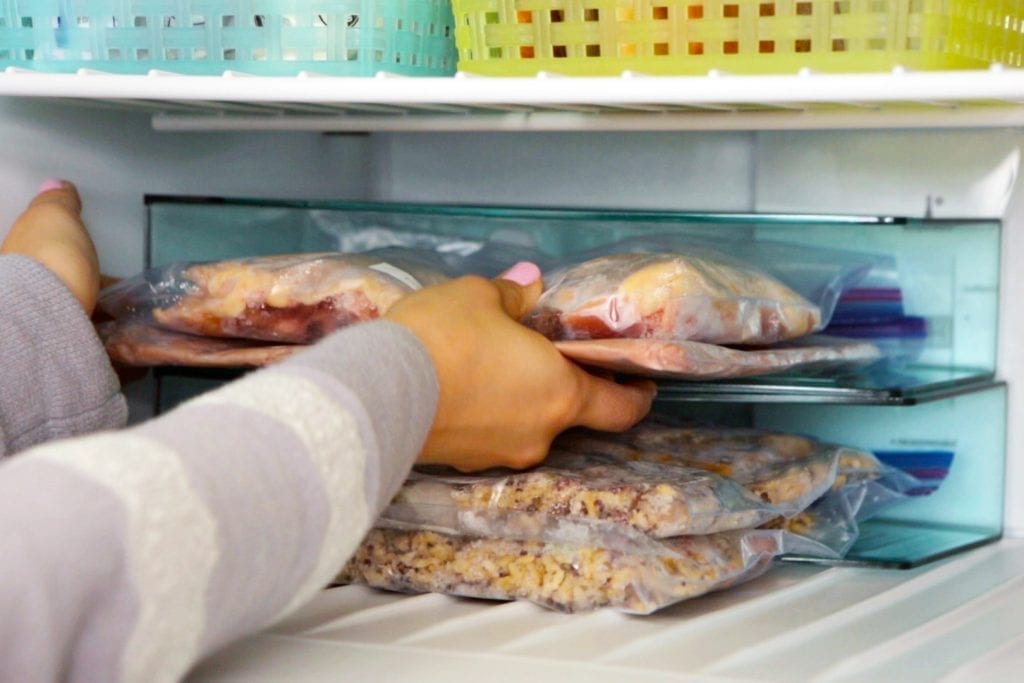 We know that stacking everything in your freezer is easy, but this is an even better and more effective way to utilize all the storage space in the freezer, plus it stops the items from all sticking together. This will save you time and it will make your freezer look organized.
Curtain rod for your lids
Another ingenious way to store your lids is definitely using a simple curtain rod. Curtain rods are not only practical, but you can hang them everywhere easily, from your cabinet doors to the wall and even on the sides of your fridge.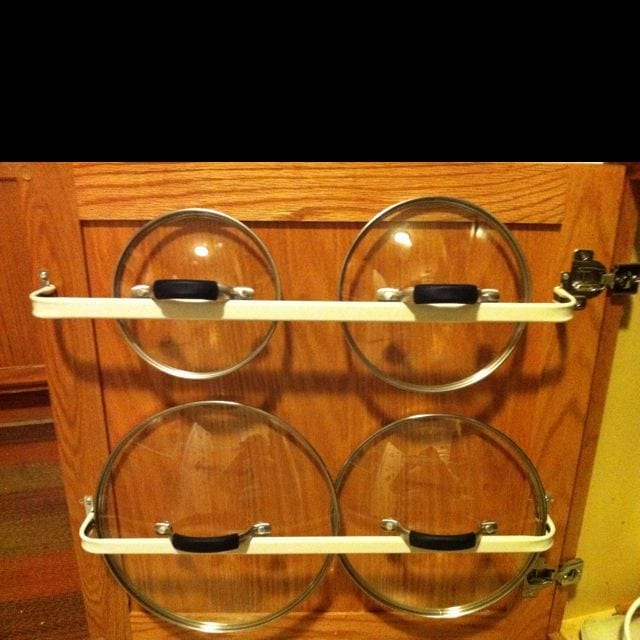 If by any chance, you are unable to find any curtain rods that you like, you can replace them with towel holders. You might be able to find a larger variety of models than you can find for the curtain rods.
Cupcake liners and mason jars
You might not believe this, but cupcake liners and mason jars really make a great team. Place your cupcake liners into a mason jar for a more organized pantry, for an easier find, and all in all to save them from other objects in your pantry to squash them up.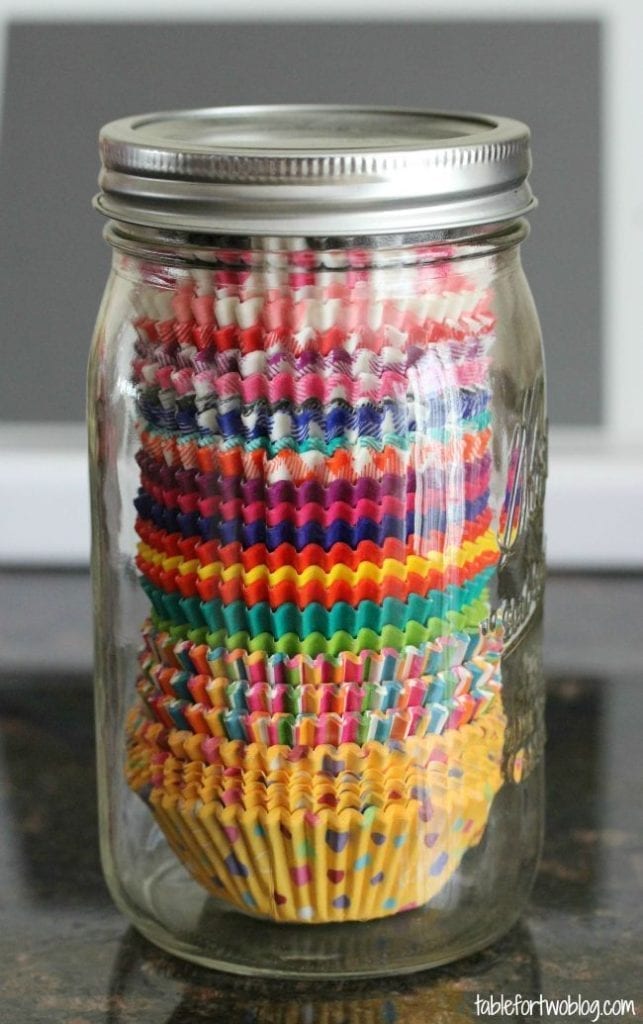 As practical as this cupcake liner jar is, it looks as cool as a piece of décor. All those combinations of popping colors of the cupcake liners will make a unique piece of decoration for your kitchen and can add a splash of color to a dull scheme or boring pantry.
Magazine holder. Again!
Remember the magazine holder, and how practical it is? Well, it can be used in so many other ways to declutter your kitchen that we had to write about it again. And we assure you that we think that you will like this hack too.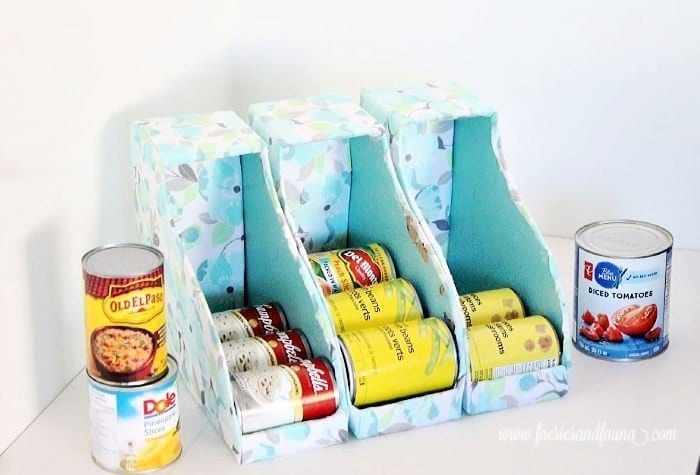 Did you know that you can actually place those cans you have staked up in your pantry in magazine holders? We don't know how we did not think about this, but this idea is awesome. Not only will it make your pantry shelves more spacious, but it will also organize your cans by type like: meat, veggies, fruits etc.
Last one, we promise
As you might have already guessed, we're going to talk about magazine holders again. This time, we promise it will be the last time since we don't want the whole article to be about this one awesome object that can be used in so many ways.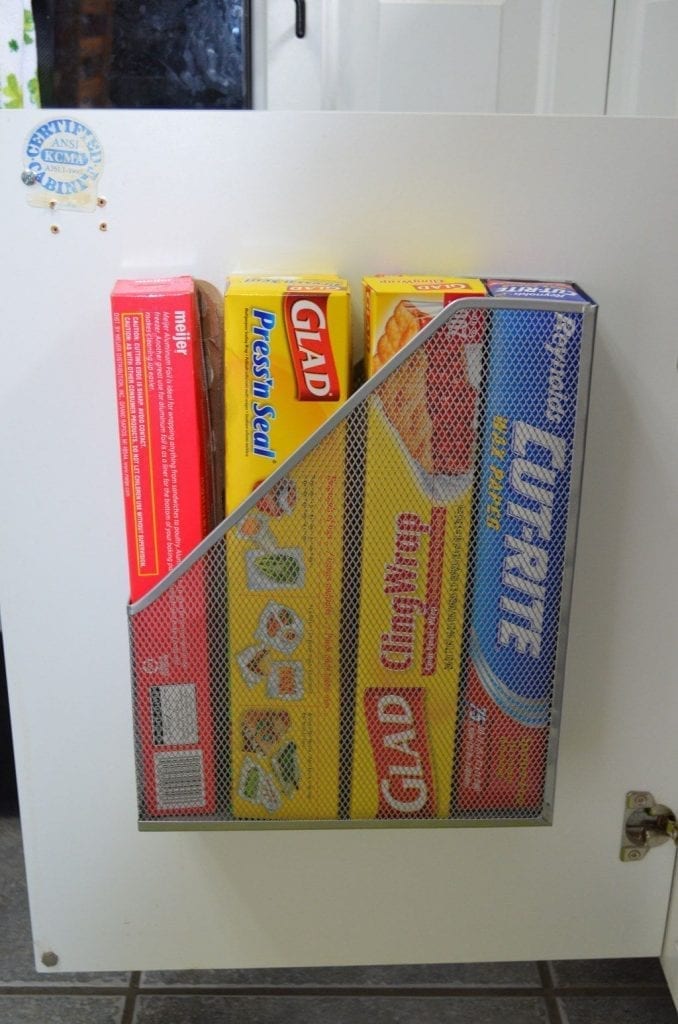 You will probably call us obsessed, and you know what? You should because the magazine holder can definitely be that object that helps us organize every little corner of the kitchen. For example, as pictured above, it can make a very cute foil and wrap holder.
The ultimate and hardest decluttering hack
This one is for those who still keep that dining plates set they were gifted 20 years ago, that was never used but still kept, just in case" they might need it someday. Well if you haven't used it in the last 6 months, the decluttering "scientists" think that you will not use it at all.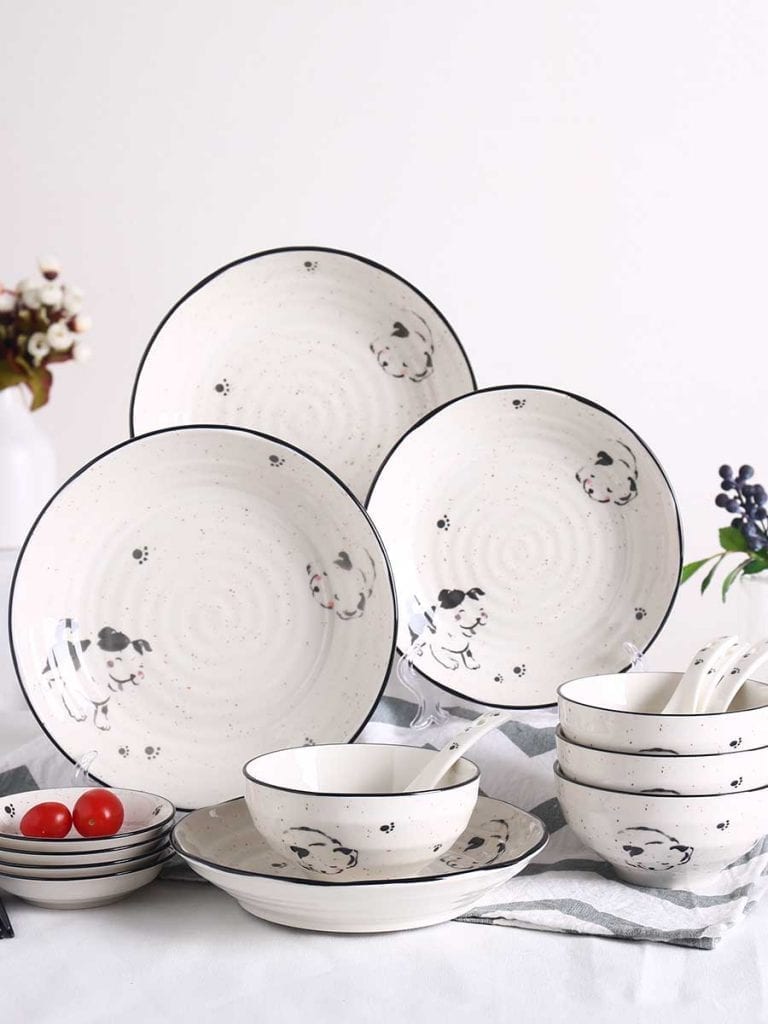 As hard as it may be, it may just be time for the set to go. Make some room in that kitchen cabinet by getting rid of all the plates and utensils you have not used in the past 6 months. Not only will it make more room for those objects that you use daily, but it will declutter your kitchen too.
Turn a filler panel into a pull out cabinet
In case your kitchen furniture was blessed with a filler panel, you might as well want to take advantage of it and turn it into a pull-out cabinet. This might call for a carpenter's help or, why not if you have the time and some basic know-how, a DIY project.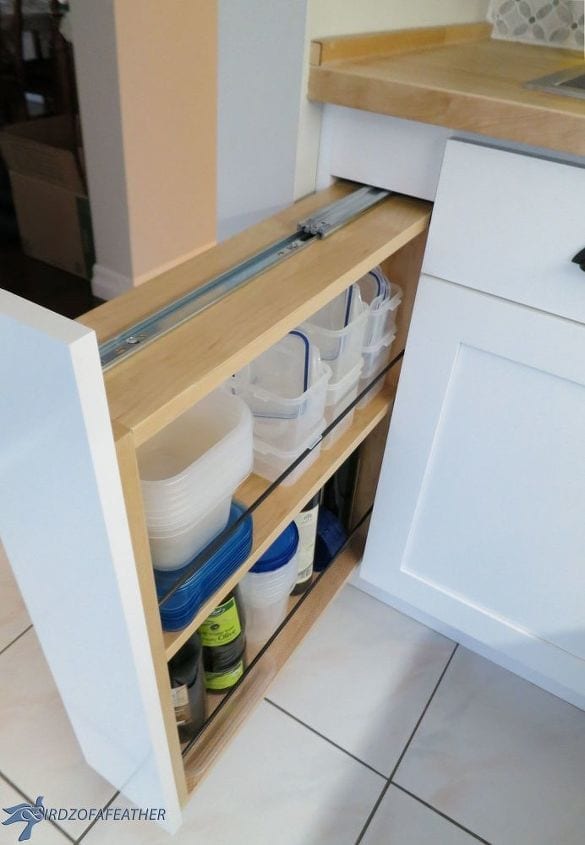 No matter how you choose to get this project done, we assure you that you will love the result. When it comes to storing, you can store everything small such as spices, Tupperware, sauces, coffee and tea, and even baking ingredients.
Display your plates on the wall
Yes, this old trend that was big when our grandmas were young seems to be making a comeback. But to give it a sense of new age, you might want to be very careful how and what other objects you use for this decoration.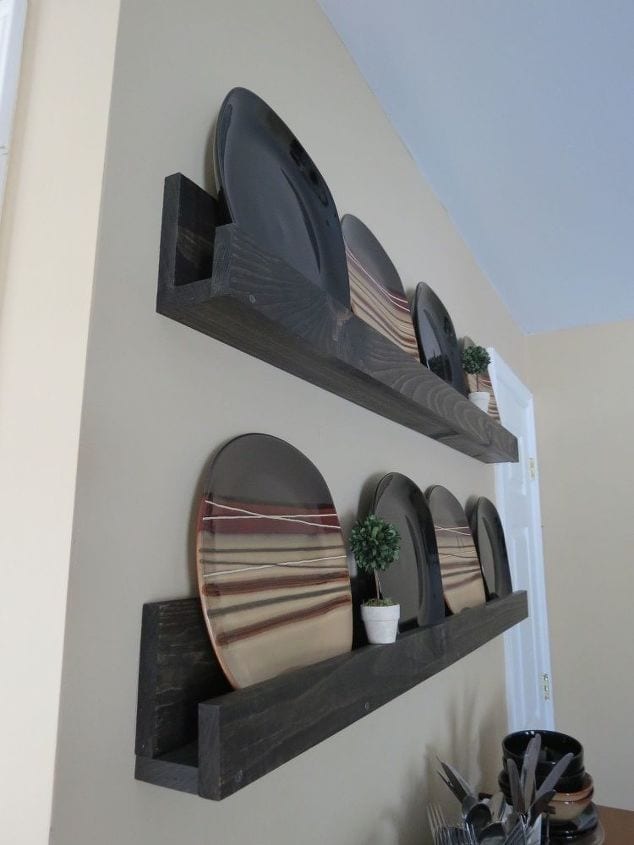 For this storage hack, you need some good wooden shelves. You can store your plates in a stand-up position, or if the shelves are wide enough, you can even store them horizontally. No matter how you decide to store them, you will love the result. Add a few plants and some other decorative items to make it a focal point in the kitchen.
Shoe box
If your teas and spice mixes are all cluttered up in your drawer, you may want to try this hack as soon as possible. It's easy; it's accessible, and more than this, it will organize your drawer or your pantry in a second.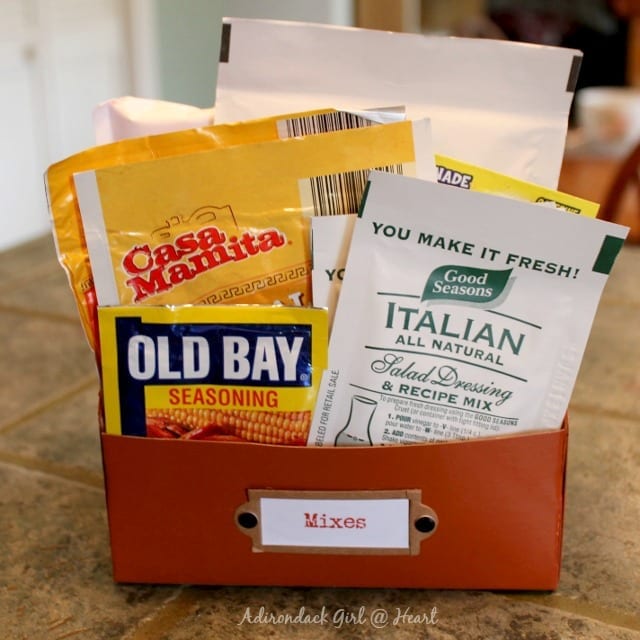 If you want to add your personal touch to this, you can get gift wrap of your choice and wrap your box. Or even better, you can get some acrylic paint and let your imagination go wild. No matter the design you use, don't forget to add a tag on each box you make!
Coffee station
This one is for the coffee addicts that have a place in their kitchen reserved only for their coffee machines and supplies. We all know it can really get overly crowded around the coffee machine and this can make your kitchen counter look unorganized and messy.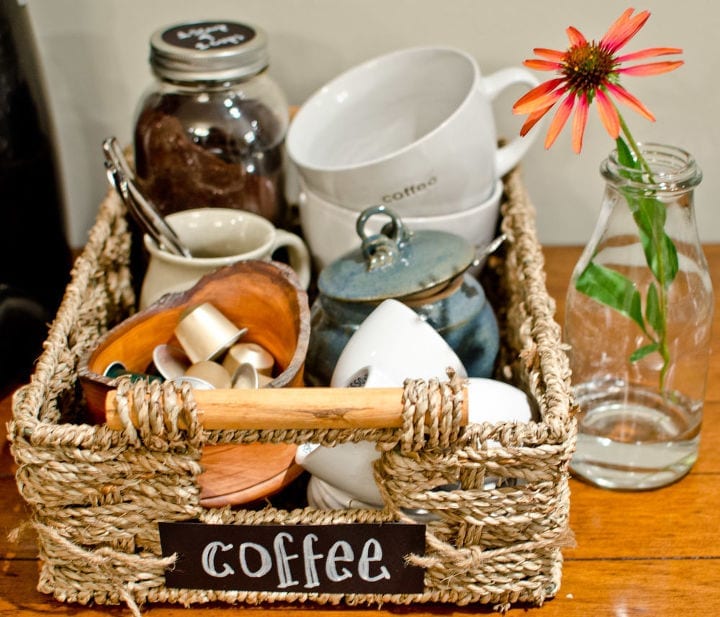 To declutter the area, you need either a shoebox, a wire basket, or a rope basket like the one pictured above. Voila! Now you can store all your favorite coffee cups in a very organized way together with the coffee, the sugar, and everything you like to put in your morning potion.
Floating dish drainer
If you don't have much space on your kitchen counter, but you still need a place for your dish drainer, we have an idea that you will most likely find ingenious. A "Floating" dish drainer that you can place anywhere you want.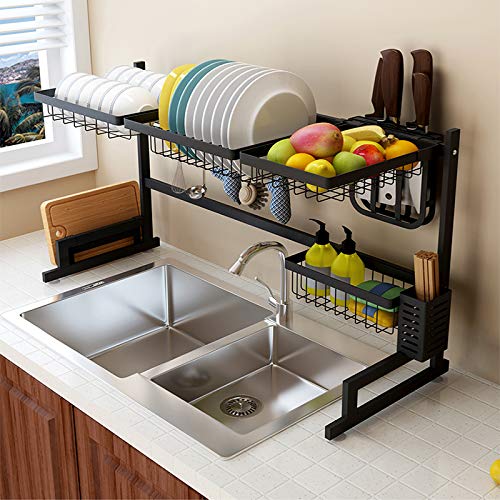 A great place is above your sink because nobody likes to drain the water that gathers in the plastic tray placed below the dish drainer. This hack will not only help save space, but it's much more hygienic than the regular dish drainer.
Don't forget about the Toe-Kick
In case you are wondering what a toe-kick is, well, it is the space between the kitchen cabinets and the floor. Underneath your kitchen cabinets, there is a lot of valuable space that would be a pity to waste.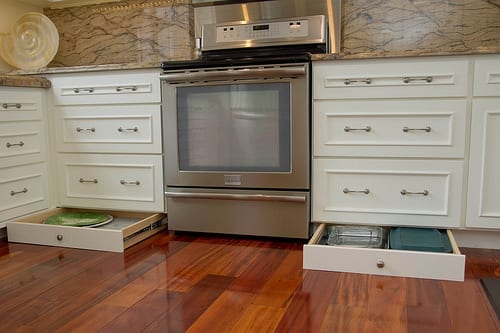 Yes, the space might not be that big, and the drawers might not be tall enough, but we assure you they are more than perfect for you to store trays and why not even your pet's favorite toys and spare bowls.
Pull out drawer idea
Now that you might have done the DIY project of the pull out drawer and you find yourself in the position of not knowing how to use that extra space, we got you covered! How about space for your towels?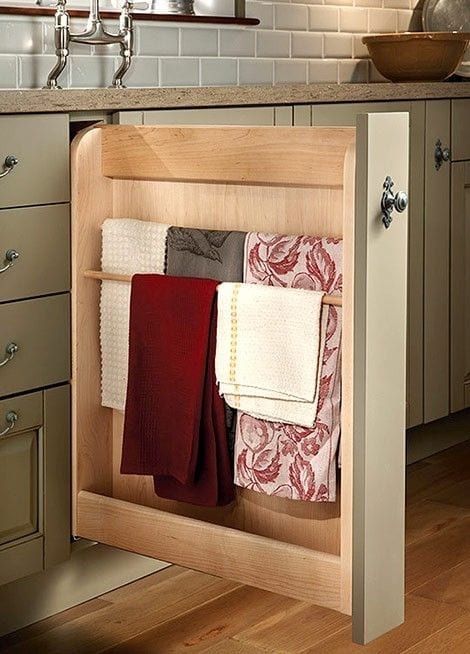 All you need are bars inside your drawer to air dry your towels. On top of this, you can store your paper towels in there too. To be more practical, make sure the drawer is placed next to your kitchen's cleaning station.
No space for your sponge
Don't worry! We have a good hack for this problem, too: the silicone sponge holder. Not only does it help save space while keeping your kitchen organized, but it is actually really cheap and easy to install on the sink faucet.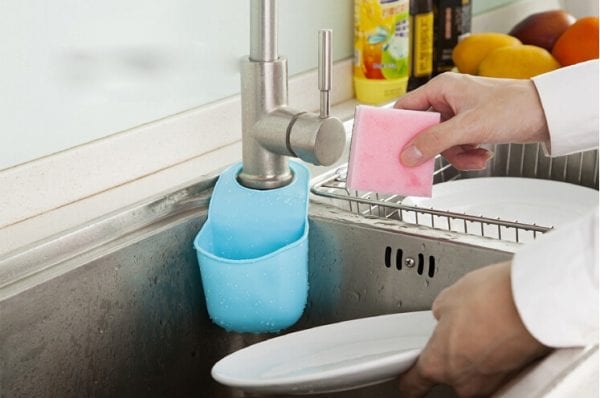 On top of this, to drain the water and let the air circulate and dry your sponge, the item has multiple holes on the bottom. A dry sponge means no more bacteria known to develop on sponges in wet environments.
Pull out cutting board
If your cabinet sides and cabinet doors are already used, and you have nowhere to place your cutting board, have a look at this hack. A pull out cutting board can be on top of your kitchen counter or even underneath your kitchen counter (this if you don't have a cabinet underneath it).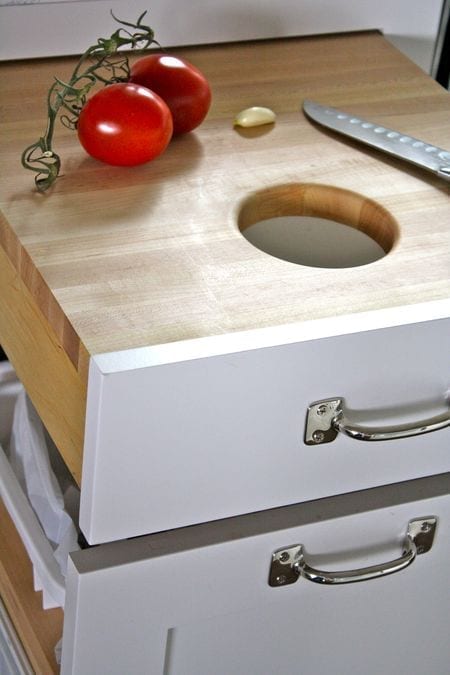 To make the hack more practical than it already is, place your rubbish bin on the side of the chopping board to get rid of the waste faster. For more practicability and accuracy, carve a hole in the chopping board and place your bin beneath it.