40+ Pictures Of Chaotic Foods That Lead To More Questions Than Answers
By Aileen D August 14, 2022
---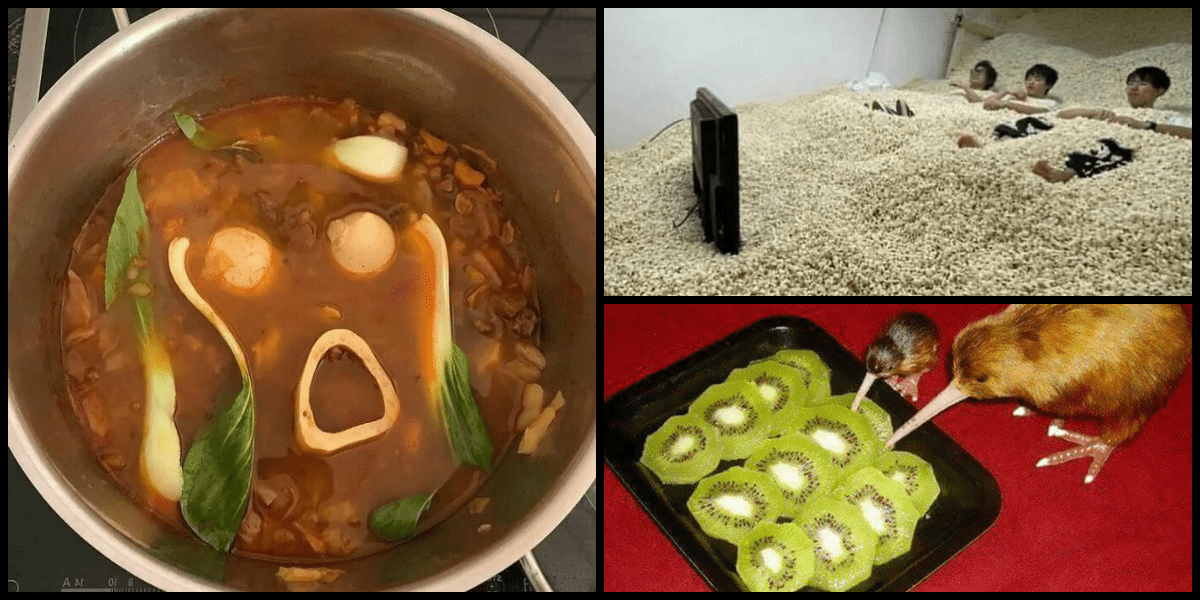 Just what are chaotic foods? These are foods meant to make a chaotic hodgepodge of your brain. Your brain will be scrambling to make sense of the pictures below. You will want to use a ladle to stir its contents. A couple of seconds tops, and add some salt to taste.
We have got an owl made of pineapple, radishes that are literally sitting on a basket, waiting for you to pick them up, and even a dog that looks much like a tub of ice cream. One thing is for sure — you will never look at these food items the same way again. So put that slice of pizza down, dust off the crumbs, and get ready to scroll through these cringe-worthy pictures that are meant to humor you.
Sword-Eating Skills
Whereas, before, you might have found it difficult to list a number of hobbies or skills, now, you will never have to. Awe everyone with your sword-eating skills. It doesn't take talent. It only requires an empty stomach and some hunger pangs!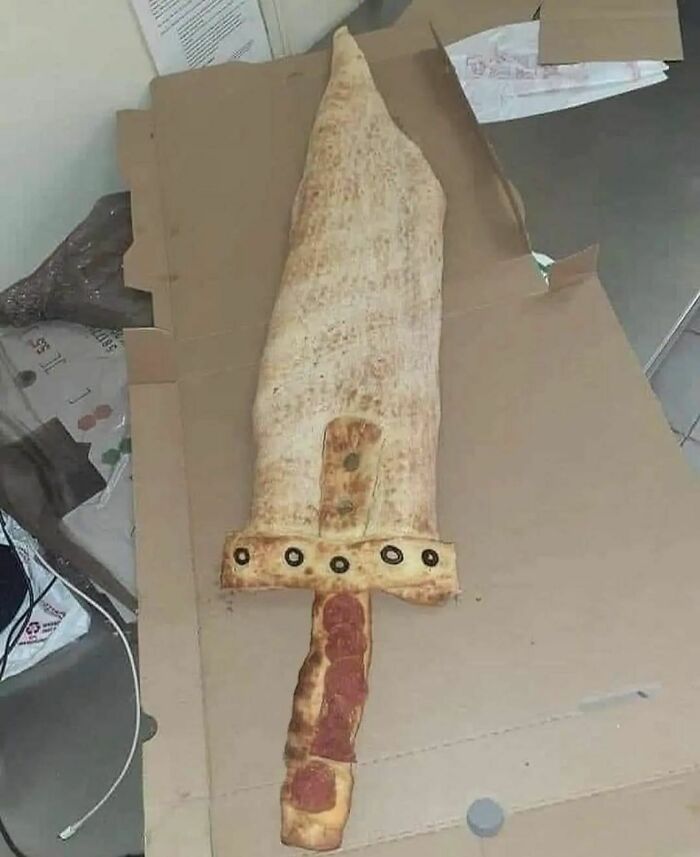 Just how many people can wolf down a sword that was made for a dark lord? Many people, apparently. Slather it with some chili sauce or some ketchup and you could amaze everyone with your insatiable appetite. Do you think you can eat two boxes of these?
On A Break
After a lab experiment gone wrong, teenage turtles emerge from the sewers of New York City to help fight crime. It's a tiresome job that never seems to end. And on their break, the brothers chow down on boxes and boxes of pizza.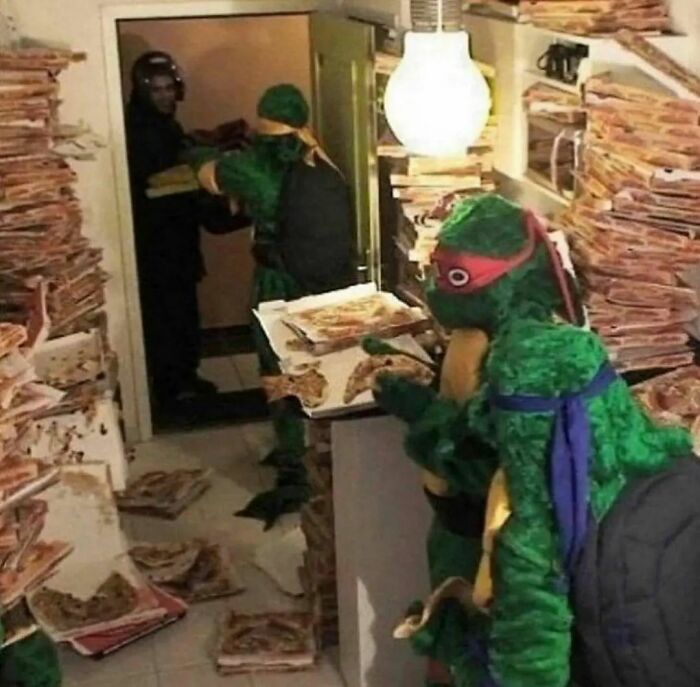 Lately, they have been very picky about their choice of toppings. After taking a bite, Michelangelo spits it out, shoves the box to the side, and opens a new one. Oooh, Hawaiian. Now, this is more to his liking. Quickly now! The world needs saving.
Life Hack
Now, many have been fascinated by this picture, not because of the food in it, but by this life hack. To keep your hand and forearm from getting burnt by oil splatter, simply turn an emptied soda bottle into a shield.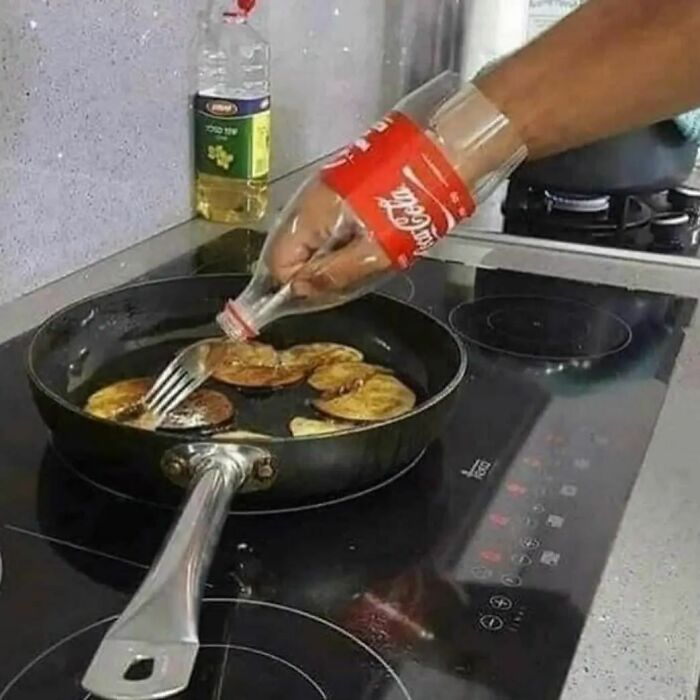 Cut it in half, or shorter if you wish. Insert your fork at the end of one hole, then hold it with your dominant hand. Wash it with soap to rid it of oil splatters, and replace it if the plastic starts to melt.
Shock And Awe
As a woman, there are many ways to draw attention from the crowd. You can command them with your presence, your attitude, or even awe them with avant-garde fashion style such as this. We can't say that this wouldn't work; we've never seen something like this before.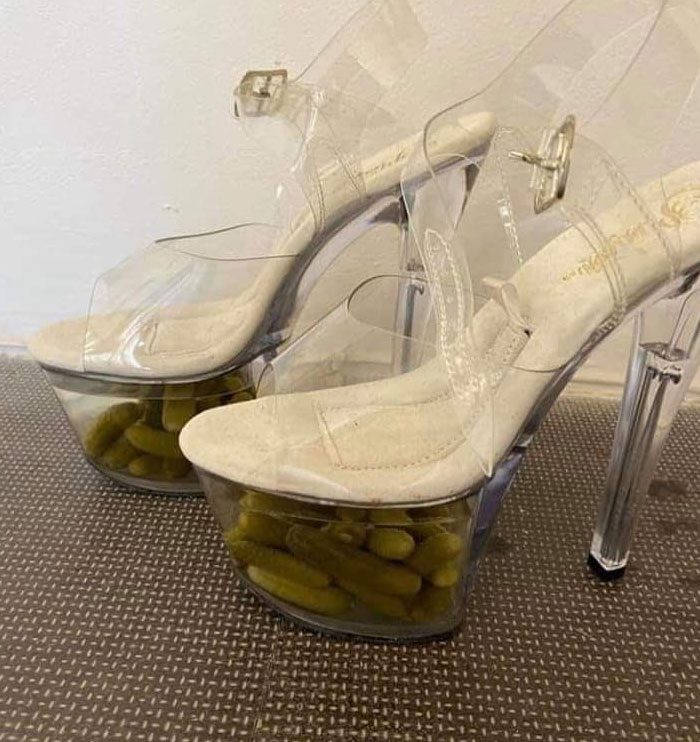 It excites and repulses the kid in us. With every stride, the contents are shaken and stirred and move like snowflakes in a snow globe. Just make sure to wear these pair of heels to a party soon. Like any fashion trend, these things have an expiration date.
A Whole New Level of Abomination
There are simply some people who want to watch the world burn. And they often start inflicting their fury on unsuspecting individuals, one household at a time. Take this man, who had presented this pair of patties fresh from…the stationary drawer?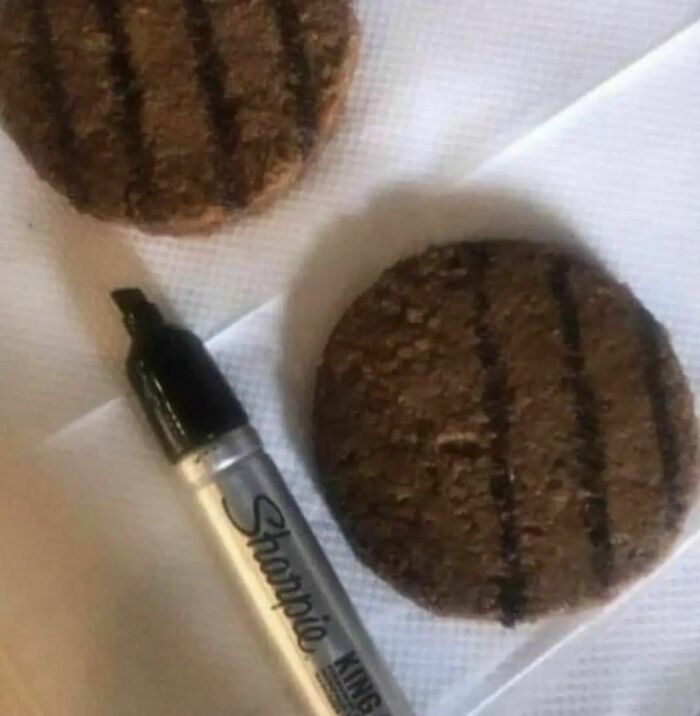 You read that right. These aren't barbecue grilled, as your brain would have led you to believe. Those grease marks were simply drawn with a Sharpie pen. Eat one too many, and you just might find your way to the ER from ingesting toxic Sharpie ink.
The Only Smell of Masks We Want To Have
One of the things we hate about wearing masks is the smell of them. It reminds us of vaccination shots, gurneys, and white lights. Frankly, we would rather do away with them, but not if those masks were made with this!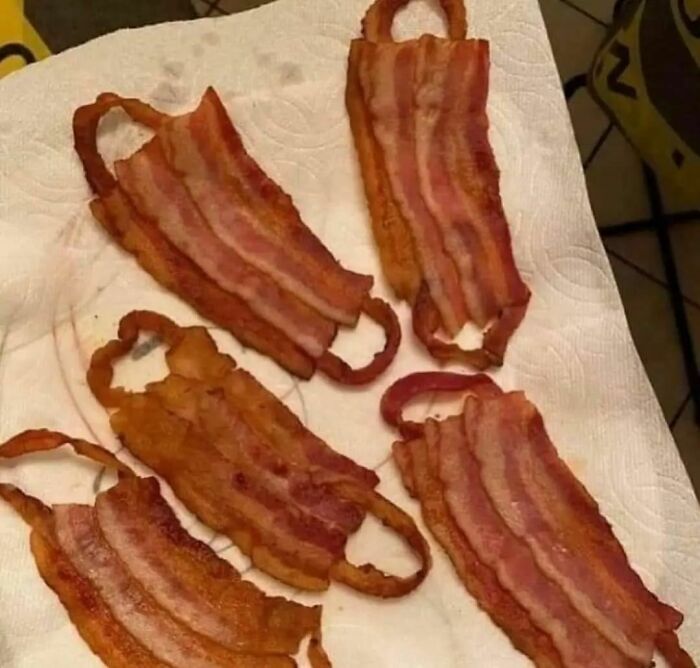 Oh, you'd bet we would wear three-ply masks! Feel the grease coating the sides of your mouth and trickling down your lips. They come in original pan-seared scent or honey barbecue. Take your pick! Just don't wolf them down too soon. They're eco-friendly, too. Single-use, then devour!
Mine, Hooman, Mine!
Can you think of anyone else who can get away doing this? When his fur mum ordered a box of pizza, this furball decided to claim a slice by marking it with his butt! For sure, this cat can get the whole box.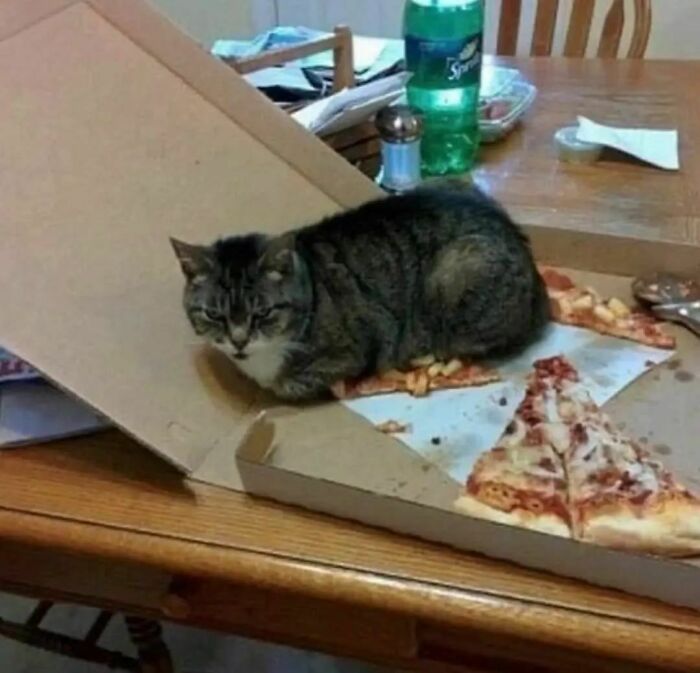 Next time, it might be better for this fur mum to order two whole boxes — one for her and one for this furball. After all, cats have a liking for warm things and an even greater love for cardboard boxes.
Oh, the Horror!
We know how it feels like to take a mouthful of something and then find out that we don't have the stomach to swallow it. We barf the contents and quickly wash the taste with water. Oh, the horror of pineapple on pizza!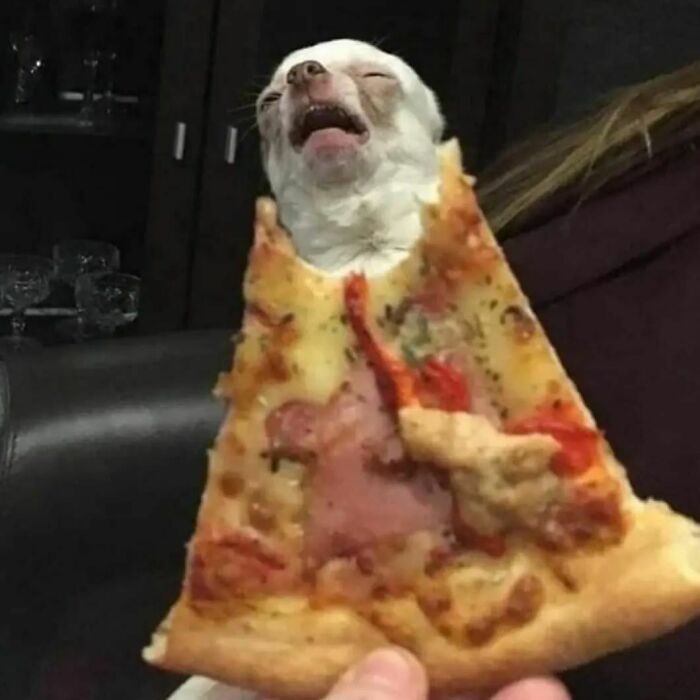 Much like us, this dog has a dislike for the fruity taste on a slice covered with bacon and cheese. It scowls at its hooman, turning its head away. Just get that slice of pizza away! This doggo is clearly suffering.
Belongs In a Museum
This cook was making a bowl of spaghetti for the family. This had been the nth time he had cooked this dish for the week, so he decided to create a work of art — one he nor his family would never forget.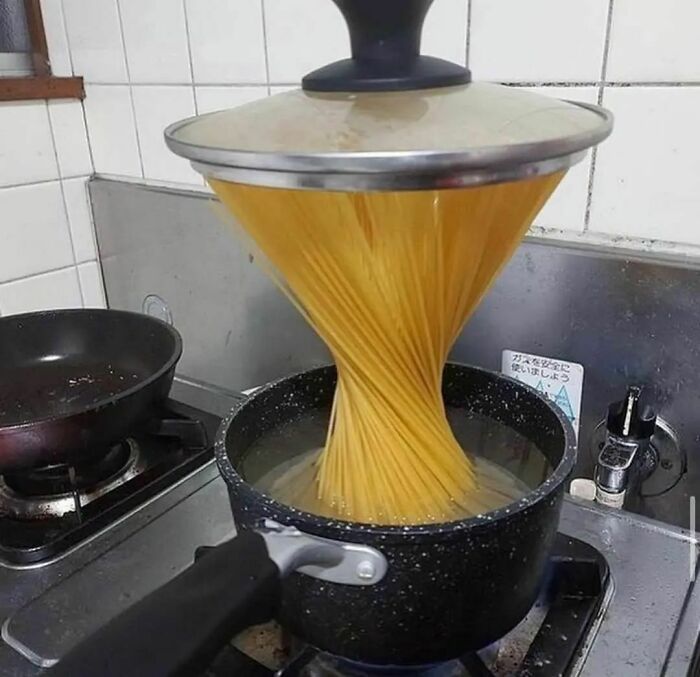 Bit by bit, the tower of spaghetti dissipated into a mess of cooked noodles. It was al dente, perfect to this cook's wife's liking. He topped it with carbonara sauce and then served it while it was still hot. Dinner is ready!
Sushi in a sushi
Anyone who has prepared sushi knows just how difficult it is to make. It takes years to master the art of cleaning and preparing raw food, not to mention rolling it just so. So we have to give this person some credit for creating a sushi made of sushi.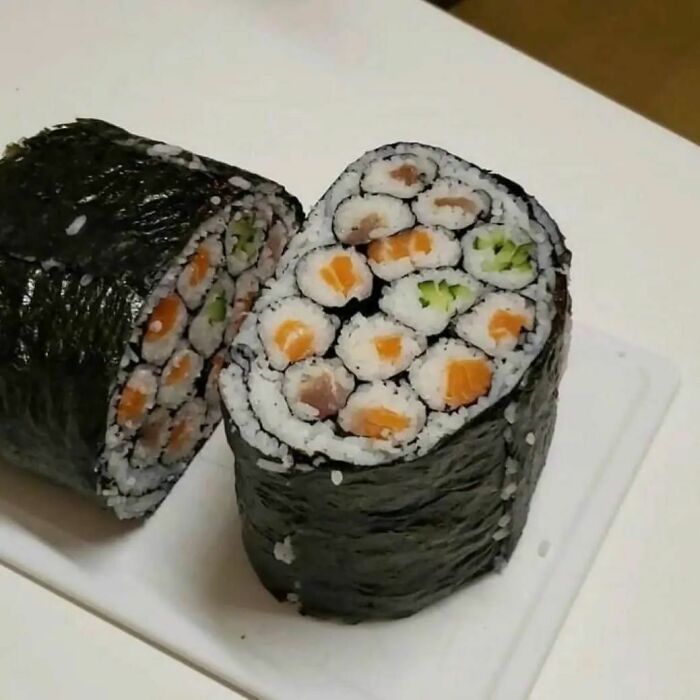 That's twice the seaweed you could munch on. We bet that this would fill your tummy faster than usual. Then again, you might still be hungry, seeing that it's too pretty to eat. We might wanna leave this to be displayed.
Made for the Modern-Day Princess!
There are some tales as old as time, but are likely to happen in the present day and age. Kind of like Cinderella, this man has fashioned one glass shoe fit for a modern-day princess. The only thing missing is a foot to put it on.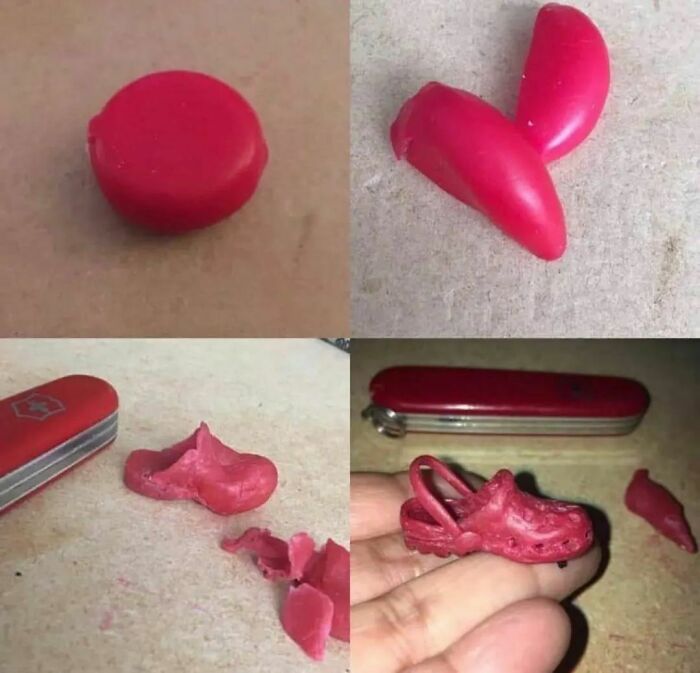 He had carved it out of a piece of candy. So while we can't help but want to wear this on, we're more inclined to nibble on it. This should satisfy any avid licorice-loving candy fan. This is a fairy tale ending perfect for anyone with a sweet tooth.
Feeding On Insects
This couple was tending to some plants in the garden. She slipped on one of her gloves when he tapped on her shoulder and pointed at this plant. There was nothing out of the ordinary — just a worm feeding on a flower — until he picked it up and threw it in his mouth.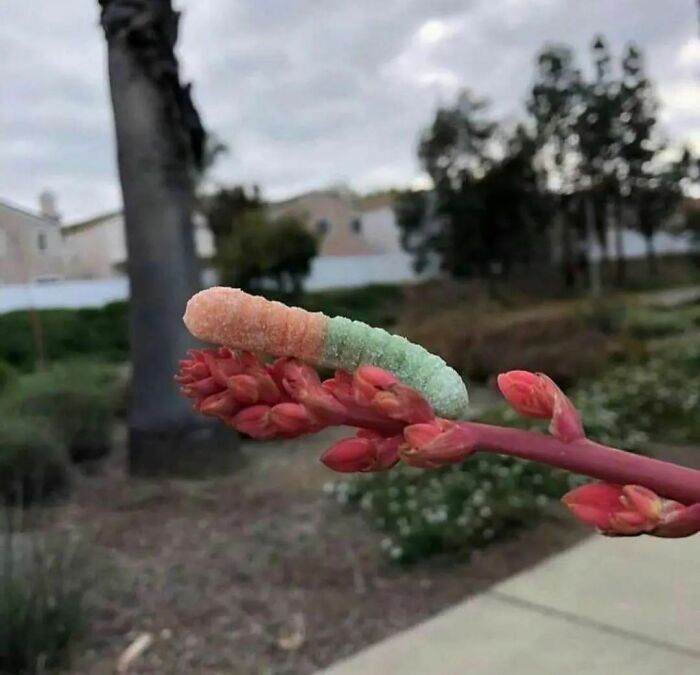 She was in shock. After all, she was certain that caterpillars had toxic-laden hairs that are sure to make his throat itch. Later, he 'fessed up and revealed that it was a playful trick, and showed her a bag of gummies to feed on.
Let Her Be The Judge
This family thought of getting a plastic garden bed for their backyard. It would take less maintenance and frankly back-breaking work to make their backyard presentable. So the family went to the nearest Home Depot to find the perfect patch.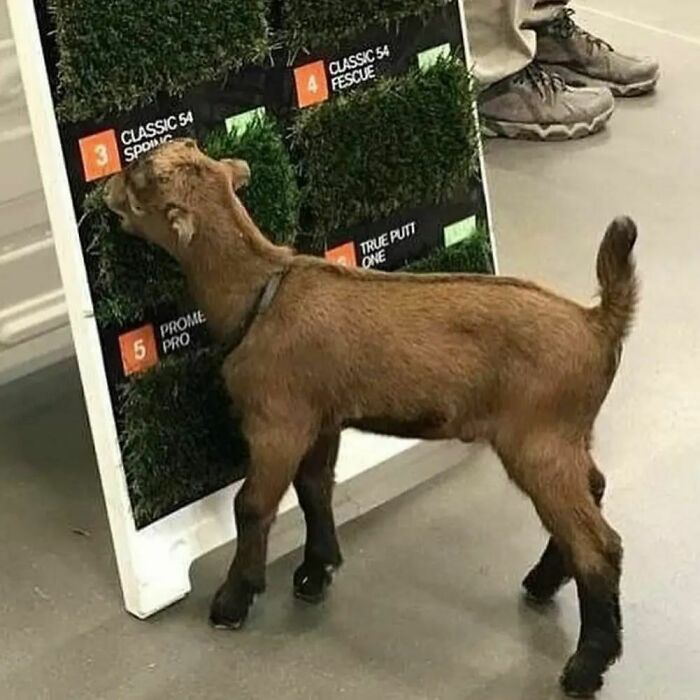 This goat got ahead of herself and made a mad dash for the patches displayed. She nibbled on each before telling her parents what she wanted. As we see it, they could buy these plastic garden patches, or get rid of her indefinitely.
Playing Eight Ball
A lot of people ask this man what's his secret to looking young. He has the energy of someone half his age and the endurance to work a 14-hour shift. He smiles and says, "I like to play eight ball."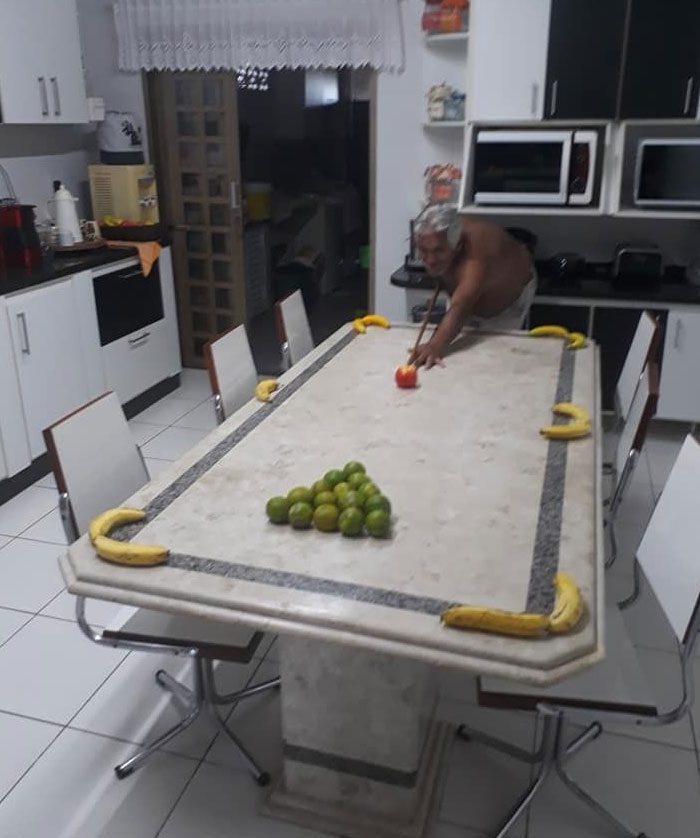 Just get your load of fruits and vegetables, and drink lots of water. Make sure to surround yourself with people who are good for your mental health. They're primarily the reason why this man is still strong the way he is.
"I Am Groot"
His towering size and cumbersome walk make him one of the most intimidating characters in Guardians of the Galaxy. Only a few people can understand him. The rest of us can only hear, "I Am Groot." Care to interpret for us, Rocket?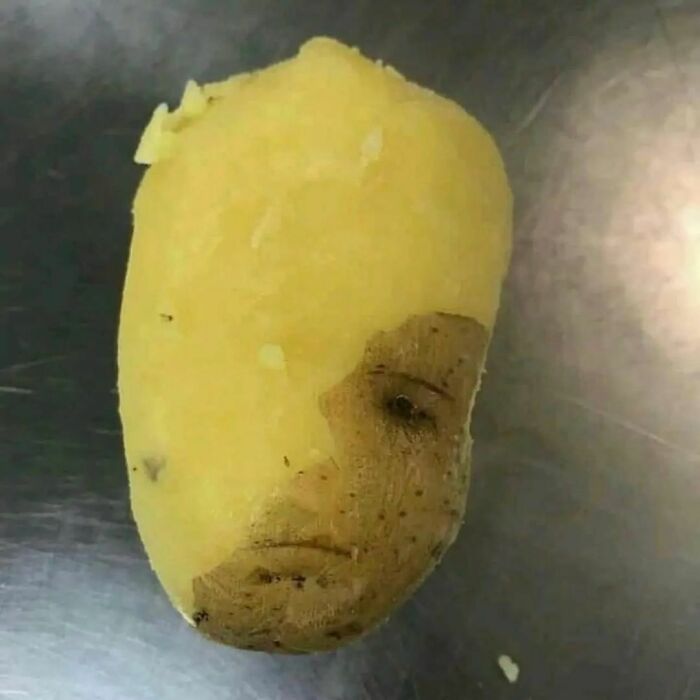 He might have come back from a battle. We could hardly recognize him with half of his face gone. But his characteristic scowl and puppy-dog eyes remain. It's definitely Groot. We know without him having to say it. Do you reckon the Guardians won the battle?
Just Look at Those Folds
This fur mom takes frequent breaks to keep from burning out. She intentionally diverts her attention to the most hilarious things unrelated to work. Her mind had gone on rote when it focused in on this image and it made her laugh.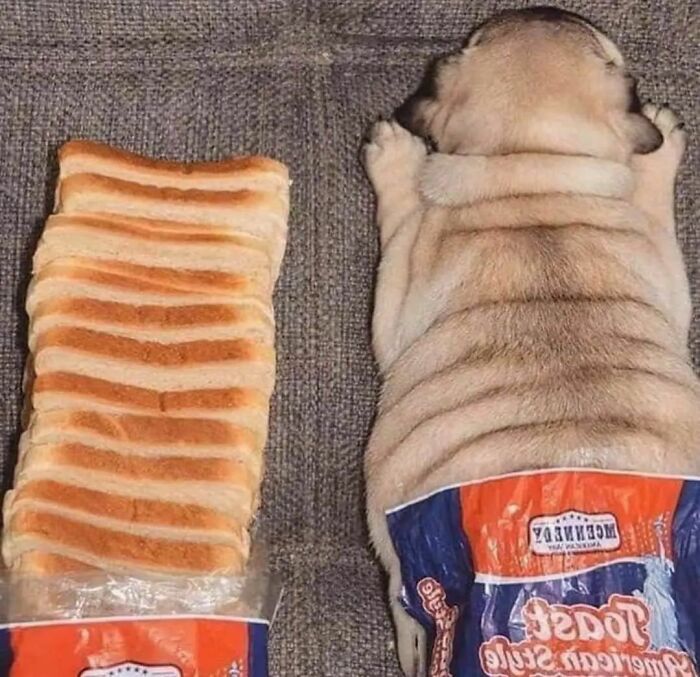 You can bet she spent a couple of minutes laughing. Her dog couldn't understand why. It looked up at her, saw that she was forcing his hind legs down this plastic, and then went back to sleep. He never even felt the slather of butter on his back.
Forced Feeding
Seeing that her kid was gaining some weight, this mom sat her kid down and had a talk with her. "There'll be some changes around here. We'll go out on walks, and you will have to munch on these from now on."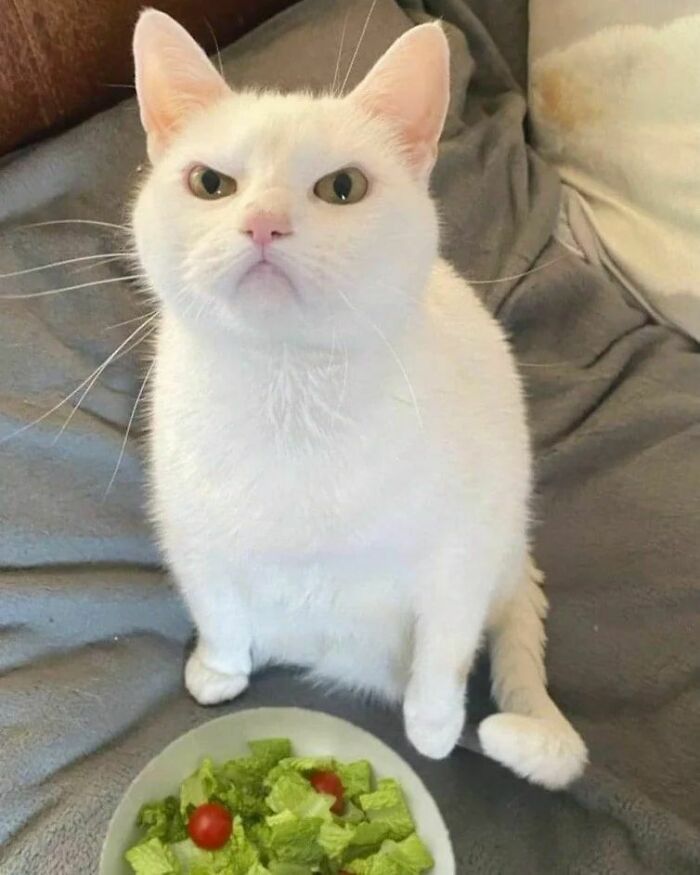 This cat couldn't help but glower at her. "Just what in the world is this?" This cat hisses and shoves the plate to the side. "Now, how about you bring me real food! And none of that grass stuff anymore. Save it for the cows!"
Heart of Gold
What would you say about someone who sacrifices their life for your benefit? Now that they are gone, the only thing to do is to make sure that you make the most of your life and pay good deeds forward. Start small, like cooking for someone.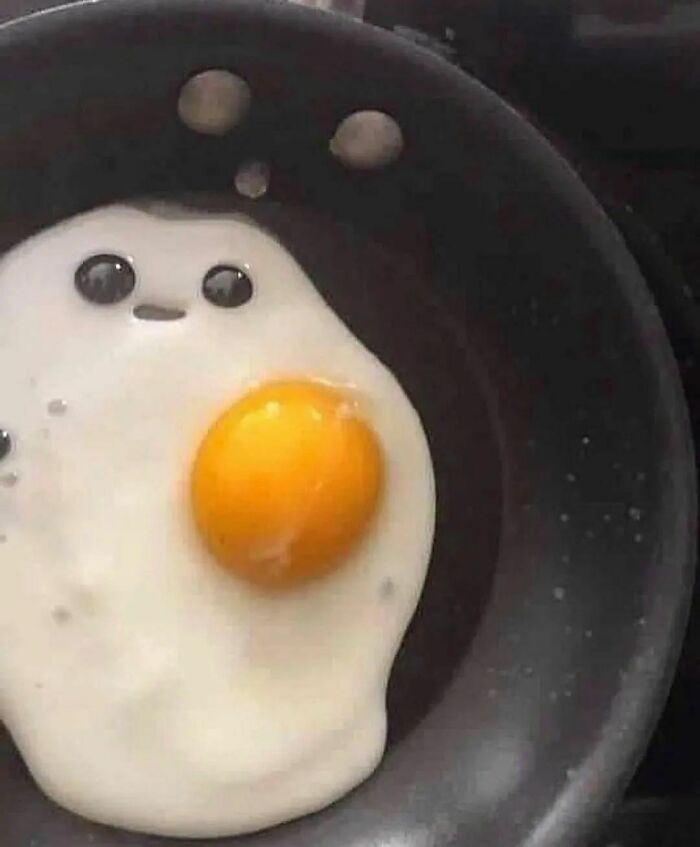 Every once in a while, you will see something that should remind you of that special someone. Know that you are doing a good job paying it forward and helping people out. Bit by bit, you can inspire others to have a heart of gold.
Crisp To Taste
For those of you who are short on cash but would like to take up cooking classes, look no further. We have got a new life hack meant for entrepreneurs and college dorm students alike. The only tool you need is a compact steam iron.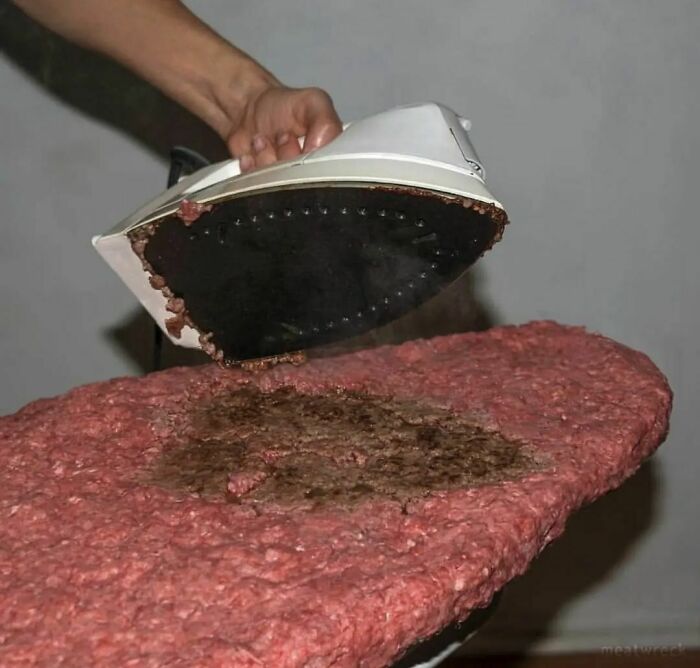 Lay that kilo of patty on a table. Spread it out thinly with your hands. Meanwhile, plug the iron in and wait for it to get scalding hot. Then place atop the meat and fry to your preference. Sprinkle salt to taste!
Come to Momma
This woman has always loved birds. She spends an hour by the pier feeding them just so she can watch them eat. But she felt like she could do better. So she made this. Now, birds flock to feast on her!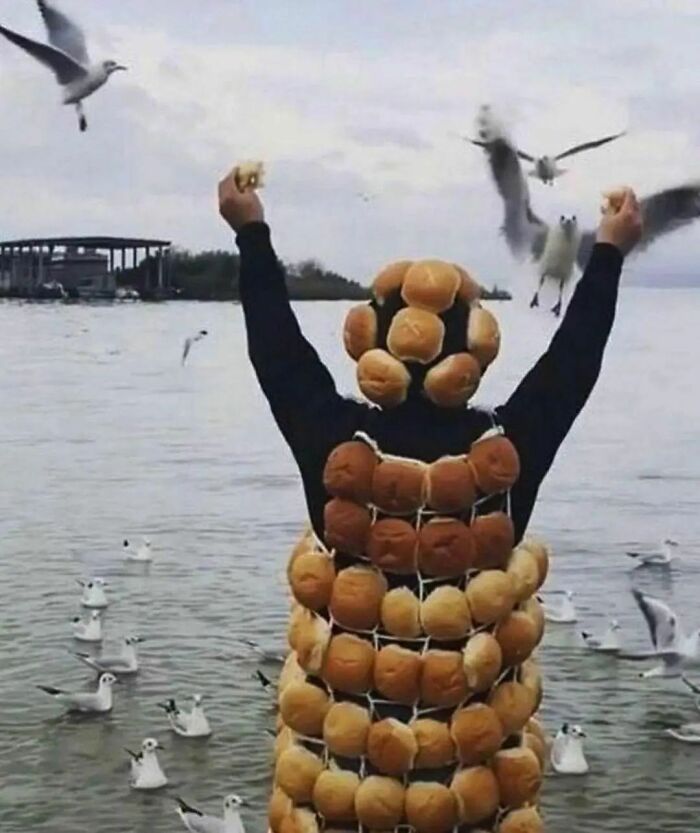 As you had guessed, the birds flocked toward her. She tried to stay as still as possible but couldn't keep herself from giggling as they pecked at her neck. We suggest she wear eyeglasses. The last thing she would want is anyone pecking those suckers out.
What We Mean By "Cheese Sandwich"
Remember those times in grade school when you would open your lunchbox to find a sandwich wrapped in paper with a loving note? You were so excited to figure out what kind of sandwich your mom packed for you. You hungrily tear the paper apart.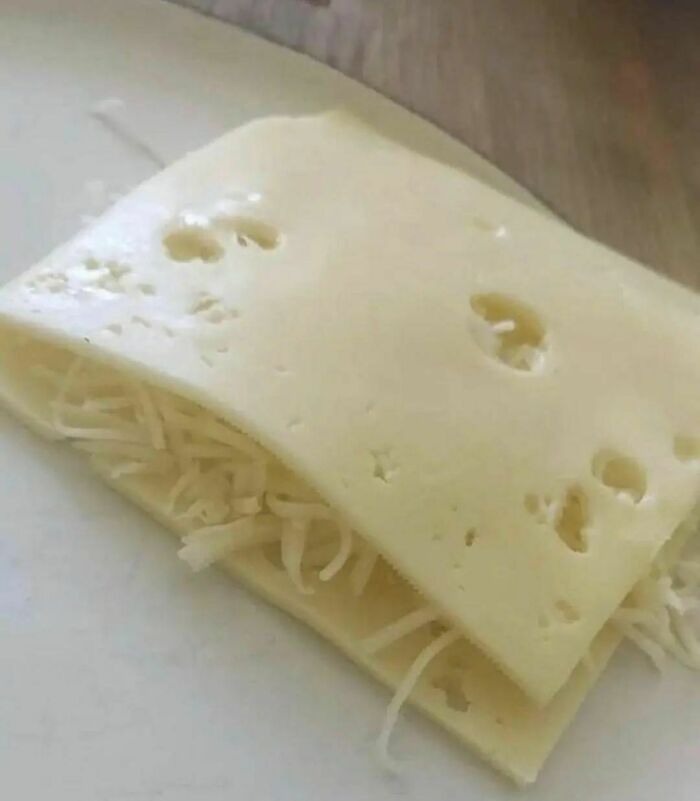 You struggle to make sense of the thing before you and raise it up to the light. Just what in the world is this? Well that, is what we meant by cheese sandwich — thin shreds of mozzarella wedged between two layers of cheddar cheese.
Why He Takes Too Long
Ever wondered why men take twice as long to cook dinner? And the more time the process takes, the greater the risk of the kitchen burning down. This wife grew anxious as she saw that her husband hadn't walked out of the kitchen with a dish in hand. She checked in on him doing this.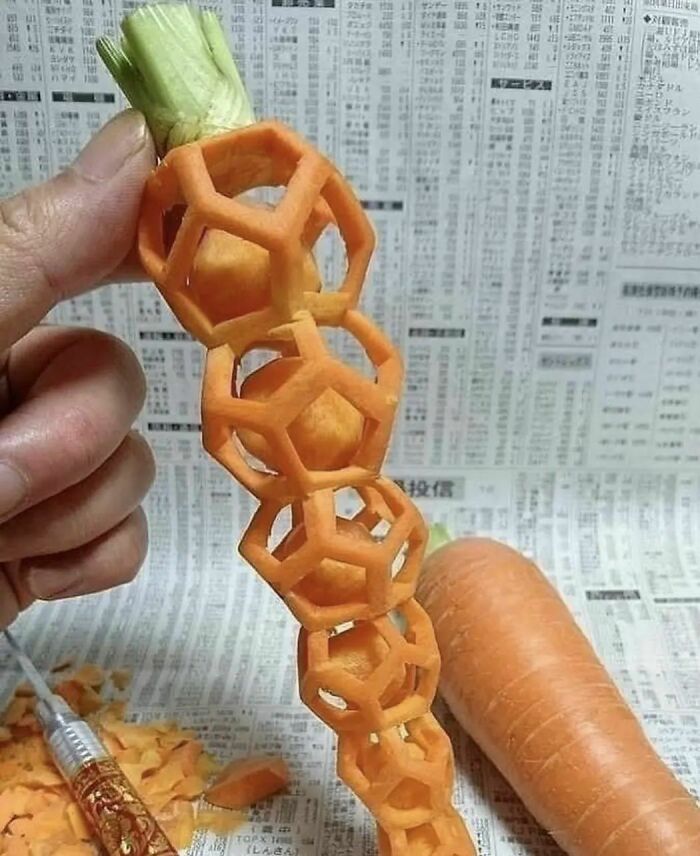 Hands on her hips, she demands to know just what he did to the vegetable. He explains, "well, that's pretty enough for our two-year-old to chew into, don't you think?" She grabs the work of art and then throws it into the pot of boiling water. "Only if you cook it!"
Foo(t) Fetish
Down at the mall, there was an exhibition of the oddest shoe designs. There were crocs, a shoe that was made to brush the floor, and this glass shoe that you could drink milk tea from. It's perfect for those who have a foot food fetish!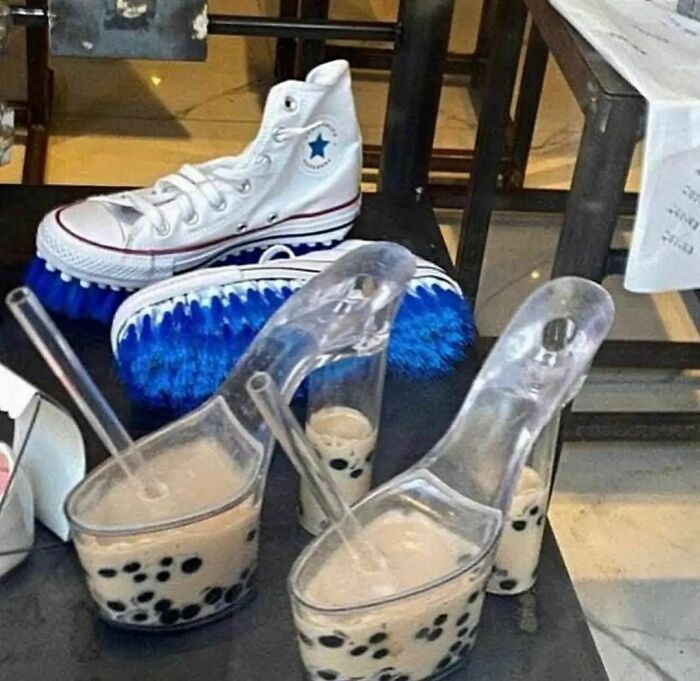 You could order a classic cuppa, Hokkaido milk tea, Assam, or even Masala chai. For only two dollars, you have got a pair of drinks for you and your other half. This is perfect for people who have a sweet tooth and a love for food.
Food for the Dark Lord
Just like us, this man has an alter-ego. You will find him living his alternate life once he puts on his hoodie and mask. His mood instantly shifts, and you can see a darkness cloud his eyes. He has to feed the devil inside him to keep from lashing out.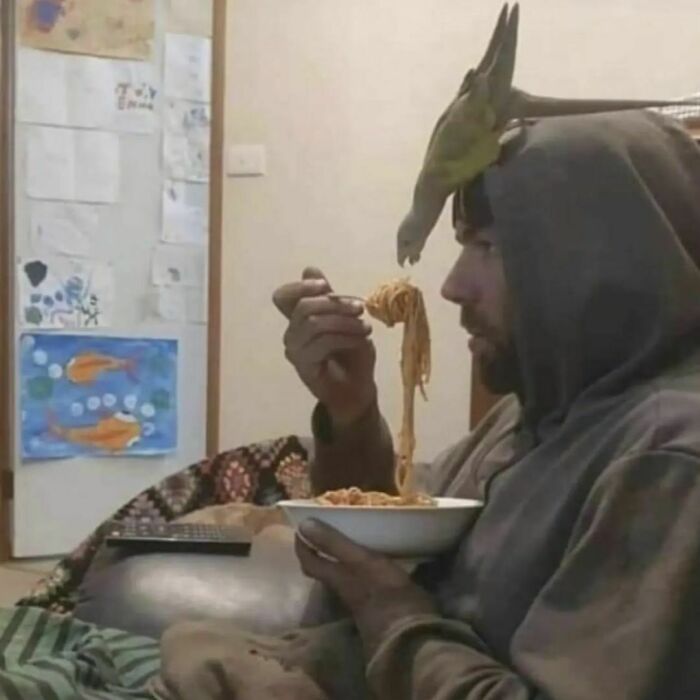 He raises his fork to the dark lord's lips but doesn't feel it take a mouthful. He lowers the fork to his lips and then chews it down like the tough guy that he is. He gets another curl of spaghetti to feed the dark lord, until the plate is empty.
Too Slow
This Redditor was enjoying the warmth of the sun as he walked the side of the beach. He bought two scoops of ice cream and took a picture of it for Instagram when this seagull took a large bite from the treat in his hand.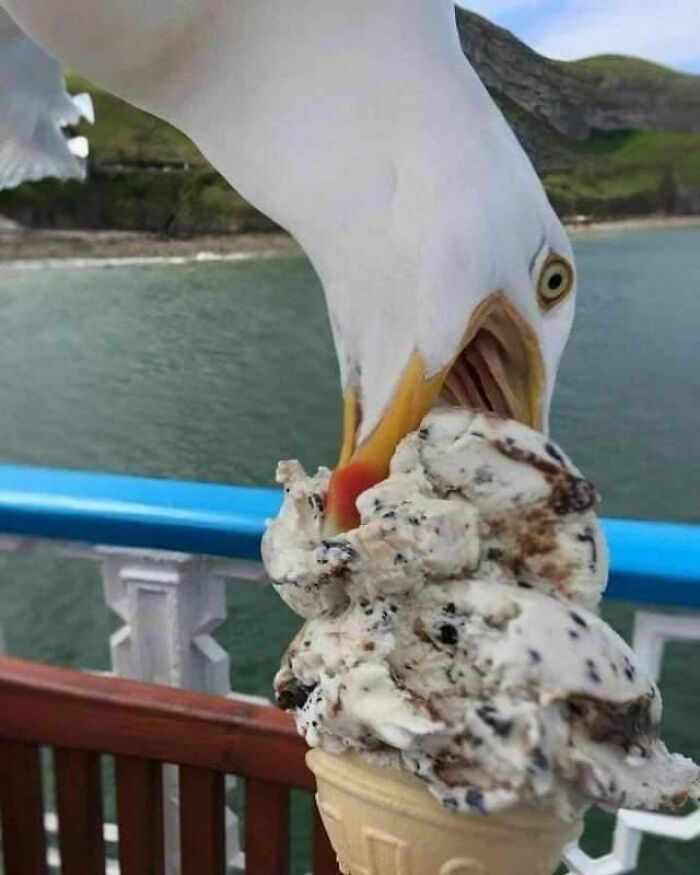 "Too slow," said the photobomber as he flew away from the scene of the crime. This man looks around at the witnesses, who are more amused than concerned about the theft. It looks like this is a crime he can't report to the police.
The Scweaaaaam!
This young mom was busy chopping some ingredients to place in the pot. She could smell she had only five minutes left before turning off the heat. She removed the lid and nearly lost her footing as she screamed upon seeing this face inside.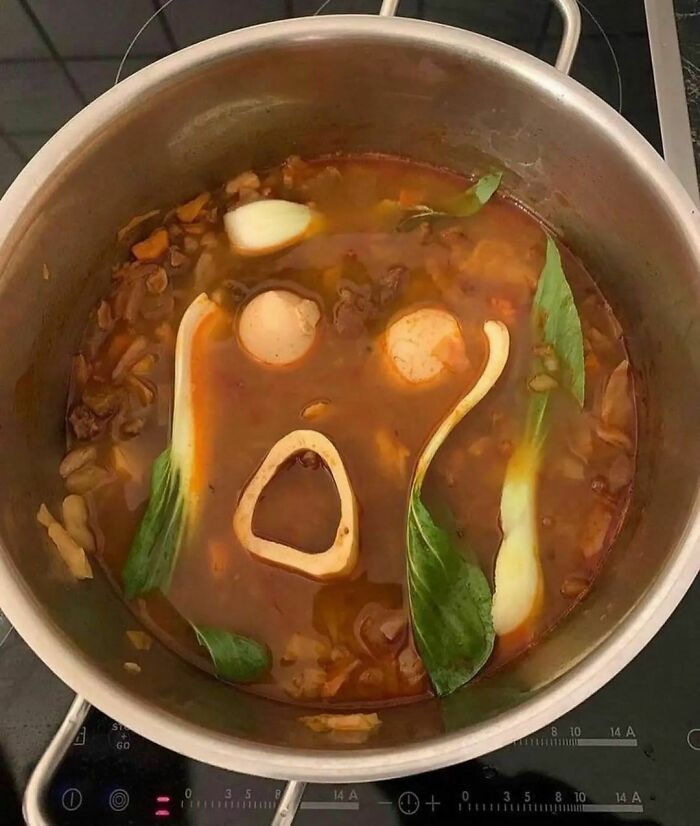 Her husband rushed inside the room to see what had happened to her. She was panting raggedly and slowly raised a finger to point at the pot on the stovetop. And even he was taken aback at how similar the face resembled Edvard Munch's The Scream.
Unidentified Frying Objects
Whereas before, there would be common sightings of extraterrestrial ships hovering over vast fields, now, you would see them in the kitchen. This woman had seen a couple of unidentified frying objects on the pan before her. She scooped them up and placed them on a saucer.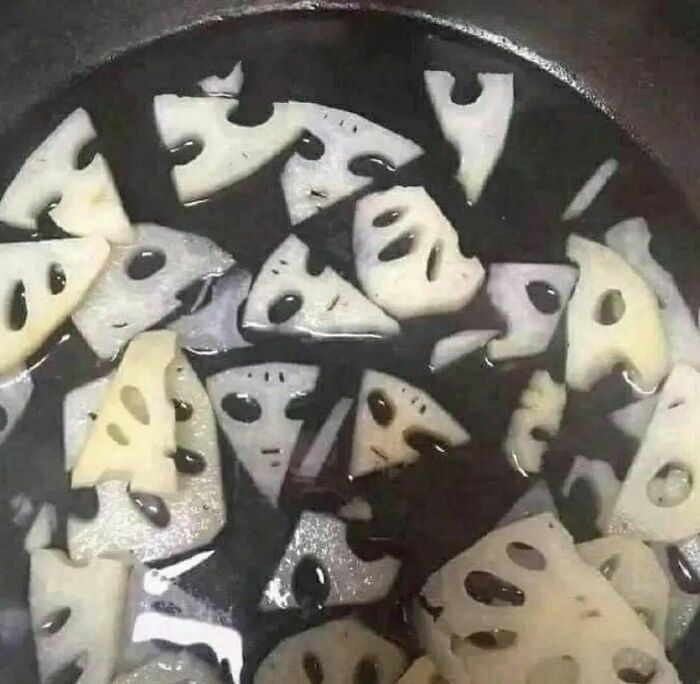 Without even blinking an eye, she popped each of these frying objects into her mouth and then chewed. They were a good source of Vitamin C and potassium, things you would want if you had to brace yourself for an upcoming alien invasion.
Have A Seat
We can't count the number of toddlers who have walked up to this and taken a bite out of it. Staff had to shoo them away and hand their parents a slice of cake with some tissue to wipe the icing off their kids' faces. It's not like we can blame them.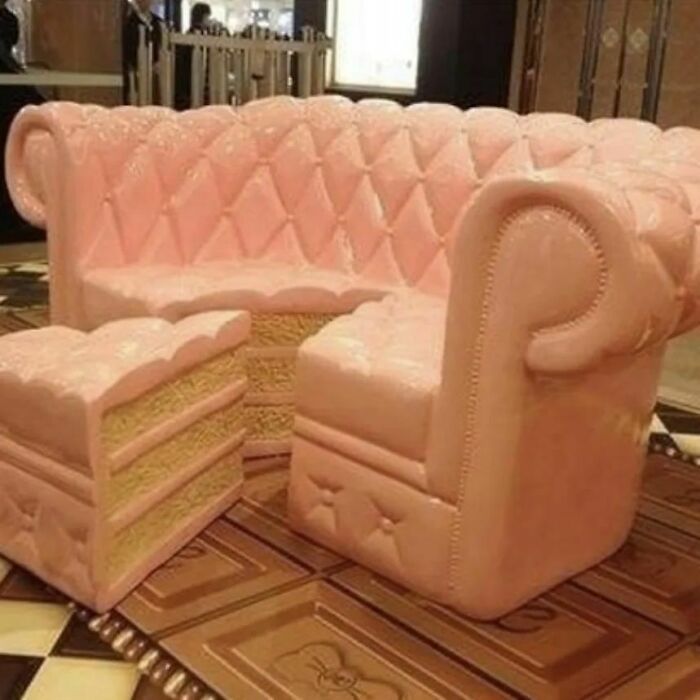 We can't even tell if it's a ginormous cake, or if it's a seat designed to look like one. It doesn't help that it's placed inside a room with floors designed to look like a chocolate bar. Would you take a bite or a seat from this?
Gotta Stay Motivated
It takes a great deal of willpower to force yourself to go to the gym, do an aero workout and then try to eat a balanced diet. Just how does this guy manage to consistently do it within the workweek? Why, he has these items to motivate him.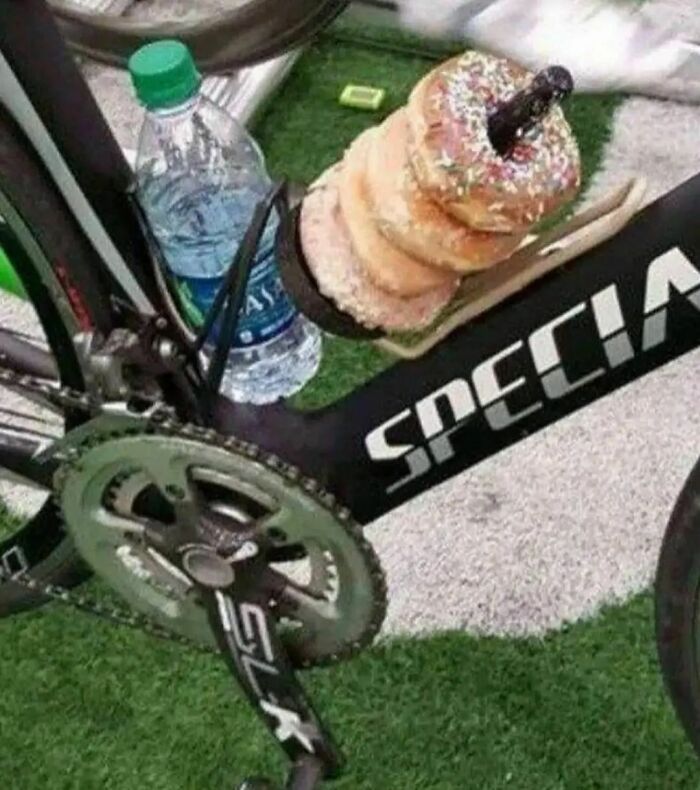 Any time he feels hungry, all he has to do is reach for a doughnut, take a bite out of it and then cycle harder. As he feels the sweat run down his brow, he forces a few carbs down his throat and then washes it down with water. Off to the weights!
Cute Cannibals
There is no stopping these birds from getting what they want. Once they set their sights on a heap of nuts and seeds, they will spread their wings and race towards it. Look at these two early birds who have gotten the pick of the bunch.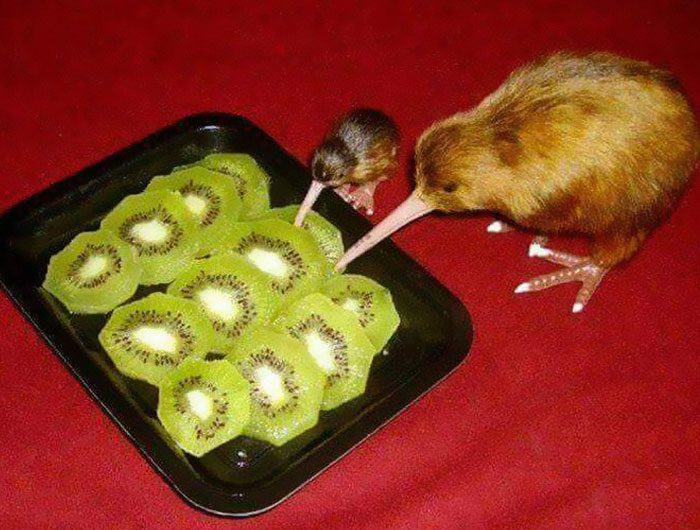 They choose the juiciest slices of Kiwi and then feed on the nectar. Then they slurp up all the seeds. Every now and then they'll look around the area, deciding if they'll take flight or consume to their stomach's content.
When She Says Into BDSM
A lot of people who have tried their hand at BDSM say that it is nothing like they had imagined. It had unraveled a side of them they never thought possible. Well, we would say the same if we were met with a woman strapped to the bed with this.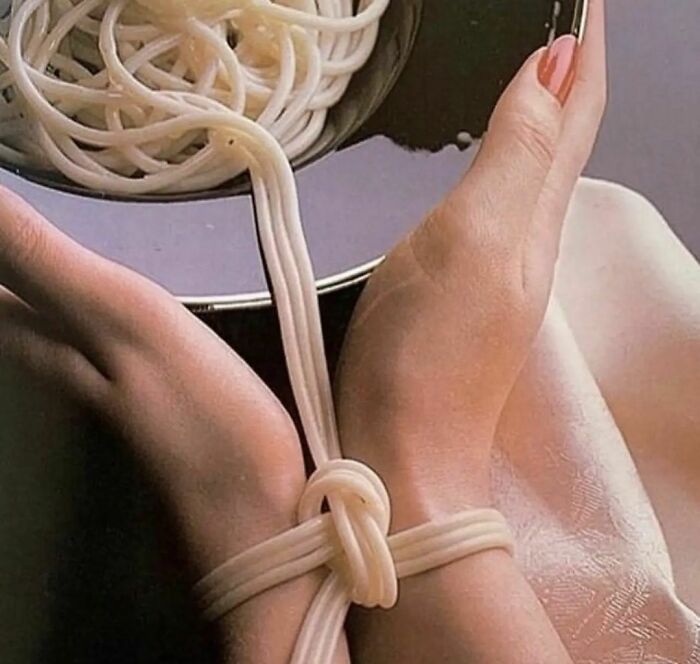 "Ain't that a sure appetizer?" She struggles to break free from the ties and still finds herself strapped to the bed. As you make your way toward her, she whimpers and hides under the covers. What would you go for first — her or those al dente straps?
What Have You Got There, Partner?
This man took a bite out of his sandwich as he strode towards the barn. He only had three hours before sundown so he had to clean the place quickly. But, first, he had to gobble up the sandwich. He didn't have any problems with that.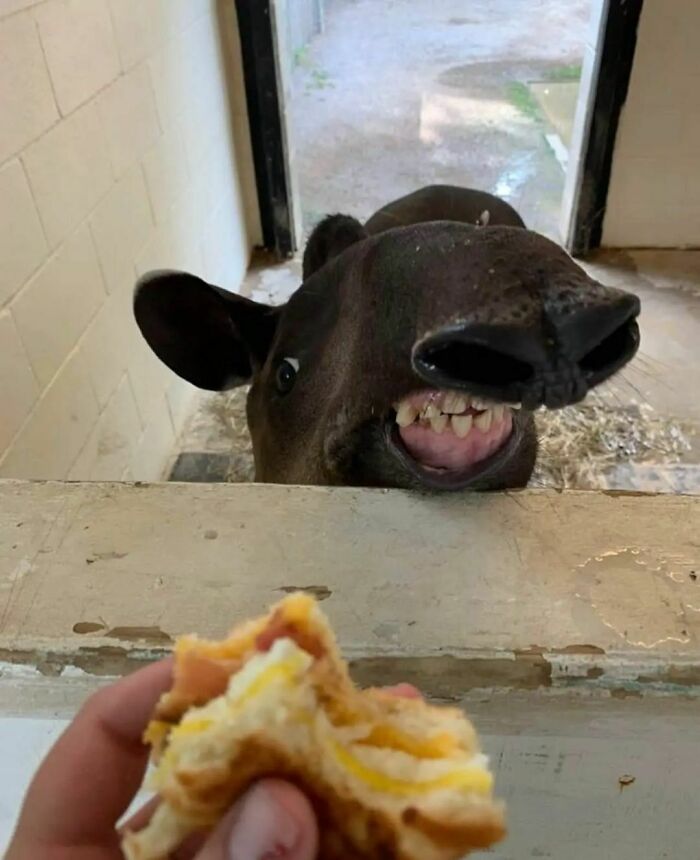 This bad boy eagerly presented himself so that he could cross one task off this man's list. He grinned widely, showing his crooked teeth, and then awkwardly caught the sandwich as it was thrown towards him. "Do you have any more?" He asked as he licked his lips. Yum!
What Flavor Did You Get?
You can never go wrong with ice cream! If you and your partner have had a fight, put out the flames with this treat. If you and your friends have come to a standstill about the class project, buy a tub of ice cream. It's the perfect icebreaker…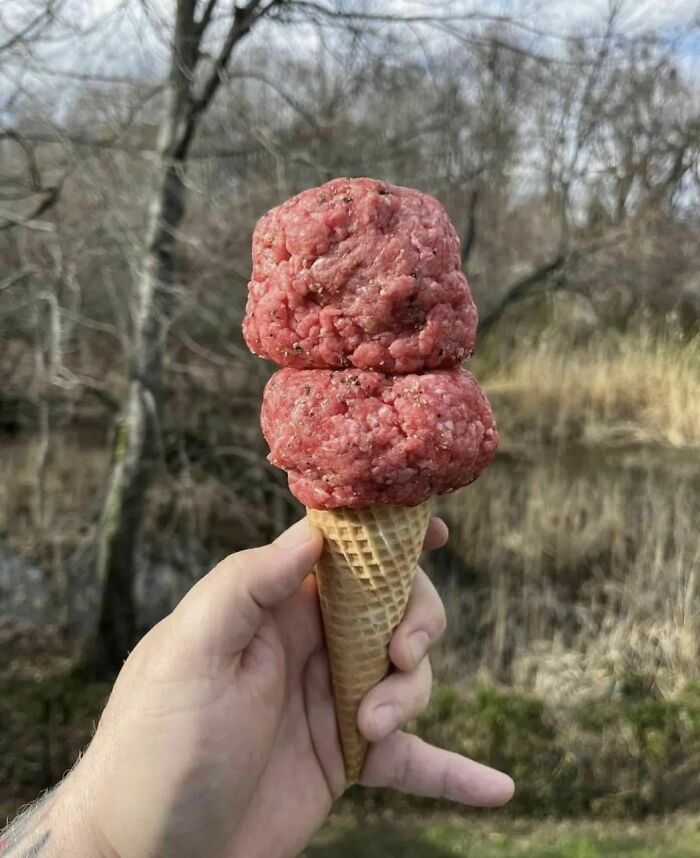 Except for when you serve two scoops of raw meat. Instead of thawing your partner's icy stare, she looks at you disbelievingly and storms to her room. She slams the door in your face. "Should I have gone for Double Dutch?" You're met with nothing but silence.
Get Your Serving of Owl!
You could tell it was a special event, given that mom and dad had the ceramics laid out on the table. It was their youngest's graduation party. And dad put in the extra effort of securing a fresh owl for the special occasion.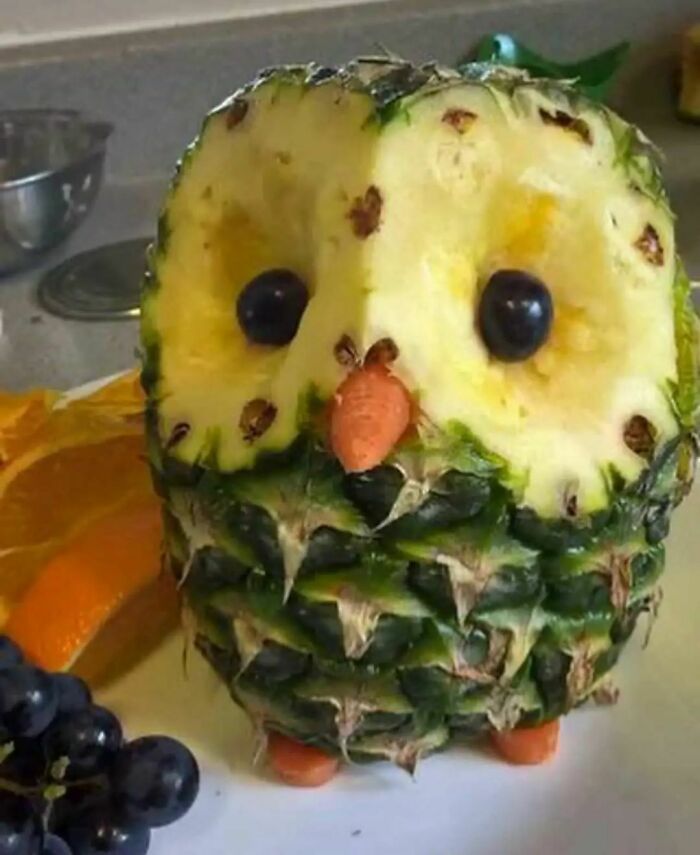 "Say that again?" The guest looked disbelievingly at the host. "Yeah, got some fresh owl in the kitchen. Come take a look." Without losing a beat, he yanks the guest a couple of steps toward the kitchen and presents this cute-looking pineapple!
Had To Wear White!
We have a love-hate relationship with the color white. Sport it in well-pressed clothes, and you could look like a company CEO. But wear it with splotches of mud or ramen soup, and you might spend days cleaning the stain out.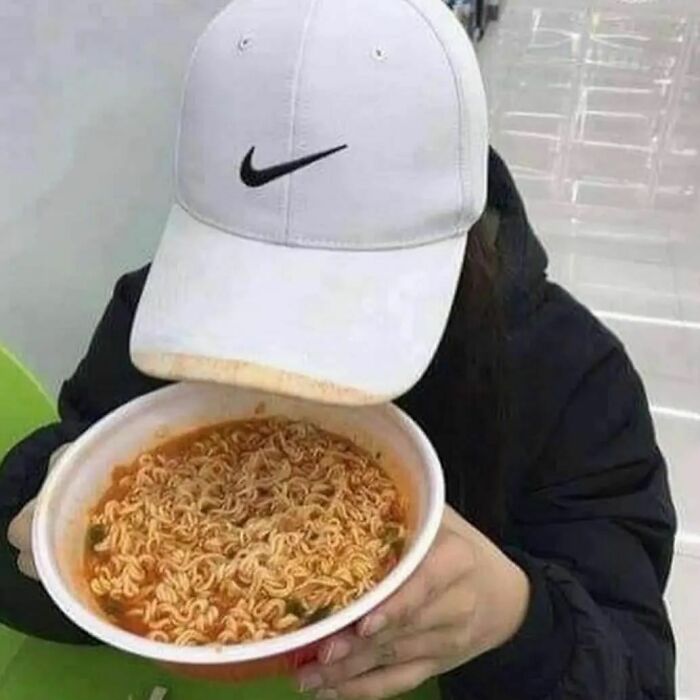 Hadn't anyone taught this woman to take her cap off at the dining table? We didn't always understand why, but after seeing this, we can say that our elders' had given us sound advice as we slurped off soup from our bowls. We bet she regrets not having listened to them.
Found Nemo
Who hasn't watched the Disney movie Finding Nemo? A clownfish dad goes on an adventure to find his son, who had been taken from their Great Barrier Reef home. The movie ends by showing us where Nemo had been taken… to the bread aisle.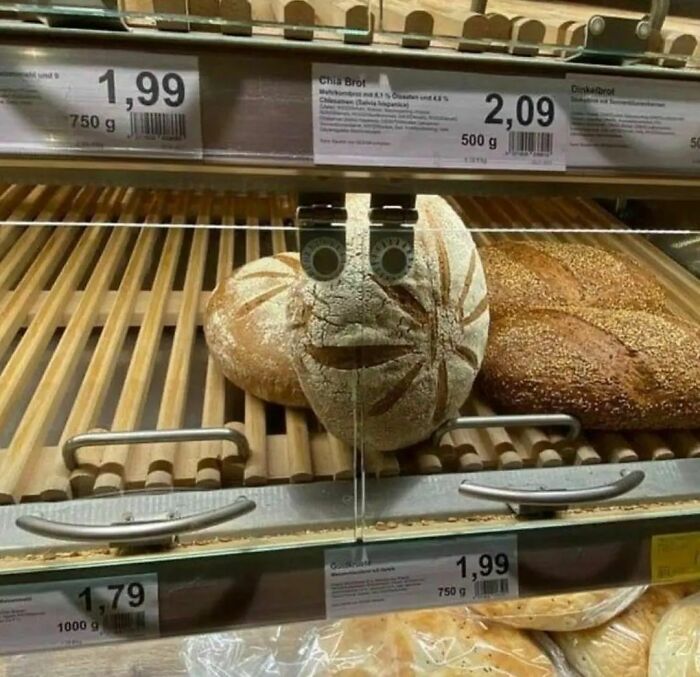 Sold at a cheap price of $2 per 750 grams! We would have thought that customers would flock to this section to fill their carts with clownfishes, but it was nothing like the sort. Nemo would swim to one corner and then the other just to keep himself from being bought.
Why We Don't Eat Our Vegetables
We remember being placed on the high chair and being forced to eat our food. We could swallow spoonfuls of pancake at a time, but our parents could hardly get us to eat our vegetables. If you're a parent and you find it difficult to feed your kids their greens, this is why.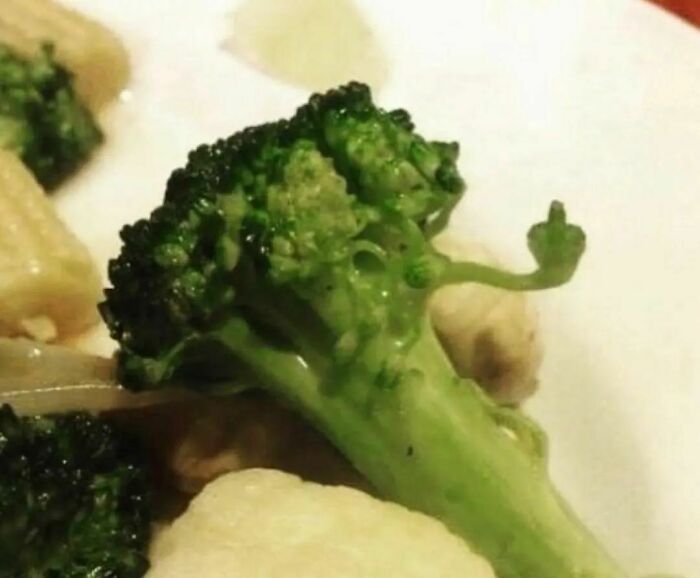 Wouldn't you lose your appetite if you were made to chew up a rebel like this? This is why kids play with their food, pushing it to different corners of the plate. Maybe that should help pacify the situation and keep this green from giving us the finger.
The Japanese Won
The Japanese are known for a lot of things — their strict work ethic and loyalty, and their eccentric taste for experimentation and product design. Just a couple of months ago, these trio had cooked themselves a batch of popcorn that flooded the whole room.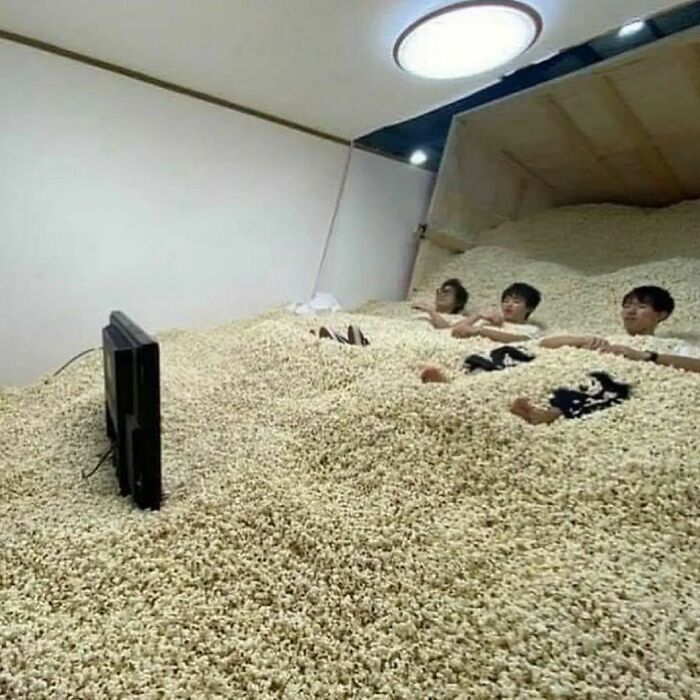 You didn't need to get off of the couch to get yourself another bucket. Simply scoop a handful from your left or right and then shove it in your mouth. This should last you the whole marathon of Friends. Care to recreate this with your pals?
The Shy Type
Mom was busy taking things off the grocery shelves and putting them in the cart. She almost didn't notice this group of radishes that were too shy to volunteer to be taken home. Mom stifled a giggle as she picked a pair from the basket.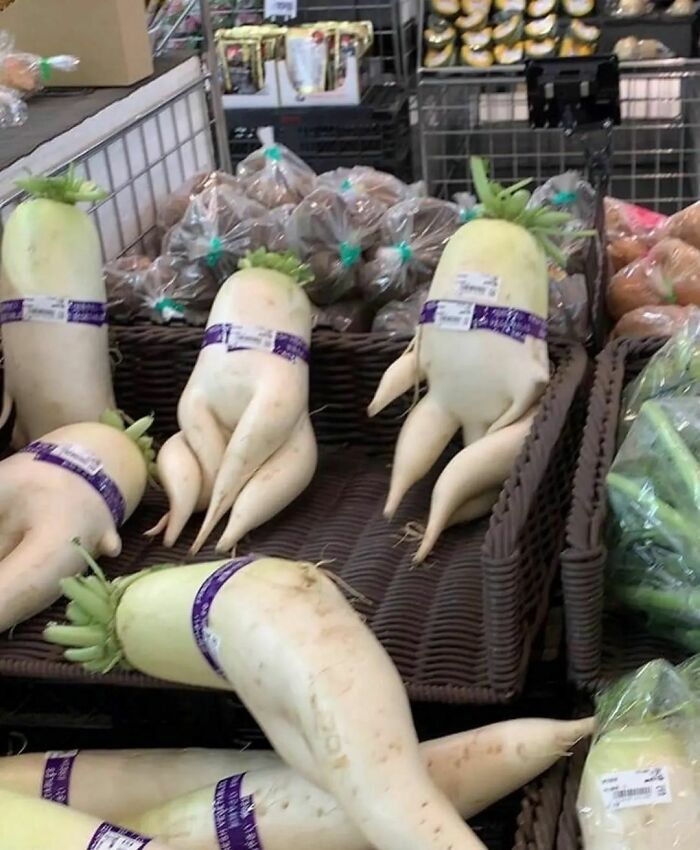 She would swear she almost felt those radishes giddily shaking with suppressed laughter. She was so excited to take them home, scrape them up, saute them and then cook garlic roasted radishes. She went to the cashier and paid for the merch.
The Ogre Life
Shrek was one of the best movies we saw when we were kids. We might even say it would trump almost every romantic-comedy movie there was. Shrek, the unlikely savior, manages to save Princess Fiona and marry himself into her family.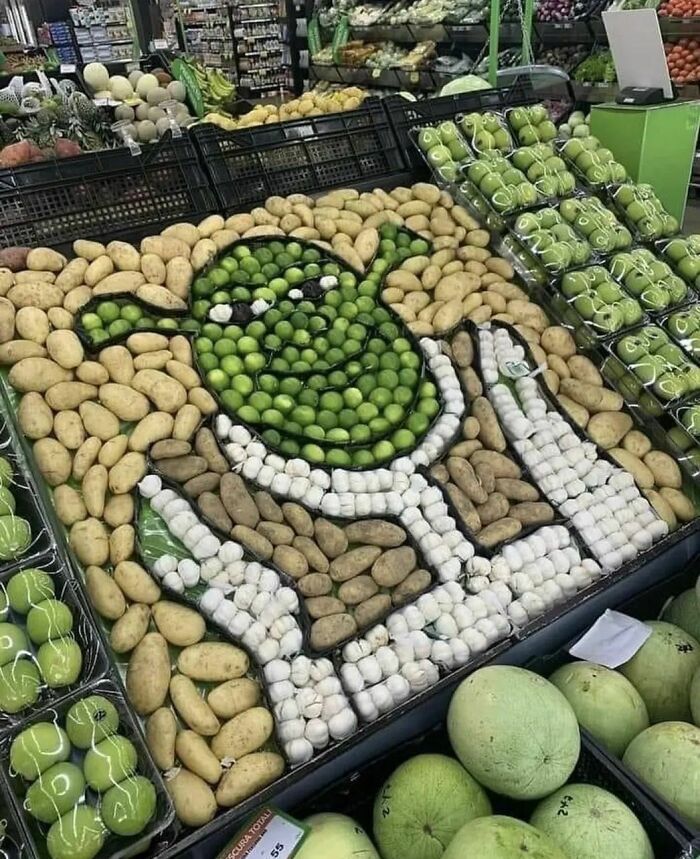 It didn't matter if Prince Charming had a ridiculously gorgeous mane of hair. People in The Kingdom of Far Far Away valued Shrek's good intentions. It also helped that he was very accepting of Princess Fiona and her long-kept secret. After all, she's perfect the way she is.
When You're At A Restaurant and Someone Starts Proposing
It's the end of the week, and you thought you deserved to treat yourself to fine-dining. You manage to book a table at six p.m. and you were served your favorite bottle of wine. All of the sudden, you hear people say "awww" and pull out their phones to take photos of this couple.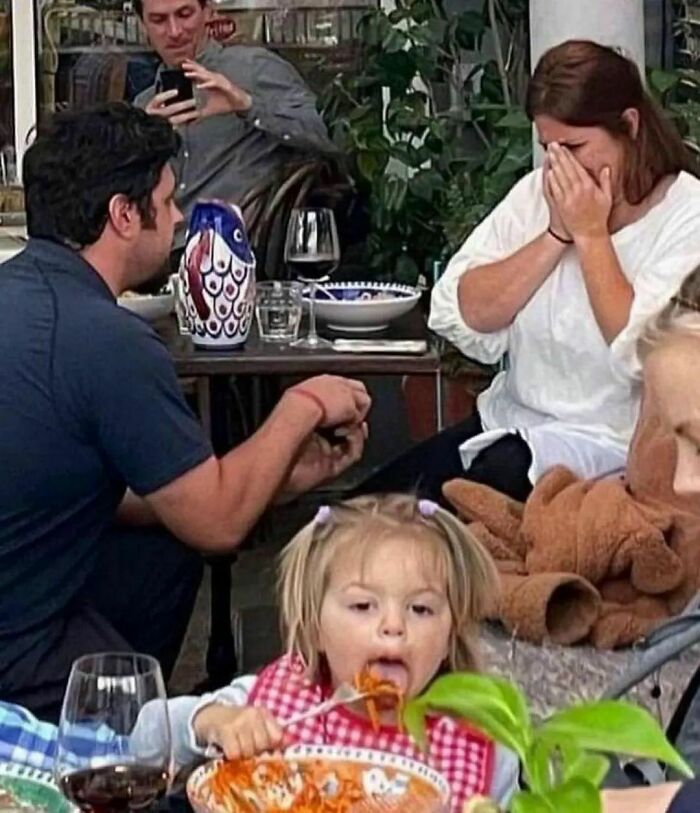 You turn back to the table, twirl that fork around and then raise it to your sauce-laden mouth. At least someone around here knows their priorities. When it comes down to it, you paid to enjoy your five-course fine dining meal.
Colored Cookies 'n Cream
Dad comes home, paper bag in both arms and then proceeds to drop them on the kitchen table. He takes out a container, uncovers the lid, and then hands it to his dog to sniff. After showing the latter the tub, his dog makes a mad escape.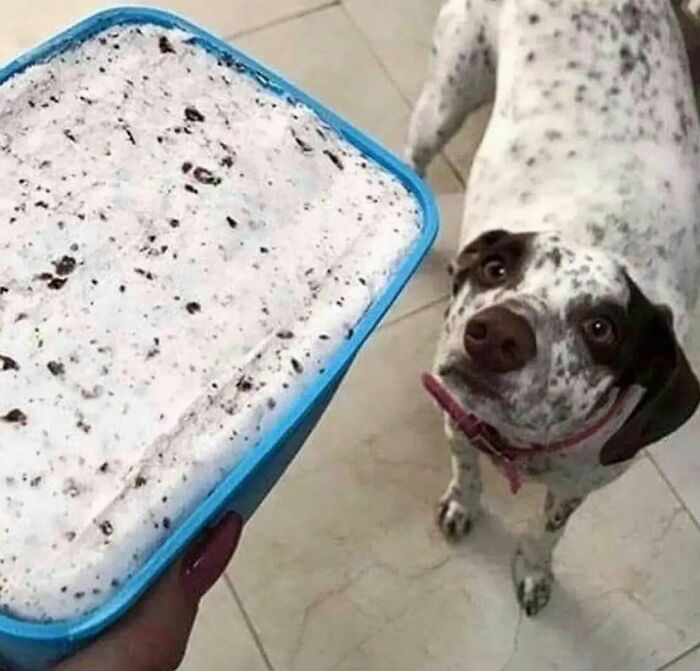 "Looks familiar," the dog thought. "Think I've seen this somewhere." He sniffs further until he realizes it's the same patch of fur color that he has. "Oh no." He looks up at his dad and then makes a run for it. "Today is not the day I will be made into a treat!"
What He Meant by Banana Bread
This guy knew how much time his girlfriend had put into setting up a business. He thought to surprise her by baking her a cake. "Should be easy enough!" He buys himself a loaf of bread, a couple of bananas and then gets to baking.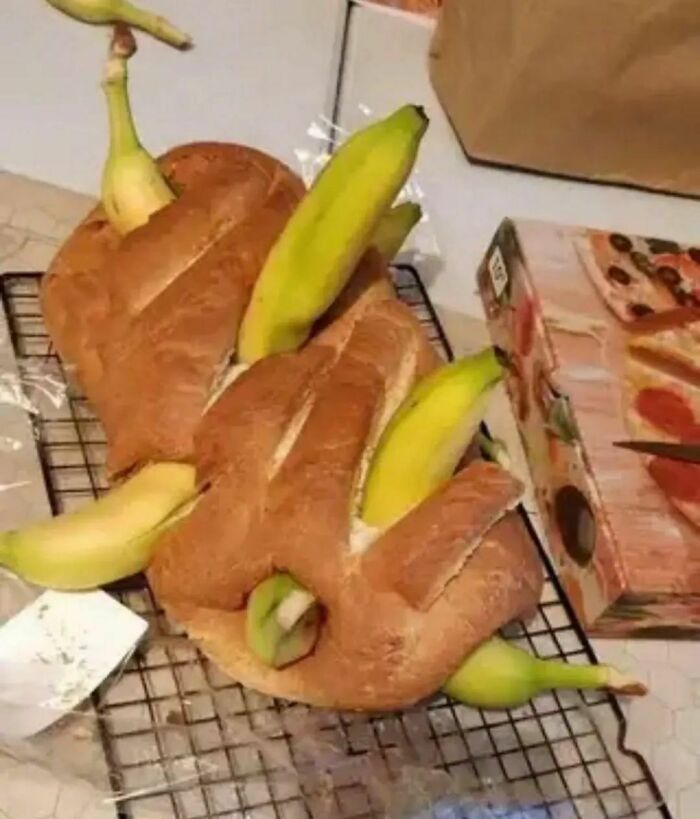 Looks like an anomalous sea monster, doesn't it? Well, not to worry, his girlfriend thought the same way. This banana loaf doesn't belong on the kitchen table. It looks like this should be thrown overboard to plunge deep into the ocean.
An Egg and Fifty Cents
This woman mans the cashier register for 12 hours. She only had an hour left until the end of her shift. She wasn't sure if it was the lack of sleep or sugar in her system that got her hallucinating. But when she opened the register, she was met with this.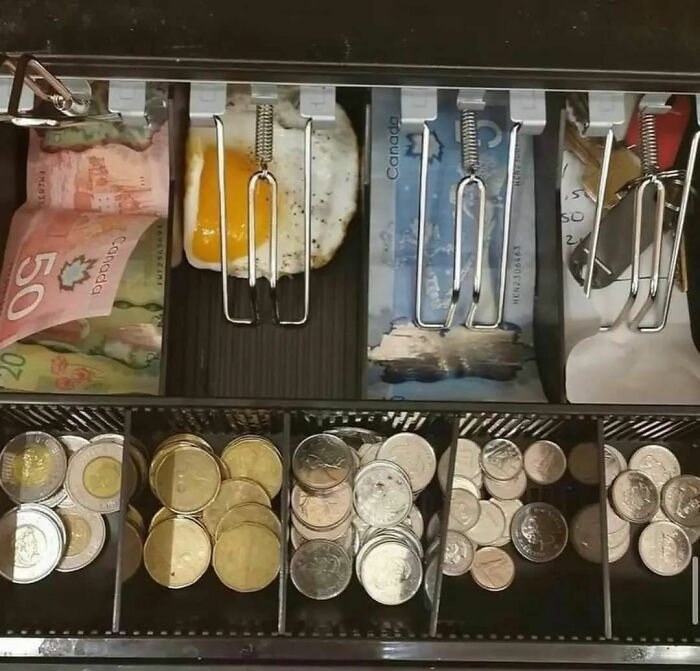 She looks up at the cashier to check just how much change she should be giving the customer. She counts an egg and fifty cents, recounts, and then hands the change. Her customer closes his fist until the yolk drips out of his palm. "Have a good day!"
Canned Bads
We don't know about you, but we don't count canned goods as food items. Those are only meant to be eaten when you haven't had time to cook yourself dinner, or if you're short on raw meat. For the most part, we can't make out what items are put in cans.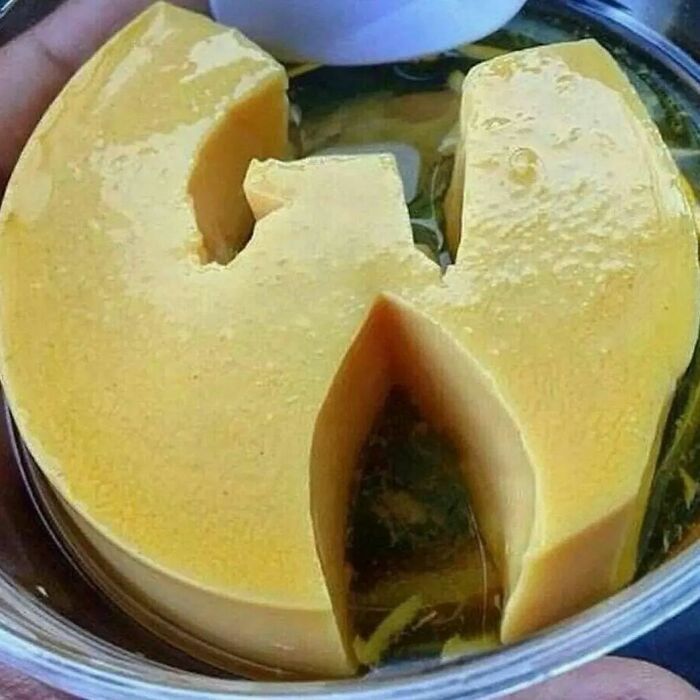 Can you make out what it is? We're caught between fruit and leche flan. We haven't seen anything quite like it, and thankfully, we're grateful we hadn't been made to eat this canned item. One scoop and we're off to the bathroom to retch.