Edible Art: Desserts That Are Almost Too Beautiful To Devour
By Jhoana C October 10, 2023
---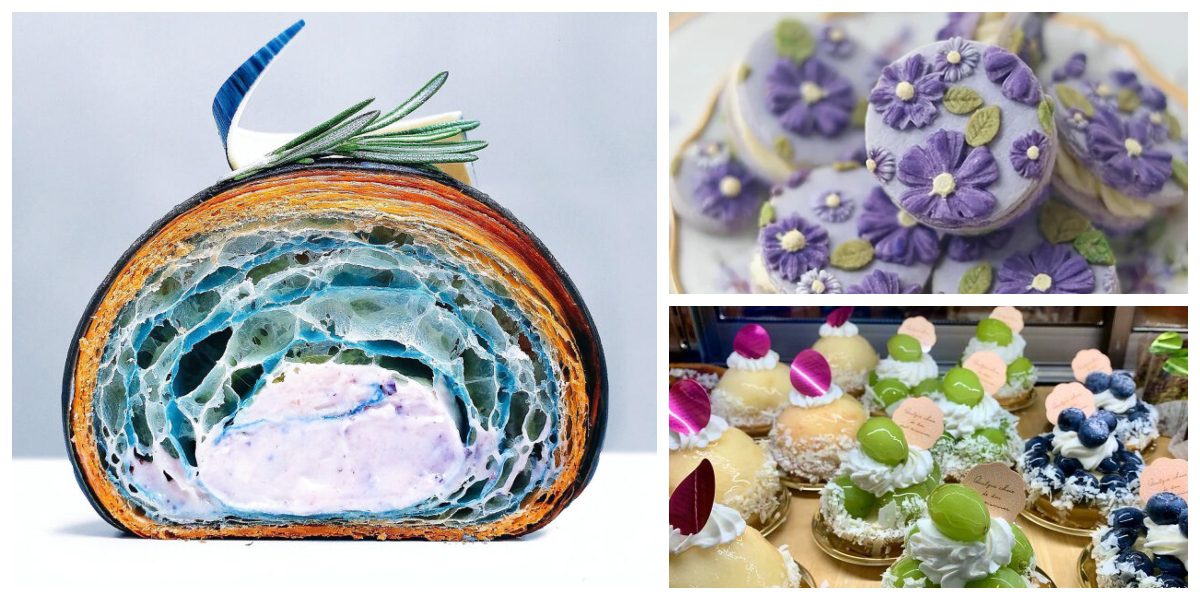 Eating is a wild sensory adventure, starting when your eyes meet your plate. It's like a secret signal to your taste buds, shouting, "Let's feast!" We're basically having dinner with our eyes wide open, and it's way more fun than you'd think.
Now, let's talk dessert—the rockstars of food. These sweet marvels come in every texture, color, shape, and size imaginable, like a crayon box exploded on your plate.
Prepare for a mouthwatering journey through an edible art gallery. These culinary masterpieces are crafted with love and care, almost like they were conjured by dessert wizards. Whether you're drooling over chocolate cakes or serenading cheesecakes, our lineup will make your taste buds dance. Some of these treats are so stunning that you'll hesitate to take a bite!
So, fellow food adventurer, buckle up. By the time you finish this list, you'll be waving goodbye to your diet plan, licking your lips, and singing "So long, farewell" to those restrictions!
#1 Blackberry? Take our money!
Blackberries are a powerhouse of nutrients. They improve brain function, reduce inflammation, improve digestion, and prevent cancer, and what better way to get your daily dose of the fruit than in cake form? Who's with us on this? Please don't deny it; you like what we're hinting at.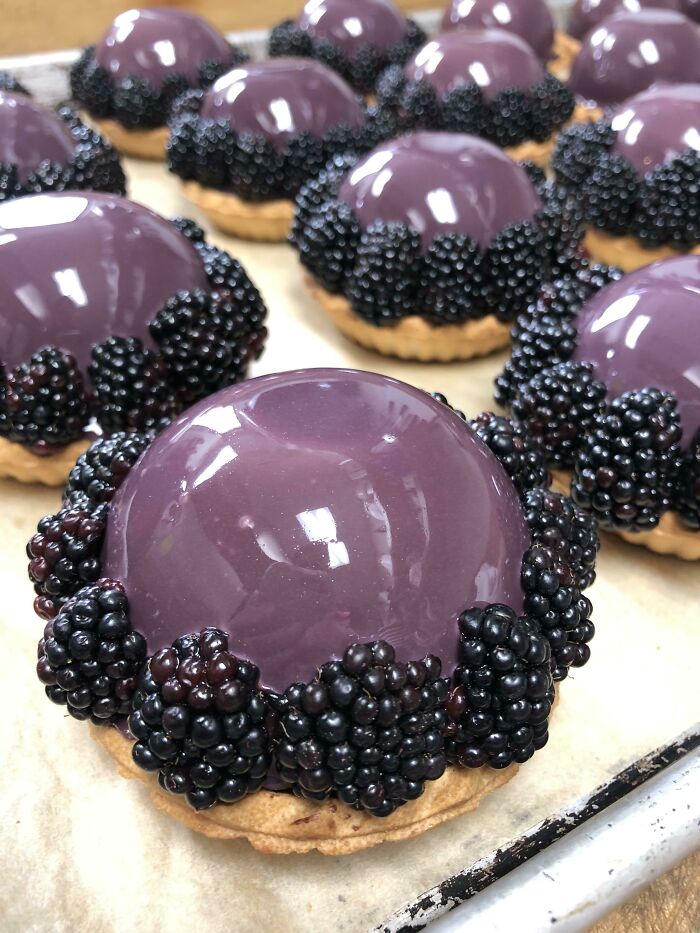 This intriguing edible masterpiece, shrouded in mystery, beckons with its irresistible sheen. It possesses the rare quality of captivating even those who might otherwise shy away from blackberries. Its glossy allure proves that food's visual appeal sometimes is as enticing as its taste.
#2 Lemon zest cake
Even if you're not a big fan of lemon, we're sure you'd like a refreshing slice of this lemon zest cake. There are over a hundred versions of lemon cakes online so if you fancy baking one, be ready to dive into a sea of recipes.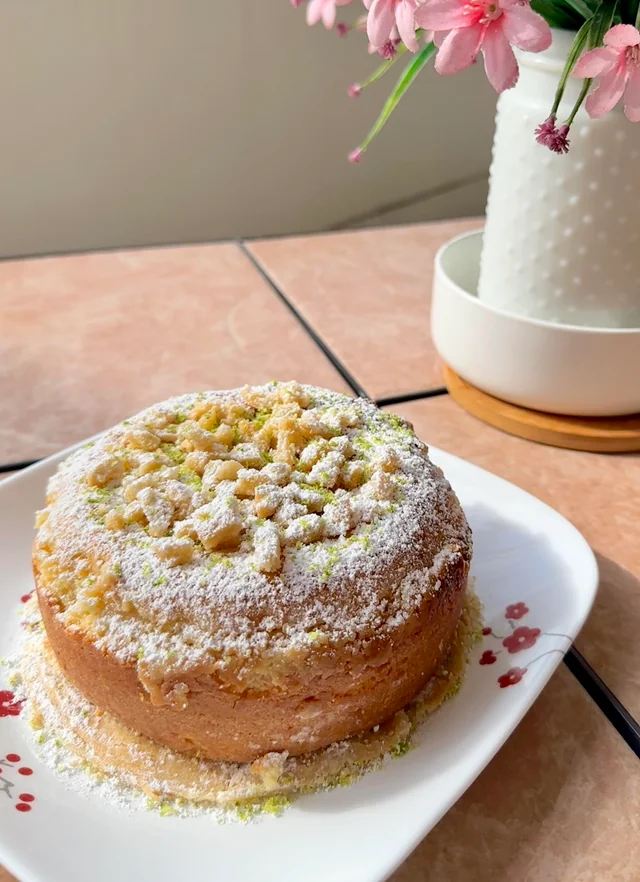 Regardless of the season, we find lemon zest cake refreshing. It's the perfect dessert whether it's hot and humid or windy and chilly. In our opinion, it's always a winner, whether paired with a cold beverage or even a cup of hot cocoa.
#3 Fresh fruit tart
Whether savored on their own or in delectable desserts like fruit tarts, fruits are nature's bounty. These tarts have a rich history, originating from the fruit pies of 14th-century Europe. Their evolution has allowed us to enjoy the essence of ripe, succulent fruits in every bite.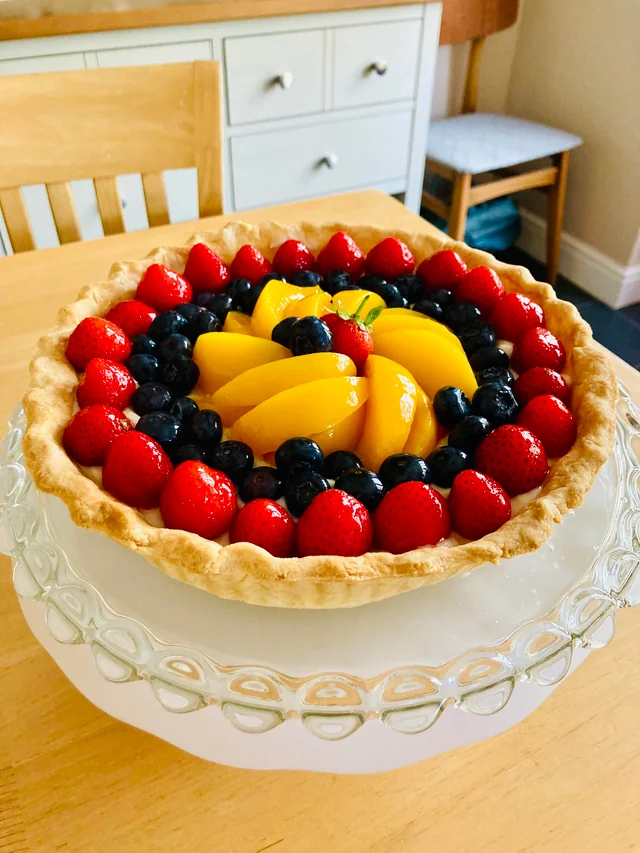 This kind of tart would make us exceptionally happy if it made its presence known at our table. Sure, our muffin tops and thighs would hate us, but our tummies would love us if we fed it this delightful goodness.
#4 Something you don't see everyday
Cakes, cookies, muffins, tarts, and pies are a dome a dozen. This, however, is the kind of treat you don't see every day. That's a sinful treat in a glass topped with nectarines. Indeed, food presentation goes a long way.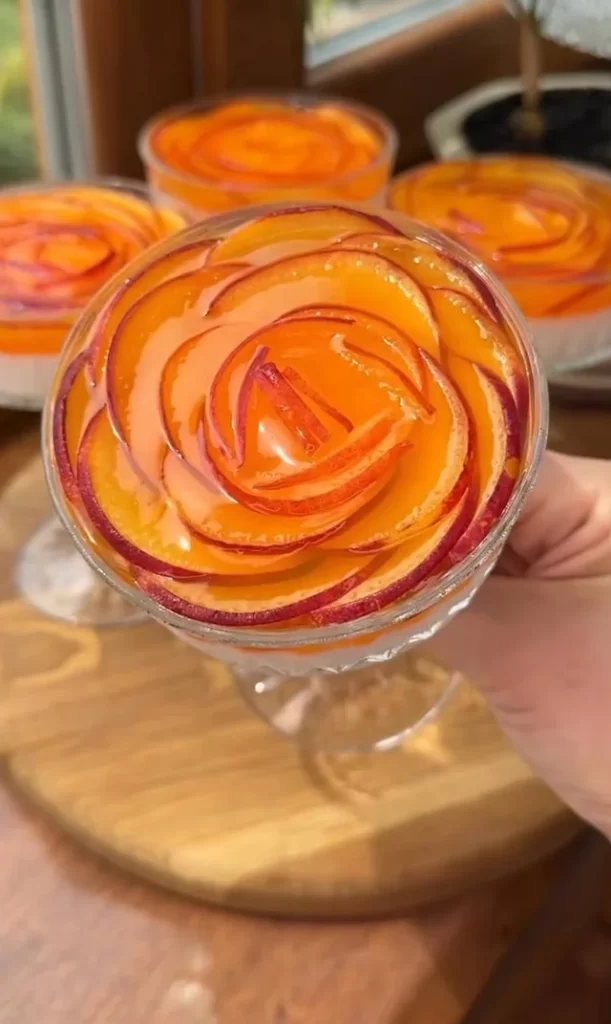 When you know how to plate and present your food that it makes whoever sees it just want to devour it then and there, half of the battle is won. It instantly becomes more attractive to customers and can even set the tone for the meal.
#5 Eating in the clouds
If there's such a thing as being on cloud 9, this must be what eating cloud nine looks like. Don't let hungry ramblings confuse you; you see Cloudberry tarts. This is the perfect dessert, in our opinion, not too big.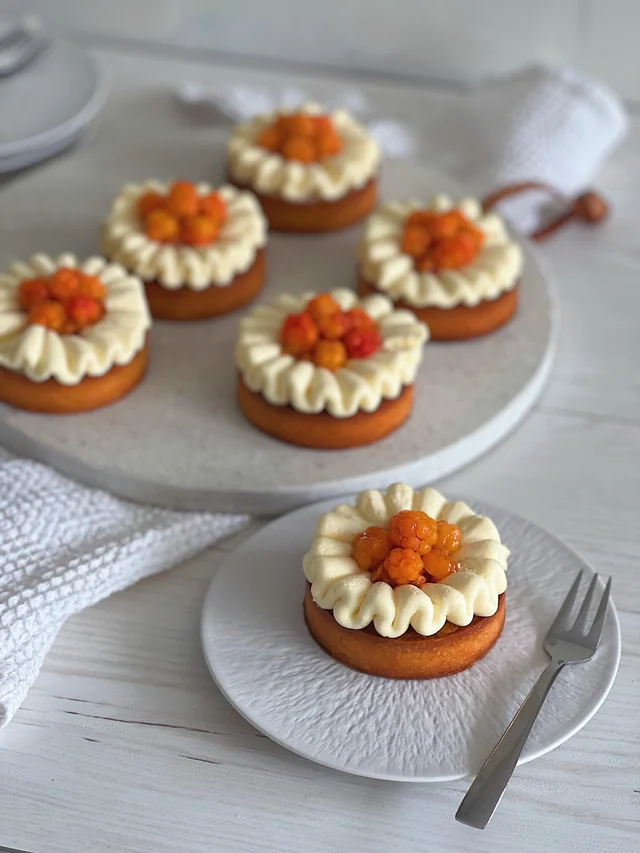 This perfectly sized dessert is ideal for those seeking a sweet indulgence without overdoing it. Its petite portions empower you to savor sugary delights in moderation. Not only is it visually appealing, but we're confident it tastes just as delightful.
#6 We'd love donuts like this
Although we don't have a sweet tooth, sometimes we crave desserts, and one of the easiest to grab is donuts. They're soft and available in plain or crazy and sweet variants such as Sticky Orange Olive Oil and Maple Bacon.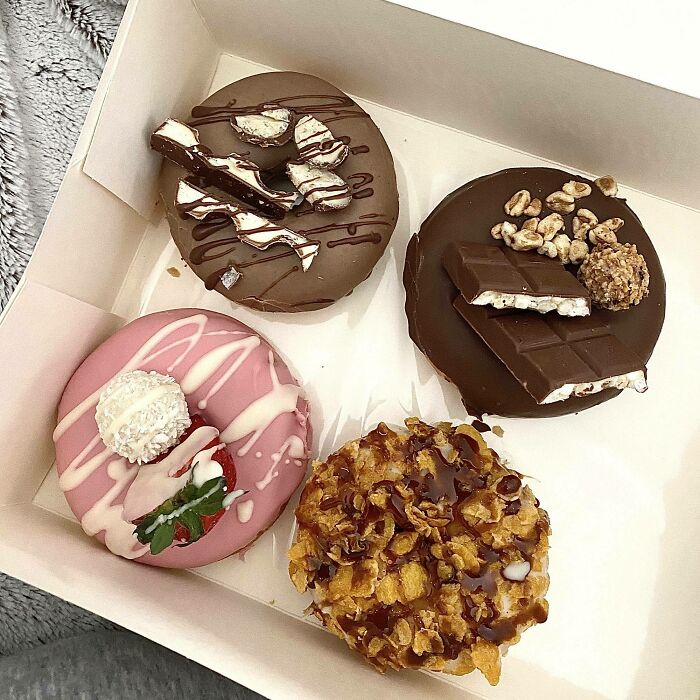 Donuts can be gimmicky or old-fashioned, depending on the establishment serving them and your tastes. What kind of donut person are you? Do you go for something as elaborate as the one in the picture above? Or would you rather have the tried and tested sugar donuts?
#7 Blueberry macaron with crème patisserie and blueberry filling
Donuts can be gimmicky or old-fashioned, depending on the establishment serving them and your tastes. What kind of donut person are you? Do you go for something as elaborate as the one in the picture above? Or would you rather have the tried and tested sugar donuts?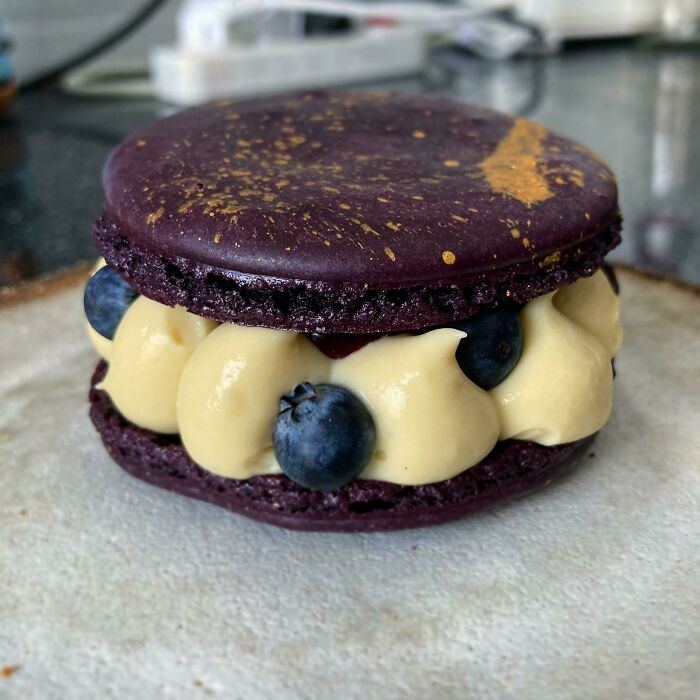 We want to eat this so bad that we might just be attempted to make it. However, knowing our baking skills, what we come up with might amount to a little. Fortunately, there's always the Internet, where we can look up heavenly creations.
#8 Black velvet cake with sprinkles
This looks like something young children will want to devour right away. If we're not mistaken, this is a cake for a party with little ones in attendance. Don't worry; we won't judge you if you're an adult who prefers cakes like this.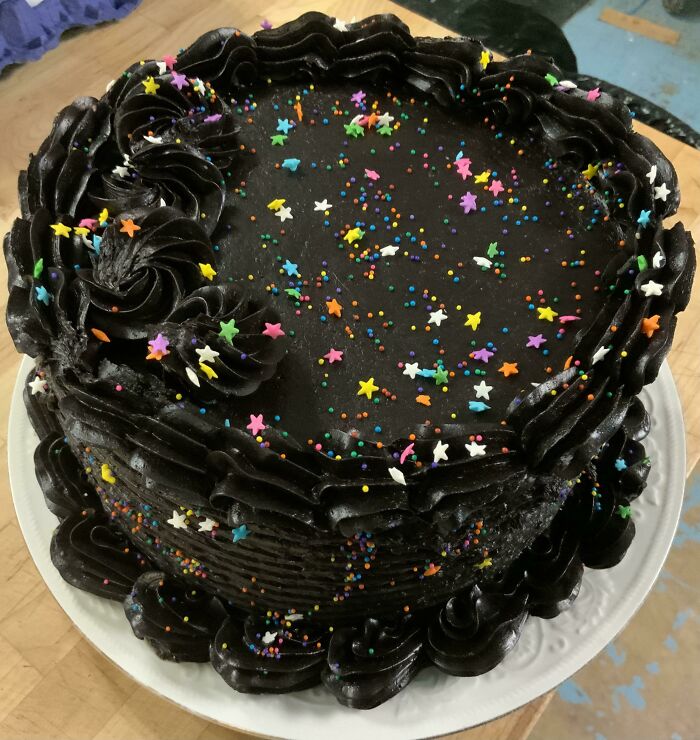 The rich decadent chocolate is calling us. We're on a diet and we know we must resist, but who are we kidding, we can't say no to this. We can hear our tummies rumbling and feel our insides wanting to be hugged by chocolate.
#9 We'd order from this bakeshop
If your best friend were a talented and dedicated baker, we'd cheer them on if they decided to open their own business. Yes, baking from home is not easy. Starting from scratch and competing with an established name is a struggle, especially in the beginning.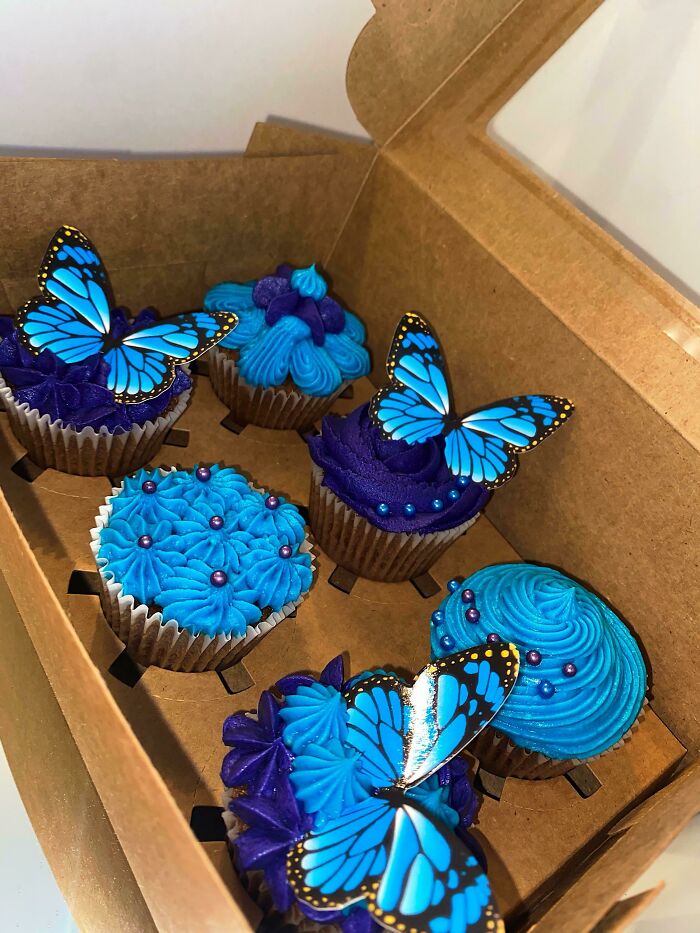 With their talent for crafting such delectable creations and a keen business sense, there's tremendous potential for their success. This could pose a real challenge to larger bakeries and patisseries, proving that skill and innovation can surpass size and reputation.
#10 The kind of green we like
While green attire might not be our favorite choice, green cakes are an entirely different matter. They often signify delightful flavors like matcha, pandan, or pistachio—all of which we find utterly irresistible. The vibrant color mirrors the deliciousness within the desert.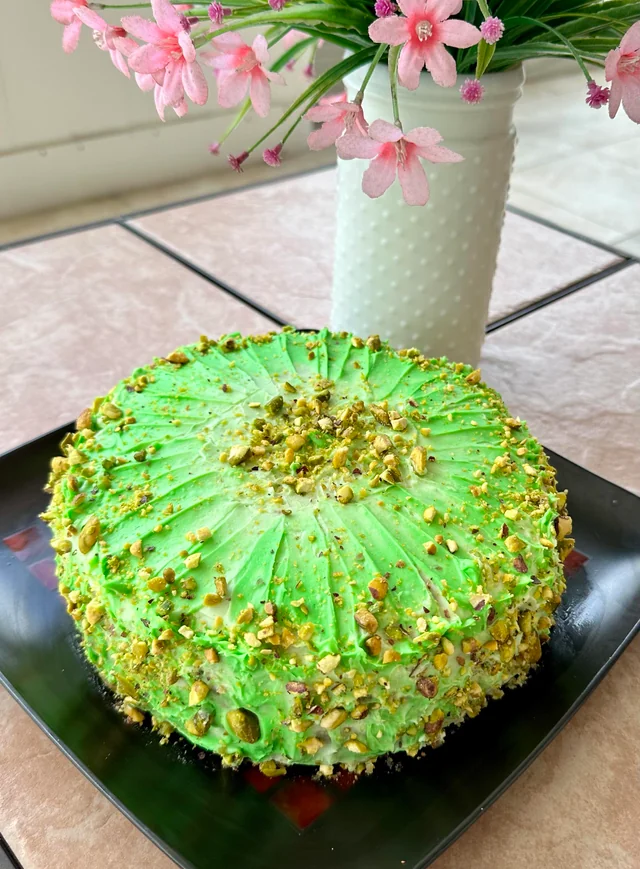 This homemade pistachio cake truly deserves more recognition. Its professional appearance and vibrant green color are captivating. It's an absolute delight for the eyes; we're sure it's equally heavenly on the palate. Could we have a slice? Well, make it two – one won't satisfy our cravings.
#11 Apple Pie Stuffed Cheesecake
We have heard about apple pies and attempted to make one in the past. Suffice it to say that although it was edible, nobody wanted to eat it. However, this is the first time we've heard of Apple pie stuffed cheesecake.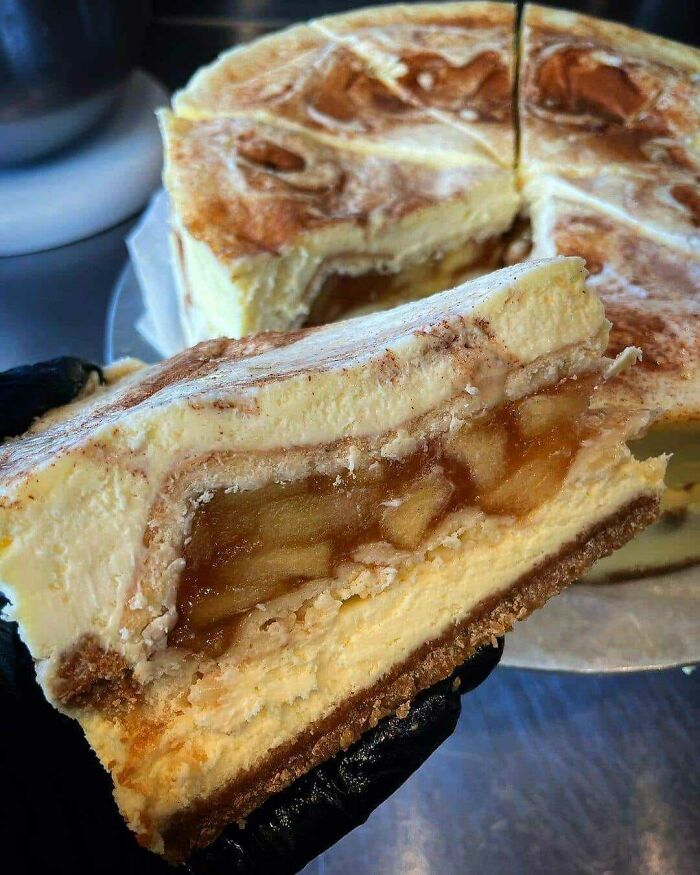 A fancy name for a dessert. It's just what its name says: a creamy cheesecake with an apple pie filling. It's usually topped with a brown sugar crumbly topping. It's decadent, over-the-top, and delicious, the way most people want their sweets during the holidays.
#12 A rainbow of summer fruit tarts in a Japanese patisserie
Japan is not only the land of samurais, sushi, and futuristic technology; the country is also known for light-air desserts that melt in your mouth. If you've ever visited the country and joined one of their spectacular food tours, you'd know what we're talking about.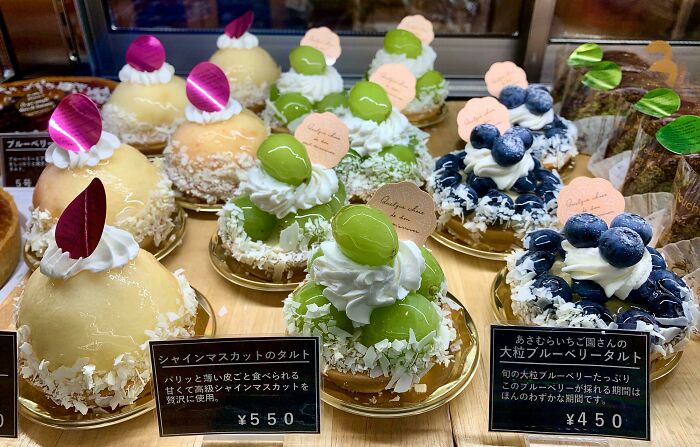 These rainbow summer tarts are an excellent introduction if you have yet to explore Japanese desserts. Their vibrant colors are genuinely captivating, almost like an edible rainbow. If we could indulge with our eyes alone, we'd be satiated already. And that fresh peach tart? It looks divine and promises a delightful taste.
#13 Basque burnt cheesecake
This looks perfect for a first attempt at baking a Basque burnt cheesecake. Unlike traditional cheesecakes, this has a burnt and caramelized exterior, hence the name. However, the center is custard-like and creamy. As the name suggests, it originated from Spain's Basque region.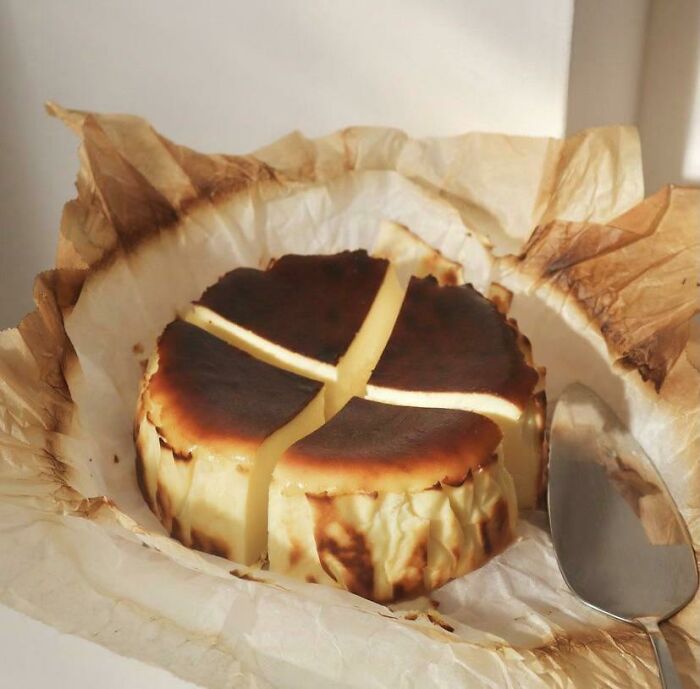 After stumbling upon this delightful cake, we explored some online recipes. Surprisingly, the steps appear straightforward, and with 5 or 6 ingredients, the odds of messing up seem low. We're eager to try it and will share the results with you soon!
#14 Tiramisu cake
Ah, Tiramisu is one of our all-time favorite desserts. It originated from Treviso in Italy in 1800. Stories say that the dessert was invented by a wise woman working in a house of pleasure. It's quite a backstory for something that looks delicious.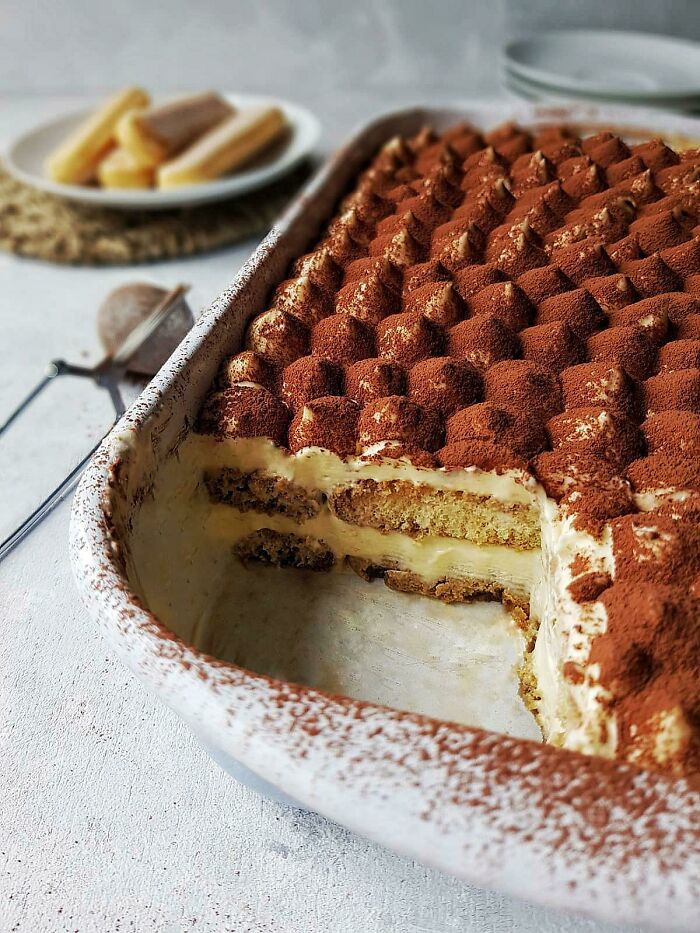 We couldn't help but admire the clean, perfect scoop of ice cream here. Curious about the secret, we discovered a handy tip: running the knife under warm water before scooping can create those pristine, neat edges. This is a simple yet effective trick we'll remember for our next ice cream indulgence!
#15 intergalactic donuts
We'd like to make this if we have the talent and the patience. But alas, we weren't blessed with skills in the kitchen, so you'll often find us ogling the dessert spread in buffets, marveling at all the decadent creations.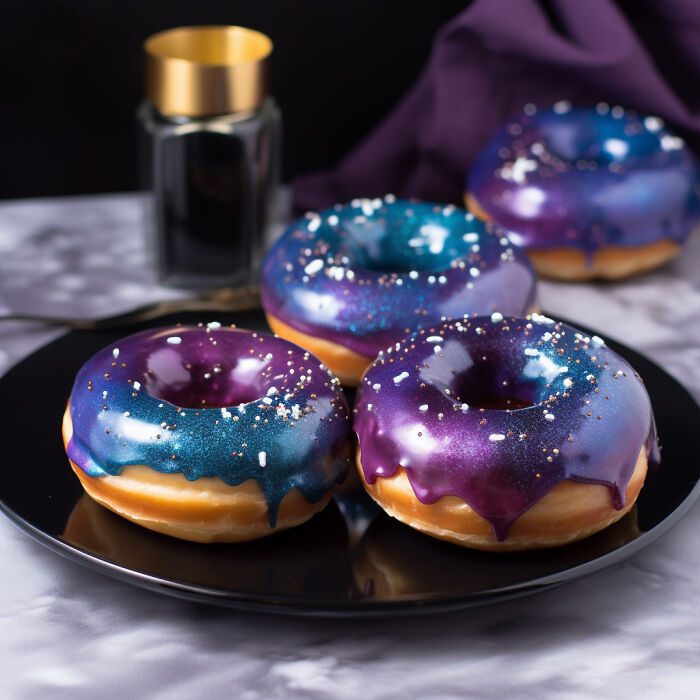 We can only imagine the number of hours spent perfecting these intergalactic donuts. With its blend of otherworldly colors, it must have taken a lot of patience to mix them properly. They're so beautiful that we just want to stare.
#16 Churro cheesecake
Everyone recognizes churro, the treat Spanish explorers brought to every port of the world in the 16th century. Nowadays, it is usually served with piping hot chocolate sauce and sometimes served straight or spiral-shaped with or without a dusting of sugar and cinnamon.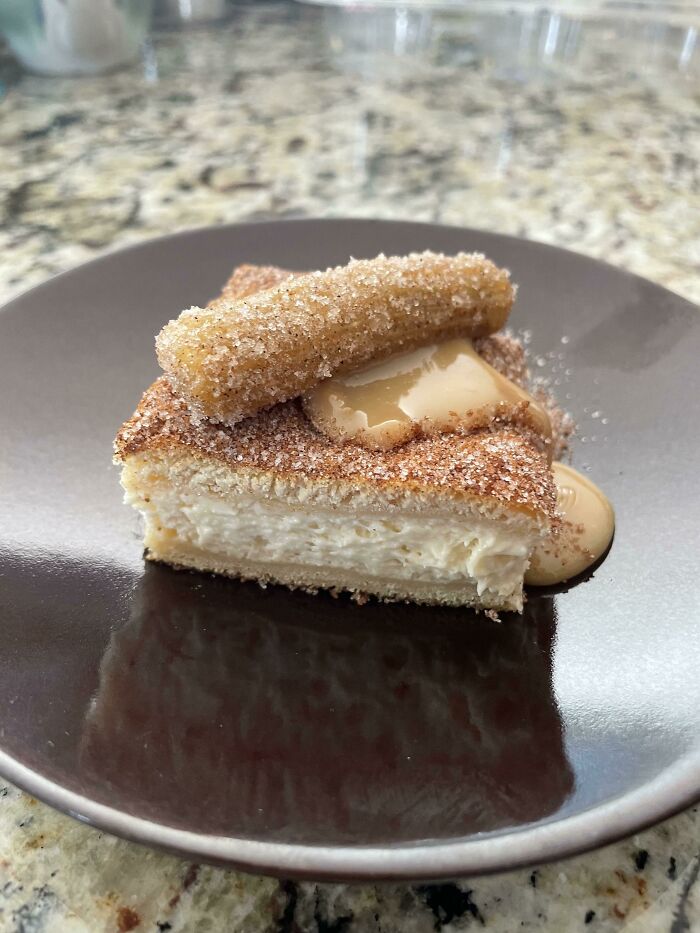 Churro cheesecake has a topping that combines cinnamon, granulated sugar and melted butter, similar to the crunchy outside of a churro. The center has a filling of sweetened cream cheese for a bit of tang. Bless the hearts of chefs for coming up with such delights.
#17 Assorted Bonbons
Bonbons, those delightful chocolate-coated sweet treats, owe their name to the French word for "candy." These delectable confections emerged in the 17th century and graced the tables of the French royal court, becoming a symbol of sweet indulgence and culinary artistry.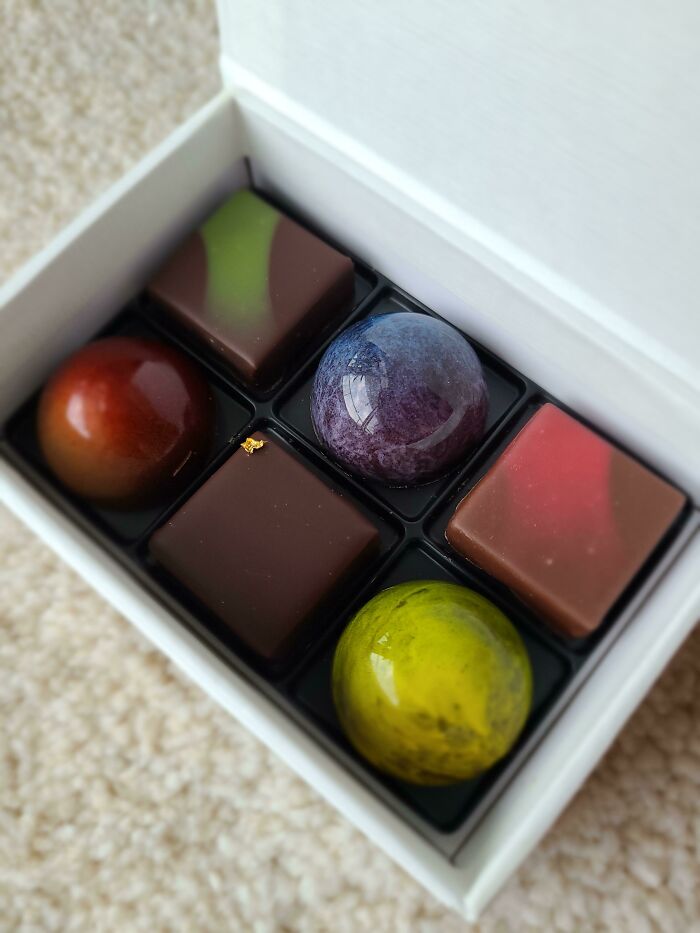 Today, round chocolate candies with flat bottoms are designated as bonbons. Their outside shell is hard, made of chocolate, and sprinkled with decorations. The inside has a softer filling. Our chocoholic hearts are rejoicing at seeing these miniature works of art.
#18 White chocolate-wild strawberry Millefeuille
It's not uncommon for desserts to have fancy French names as most of them originate from France, and this is a good example. Millefeuille is known as Napoleon in North America and vanilla slice in the UK. It is made of puff pastry layered with pastry cream.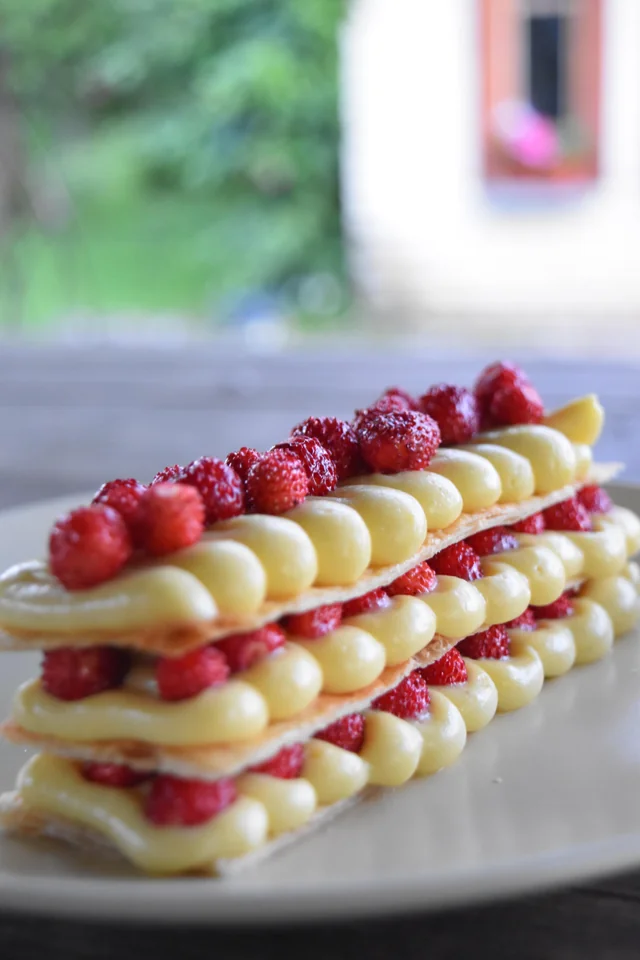 We love fresh fruits on desserts, and our stomachs are doing a happy dance just looking at this. We can imagine the symphony of flavors once we sink our teeth into this. We're gaining weight just by looking at this.
#19 Honey Cake at Veselka, NYC
We love traveling because aside from meeting new people and being introduced to new cultures, it's also a culinary journey that will open your eyes and taste buds. Honey cakes are a Slavic creation that has made its way worldwide.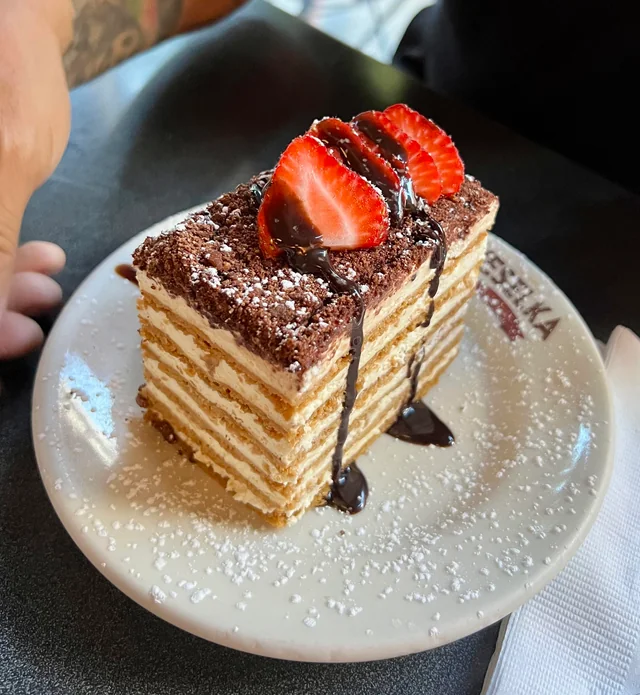 Honey cakes are made with layers of rolled-out, soft cookie dough filled with cream frosting. According to stories, a new chef assigned to the palace didn't know the tsarina hated honey. However, after a bite, the tsarina fell in love with it.
#20 Chocolate covered honeycomb
This differs from all the desserts on this list because it doesn't look as diving or perfectly made, but it is certainly interesting. At first glance, we thought it was one of the chocolate bars easily found in stores, but we were mistaken.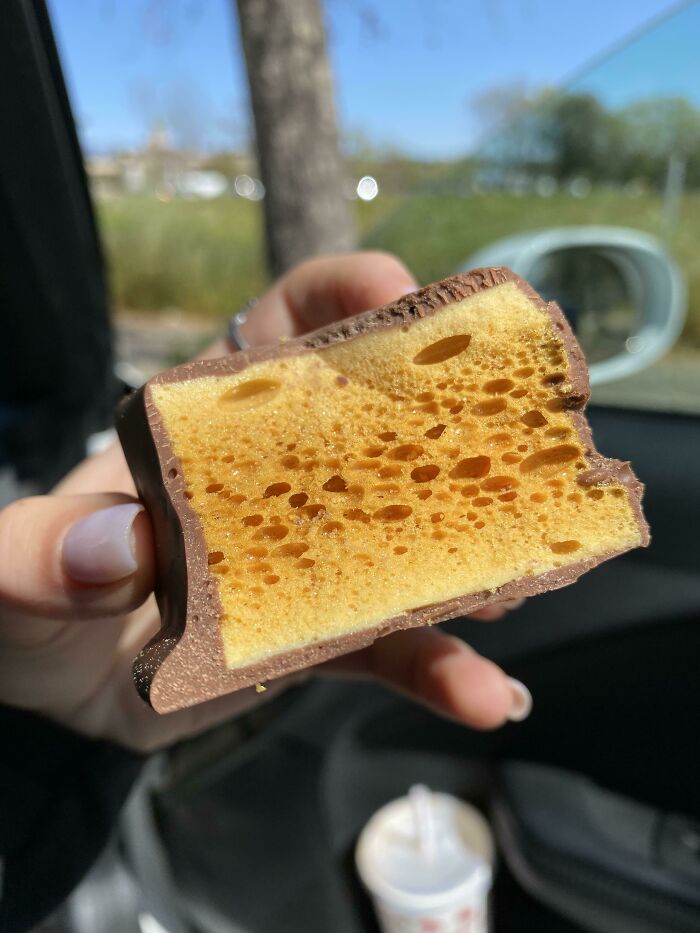 Honeycomb cake is a beloved dessert in Southeast Asia. It resembles a Bundt cake on the outside with its golden brown crust. When you slice through it, you'll see a beautiful honeycomb pattern. Although pandan is the most common flavor in Asia, the cake can also be baked in other flavors.
#21 Lemon Blueberry Cake
This homemade lemon blueberry cake looks like it came from a famous bakery in the city. It doesn't look like whoever made this struggled at all. They must have had a few lessons in baking and presentation because people would gladly pay for this.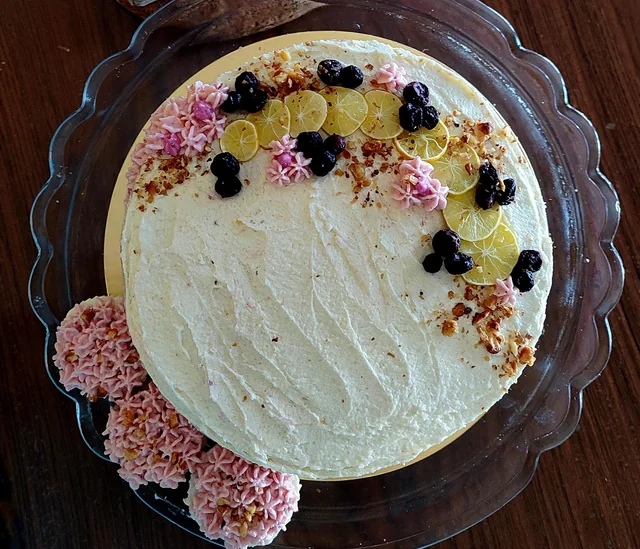 This will surely be a hit in any gathering with friends and family. We can imagine folks catching up with one another and swapping stories while spoiling this delightful and decadent goodness. We won't lie; just looking at this list has put additional flab on our waists.
#22 Cookie sandwiches
Whoever made these gorgeous, colorful cookies must have labored intensely for hours. You don't produce something as divine as these in just 2 hours! We love the different shades and the floral design, and the aesthetics is on another level.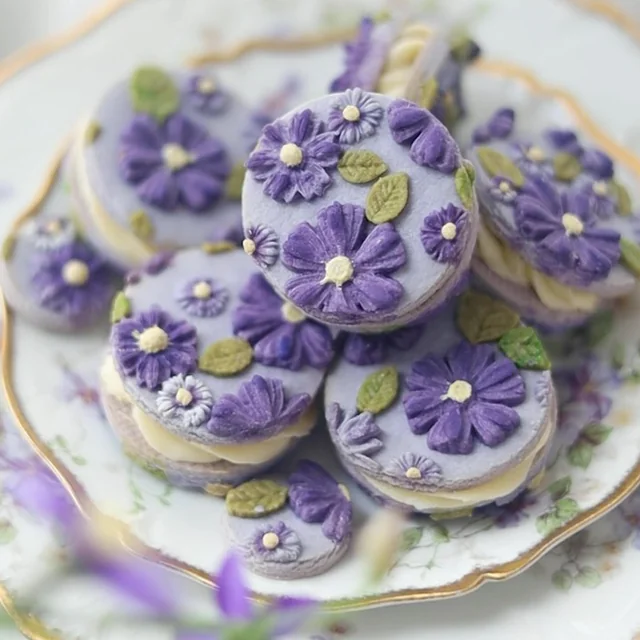 These sandwiches introduce a fascinating twist with ingredients like purple sweet potato powder, butterfly pea powder, and the familiar matcha. While matcha enjoys popularity across Asia, including these unique elements adds an intriguing and colorful dimension to these sandwiches, making them a delightful culinary discovery.
#23 Milkweed donut
Donuts can be traced to Dutch immigrants in New York during the 17th century. The donut's precursor was the fried dough ball called olykoeks or oil cakes. They did not have the ring shape, but they had a similar texture to what we widely enjoy today.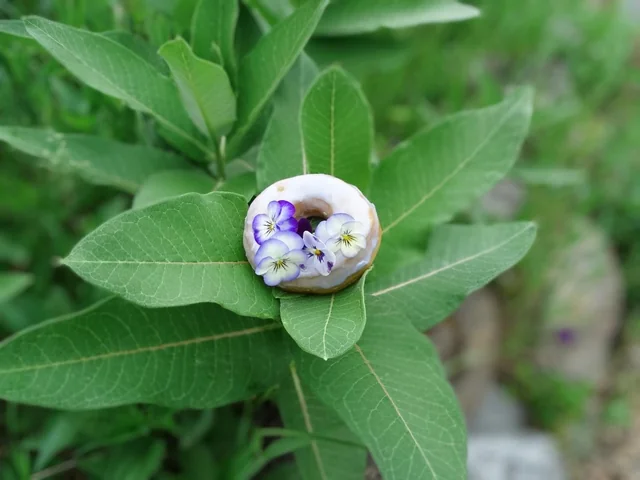 Milkweed is not a flavor you'd typically expect in a donut, but if it looks like that, we'd gladly spend money on this precious thing. We're curious to know what it tastes like as we've never tried anything with milkweed.
#24 Swedish Semla
Semla is a small bun made of wheat flour, flavored with cardamom, and filled with whipped cream and almond paste. It's iconic in Sweden, but be prepared for the carbs it packs. Semla and semlor are the same; semlor is the plural form.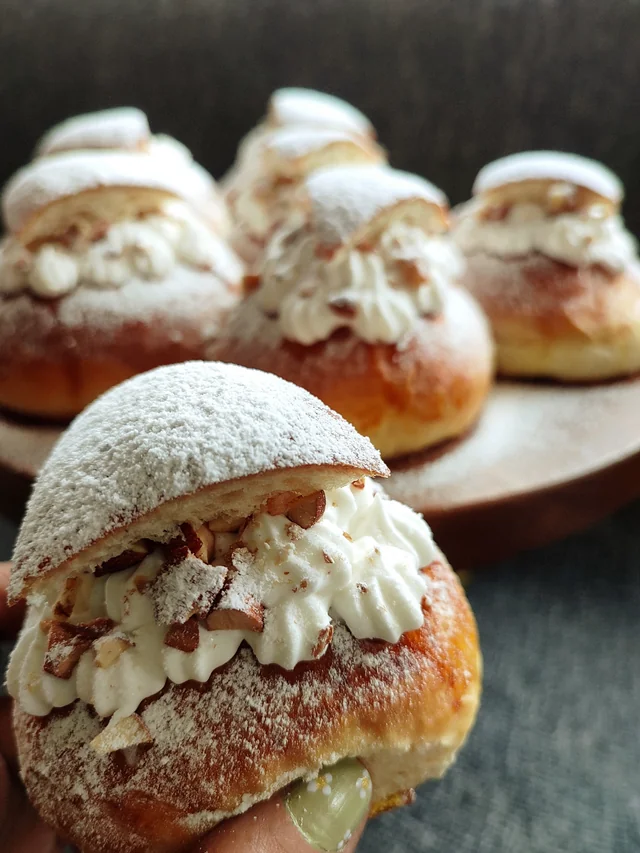 If you're planning to visit Sweden, sample this popular food that locals push your face with glee. The traditional way of eating it is by putting the semla in a bowl of hot milk and eating it with a spoon.
#25 We'd love to have this cake for our birthday
This ombré cake is what birthdays are made of, and we know a lot of women who would fancy having this for their birthday celebrations, including us. If it tastes as good as it looks, it will be the show's star.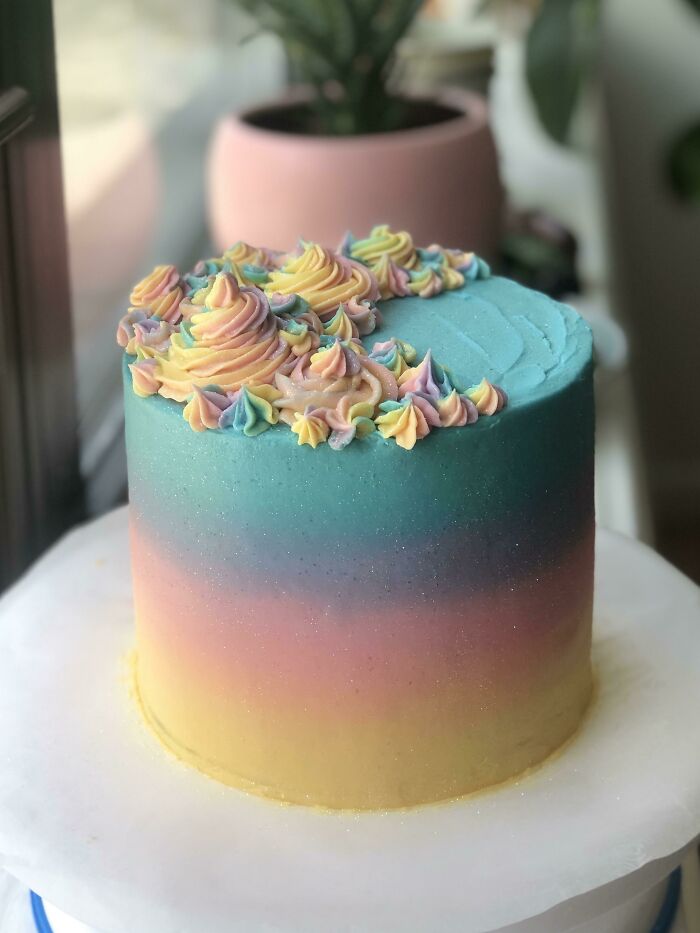 Although some might dub this creation a "unicorn cake," we believe a cake by any name would taste equally delicious. We could have coined that phrase. Regardless, it's impossible not to be enamored by the sheer beauty of this masterpiece.
#26 S'mores brownie
Ah, s'mores, this perennial favorite will always be close to our hearts. It reminds us of childhood and nights spent at the campfire, swapping ghost stories and scaring each other silly. This dessert will take you on a stroll through memory lane.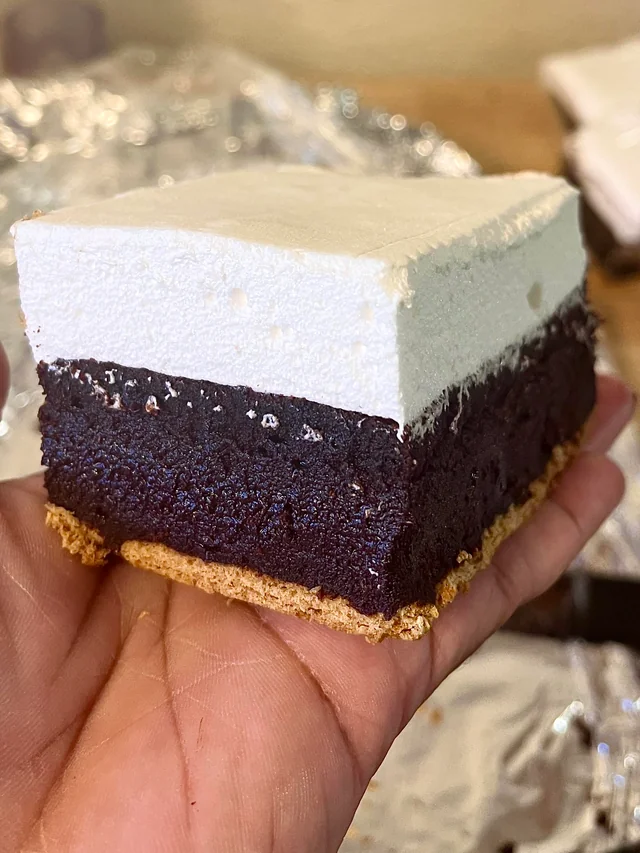 This looks good enough to eat, and the only thing that would make it better is if they took a torch to brown the top of the marshmallow. If you don't have a torch, you can toast it in a toaster oven to get the same effect.
#27 Oatmeal cream pie cake
There is no need for further persuasion; we're ready to dive into this delightful creation. While we can't savor a slice of this towering cake right now, it's safe to assume it's as delicious as it is visually appealing, especially for fans of chocolate chip oatmeal cookies like us.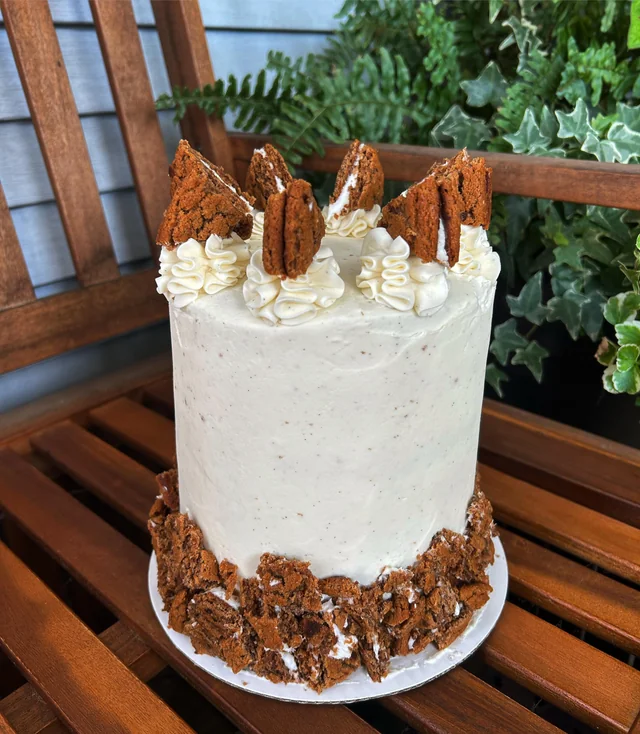 This soaked oat cake with marshmallow buttercream layers and an outer American buttercream would be an excellent choice for nursing mothers. Oatmeal, after all, is one of the best foods for boosting milk supply, thanks to the magnesium, iron, zinc, and fiber it contains.
#28 Homemade glazed donuts
Do you prefer your donuts glazed with fancy toppings, or do you prefer them with a sprinkling of cinnamon and sugar? We enjoy the latter more because we sometimes find the glaze too sweet or too much. But we do enjoy the fancier versions occasionally.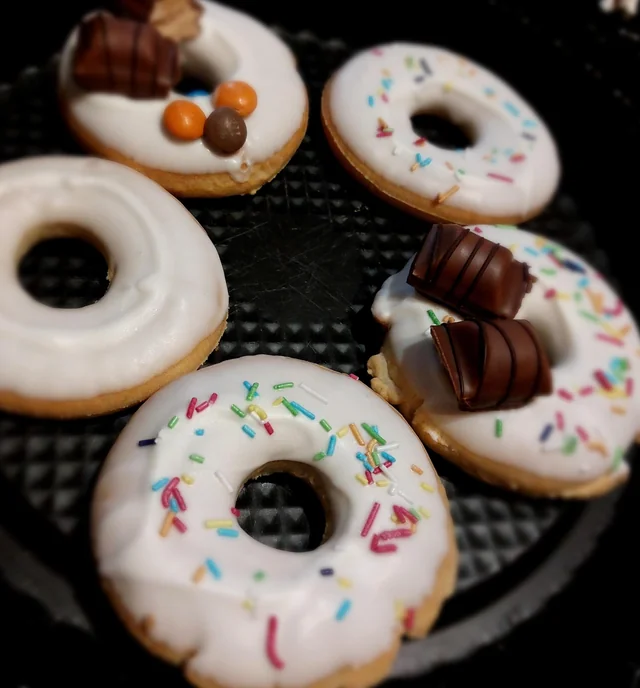 This suits our taste perfectly. The glaze strikes the right balance of simplicity, and the toppings are just enough to add flavor and texture. While we're uncertain about making this ourselves, a tutorial video could inspire us to try it, hoping to produce something delectable in our kitchen.
#29 Strawberry cheesecake
Numerous versions and recipes for strawberry cheesecake abound online, ranging from simplicity to complexity with various ingredients. However, common elements can be observed. In most cases, the crust combines graham cracker crumbs, white sugar, cinnamon, and butter to create that delightful base.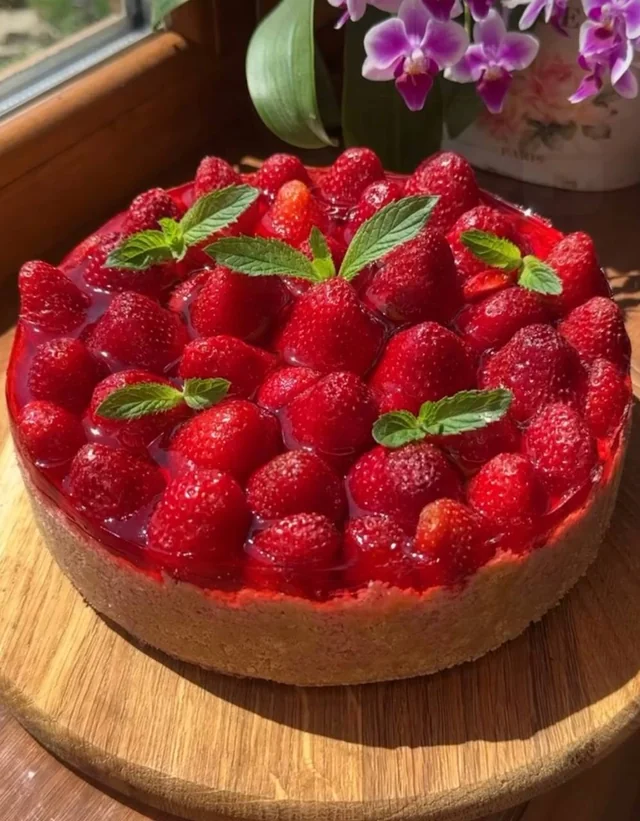 Typically, the fillings consist of fresh or frozen strawberries, cream cheese, vanilla extract, eggs, and sweetened milk. Picture yourself savoring a creamy, airy cheesecake topped with a delightful sweet strawberry sauce on a scorching summer afternoon. It's a lovely treat.
#30 White chocolate lemon cheesecake
With the baking skills of this person, a lucrative weekend baking business could be in the cards. Regrettably, our creativity and artistic flair are not entirely on par, so we'll content ourselves with cheering her on and hoping her business blossoms into something remarkable.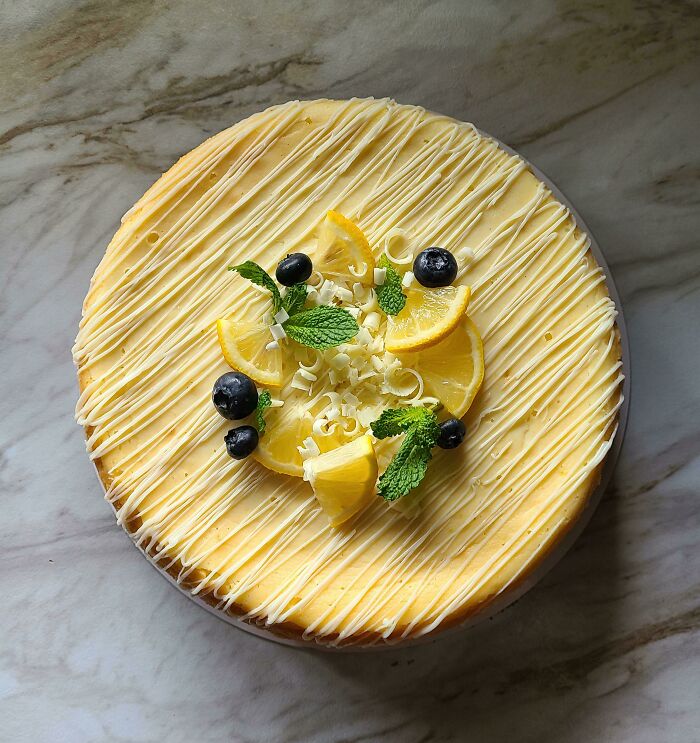 This is the kind of dessert you usually see on TV shows made by professionals. If she isn't a professional yet, this creation certainly fooled us. It's too beautiful to slice; we might just put it in a cake museum.
#31 Pull apart cupcake letter cake
We've always been fans of pull-apart cakes, and this gorgeous creation is making us want to whip up our version. It might not look as great as this, but we'll give it 100%. Guests will be licking our fingers with sweet deliciousness.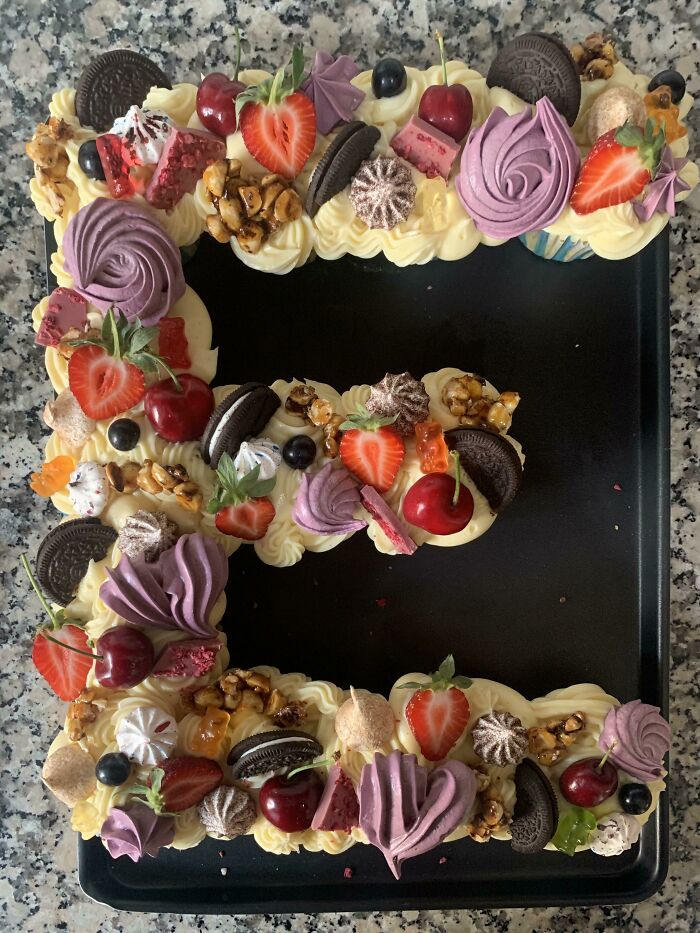 This stunning masterpiece is too beautiful to eat, and we can't help but stare at the little details. Everything is perfection: the swirls, the colors, the fruits, the cookies, and the gummies. We can imagine the squeals of delight from little ones as they munch on this.
#32 Crème brûlée donuts with salted caramel buttercream
French pastries intimidate us. Not only are their names a mouthful to say, but the ingredients and the methods make us want to head to the nearest patisserie and buy baked goods instead of laboring in the kitchen to produce them.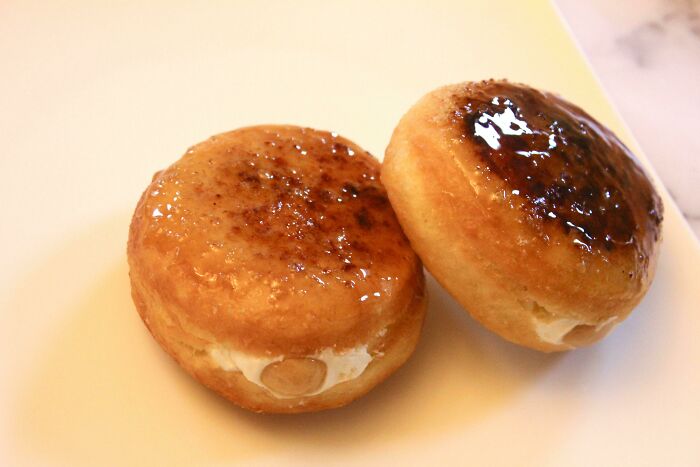 Imagining that delightful crack as we take the first bite of this delicious dessert makes our mouths water. Although baking can be challenging, this creation makes us eager to ask for the recipe. Successfully baking something like this is a significant achievement.
#33 Raspberry Cheesecake Brownies
Brownies are a favorite for us. Their simplicity in preparation and universal appeal make them a go-to treat. Believed to have American origins, the name "brownie" stems from their rich color and possibly from the whimsical characters in children's tales.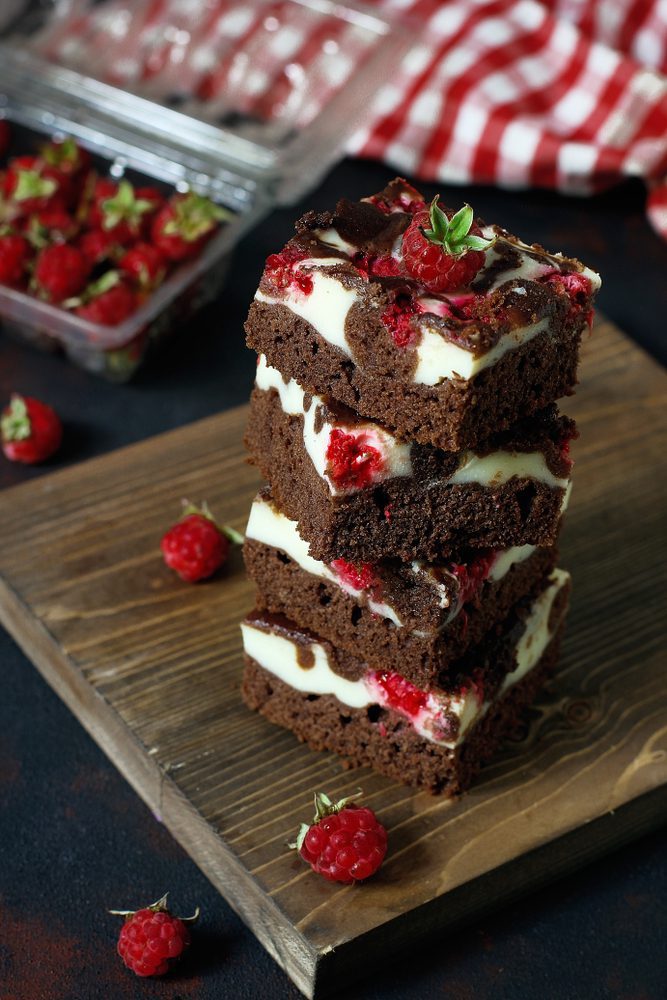 There are suggestions that these baked goods were invented in 1892 at the Palmer House. The story says that Bertha Palmer asked the kitchen staff to develop a portable dessert that could be served at the Columbian Exposition World's Fair, and the rest is history.
#34 Ninja Cookie Pie
When you think that ninjas have nothing to do with sweet treats, you're badly mistaken. We present you the Ninja cookie pie. They look so temptingly delicious, and they'll ninja their way into your mouth when you least expect it.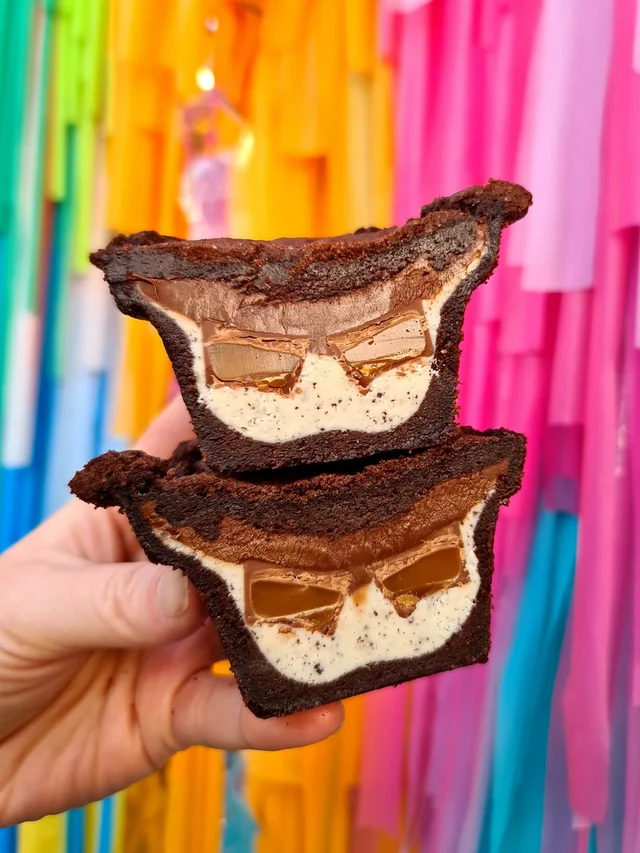 The original poster (OP) mentioned that the cookie layer is from a packet mix, while the white cream consists of cookies and cream spread. There are two Rolos and a layer of Nutella in between. The final touch is a cookie dough lid. This description is pure decadence and a delight to our taste buds.
#35 Blackforest Gateau for Christmas
The holiday season is the peak season for professional pastry chefs and even aspiring home bakers. Sales for sweets skyrocket, and people want nothing else to do but sink their teeth into an array of delicious and sometimes calorie-laden food.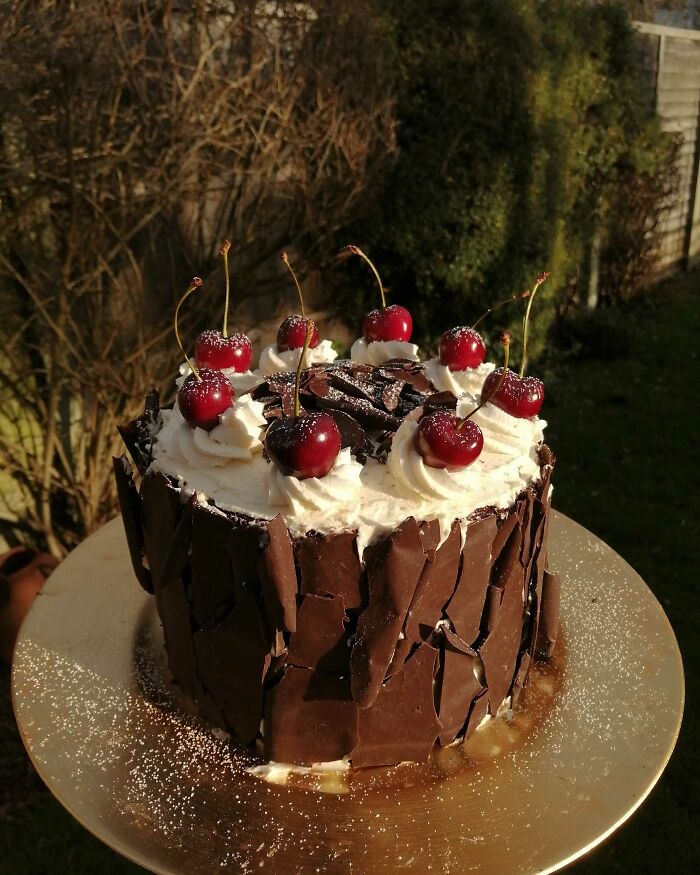 The OP baked this Black Forest Gateau for the family to enjoy during Christmas. From the looks of it, she can make some money on the side taking orders for this glorious creation. We're confident people will agree that this is the perfect thing to cap the night off.
#36 Rosemary Creme with Blueberry Jam Croissant
We've always been partial to croissants. According to stories, croissants were first made in 1838 or 1839, when a Viennese bakery was founded in Paris. Vienna is acknowledged to be the birthplace of the beloved pastry. Its ancestor was called kipferl.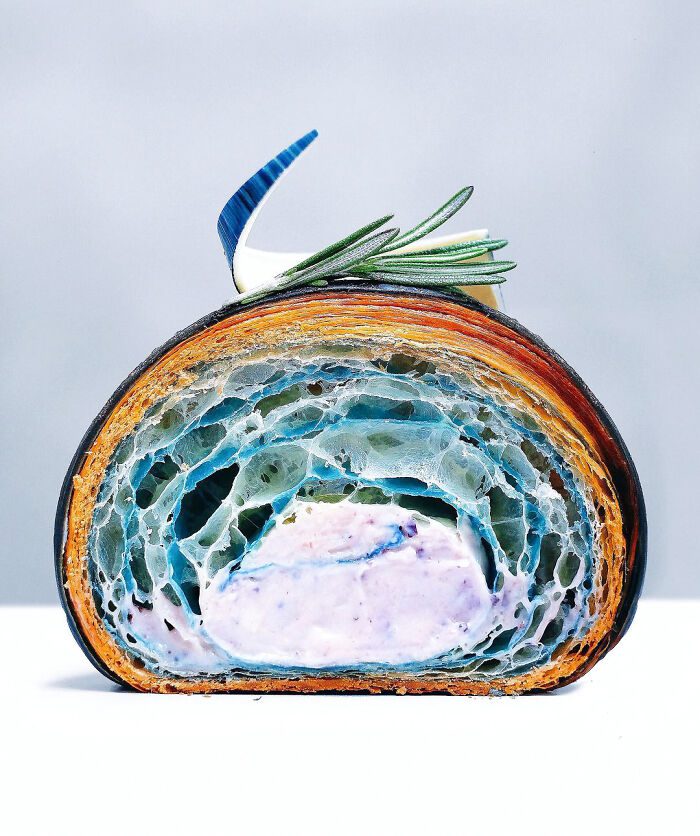 This is something we haven't seen before. Yes, there are fancy croissants, but this is on another level. This stunning creation looks like a cavern with blue crystal stalactites. If we lived around the corner of this bakery, you'd see us there daily.
#37 Such delicious little cakes
Our eyes are greedier than our mouths because we always take two slices of cake when we can only consume one. These beautiful and small creations are ideal for people like us. They ensure we don't buy more than we can eat and allow us to sample a variety of flavors.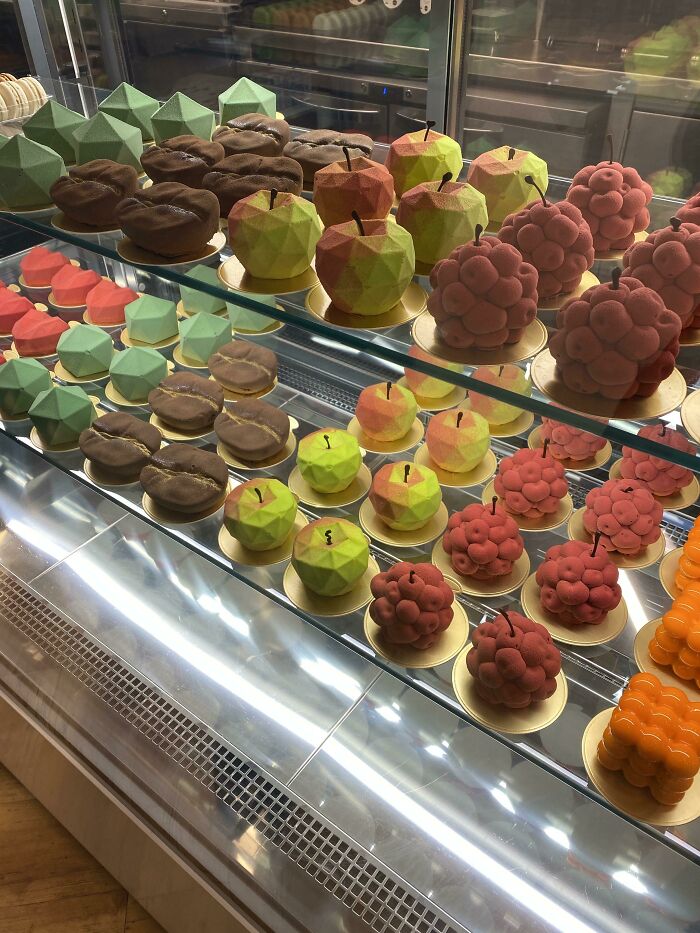 We can't help but notice their surreal appearance, reminiscent of video game food items, especially the apples, which resemble those from older video games. The artistry and skill behind this presentation are genuinely admirable, making it a feast for the eyes and the imagination.
#38 Rainbow crepe cake
Crepe cakes are a versatile dessert because they can be easily infused with various flavors such as vanilla extract, matcha, fruits, and chocolate. Depending on the toppings, this type of cake can last up to 2 days in the fridge..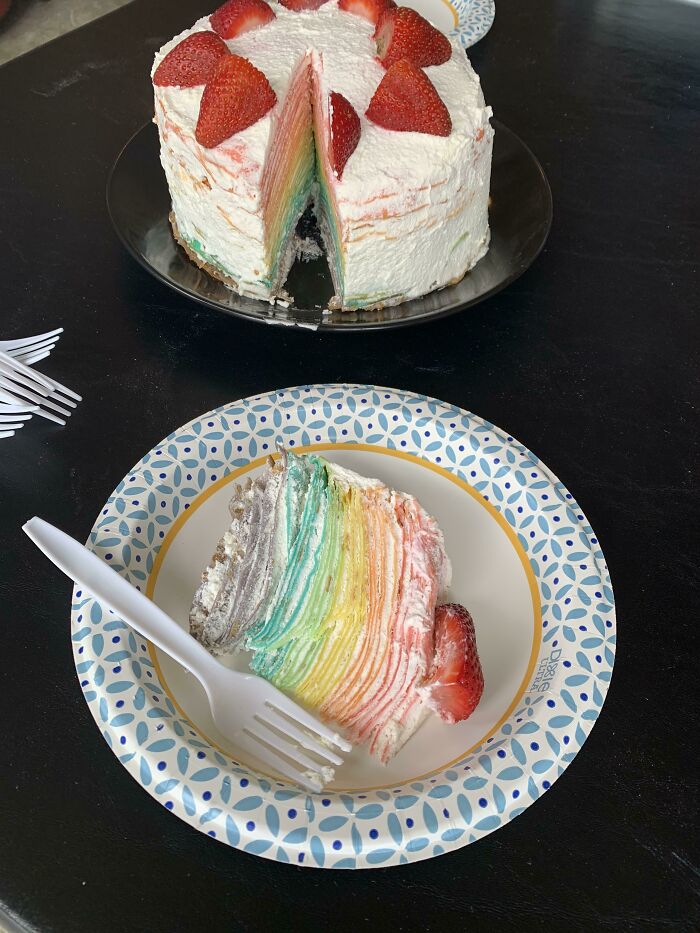 Crepe cakes come with a price tag because they demand labor-intensive preparation. Feel free to set an appropriate price if you're creating one. We can only imagine the countless hours crafting this exquisite masterpiece, a true symphony of colors. It's undeniably perfect in every way!
#39 Blueberry pie made into a puzzle
Imagine adoring a dessert so profoundly that you go beyond the typical Instagram #foodporn posts. The OP decided to immortalize their passion for an exquisite blueberry pie by baking one themselves, ensuring they could relish its deliciousness time and time again.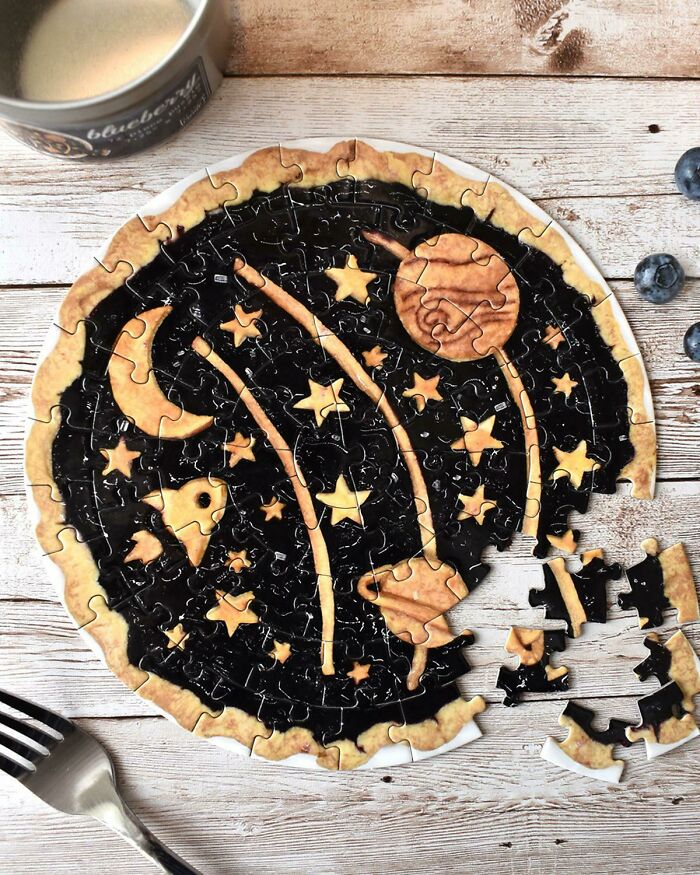 What better way to do so than by having it printed on a puzzle? Yes, what you're looking at is a puzzle. It will give you a stomachache if you try to eat it. We love how they turned a dessert into a personal treasure. We're tempted to do this.
#40 Another Lemon Blueberry Cake
Here is another divine creation we can't take our eyes off. With a cake looking as gorgeous as that, guests will be talking about your party for all the right reasons. What is there to complain about when you can feast your eyes on this and sink your teeth into it?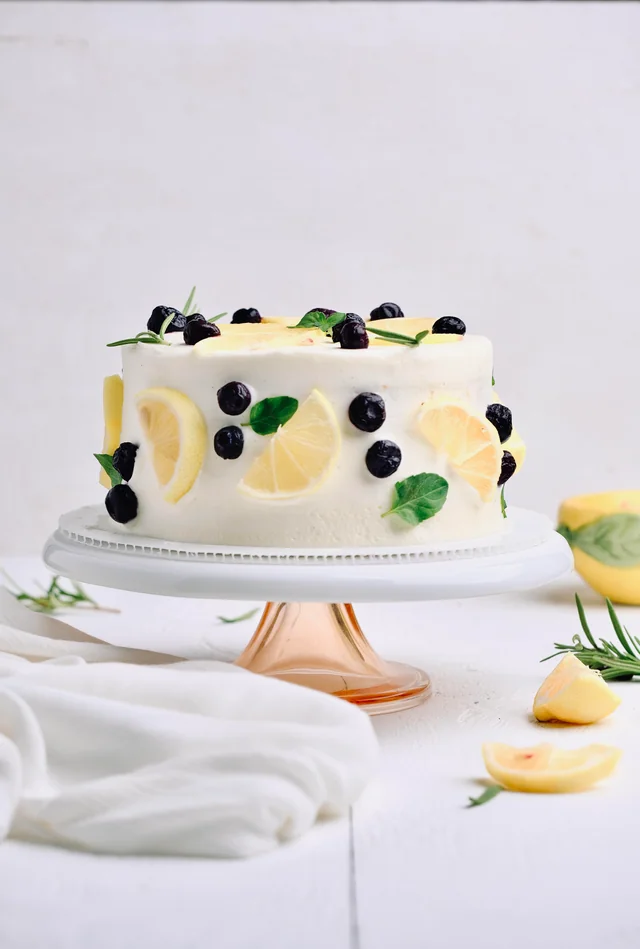 Baking is an exact science. Guesstimating the ingredients will lead to something other than incredible results. Your cake will fall flat or will be as hard as a rock if you put more than a tablespoon of baking powder or flour required. Whoever baked this did everything perfectly.
#41 Cookie platter
If we didn't know any better, we'd say this person was bluffing, and he bought this from the local bakery. This is such a delicious-looking spread, and we can't wait to dig in and satisfy our cravings. Something like this would have a place in our Christmas feast.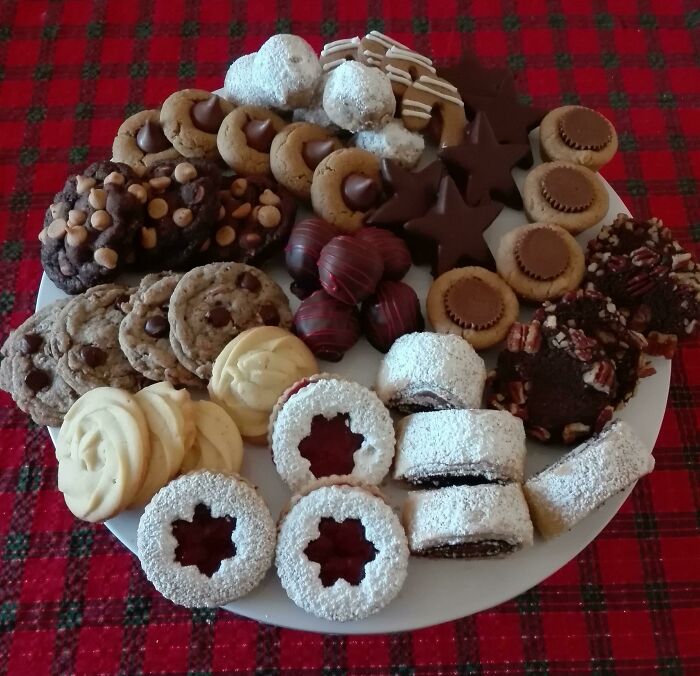 Picture chocolate chip cookies, sugar cookies, chocolate rolled cookies, peanut butter cookies, and more sweet delights. Just envision the sheer delight on children's faces when they encounter this festive spread! Their joy will be infectious, evoking the very essence of a joyful Christmas celebration.
#42 She's clearly come a long way
This incredible cake was crafted by the OP's daughter, who harbored dreams of becoming a baker since the age of 5. Now a professional, her creation is nothing short of awe-inspiring. It's so exquisite that one might mistake it for a meticulously photoshopped masterpiece.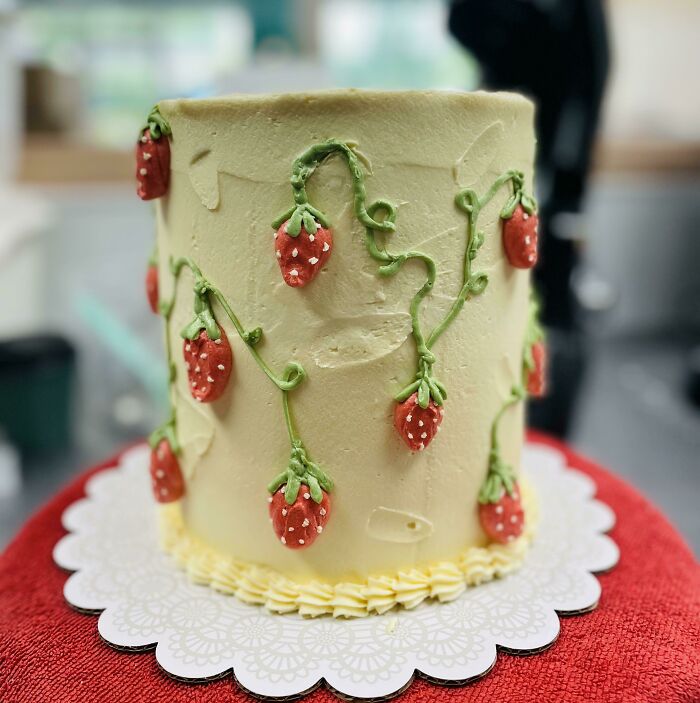 It looks too good to eat, and if baking weren't for other people to enjoy your delicious creations, we'd say don't touch this. If cakes weren't perishable goods, we'd encase them in glass and proudly display them so others can admire them, too.
#43 Strawberry Shortcake Taco
It's common for restaurants and patisseries to come up with attention-grabbing names for their desserts. An intriguing name will help sell food; everyone knows that. What you see might not be a taco in the strictest sense, but that's what it's called.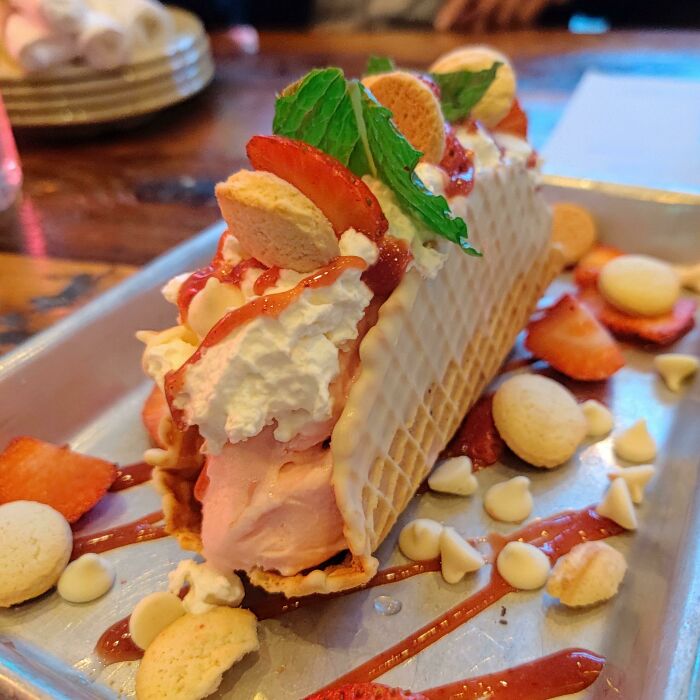 This treat is sold in a pizza parlor in Chicago. Some might say this could be a mess to eat, but we don't care. We'll still sample it if we ever find ourselves in the streets of the Windy City. It looks marvelous, and it's making our mouths water.
#44 A cake for the beloved
The backstory behind this delectable creation is heartwarming. The OP revealed that this cake was a birthday gift from his girlfriend studying pastry in Paris. It's a sweet gesture that adds a layer of delight to this already tempting treat.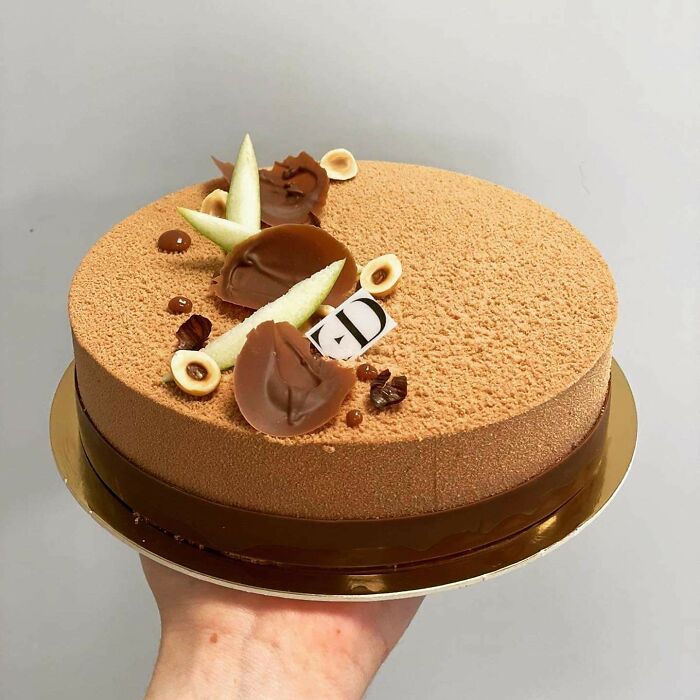 She's learning and on her way to becoming a pastry chef in world-renowned restaurants. A few bakers pointed out that this perfect-looking cake was made with an acetate sheet, put in the fridge, and sprayed with a gun and cocoa butter. At this point, we're just interested in the taste.
#45 The most beautiful cheesecake
Being confined to our homes for nearly two years had an unexpected silver lining: discovering hidden talents. Many of us turned to baking and found skills we never knew existed. Home bakers, driven by boredom and necessity, unearthed their culinary prowess during this time.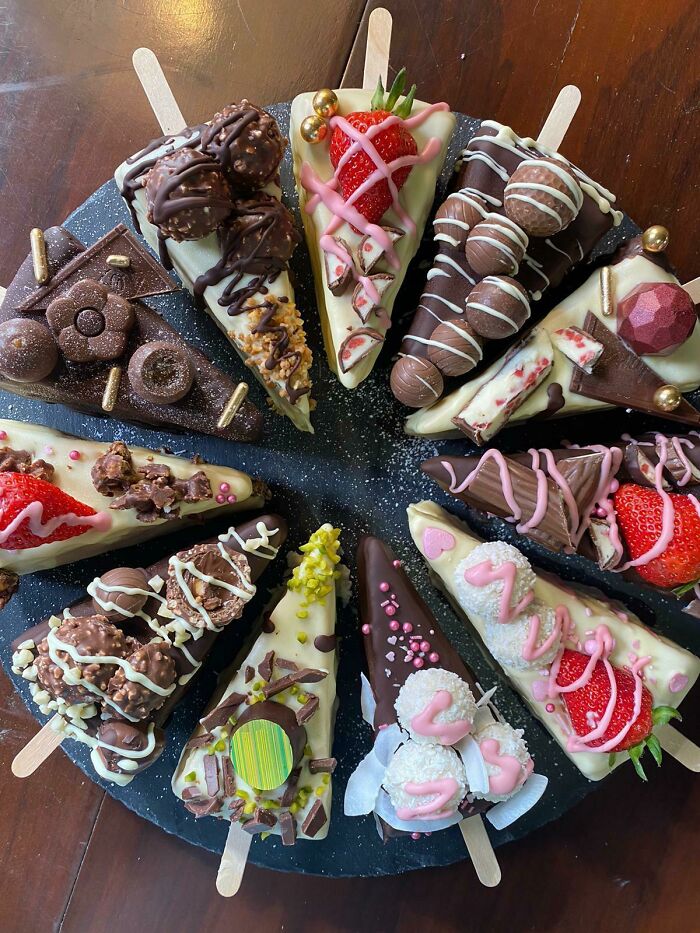 Browsing through this delightful collection of desserts alone felt like a 2 kg weight gain. While it might not do wonders for our wardrobe or physique, it lifted our spirits. It may be time to embrace the baking spatula and try our hand at these treats.