Holy Cannelloni: 40+ Beautiful Pasta Creations That Are So Unique, We Won't Be Able To Eat Them
By Navkiran K January 26, 2022
---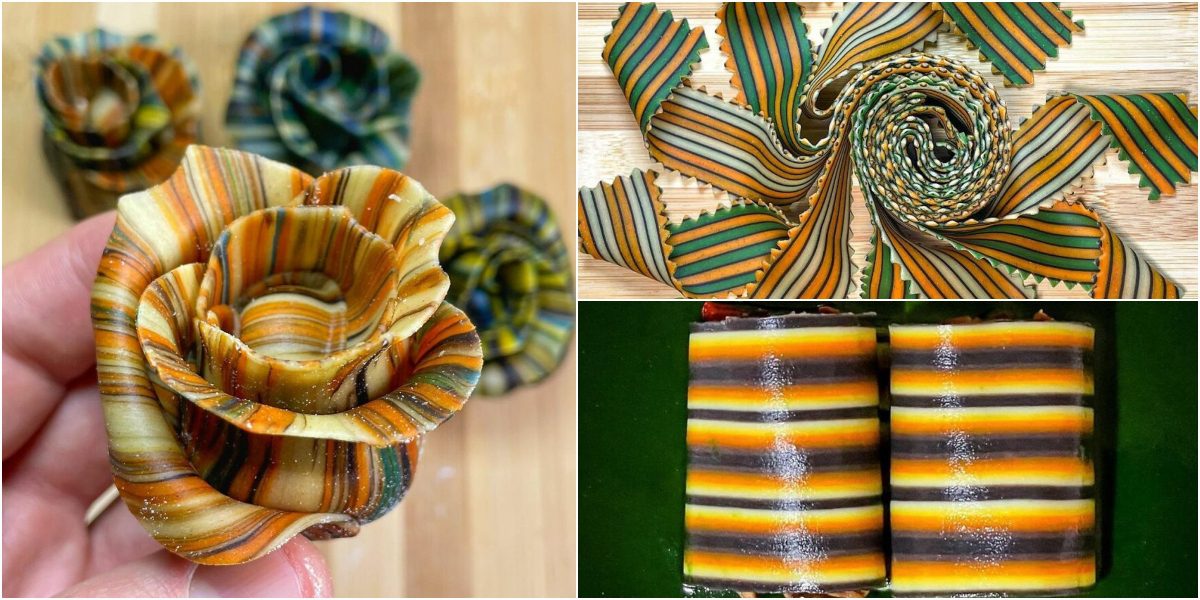 If you're looking for the perfect comfort food to warm you up on a cold day, look no further than a delicious bowl of pasta. Now imagine eating pasta that looks worthy of being displayed in a museum. A talented chef in New York City is offering just what we need – mouthwatering-looking pasta prepared with care by Chef David Rivillo, who has been creating colorful artistic pasta for many years. He has truly perfected his craft, and the pasta that he makes is breathtaking. It almost feels like you don't want to eat it because you don't want to mess it up! He's earned nearly 40K followers on his Instagram, David Rivillo, thanks to these noodles and his creative flair for the aesthetic dish! Once he bought his own pasta machine, he knew what he wanted to achieve. He hasn't eaten supermarket pasta ever since. Keep reading to check out his unique pasta designs. 
Multicolor pasta delight
Anyone would love to ditch their boring pasta after looking at this colorful dish. The pasta has multicolor brick patterns that form mesmerizing strands of mosaic patterns. Besides, the bold choice of colors makes it even more interesting to look at.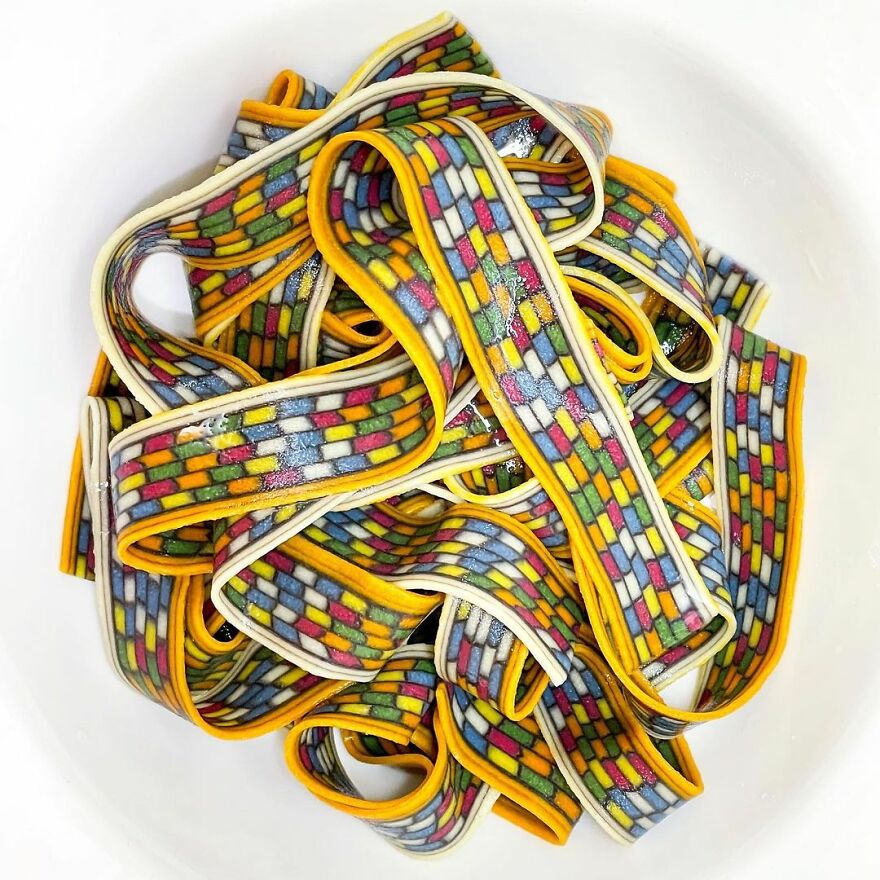 It has an intricate design that will almost make you forget you're supposed to eat it. This pasta will look great paired with a creamy, white mushroom sauce to make the colors pop! Or, you may cook it with a light red vodka sauce to give it a different aesthetic.
Delectable pasta cushions
This next pasta creation reminds us of soft, chic pillows with intricate and eccentric designs. These small pasta cushions were made in a combination of green, black, and white colors, and they truly look like a work of art. Any filling would taste delicious in these beauties.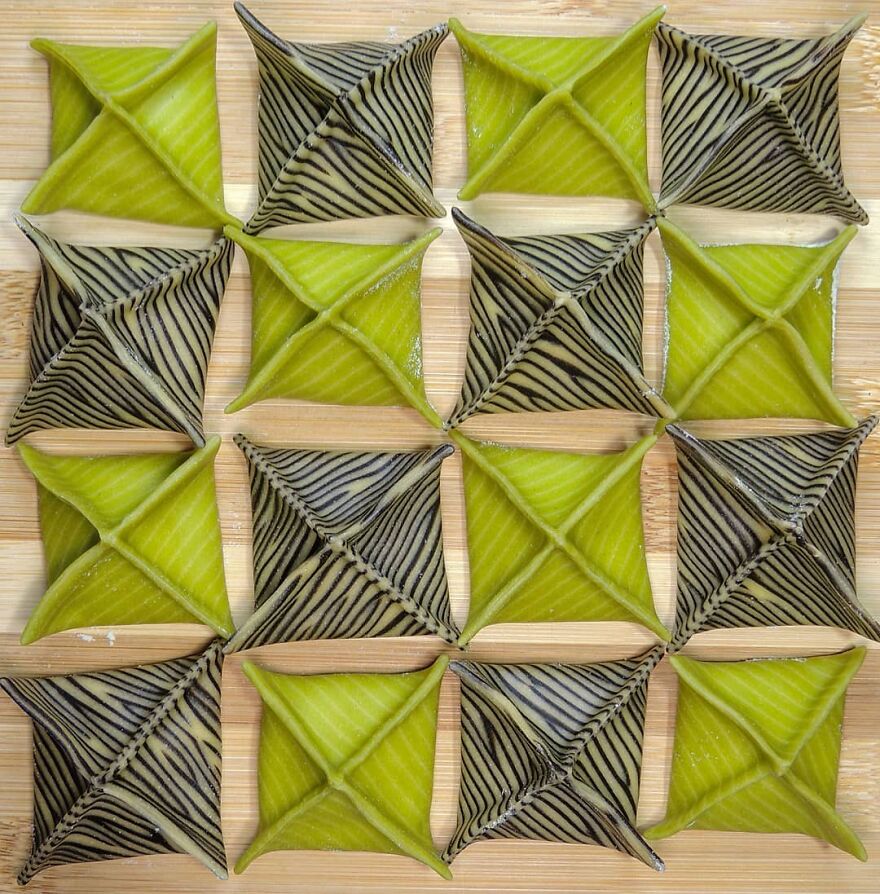 The beautiful green one is a color we never thought we would see associated with pasta! This shows how inspired the chef was from the colors of nature and things around him to create such special designs that no one thought of before.
Vibrant art on a plate
It is always healthy for any human being to keep learning new skills and apply them to create something magnificent. Chef David believes we can always learn new things. He is genuinely interested in making different pasta designs all the time.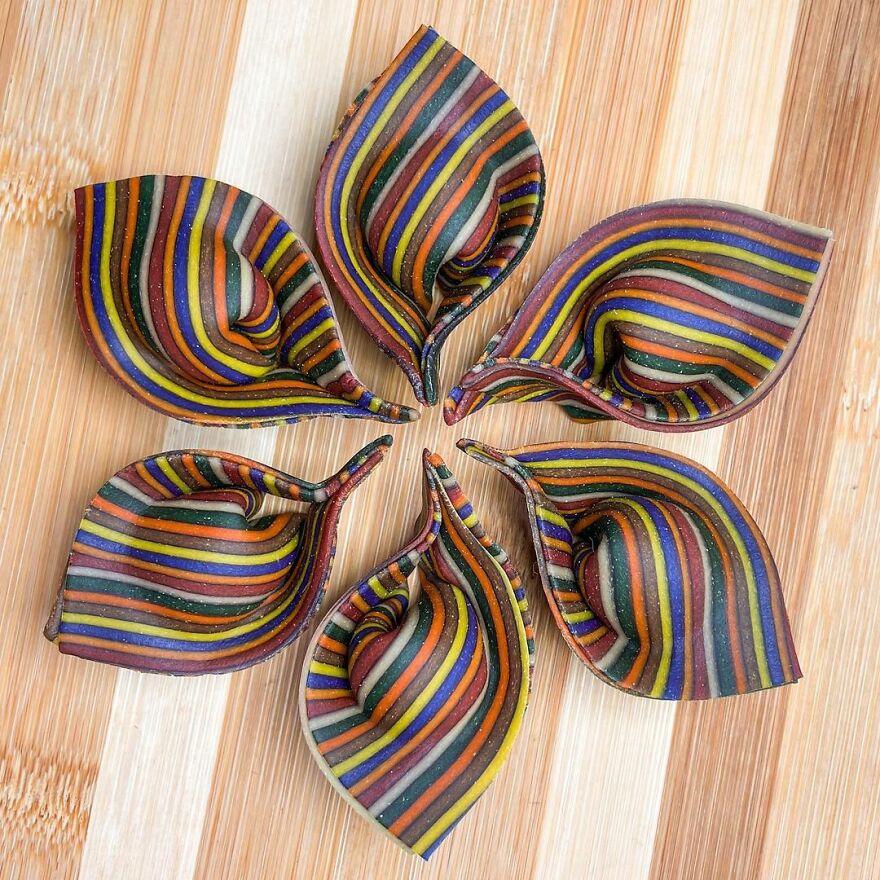 This bright, color wheel of pasta blends together beautiful shades of many different colors to form stripes that blend together seamlessly. The chef achieved these results from his hard work, dedication, and tons of patience. Besides, being consistent pays off. 
Snakey pasta for the brave
For a moment, upon first glance, you may feel bewildered if someone served you this pasta. It looks like small, bright, colorful snakes resting in a bowl. Although they look harmless, they may make someone feel scared to take their first bite.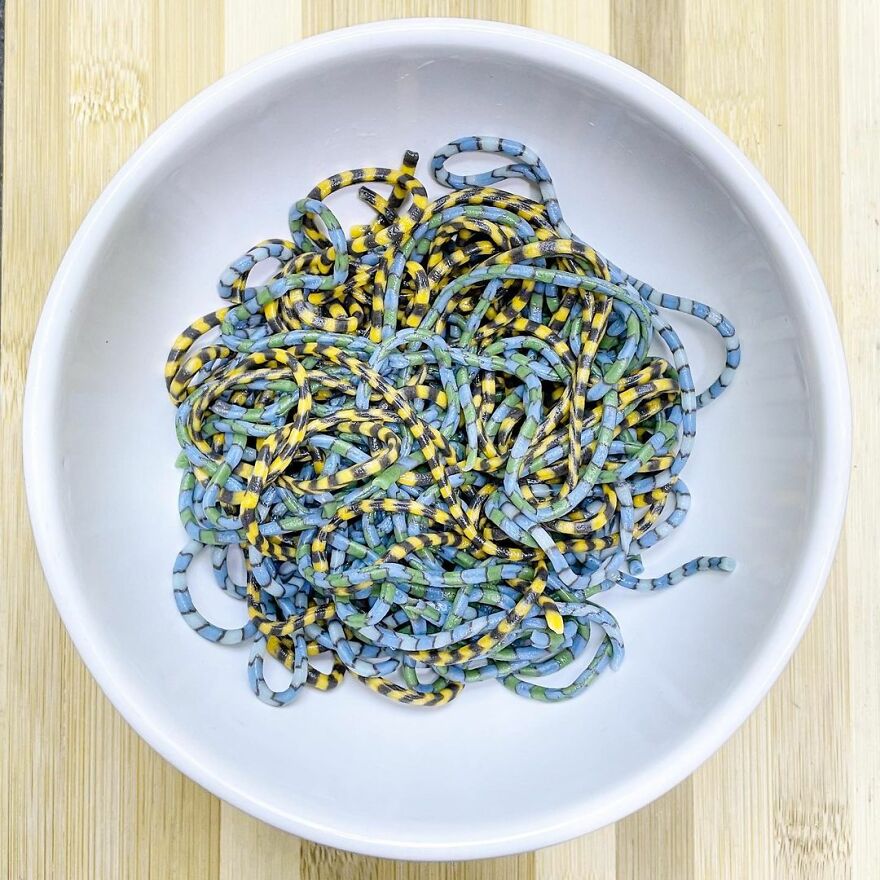 This exciting dish can also be your go-to Halloween party food for your guests to spook them out. The bright yellow, blue, black, and green-striped pasta is a sure way to freak them out alongside other party foods for a unique and spooky experience. 
Mini truffle
When placed on the board, this pasta appears as if it was just taken out of a truffle chocolate box. However, it is not some new flavor of your favorite chocolate. It may look like it due to the similarity in size and appearance. But, it's actually something way cooler!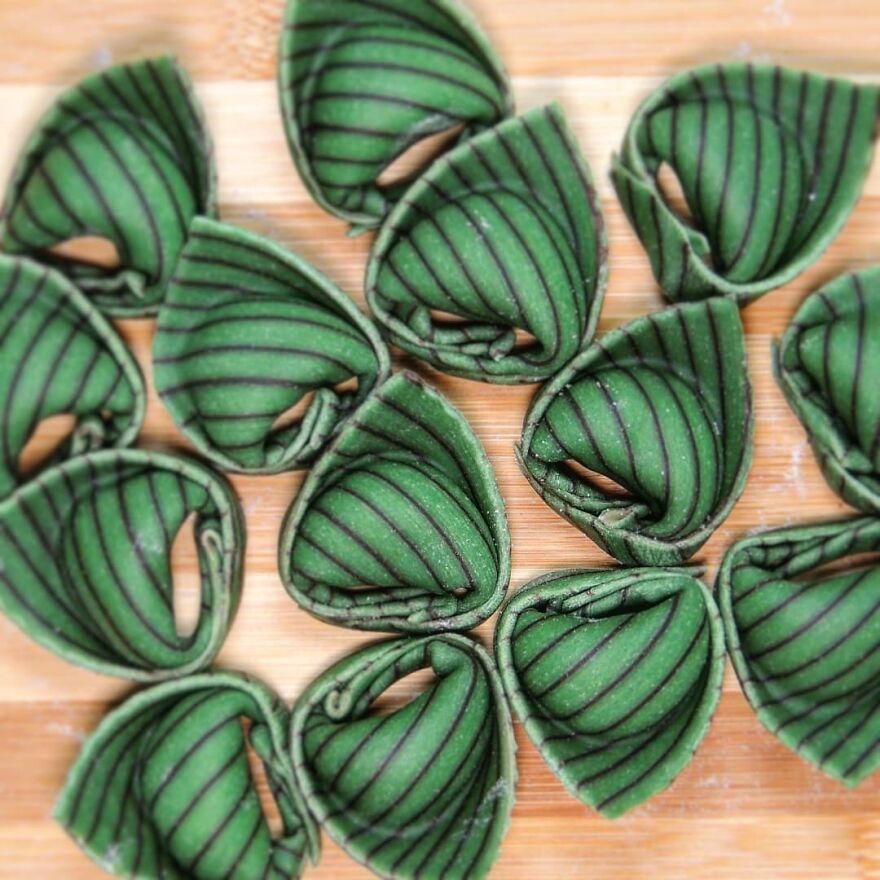 The base color of the dough is emerald green with thin black lines. The black lines are straight and do not lose their essence even when the dough is folded in some areas to give it its tortellini shape. They probably contain a delicious cheese filling.
Mermaid fins
At first glance, this design reminds us of mermaids and their majestic fins. They are sultry and lightweight in looks, perfect for swimming in the pasta sauce. These double-ended fins will definitely add some glamour to your plate of pasta.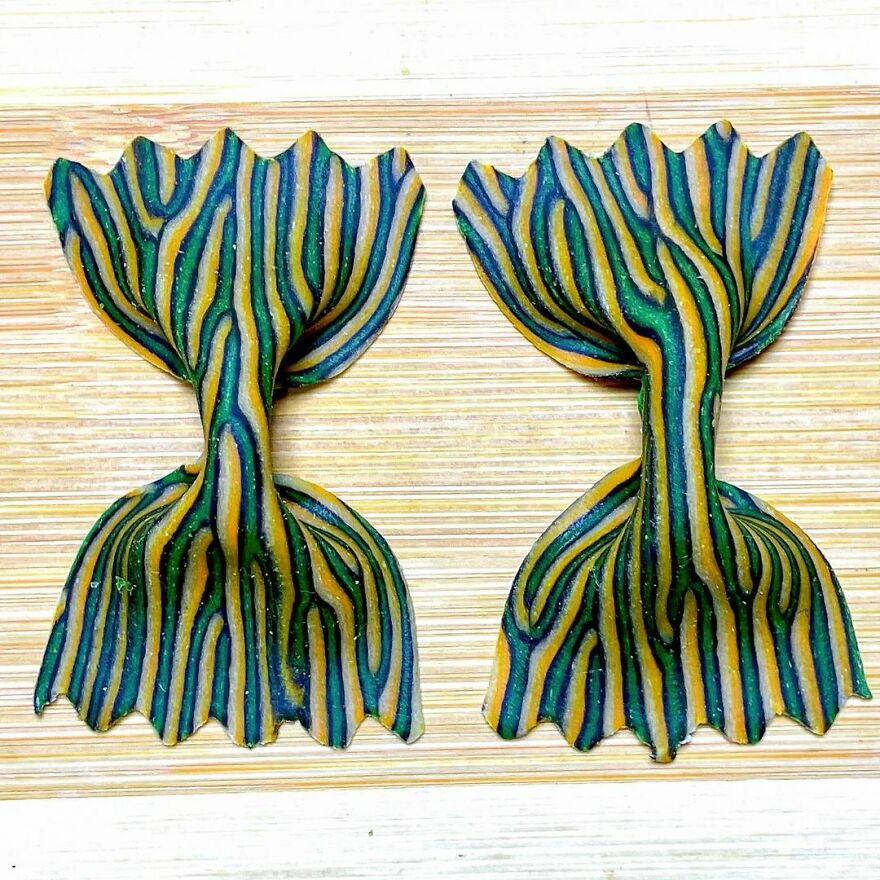 The green, yellow, and blue colors depict the design's closeness to nature. Do you see how the green is within the thin blue outlines and does not overlap even once? Precision is one of many things that Chef David is an expert at.
Chocolate and butterscotch illusion
No one will be able to determine the time and effort the chef put in when he created this unique pasta design. It looks like a delectable combination of chocolate and butterscotch blended to perfection. We can see that his lines are perfect yet again.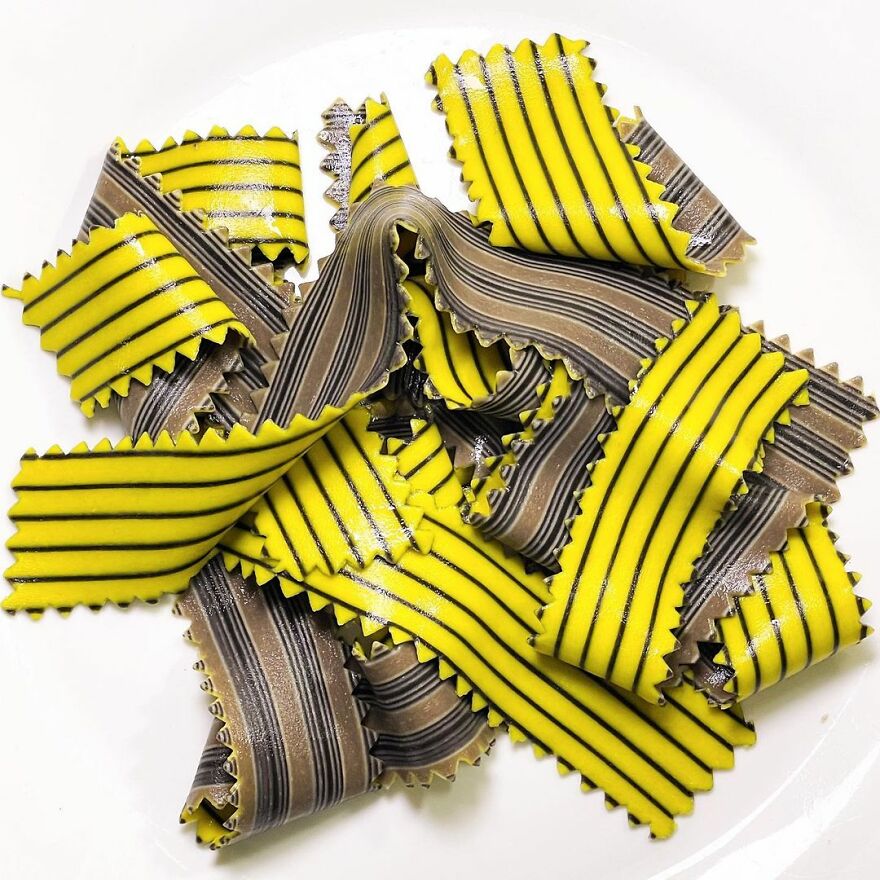 Moreover, the two different colors seamlessly join together without bleeding into each other. All the lines are straight, and the design is not distorted anywhere. The level of skills to create a double-sided pasta with such detail is a result of years of dedication. 
Artistic stained glass design
Stained glass windows made of blue, red, and yellow colors are majestic works of art. They enhance the architecture of any building and make it look unique. This next pasta creation mimics their design. We wonder if stained glass windows were the inspiration behind this unique pasta.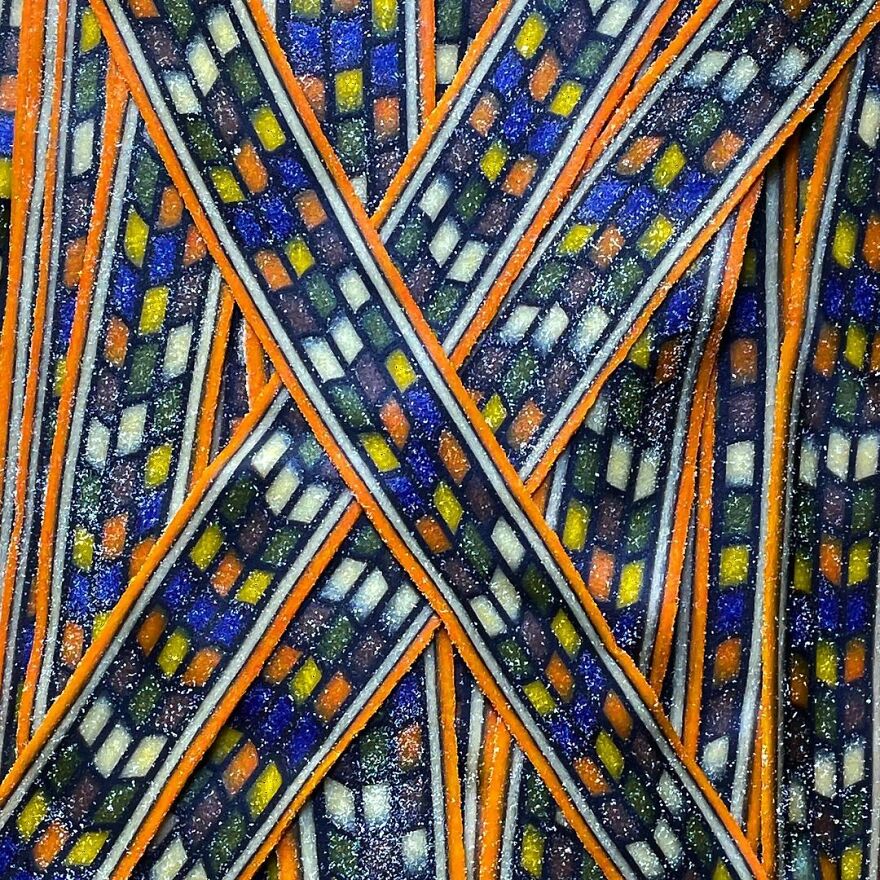 With the orange and white borders, this pasta seems like a framed window that comprises stained glass in mesmerizing hues. The small details in the design seem perfectly executed. Honestly, we wouldn't even eat the pasta. We would just sit here and admire it. 
Candy pasta with a twist
Here is a unique pasta design that looks exactly like candy. Someone even saw a familiarity with glass ornaments due to the bright colors the chef used to make this pasta. Candies may not be a good thing for your health, so this may be the perfect alternative.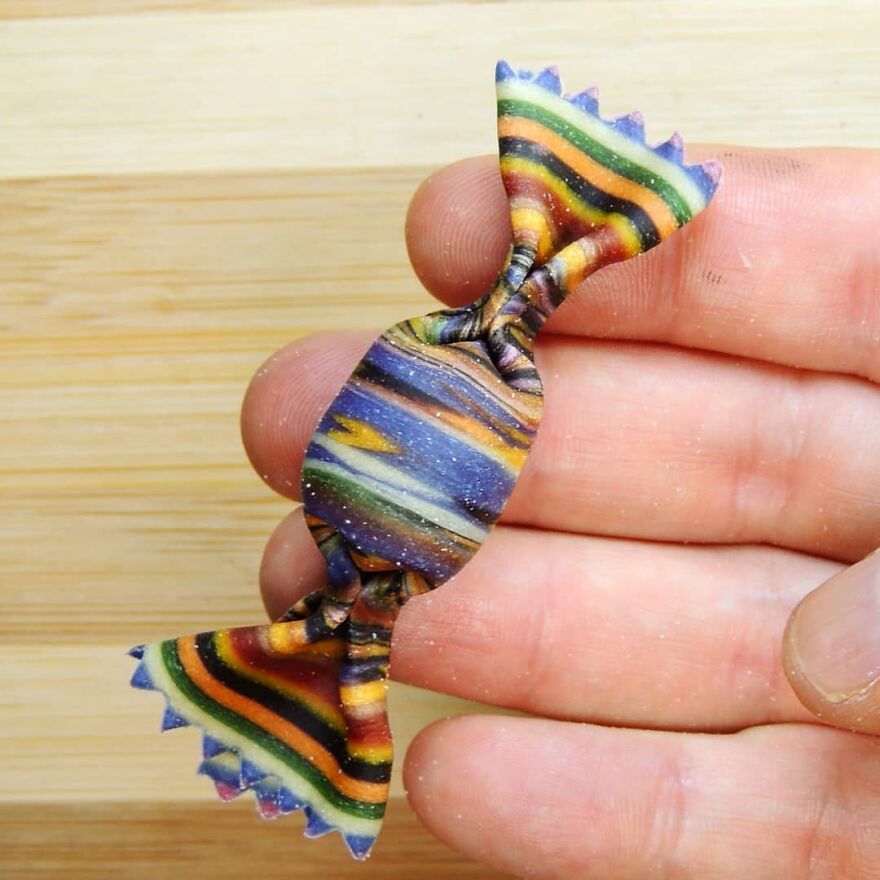 This candy-looking pasta can be prepared into a healthy meal and still give an illusion of eating a dessert to your eyes. Who wouldn't want to surprise their taste buds with food that looks like one of their favorite candy? Sign us up!
Enjoy your greens
If you have a rough time eating greens or simply don't like the taste, this pasta might trick you into thinking you like them. This pasta may contain a creamy cheese filling or fresh leafy spinach. If you're a picky eater when it comes to vegetables, you should give this a try!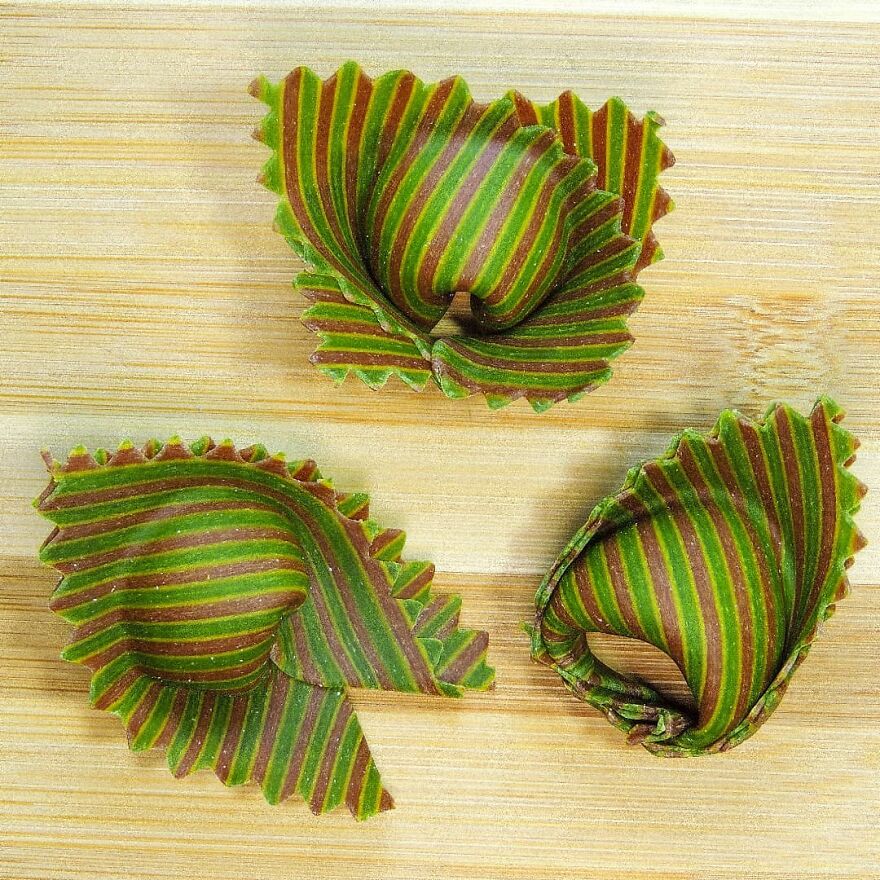 The chef has carefully structured this pasta with green and brown dough. Besides, the ravioli shape of the pasta makes it appear more scrumptious than the flat or shell pasta. Either way, it will definitely turn into a tasty meal.
Flower noodle for your tastebuds
Looking at this piece of art, you may not even realize it's pasta at first glance. It has a flower-shaped design that will not wilt at all. The multicolor striations on the flower pasta make it look like a new floral species.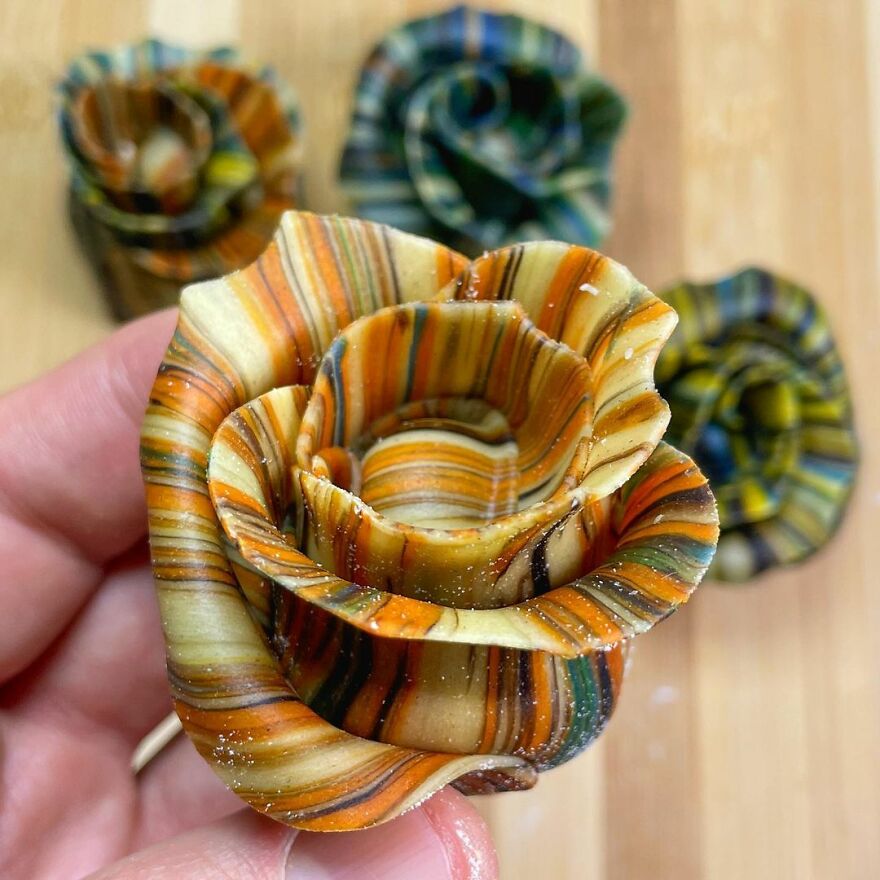 Even if you're not a flower person, you will accept a plate full of this multicolor flower pasta with cheese and pasta sauce in a second! All your senses will feel truly blessed after relishing this beautiful work of art.
Not a basic bow
Consider this bow pasta with blue and yellow stripes on one side and orange and white stripes on the other. Instead of convincing your kids to eat dinosaur-shaped pasta, you can just serve them this bright, colorful kind to make their day instead.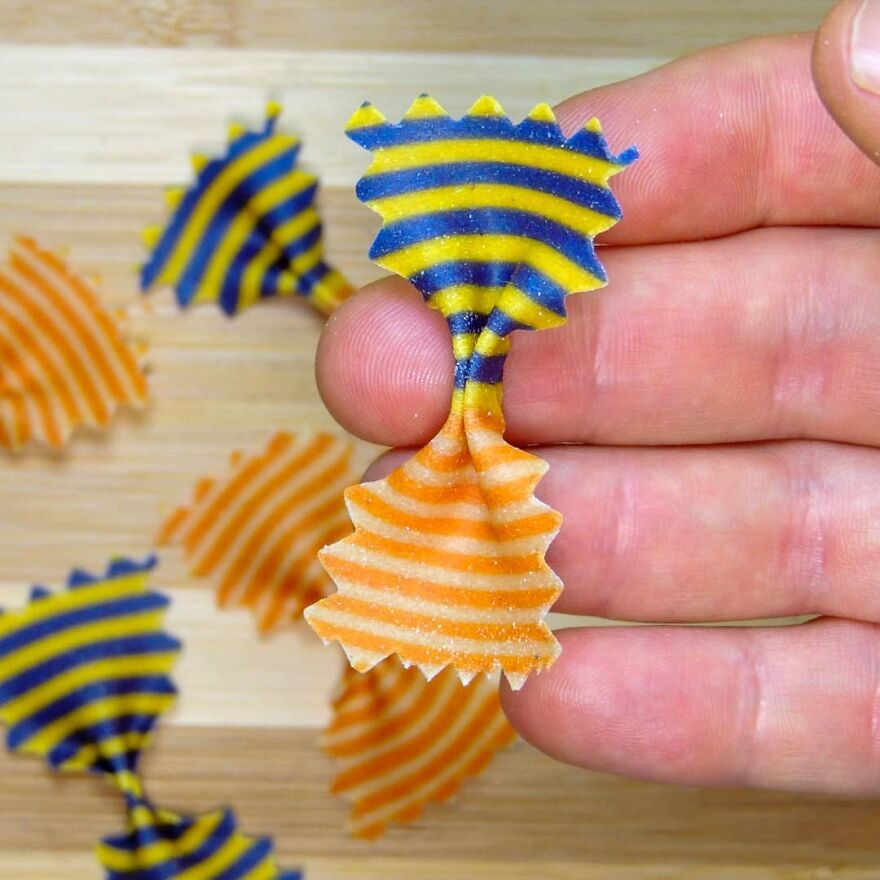 Like other pasta designs with stripes, the lines are detailed and the cuts are clean. They also look similar to candy wrappers. However, these are entirely edible. We're sure making this pasta must have been a delight for the chef. 
Multicolor edible laces
Some people may feel fearful looking at this pasta as it seems like a pile of reptiles entangled together on a plate. But, if your brain is more forgiving to the details, you may consider these as multicolor edible laces.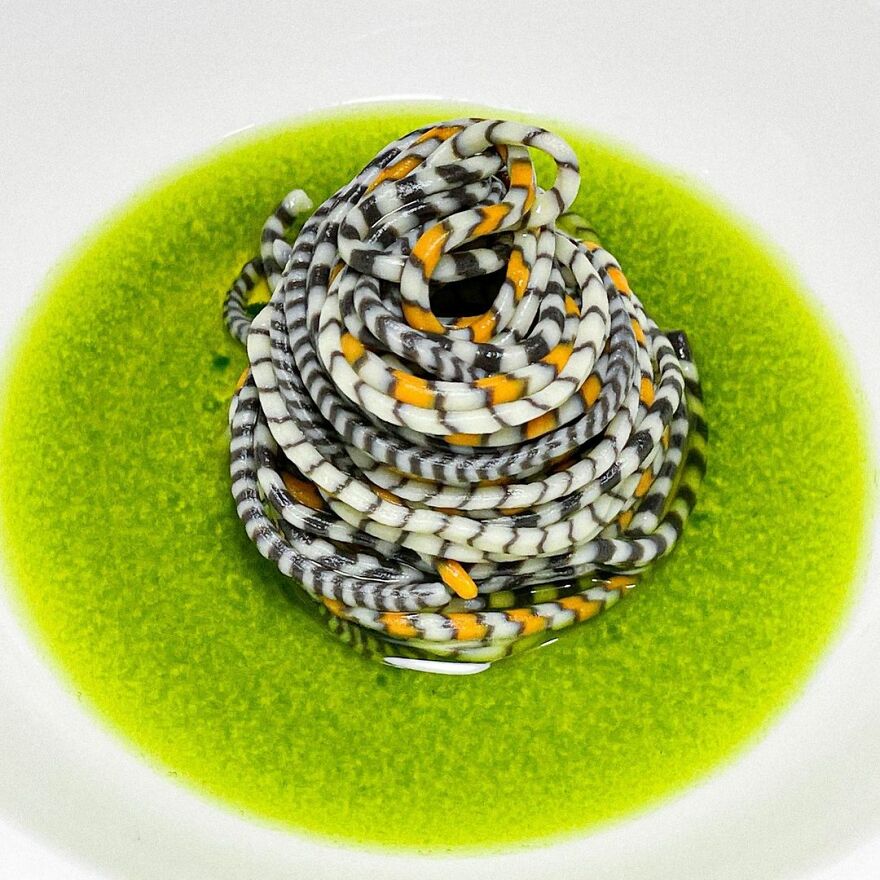 Besides, when swimming in the green sauce, these noodles may not appear as the most edible dish to some. However, the bright orange color and the black and white design make a statement for pasta. Let's just say this one isn't for the fainthearted. 
Pink paradise
How tasty does this pink ribbon pasta look here? You may confuse this farfalle for pins or hair ties; they are just that pretty. If the chef takes special orders, you may want to get your hands on these for birthdays and anniversaries.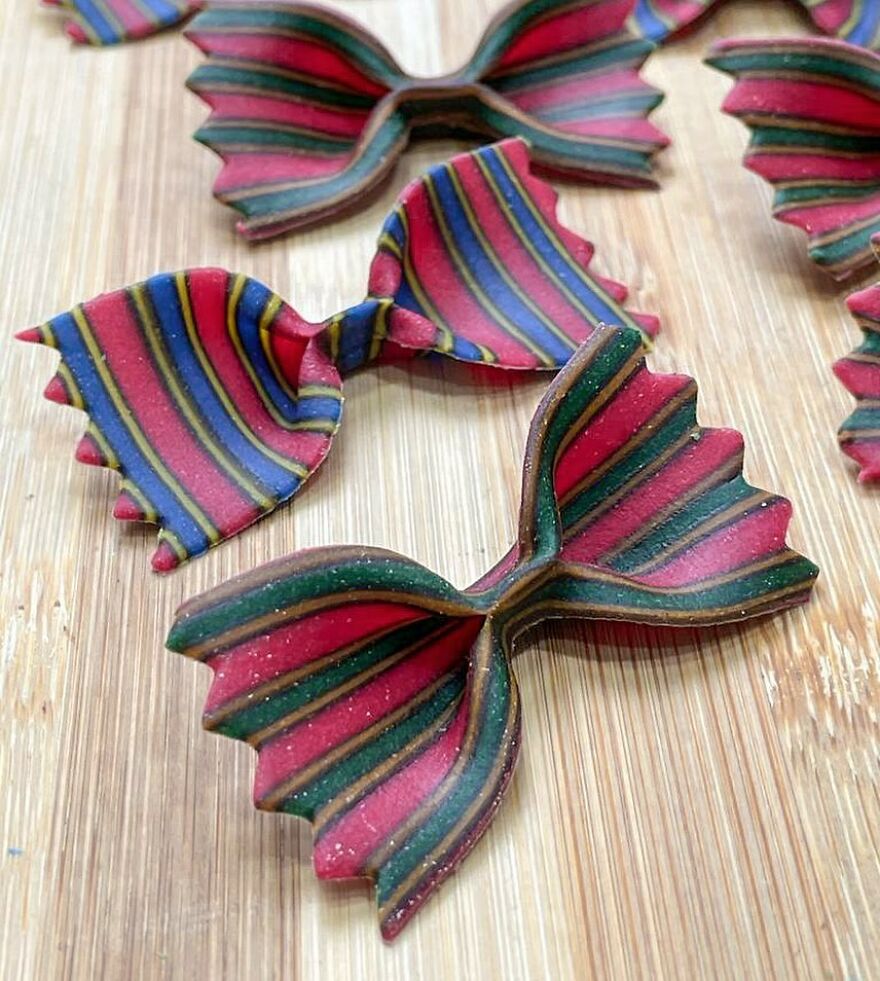 The perfect combination of the colors blue, pink, white, green, and yellow makes the design appear sharp and distinguished yet so soft. Plus, the vertical and horizontal design ties all of them together due to the deep pink base. 
Brown coral
Is it a flower or a cabbage patch? It may even look like brown coral to some people. With brown and white swivels all over it, this ravioli pasta can fit right into the main course meal, no questions asked.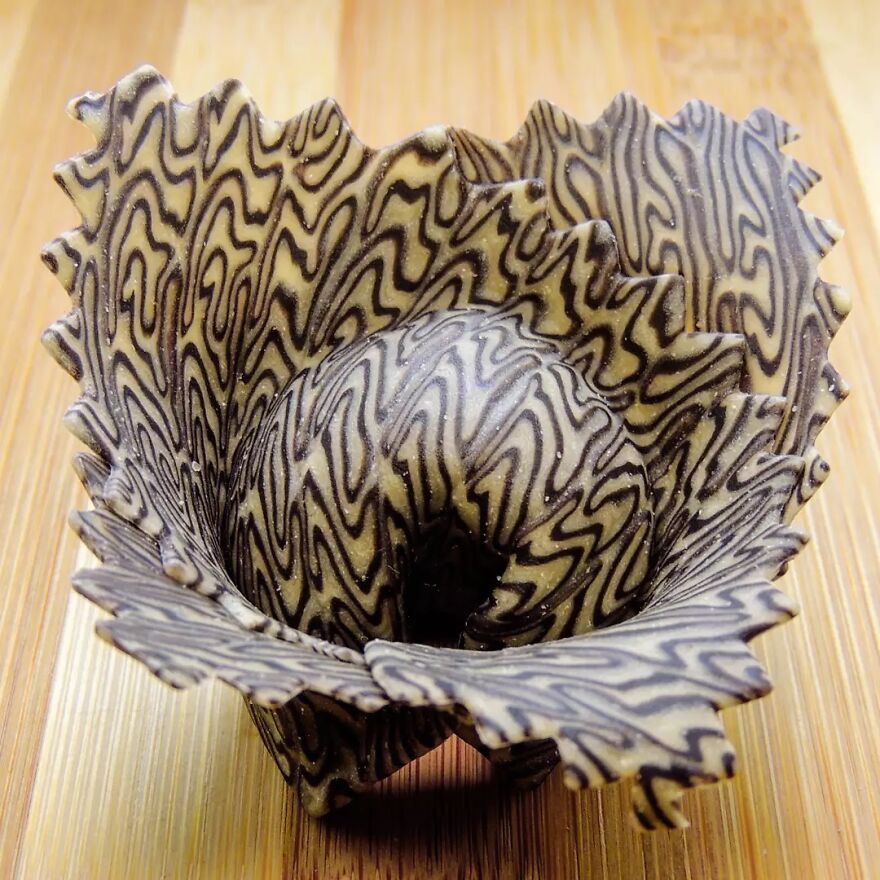 This pasta gets its unique design from the molded dough surrounding the filling. Also, the striations make a unique pattern that must have been fun to create by combining two different colors. This one is definitely one of our favorites.
Plant cell pasta
If you have studied biology, you will find an uncanny resemblance of this long ribbon pasta to a plant cell. Even though it looks like it has been oiled, the chef says on his page that everything is 100% food grade.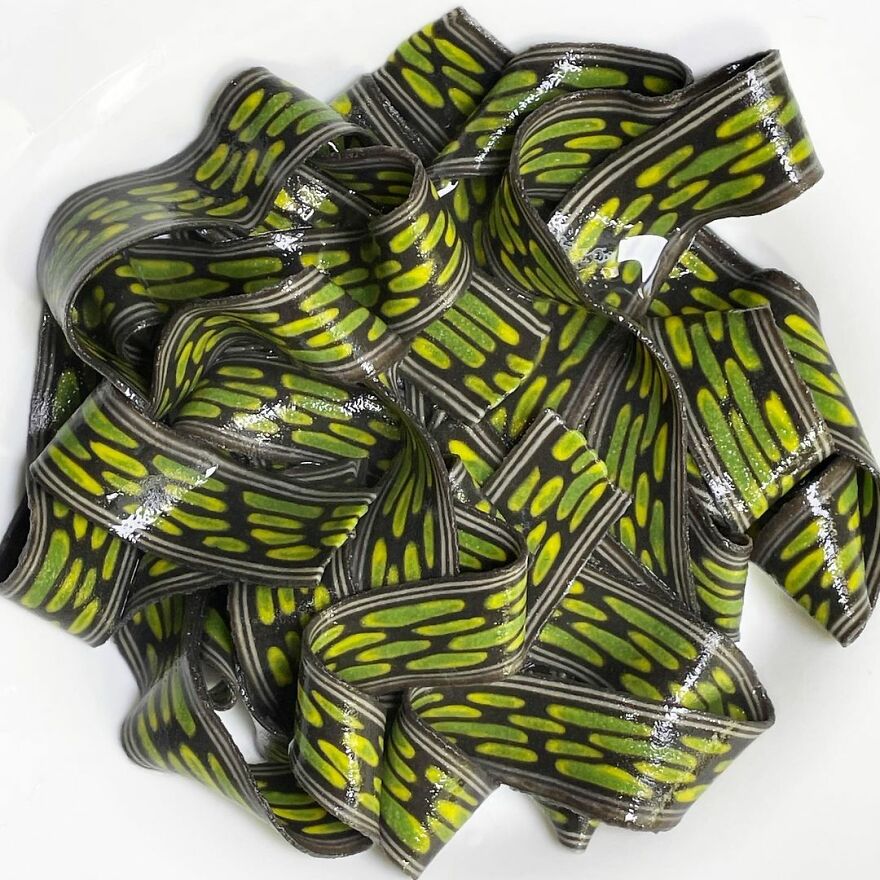 So, you cannot go wrong with this pasta in the sauce of your choice. Many people may just want to frame this pasta as it is so appealing to look at. Since the chef uses different flavors to create the dough, it will have a unique taste, too.
Chessboard or racetrack
This pasta is very trippy and looks like no other design on this list. The use of black and white blocks creates a chessboard-like appearance to this pasta. Cutting this beautiful pattern into wide ribbons will still have the same effect.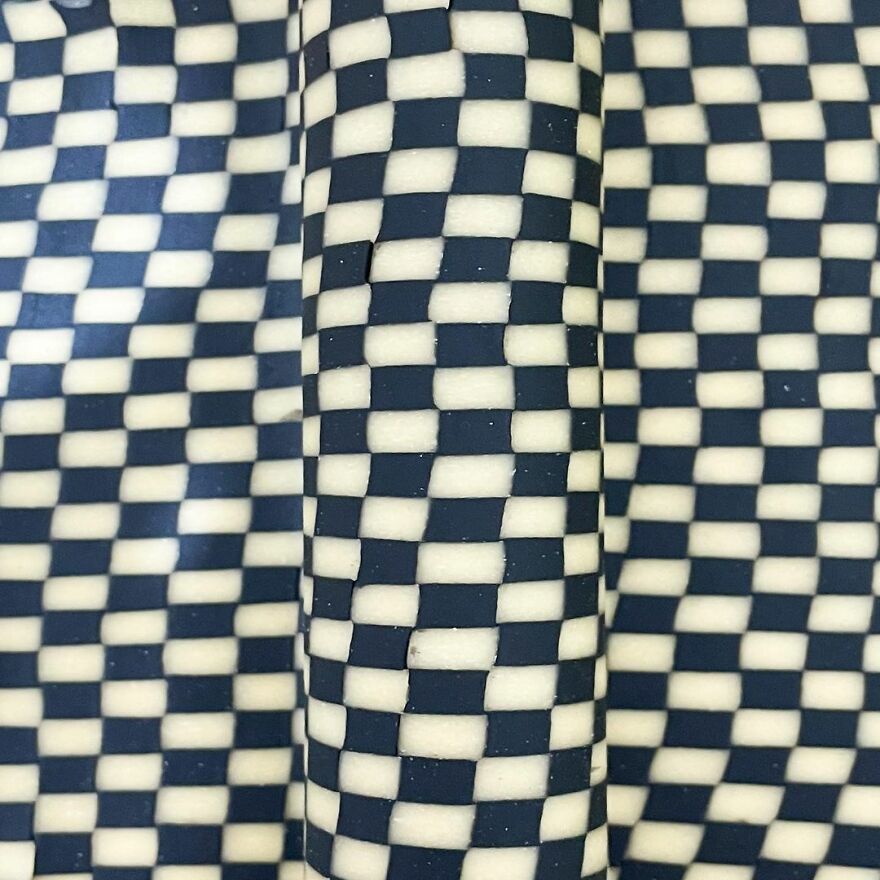 The most noticeable aspect about this pasta design is that all the lines are straight, and the black color does not bleed into white, which is very impressionable. Making lasagna with this pasta would be a fun project, especially if you're cooking for kids.
Columbia pasta vibes
This vibrant pasta with a yellow, red, and blue design makes us think about how much it resembles the Colombian flag. The chef truly takes inspiration from many things around him for design inspiration as well as for the color of the pasta.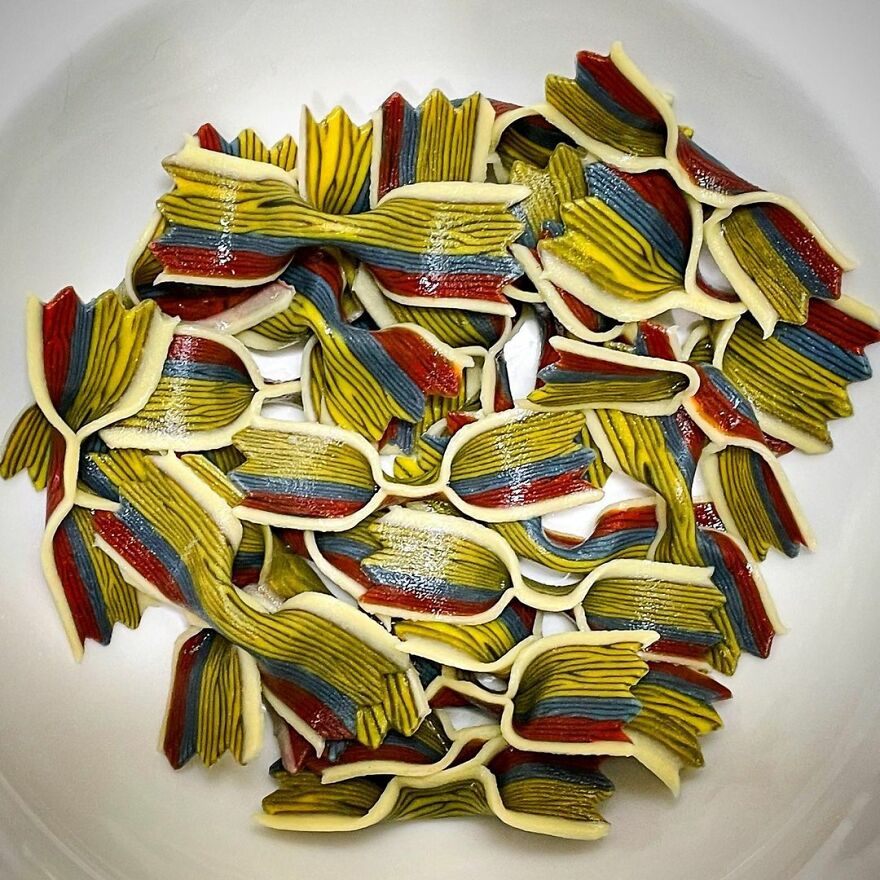 This pasta looks delicious with its engraved patterns and use of different color dough. However, the process of making this pasta must also have been interesting to watch. No one would want to miss a cooking class for this one.
Microscopic cells
Biology students can again vouch for this pasta as it reminds us of skin cells under the microscope. Besides, it is so precisely designed and serves as a reminder of how cells look when they're squeezed between glass slides.
The design is spot on with the color scheme and the pattern of human skin. Its maze-like design is hard to follow but has a pattern that only skilled hands can create. Chef David nailed it with this one, too. 
Candy corn pasta
Do you like candy corn? The pasta looks just like the famous candy! There's an orange, yellow, and black dough combination going on here that creates this perfect design. The pasta looks like a string of colorful candy corn, and we would love to eat it.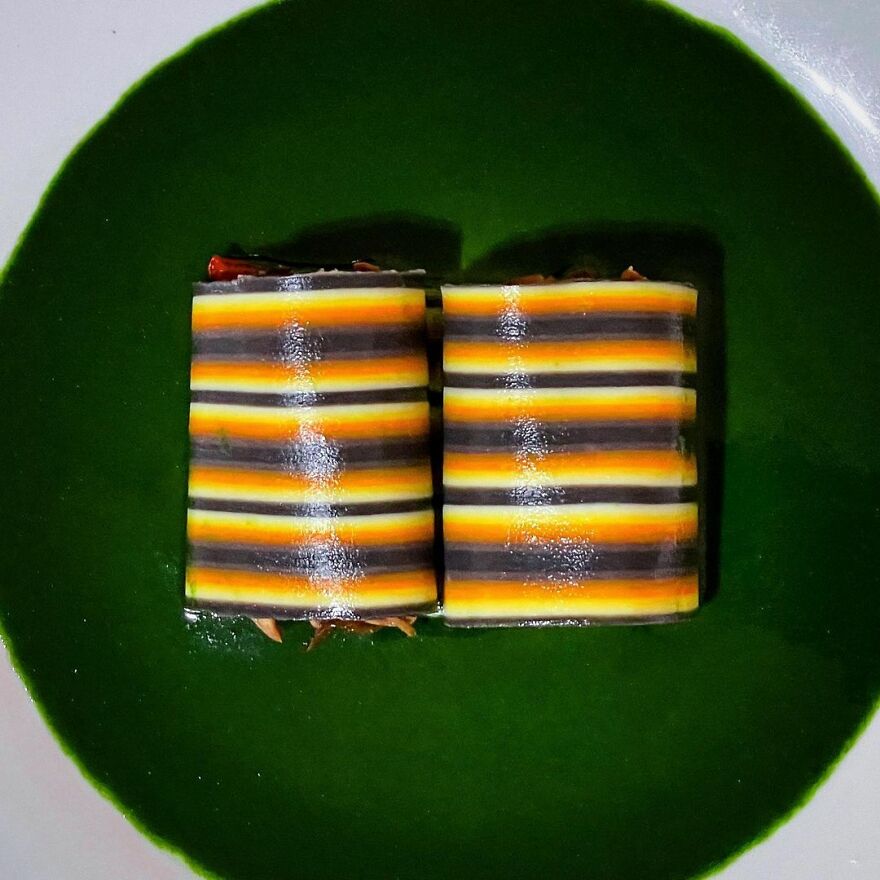 This assortment of colors and this design will create such beauty in the pasta bowl, and each bite will be heavenly! Moreover, if you want to go a different direction, it can be a perfect ingredient for your pasta salad, complementing the other greens.
Sour candy ribbon
Now, this one is just like the sour candy ribbons that come in different flavors. They are packed with sour powder and are sweet underneath. This ribbon pasta has the most aesthetically pleasing color combination dominated by orange and blue.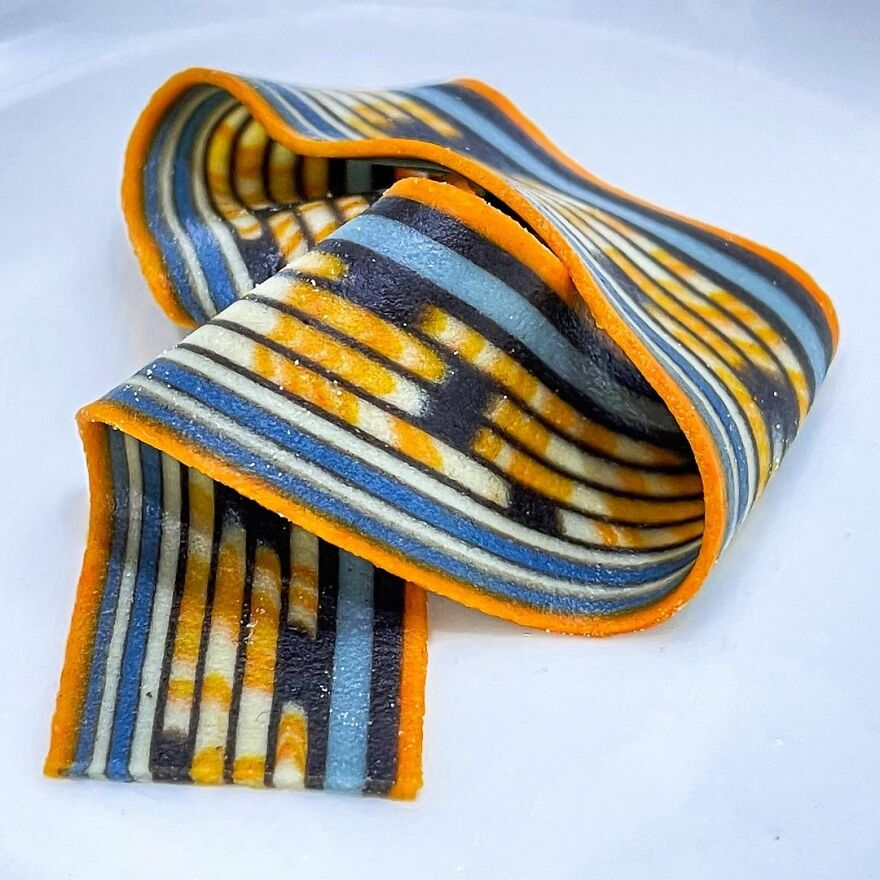 Even the white flour looks like the sour powder that is usually on this candy ribbon treat. Moreover, this beautiful work of art will speak to your eyes and make your mouth water, too. Just don't confuse it for candy ribbon and eat it raw!
Sea snails
The chef has created a vegetarian pasta that looks like sea snails. It's surprising how the chef manages to combine these colors to make a vegetarian pasta look like an underwater creature. The colors are vibrant, and it looks like an interesting dish.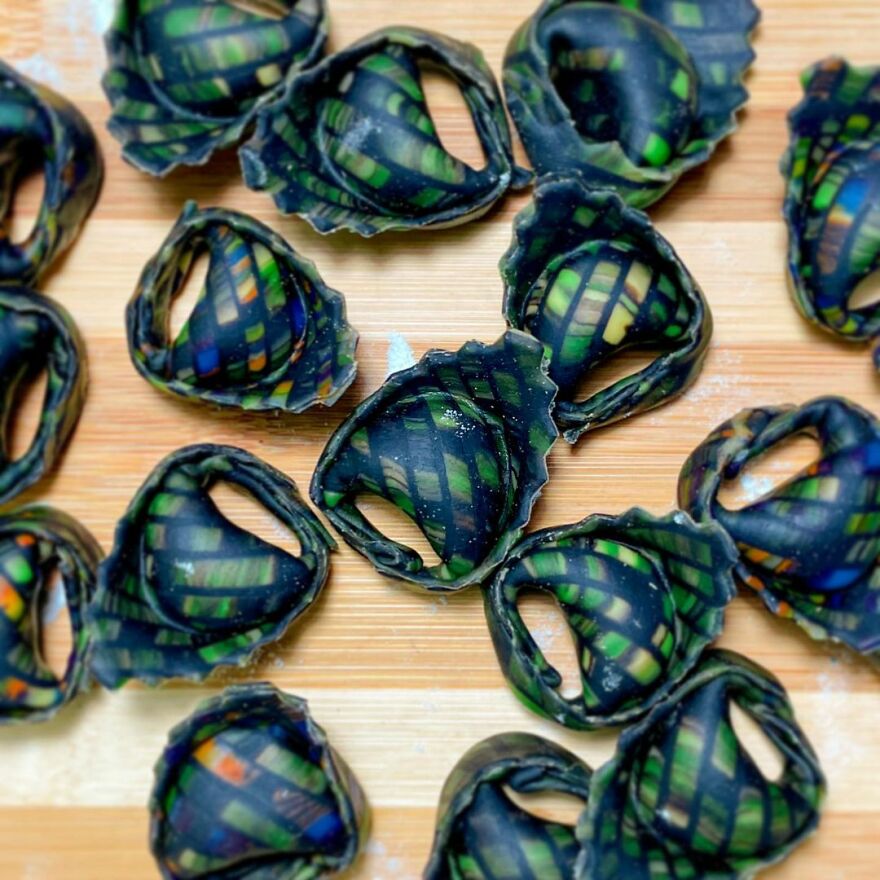 In case you are trying to be vegan, this pasta may help you stick to your diet while giving you a false illusion of eating seafood. Nevertheless, the taste will surely be unforgettable once you put the pasta in the delicious sauce of your choice. 
Reese's cup
This pasta looks like Reese's cup that is usually filled with chocolate and peanut butter. It is an all-time favorite snack for many as it has a smooth texture and delicious taste. You might find the snack flying off the shelves during Halloween time.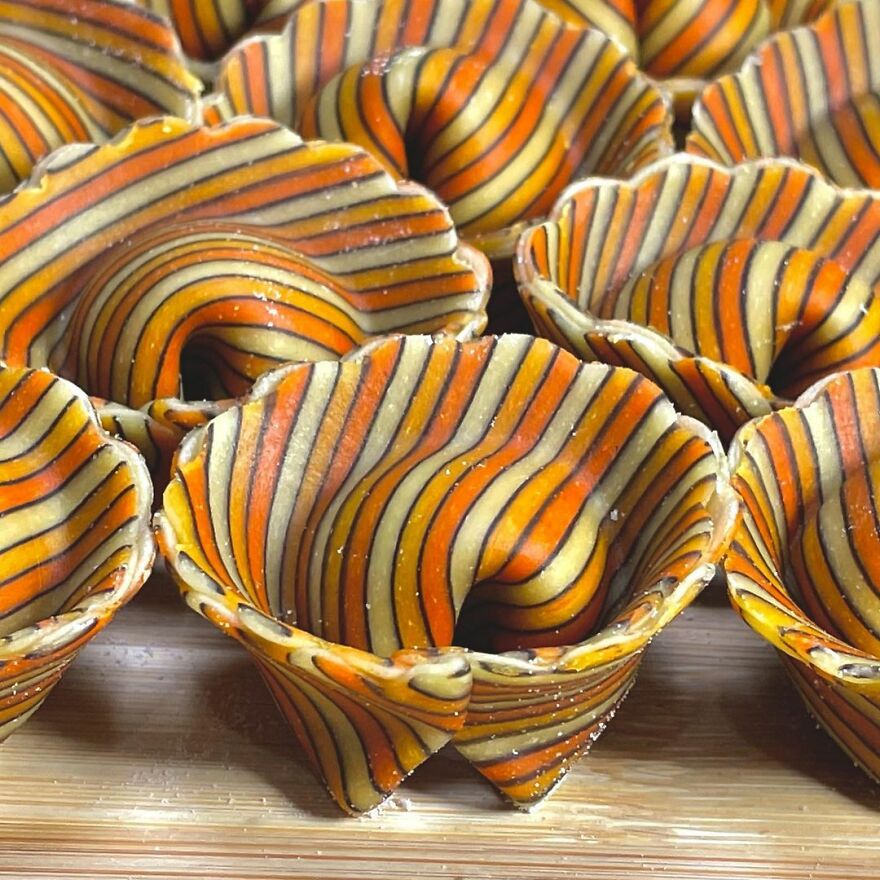 Maybe the chef felt inspired by the design of this sweet treat and created a similar pasta. As he is more inspired by artwork and natural things around him, it is safe to say that the pasta will taste good with the cheese and other savory fillings.
Not your average gift wrap
If you look at the whole pasta sheet, you may think it's gift wrapping paper that everyone uses during the holiday season. But it is a completely edible pasta sheet that can be turned into different shapes of pasta.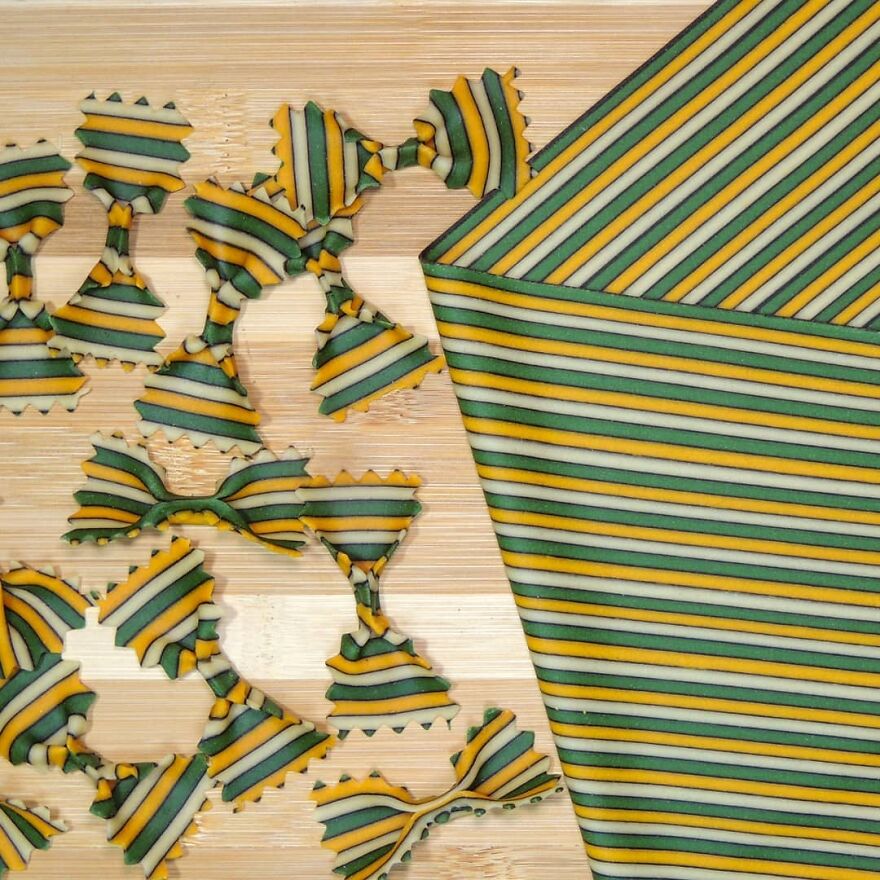 The festive combination of yellow, white, and green makes it look like a pie decoration or something you might decorate a cake with. Anyone who isn't familiar with fancy-looking pasta will think the same. It is pure perfection.
Colorful meal prep
This pasta is so shiny that it almost looks unreal. Even after four decades of practicing the pasta-making craft, other chefs claim that they can not accomplish this much with their skill set. All this work requires more than just skill.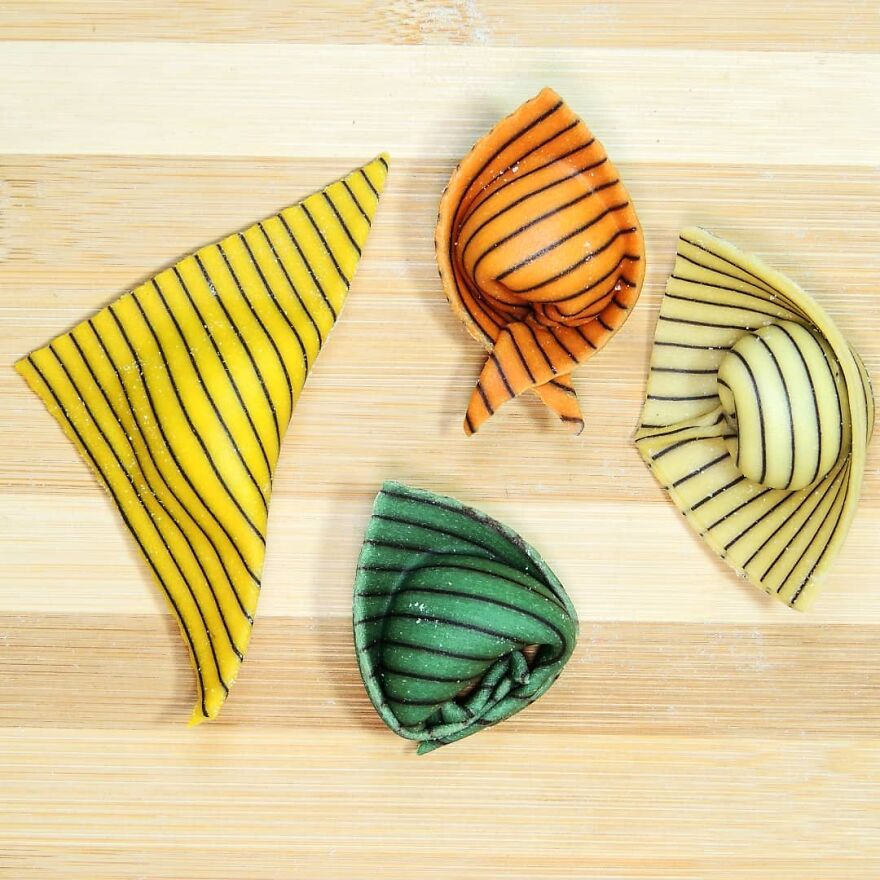 Chef David has been able to create such designs with careful study of ingredients, textures, and patience. This pasta will turn a boring meal into a bright and colorful one in seconds. There is no denying that. The different shapes and colors will give you many choices.
Thin mints
Do you remember the thin mints that are usually offered as a refreshment after dinner? Consider having them for dinner minus the minty flavor. This next shape looks just like those mints as the pasta is in bite-size pieces.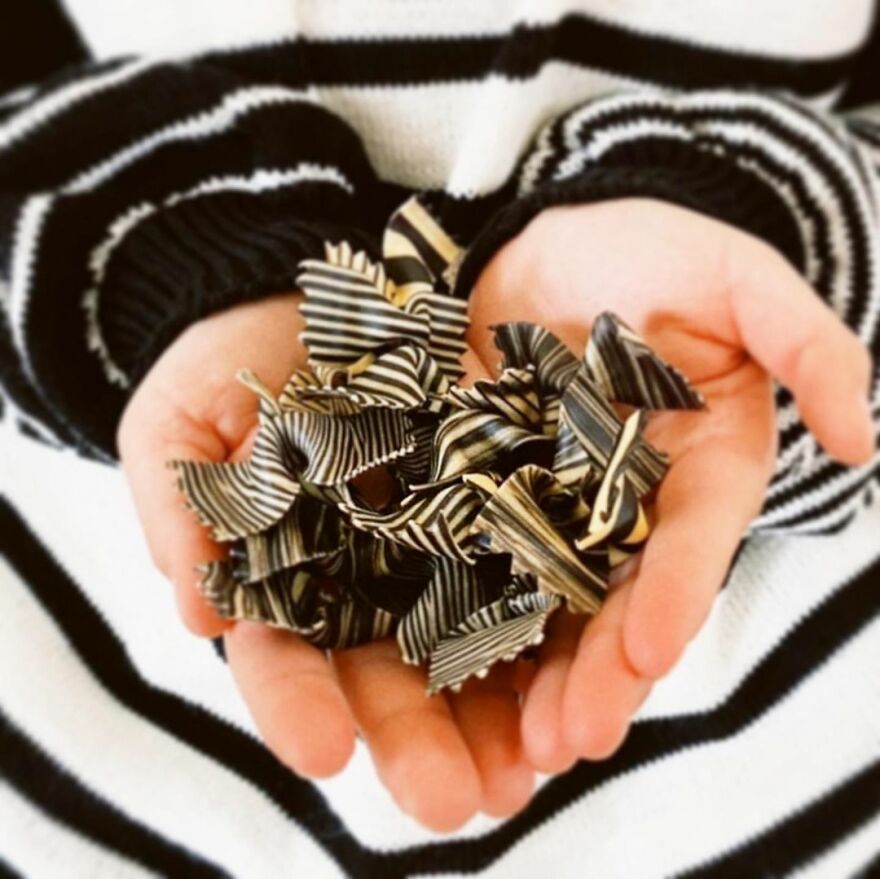 The brown and white combination will go great with green vegetables in a pasta salad, or you may add this as a carbohydrate source to your vegetable soup. There is more than just one way to relish these beauties.
Double delight
This one may look like two orange slices kept together, and the peel is surrounding them. Or, it also looks like two split peas inside the pasta dough frame. This is the most unique shape on the list we've seen so far.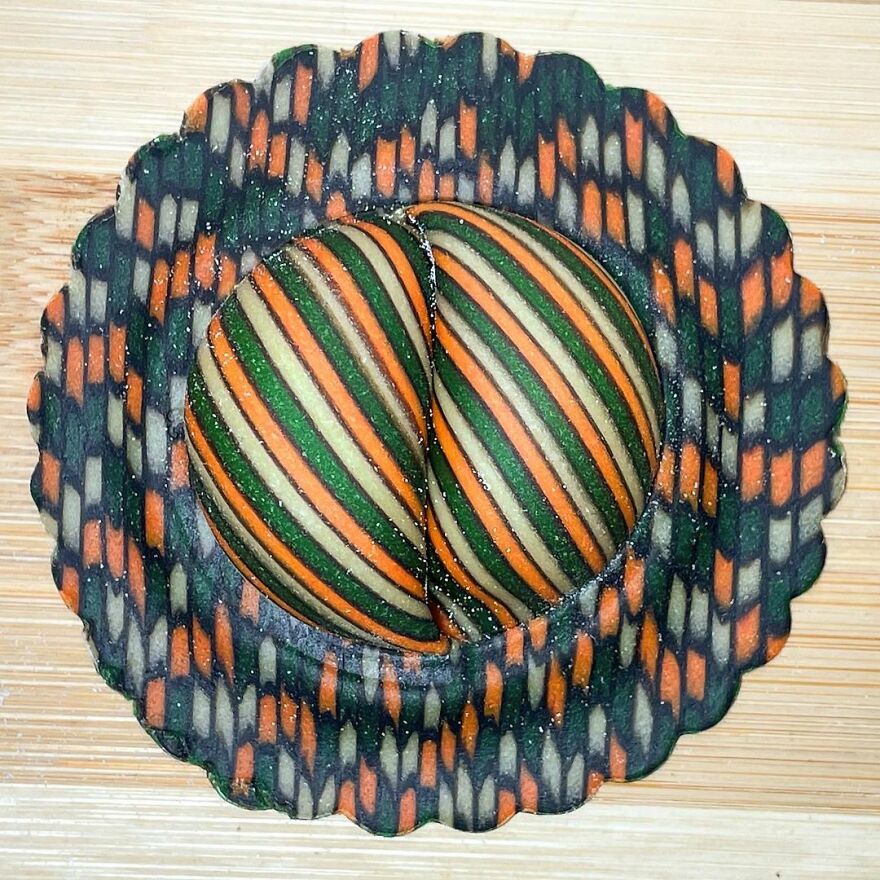 The chef chose shades such as orange, green, and white to create this fascinating pasta design. There are various patterns; however, it all blends in well. Also, it appears filling and large in size, so the serving can be adjusted.
Tropical platter
This is something they may serve at a beachy restaurant in the summertime to add to the tropical vibes. The pattern in this pasta design is a bit more relaxed and follows fewer straight lines in the dough than we've seen before.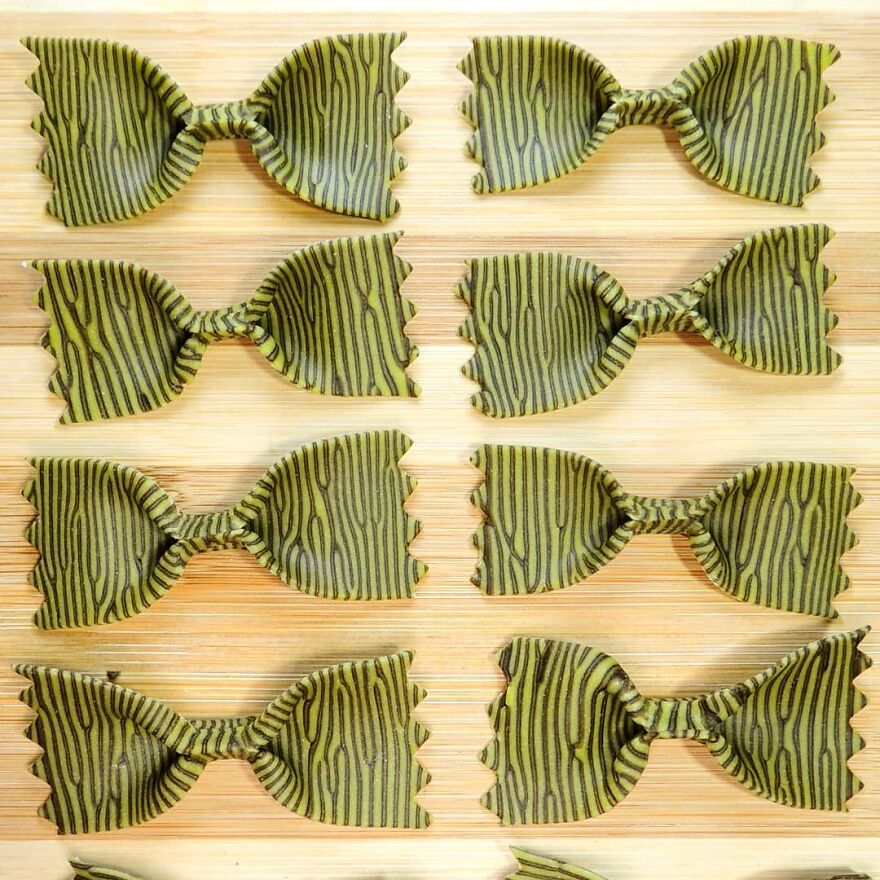 Besides, the yellow base with brown lines will make you expect some sweet and sour taste from the dough. Serving this beautiful pasta will eliminate the need to decorate the plate with other elements. And before eating, you may just find yourself staring at it for a while.
Chocolate glazed lime
Desserts come in various flavors to keep your tastebuds on a roll. Using lemon, cream, and chocolate is a sure way to make the perfect dessert. We are convinced to say that a dessert inspired this next pasta design.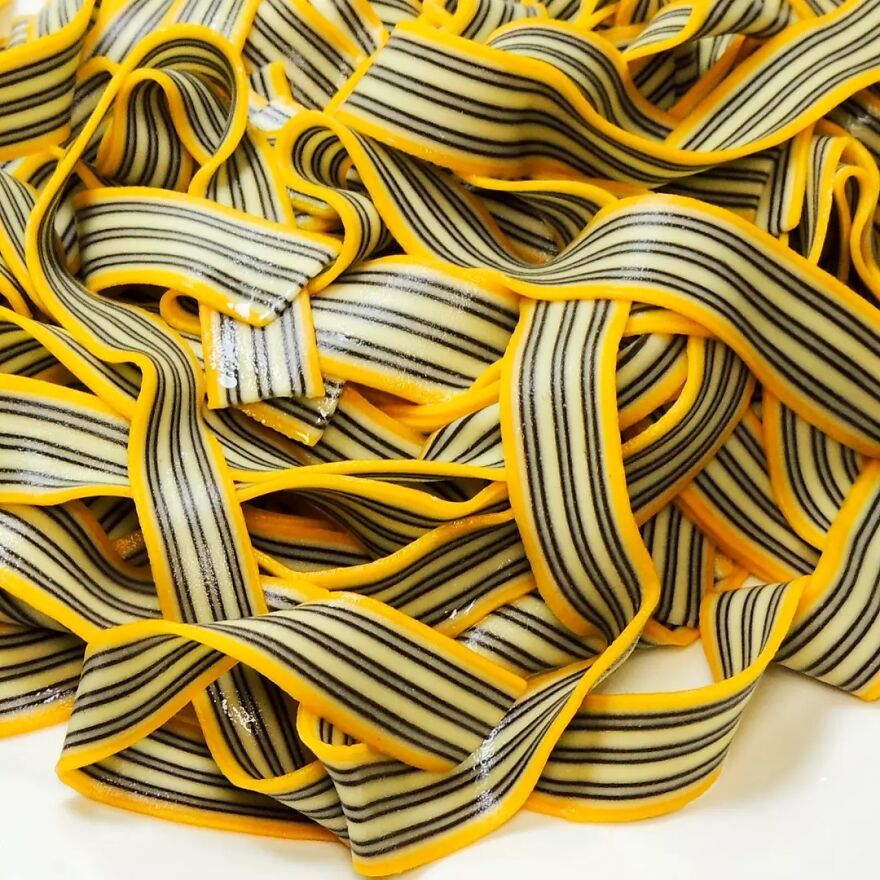 The base of the pasta dough is lemon yellow with bright yellow outlines. This is surrounding three pairs of parallel black lines. The intricacy of the design is unimaginable to create in one attempt. Chef David is genuinely gifted with skilled hands.
Fruit rolls
Everyone likes fruit salad with a creamy honey dressing. The selection of different fruits makes it colorful and delicious. This is precisely what this pasta design looks like. It compromises nine different colors carefully stacked together, and it looks like a treat.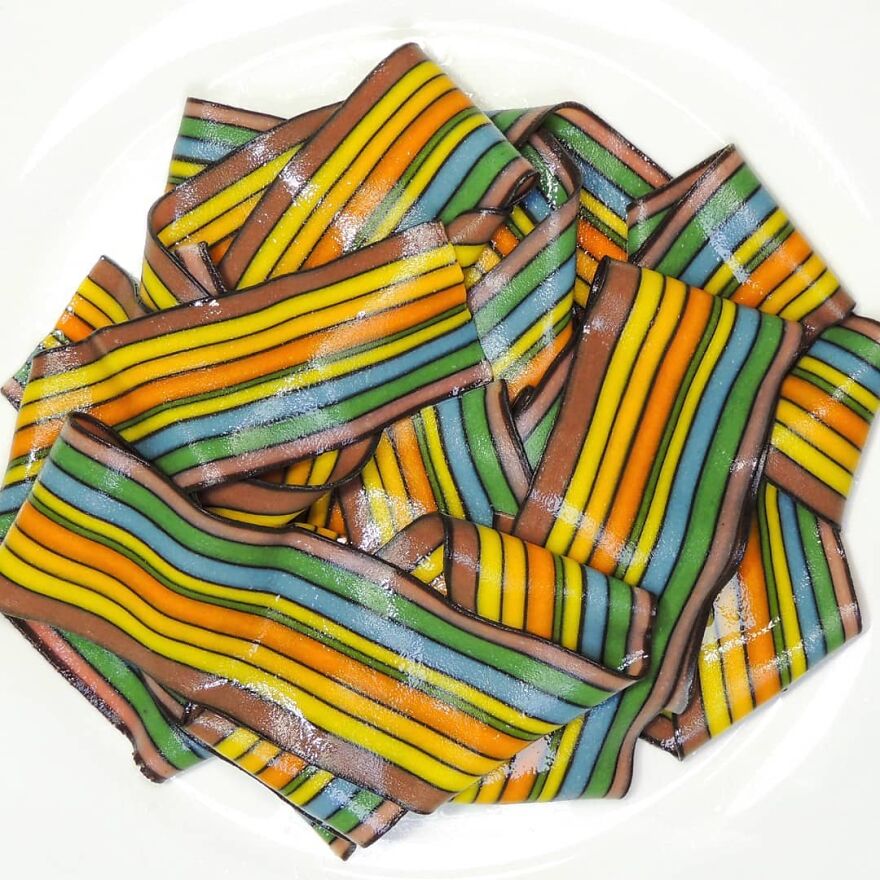 And you may expect each colored layer to taste differently like a fruit. It just looks that convincing on the plate. Also, the shine on the pasta will have you wondering if you can just taste it raw one time.
Edible tangerine ribbons
The placement of this pasta in rolls is exciting as it displays its double-faced features. The colors used on both sides are similar, but the pattern is the same. Moreover, the small details on the edges are cut perfectly.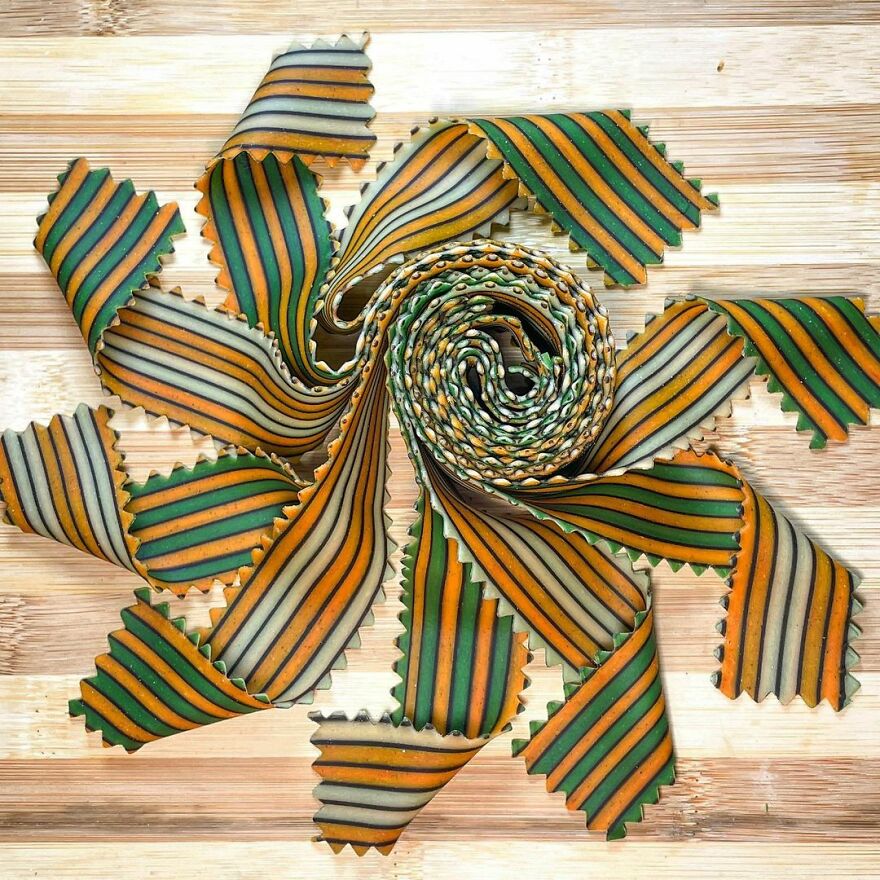 Who knew you could store pasta in such perfect rolls without the fear of breaking it. It looks like a decoration in the kitchen and a hit on the plate with so many colors to break away from the boring pattern of white or brown pasta.
Multicolor candy canes
The shape and pattern of this design are a bit debatable. To us, it looks like candy canes and small snakes. To keep it edible for most people, we can stick to candy canes, but in shades of orange, black, yellow, and red.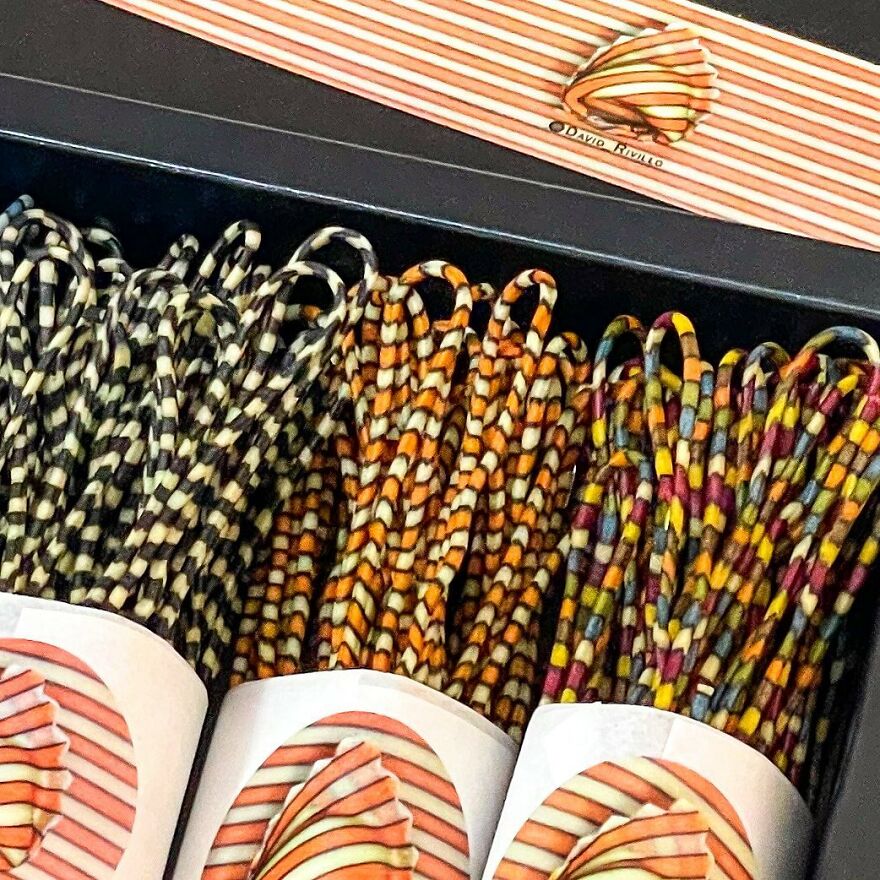 Instead of the boring spaghetti and meatballs for dinner, you can dig into these long candy canes instead. The twisted strips have an overall uniform color that definitely makes a showstopper of a meal. We need to get our hands on some!
Is he holding a butterfly?
At first, you may wonder if the chef is holding a brown butterfly called Satyrs for some pasta inspiration. He has also mimicked the butterfly wings in beautiful shades of brown and orange. This may be one of the most beautiful designs we've seen so far.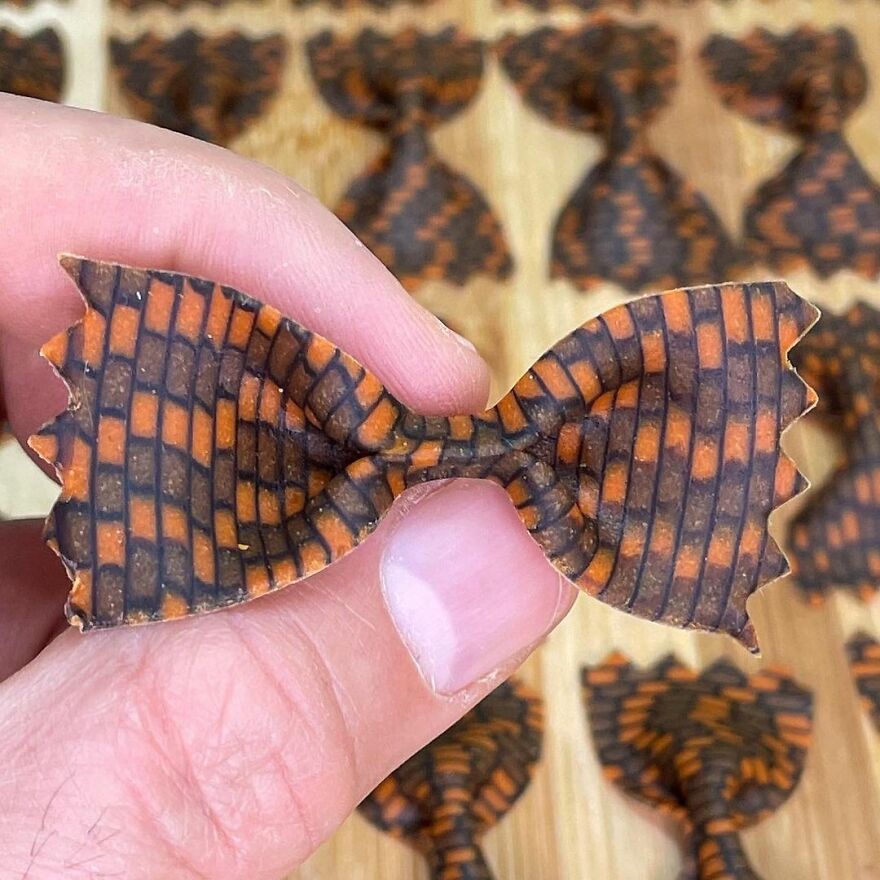 Each color block of brown and orange has a black outline distinguishing it and preventing the different colors from mixing together. It may feel like a sin to bite into this pasta with such a brilliantly executed design. You may just look at it from afar.
Rainbow wonder on your plate
Chef David studied different natural food coloring to make his pasta stand out with such unique designs. He credits his research skills and chemistry knowledge in being successful in making such delightful pasta, such as this colorful rainbow one.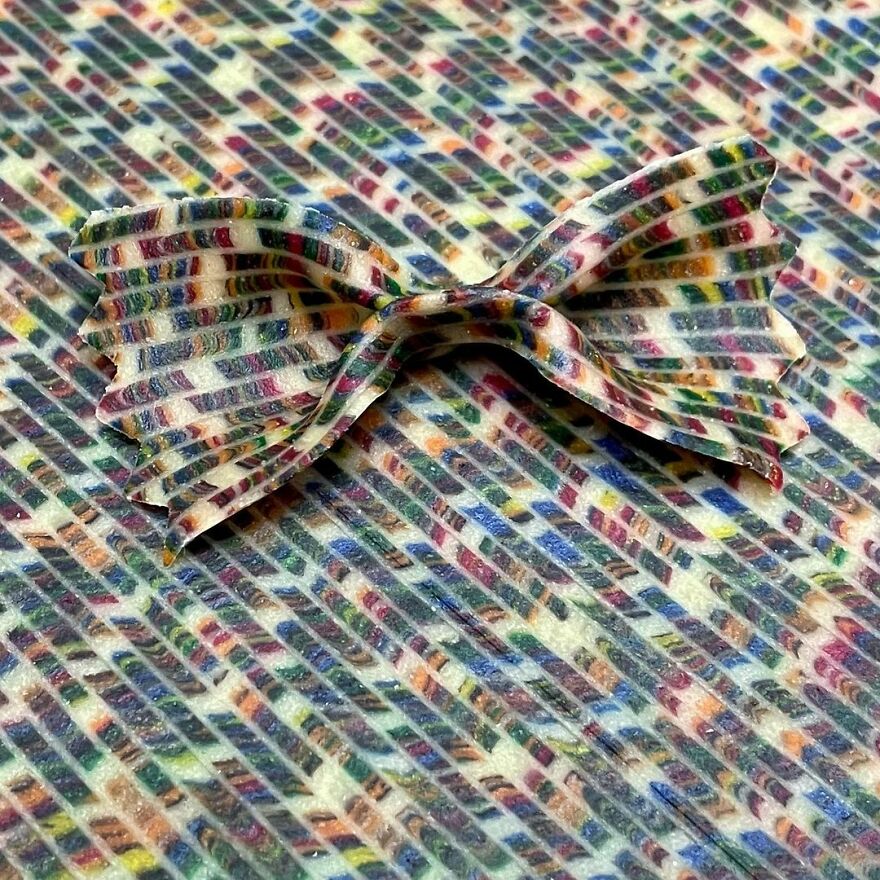 You can see how he created the basic structure of the pasta with a white base and different colors. Then, he molded the pasta into a bow shape, which is commonly known as Farfalle. This is a baffling color combination along with the design.
Pineapple candy pasta
David Rivillo says that a lot of his food is inspired by nature, architecture, textile, fashion, and artwork. This design looks like it is inspired by pineapples and candies. The color combination of yellow and green looks so delicious.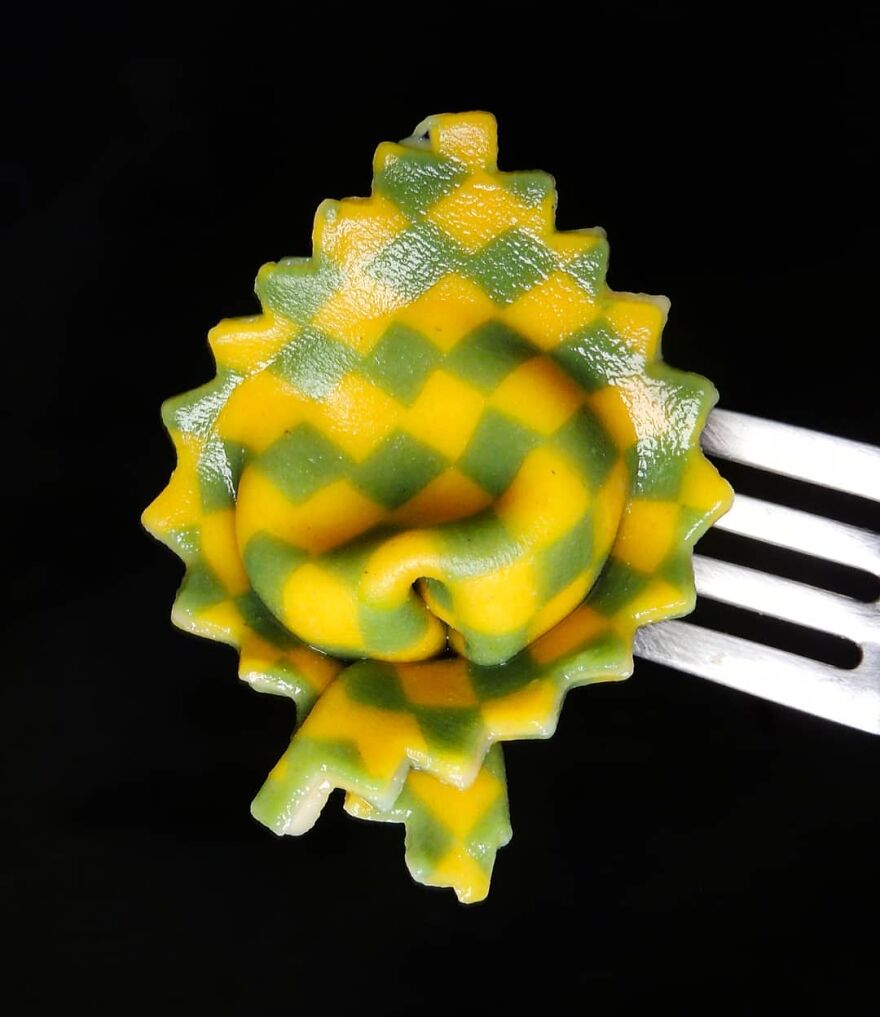 David was able to create all these designs during the pandemic lockdown. It looks interesting with the shape that resembles a beautifully wrapped artisanal candy in pineapple flavor. You will surely enjoy eating this pasta with such an interesting design choice.
Is it a bow
At first, you may get confused while looking at this pasta. It is bright green with white lines. And, it has an uncanny resemblance to a bow that you may use for gift wrapping. There's also some grainy texture going on here.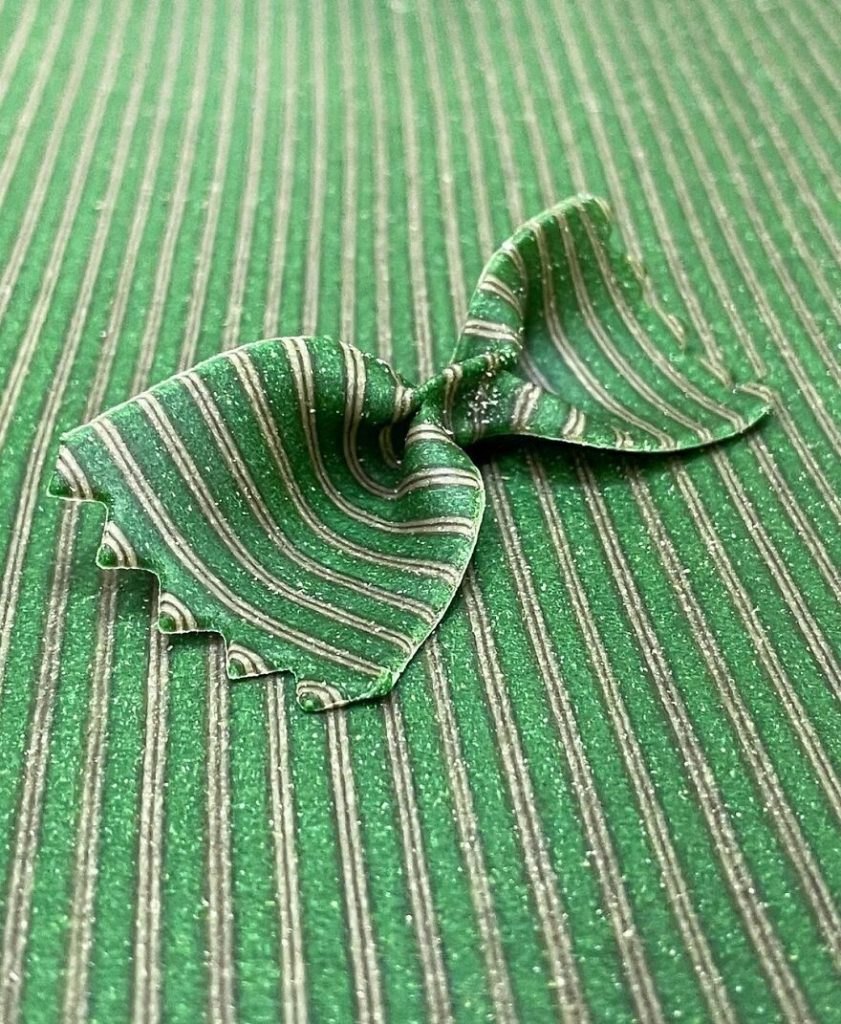 Moreover, this grainy texture makes the bow-shaped pasta look like it has glitter on it. After you're done admiring the pasta, we're sure you'll like to dig into a huge plate with some wine to go with it on the side.
Butterscotch candies
This pasta dough looks like the chef's favorite go-to if he wants to experiment with new shapes. The various shapes show how beautiful the pattern is and can be assembled in any way. The bite-sized design with candy colors looks delightful, to say the least.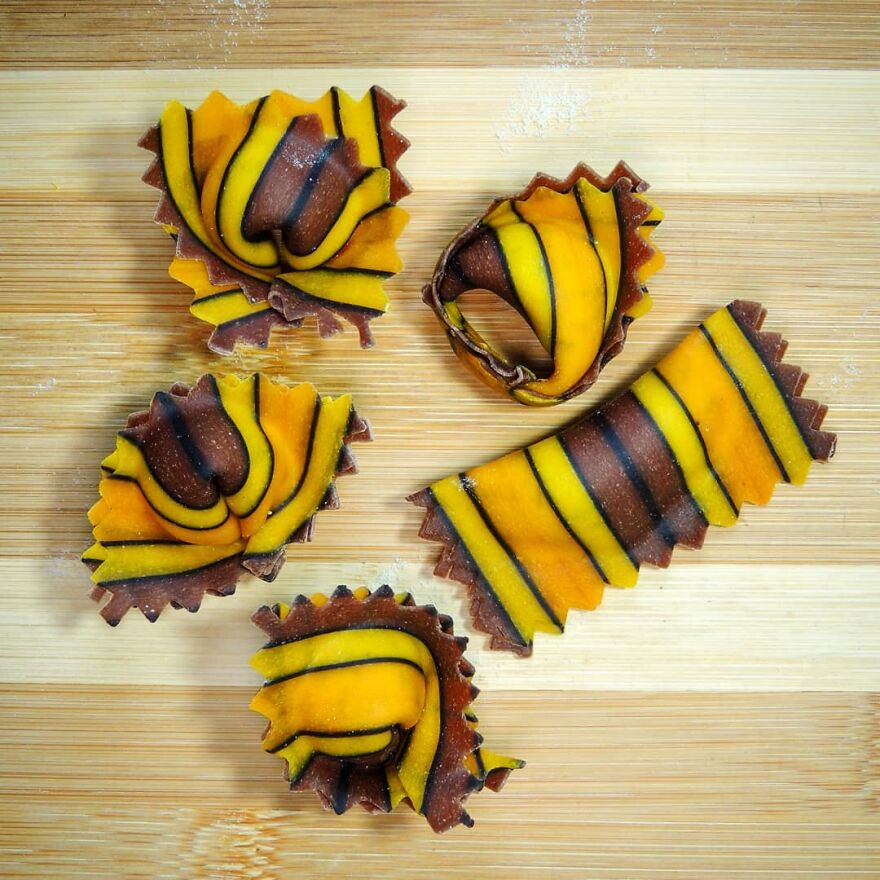 Each shape is brilliantly made with yellow-shaped dough and black lines to distinguish the different shades of color. Some of the shapes are so specific that it is hard to tell where they begin or end. Besides, the colors create a distinctive look.
Rainbow ravioli
This next design looks nothing like pasta. You may see a similarity in this picture with a famous candy game. However, this is undoubtedly edible ravioli pasta that not only looks good but also tastes heavenly with the homemade filling.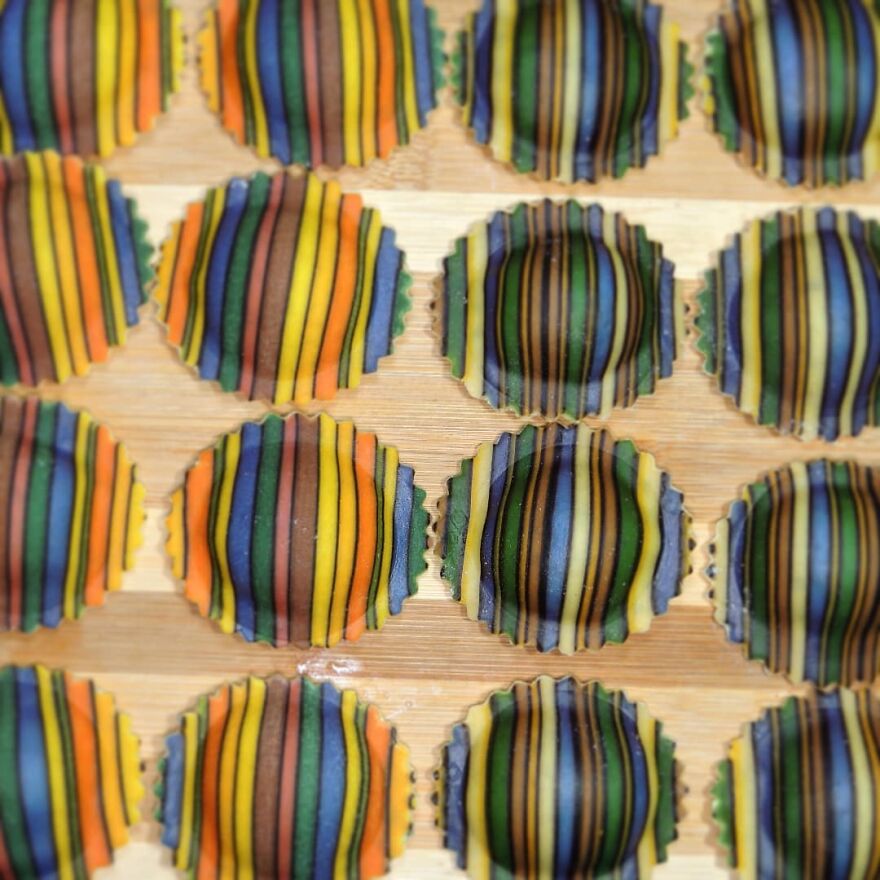 It is interesting to see how each piece is unique with the color combination, yet the design is clear cut. The chef must have very steady hands to mold each one to perfection. Not a single cut is out of place.
Cookies and candies
Do you like cookies, cream, and candies? This pasta may become one of your favorites among these unique pasta designs. Laying flat on the plate, this pasta may straight up look like freshly baked cookies. They are so beautiful!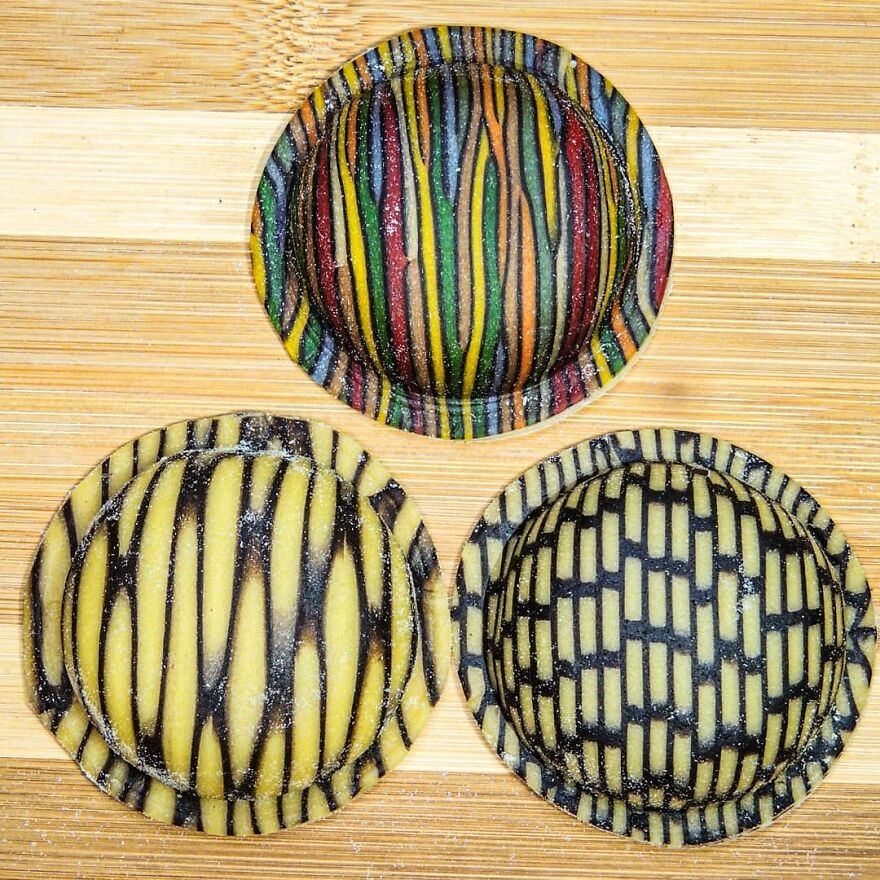 The chef is able to create this illusion using brown and off-white colors. At the same time, he has also added rainbow shades to the third one. The patterns are multiple striations and lines across the pasta dough, and we would love to take a bit out of them.
Black aesthetic magic
Look at the beautiful farfalle pasta that uses black as the predominant color combined with orange, yellow, and shades of purple. Typically, no one will imagine their pasta to be so magical looking and taste divine with the right amount of sauces.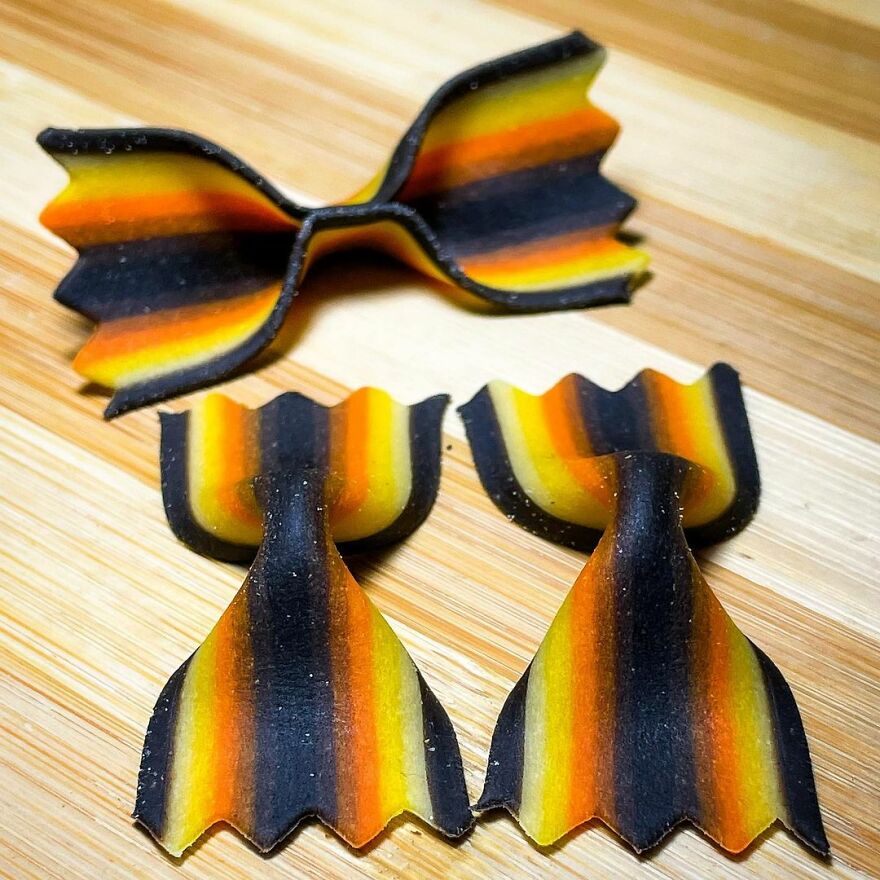 One can definitely use this black pasta for their Halloween party to add a spooky element to their night. Your guests will honestly remember and rave about your party after experiencing this one-of-a-kind food item. This would look exceptional in a creamy sauce.
Unreal carpet roll
This pasta roll may surprise you the most with its design. It has a two-way design, and it's folded like a carpet. It looks like a designer intricately stitched it together with multiple threads. It has horizontal stripes on one side and vertical stripes on another.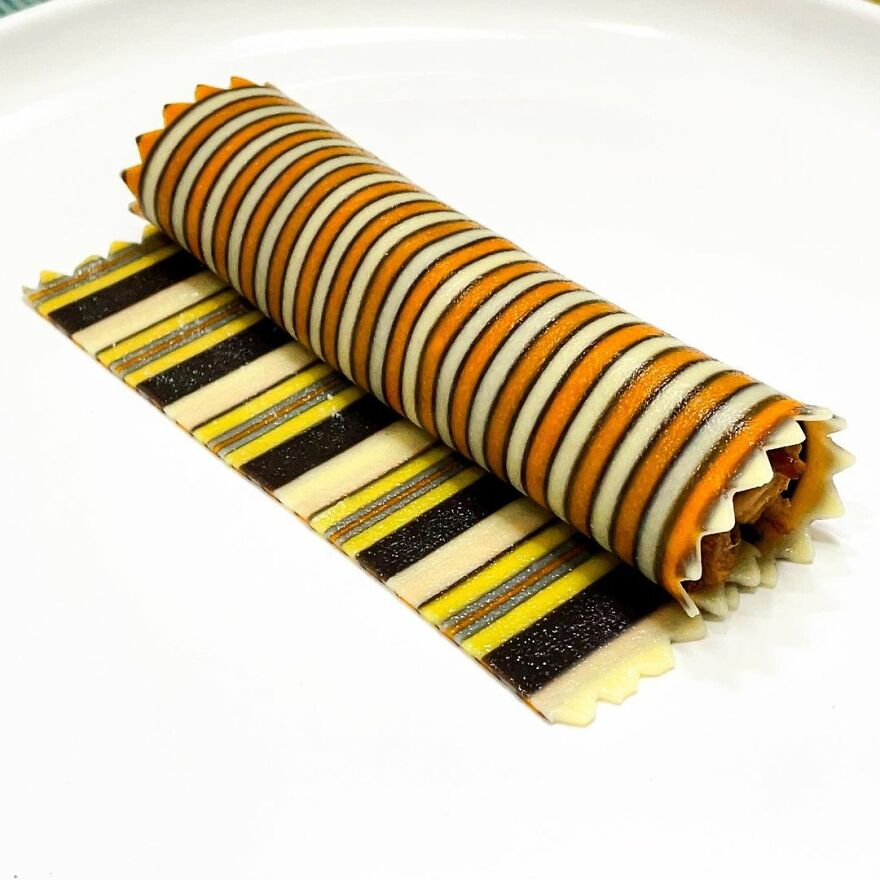 The most incredible thing about this unique pasta design is that all the lines are straight and do not mix into each other. And, it is tough to process pasta that looks so detailed. Many chefs may not be able to accomplish something like this.
Movie reel ribbon
Before the digital camera years, we all used to use cameras with brown movie reels. These reels would capture the moments and then be used to develop the pictures. Well, this pasta ribbon shape looks very similar to that.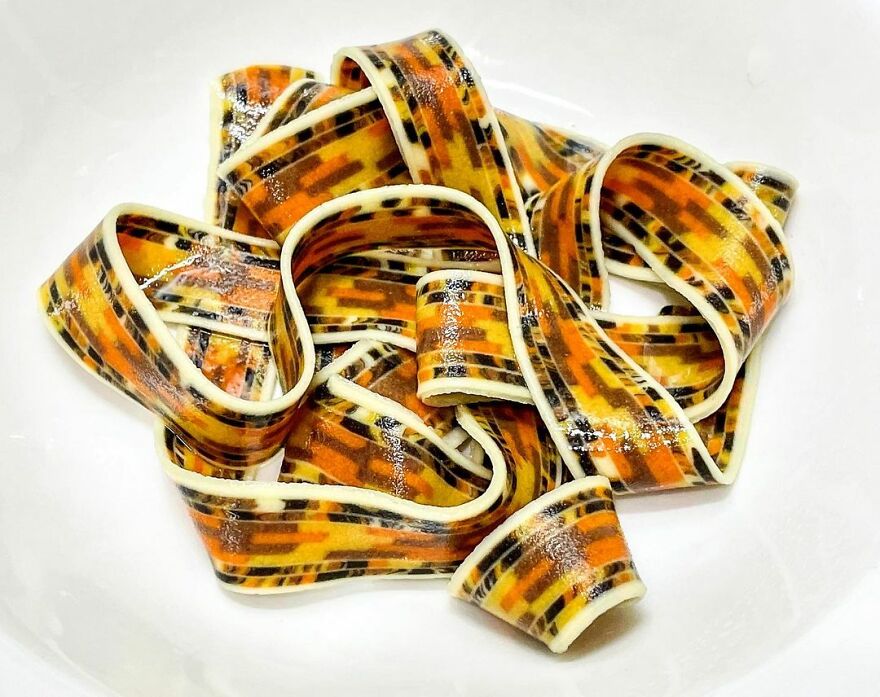 The pasta has the same color combination as a photo and video reel. Looking at this and eating it may make you feel nostalgic. This proves how much the chef was inspired objects anything else that inspired him to create these unique pieces of art!