45 Mouth-Watering Food Photos That Made Our Taste Buds Tingle
By Farah J January 22, 2023
---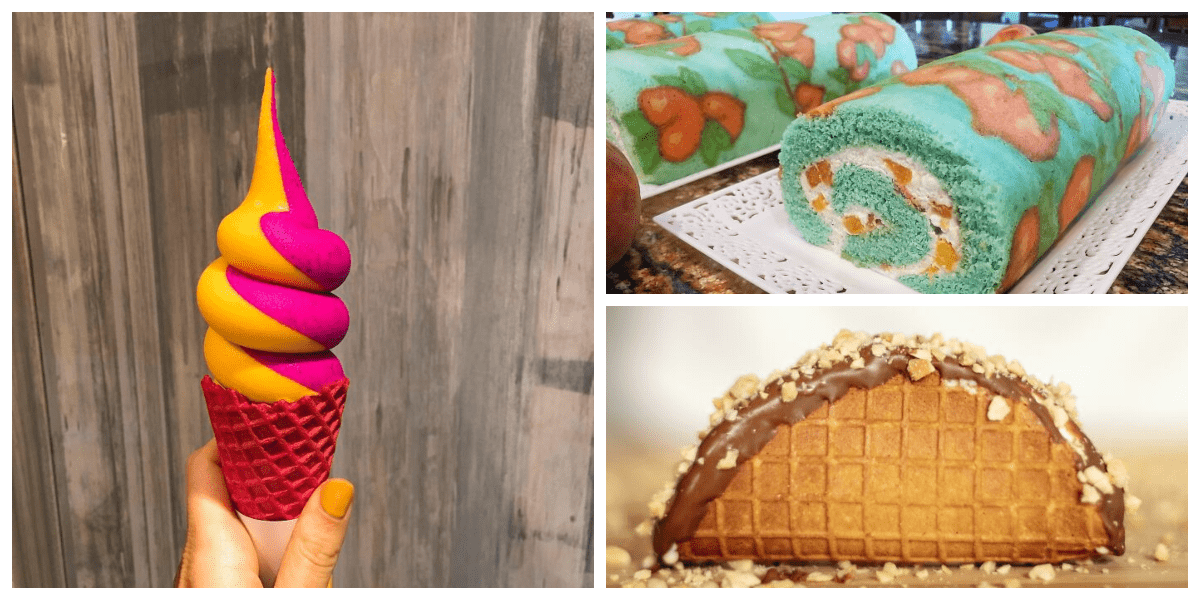 How the food looks on a plate changes the whole game, and even the non-foodies would agree to that. When a server is bringing your dish to your table, all it takes is one look at the plate in their hands, and you will feel your appetite adjust itself.
You either get cringed out and feel the urge to run away from the dish in front of you, or your appetite gets doubled in size, and you feel your mouth water at the sight of it. It's all about the food aesthetics – why do you think fancy five-star restaurants charge you so much?
Even if you don't smell or eat the dish yourself, juicy pictures of scrumptious foods are enough to keep you daydreaming about them for hours. So, a bunch of thoughtful people on the internet shared their aesthetically pleasing food experiences that are damn near perfect.
But beware: some of these photos will make you drool, so get your bib ready!
Puff pastry
Puff pastries have been the family snacks for decades, and there is no sign of them going untrendy any time soon. Pastries of every kind of shape and size have maintained their place in our hearts ever since they were invented.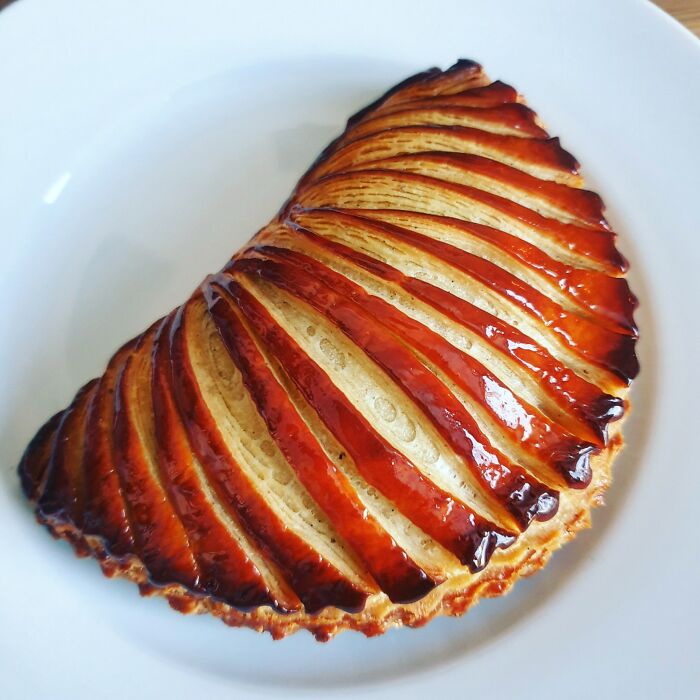 We mean, look at this scrumptious puff pastry apple turnover – more like apple "lick-over," if you ask us! Only the picture of this apple-glazed puff pastry is enough to make us drool on our phones. Heavens, bless the creator of this delight!
Straight from the magic gardens
It is such a beautiful sight in our minds when we imagine living a cottagecore life. It must be incredible having fruity and flowery gardens where we can pick fresh fruit every morning, make different recipes and enjoy the heavenly breeze running through us as we sit there and eat.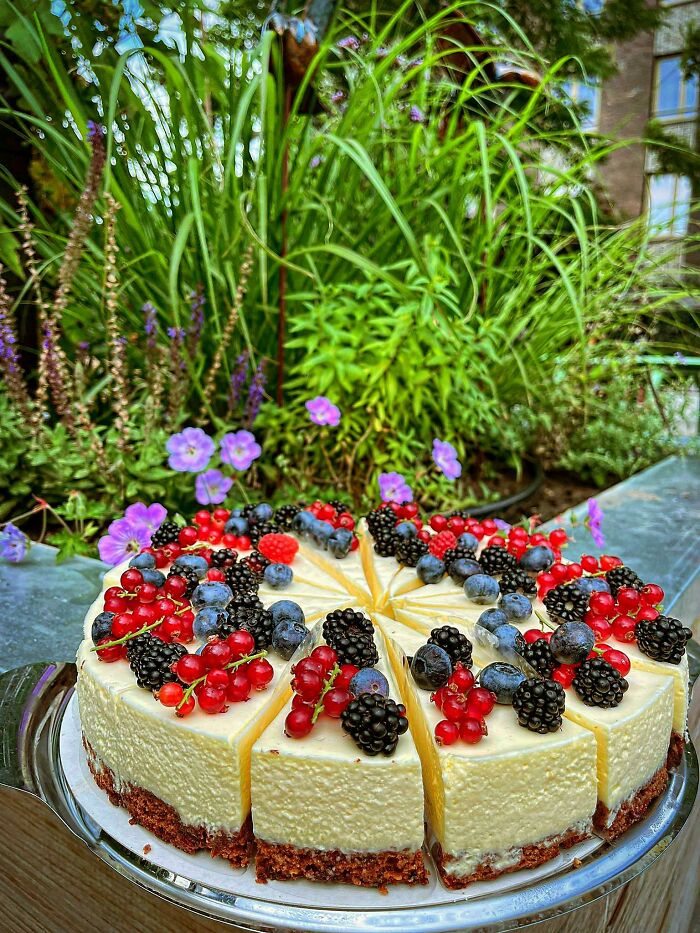 This person is truly living the life that we all dream of. They had so much fresh fruit that they made a heavenly brownie-white chocolate mousse pie and topped it with various kinds of fresh, juicy fruits. Truly an angelic sight!
Apple of our eyes
Apple pies are grandma's special in every household. No one can bake apple pies like our parents or their parents. They simply rock at pies, especially apple pies. We cannot get enough of them. But how about eating an apple pie trifle?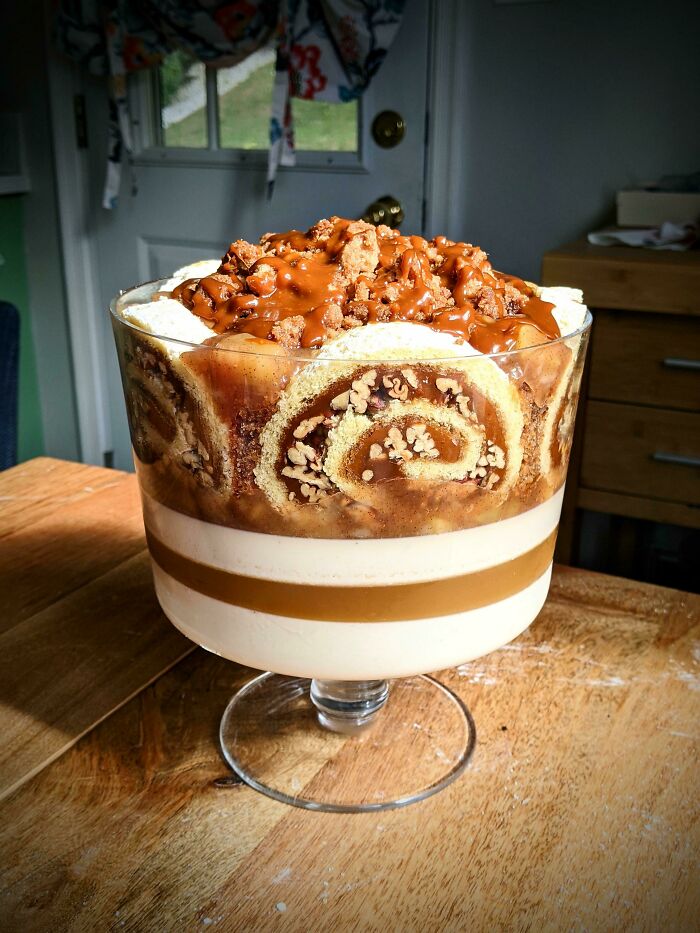 We don't know how we would have felt about this recipe if this person did not give us this mouth-watering view of an apple pie trifle. Well, it just became the actual apple of our eyes! We just know this beauty tastes heavenly.
Potato bliss
We believe that we all can agree on one thing in the food area: potatoes are the best in any shape, form, texture, size, and savor. Potatoes are universal food items; whether they are boiled, baked, grilled, or cooked, we are here for potato recipes.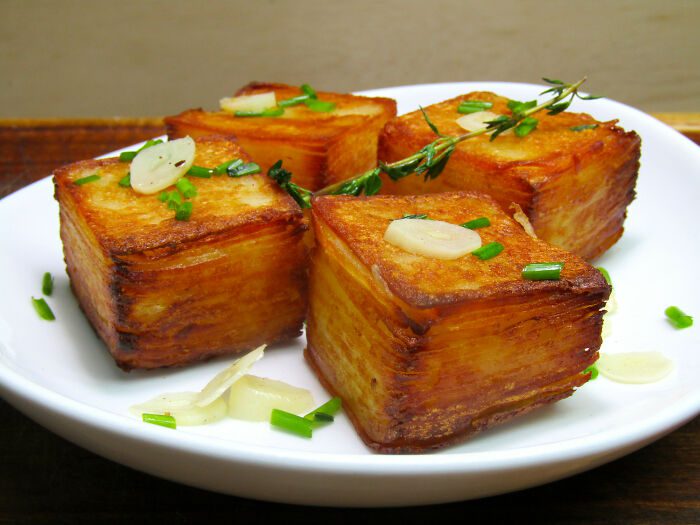 Forget about french fries for a second here, and look at this potato bliss! Potato paves – rectangular-shaped baked potatoes, sided with creamy sauces – are something you don't want to miss out on. We can taste this potato goodness through the screen!
Ratatouille
Yes, this is the same dish that Remi, the cooking mouse, made in the animated movie "Ratatouille." We all know how this single movie made so many foodies get inspired and motivated enough to cook this French dish at home.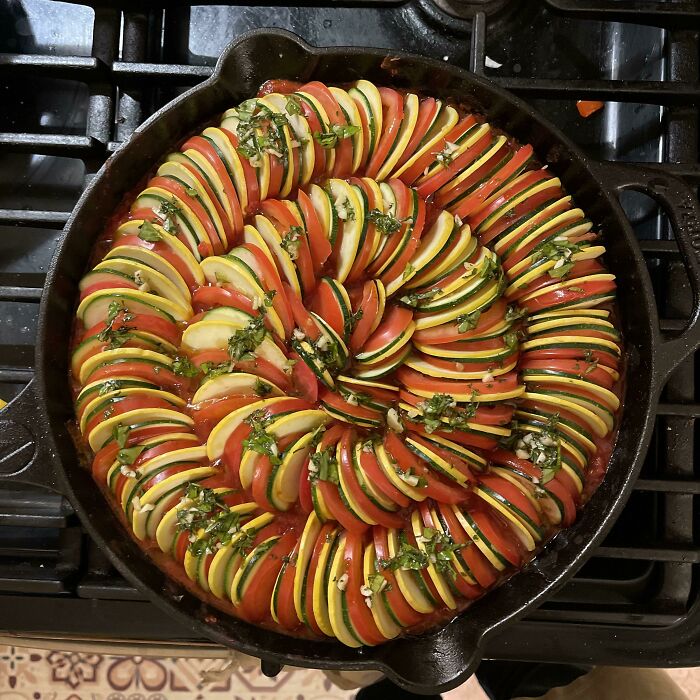 This person is one of those inspired chefs who got up from their couch to see if the movie was right about ratatouille! And they did a marvelous job at replicating the delectable dish of tomatoes and eggplants. Anton Ego would be proud.
Yin and yang bread
We love it when people try to decorate their food to make them seem more aesthetic and mouth-watering. They always manage to turn them from dull and monotonous to appealing and finger-licking blissful. Additional decor simply takes the usual food from one to ten immediately.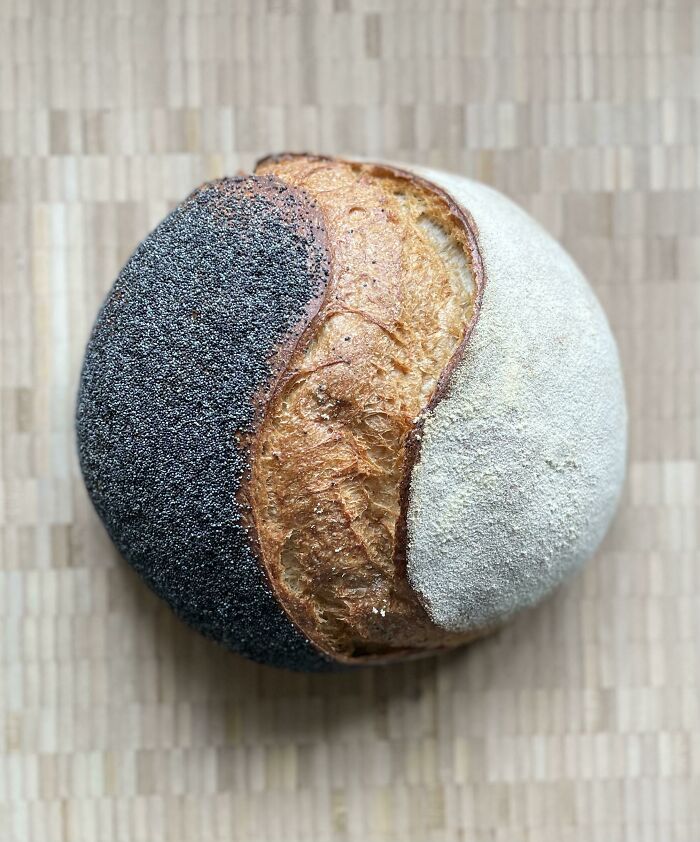 For example, look at this simply gorgeous Poppy Semolina bread. When the baked bread comes out of the oven, its warm, puffy look is, let's say, a seven. Adding yin and yang art on top? Raise the number to ten, please!
Perfect cut
One thing that evokes a loud sigh from most foodies is the satisfying pictures and videos of perfect food. For example, when you flip an evenly golden pancake or when you cut a perfect piece of cake. Even non-foodies love those kinds of videos.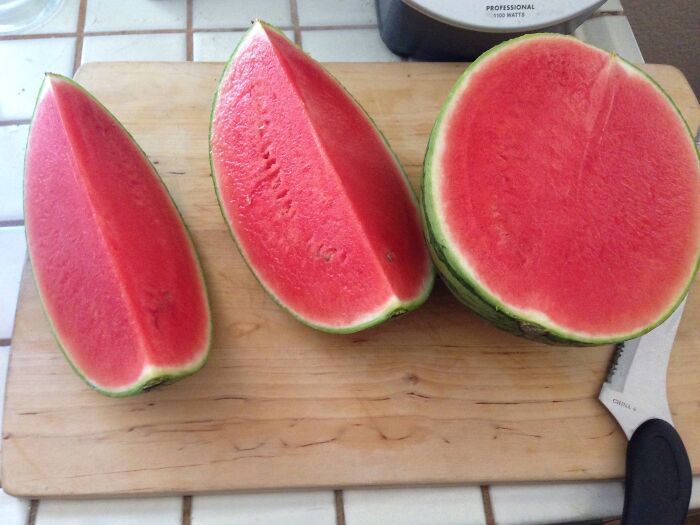 Similarly, this person shared their "perfect food cut" experience with the online world, and let's just say that we are glad that he did it. This watermelon is so cleanly cut in half, and even its insides are insanely flawless and slick!
Simp for dumplings
Dumplings are among the most common East Asian food items. They are eaten so often out there that now they have come up with hundreds of different styles and recipes. And the experience of watching dumplings get made is satisfying and appealing.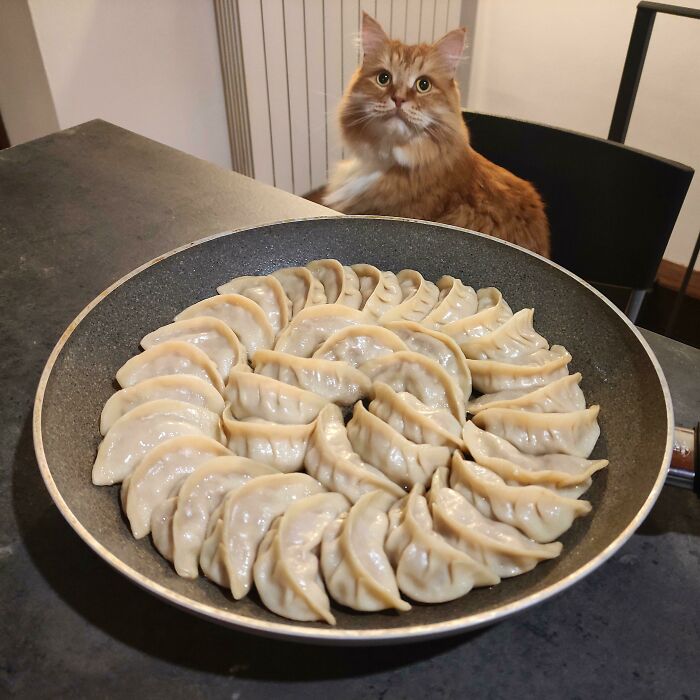 This person made little dumplings called Jiao Zi, a Chinese dumpling recipe filled with ground pork and other ingredients. This is the picture they took before they fried the dumplings. Look how satisfying the arrangement is! We felt hungry just by looking at them.
Homemade salted sweetness
Cheesecake comes in many flavors and forms with a huge variety of toppings and glazing. There are so many options that it is hard to keep count of all of them. Wherever we go, we are met with a new, delicious cheesecake with topping ideas that leave us awe-struck!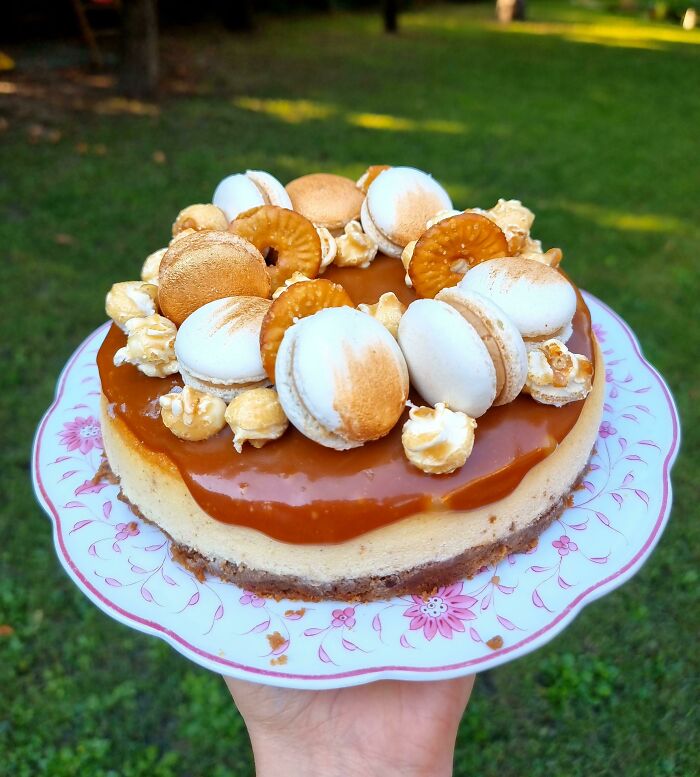 For example, take a look at this homemade salted caramel cheesecake with rich glazing of caramel topped with the ever-tasty macarons! We have seen and tasted several cheesecakes, but this one takes the trophy for being the most aesthetically pleasing.
Hot ribeye
We all have those memorable times when we are casually cooking a piece of meat, and when we flip the thing, the view couldn't be any more flawless. The perfect golden color and the crunchy, crispy texture create a proud core memory in our heads.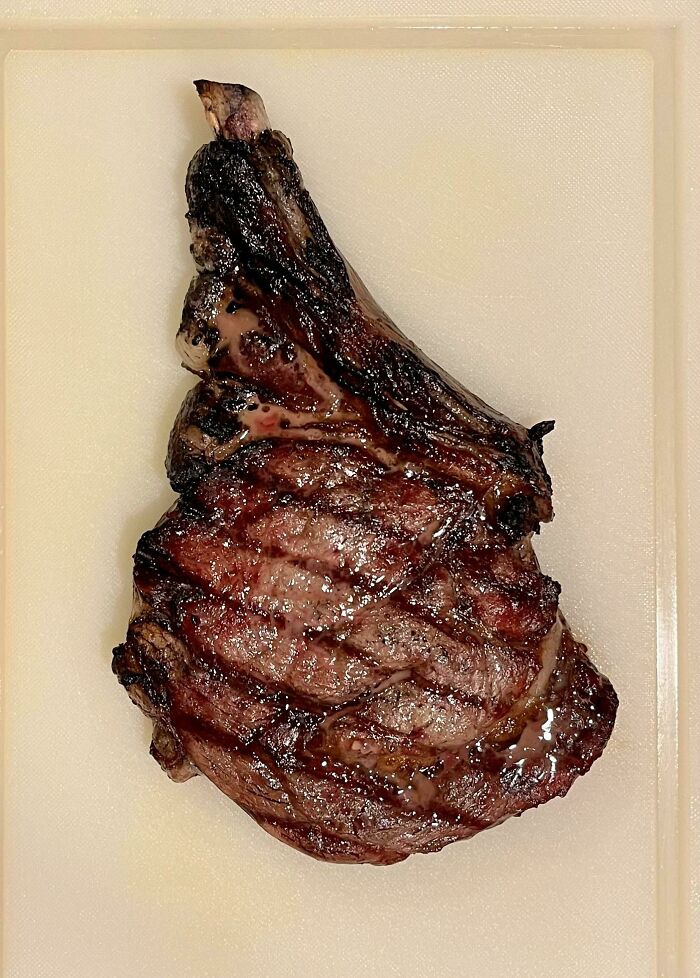 Good thing this person captured their sizzling hot core memory in a picture. They made an immaculate medium rare ribeye steak. It's so thoughtful of them to share this mouth-watering view with us while we chew on our cereals straight from the box!
Evolution of Taco
Nothing can replace the original taco recipe, and we all can agree on that. However, we wouldn't mind trying out an ice cream dessert in the form of a taco. We'd love to have a taco dessert after eating a spicy, cheesy taco!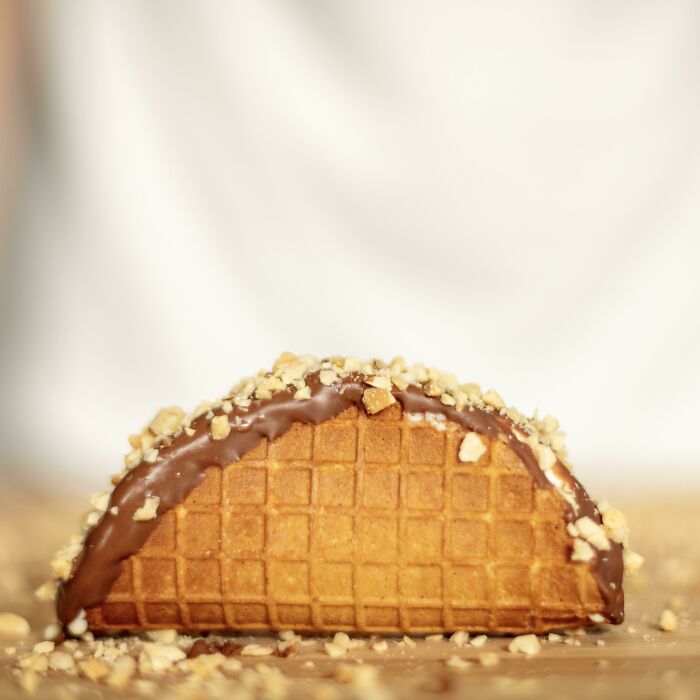 So, this person tried making a recipe an American company launched: Choco Taco! The sweet fillings of peanut butter, vanilla ice cream, chocolate fudge, melted chocolate coating, and peanuts at the top of the thin waffle taco are a sight for sore eyes!
The Asian Lo Mein
The incredibly tasty Chow Mein Lo Mein noodles are one of the signature dishes served in Asian restaurants globally. They are incredible at making Lo Mein recipes from scratch and siding them with drool-worthy food items. They could take all our money for this beautiful dish.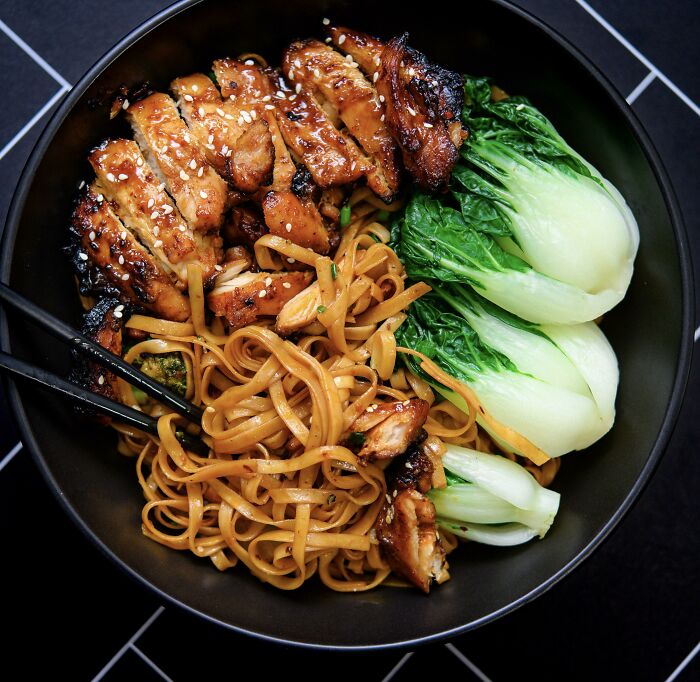 Take a look at this appetizing dish of Asian Barbecue Chicken Lo Mein sided with baby Bok Choy (Chinese cabbage)! These Lo Mein egg noodles are enriched with different kinds of sauces and syrups. And now we need tissues to wipe our salivating mouths!
Little pumpkins
Unsurprisingly, pumpkin dishes and recipes are way more loved globally than eating a pumpkin as a fruit. Well, it figures because pumpkin tastes sort of bland when compared to delicious pumpkin dishes sided with sauces and mashed potatoes. You probably agree with us on that, right?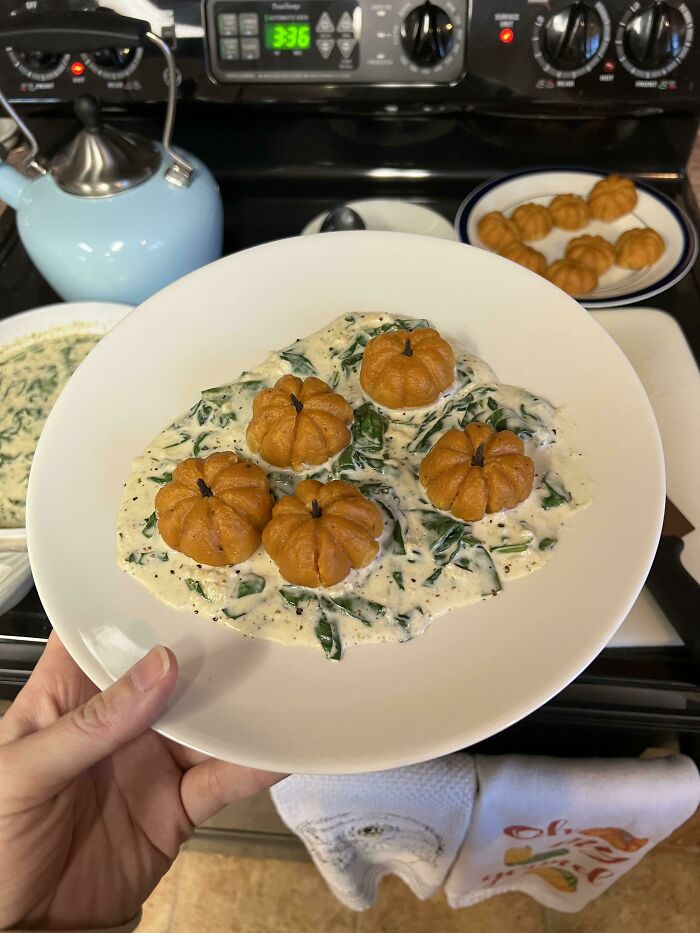 Let's take the famous Italian Pumpkin Gnocchi recipe as an example. This savory pumpkin dish is usually sided with a creamy spinach sauce or sage butter sauce. This person raised the bar of this dish by making adorable mini pumpkins!
Meaty goodness with mashed potatoes
Siding meat with mashed potatoes has been a great combination for decades. As time passed, the recipes evolved, and hundreds of different styles of dishes containing meat and mashed potatoes started to be served in restaurants all over the globe.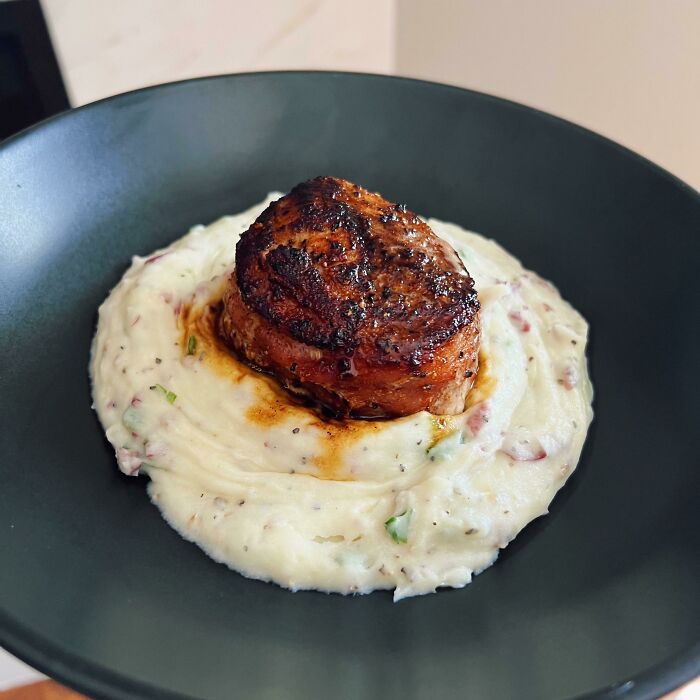 For example, this person cooked bacon-wrapped pork tenderloin medallion with red skin mashed potatoes. The picture does incredible justice to the dish because it is as nutritious and delicious as it seems! Trying this meaty goodness probably feels like a dream.
Handpicked fresh strawberries
Freshly picked garden strawberries taste like heaven. It's so rare to get truly tasty strawberries in the supermarket. Even when they're in season, they often taste bland because sellers usually glaze or inject them with artificial products to make them "look" fresh.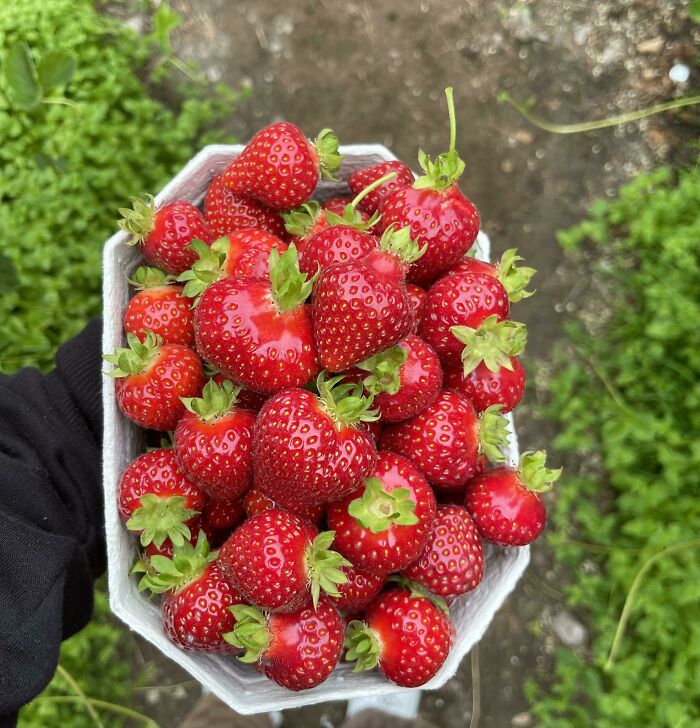 If you want to fill your longing heart with strawberry satisfaction, you should take a look at what this person is holding: fresh strawberries from their garden! A bag of strawberries in the grocery store is no comparison to a basket full of ripe, red strawberries.
The cherry on top
Although pies are insanely common everywhere, not everyone can pull off a perfectly baked fruit pie, especially first-timers. It takes a few tries until you get everything so on point that it leaves you licking your fingers while asking for more.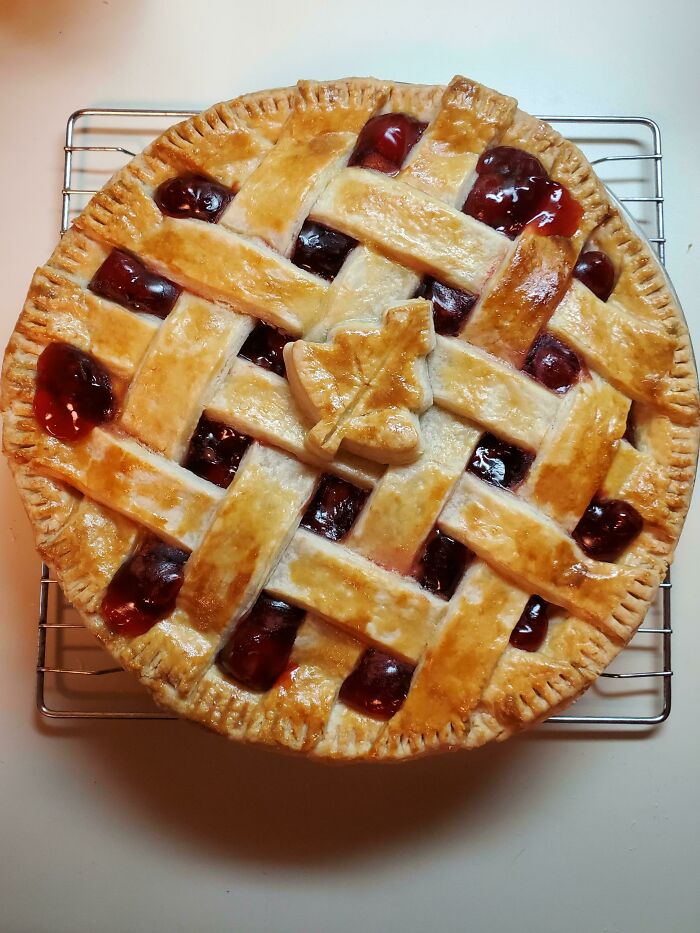 Well, this person's partner gave their best shot at baking a cherry pie for the first time, and let us tell you, this person is lucky to have a naturally skilled partner! Our eyes are heart-shaped while we gaze at this nice, golden homemade pie.
Art of tarts
Whoever invented the tart recipe, our respect goes to them. Tarts are simply nature's gift to us. One of the best things about tarts is that there is no specific way to enjoy them. You simply bake them and top them with whatever you like!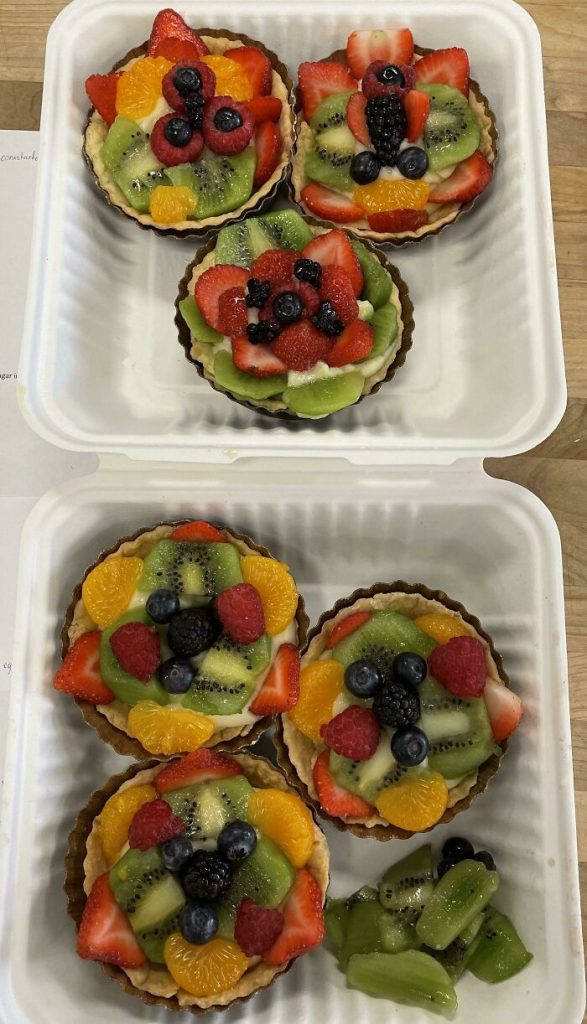 Over time, the toppings of tarts have shifted from thick sweet frostings to fresh fruits and even sweet custard. This person created a perfect art of mini tarts – tartlets – by elegantly decorating them with all sorts of fresh fruit and berries!
Emo ice cream
Coconuts have been an ingredient in food recipes for years. They are highly nutritious, not to mention delicious. Some sprinkle it on top of their desserts, while others may use chunks of it in their recipes. Even some chocolates have coconut fillings in them.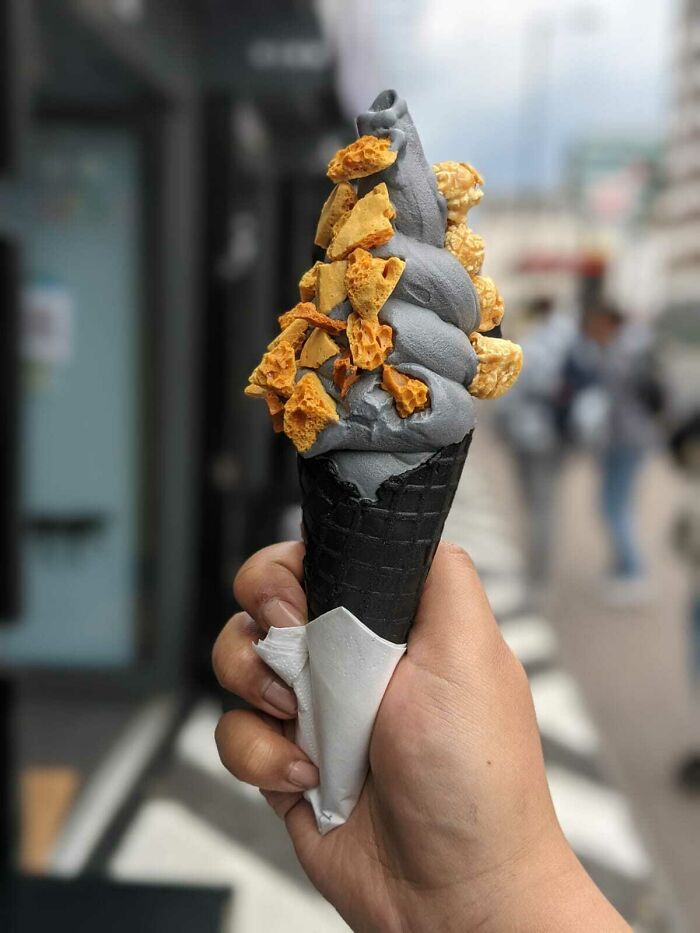 However, never had we imagined a coconut ice cream cone to look like this. The gray ice cream with a black edible cone has such emo vibes! This is literal artwork – imagine licking this while sitting on rocks on the black sand beaches of Hawaii.
Cheesy onion and garlic combo
We believe it is safe to say that puff pastries are one of the best light snacks for tea time. We just want puff pastries, no matter the size or shape. However, the fillings of a puff pastry, if there are any, matter a lot.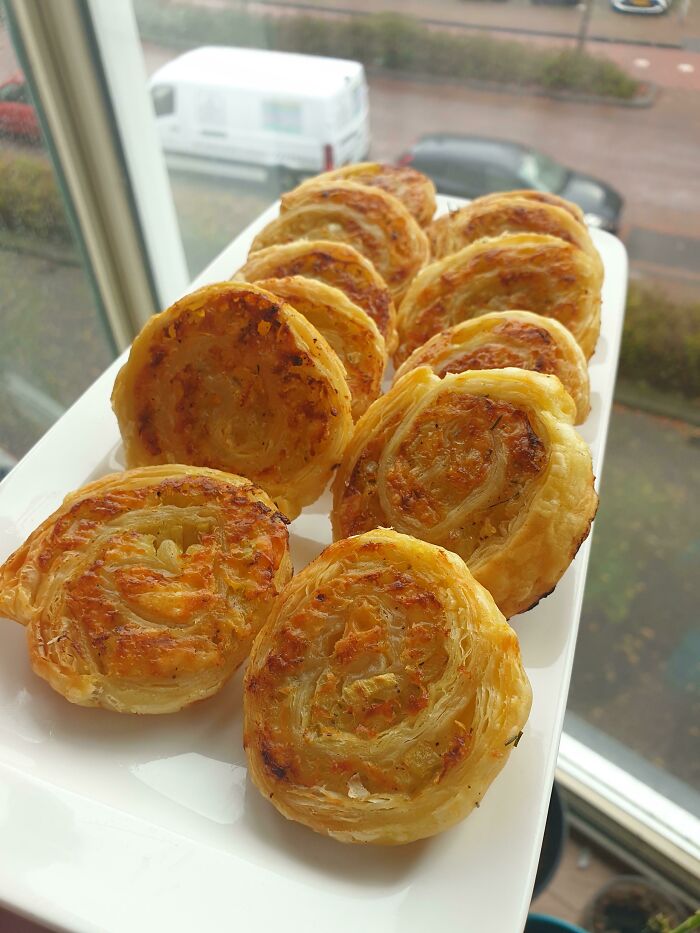 We usually fill puff pastries with minced beef or chunks of chicken. But have you ever tried throwing a cheesy filling of onions, garlic, and jalapeno with gouda in the mix? These may look small, but they taste ever so unique!
Stuffed cabbage
If you have never tasted cabbage rolls or have not even heard of them, let us tell you, you are missing out! Stuffed cabbage is an original Japanese recipe that went through various parts of the world and evolved according to different cultures.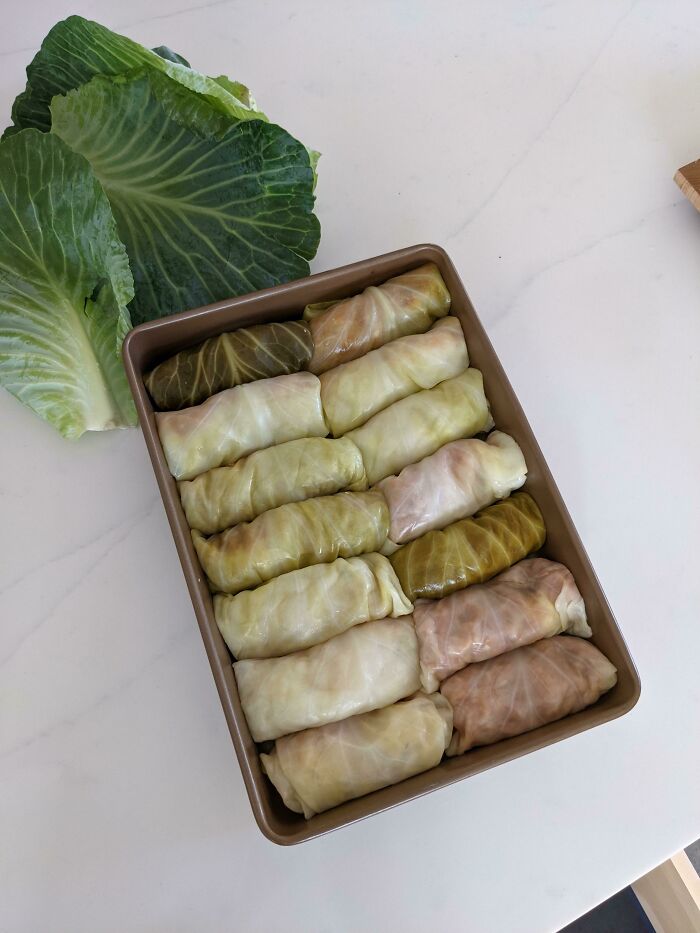 Stuffed cabbage, as the name suggests, is stuffed with different fillings and wrapped in a cabbage leaf. Vegans may fill it with white rice instead of meat, but it still tastes incredibly tasty when dipped in tomato sauce. Look how aesthetically pleasing they are!
Polish Paczki perfection
Where are the doughnut lovers? This one's for you all! If you have not tried out the famous Polish doughnut yet and are waiting for the right time, this is the sign that you need to fly to Poland right away and dig into Paczki!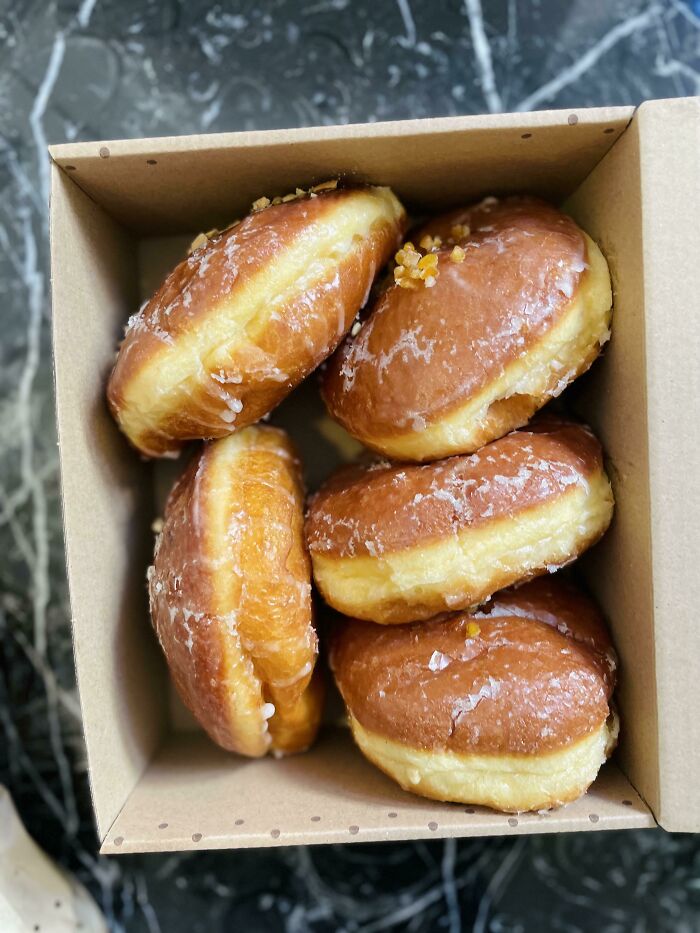 What's special about these doughnuts is that they are huge and fluffy, stuffed with rose-flavored jam, Ferrero Rocher, salted caramel, and sprinkled lightly with powdered sugar on top. We can assure you that it is like having heaven in the palm of your hands!
Peachy
Voilà! We couldn't think of a better name for this incredible dish of peaches and Swiss cream roll because this adorable and dainty cake is simply peachy! It looks really satisfactory and soft, not to mention beautiful and very incredibly done.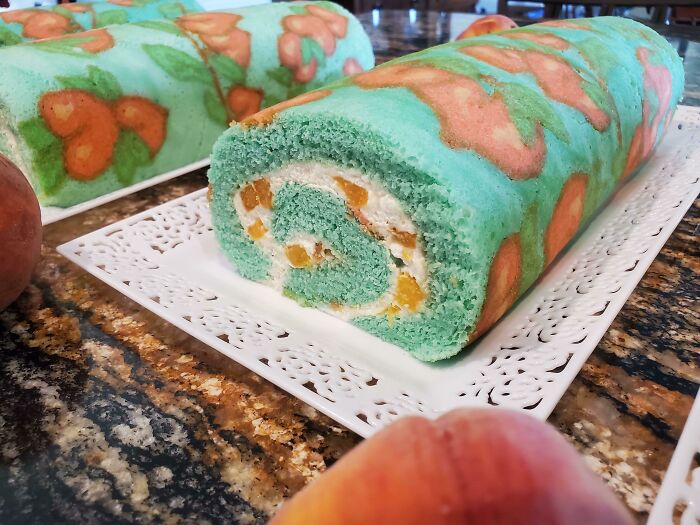 We hope this person won the first prize at the peaches festival they made this cake for. This is quite literally a form of art – look at the flawless peach art on the outer roll! Also, the peach and cream filling looks yummy.
Kawaii cheesecake
Ever since they hit the market, cheesecakes have become trendy and are loved unconditionally. And for a good reason, too: this super creamy dessert is finger-licking amazing! However, you should know that Japanese cheesecakes and regular cheesecakes are two different types of yummy desserts.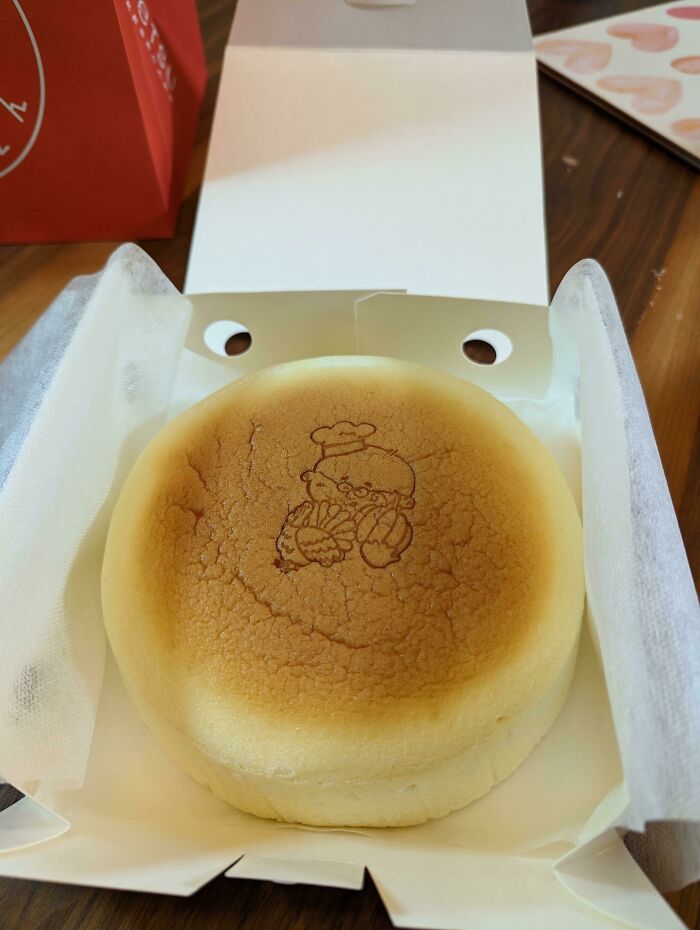 There's enormous hype for Japanese cheesecakes all around the world. This person confirmed that they live up to the hype and that everybody should try them if they fly to Japan. This spongy and fluffy yet creamy and rich cheesecake is the definition of kawaii!
Appetizing Twinkie
Twinkie cakes are very popular in the US. These cream-filled, spongy, plain cake rolls may be called something else in other parts of the world, but we know the majority of us have had them at some point in our lives.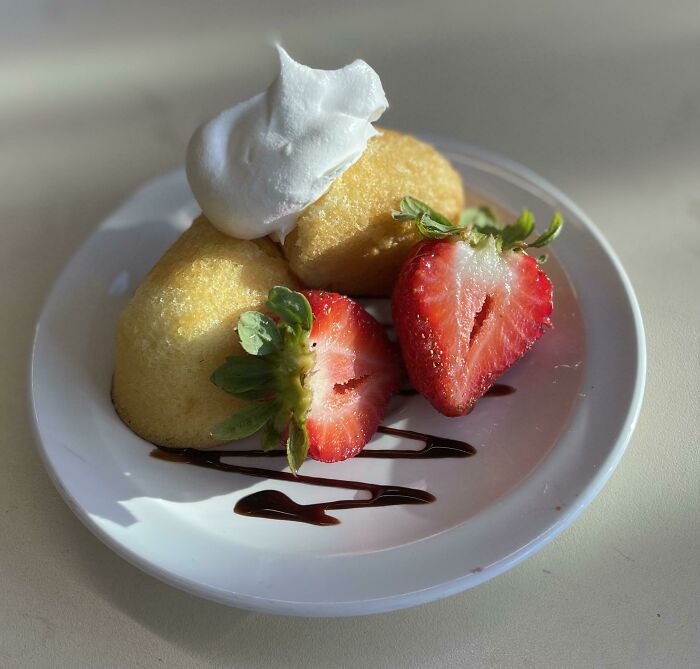 These plain-looking cakes are only tasty when we are eating them, and it is quite hard to make them seem appetizing. However, this person did a pretty great job at twinkie decor. We sure would like a nice plate of twinkie cake with strawberries and extra whipped cream!
Lobster pasta
We enjoy pasta in every form and shape, with sauces and any items on the side. But imagining pasta with lobster instead of the usual chicken or meatballs gives us quite the chills, especially if we have never seen or heard of it before.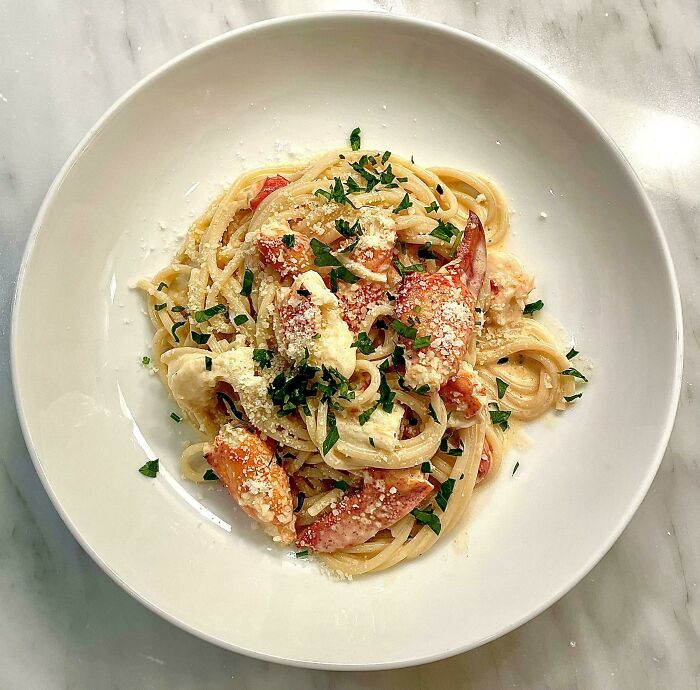 Well, this considerate person did not give us a chance to show negative judgment or criticism on the thought of a lobster pasta dish, and gracefully served an immaculate-looking pasta to the internet people. Now we can't wait to try this out!
Fish tower
Japan, like most East Asian countries, is known for its huge variety of seafood. Seafood is a major part of their culture, and they have well-established it for centuries, too. If it weren't for the Japanese, we would've missed out on the Sashimi tower!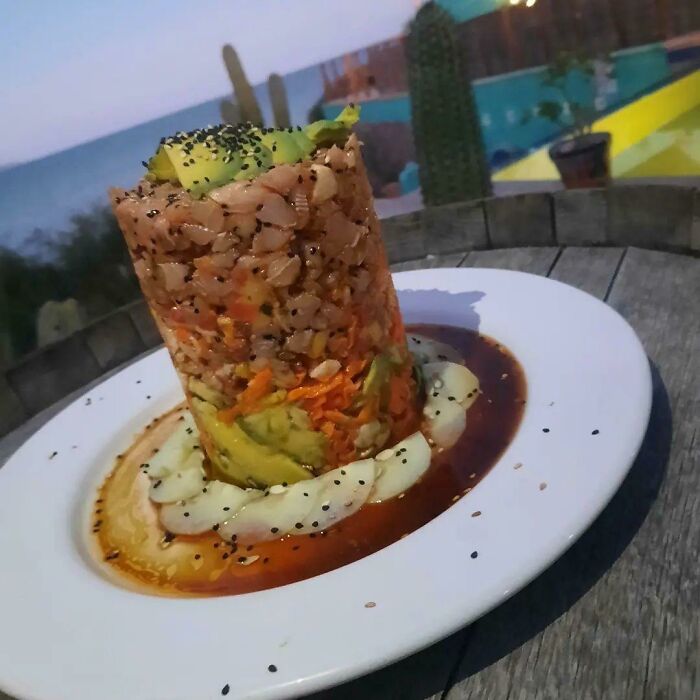 In case you don't know about Sashimi, it is a Japanese food delicacy where the cooks cut raw fish into small sliced pieces and side it with soy sauce. This chef served Sashimi in the form of a tower made of freshly caught fish, and it looked amazing!
Tomato land
If you have a tomato plant in your backyard or have a garden full of them, you will immediately recognize this sight. We usually see fresh, juicy, red tomatoes at the grocery store, and even then, they still don't look half as good as these tomatoes.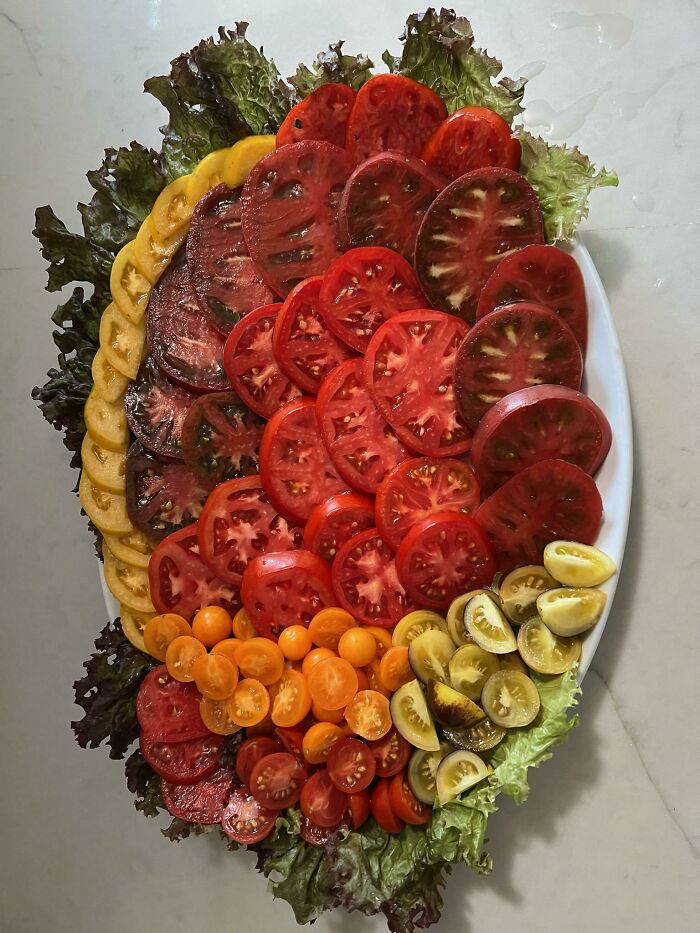 Have you ever seen such a deliciously decorated dish of tomatoes? This person added basically every type of tomato out there, in every size. From the tiny, unripe, yellow ones to large, overly ripe brownish ones, there's a bit of every flavor in this dish. Pick whichever flavor you like!
Marble sparkle
Plain marble cakes have become so common that most beginner bakers get their hands dirty by baking those before moving on to the harder baking recipes. For example, marble cheesecakes – people often buy them from a bakery instead of baking them at home.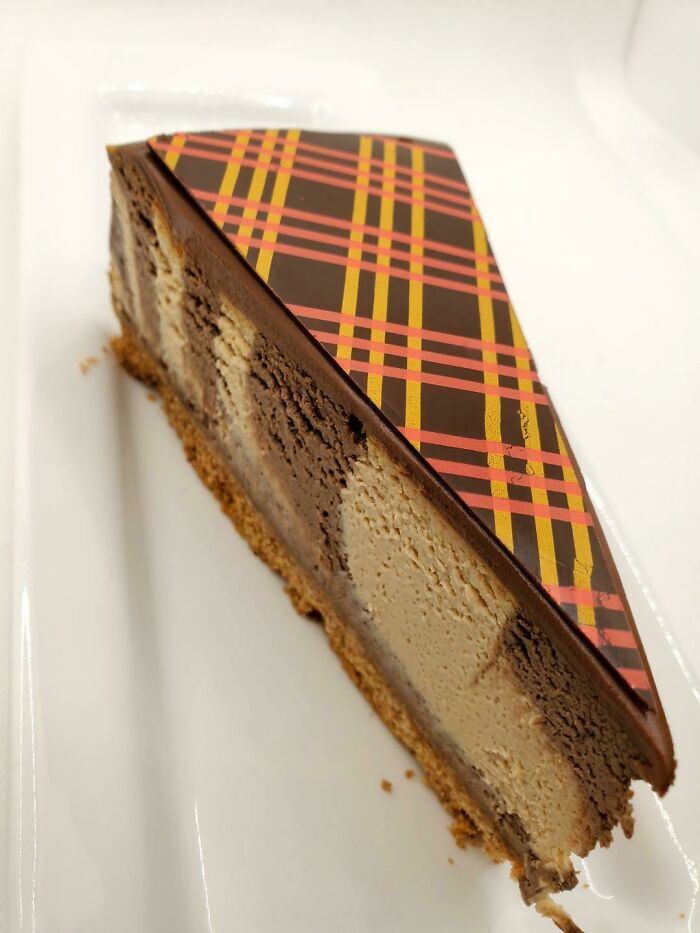 Well, either way, you should try this mocha marble cheesecake because it is going to make your eyes sparkle with joy; trust us! This person made this heavenly delight so perfect that it is hard to believe that this is a handmade piece of cake.
Cheesy and corny
Remember those good old days when a food truck would stop by the side of the road, and people would line up to buy their delicious juicy grilled corn and other crispy snacks? Yes, this is the same grilled corn, but made by a Mexican person.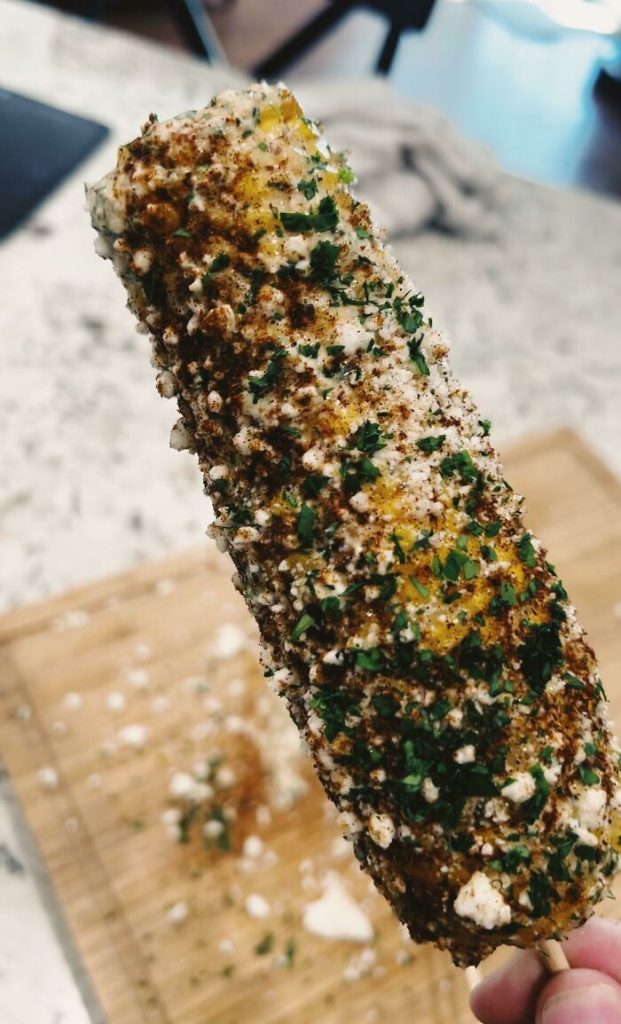 For those who have not been to Mexico, this is one of the Mexican specials called Elote. Charred corn on a grill with chili, lime, or crumbled Mexican cheese – it's very popular in the southwest. Very cheesy and very corny! Lip-smacking delicious!
Juicy salmon burger
Chicken and beef patty burgers are one of the most common burgers all around, with all sorts of modern sauces on the side. But forget them for a second and consider this: spicy and juicy grilled salmon burgers with dripping sauces!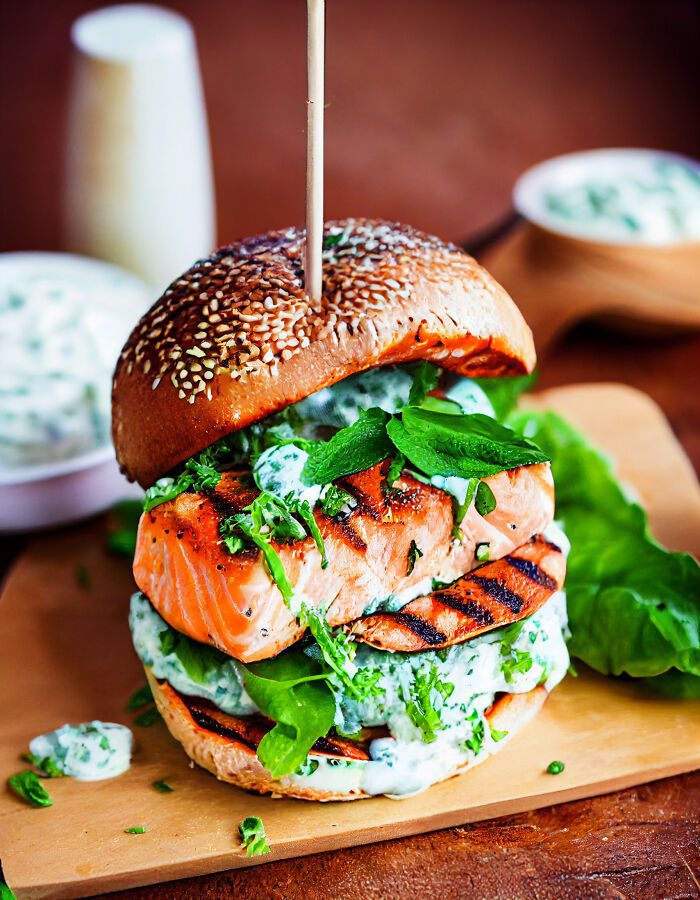 Yes, this dreamy burger exists! This person towered up a double grilled salmon burger and made it even juicier by adding tzatziki sauce instead of the commonly used mayo, ketchup, and mustard. The picture of this moan-worthy burger speaks for itself.
Filipino Hunger Games
Imagine Hunger Games, but make it perfectly literal in a traditional Filipino style! Yes, there is a fun tradition in the Philippines where people lay a long dining table with all kinds of food on it, and folks eat them while standing shoulder to shoulder with others.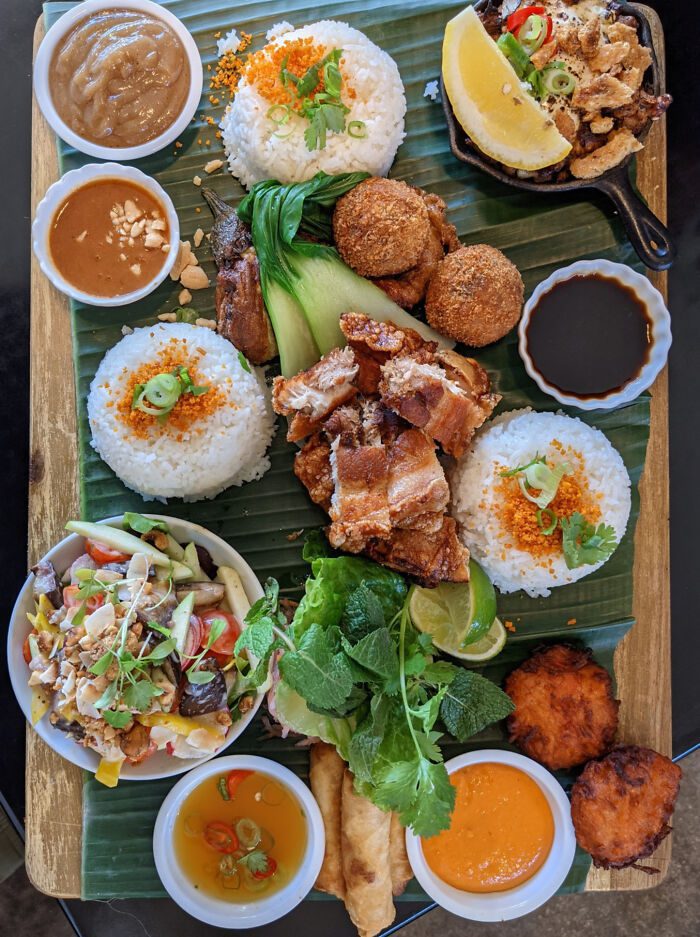 It is called a boodle fight or kamayan in the Philippines. This is what a part of a Filipino boodle fight looks like. From soup and fruit to rice and gravy of all kinds, participant families prepare everything and leave licking their fingers!
Ramsay's special beef
When it comes to chefs with unique skills in the kitchen, the name Gordon Ramsay most definitely enters the top three. He is well known for his amazing mastery of the kitchen and for having a wonderful way with a knife.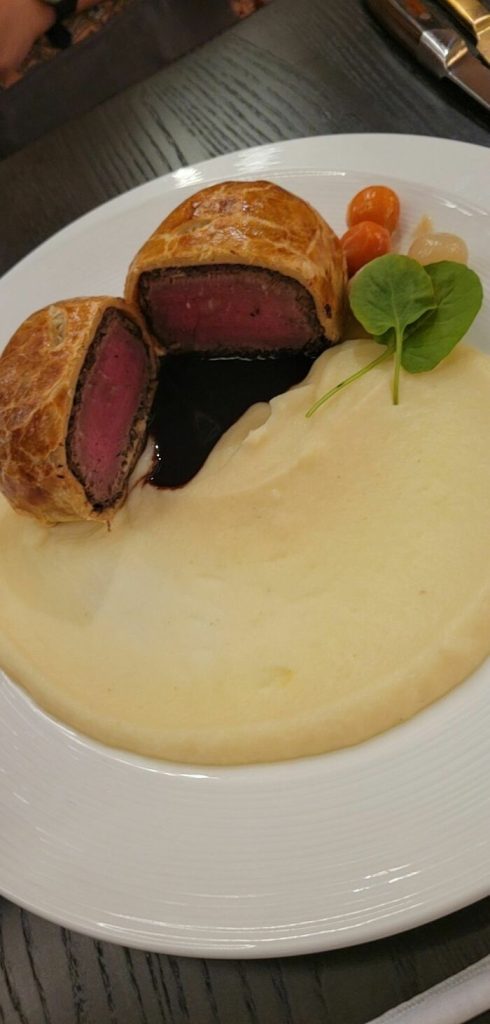 The dream of trying Gordon Ramsay's signature Beef Wellington dish at least once in our lives is what keeps us going in this world. The juicy beef tenderloin in the middle is a perfect amount for cooking, and so is the golden pastry wrap.
Fruity baked goods
We love how people have come up with amazing and deliciously satisfying styles of pastries. They have gone all in to come up with more original and tasty pastry fillings and finish off their hard work with gorgeous toppings to make them even more irresistible.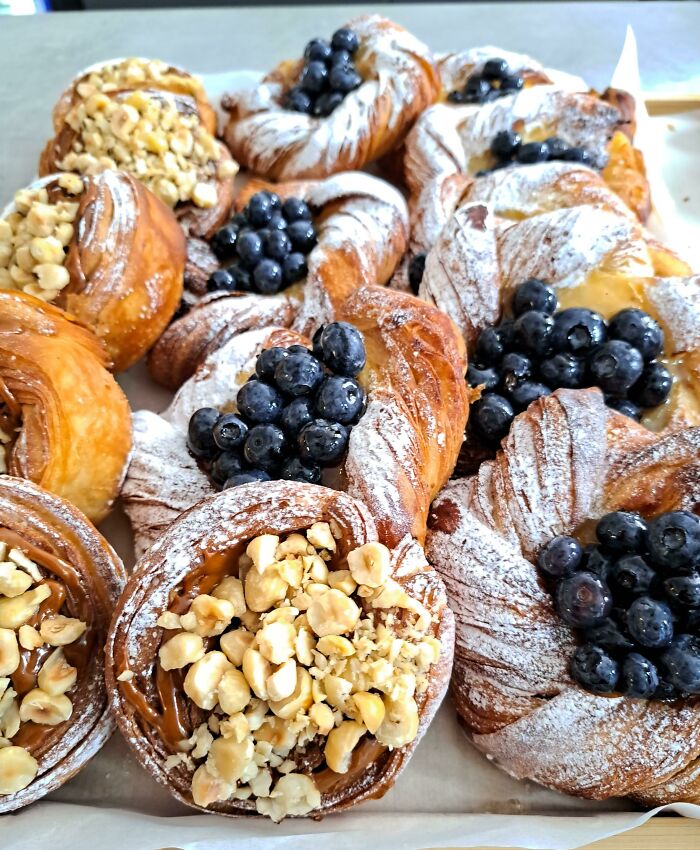 Take a look at these scrumptious pastries. The perfect twists and golden crisps of the pastries are simply a chef's kiss! This person topped them with peanuts and blueberries on a peanut butter glaze and powdered white sugar. It's probably perfect with a cup of tea.
Onsen special
In case you don't know, Japan has these amazing resorts built near the hot springs where people can get food and drinks while they soak themselves in hot water and relax. From delicious martinis to ice cream cones, they have it all.
This person dipped in an onsen and bought themselves a nice and chilly milky soft serve of an ice cream cone to relax in the hot springs with. Well, it suffices to say that they had a good time with that smooth serve!
The magical view of Carbonara
Imagine sitting on the balcony of your room in Italy with a magical view of the sunset in front of you, a cool breeze lightly touching your face, a gorgeous, colorful city under you, and a nice, luscious plate of Carbonara in your hands.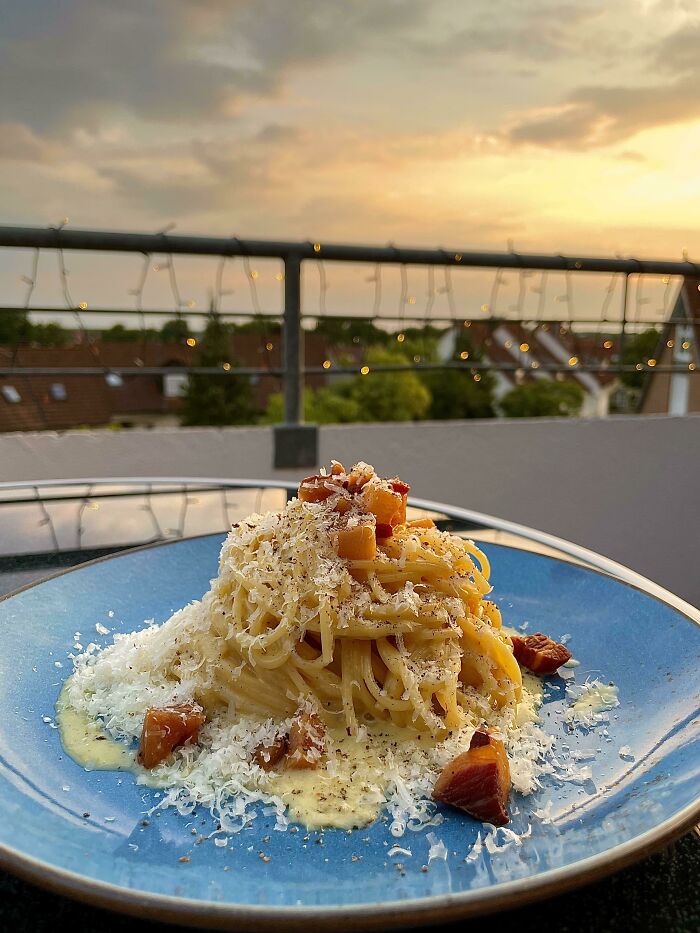 It may seem like a dream life, but what if we told you that this dream is not impossible to achieve? Carbonara is one of the most popular Roman cuisines made in Italy. Get your hands on this appetizing dish of carbonara pasta right away!
Weekend clams
It sure is hard to find a friend who would join you for a homemade fancy seafood breakfast when your partner is out of town and you are home alone. Well, friend or no friend, nothing should stop you from grilling your favorite food in bulk!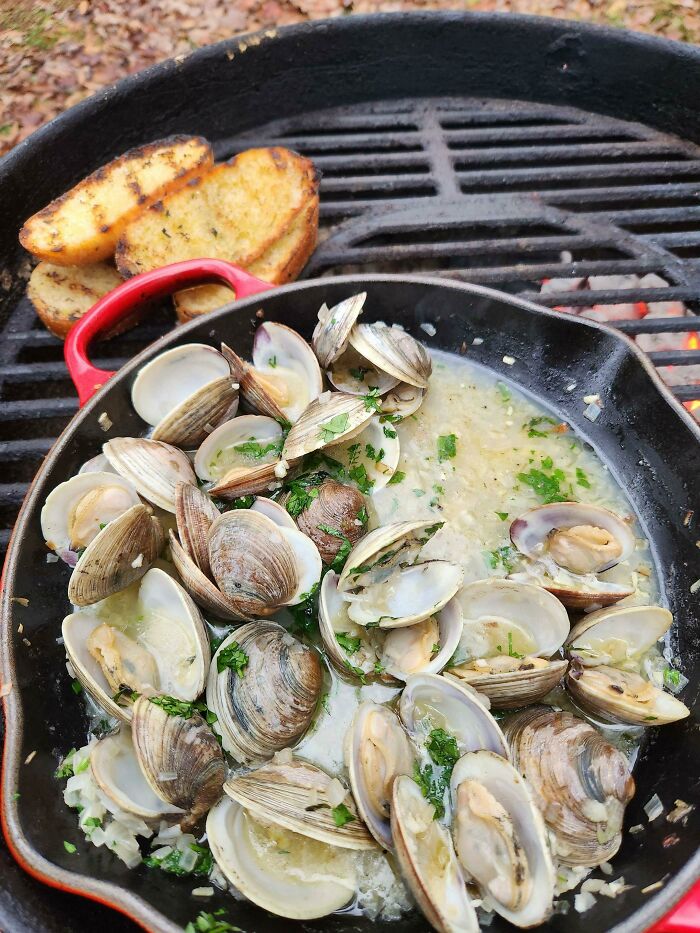 Take inspiration from this person who loves clams in white wine sauce as much as you love your pet. The picture of a load of clams cooking in a pan on the grill looks insanely delicious; no lie there. White wine sauce is the cherry on top!
Burrito breakfast
Similar to burgers and wraps, burritos can be counted among the top ten food items which contain numerous kinds of fillings that we have lost count of. You can add as many or as few as you want. It's all about how you like it.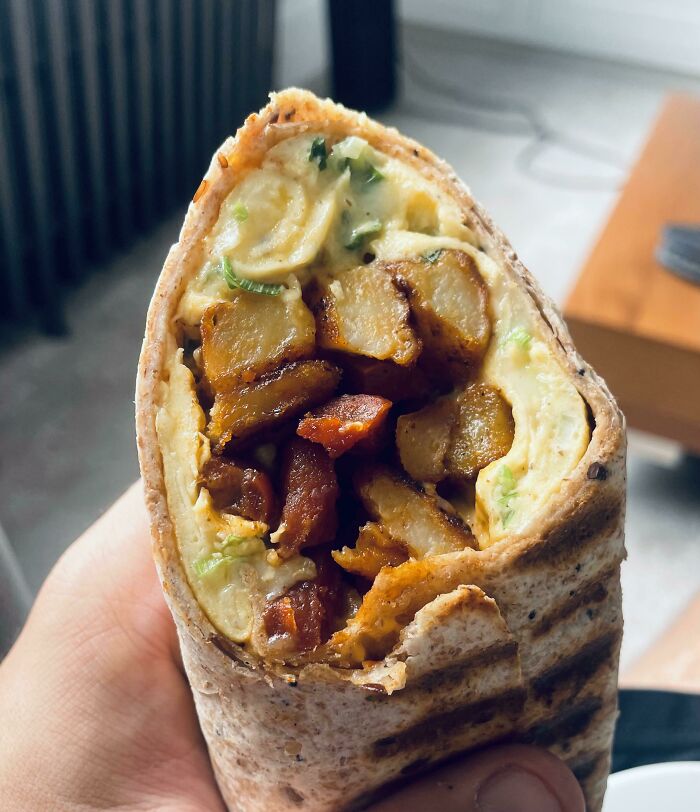 This person scores among the winners of burrito contests for having an incredibly scrumptious-looking burrito. The tender and juicy chunks of meat and dripping sauces are making us salivate profusely! We bet this person had a memorable breakfast the day they made this.
Fruity art
Ice cream is a summer delight and always reminds us of our childhood. Plain mango ice cream is quite common and adored. Sometimes, the mango flavor is combined with chocolate, vanilla, mint, or anything else, topped with colorful sprinkles, choco chips, and more.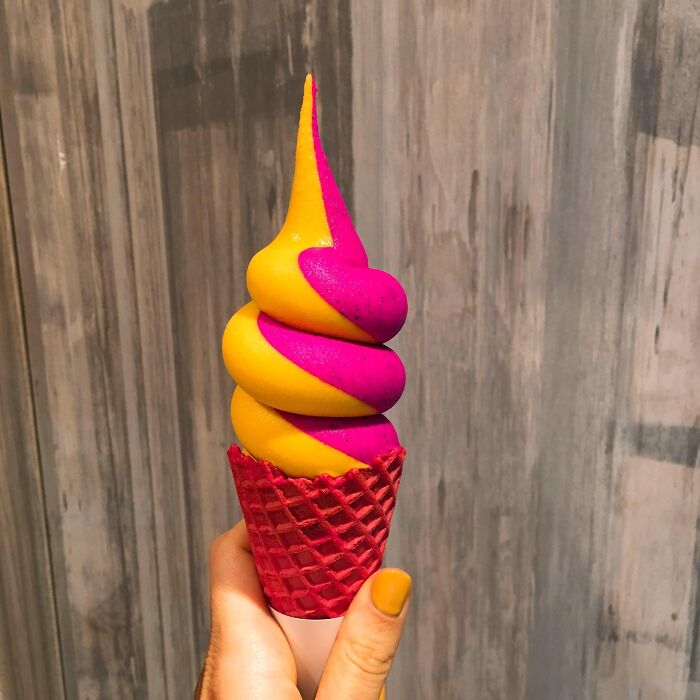 However, never have we seen such perfect swirly fruity art in our entire lives! This amazingly aesthetic combination of mango and dragon fruit is simply the best color palette for ice cream. We bet it tastes as amazing as it looks!
Choco glaze
Fun fact about cheesecakes: cheesecakes are not cakes at all! They are a chilled mixture of cream cheese and other ingredients. Some people prefer plain cheesecakes, while other recipes add chocolate or layer it with a batter of chocolate brownie to spice it up!
Let's take this gorgeous perfection, for example. The divine chef of this cheesecake added three layers of chocolate mousse in between the cream cheese batter and glazed the top with melted chocolate! We would think twice before ruining this perfect glaze with a fork.
Tuna and rice burger
We have witnessed burgers with various fillings and recipes. From double beef and cheeseburgers to grilled juicy salmon burgers with dripping sauces and side dips, the range of burger recipes is endless. And now, it is time for a new addition.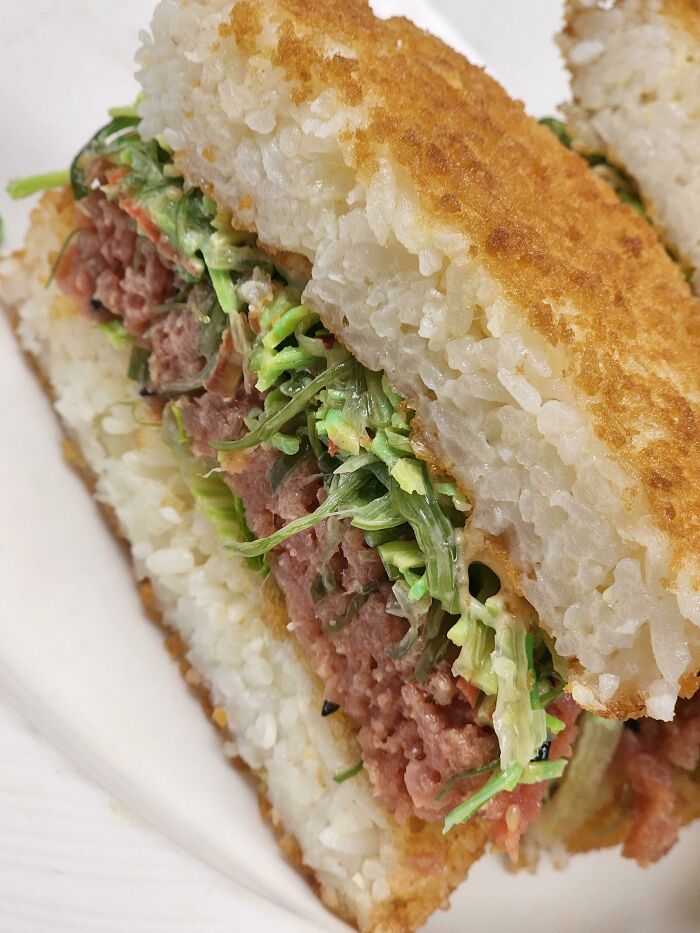 Let us present a spicy tuna burger with fried rice buns! This may look like a regular burger, but it is far from it. With rice buns, the taste of the recipe is completely altered. Consider it as sushi but in the form of a burger.
Smokin' hot wings
Who does not love chicken wings? There is not a soul on this planet who would not eat this winged heavenly dish! These are the best side snacks when you get a double beef burger and fries, but chicken wings are the best, with or without a burger.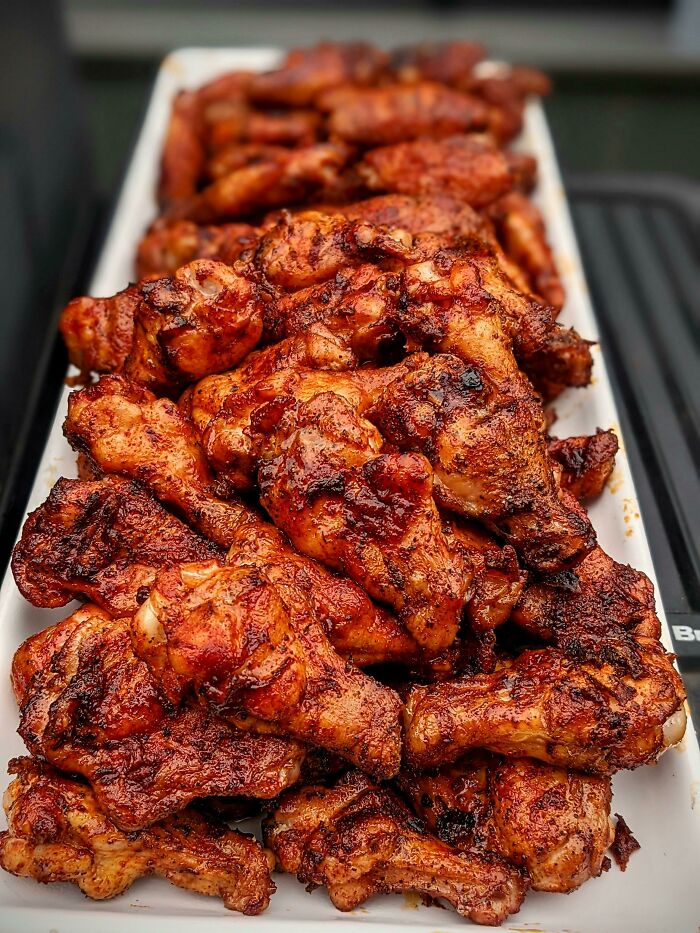 Not every restaurant serves you the best smoked spicy chicken wings. So, you need to try out a bunch of them until you get the best ones with mouth-watering crispy golden skin and the perfect amount of spice. A chef's kiss, truly!
Bolognese goodness
Among the countless dishes of pasta invented to this day, there is a special and permanent spot in our hearts for bolognese pasta or pasta topped with bolognese sauce, especially when our families make the sauce at home from scratch!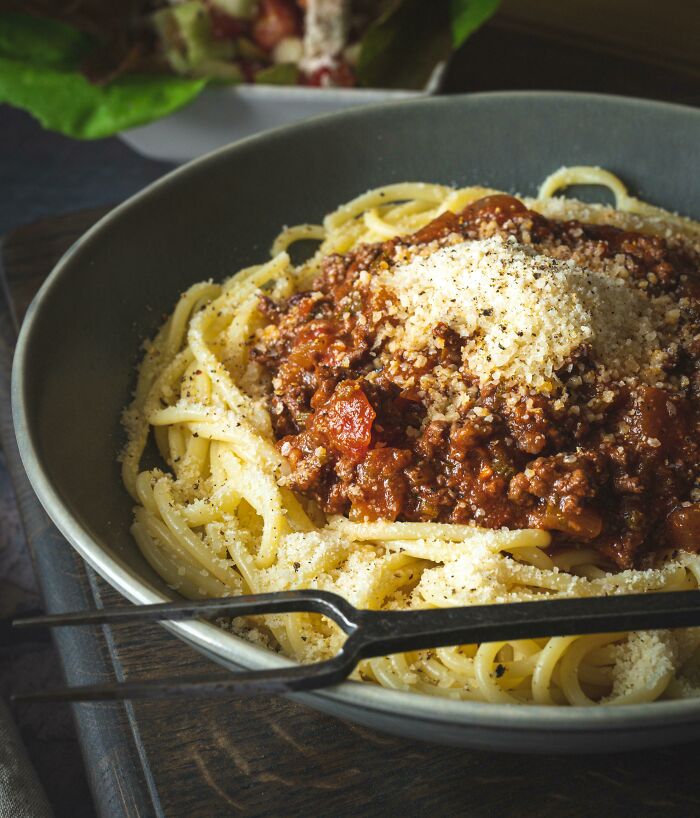 This juicy and tempting picture of pasta bolognese is making us lick our lips in pure amazement and satisfaction. The bolognese sauce looks ever so savory and irresistible. We bet whoever enjoyed this delicious meal licked their plate clean at the end of the dinner!
Choco cookie cake
When your kid requests something for their birthday, as a parent, you feel the need to carry out their wish and turn it into a reality. It becomes a core memory for the kid as well as the parents. What's better than seeing your kid happy?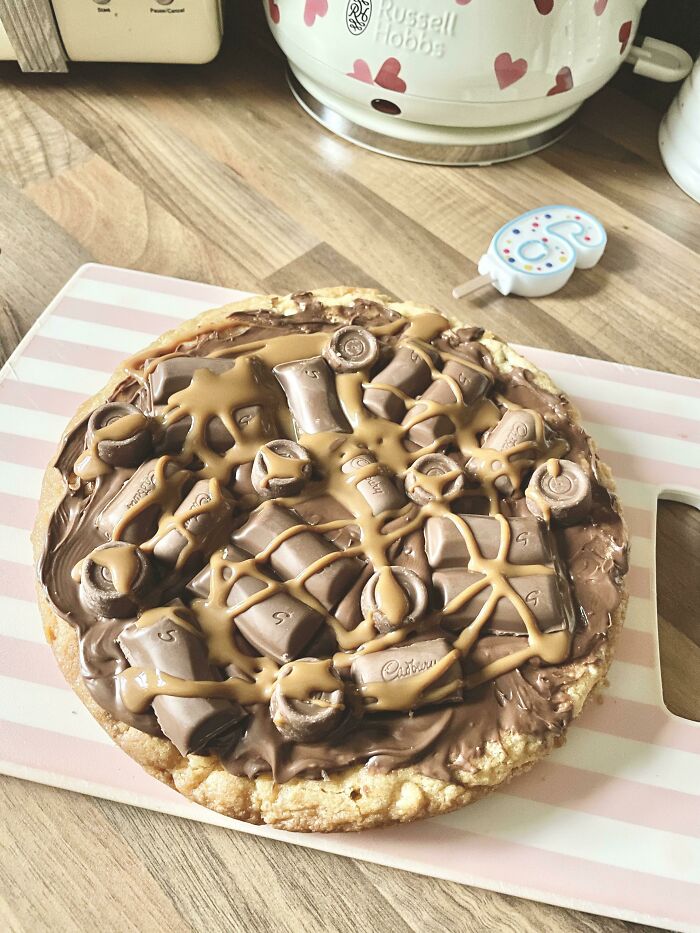 This parent went above and beyond to make their kid's birthday a perfect memory. They made the kid a special "cake," which was exactly what they wished for: a giant chocolate chip cookie with chocolates and caramel spread on top. A memorable cake for a six-year-old!
Portuguese delight
Living in one part of the world often makes us forget how much we are missing out on – the cultures and traditions of other countries, and most of all, their food! Well, all we can do is try to replicate their signature dishes in our country.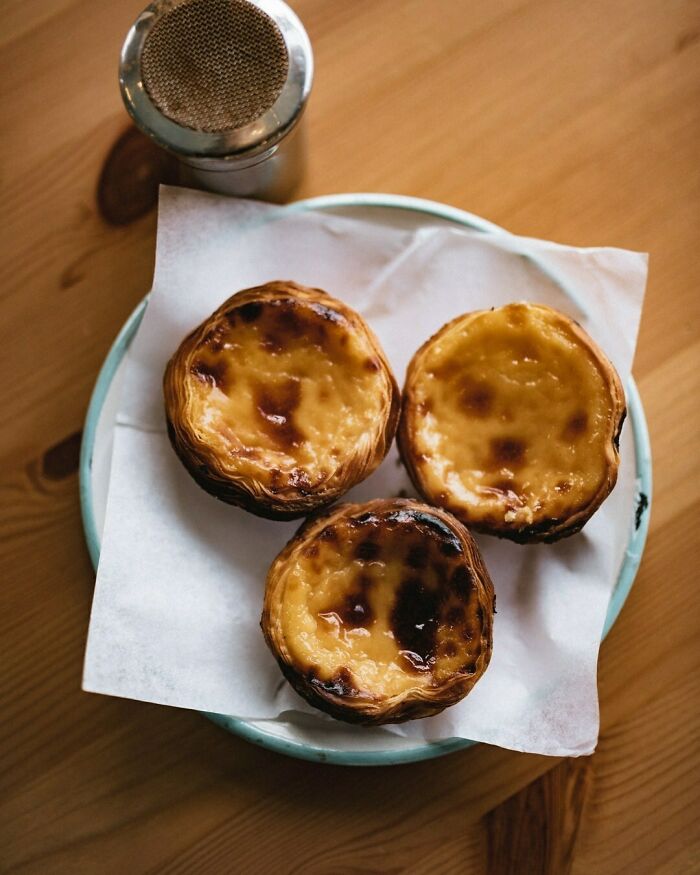 We may not get the same thing, but we can get close enough. This person tried making one of the most popular Portuguese specials, Pastel de Nata, also known as Custard Tarts. These puff pastries filled with egg custard look absolutely inviting and delightful!
Mini tart art
Tarts and tartlets are a dainty form of art in the foodie world. They are like muffins, except they are not spongy cakes you can decorate by putting frostings on. Tartlets are mini cups made from shortbread dough, and they taste simply divine.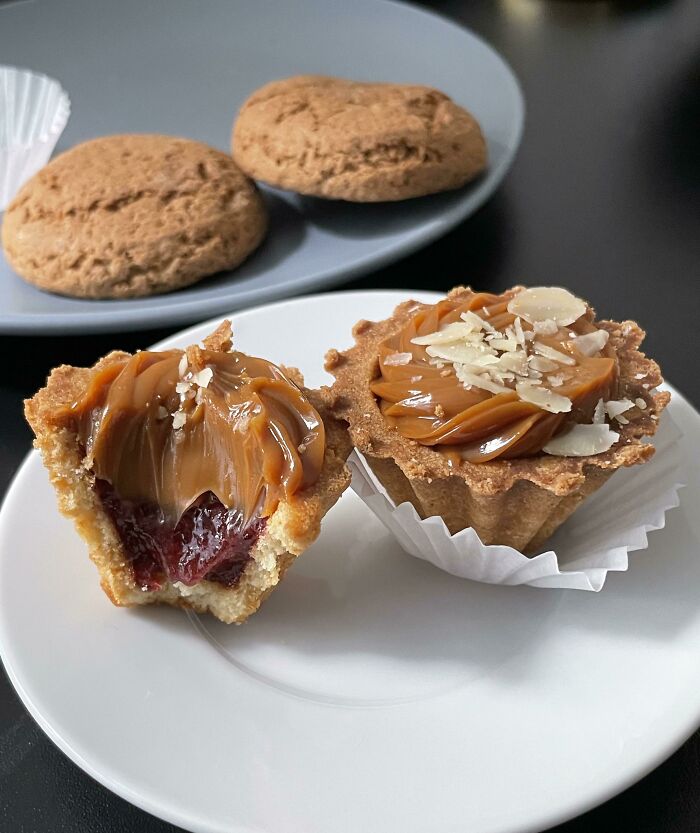 This person made the best stuffing combination for their tartlets. We wonder if anyone can beat the rose-flavored jam and boiled condensed milk. If we think about it, boiled condensed milk is equal to caramel, so this must taste amazing. Plus, they look incredibly beautiful.