Is It Made Of Gold? Yes, It Is! 40 Random World Food Items That Cost An Arm And A Leg
By Jishnu B October 17, 2022
---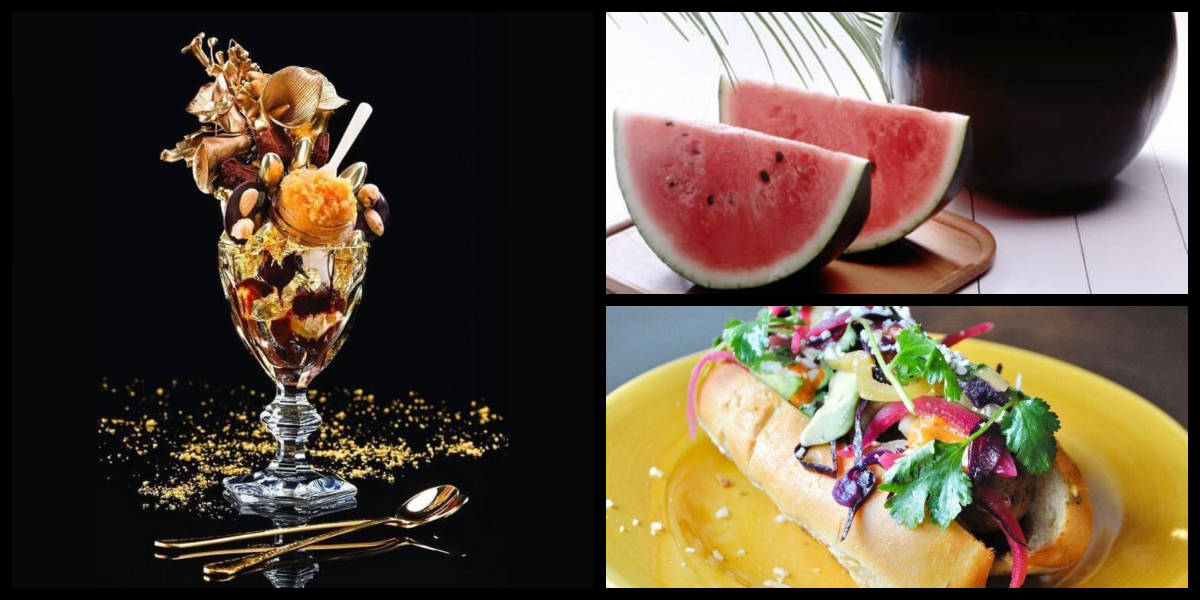 If there is one thing that fills people's hearts and stomachs to the brim and makes their mouths water, it is a delicious meal. Food comes in all shapes and sizes and has a vast plethora of cuisines. Whether you're hungry, sad, bored, happy, or going through it all, you can always resort to a delicious meal to elevate your mood.
At this point, food is more than just a means of sustenance. It is rather a delicacy that is specialized across various countries as well. Furthermore, the popularity of food is ever-rising, with various YouTube channels and blog posts making their rounds to explore various cuisines and interesting food combinations.
Over the years, people have not shied away from trying out some of the most expensive delicacies out there, either due to their incredible taste or just out of curiosity. Therefore, we have made a compilation of some of the most intriguing food items around the world.
The Digested Coffee
Most of us love to wake up and start our day with a bit of caffeine punch to get us going for the day. We usually opt for our regular branded coffee, such as Nestle. However, this particular coffee comes from no ordinary factory.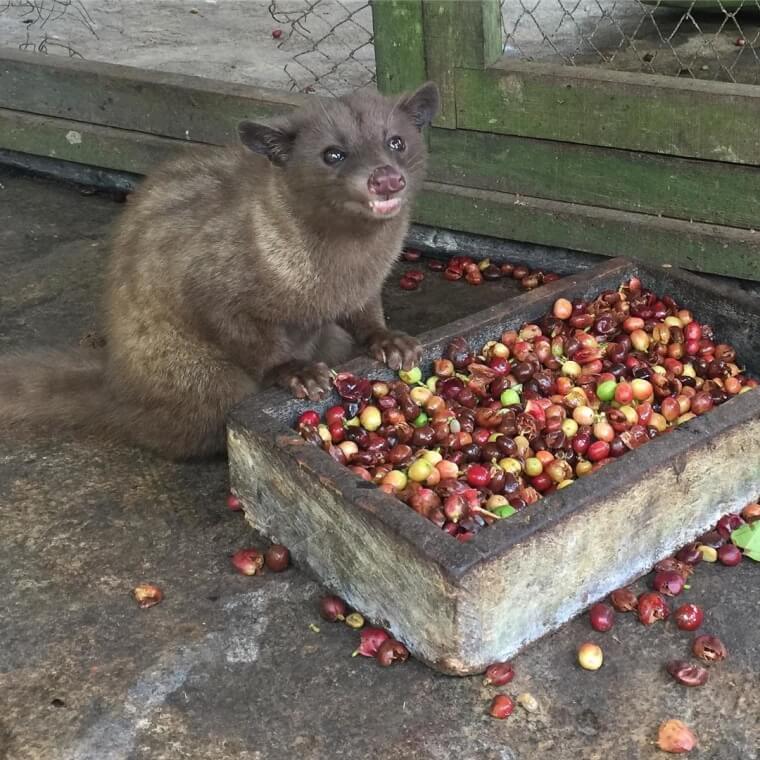 In fact, it comes from the digestive tracts of Civets. These creatures eat the coffee beans and leave the cherries out. The cherries are then carried out and further processed into coffee for luxury latte drinkers in New York and London.
The Exquisite Pizza Preparation
This pizza is no ordinary pizza as it requires extensive measures to make it. Renato Viola, a well-known pizza chef, will visit your place in Italy with a handful of his assistants and give you the entire experience of bringing this exquisite dish to life.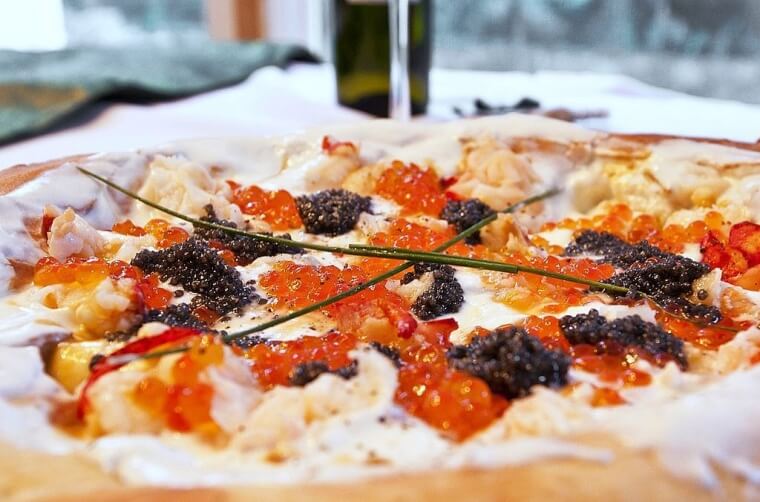 The dough takes about 72 hours to prepare, and the topping is made with three types of caviar soaked in champagne. Buffalo mozzarella, Mediterranean prawns, Australian pink salt, and Norwegian lobster in a Louis XIII cognac marinade are also added to the dish.
The $5000 Burger
One might say that a regular burger from McDonald's shouldn't cost much more than $2 or $3. However, this is no Big Mac we are talking about here. In fact, this burger is from a restaurant in Las Vegas Mandalay Hotel.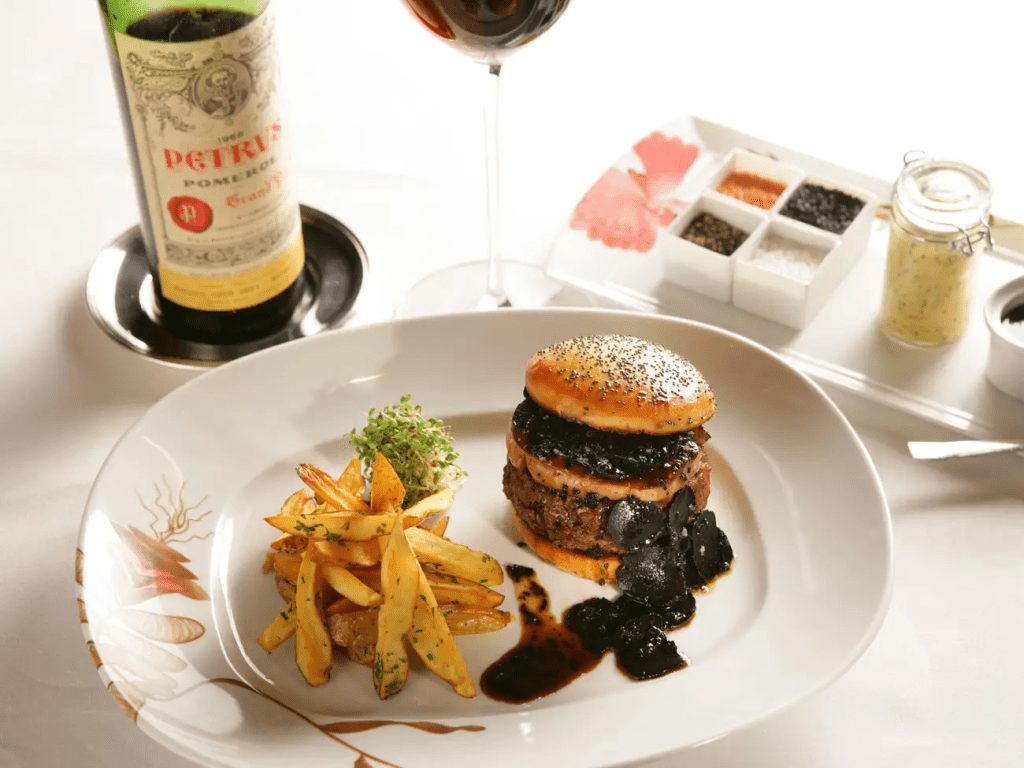 The MasterChef behind this masterpiece is known as Hubert Keller, and the burger is priced at a whopping $5,000. Filled with Wagyu beef, white truffles, and foie gras and served with a bottle of fancy champagne, this burger is surely for the rich.
Fence Gate Inn Specialty Pie
For us, ordinary people, a five-dollar microwavable pie for lunch and dinner would suffice. However, the chefs at Fence Gate would like to think otherwise. Filled with wagyu beef, truffles, mushrooms, and gravy, this pie is far from ordinary, as you'll see.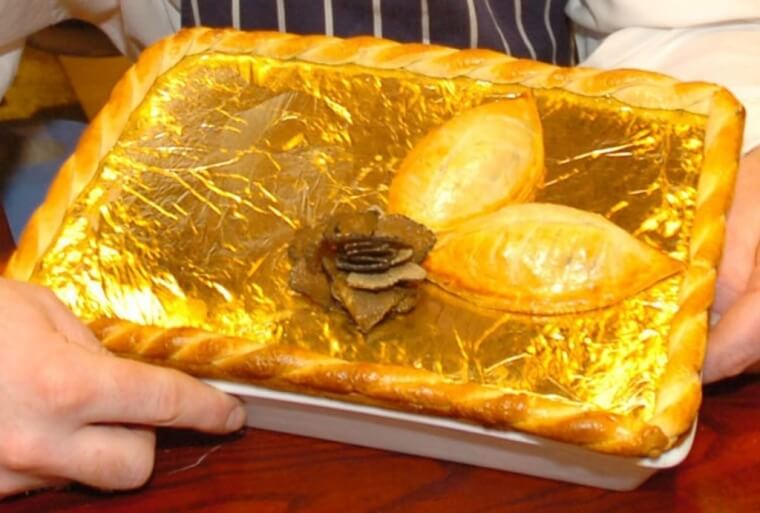 Furthermore, the gravy is made with $2,000-dollar bottles of wine. The entire pie costs $14,260, with each slice costing approximately $1,780. Given the outrageous price of this exotic pie, it's no wonder that it was only ordered once so far.
The Fisherman Dessert
This intricate-looking dessert with a fisherman chilling in the background has its origins in Sri Lanka at the Fortress Resort and Spa. We do wonder whether a fisherman was ever lucky enough to get their hands on this $14,500 dish.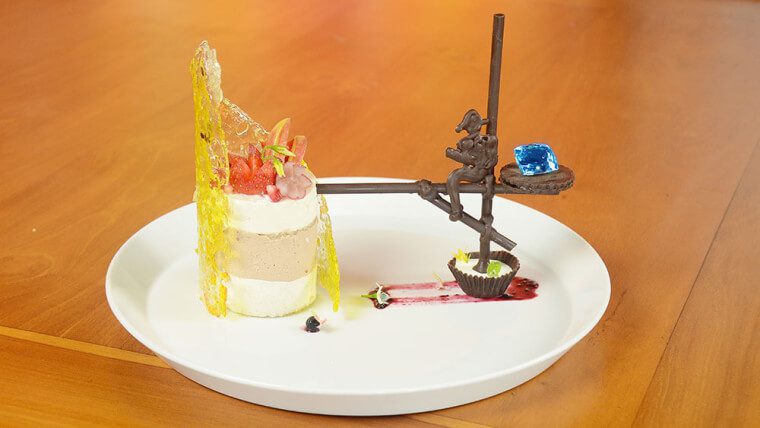 The dessert is also known as "Italian Cassata with Gold." It is a round sponge cake with fruit that has been soaked in Irish cream and made with Dom Perignon champagne. The carvings of the fisherman are made with chocolate and garnished with an 80-karat aquamarine stone.
White Alba Truffles
Truffle is one of those delicacies that, when added to the dish, increase the price of it exponentially. These white truffles are known as Alba Truffles. Furthermore, these are considered extremely rare and are mostly cultivated in the Northern parts of Italy.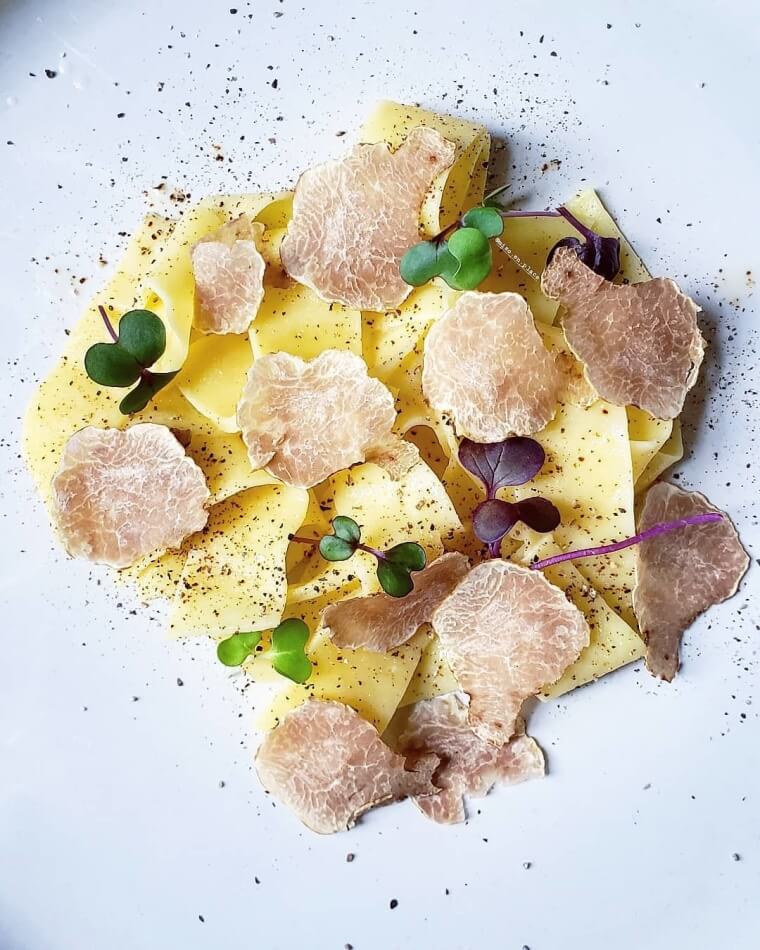 This luxury item is an underground fungus and is considered an aphrodisiac that was discovered by the Greeks. It is mostly found during the Fall and is known to smell quite musty. Additionally, the price per pound ranges between $6,000-$10,000.
The Mirabiles Cannoli
This Italian dish, known as Cannoli, is considered one of the priciest around the globe. It was made by famous master chef Jasper Mirabile Jr, who took inspiration from his grandmother's recipe. What makes it so ravishing is the outer gold wrapping.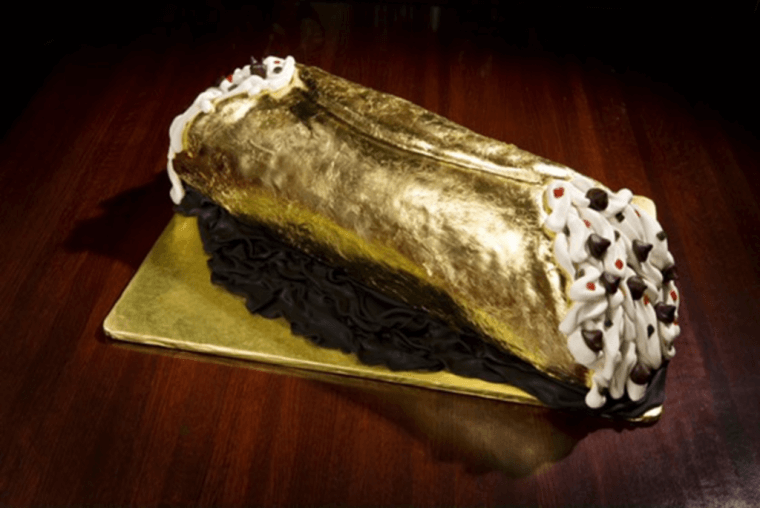 Under the gold wrapping, the desert consists of dark chocolate, whipped ricotta, and candied lemon. Furthermore, the price of this beauty is an outrageous $26,010. Given that the original recipe came from Grandma, we hope she received some of the profits as well.
Melons From Yubari
Japan has a wide variety of rare fruits to explore. In fact, in their culture, it is seen as a kind gesture to gift fruit baskets to people. This particular fruit is known as the Yubari melon. The supple melons are specially cultivated in Yubari, Japan.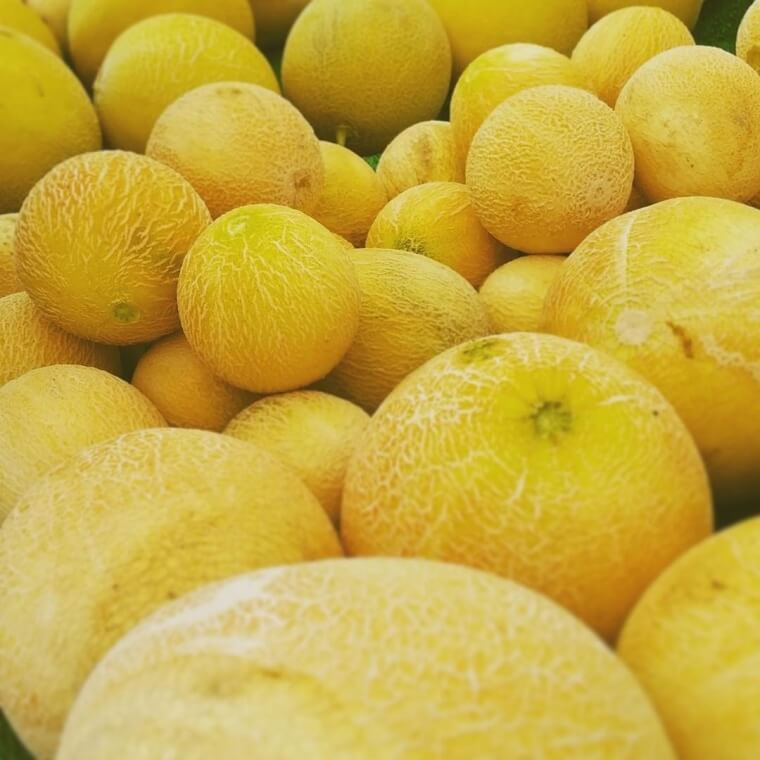 These bright yellow melons are extremely rare, and it was reported that the CEO of a food company paid $29,000 for two of these. We wonder whether they have gotten the most out of these melons or let them get spoiled out of mere admiration.
Toak Guayasamín
There is no one on this planet Earth who doesn't have a fondness for chocolate. Chocolates are one of the best mood-elevating food items, and we are grateful for their existence. This chocolate is dense and rich in flavor and has been aged for three years.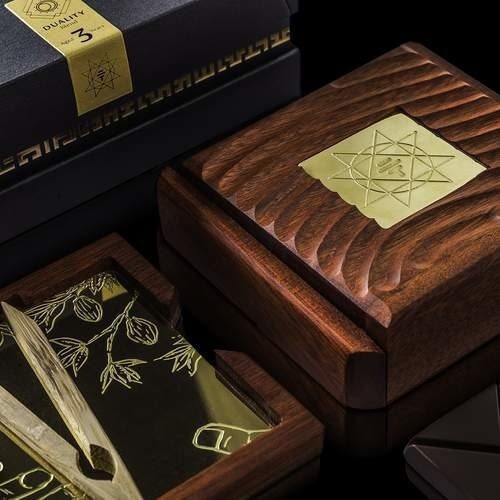 The chocolate is of Ecuadorian origins and is deemed to be of the best quality in the world. It's no surprise that such a flavorful food item will be priced at $700 for 50 grams. Additionally, you can order these chocolates online as well.
Caviar Tacos
If we are craving tacos on a normal Sunday, we would usually take a trip to Taco Bell to satiate our cravings. However, what they won't most probably have on their menu is the rare Caviar Taco. This taco is a specialty of the Grand Velas Los Cabos Resort in Mexico.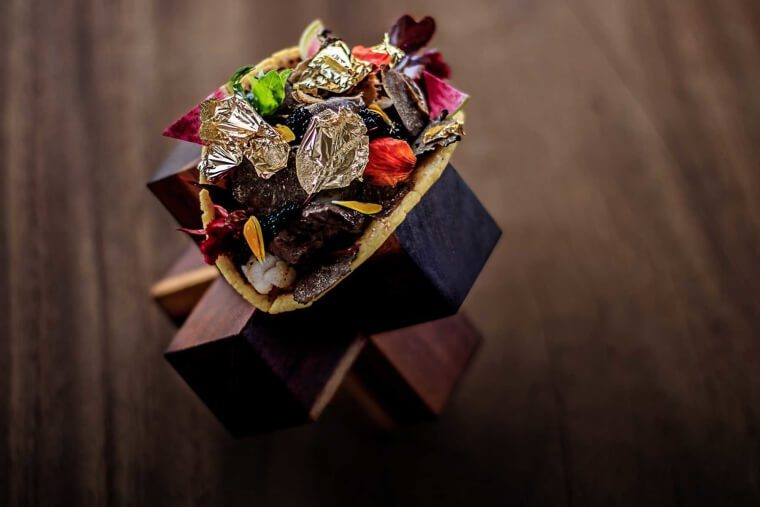 The taco shell has flecks of gold with langostino lobster, Kobe beef, black truffle brie cheese, and Almas caviar as filings. This particular caviar is deemed one of the most expensive around the world. Furthermore, the chefs there recommend pairing the taco with a $150,000 tequila bottle.
Da Hong Pao Tea
In 2002, a special kind of tea known as the Da Hong Pao tea made waves as one of the most expensive teas around the world. It also successfully put its name in the Guiness book. What makes the tea unreasonably expensive is the fact that the leaves are not cultivated from an organic tree.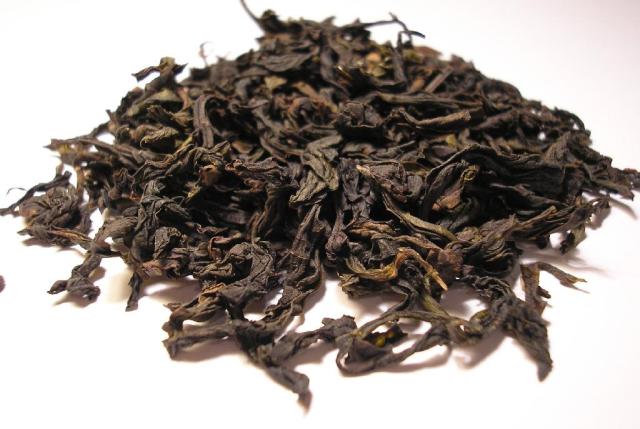 This tea is a product of artificial synthesis and is known to have a "toasty" flavor note. Recently, the Chinese government set some restrictions on the pricing of this tea to make it more affordable. Twenty grams of these tea leaves are priced at $27,000.
Chef Guibert's Chocolate Pudding
This soft and supple-looking chocolate pudding is a specialty of Chef Marc Guibert. Chef Guibert is the head chef at the Lindeth Howe Country House in the United Kingdom. The pudding is prepared with four different types of Belgian chocolate.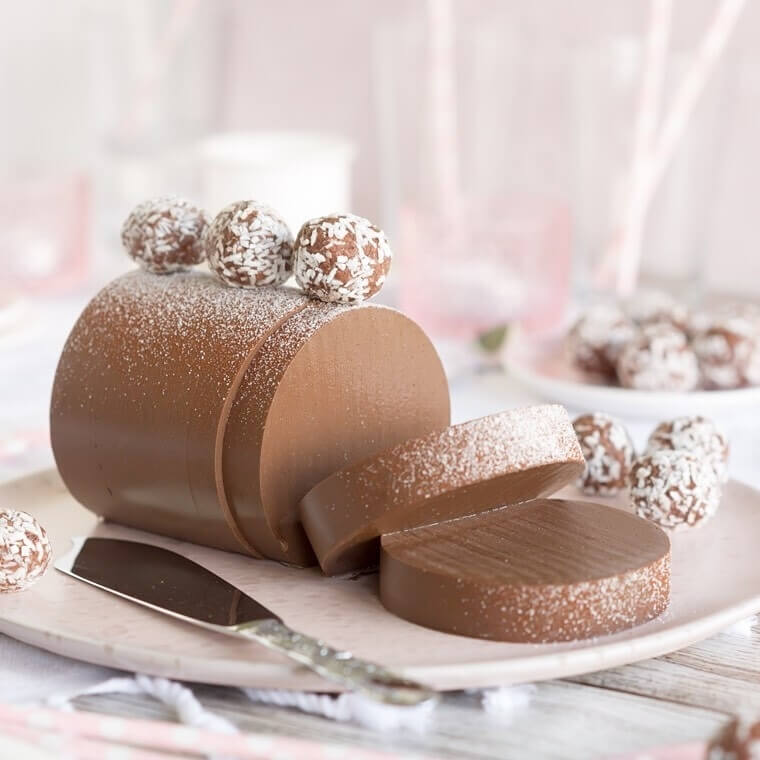 Additionally, it is soaked with champagne and is tipped with gold leaves, caviar, and an edible diamond. The dish is also served with a Chateau d'Yquem dessert wine. Served inside an edible Faberge egg, this dessert is priced at $34,440.
Yartsa Gunbu
This food item is, in fact, a parasite and is considered the most expensive pest in the world. The fungus is native to Nepal and is known to have medicinal and aphrodisiac qualities. Would you be willing to try this dish?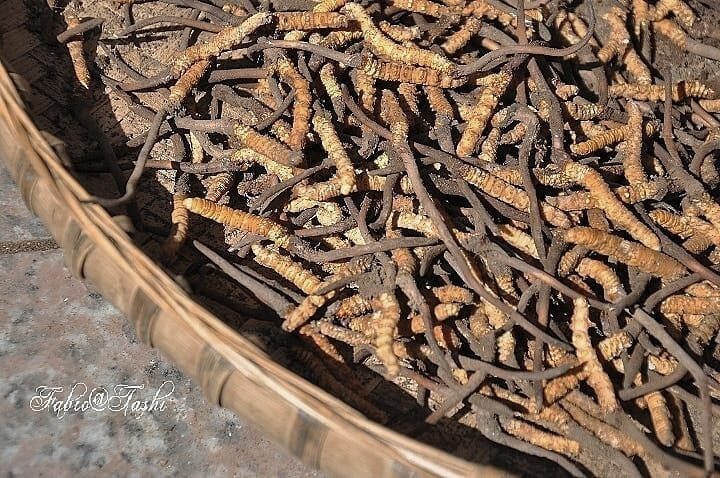 The yartsa is a spore that settles inside the caterpillars and infects them. Eventually, the fungus ends up killing the poor caterpillars from the inside out. The price per pound of this pest is $50,000. While they're bad for animals, apparently, they're pretty good for humans.
Expensive Water
The price point of this particular luxurious edible item is not just outrageous but unreasonably outrageous. We surely needed a glass of water after hearing the price of this item. You'd think that this 24-karat gold-plated bottle must be filled with the fanciest champagne, but alas…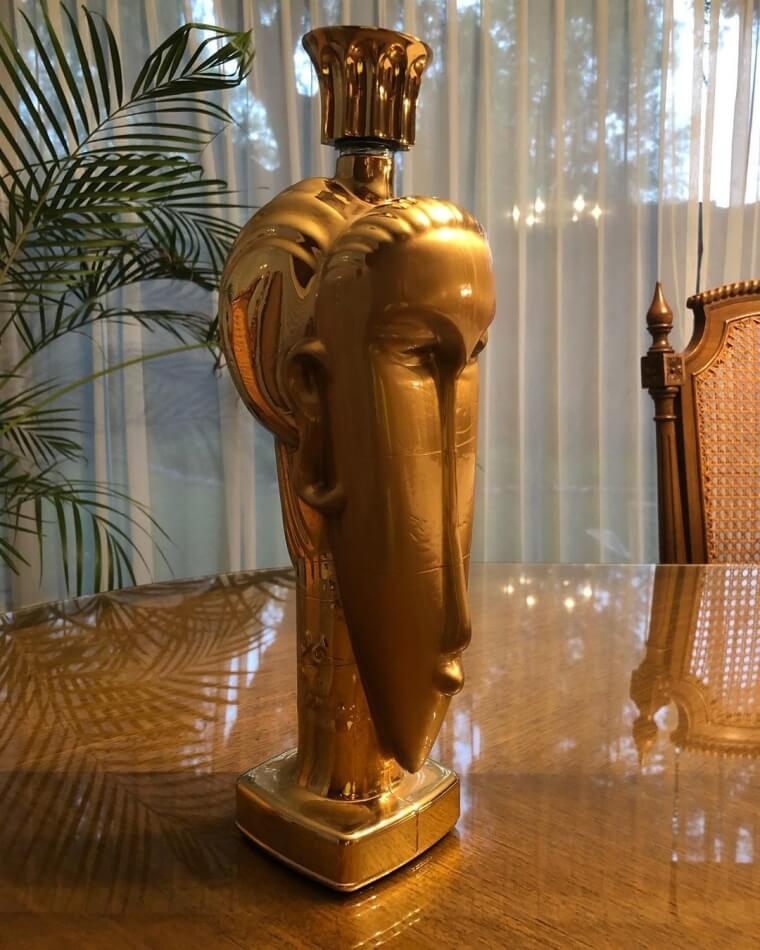 This bottle consists of merely plain water that is a blend of Fiji, France, and Iceland water. No matter how fancy the water brands are, we bet it's no different than ordinary tap water. Additionally, the price of this comes at $60,000 a bottle.
Half A Million Dollar Wine
This particular wine is a specialty of a winery based in California known as the Screaming Eagle Winery. The price point of each bottle is set at $500,000. This half-a-million-dollar bottle is quite rare to acquire as well, so you better start looking for one now.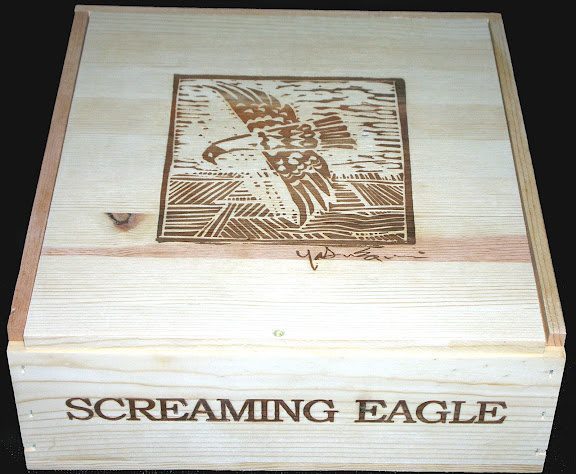 The buyers have to be on an approved list to even qualify for a bottle, and people even wait years on this list to be able to acquire one. Tech executives and CEOs from Silicon Valley especially gravitate their interests to this winery.
Macallan 18-yr-old Scotch
This scotch is a high-end drink that is actually a whiskey that is native to Scotland. It is solely made with malted barley and is deemed a very prestigious drink. However, in 2018, a brand took things up a notch.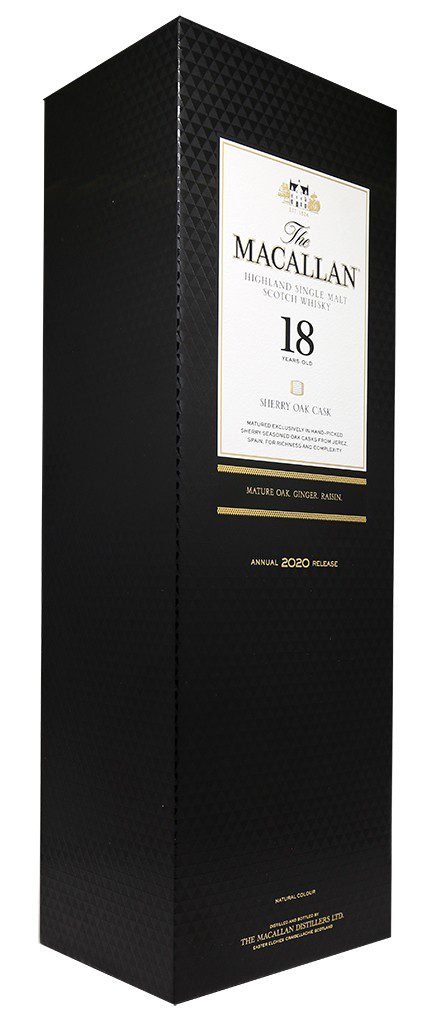 When it comes to wine, the more it ages, the finer it gets, and that is the case for this 18-year-old Macallan Scotch. A bottle of this beauty was sold for two million dollars at an auction. Whoever bought this bottle surely savored it in each sip.
Grilled Cheese
Grilled cheese is one of those comfort foods that we would like to happily splurge on. This particular grilled cheese is known as the Quintessential Grilled cheese, and it is prepared by Serendipity 3, a restaurant in New York City.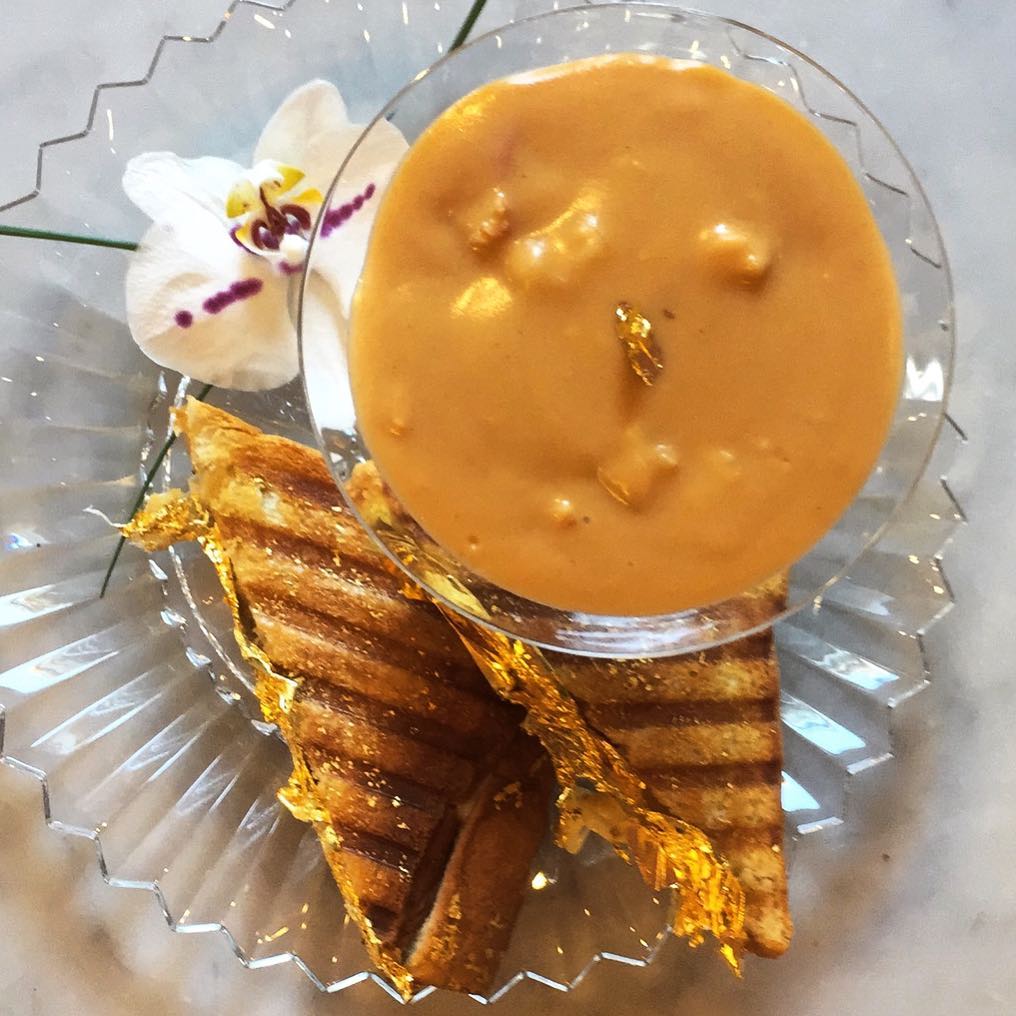 The bread is especially soaked in Dom Perignon to give an extra kick of flavor. Furthermore, this dish needs to be ordered two days prior to the date you want to savor it. The price point of it is set at $214 per sammy.
Jeong Hong Yong Christmas Cake
This bedazzled item might look like a jewelry box to you, but we're here to debunk the myth and declare that it's actually a cake. This cake was prepared by Japanese pastry chef Jeong Hong-Yong and is kept on display in a Tokyo department store.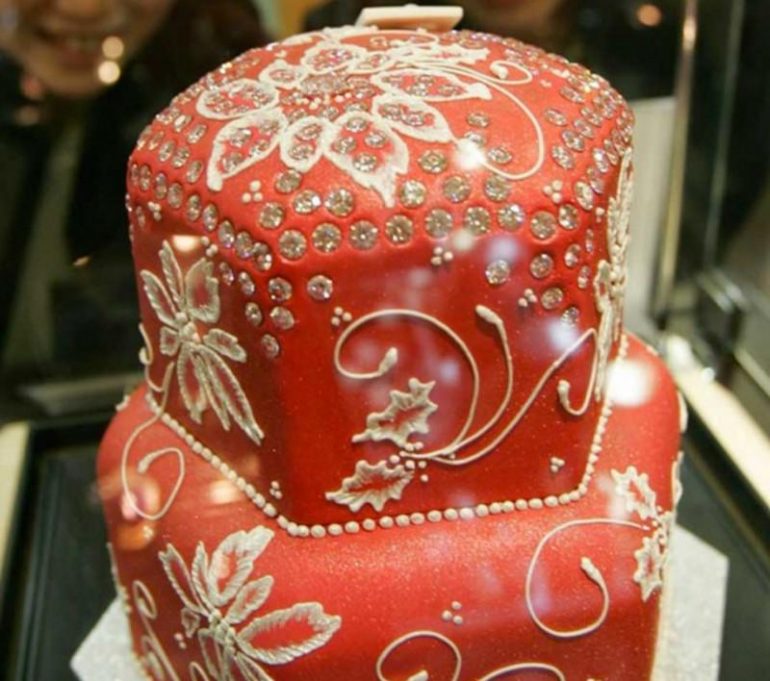 The cake is extremely guarded as it is bedazzled with 223 real diamonds. Under all that, you'll just find a regular fruit cake. This cake is yet to be purchased, and it makes sense due to the price point of it being 1.72 million dollars.
Le Burger Extravagant
If the previous grilled cheese option wasn't well suited for you and you want to enhance a bit more of your flavor palette, then you can avail of the Le Burger Extravagant. Well, if your savings can take this blow, that is.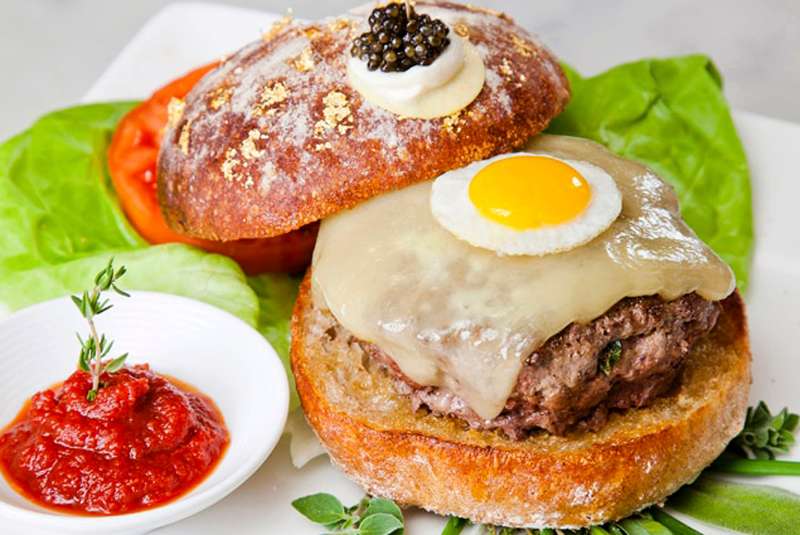 The rich burger is filled with wagyu beef, white truffles, butter, and shaved black truffles. Furthermore, the burger is topped with a tiny quail. The price per patty of this extravaganza is held at $295. Better off sticking with the good old McDonald's, right?
Popcorn For The Riches
This golden popcorn is not just topped with caramel to give the look of one but has actual sprinkles of edible gold. Additionally, the popcorn is mixed with Vermont butter, bourbon vanilla, and special salt acquired from Laeso. You can already tell it's going to be expensive.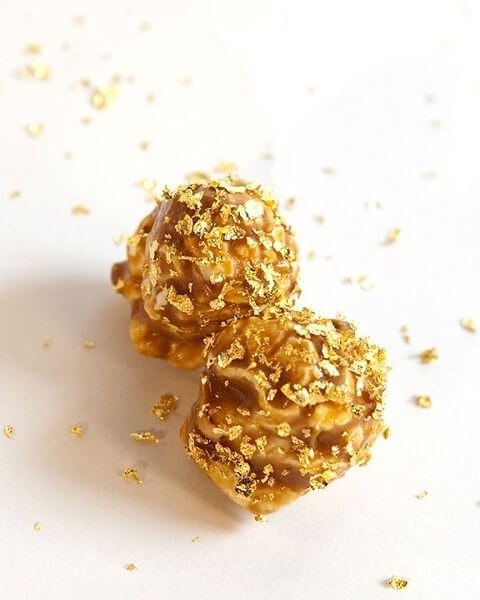 This popcorn is only deserving to be served at highly prestigious places such as between the pantheon of gods or in a royal palace setting. Additionally, the price point of it is set at $500 for two gallons of popcorn.
Capital Sacramento Sausage
This particular food item has to be one of the most flavorful out of the bunch. It is loaded with beef, mustard, baby greens, shallots, garlic mayo, more herbs, smoked bacon, peppers, olive oil, etc. These are pretty basic ingredients, right?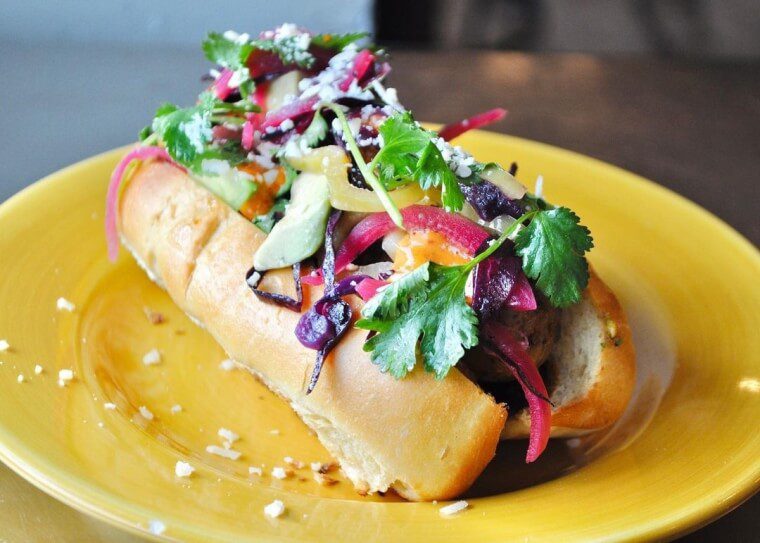 The most important part is the cranberry-pear-coconut-flavored balsamic vinaigrette. Given the number of ingredients this Capital Sacramento Sausage has, it still is priced at a fair amount of $145.49 per hot dog. Alternatively, you can stop by Costco and get one of their 1-dollar hot dogs.
The Golden Sundae
This opulent sundae is another specialty of Serendipity 3, aside from that golden grilled cheese. This sundae requires 48 hours prior notice before it is prepared. Furthermore, it comes in a 350-dollar goblet. What's up with this restaurant and making us wait so long for our food?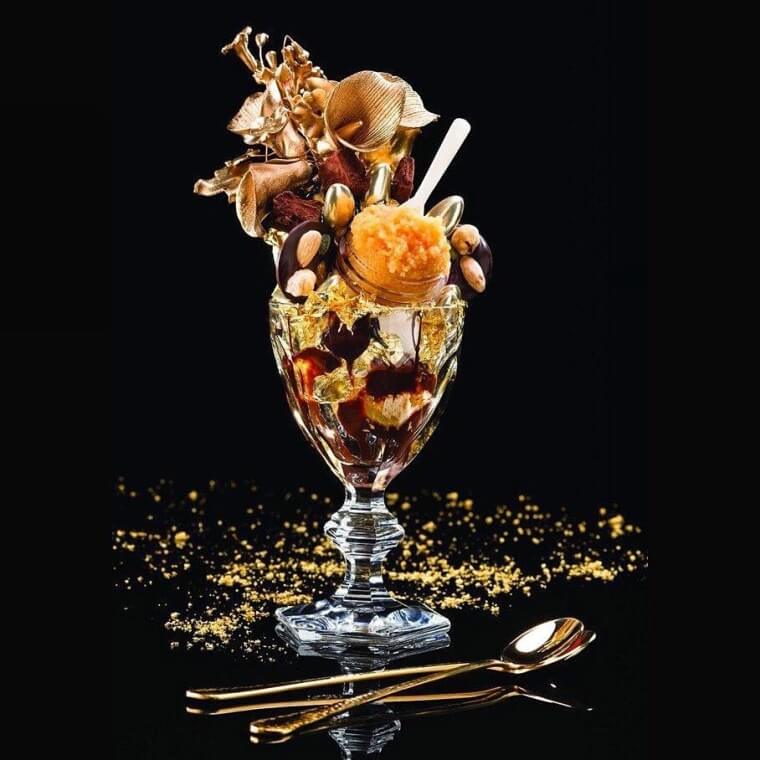 The dish is loaded with vanilla from Tahiti, expensive chocolate from Madagascar, and requires a rare kind of fruit from Paris. Last but not least, the sundae is topped with expensive caviar. The dessert is priced at $1,000. And let's not talk about the tip!
Special Soup
This particular soup is served at a restaurant called Mayfair Kai, which is located in London. The soup consists of Japanese flower mushrooms, chicken, sea cucumber, dried oysters, shark fin, pork, ginseng, and sea snails. Not everyone loves these ingredients, and you'll also hate the price.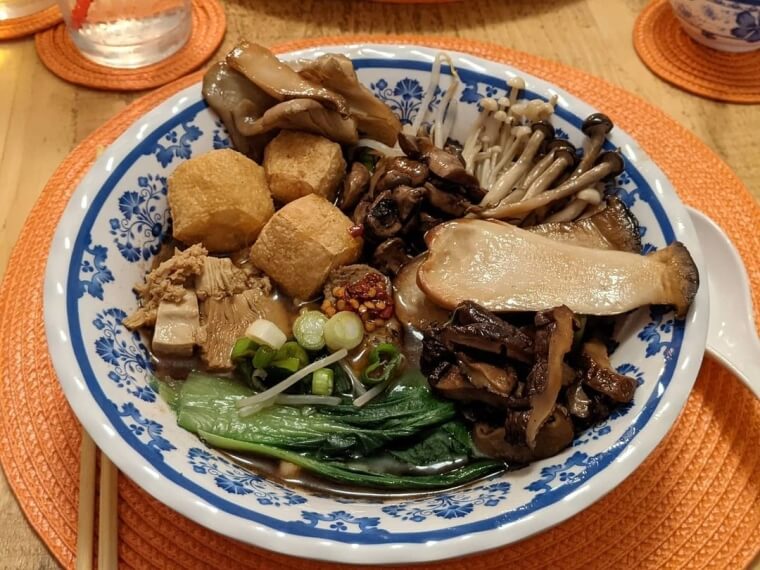 If you thought ordering a sundae 48 hours prior is outrageous, then you'll be surprised to know that you have to order this dish five days prior. This soup is known as the Buddha bowl and is sold at $190.18 per bowl.
Club Sandwich
A traditional club sandwich with bacon, turkey, avocado, and lettuce always hits the spot for us. Whenever we feel like acting as if we eat healthily, we order one of these. However, this particular club sandwich is far from traditional and ordinary.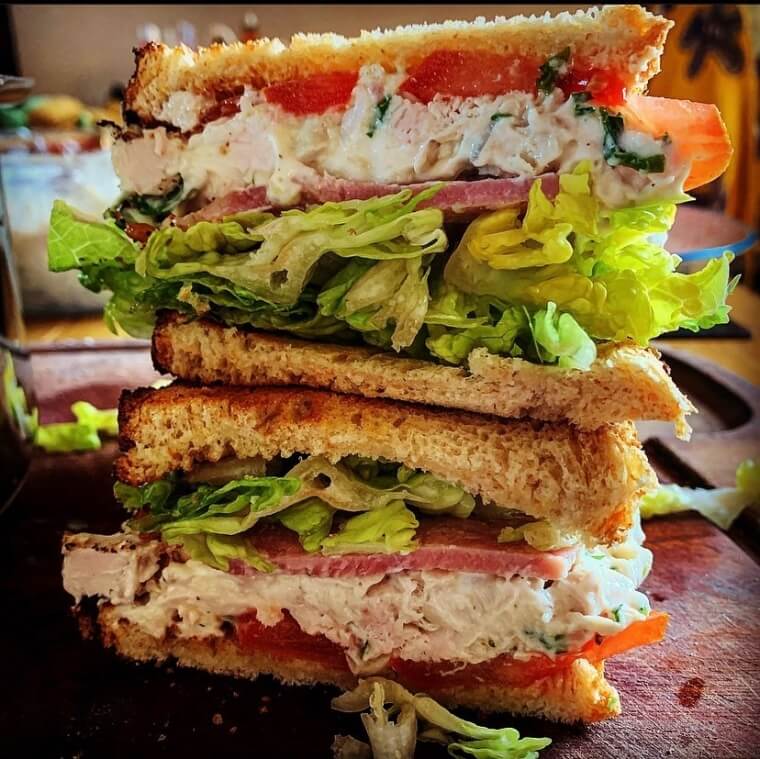 The sandwich is a specialty at the Cleveland House Hotel in London. It consists of pork, chicken, quail eggs, half-dried tomatoes, and white truffle light bread. Furthermore, each sandwich costs $197. If you buy the ingredients and make one of these at home, we're pretty sure you'll spend way less than that.
Moose Cheese
This particular cheese comes from a very special animal that we all know: a moose. To be honest, milking a moose has to be one of the most dangerous jobs out there, as there is always this lingering fear of being trampled to death by one.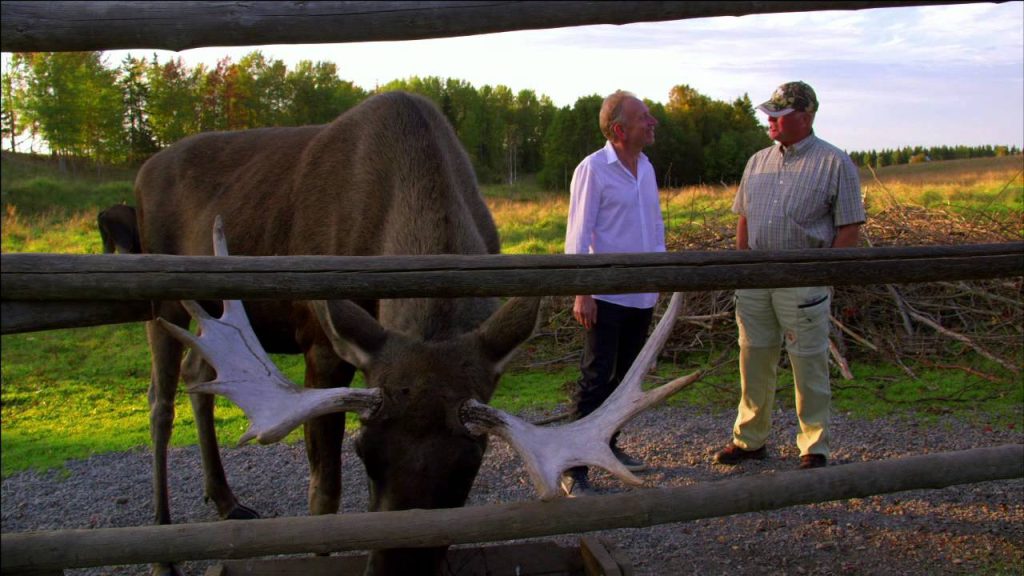 The cheese is particularly compared to creamier feta cheese. However, we are glad to know that moose milkers have it easy for them because the animals actually like to be milked. Additionally, the price is $1,000 per kilo of cheese.
Pogo
The Pogo fish is one of the most dangerous food items on this list. This fish needs to be prepared with extreme caution as it has the potential to take lives. The deadly pufferfish is filled with toxins and is native to Japan.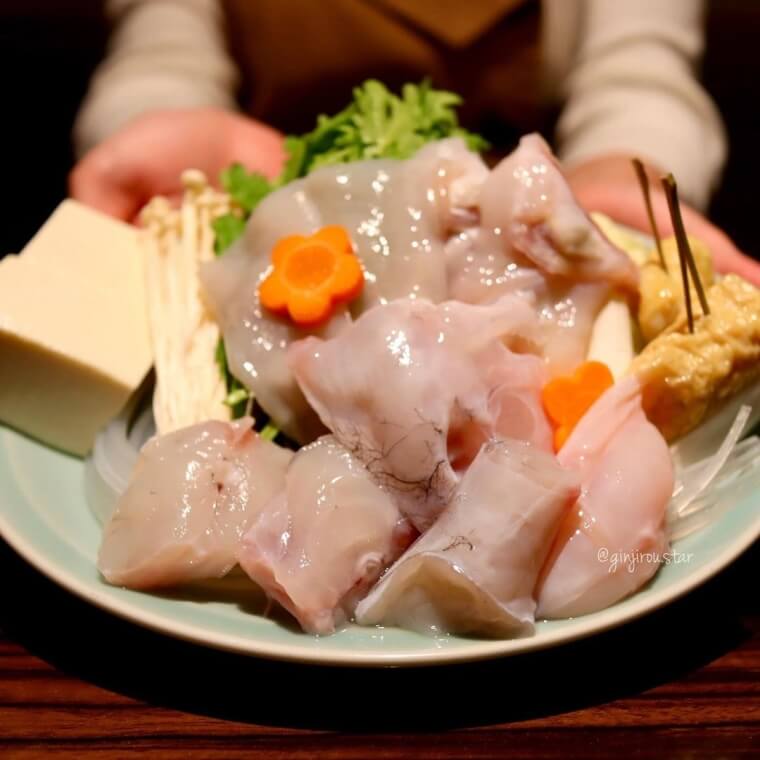 It actually requires special hands-on training before a chef is able to cook this dish. Before availing of this dish of the fatal fish, make sure it is priced at a fairly higher value as it ensures higher quality and less risk.
Frittata
This special frittata is prepared by Norma, a famous brunch place in New York City. If your diet restricts seafood, you better stay away from this one. The dish is made of 300 grams of specialty caviar and a whole pound of lobster.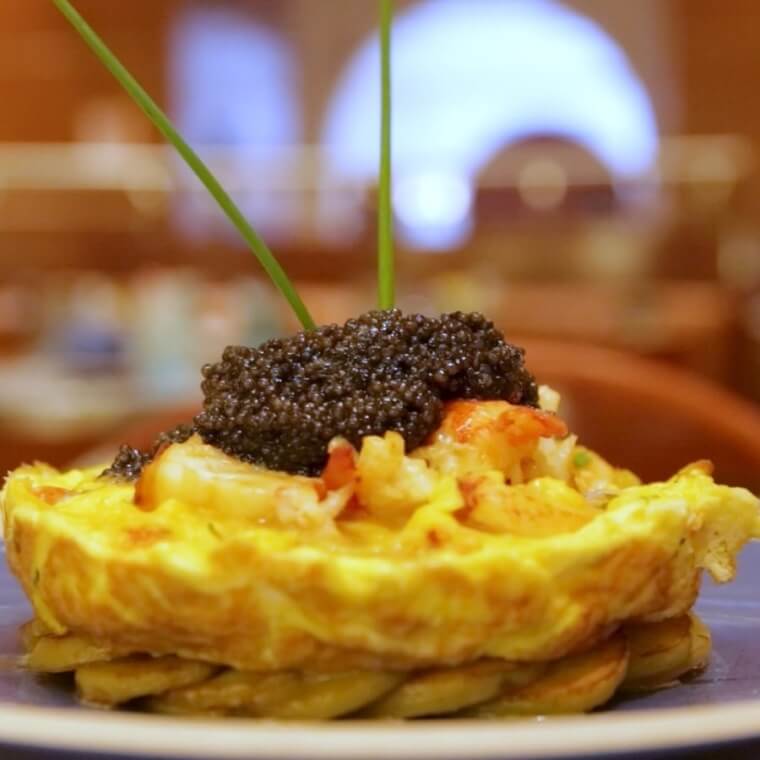 The main frittata part contains eggs, chives, and cream. However, what hikes up the price is the caviar that is obtained from an endangered sturgeon fish. The whole frittata is priced at $2,000, whereas the smaller version is $200. Maybe they should stop making food out of endangered species.
Birds Nest Soup
The name of this soup is as literal as the ingredient it is made of. This soup is of Chinese origin and is made from a stolen bird's nest. The swiftlet birds make their home using their own saliva. Saliva is the quintessential part of the soup.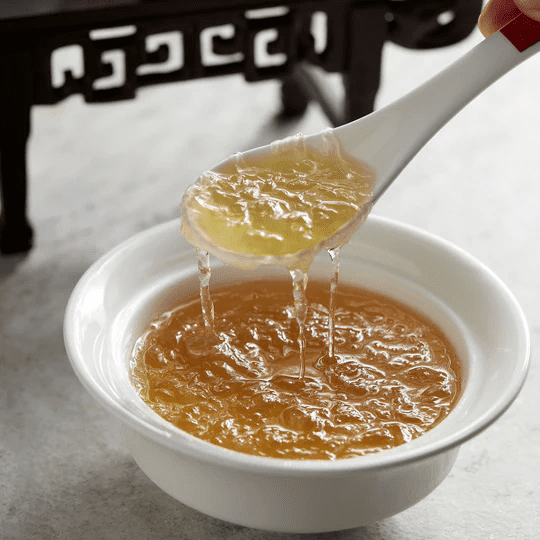 The nests are very hard to get a hold of as they are located on top of tall trees and high cliffs, which hikes up their price substantially. It is also known to taste quite sweet and spitty, and a bowl of this spit costs $1,000.
Pizza Extravaganza
This luxurious pizza is served at this Manhattan eatery and is deemed to be quite expensive. This pizza by Nino Bellissima is served with six different types of caviar and lobster, whipped cream, and chives. Doesn't sound so good, does it?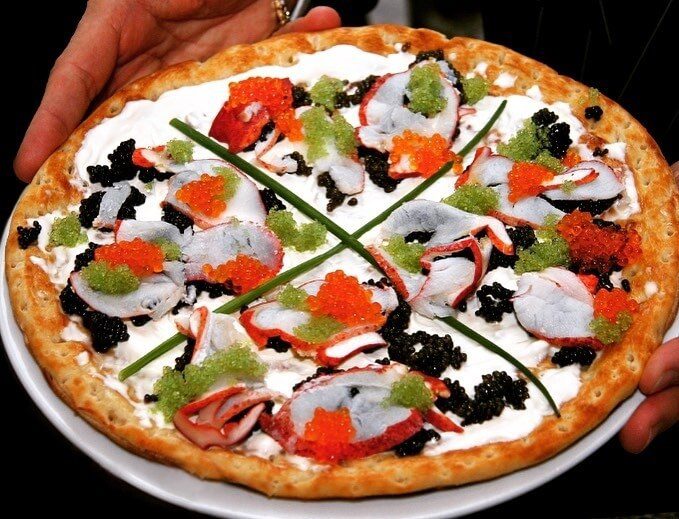 Like a traditional New York-style pizza, the dough is quite thin and crunchy. Furthermore, it needs to be ordered 24 hours prior to being served. The price range is set at $1,000 per pie, and $125 per slice. What's up with NY and making people pre-order their food?!
Bagel
Aside from pizza, New York is also hailed for its delicious bagels. This particular bagel is from the Westin Hotel. This bagel is definitely made for the elites that reside in Manhattan's Upper West Side, and you'll soon understand why.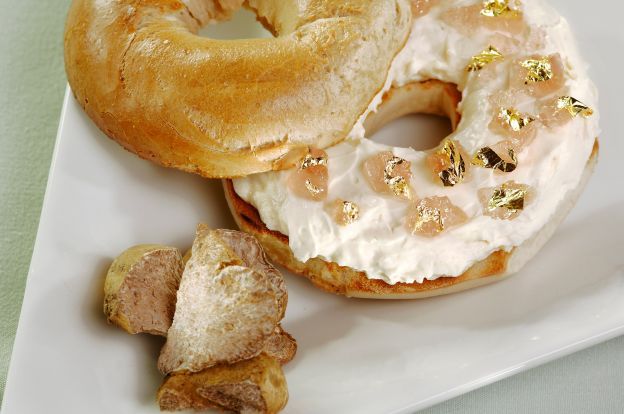 The bagel is topped with white truffle cream, goji-berry riesling marmalade, and gold wrappings. That's why it's so expensive. Seems like all you need is some gold shavings to make your dishes high-end. The price is $1,000 per bagel. Ready to pay for that?
The Phoenix Cupcake
This cupcake surely exudes an angelic aura that can only be afforded by riches. You find this in Bloomsbury's, a boutique cafe in Dubai. The dessert is wrapped with Ugandan vanilla, expensive chocolate, and a sheet of 24-carat edible gold.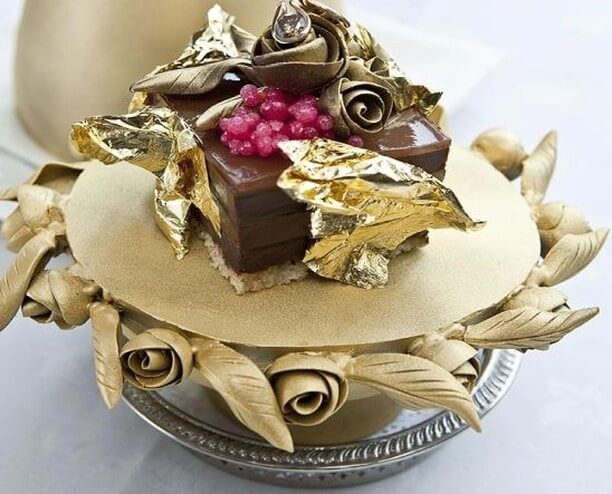 The cupcake is known to attract rich tourists and oil moguls in Dubai. Given the beautiful appearance of the dish, it would be quite difficult for us to deconstruct its beauty for mere consumption. The price is $1,000 per cupcake, which is basically pocket money for all the billionaires in this city.
Glam Burger
This bombastic burger is known as a Glam Burger. It's served in an American-style bar called Honky Tonk in London. The burger is rich with ingredients such as Wagyu Kobe beef, black truffle berry cheese, maple syrup striped bacon, beluga caviar, and of course, gold leaves.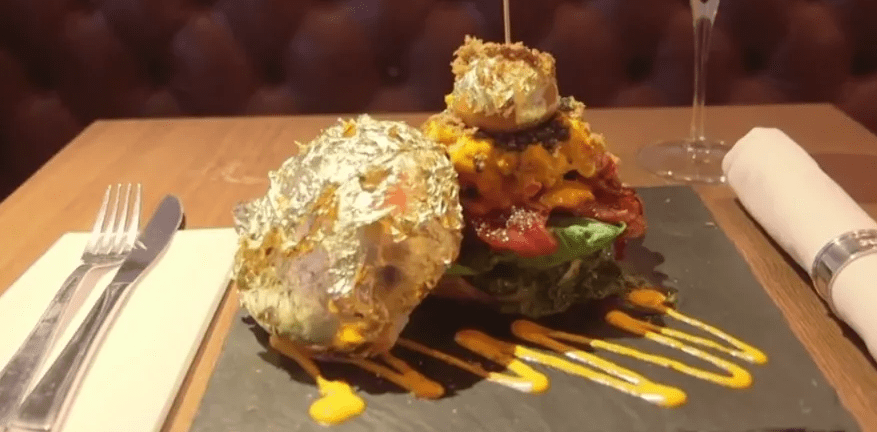 The burger is also coated with Japanese matcha ground green tea cream and served with champagne and mango juice. This dish is definitely exploding with flavors. Surprisingly, the burger is sold at only $24.99. It's not nearly as expensive as some dishes on this list, but it's still intriguing enough to earn a spot here.
The Pizza With A Cause
This pizza has a special place in our hearts as it is prepared for a noble purpose. At the beautiful Island of Malta at charitable Margo's Pizzeria, you can have this dish. The best part is that all proceeds go to philanthropic causes.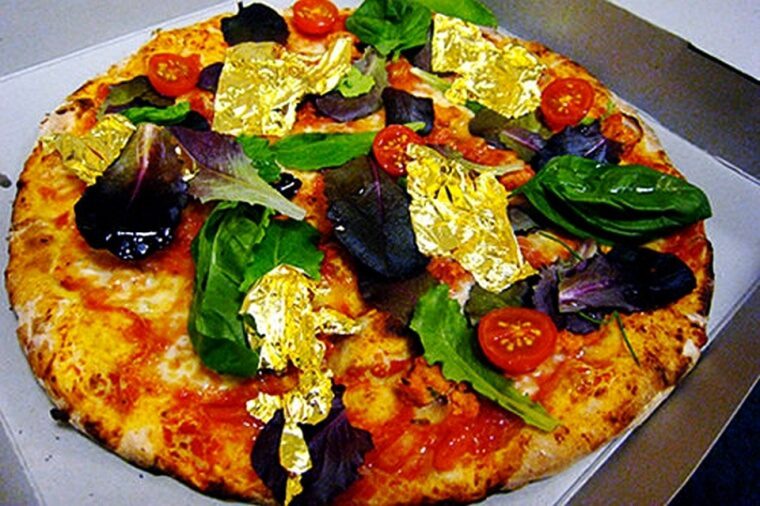 Covered with white truffles and golden leaves, this pizza needs to be ordered an entire week prior. Additionally, if you feel free to support the cause, hop on a plane to the beautiful island and have a taste of this extravaganza. The price is $2,400 per pizza.
The 24K Pizza
In today's episode of making every food item fancy by wrapping it up in gold leaves, we have the 24-karat pizza. The pizza is prepared by Industry Kitchen and topped with truffles, caviar, stilton, foie gras, and a bunch of edible gold.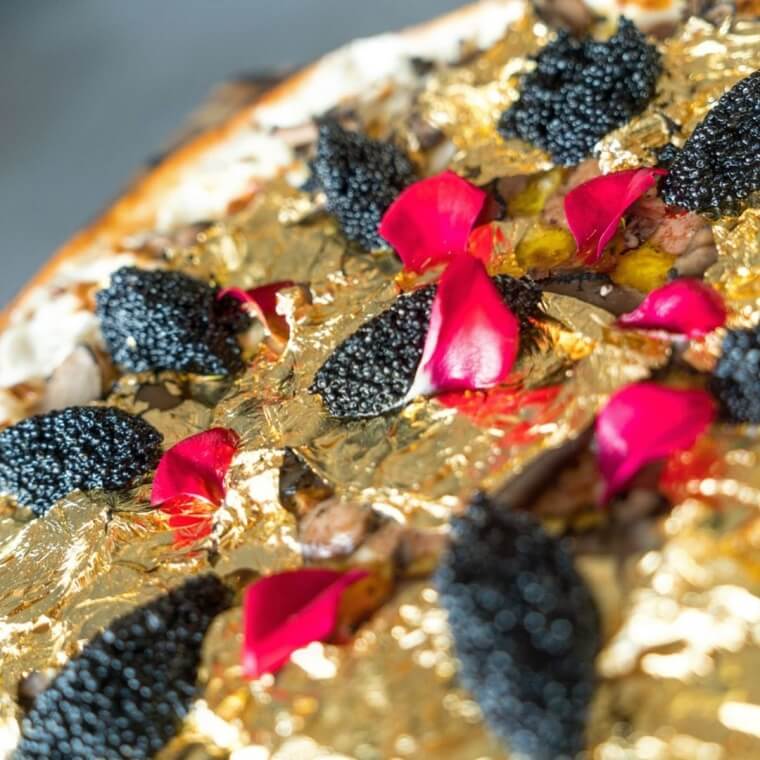 If you are wondering why the crust is black, we are here to clear up your confusion. The crust is actually made with squid ink to make the gold pop. The price starts at two thousand dollars per pizza. With that money, how many pizzas can you order at Domino's?
Black Watermelon
Found in Hokkaido, Japan, these black watermelons are quite rare. In fact, the first crop of the year is usually auctioned off at a high-end price for very rich people. However, cheaper versions are available in Toronto in certain seasons.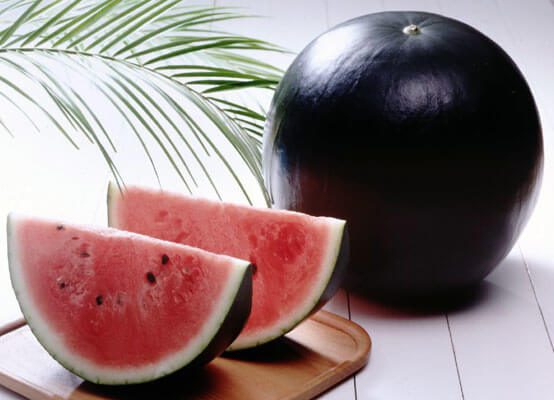 These melons are quite fresh and full of sweetness and suppleness. This is definitely a must-have during the summer. The price of these ranges between $3,000 – $6,000 per watermelon. We wonder if this is the "watermelon sugar" a certain singer was talking about.
The Premium Hot Dog
This particular hot dog is a specialty of Tokyo Dog, and the brand goes above and beyond to incorporate every expensive ingredient out there. The hot dog consists of ingredients like Wagyu beef, black truffles, Bavarian sausage, foie gras, and caviar.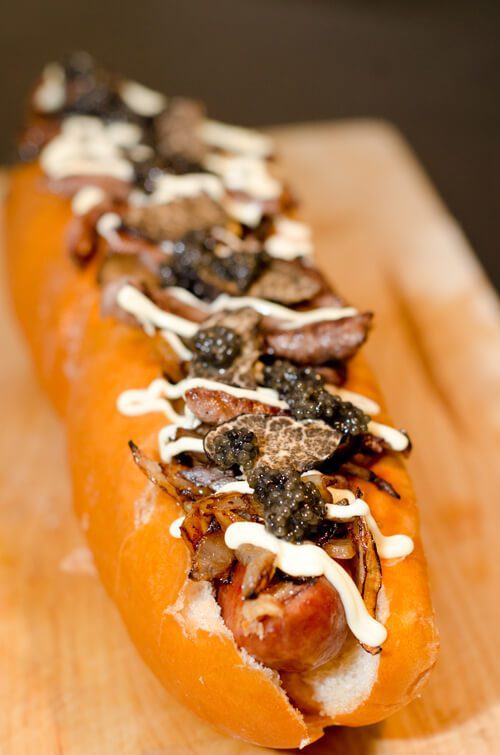 This dish is also related to a good cause, and all the proceeds from this exquisite and fulfilling dish go to the Red Cross. The price point is set at $2,000. If you support the cause, we'd definitely recommend trying this dish – or just making a donation directly to the organization.
Samudri Khazana
This dish has a unique name called "Samudri Khazana," and its meaning implies 'treasures of the sea.' The name definitely goes with the ingredient list, as it contains various seafood items such as caviar, crab, lobster, gold, white truffle, and quail eggs.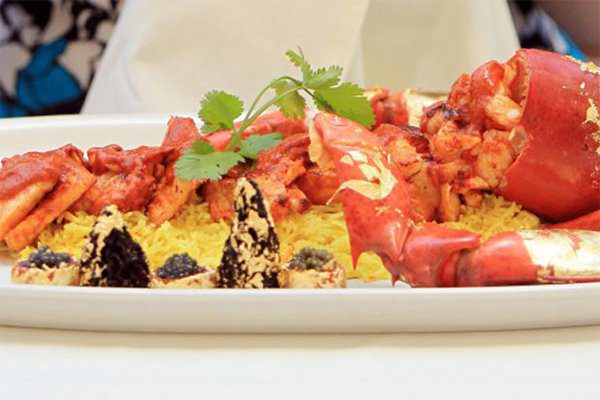 All the ingredients mentioned are mixed to make a delicious curry that doubles as the ultimate comfort food. The warmth a curry carries is unparalleled, and the mixture of rich seafood items definitely elevates the taste. The price is $3,200 per dish.
National Gay Wedding Show Cake
This cake is a sweet token of love that was made to celebrate the national gay weddings. It was created by a bakery in Chester, England. The eight-tiered cake is decorated with 4,000 diamonds. Just as sparkly and extravagant as it should be.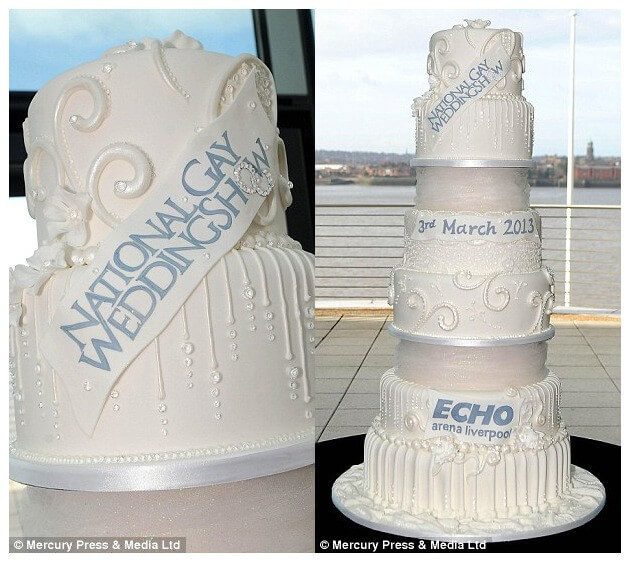 There is surely no price for love. Thus, no matter how outrageous the price point is of this cake, it surely can't outdo the love and noble intention it was made for. The price point of this is $52 million.
Push Pie
This pie is called the Push Pie and is regarded as among the most prestigious in the world. You can have this pie at Lord Dudley Hotel in Australia. This can be considered the most expensive surf and turf meal in all of Sydney.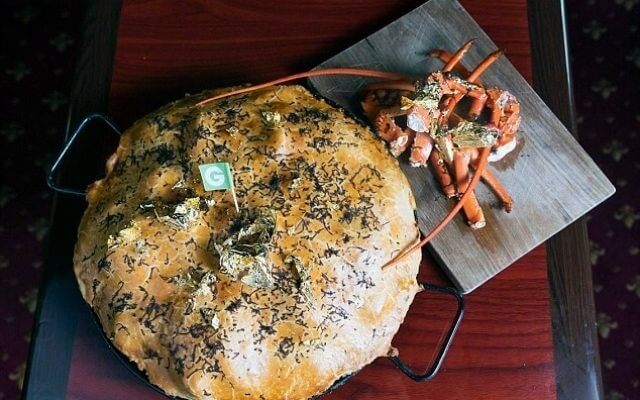 The dish is topped with beef, Australian lobster rock, and black winter truffles. You will also be served with a hefty amount of bottles of Penfolds Grange Reserve. The delicious pie is priced at $9,484. If you have $10,000, you can tell the server to keep the change.
Matsutake Mushrooms
Normally, one would suppose that a mushroom is pricey due to its hallucinogenic properties. But this particular mushroom is overpriced for other reasons. These mushrooms are pricey due to being grown in the roots of red pine forests, which are getting endangered over the years.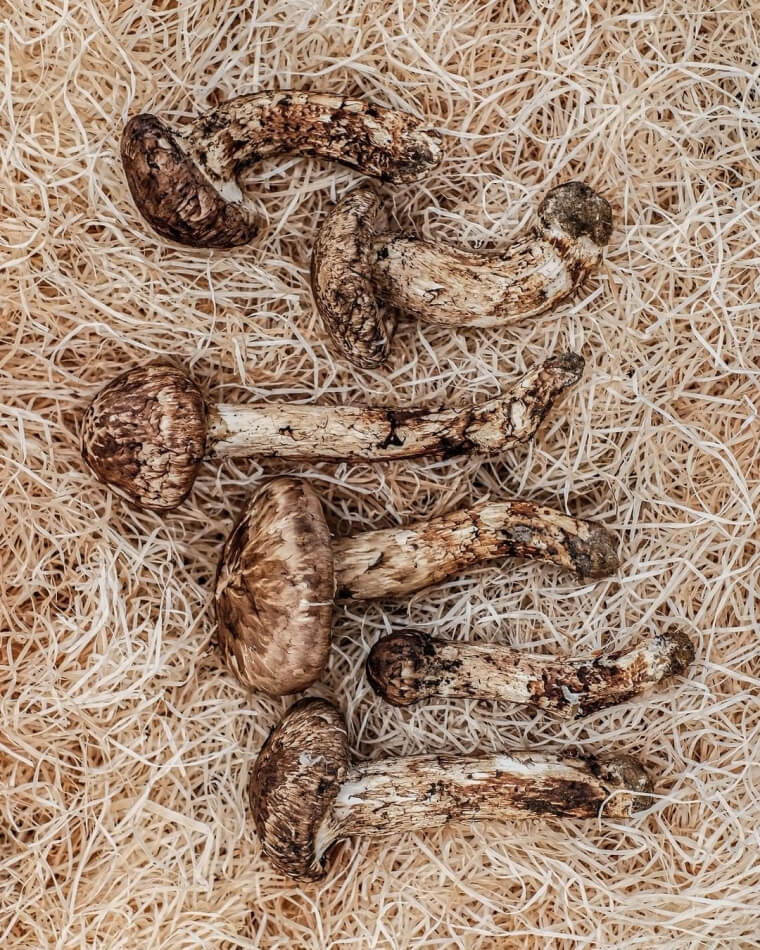 The International Union for Conservation of Nature even recognized these mushrooms as a threatened species in line for extinction. This surely explains the price hike up. The price per pound is $1,000. But if they're endangered, people should probably stop eating them…right?