Food Platings So Impressive Nobody Would Want To Stick Their Fork Into Them
By Harpreet K December 20, 2021
---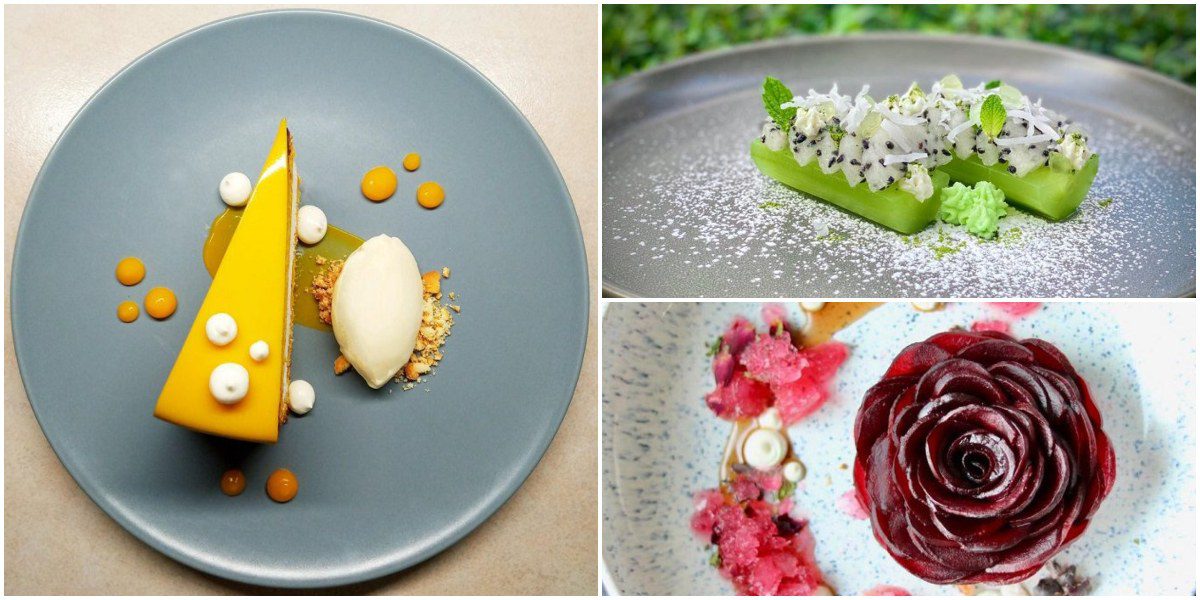 What is good to the eyes is good to taste. We all know this is completely true. When we're craving ice cream, doesn't it hit so much better when it's presented beautifully instead of eating it from the container? Plating is very important in the food industry. Most of you prefer to eat out in your favorite restaurants because you genuinely admire their sense of culinary aesthetic, which is the visionary icing on the cake. It is certainly what we all love about those baking shows. If you are a true gourmet who loves to feast, then here are 30 awe-inspiring food plating that will add flavor to your food with their fantastic display. Some of these look far too beautiful to destroy, but we'd love to be tempted!
White Chocolate Mousse covered Pear with Hazelnut Crumble
Such an embellished plate of chocolate mousse to start this list off with! It leaves us dizzy with its perfect semi-circle of sauce. The contrast is what makes the dish truly special. The plum soaked in red wine is worth gobbling in one go.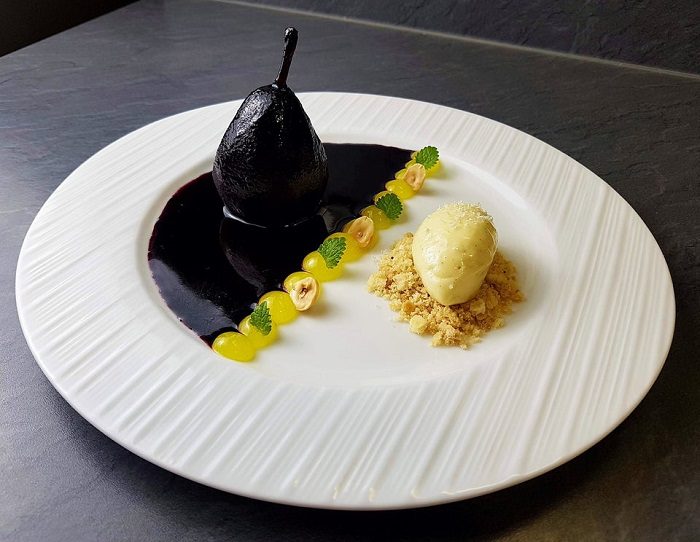 This dessert will lighten the mood and delight anyone who sees it. The stunning food plating is going to make your evening much better, along with a good conversation with someone very close. The half-grapes are the perfect barricade to stop the sauce from flowing.
Mint-Sumac Sprinkled Cherry Tomato Salad
Strawberries and tomatoes are a classic salad combination, and when served with goat cheese mousse, it becomes otherworldly. This fantastic dish is like all the best appetizers are done on one plate to leave you perplexed whether to eat it or admire it.
The perfectly diced salad adds beauty to the taste. Besides, the mesmerizing aroma and rich natural color of mint leaves and sumac sprinkle add a tangy spice with a sour, acidic flavor. The lemon juice makes it next-level in taste.
Chocolate Dished with Fig and Raspberry
This is for all chocolate lovers. A fantastic dessert of our favorite treat amazingly dished with fig and raspberry is your evening indulgence. The two well-formed portions of dry fruit, fresh fruit, and chocolate look delicious. It is a five-star food plating.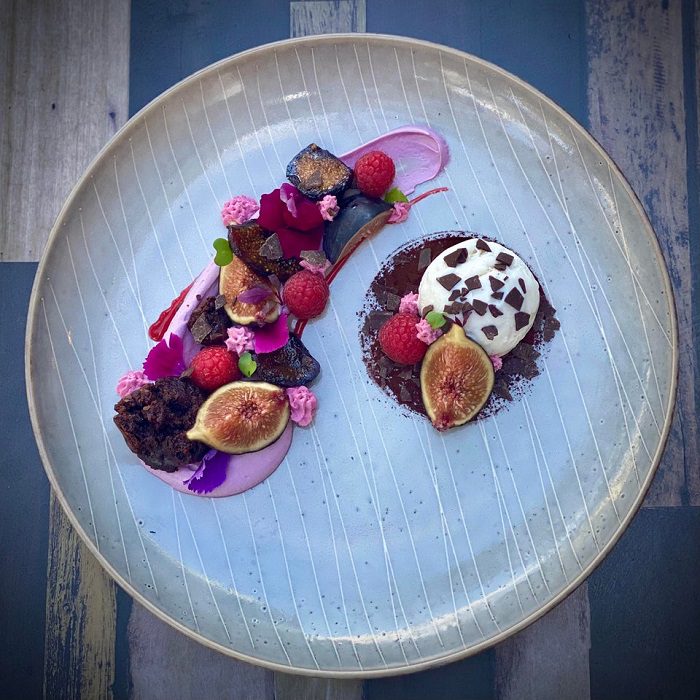 Round vanilla mousse decked out with chocolate shavings is very appealing to the eyes. The blueberry spread and baby raspberries beneath the figs give it a purplish look that reminds us how beautiful our world is. The dessert is coming straight from nature's garden to your plate.
Pan-Fried Asparagus & Potatoes
The forever combo of potatoes and peas is remade in entirely a new fashion. This cuisine is a perfect evening snack to satiate lighter food cravings. It is an all carbs and vitamins dish that is ideal for fitness-conscious people.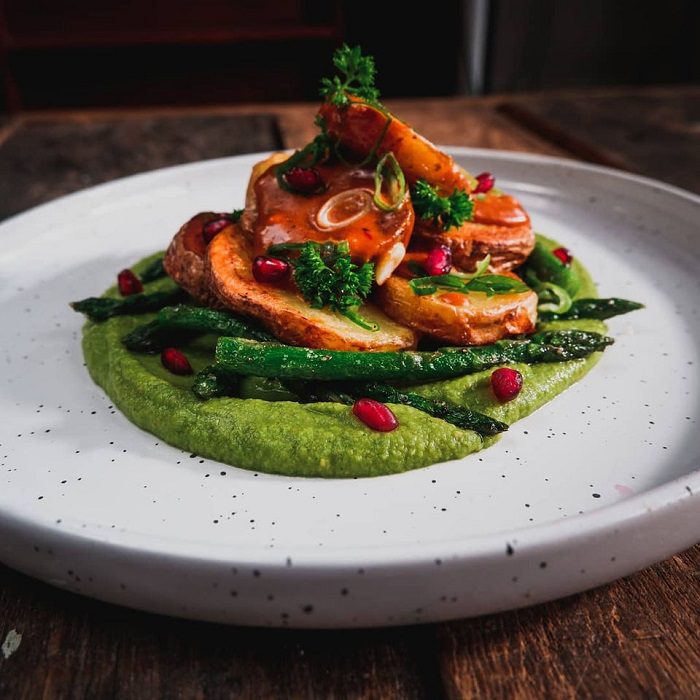 The distinct, assertive taste of asparagus with some spicy undertones makes it go perfectly with the semi-sweet flavor of the peanut sauce. The dish looks extra delicious when garnished with tiny broccoli leaves and pomegranate arils that are evenly spread.
Chocolate Ice-cream with Guinness
A single glance at this dessert makes you go dizzy as it is whipped with everyone's favorite Guinness. The subtle smoky chocolate with a dash of the savory beer taste makes this ice cream a divine treat for Christmas and other major celebrations.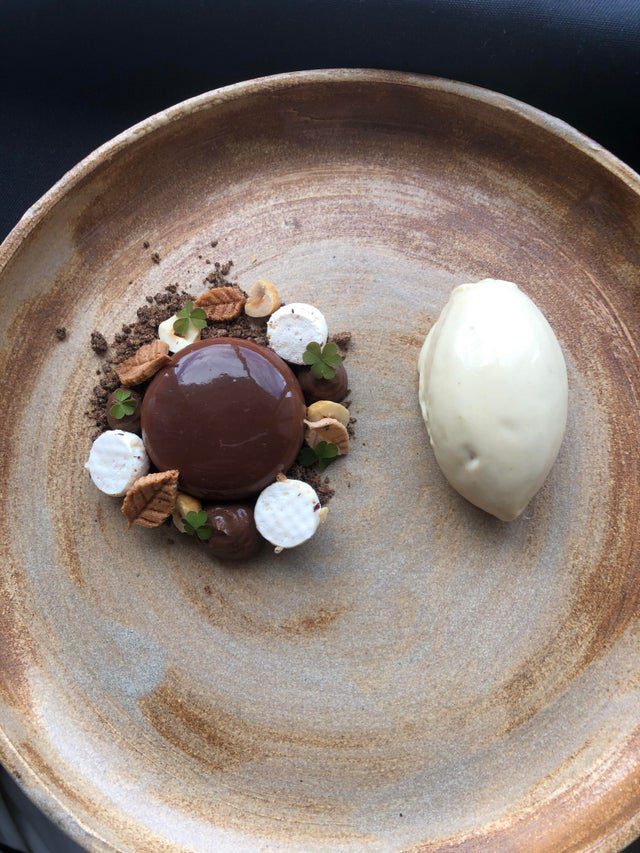 Don't be fooled by the tiny size of the vanilla mousse, as it will smoothly melt in your mouth after enjoying a scoop of chocolate ice cream along with hazelnut granules. Both the flavors are so complete when eaten together! A perfect food plating!
Crescent Bed of Fennel
This tempting salad can make you feel hungry at any time of the day. The crescent-shaped leaves of fennel intertwined with arugula make them look merged entirely into each other. The radish slices add some nice color to the green salad.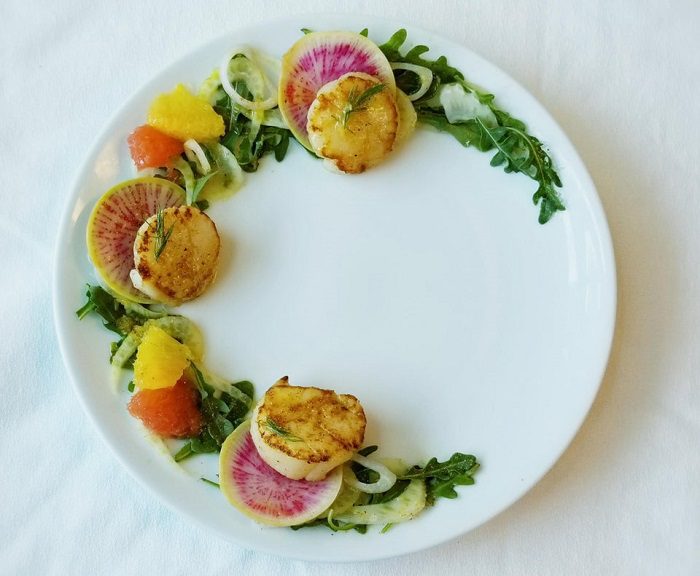 The pan-seared scallops on the salad are more fulsome with their richness of taste. The fact that high school students plated this makes this particular dish all the more impressive. At first glance, we assumed this was a professional job!
Whipped Feta Salad with Beetroot
The creamy taste of whipped feta is something that everyone yearns for; however, this is the most tedious task requiring expertise. This dish is a perfect salad covering all the essential ingredients, from cheese to edible leaves, roots, and dried fruit.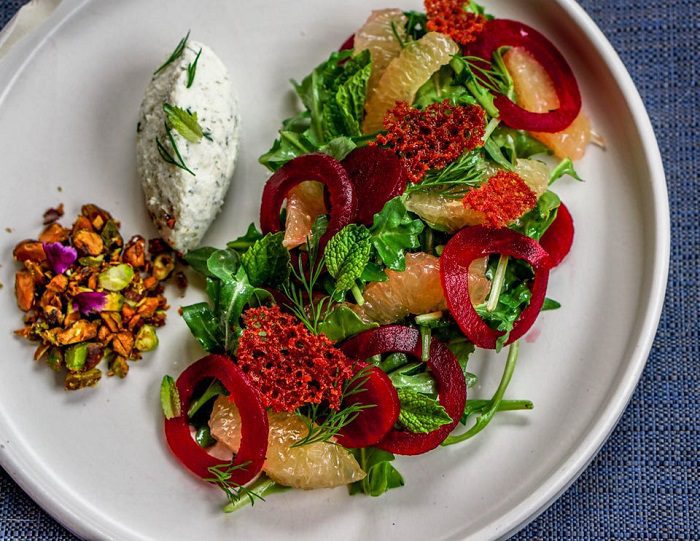 The green arugula leaves topped with beet rings make the salad look organic and nutritious. The tiny crumbs of pistachios are there to give the diner a crunch, and the soft leaves are meant to be enjoyed with a bit of whipped feta.
Hibiscus Vinegar Spread Scallops
This one seems to be at the top of the list in the world of salad plating. With all the required nutrients in one place, this salad is a treat to the nose and eyes with its unique aroma and hues. This creamy red salad will make your mouth water.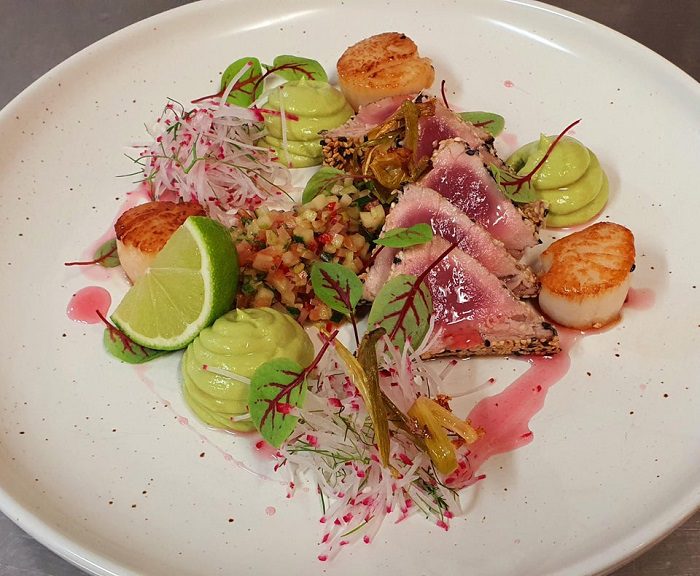 The yellowfish tuna dipped in hibiscus vinegar looks so juicy and sweet-scented. Along with it, the pan-seared scallops are the perfect combo. The avocado wasabi puree adds a bit of zing to the salad. The radish slivers and cucumber salsa make this dish fantastic.
Whipped Coconut Ganache with Mango Tart
This mouth-watering mango tart looks perfect; the air bubbles make it look so fresh. The dessert is complemented with delicious organic berries and flowers that add unique colors and sweet fragrances to the culinary piece of art. This is one we'd pay top dollar for!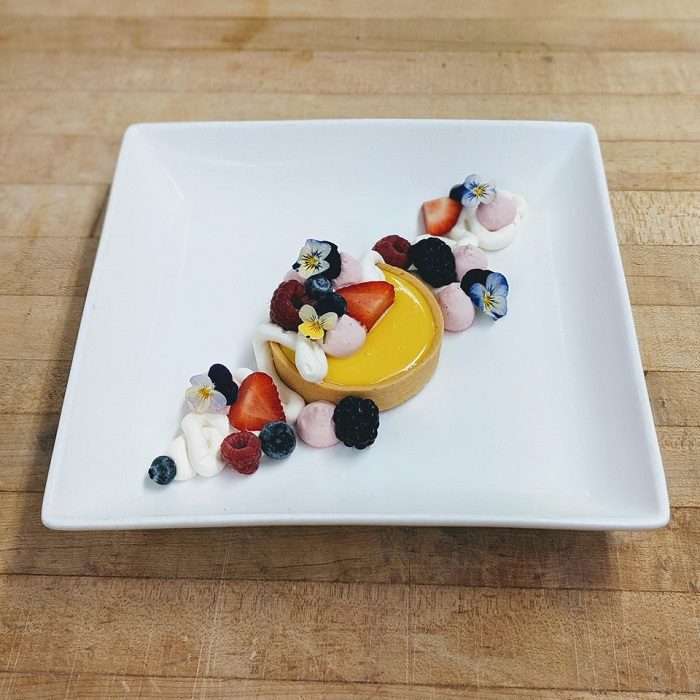 The slanting dessert is well embellished with blue and strawberries. The whipped coconut ganache and guava cremeux add a creamy effect to the whole thing, whereas the violas make it look like a tiara on a princess's head. What amazing food plating!
Microgreen Cold Rolls
Microgreen cold rolls are the fabulous appetizer for your next party that you can even prepare in front of your guests. The microgreens, mint, basil, and cilantro topped with red, orange, yellow pepper, and cucumber taste superb. And they're adorable!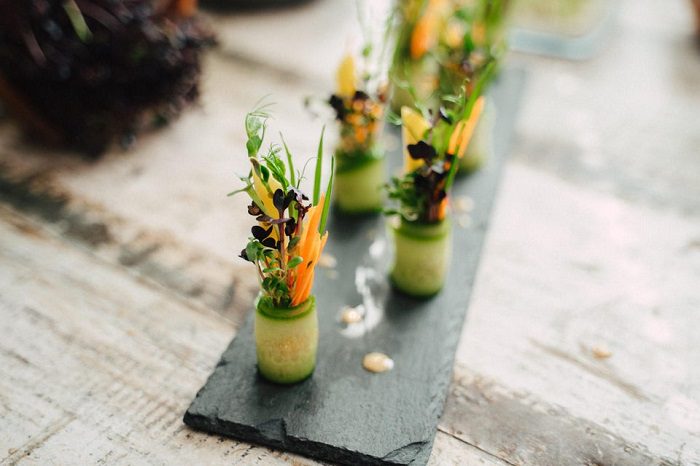 Adding noodles can make the rolls more satisfying and full of carbs. Wrap tightly in thin slices of cucumber and the roll is ready to eat. The tiny dots are the peanut dipping sauce that perfectly complements this leafy dish.
Coconut and Dried Apple Spheres
These tiny balls look so appetizing that the only thing that comes to your mind is to gobble as many as you can in one go. Sweet in taste, these delicacies are the perfect mouth-fresheners you can pop in your mouth after a heavy meal.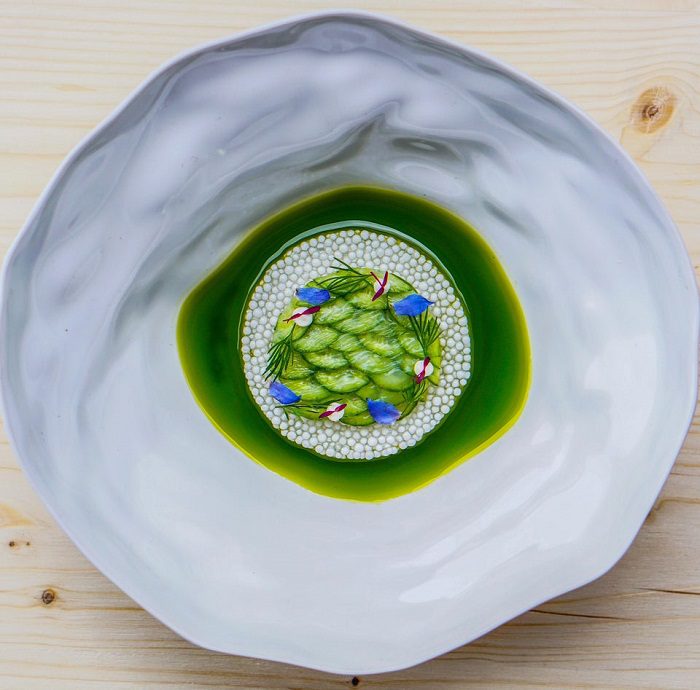 The perfectly shaped spheres of dried apple blend well with raw coconut and make them totally mouth-watering. Plus, the green coconut shell on the top makes these appetizers look as if they are plucked straight from some beautiful tropical paradise.
Shortcrust Pastry with Apple and Passionfruit Tart
This tempting flavor-packed dessert is all that one dreams of after dinner. Its lovely aroma of apples and passionfruit is best complemented with lemon juice to make the whole thing taste very sweet yet tangy. We just wonder how to eat it!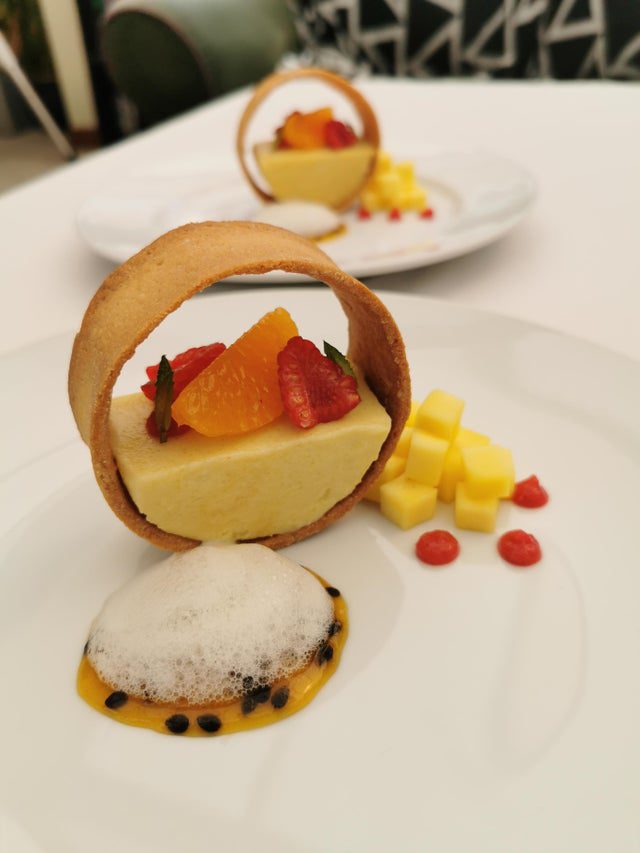 The crunch of the big ring of shortcrust pastry makes a nice contrast to the melt-in-your-mouth taste of the tart and raspberry coulis. Above all, the lemon juice makes the dessert a divine treat for the taste buds and takes it up a notch.
Swiss Potatoes on Smorrebrod
This Danish cuisine is loved everywhere for its wholesome richness of carbs, vitamins, and protein. The starter is full of taste and energy because of its amazing ingredients. The dressing of onion rings makes it more appealing to the eyes.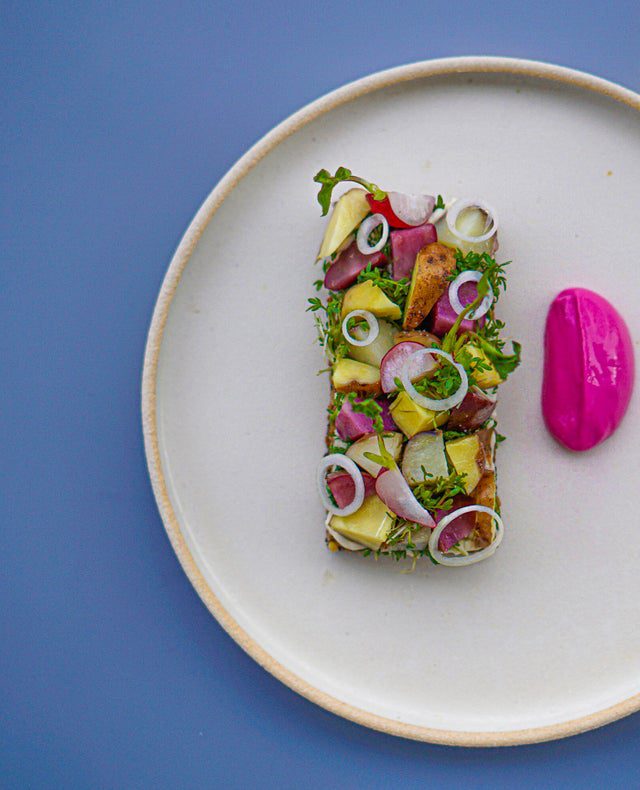 The pleasant savory taste of the swiss mountain potatoes makes it go nicely with the smorrebrod in the mouth very well, along with the vegan mustard mayo. The pickled beetroot cream adds a tangy effect to the whole dish.
Masala Sweet Potato Pani Puri
This Indian snack is liked globally for its mouth-watering sweet and spicy taste. The small size of these stuffed panipuris makes them easy to pop in the mouth in one go. Apart from that, the rich filling inside the crunchy spheres gives a surprising effect.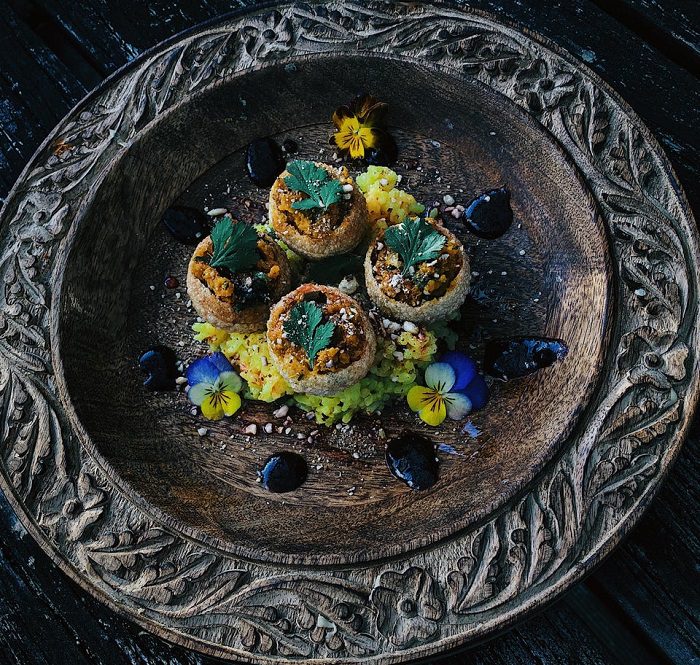 The puris are made up of turmeric and cardamom-infused rice, whereas the stuffing is made up of sweet potato blended with dates, tamarind seeds, and toasted almonds. Usually, these crunchy stuffed puris are taken along with mint and crushed asafoetida pani for better taste.
Ceviche Mit Leche De Tigre
This ambrosial salad is extremely rich in taste and nutrients and is perfect for satiating mild hunger (i.e., it's an appetizer). The crispy and crunchy turnip is the key ingredient of the salad that makes it taste slightly spicy with a bitter undertone.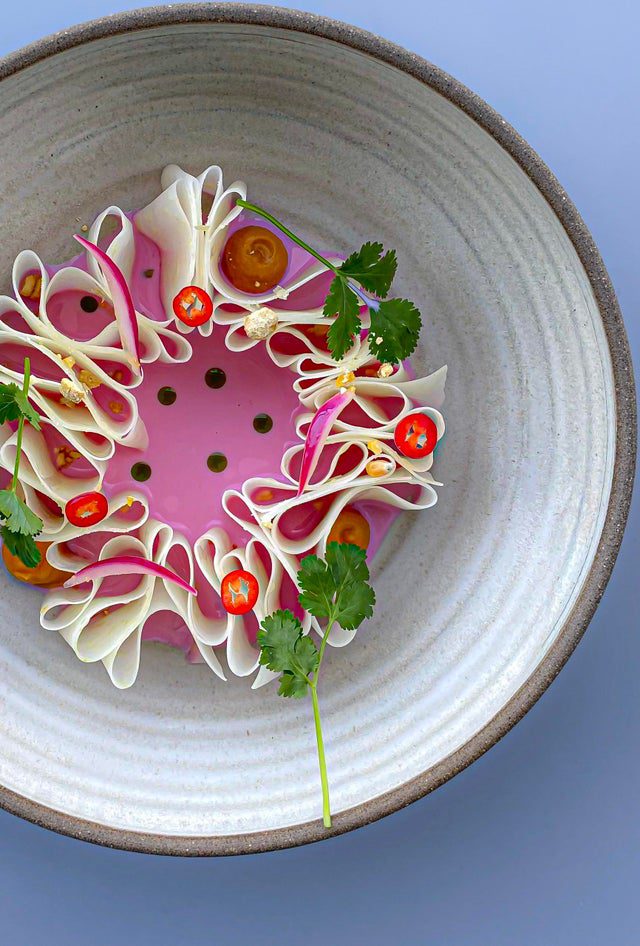 The Leche De Tigre mixed with the turnip paste make it look very pink. Sweet potatoes along with roasted corn make the salad nourishing as well as pretty. Plus, the sprinkle of coriander oil lessens the pungency of turnip and makes the salad taste perfect.
Chocolate Crumble – Version 2
This flavorsome white chocolate cheesecake seems luscious at the very first look. The blackberry gel pairs perfectly with white chocolate cheesecake. The digestive benefits of tarragon cremeux are well complemented with the heaviness of the cheesecake. Seeing this one makes us hungry.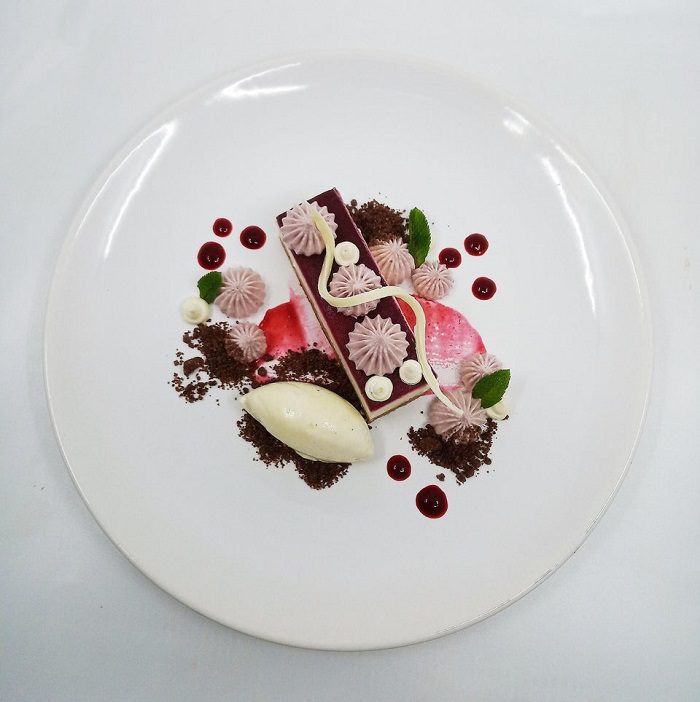 The blackberry cremeux blended with vanilla tastes fantastic and makes the cheesecake much creamier. Chocolate crumbles, of course, make the dessert even yummier. The green tarragon leaves give a whiff of herbs. The tablespoons are eagerly waiting to be used!
Risotto with Morel Mushrooms
Chopped chicken in a pinch of saffron and onion is the key to the delicious risotto. The rich paste is usually prepared in olive and arborio rice to crisp and crunchy. The mesmerizing fragrance of saffron gives invites to the nose towards the dish.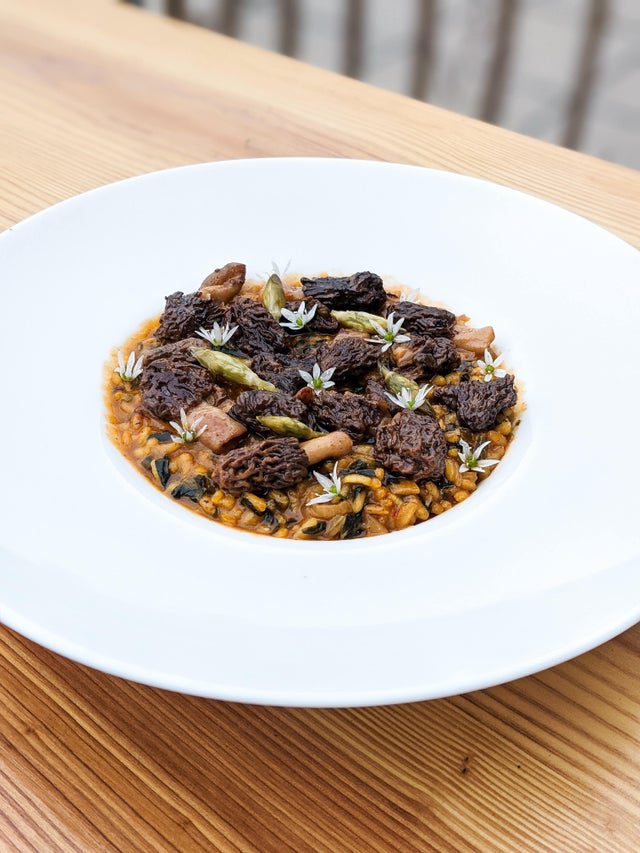 The dish is topped with more mushrooms seasoned in wine, which adds a spicy taste and quickly gets melted in the mouth. The wild garlic-giving aromatic fragrance is the perfect garnish idea out here!
Lamb Tartare & Confit Egg Yolk
This fabulous Middle Eastern dish is popular everywhere around the world because of its enriched ingredients and luscious taste. Requiring nothing but freshly ground lamb, basic spices, confit egg yolk, the dish can be prepared at home in no time.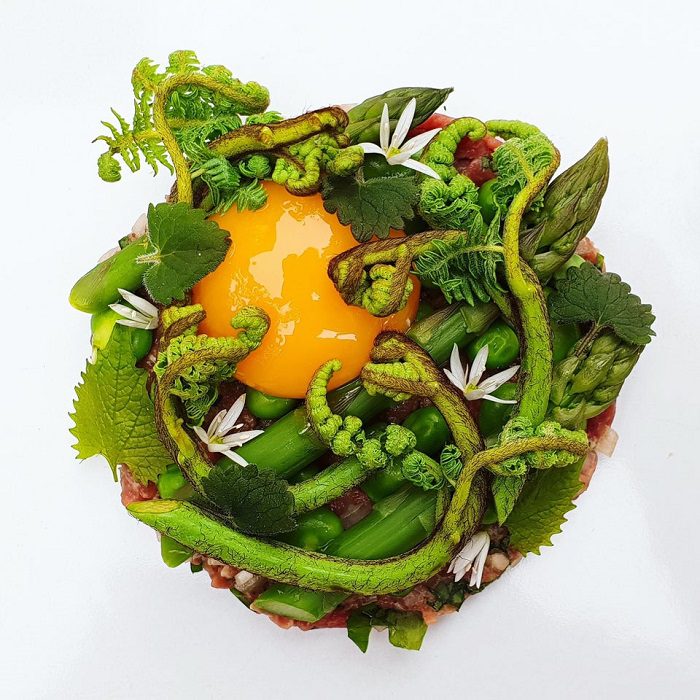 Asparagus, broad beans, and foraged herbs need to be sauteed in olive oil to complement the tartare, and it is made healthier with the goodness of herbs. The boiled peas are a fantastic dressing for the whole thing. This is one of the best food platings for sure!
Luscious Scallops!
For the lovers of scallops, this is the best cuisine that will surely satiate the seafood craving because of its rich, fantastic flavor. This whole scallop dish is so complete in itself that it doesn't require other ingredients practically at all.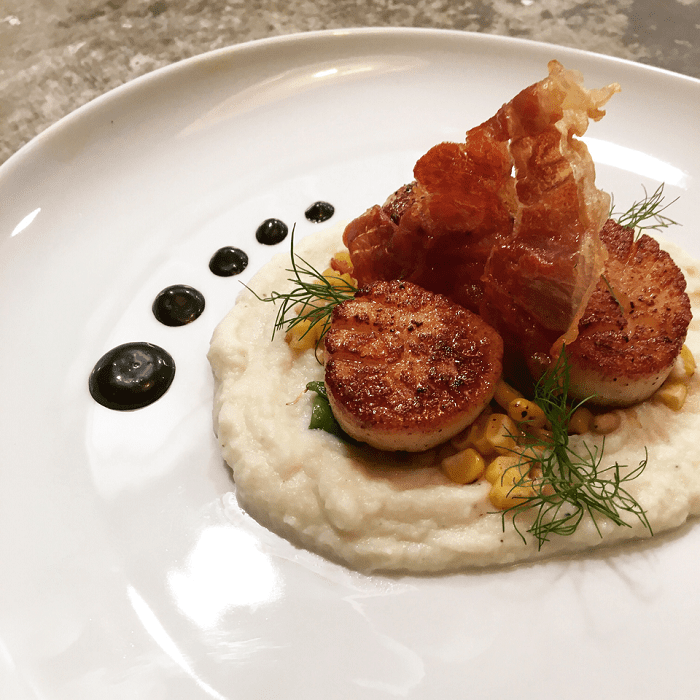 The pan-seared scallops go well with scallop puree made with onion and garlic and simply melt in the mouth in seconds and leave an intense, delightfully bitter aftertaste. The dish is complemented with baby corn and edible herbs for better digestion.
Rhubarb along with Almond & Honey
Commonly cooked with sugar and used in pies, crumbles, and desserts, rhubarbs have a strong, tart taste. The red wine color of the rhubarb tart is a treat to the eyes, nose, and taste buds. A spoonful of the pie will take you to France with its mesmerizing aroma.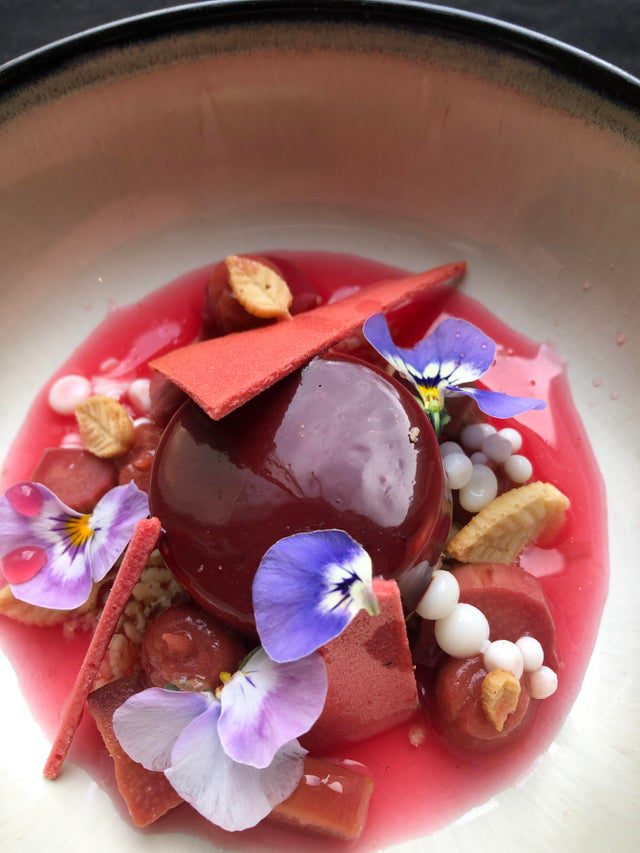 The rhubarb essence blended with buttermilk turns into a tangy finger-licking syrup with the main tart. Almond and honey make it sweeter yet thicker for the tongue. The complimentary strawberry-flavored wafers make it a perfect dessert for your party.
Balanzoni – The Italian Pasta
The pasta from Bologna is an amazing evening snack for all. Cooked in no time, the dish is rich in nutrients with ingredients like balanzoni, sage, and hazelnuts. This yummy treat is cooked in brown butter to give it a salty and savory taste.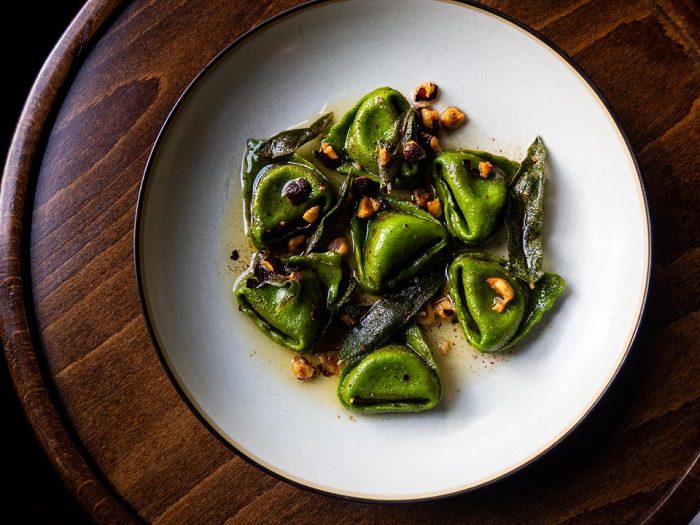 The deep green color of Balanzoni shows that it is prepared with spinach. The complementary fried sage has a robust earthy flavor and is rich in nutrients, despite being low in calories. The nutty toasted hazelnuts are the metaphorical cherry on top.
Yummy Carrot Cake For You!
Very moist and filled with toasted pecans, most of the flavor of carrot cake comes from brown sugar, cinnamon, ginger, and nutmeg. This yummy cake is thick, but each forkful tastes extraordinarily soft and extra lush. It almost feels sinful, it's so good!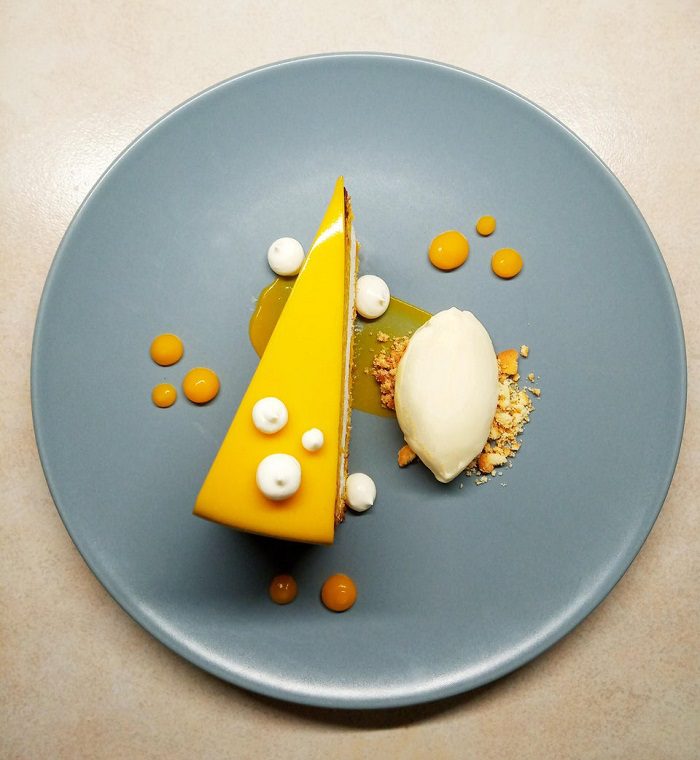 The flavor of ricotta ice cream intensifies the whole essence and gives this dessert an even more tender bite. Besides, the mouth-watering taste of carrot gel prepared with honey and roasted almonds goes smooth with the thickness of mascarpone mousse.
Carrot & Escarole Salad
If Frodo and Sam had a choice to have their kind of food on the voyage, they would have surely preferred the carrot & escarole salad. Apart from being very fresh in appearance, the salad is enriched with multiple nutrients, particularly vitamins.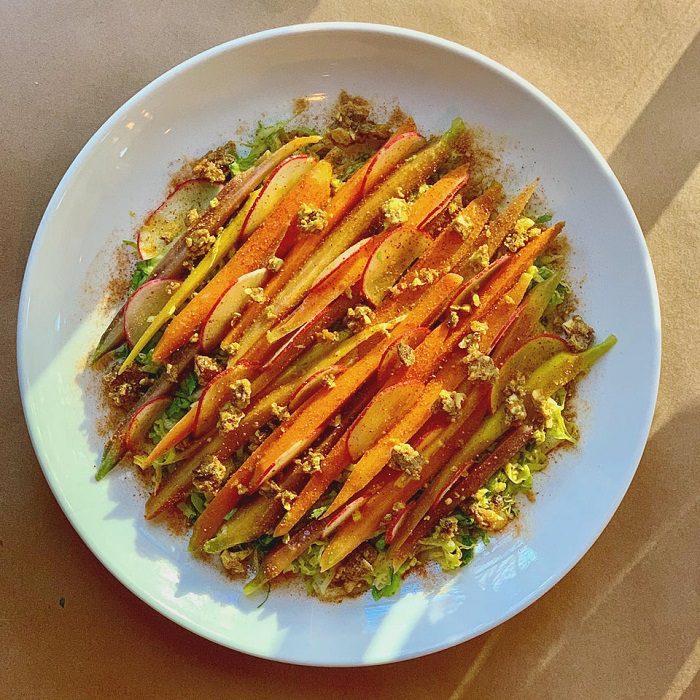 Escarole has a fresh, vegetal taste with a slight bitterness that goes best with carrots that have a slightly sweet flavor. Plus, the turnip rings add a more spicy taste to the salad. The pistachio brittle is the best dressing here!
Sour cherry flower jelly
Sour cherry is native to Europe, whereas beets are native to the Middle East. This dessert comes out perfect in taste with bright fruity and sweet nuances of sour cherries and the earthy, slightly bitter taste of beets. But this dish has more to it!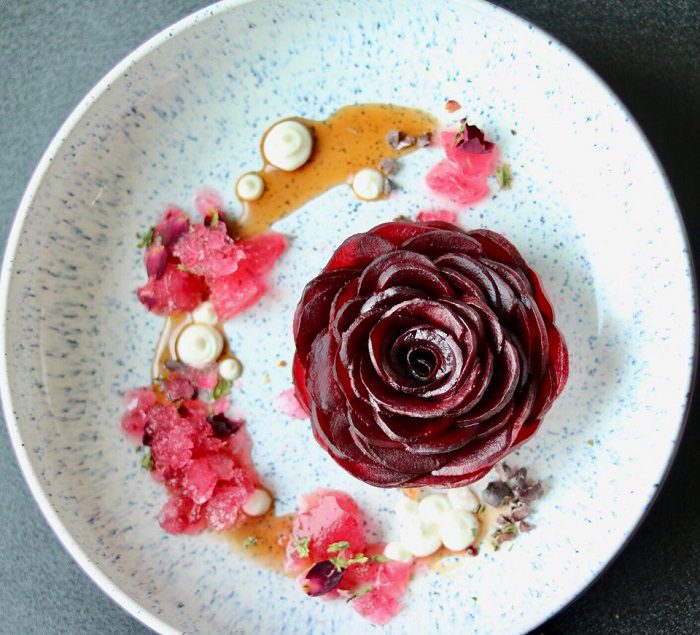 Kaymak cream, prepared by boiling the milk for hours, makes this duo become the "gellicious" dessert it's meant to be. It is extremely soft and sweet to the taste buds. You would surely be proud to serve this sweet flower jelly to your guests!
Honeycomb Glass on Honeycomb Pie
This beautiful and delicate confection is a fantastic combo of flavors and textures with a crisp sugar crust, a smooth-sweet peanut buttercream filling in the pie. An orange and lemon foam crowns the pie, and a sweet-salty-chewy sparkling net of honeycomb is nestled on top.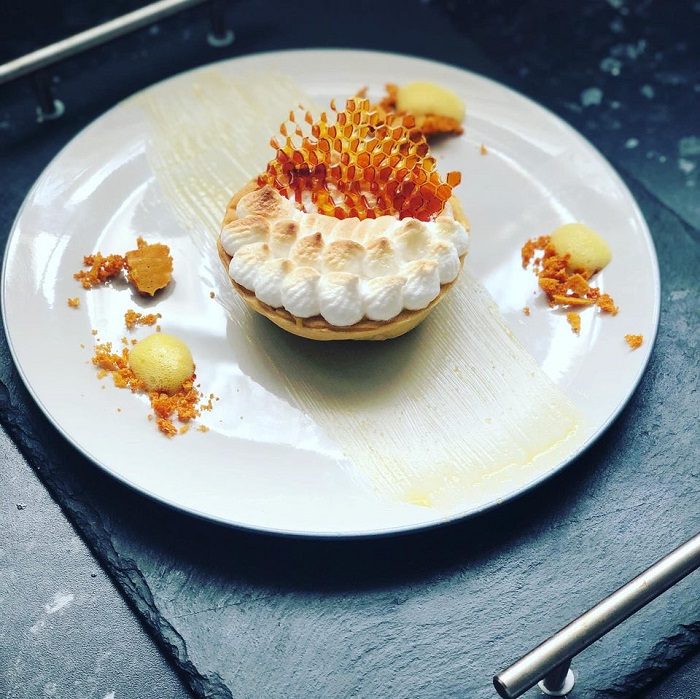 This honeycomb pie is the perfect dessert for your party, made of corn syrup, sugar, honey, egg yolk, and honey with a pinch of salt and lemon. Besides having an amazingly yummy sweet taste, this is a beauty to behold as well.
Delicious Kiwi Tart
This is a perfect, easy-to-cook homemade dessert made up of thawed refrigerated pie dough, cream cheese, sugar, milk, and vanilla essence. The pie is baked until it goes pale golden brown and then smothered with condensed kiwi gelatin to make it go softer.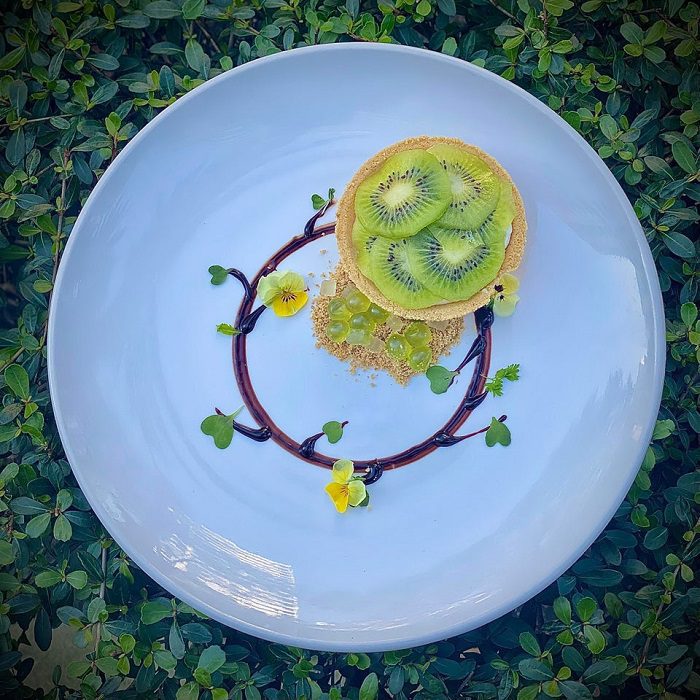 Once the pie is prepared, it is topped with multiple thin round slices of fresh green kiwi. This mouth-watering dessert that centers around this subtropical fruit is a rich source of vitamin C, fiber, and antioxidants for fitness-conscious folks among us.
Lime Mousse Cake with Coconut Ice Cream
This luscious dessert that looks like a birdie in its nest is the best for your after-party sweet tooth. The fabulous white chocolate mirror glaze perfectly angled on the lime mousse cake made with graham crust is a major attraction here.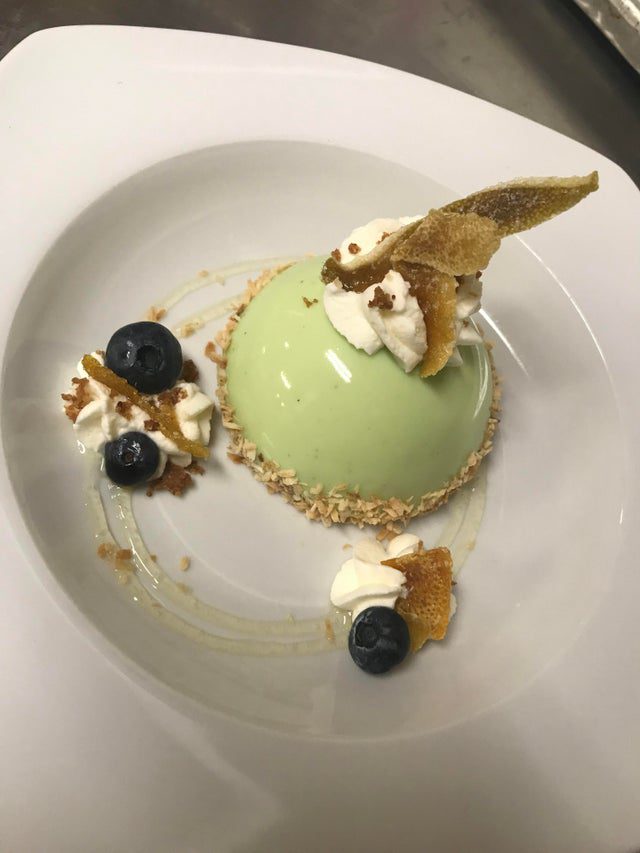 The mousse cake is beautifully bordered with white chocolate mirror glaze and a sprinkle of toasted coconut powder. The candied citrus and key lime fruit make the dessert taste divine. The whole thing is amazingly accompanied with coconut ice cream.
Russian Napoleon Pastry with Honeycomb Top
The Russian Napoleon pastry is made by allowing the puff pastry layers to soften over days with the cream until a spoon glides through the layers. It is a nice twist on the classic Napoleon and is very well-liked by pastry lovers.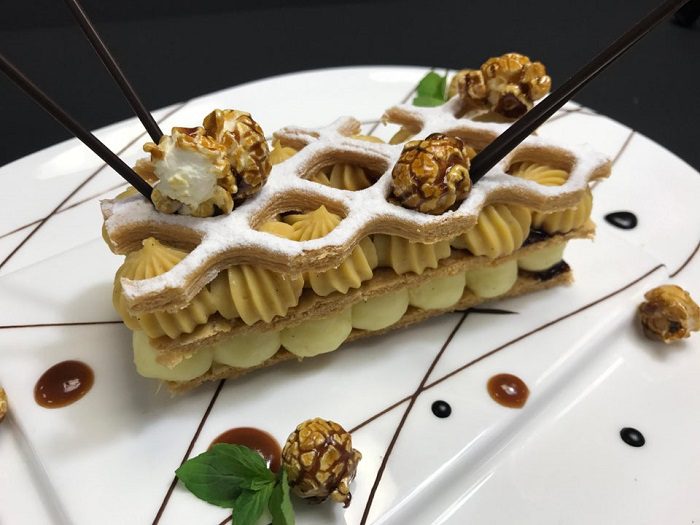 Made up of puff pastry sheets, corn starch, whole milk, vanilla essence, sugar, and eggs, this pastry is too delicious to be missed. Caramel corns filled with vanilla cream are specially for the gobblers. The honeycomb top of the dessert is a delight to the eyes!
Mascarpone Ice-Cream with Caramelized Apple Tart
Nothing can beat the summer heat like homemade ice cream. This super delicious mascarpone ice cream is a perfect Italian recipe, served traditionally with cakes and pies. Its rich, creamy, and unique flavor will surely tickle your taste buds and make you crave another scoop.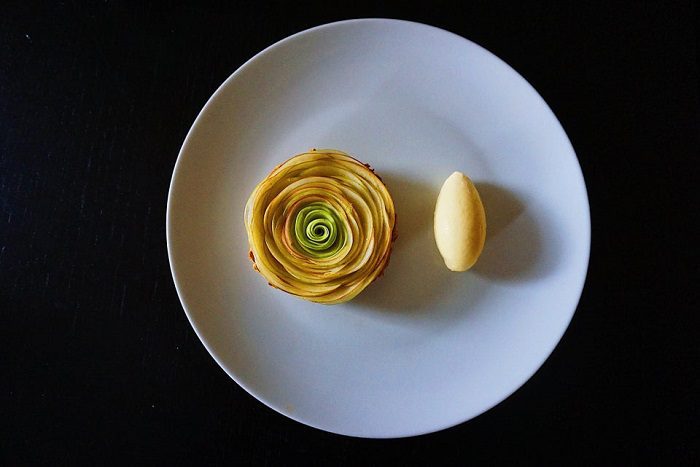 Made up of Rome Beauty or McIntosh apples, peeled, cored, and each cut into a minimum of six to eight wedges, sugar, unsalted butter, all-purpose flour, and pie dough, the tart is divine. When served together, they become the best dessert anyone could wish for.
Beef Wellington and Scallops Within
This succulent snack made up of beef, mushrooms, and scallops is all that you need to ease your hunger. It is a steak dish of English origin, made up of filet steak coated with pate wrapped in puff pastry, then baked.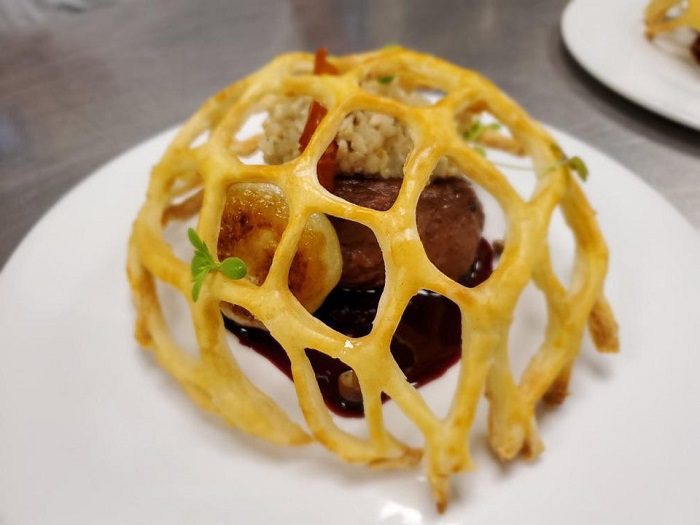 Some recipes include wrapping the meat with a mushroom puff cage to add a crunch. The thinness of the cage is the outcome of perfect baking. The pan-seared scallops soaked in red wine make the whole thing mouth-watering and nutritious.
Rum-poached ice Cream
This rum-poached pineapple paired with fennel ice cream looks delectable. The richness of the crumbled honeycomb makes it taste fabulous and adds to the appearance. It also has the added goodness of calcium and iron. The pineapple has a perfect wafer or cookie form.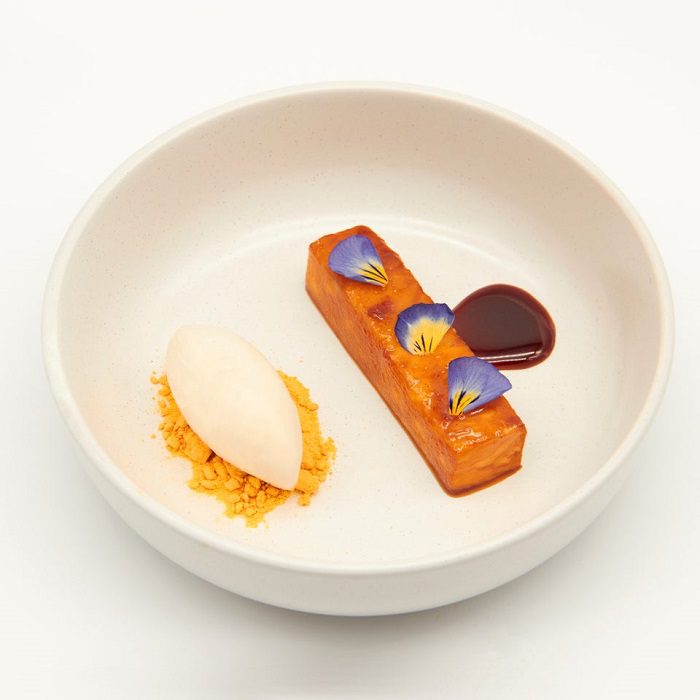 The fennel flavor of the ice cream makes this a unique combination as much as a beautiful one. And you can, of course, eat those pansies adorned as a topping as they are entirely edible. We recommend eating them right along with the pineapple.
Cucumber and Yogurt Salad
Perfectly sliced cucumber is the main ingredient of the salad and its main charm. Avocado and lemon balls are always a nice addition to any salad, which happens here. Plus, the tiny leaves of the dill plant make it appear more fresh and worth tasting.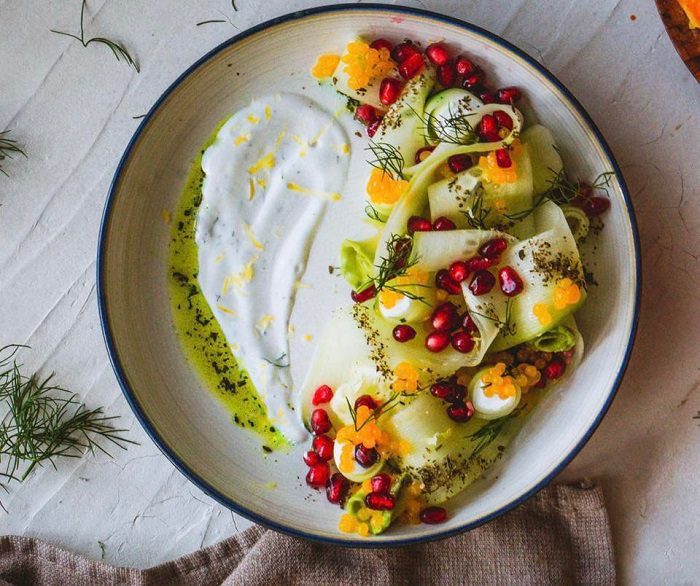 The bright red seeds of pomegranate add some tartness and color to the whole thing. The za'atar blends with savory dried herbs such as oregano, marjoram, or thyme, making it taste tangy and spicy. When the entire salad is dressed with yogurt, it becomes scrumptious.
Turkish Semolina Cake
Adding the rhubarb stems to this cake to a whole new level, as its distinct aroma and flavor make the dessert more of a treat for the nose with its sweet enriched aroma. It's a treat to tastebuds for its soft and juicy taste.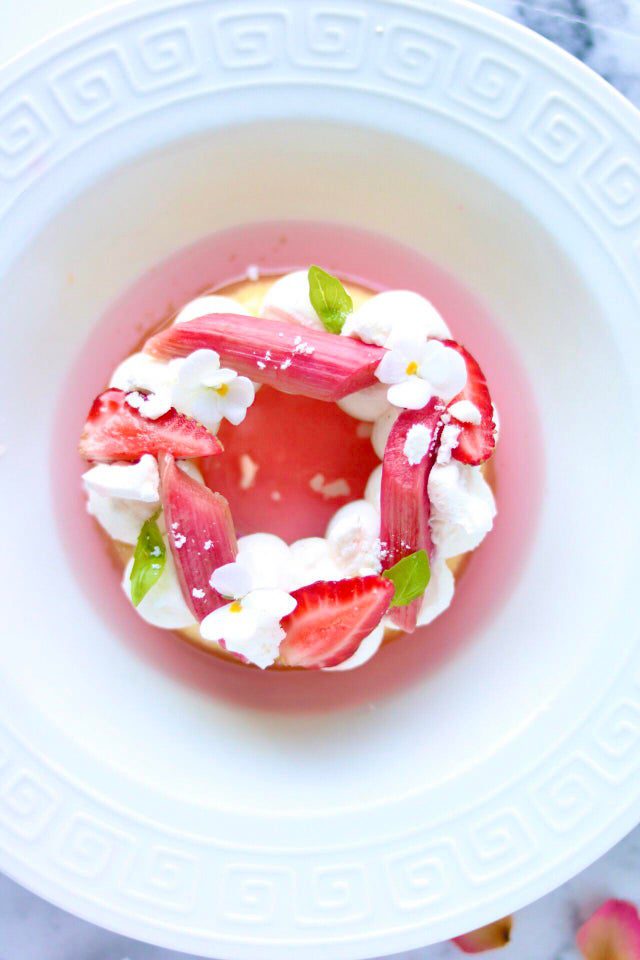 Revani is a yellow cake made up of semolina flour. When durum wheat is milled, its most nourishing parts are ground into semolina. This cake is a staple recipe in Turkish cuisine, and every household and restaurant has its classic formula.
Potato and Mozzarella Rolls
Mozzarella roll is a cylinder-shaped roll of mozzarella and can be filled with as many flavored foams as you want. For example, whipped cream is also considered a foam. Remember, they don't always have to be sweet; they can be salty.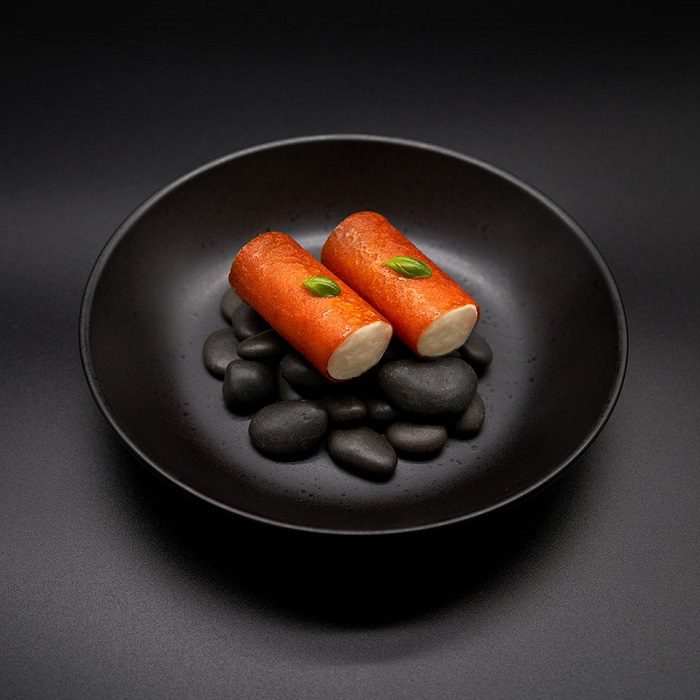 You can also use mozzarella foam to go with the basil and add slices of tomato. Overall, you can choose whatever foam you would like. This recipe is very easy to prepare, plus you can even use mozzarella string cheese if you wish.
Coconut Mousse
This amazing mousse is made by warming coconut milk, sugar, and shredded coconut over low-medium heat and beating egg whites and sugar at a medium speed. This spongy coconut mousse can be prepared quickly and is loaded with a creamy flavor.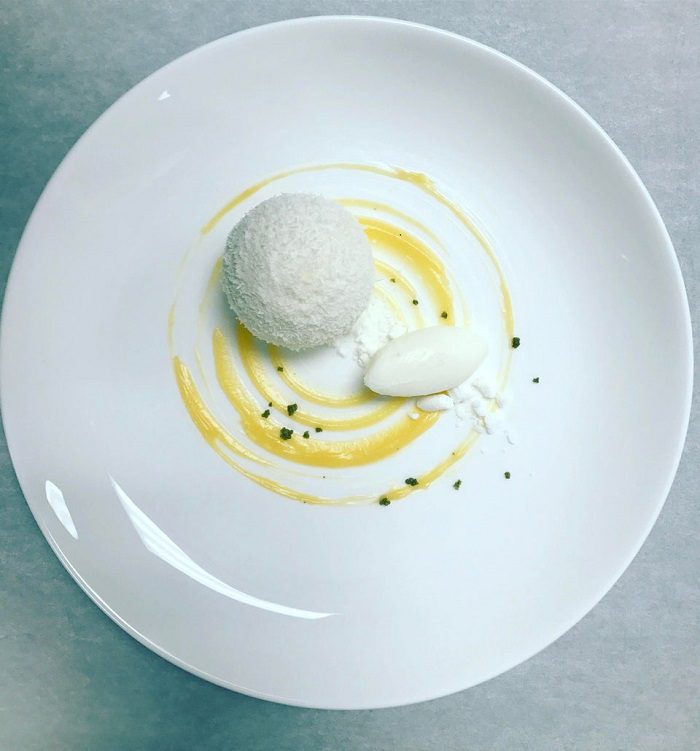 Besides, the lime pineapple gelee and passion fruit essence compensate for the dryness of the coconut. The complementary vanilla and passionfruit mousse make it a perfect treat. Indeed, it is the best dessert for your summer parties. We'll take two servings, thanks.
Beef Tenderloin
All a person wants in the evenings for mild hunger is a light snack that is an instant tummy filler. This cuisine has the best of all worlds, as it has the goodness of veggies and meat yet is prepared for satiating light evening hunger.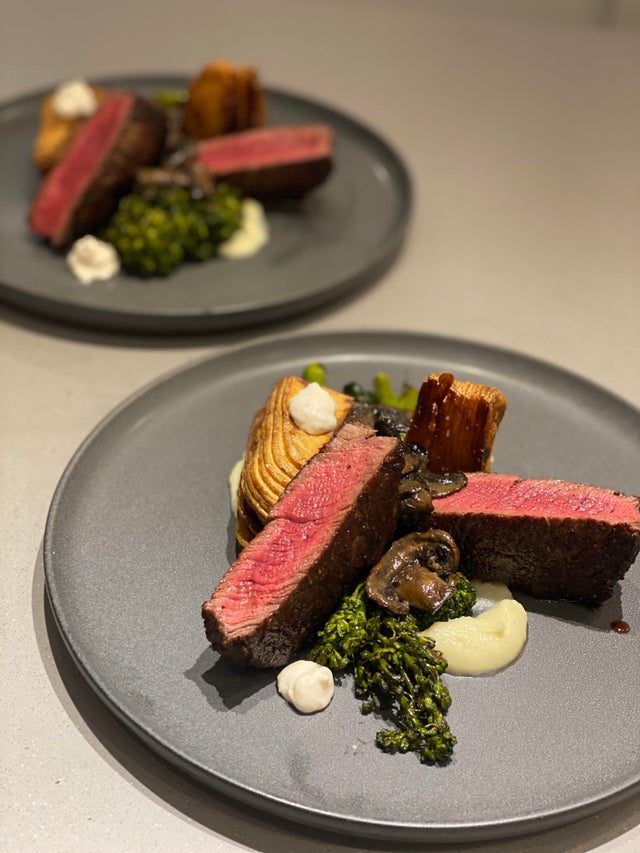 Made up of thick slices of beef, diced broccolini, potatoes coated in roasted onion puree, and horseradish cream, this entire thing is dipped in the mushroom pan sauce for its finger-licking taste. A forkful of the beef tenderloin will surely satisfy your appetite and refresh your mood.
Charred Octopus with Mushrooms
Now, this is something that needs your complete attention! Besides the fantastic aroma of octopus and smoked wild mushrooms, the perfect color contrast makes it worth gobbling. The roasted garlic potatoes and citrus fruits with sautéed spinach make it wholesome and rich in flavor.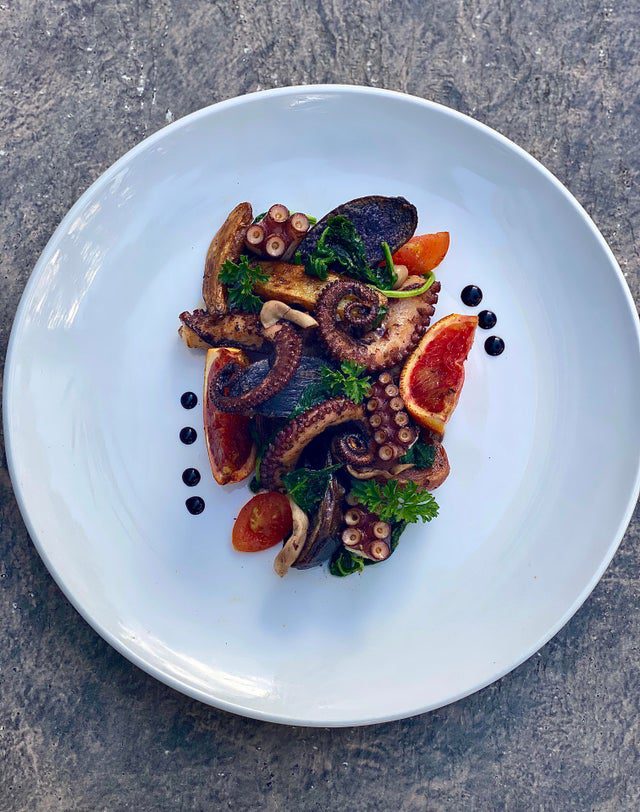 Cherry tomatoes add bright color and tangy taste to the cuisine for sure. The juiciness of the octopus dish is taken to a new world with a few slices of blood orange. Now, it is something worthwhile for your winter evening get-togethers.
Proposal Dessert
Proposing your lady love in the best ambiance with excellent cuisine is a never-failing technique and is most certainly bound to result in a resounding "yes!" Here is something that is exclusively for you. This proposal dish is there to help you get a yes from your lady.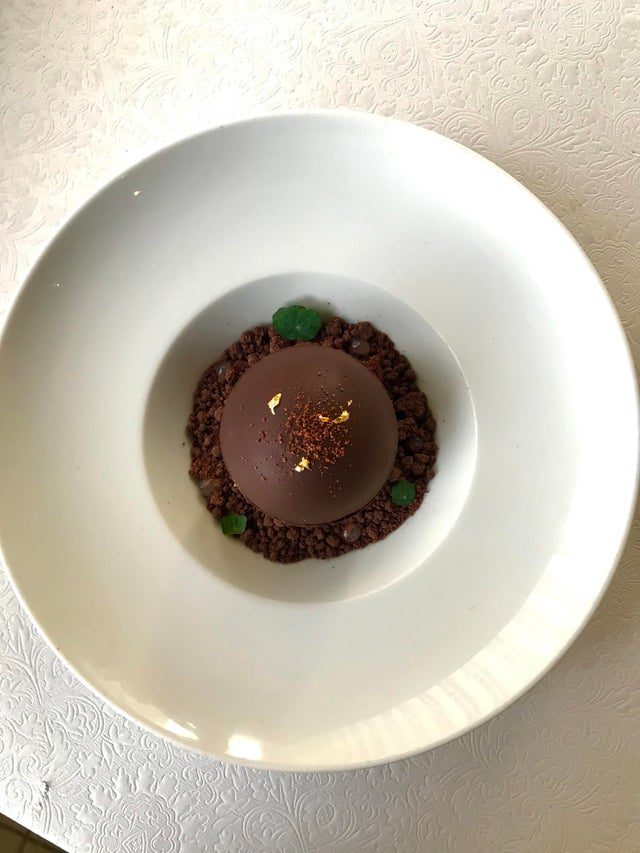 This whole chocolate sphere is so super delicious when served hot that it can make your conversation sweeter than ever before. Besides, the crushed chocolate powder is equally a great treat. Now what is left for you is to find a great location for this moment.
Raspberry Sorbet
Raspberry sorbet is perfect for hot summer elevenses, especially when paired with the chocolate crush, and it's vegan too! Made up of commonly found summer ingredients such as grated sugar, raspberry, and lemon, one can prepare this sorbet in minutes.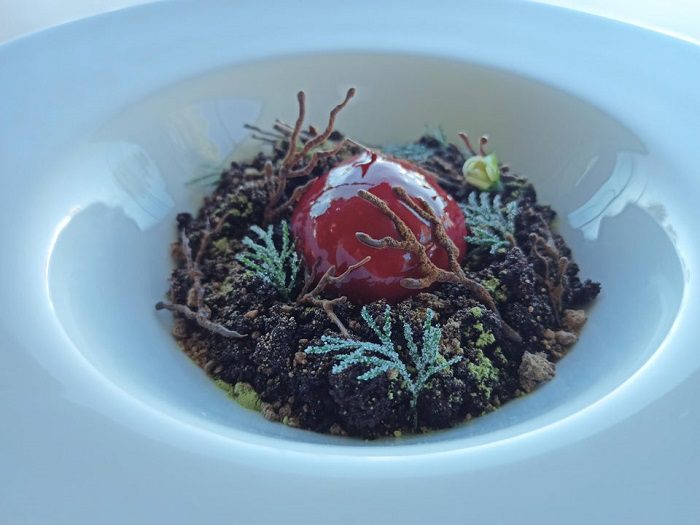 When all the ingredients are blended and frozen for an hour, perfect whisking can make this sorbet table-ready with minimal effort. The complimentary chocolate soil gives a sweet taste after taking a spoonful of tart sorbet. The two complement each other perfectly.
Freshly Topped Cucumbers
This is something to make your hot summer heat a little easier to bear. All the ingredients used in this salad are enriched with fiber and other essential fluids for the body. The fresh sticks of cucumber are well topped with mouth-watering fresh coconut flakes.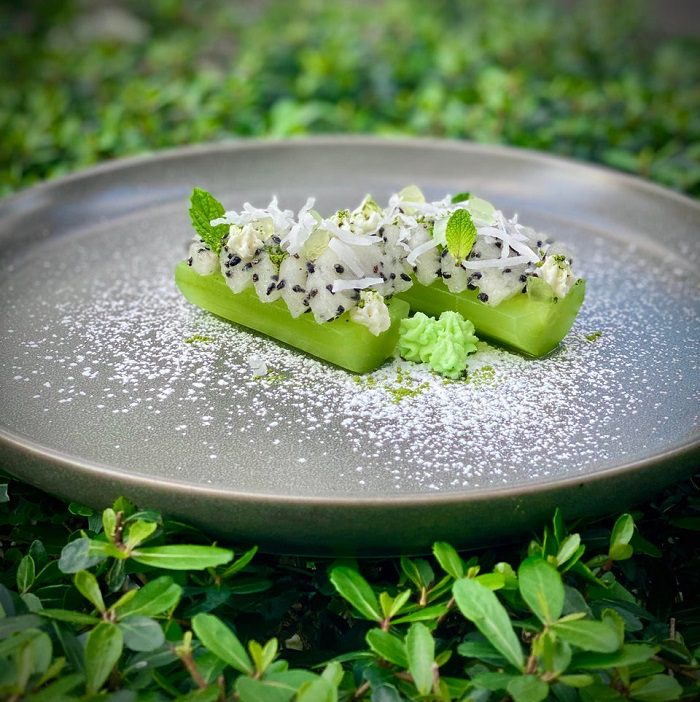 Adding dragon fruit to the salad makes it colorful and adds an intriguing flavor. Mint leaves and matcha are the best addition to the whole thing. It becomes irresistible and worth gobbling in pairs when dipped in gin and sugar syrup.
Beef Teriyaki
Prepared with vinegar, vegetable oil, sugar, and salt, that rice in your pantry is best to be eaten along with beef teriyaki. This cuisine is perfect for satiating hunger, no matter how long it has been since your last meal.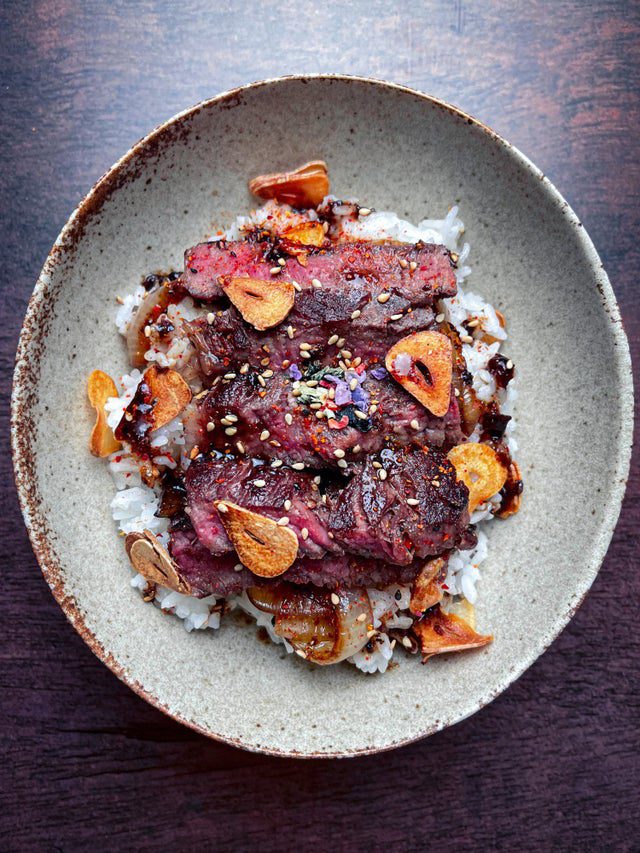 Toss the beef in cornstarch and then saute it in vegetable oil. All it requires is soy sauce, mirin, brown sugar, sesame oil, and fish sauce to be made finger-licking good. Dark red bed of beef teriyaki goes perfectly with pure white sushi rice.
Seared Scallops in Nduja Butter
Everyone usually loves scallops because of their unique taste and thickness. Plus, when they are prepared in Nduja butter, they become so delicious that no one can resist them. In the chilled winters, this cuisine is best to keep you warm.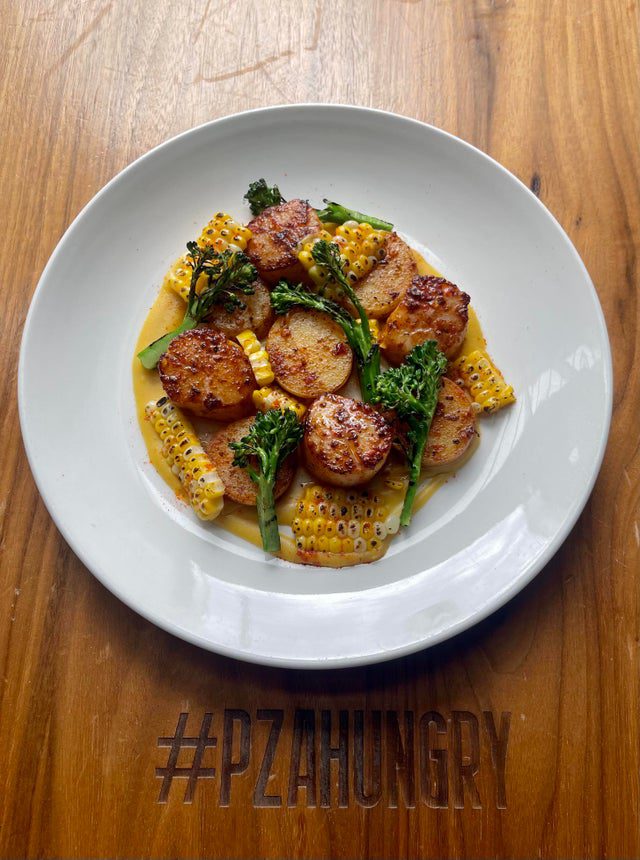 The grilled corn and charred broccolini are like cherries on the cake. The entire thing is super tasty and when you add English fried potatoes, prepare to drool. It becomes a divine treat for the mouth when dipped in brown butter corn purée.
New York Strip
The New York strip is cut from the short beef loin. It is also called strip steak and is a beautiful slice of beef that requires medium-high heat and seasoning. The deep rich red color of the strip is what makes your mouth water.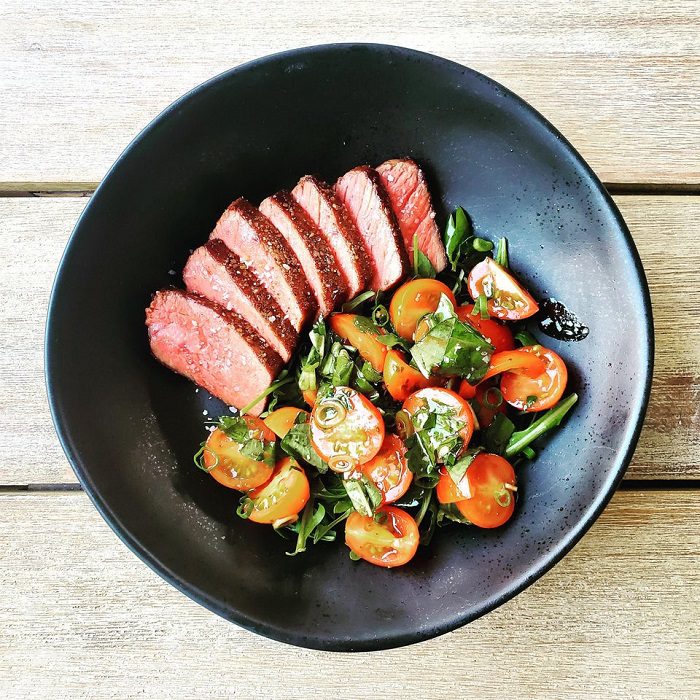 Using the shallow fry method can give a perfect brown border to the strips and give it that perfect look. The thickness of beef is softened and mixed with marinated tomatoes and rich herb salads. All you need is a fresh lime soda with it.
Squash And Sprouts Salad
Having fruits and vegetables is the best way to beat the summer heat and hydrate oneself. When it comes to eating watery produce, the first word in everyone's mouth might not be squash. But trust us, this salad is absolutely delightful.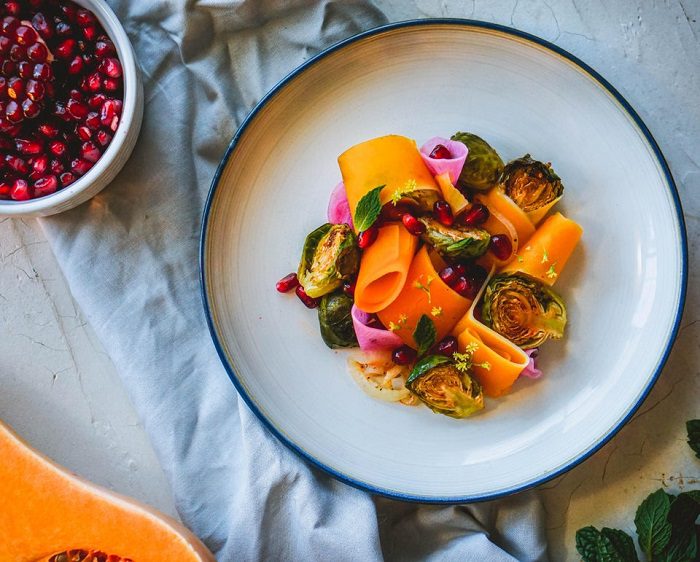 A salad enriched with the goodness of Brussel sprouts, pickled watermelon radish, onions, pomegranate seeds, along with squash can make that scorching day a whole lot cooler. Pickled watermelon radish adds a more authentic taste to the salad and shouldn't be skipped.
Red Cake
When you hear the word cake, all you desire is to know its flavor. Let's admit it! A dessert of your choice becomes a must-eat whether you have an empty stomach or are full. This red velvet cake looks super delicious for its richness.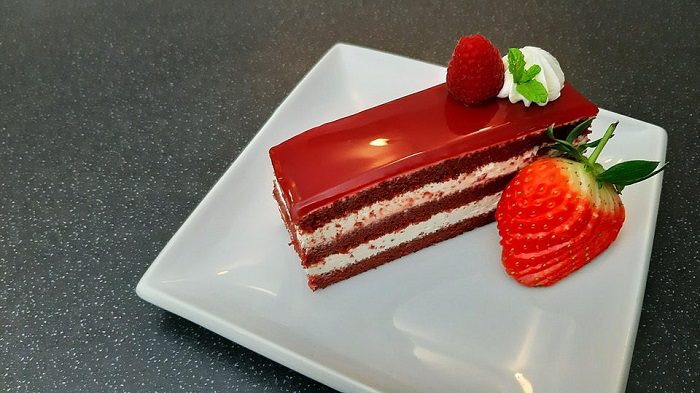 Topped with a strawberry, bright red mirror glaze, this cake is so rich and velvety it would almost be a shame to destroy it. The topping of small cherry and vanilla cream looks like a red and white crown on a fairy's forehead.