45 Peculiar Food Eating Contests That Require A Strong Stomach For Participants And Spectators
By Arvyn B June 2, 2022
---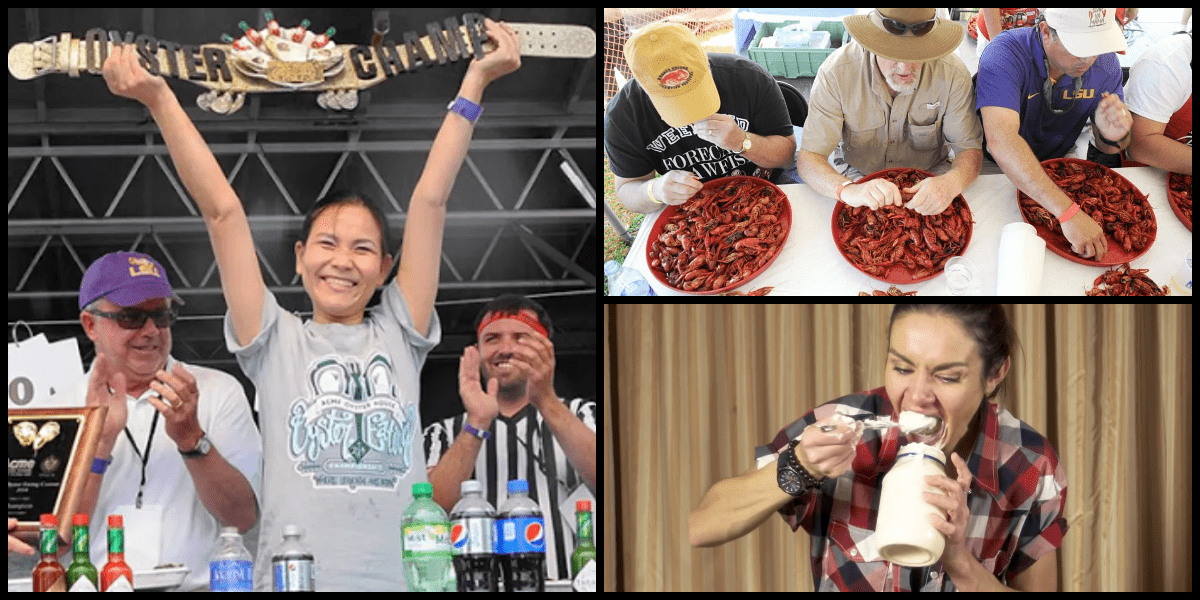 Who doesn't love going for a trip to the county fair? It's such an enjoyable time, with all of the delicious food and fun rides. And let's not forget the thrill of seeing – or participating in – a food contest. No fair is complete without one! However, not every country in the world has the same ideas as us regarding what is edible, much less worthy of a competition. Most of us would settle for a nice pie, or perhaps something deep-fried. But these food contests are different from anything that you might expect! How about chomping down on some nettles? Or why not give some gyoza a taste? If those are too strange, you could always try settling for a good old raw onion!
Whoopie Pie
Not everyone has tried a whoopie pie before, but everyone should. Imagine eating a fluffy Oreo, and you're on the right line. It's two slices of a cookie stuffed with a desire for delicious cream. They're all the rage in Maine.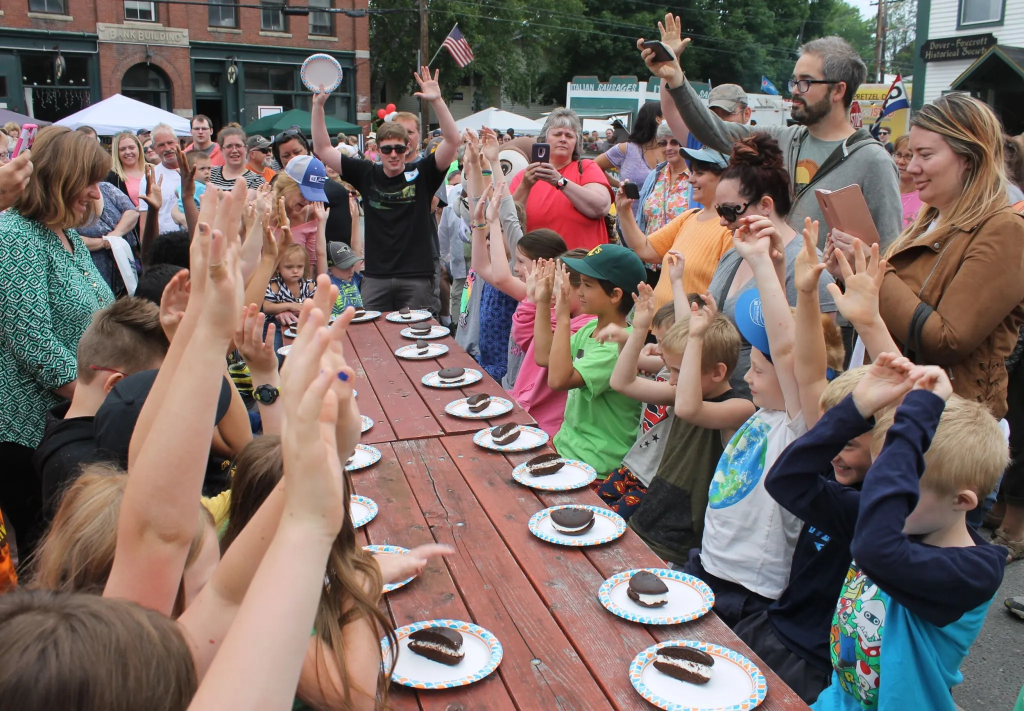 This isn't a surprise, as whoopie pies are one tasty treat! If you've got a sweet tooth, then you should give this competition a go. It doesn't matter how old you are because they've got matches for all ages, from young kids to adults.
Deep-Fried Asparagus
"Deep-fried asparagus" is probably not a phrase you often hear unless you live in Stockton, California. Each year, they hold the World Deep Fried Asparagus Eating Competition, where people come from all over to show their skills at gorging on this vegetable.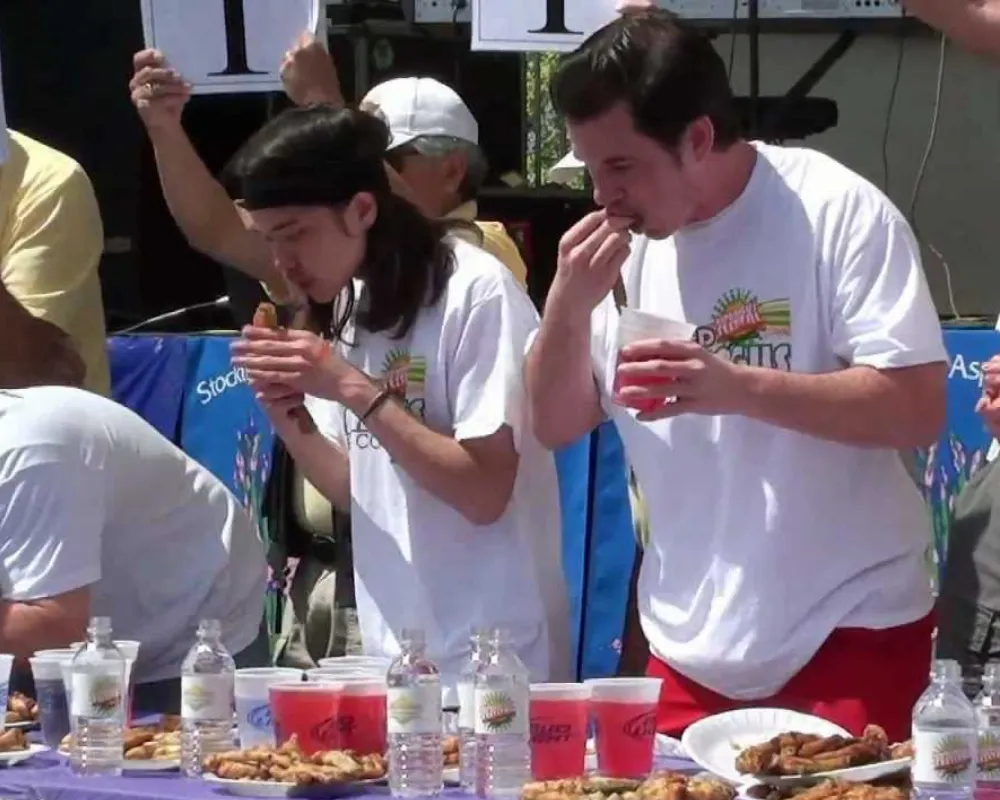 Deep frying asparagus is one of the tastiest ways to eat it, but it's far from healthy. The current record for the most that someone ate at this competition is 10 pounds. The winner, Joey Chestnut, ate this all in just 10 minutes!
Cannoli
One cuisine that always goes down a treat is Italian food, particularly because there's so much variety. You've got so many types of pasta, pizza, and desserts. Cannoli is one of the most famous of these sweet foods, and for a good reason.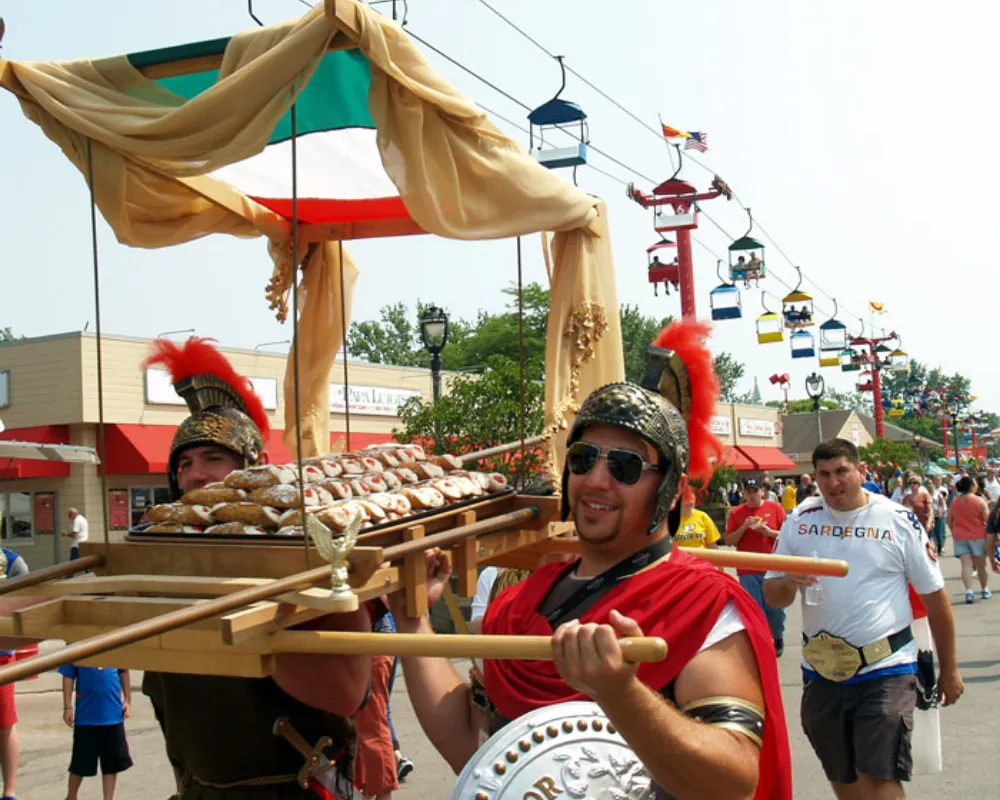 Take a trip down to Milwaukee to see the Italian Festival, and you're in for a chance at competing in the Cannoli Eating Contest. If that's not your fancy, there are plenty of other Italian foods that you can try.
Gyros
Sticking with the European theme, gyros are a popular food from Greece. However, the place where they're most popular is nowhere near this country – it's on a different continent entirely! The yearly Houston Greek Festival in Texas is where it's at.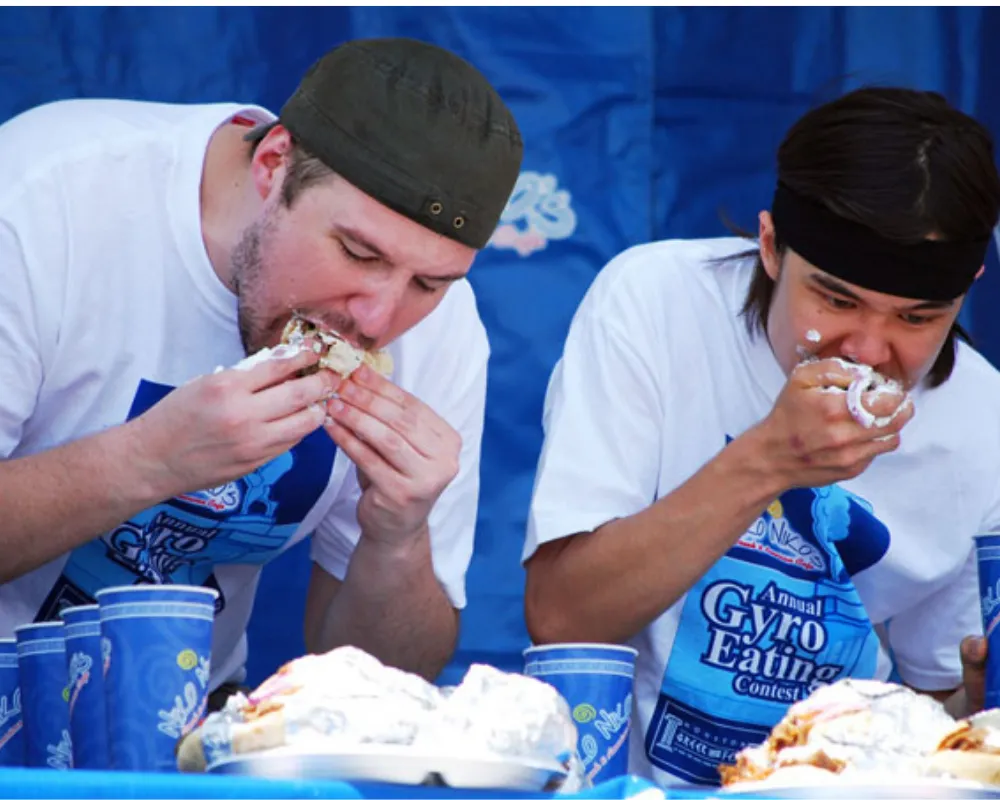 All you have to do is eat as many gyros as you can in 10-minutes. You can already guess how messy this competition gets! The record for this Festival is 30 gyros, which Joey Chestnut achieved in 2016. Chestnut is someone you'll hear a few times on this list.
Butter
It should come as no surprise that the world butter eating competition is held in America. After all, this is a country that loves to eat fast food! You've got to have a strong stomach if you're going to compete in this one.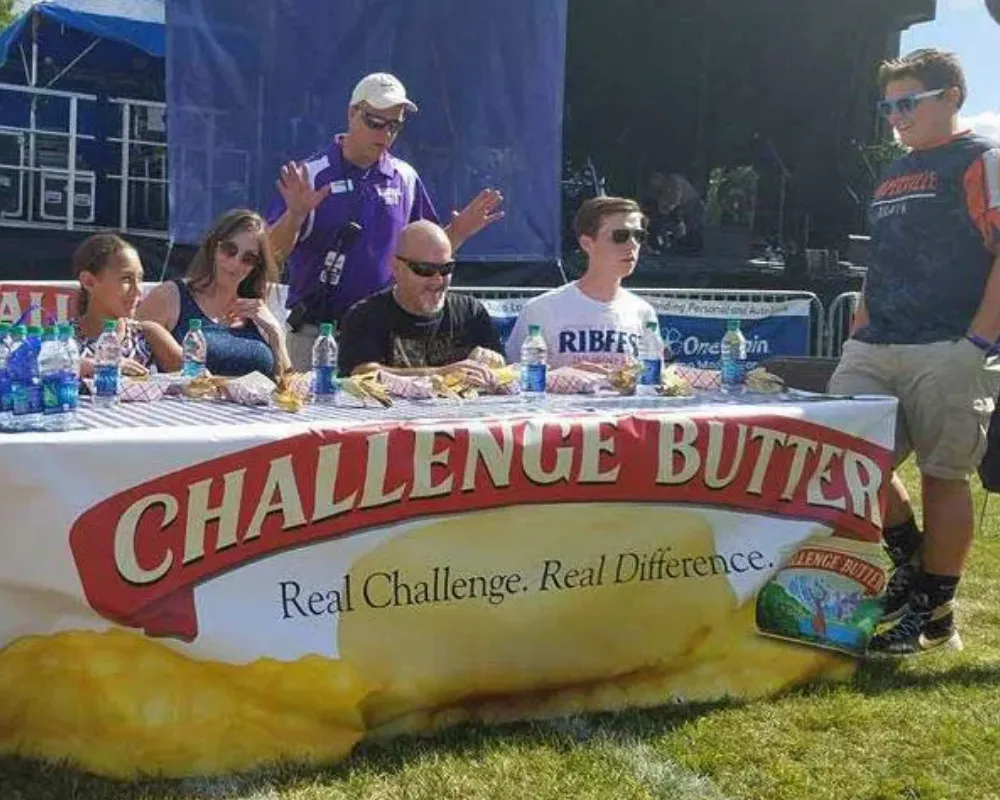 That's not even the worst part – this competition is just one of many at the Glutton Bowl. Each of these food contests sounds revolting! Don Lerman holds the current record for eating seven sticks of butter in 5 minutes. That's 1.75 pounds of butter!
Mashed Potato
Who doesn't like mashed potatoes?! They're so delicious and go well with almost every meal. So, taking a trip to Chicago for the Gaelic Festival is necessary. They have a few different food contests, including a mashed potato eating one.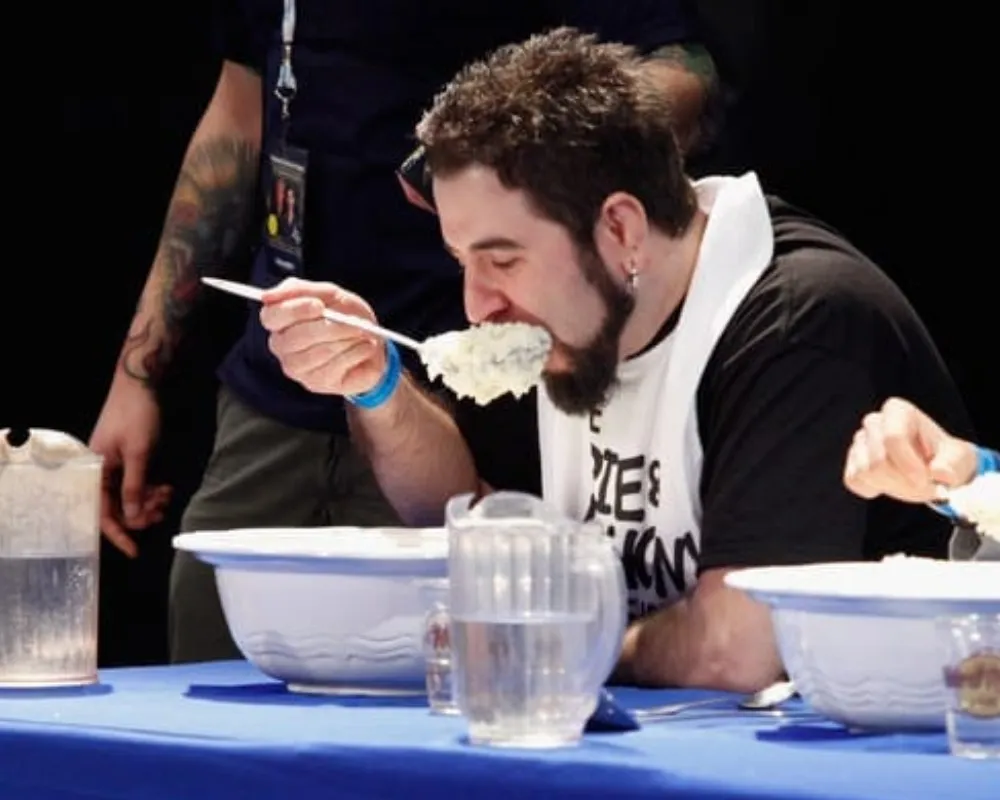 The competition is divided into kids and adults, and you might want to make sure you go on an empty stomach. It's bound to get a mess! You can also try to make the greatest Irish soda bread or see who's got the greatest number of freckles.
Peeps
This is one of the newer competitions on this list — it began in 2016 — but it's still a strange one. Contestants have to eat as much marshmallow candy as possible. Many food contest champions have entered this competition previously.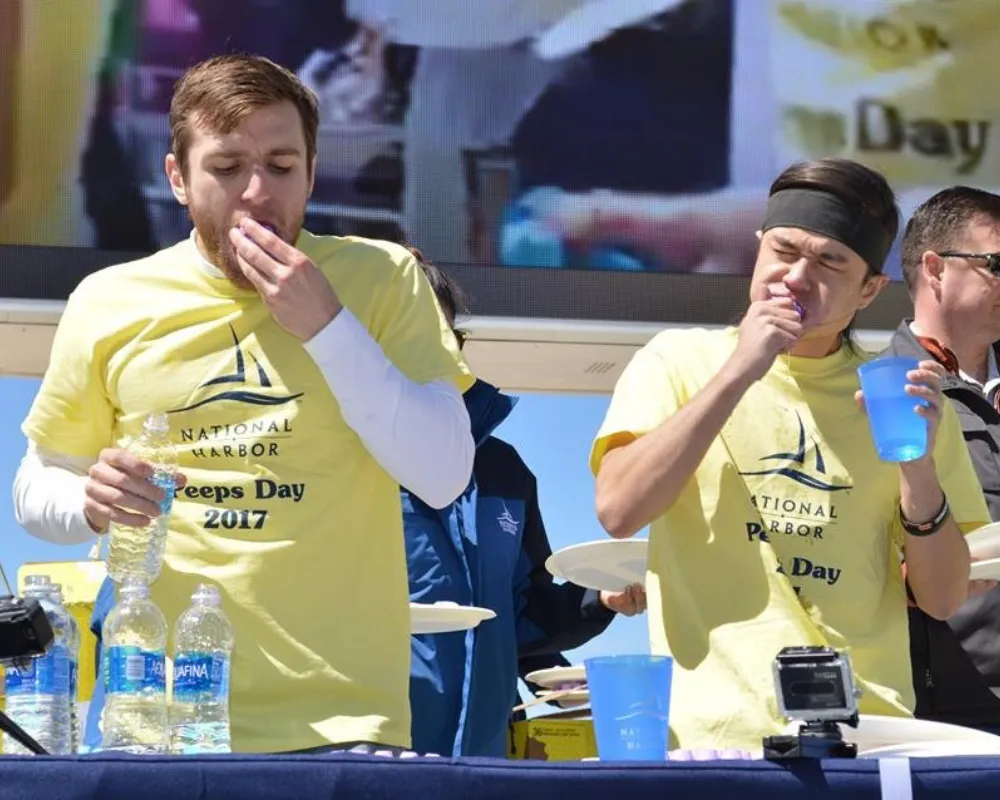 This includes Matt Stonie, Carmen Cincotti, and Gideon Oji. As you might've guessed, Stonie holds the current record after eating 255 Peeps. He managed to do this in just 5 minutes! However, eating over 100 peeps can cause serious health problems.
Habaneros
If you're a fan of spicy food, then you should give this contest a try. People worldwide visit El Pelon Taqueria in Boston to take part in the Chili Pepper Eating Contest. A dash of habanero pepper is around 100 times hotter than a jalapeno.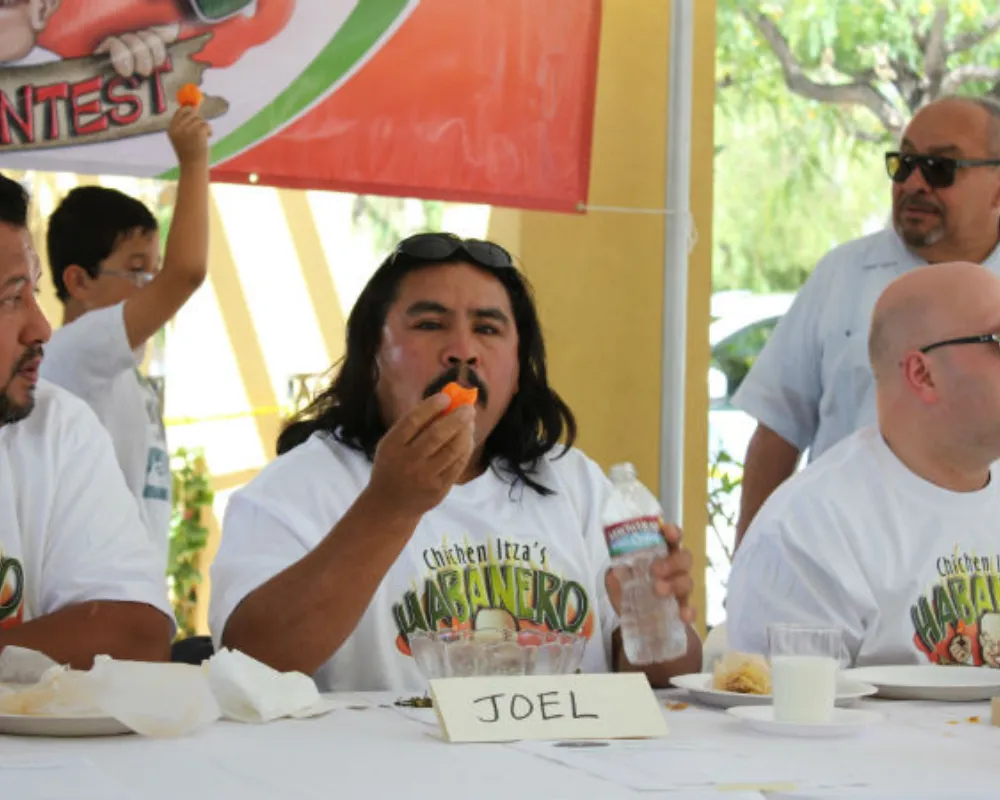 The current world record goes to Alison Hiatt, a student from Boston College. She entered the contest with her father and ended up winning top place. She managed to stomach 90 habanero peppers, which bagged her one free burrito per day for one year.
Pickles
Across the world, people eat their pickles differently. In the United States, sour pickles are popular, but sweet pickles reign champions in the UK. No matter the flavor, you're going to want to visit Pompano Beach in Florida for this contest.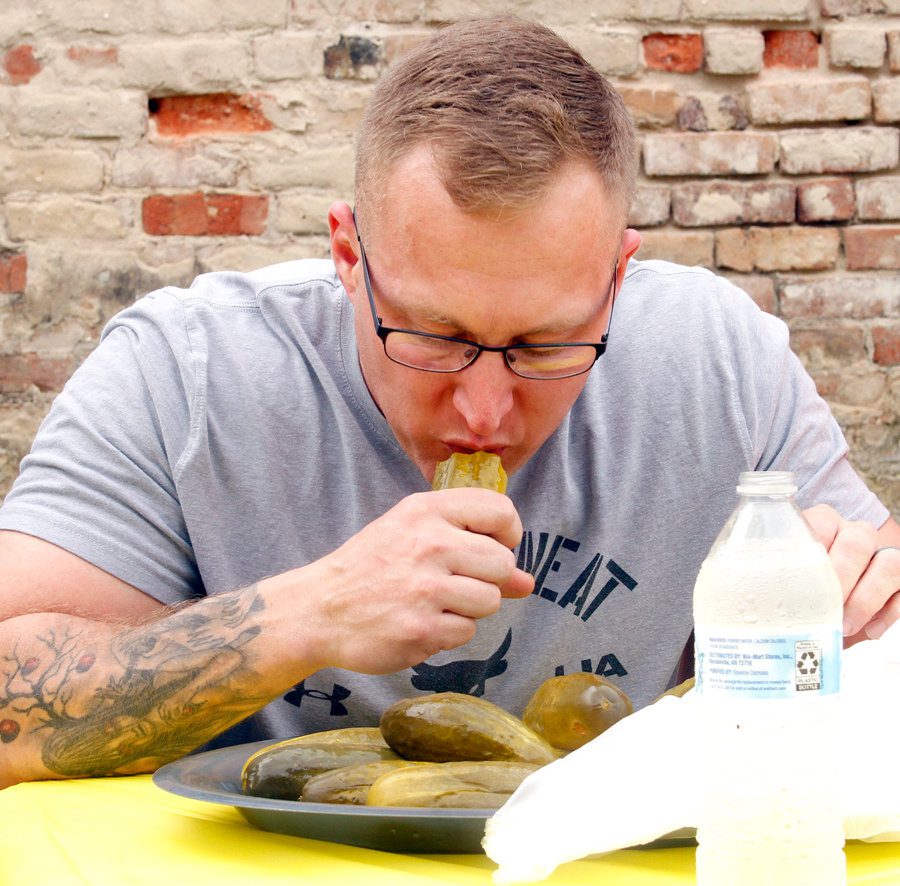 It's the World Pickle Eating Championship! A decade ago, the winner, Pat Bertoletti, stomached over five pounds of the sour stuff in just over 5 minutes. That's a record that nobody has been able to beat yet – do you think you could do it?
Quahog
Quahogs are not a food that everyone outside of northeast America knows about. A quahog is a thick-shelled clam that has soft meat. It tastes a little sweeter than regular clams, with a hint of saltiness. Head to Massachusetts if you wanna try them.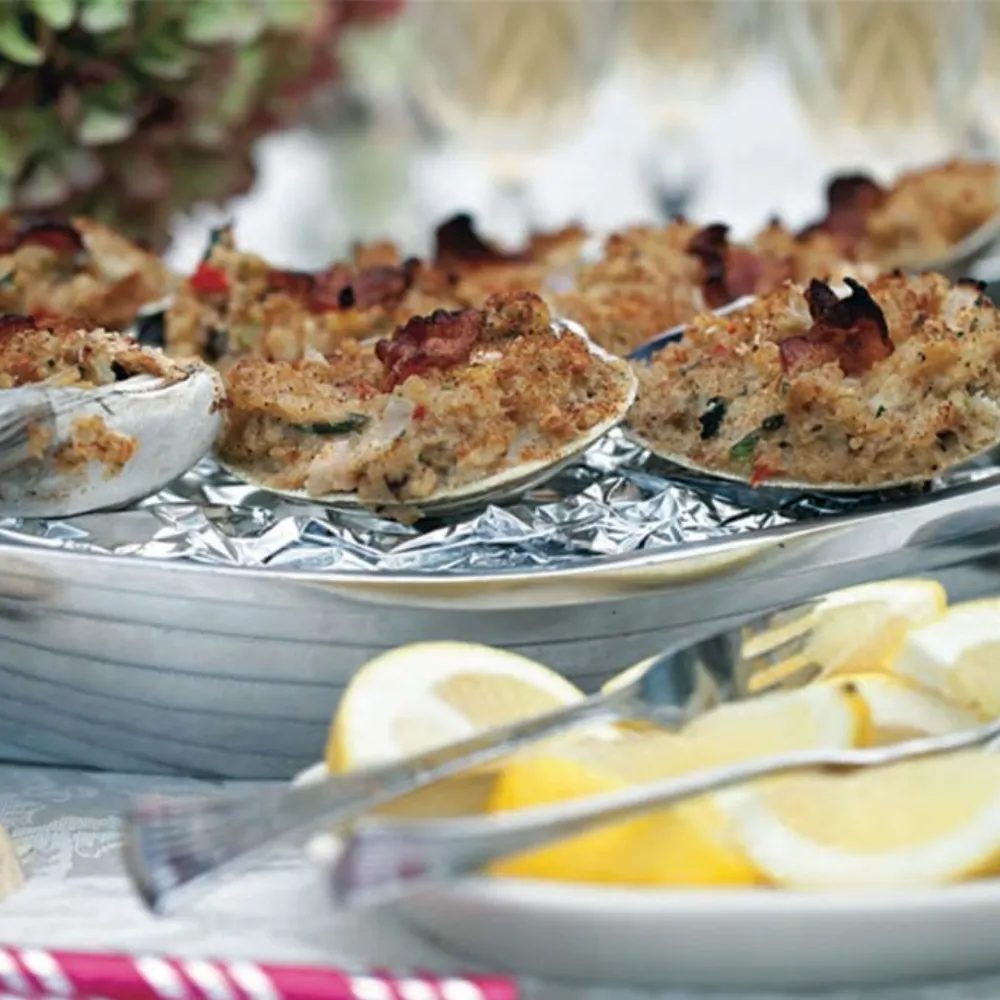 If you're in a competitive mood, you'll be able to stuff your face full of them in only 90 seconds. Rich Rogers is the world record holder, as he gorged himself with 90 quahogs. That's about 1 quahog every second! His breath must've been horrid afterward.
Garlic
Garlic is a fantastic addition to any dish because it brings out the flavors. However, have you ever tried eating raw garlic cloves on your own? They are nowhere near as delicious as you might think, and we don't recommend them!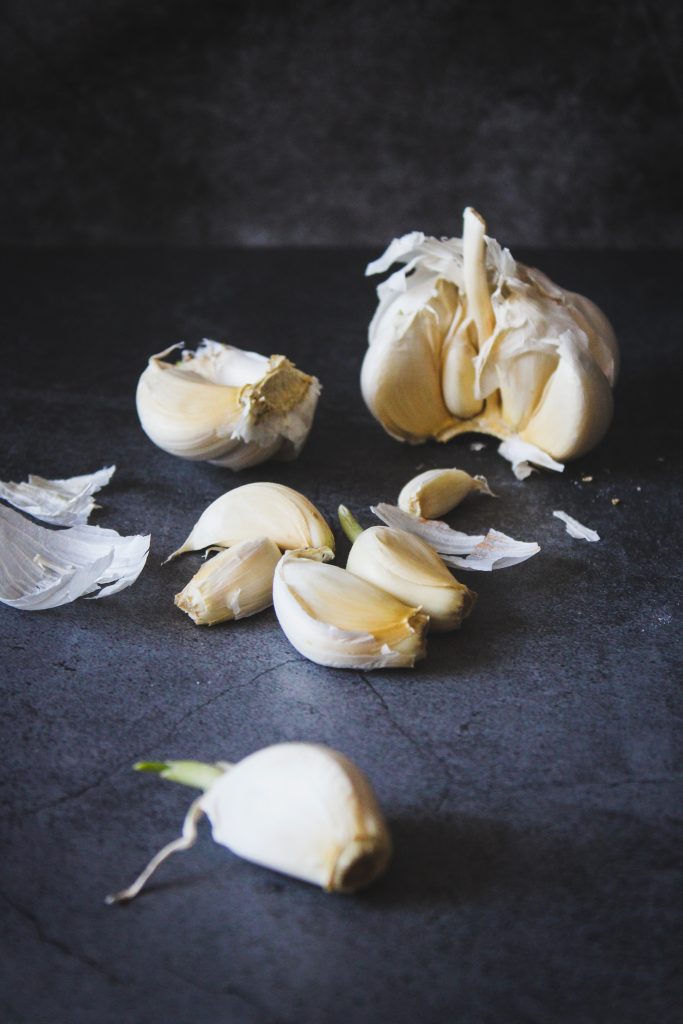 Chideock in England holds a yearly World Garlic Eating Competition, where contestants can do just that. However, Bharat Bista from Nepal holds the current world record, with a staggering 42 cloves in 1 minute. Can you imagine the stench that made?!
Fried Insect
So far, we've seen some relatively normal foods to munch on, but now it's time to spice things up. It's the Fried Insect Eating Contest, held annually in northwest China. Be warned – this contest is definitely not for the faint-hearted!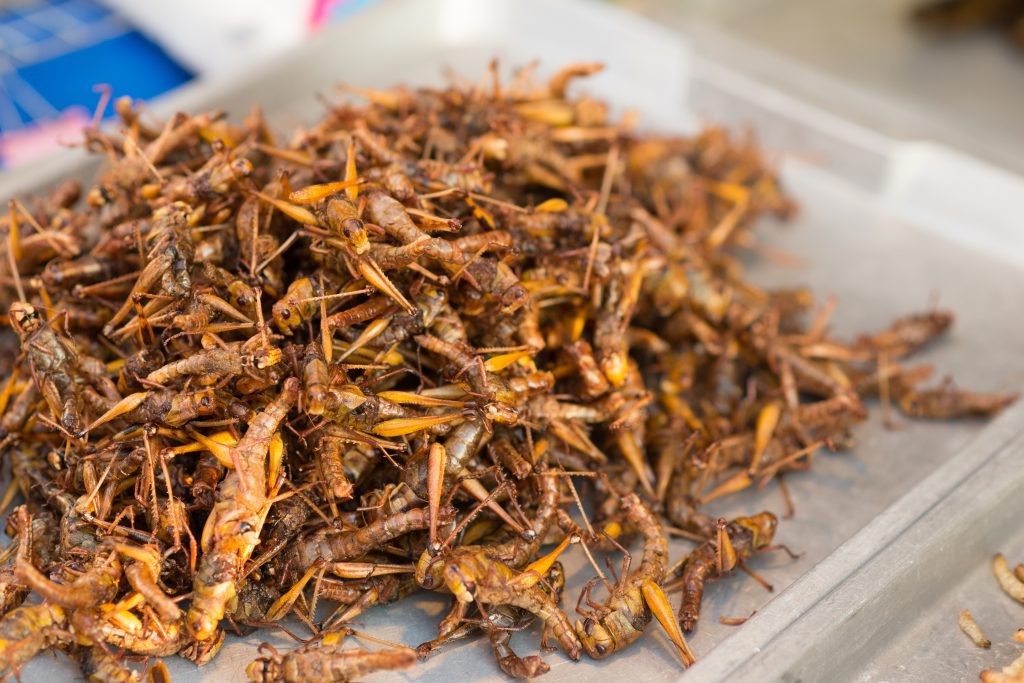 At the competition, you can chow down on a wide mix of different insects, from locusts to bamboo worms. The current record holder, who wanted to remain anonymous, scoffed 2.7 pounds of insects in 2017. Be careful, though – people have choked and died on insects before.
Slugburger
A slug burger might not sound too delicious, but it's nowhere near as bad as you might think. In fact, no slugs are involved in any part of the cooking journey! A slug burger is just a special kind of beef and soy meal burger.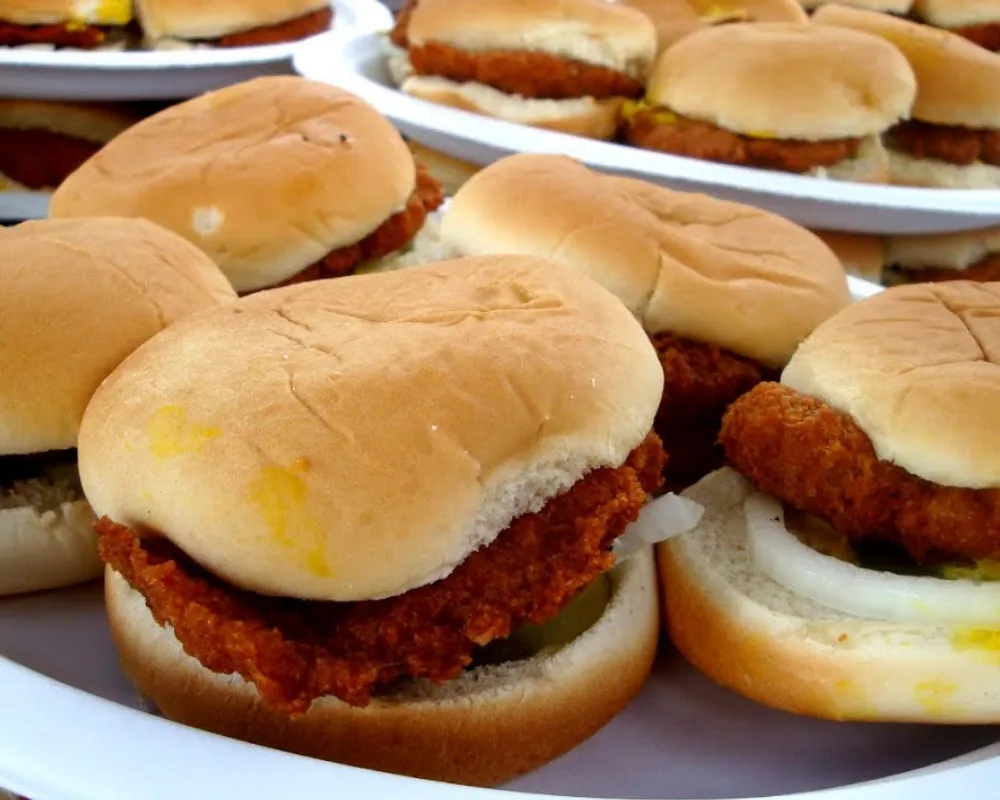 The burger comes with a side of onions, mustard, and good old American sour pickles. In Mississippi, the residents of Corinth take part in the World Slugburger Eating Championship. The present record holder ate 44 of them in only 10 minutes.
Peanut Butter & Banana Sandwich
Peanut butter and jelly sandwiches are a staple of American cuisine, but there's a twist on this meal that's just as popular. This is the Peanut Butter and Banana Sandwich contest, a dish that rock 'n' roll star Elvis Presley apparently adored.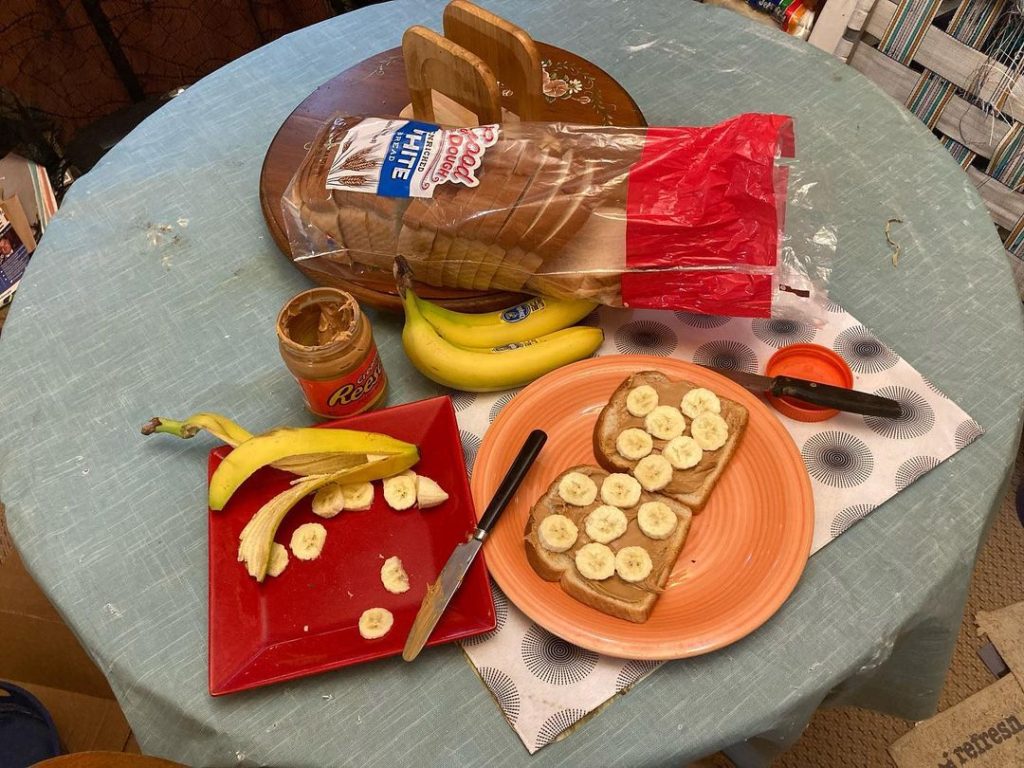 As a testament to The King's greatness, fans congregate in Mississippi annually to eat as many of these sandwiches as they can. A familiar name won the contest back in 2011 – Pat Bertoletti. She ate 28 of them in 10 minutes.
Nettles
You might not know this, but nettles make for good food. In Britain, nettle soup was a common food during the Bronze Age. The reason for this is because the soup is very good for you. Unfortunately, this contest in Dorset involves only the raw leaves.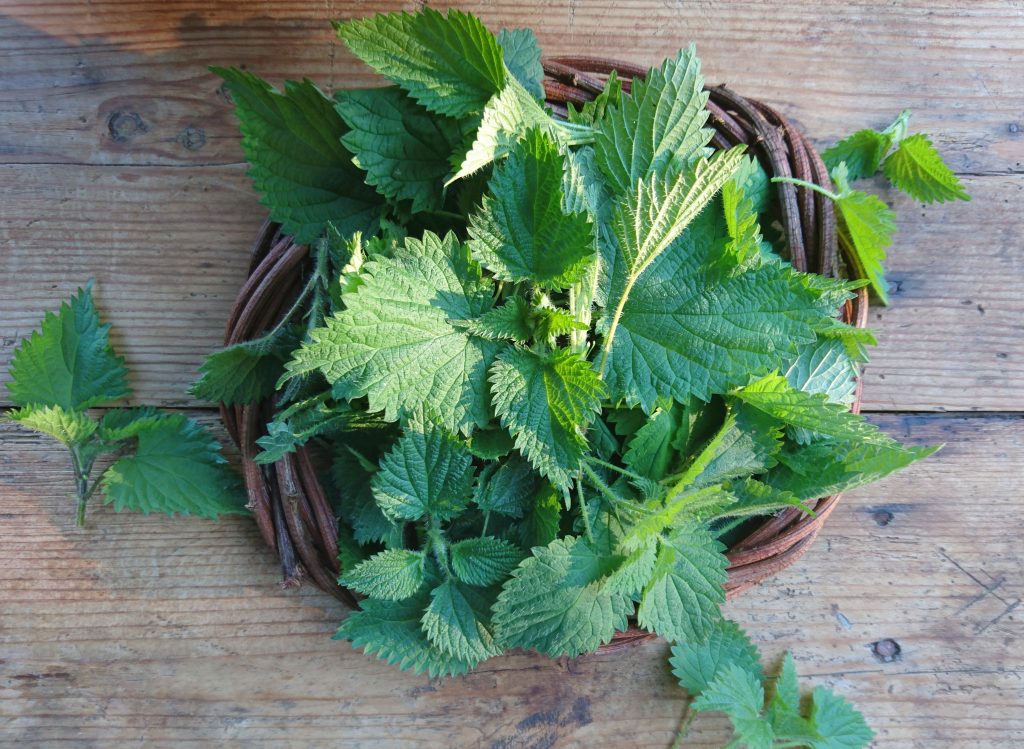 If you want to compete, then you'll have to tear the leaves off the stalk and stuff them into your mouth. The contest has been held annually since the 1980s, and you have an hour to eat them. Phil Thorne is the record holder, eating 104 feet.
Mayonnaise
Mayo might make a delicious addition to any sandwich, but it's not something to have in your diet if you're trying to lose weight. It's just egg whites and oil! That doesn't stop people at the Glutton Bowl from gorging themselves on the white stuff.
The current world recorder is Michelle Lesco, who managed to eat 3 and a half jars of pure mayonnaise in 3 minutes. However, Oleg Zhornitskiy ate the most at the Glutton Bowl when he ate almost eight pounds of the stuff!
Curry
One of the things India is most famous for is curry, which is particularly a favorite in the UK. So, it comes as no surprise that the Curry Eating Contest is held each year in Scotland. Get those glasses of water ready!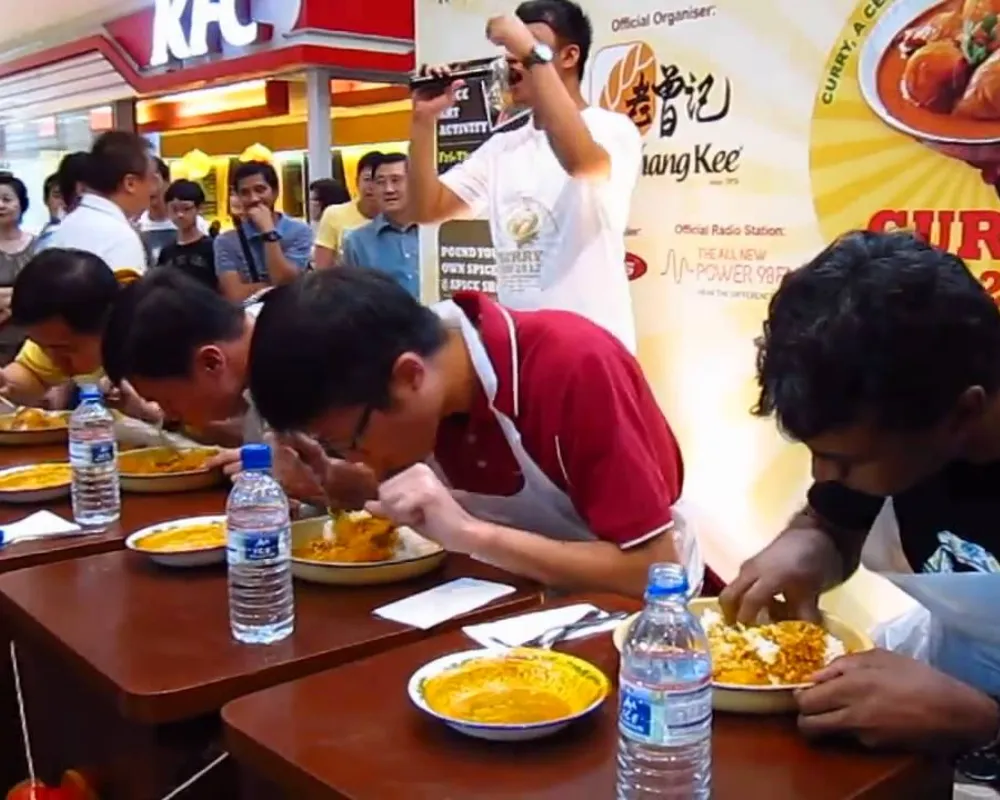 Instead of eating as much carry as you can, you have to eat the spiciest varieties of it. Some of them can be so hot that they have the British Red Cross ready to lend a hand if things get serious.
Raw Onions
Just like garlic, onions have a strong scent and make a fine addition to food. One of the weirdest sights is seeing someone eat an onion, completely raw. If this freaks you out, then avoid this next competition for sure!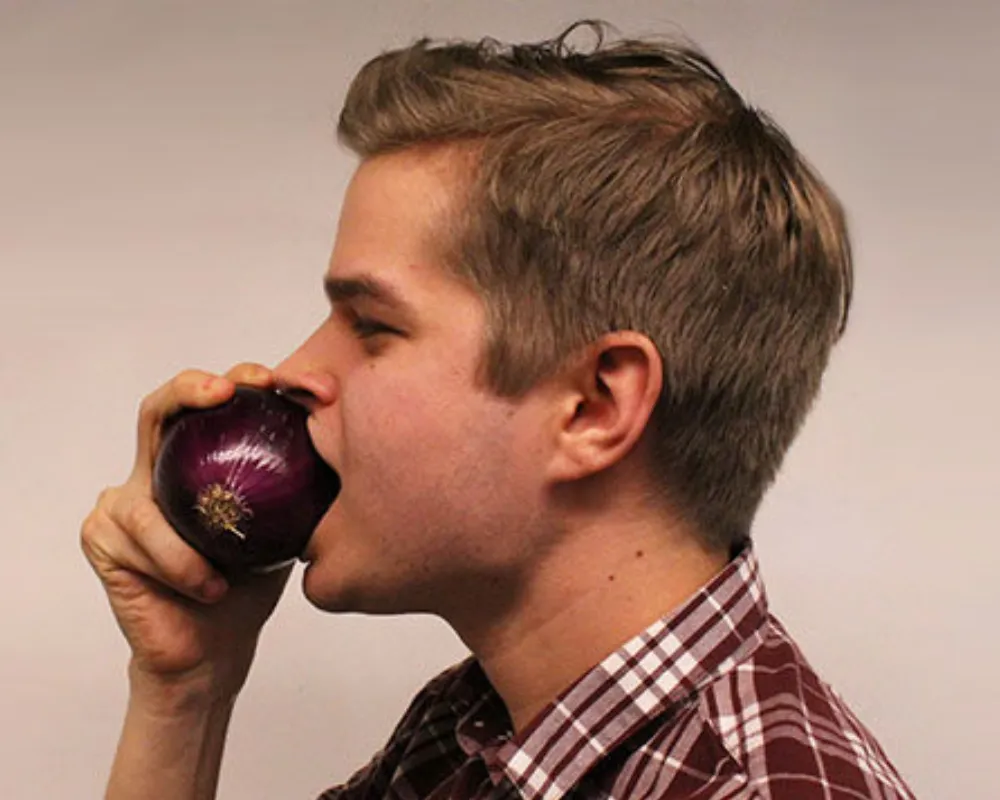 Brian Duffield ate 0.47 pounds of these vegetables in about 90 seconds at the competitions. However, that's not even the world record! Yusuke Yamaguchi from Japan ate a whole onion in 29 seconds, earning him the title of the fastest onion eater.
Shrimp Wonton
Seafood is a popular choice for food contests because of how easy it is to cook and prepare, especially in seaside countries like Singapore. There, you can participate in the Shrimp Wonton Eating Contest, where you have to eat the most in eight minutes.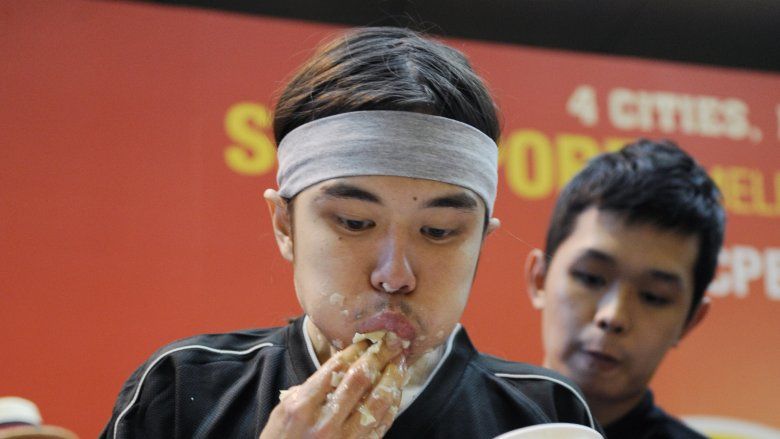 The current champion of the contest is – once again – Joey Chestnut, who ate 380 of them in this time limit. It seems there's nothing that this guy can't eat, and you'll see his name a few more times on the list!
Cheese Curd
One thing that the state of Wisconsin is famous for is its cheeses. So, it figures that they hold a Cheese Curd Eating Contest each year, celebrating their love for this stuff. Unfortunately, you can't take part if you're an adult.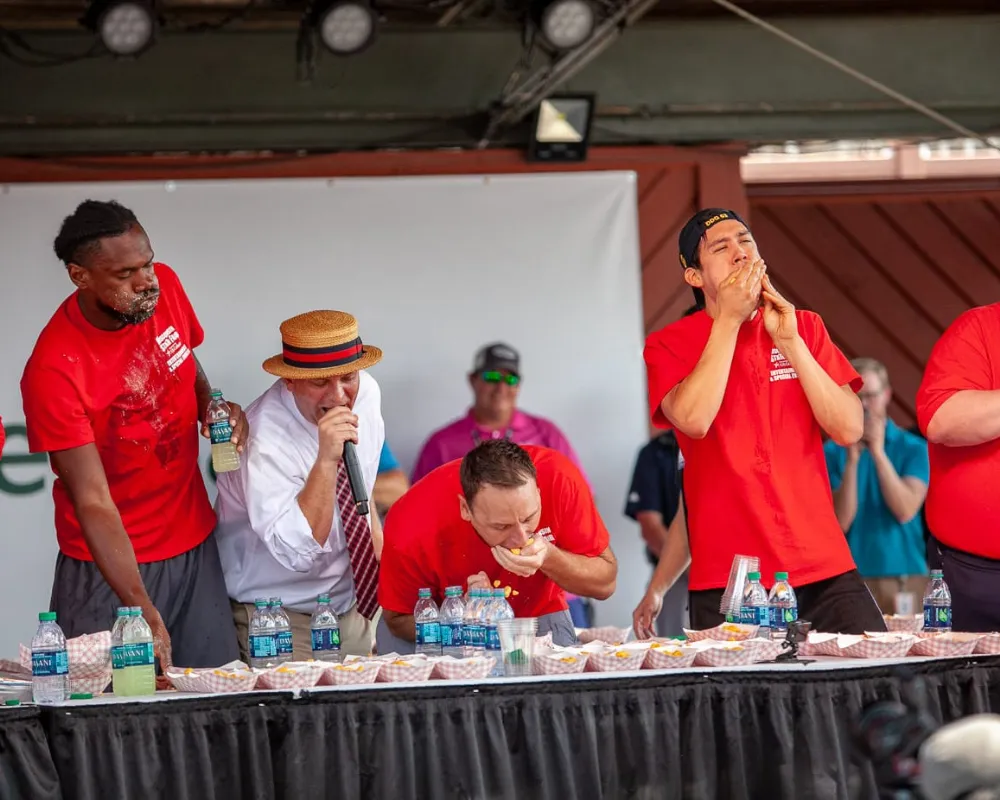 The contest is only for children – specifically, those aged between seven and eighteen years old. You could always watch the contest instead. It's got to be fun to see so many people chowing down on cheese curds – or plain disgusting!
Fried Mushroom
Mushrooms are just like marmite – either you love them, or you hate them. If you're a vegan, then you haven't really got much of an option since they're in almost every alternative dish! Fans of fungi should visit Kennett Square in Pennsylvania.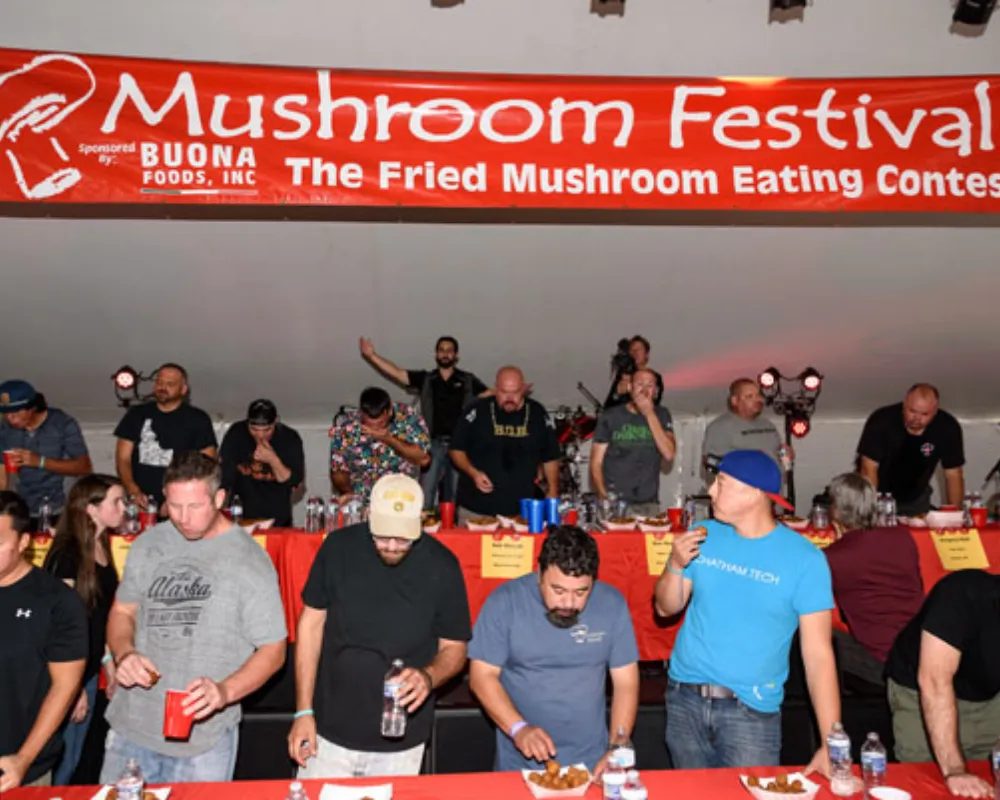 Every year, Buona Foods sponsors the official National Fried Mushroom Eating Championship and gives most of the competition resources. This contest involves eating as many as you can in eight minutes. The current record stands at a whopping nine pounds!
Lobster Roll
Seafood is quite popular in the north of the USA, so food contests involving underwater animals are common. This Lobster Roll Eating Contest is a prime example of this love for sea animals. It's held in Salem in Massachusetts every year.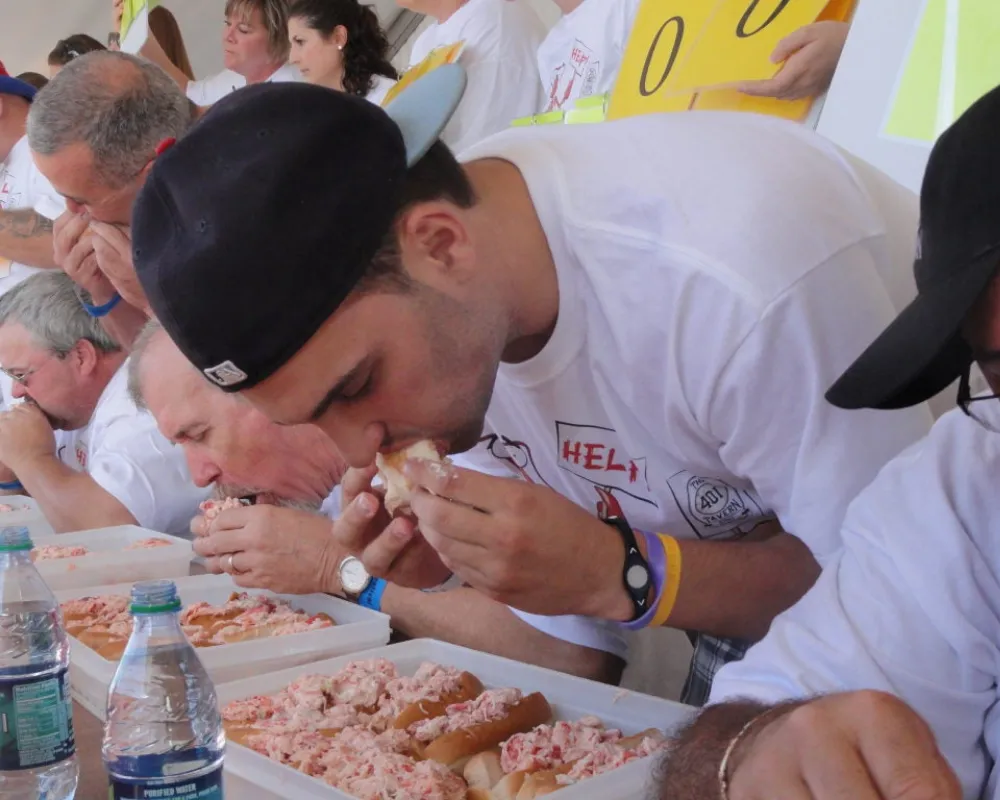 In this competition, contests must devour the most lobster rolls as part of the Salem Willows Seafood Festival. They also have plenty of other food available to eat, such as shrimp and clams. Just imagine how strong the smell must be at this place!
Gyoza
Japanese food is also hugely popular in America, and most people just can't get enough of gyozas. If you've never eaten one before, gyoza is very similar to a dumpling. It's just a little thinner than a regular dumpling you're used to.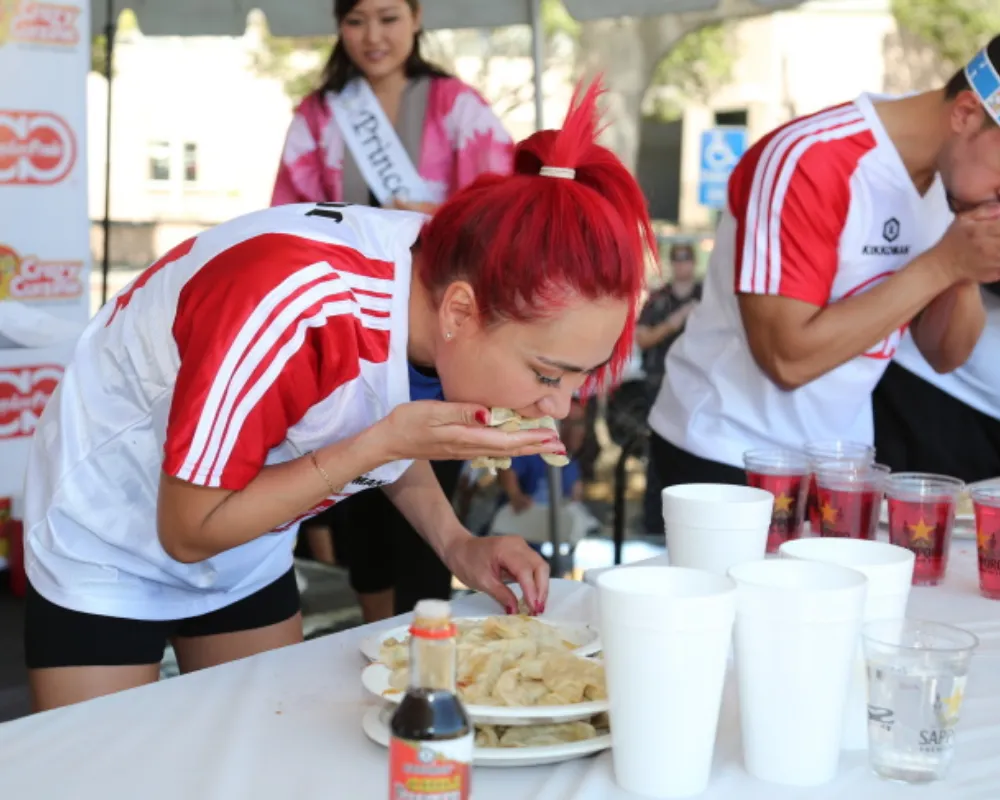 Can you guess who the current champion of the World Gyoza Eating Championship is? That's right – it's Joey Chestnut! This man truly has a stomach of steel because he ate 359 gyozas in less than 10 minutes back in 2017.
Crocodile Egg
On the other side of the world, there's a special egg type that people consider excellent breakfast food. However, it doesn't come from any kind of bird – it's a crocodile egg! Lots of Thai people love eating these eggs.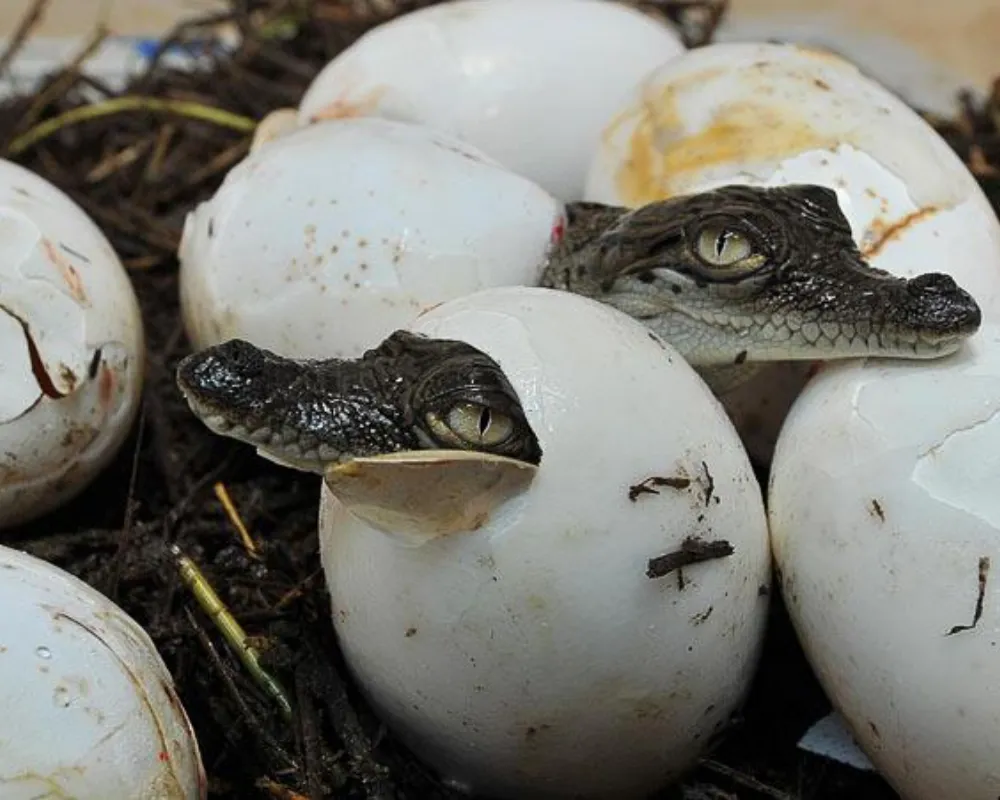 They love it so much that Pattaya Crocodile Farm holds a Crocodile Egg Eating Contest every year. Anyone who competes must chomp down on 10 crocodile eggs as quickly as possible. It sounds gross, but these eggs are a great source of protein.
Live Roaches
Eating cockroaches sounds like something from a nightmare, but these critters find their way onto many dinner plates. Usually, they're reserved for places in Asia and Africa, but there's a special contest in South Florida dedicated to eating just that.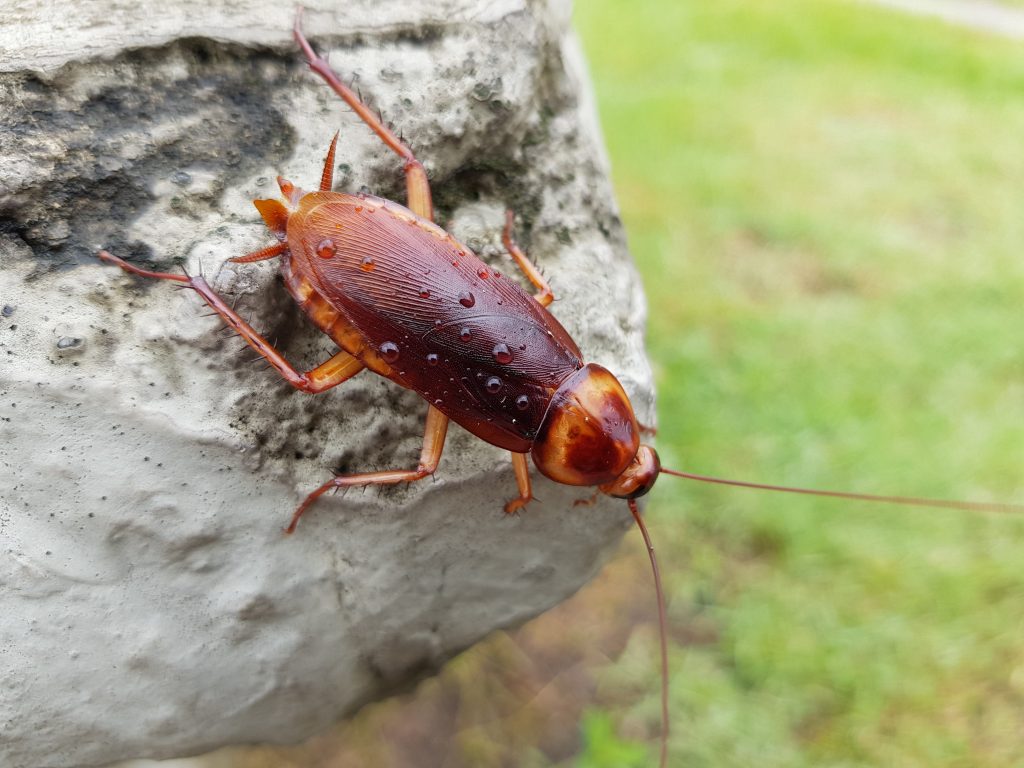 The worst part of this contest is that all the roaches are alive when you eat them! The current champion, who is from England, swallowed 36 live roaches in only one minute. Sadly, a man died in 2012 after choking on them.
Brain
Have you ever wanted to live life like a zombie? Then you should take a trip to Minneapolis in Minnesota to participate in the Zombie Pub Crawl. Contestants have to each many "brains" as they can stomach in eight minutes.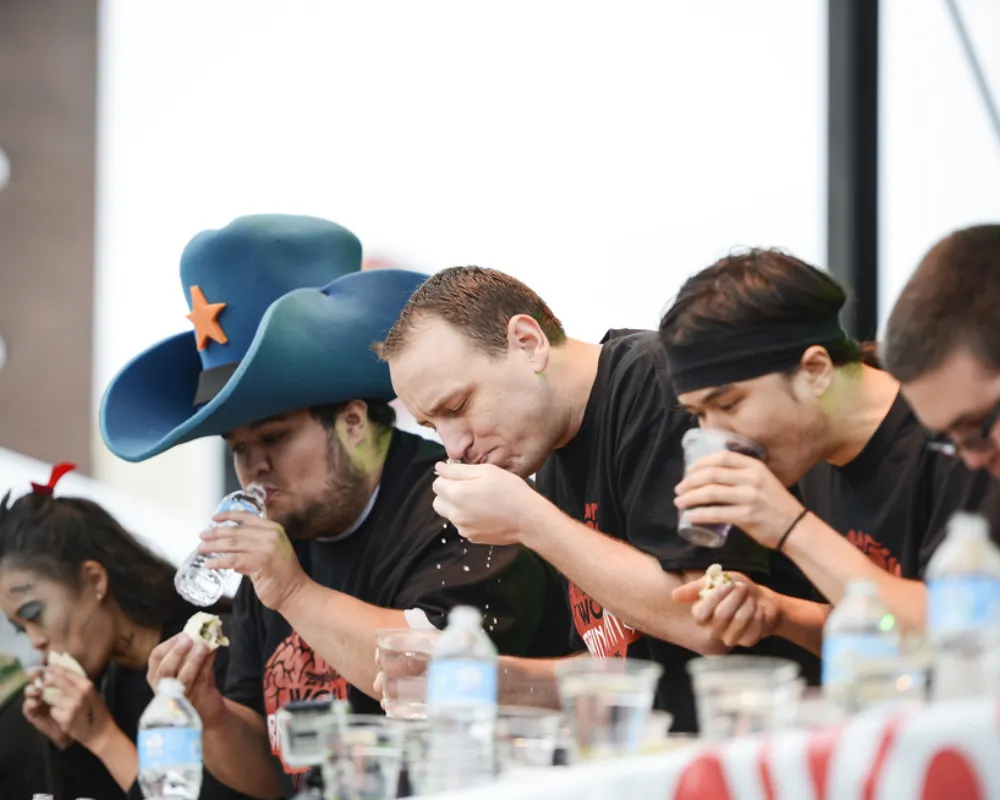 Thankfully, the brains are simply made from pulled pork and shaped to look like a cerebral matter. Once again, Joey Chestnut holds the title for eating the most brains, having eaten 54 in the time limit. Is there nothing he won't eat?!
Kimchi
In Korea, kimchi has been a popular food for a while, but it's only recently gotten attention in the Western world. If you fancy your hand at eating a whole lot of it, then you should visit Chicago in Illinois.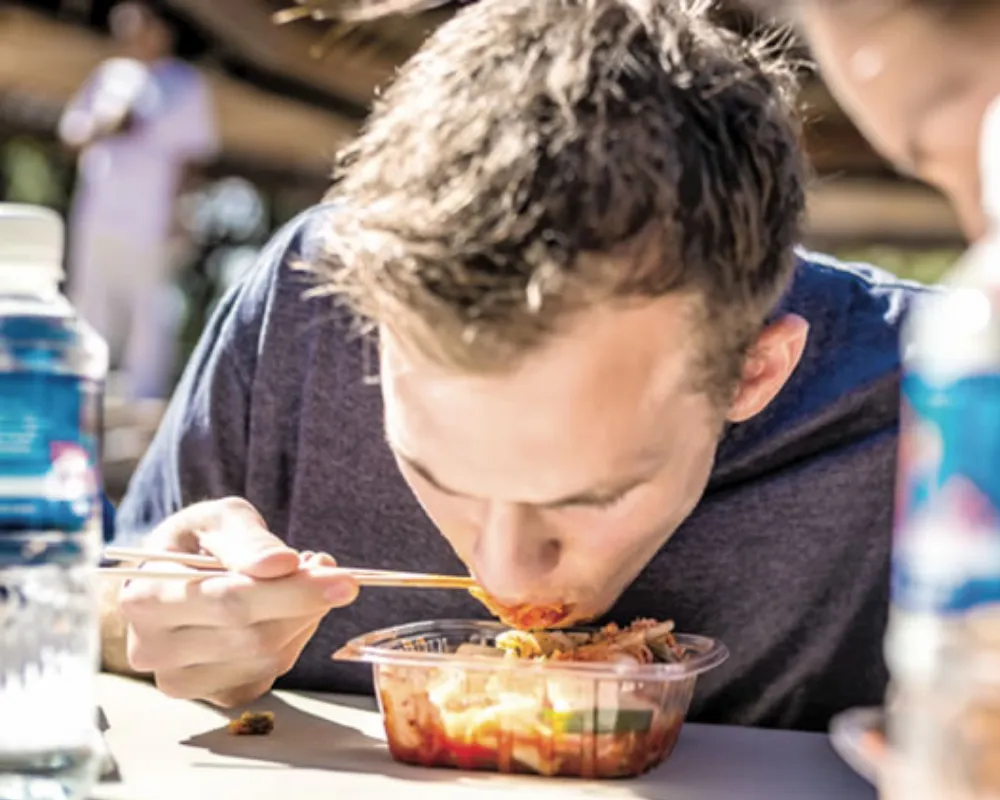 Each year, the Koreatown district holds the International Kimchi Eating Championship Chowdown. The world record for this strange affair is 8.5 pounds, which the winner devoured in less than six minutes. It's going to be very difficult to beat that!
Sushi
One of the reasons that sushi is so popular worldwide is because of how flexible it is. You can make almost anything into sushi – there are even vegan and vegetarian versions of the dish for people to try. Nothing beats the original, though!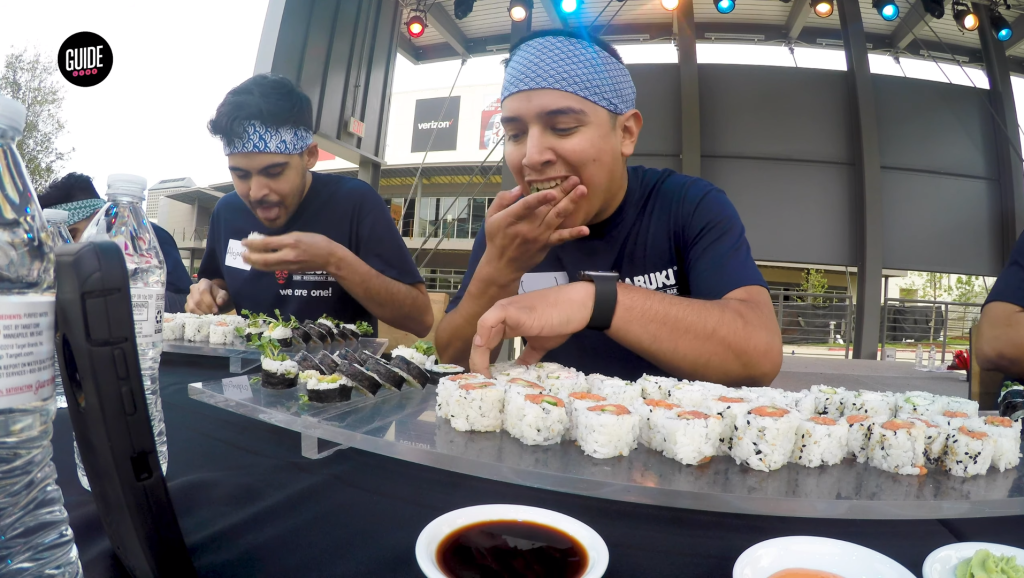 If you love sushi as much as we do, you might want to visit a Sushi Eating Contest. These are held at different places worldwide, so you can take your pick. The current world record belongs to Michael Takla, who ate 1.6 pounds in 2021.
Ice Cream
Anyone who has got a sweet tooth should consider visiting Florida for the World Ice Cream Eating Championship. The contest is during April each year, which stops the ice cream from melting too fast. It doesn't stop them from being so sticky, though!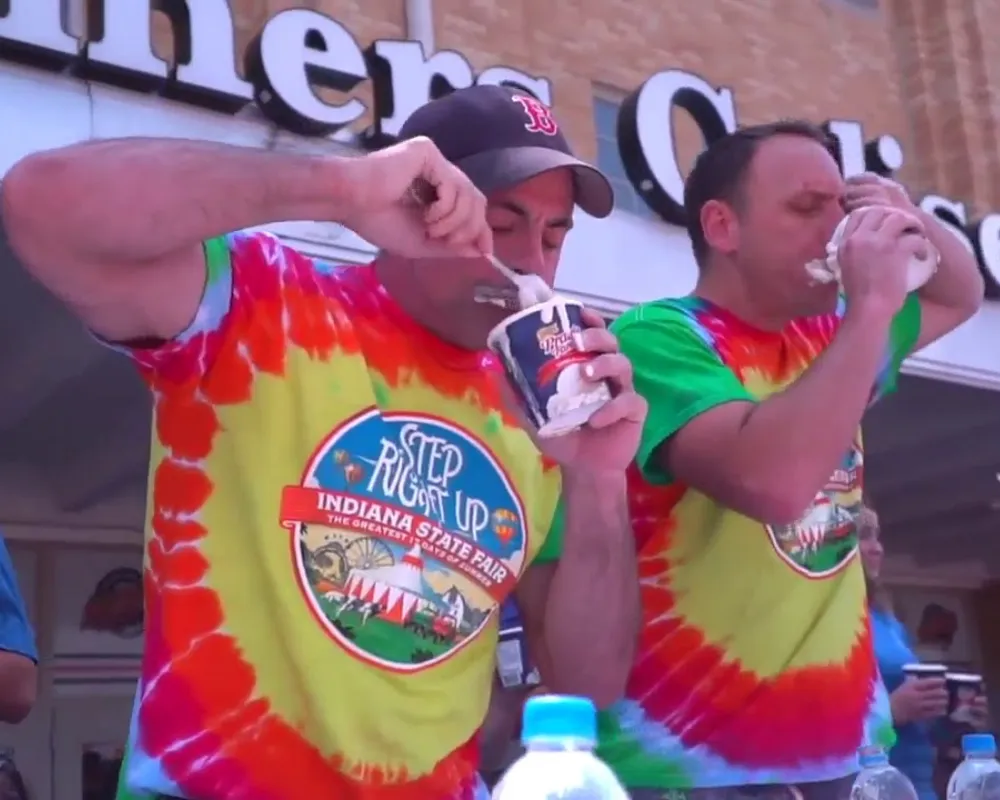 Previous competitive eater Joey Chestnut lost the title in 2017 to Miki Sudo. In just six minutes, Sudo managed to gorge himself on 16 pints of the cold stuff. He won $2000 as prize money and is the current record holder.
Bratwurst
If you've never tried Bratwurst before, then you're missing out. It's a special type of sausage from Germany, which includes ginger, coriander, and other spices. Some varieties also include eggs and cream for extra taste. They're surprisingly popular in Wisconsin and Ohio.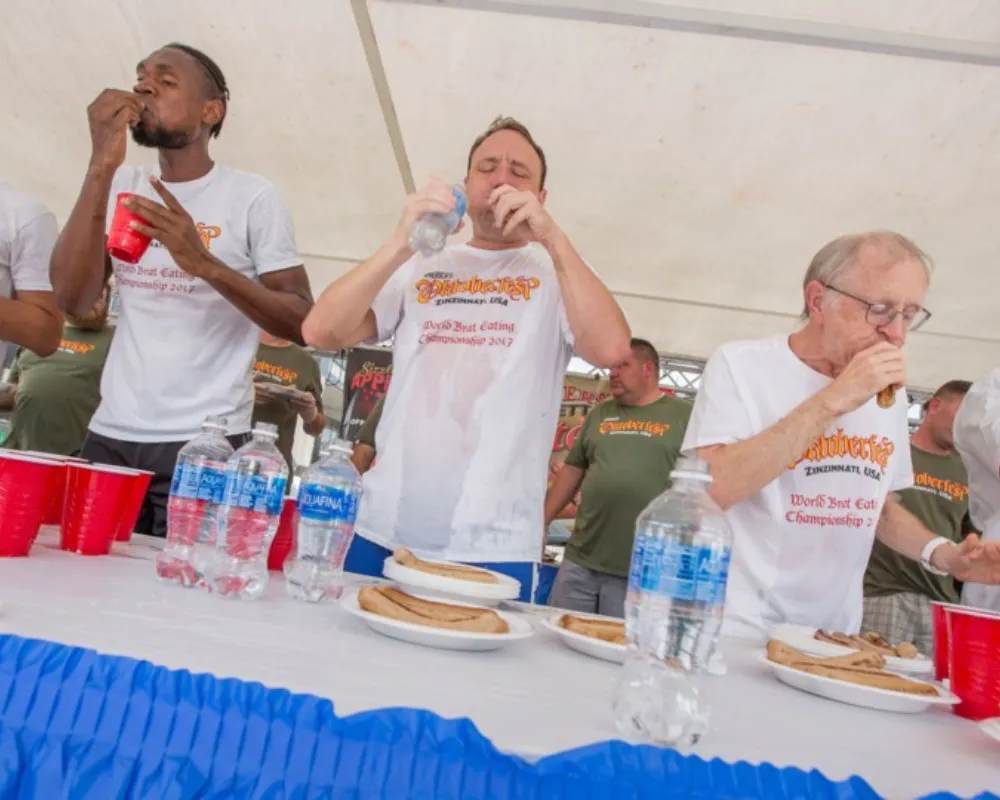 Each year, Ohio holds the Oktoberfest Zinzinnati World Bratwurst-Eating Championship in September. In 10 minutes, challengers must gobble as many of these sausages as they can. After eating 68 bratwursts in merely 10 minutes, Joey Chestnut is the world-record holder.
Tomatoes
In their raw form, tomatoes can be a little yucky. But they taste scrumptious when they are cooked in things like pasta or pizza! Anyone who enjoys this fruit should consider visiting the Tomato Festival in Jacksonville, Florida, to show off their skills.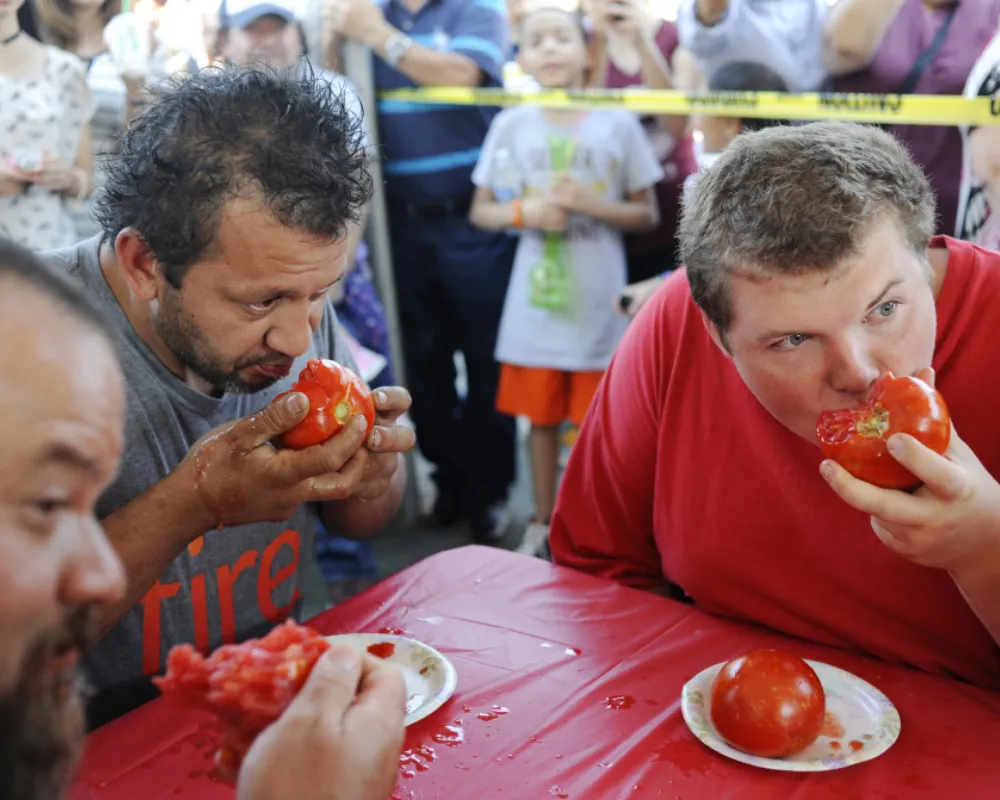 There are many tomato-related contests here, such as one to see who can eat the most of them. You've also got a tomato peeling contest where your only tool is your teeth. Perhaps the tomato growing contest will tickle your fancy instead.
Dilly Bar
Dairy Queen is known for making a wonderful variety of sweet foods, but you might not know that they have their own eating contest. This is held at the Sawyer Country Agricultural Fair in Wisconsin annually. Contestants must eat Dilly Bars.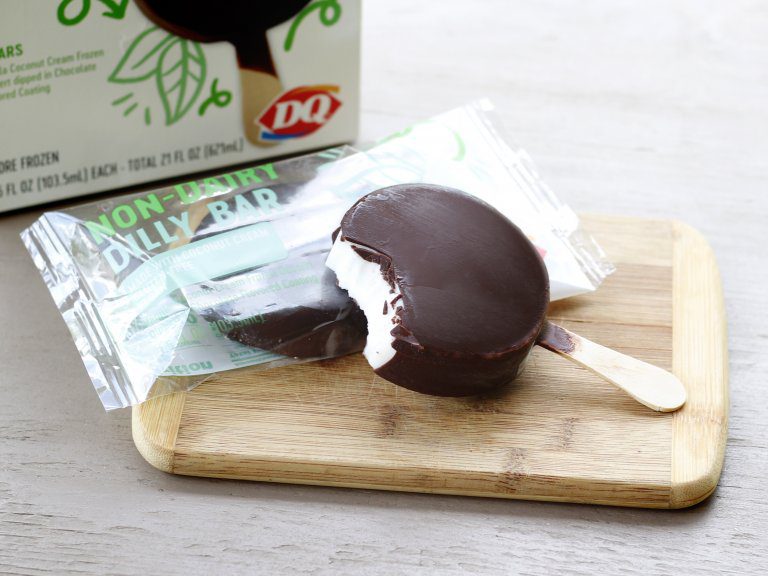 Dilly Bars are a kind of ice cream covered with chocolate, and they are just one of the Dairy Queen foods to eat at the contest. Currently, there's no information about who the record titleholder is, so why not try it yourself?
Chocolate Pudding
Here's another entry for those who prefer desserts to the main course. However, you might find yourself wanting to vomit after! Winter Park Chocolate Festival in Colorado hosts many sweet food eating competitions, including one with chocolate pudding. Sounds yummy, right?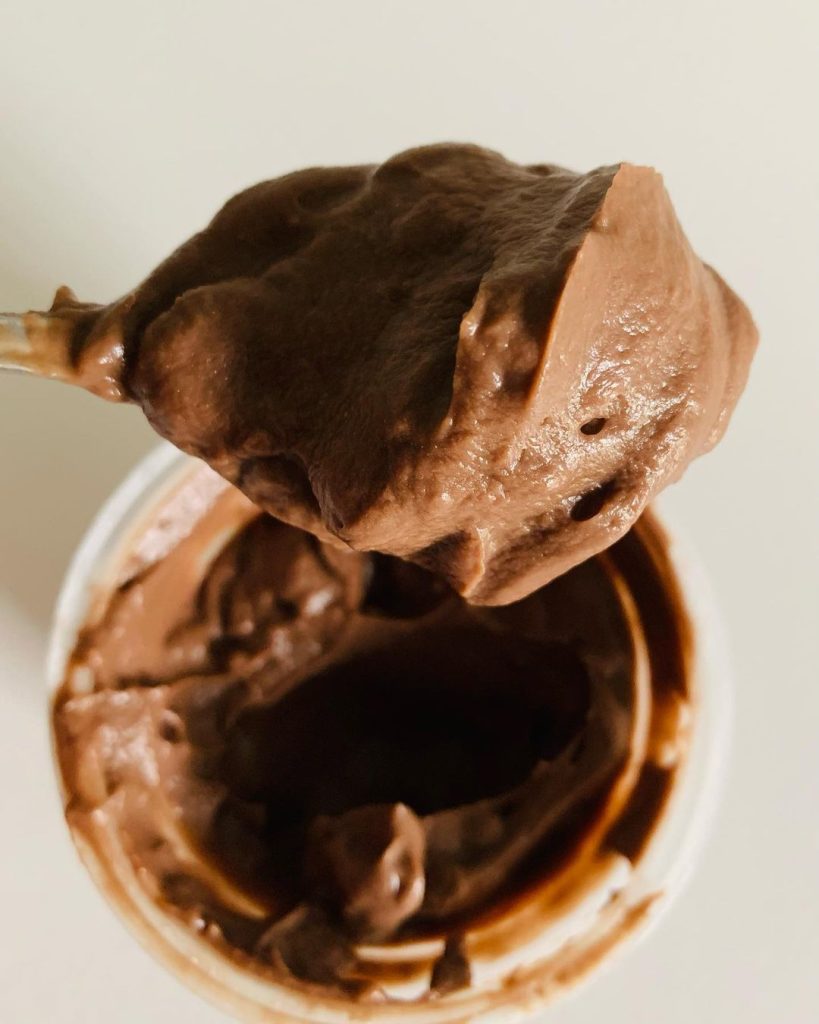 They've separated the competition into adults and children to make things a little fairer. If you manage to reign supreme, the prize is a golden ticket that allows you to eat more chocolate. Chances are that you'll hate this prize afterward!
Crawfish
Crawfish might look similar to lobster, but they taste quite different. Most people eat only a lobster's tail, yet the whole crawfish is usually up for grabs. Also, crawfish tend to be a little spicier since they're cooked with Cajun seasoning.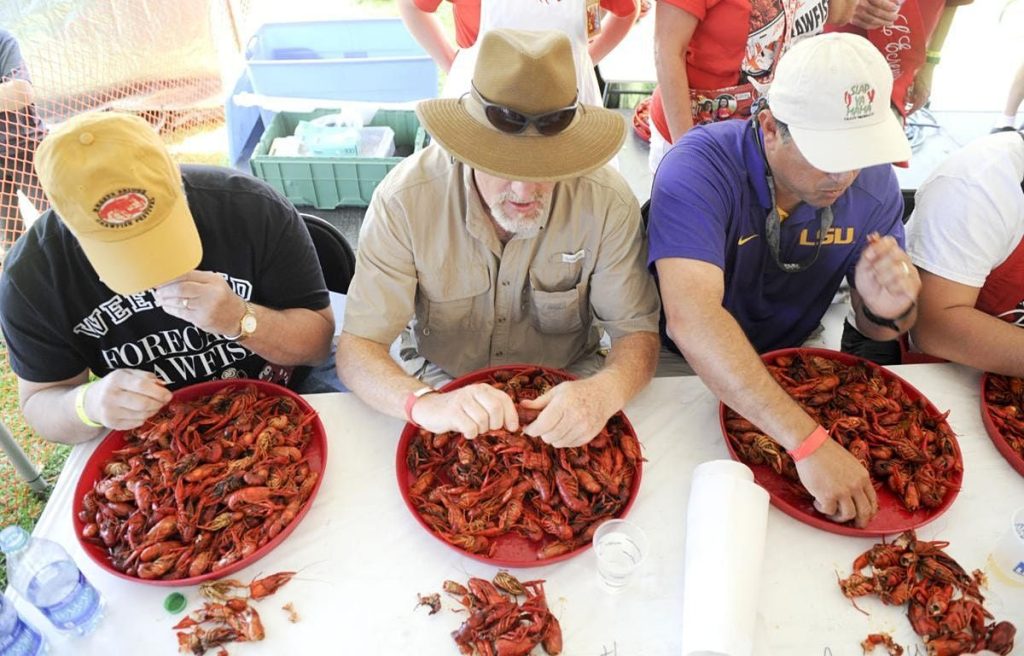 If that sounds appealing to you, head over to Atlantic City in New Jersey to attend the World Crawfish Eating Championship. It won't be easy – the current winner is Russell Calais, who ate 2.6 pounds in a mere 10 minutes.
Bacon
Who doesn't love a strip of sizzling bacon? It wouldn't be right to have food contests that don't celebrate humanity's love for bacon. For all you bacon-lovers, take a trip to Keystone, Colorado for the Berkwood Farms Bacon Eating Contest.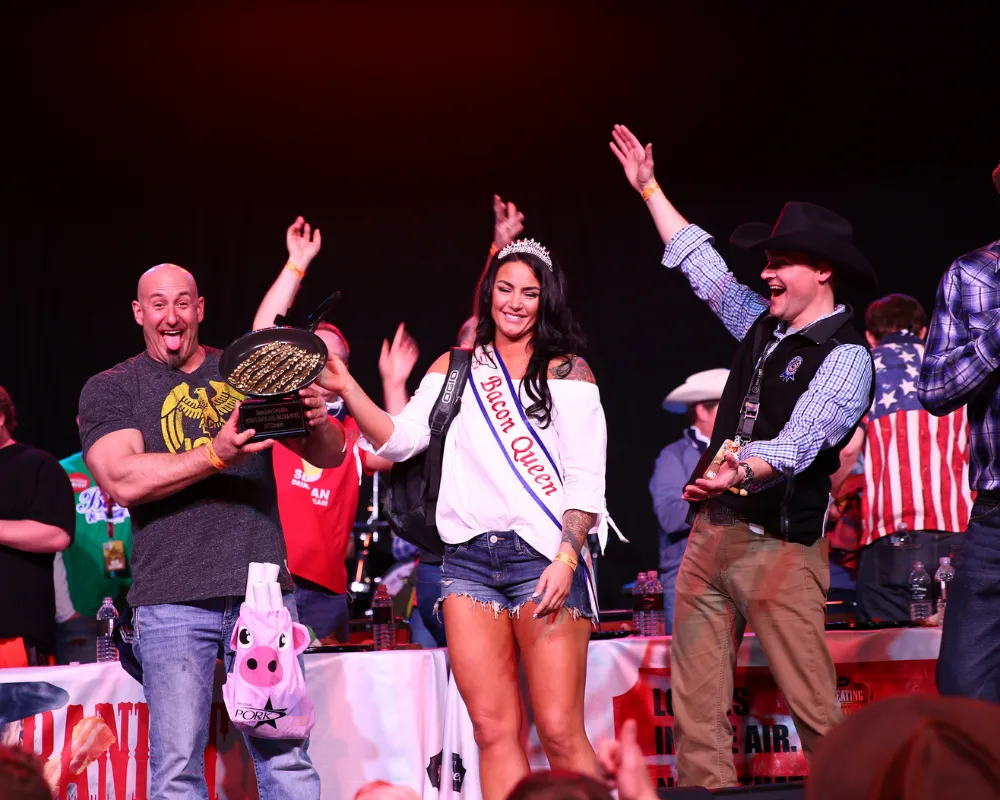 The contest has been running since 2008, and Ryan Plew is the current championship titleholder. He won this record 3 times before, which just goes to show how much he loves to eat! The world record, however, goes to Matt Stonie, who ate 182 slices.
Steak
Still, craving some meat? You might want to visit Arkansas for the Steak Eating Contest. Be warned, though – the steak is pretty hefty, sitting at around 16 ounces for each one. You must eat as many as you can to win the title.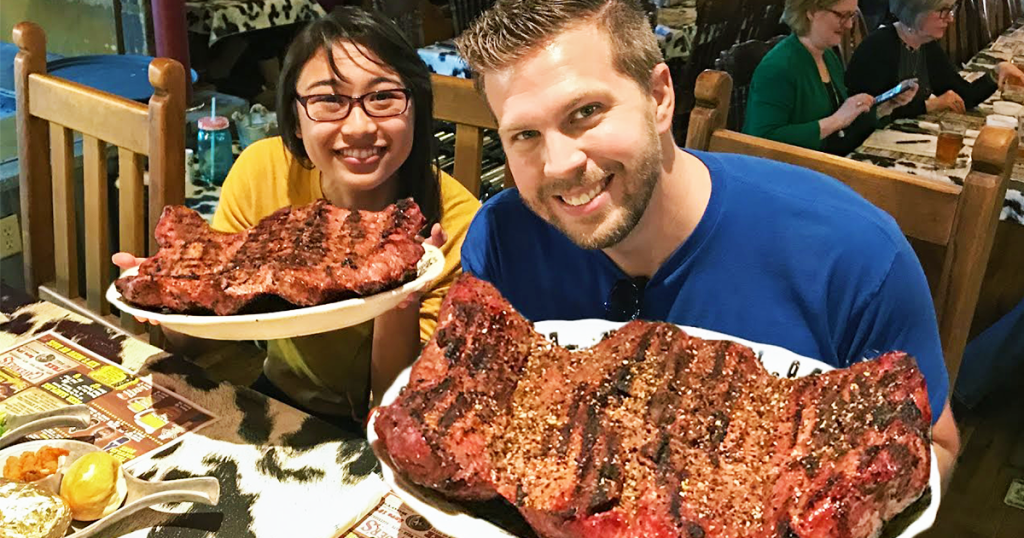 If that's too easy for you, then perhaps the Big Texan's Steak Challenge in Amarillo, Texas, is worth a shot. You have to eat a 72-ounce steak plus the side dishes in less than an hour. If you do it, the whole meal is free!
Plum Dumplings
Here's another food that isn't too popular, although it really should be. Plum dumplings are common in the Czech Republic, so it makes sense that this country holds the Plum Dumpling Eating Contest each year. They might be small, but the dumplings are a challenge.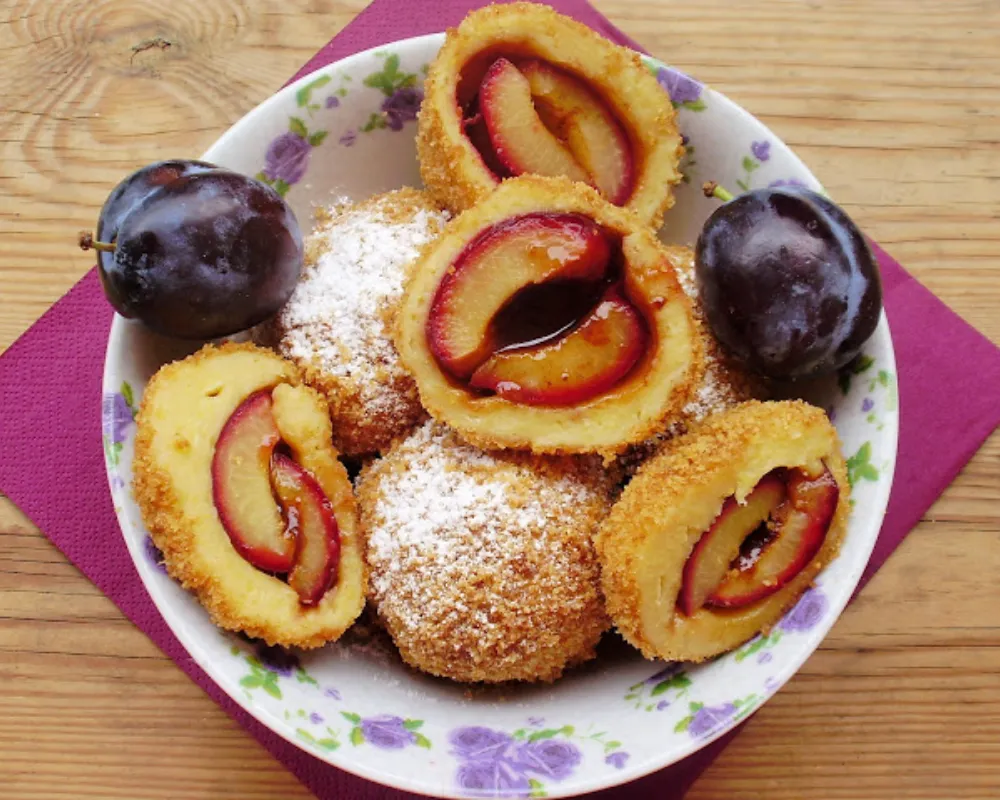 That's why you have more time to eat these than some of the other contests on this list. You've got an hour to scoff as many plum dumplings as you can. The current champion is Pat Bertoletti, who ate 198 of them.
SPAM
SPAM first gained popularity during World War 2 as a meat alternative since it was comprised of 'leftover' meat. It was better to buy some SPAM in the UK than use your valuable ration stubs. However, it's just as popular across the pond.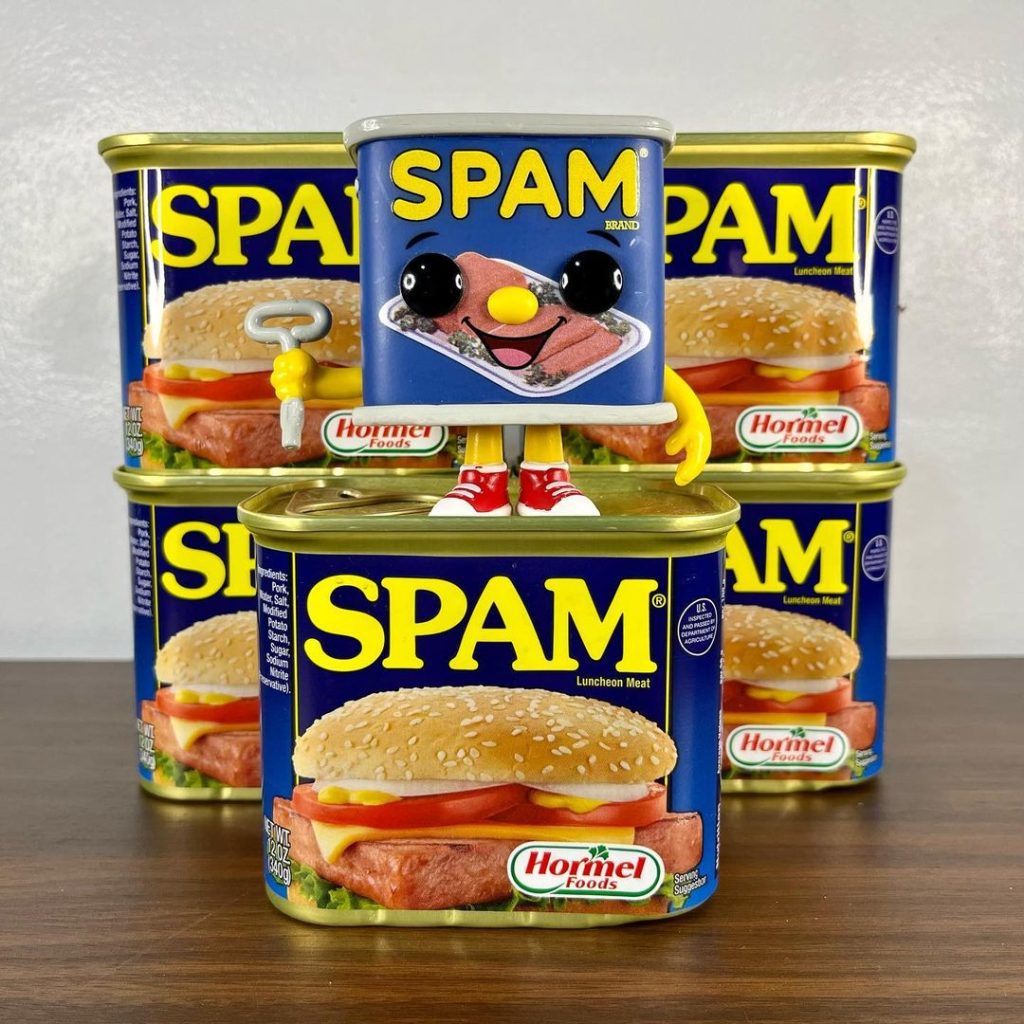 Maryland holds a SPAM eating contest each year, where the winner gets to go on a shopping spree at one of the local supermarkets. Surprisingly, the contest is part of the Crustacean Celebration for the area's Blue Crabs minor league baseball team.
Shrimp Cocktail
Perhaps you're not feeling the leftover meat – so why not try something from under the sea? Indianapolis in Indiana is host to St. Elmo's Shrimp Cocktail Eating Championship each year. It's so famous that people worldwide come to visit, just for the contest.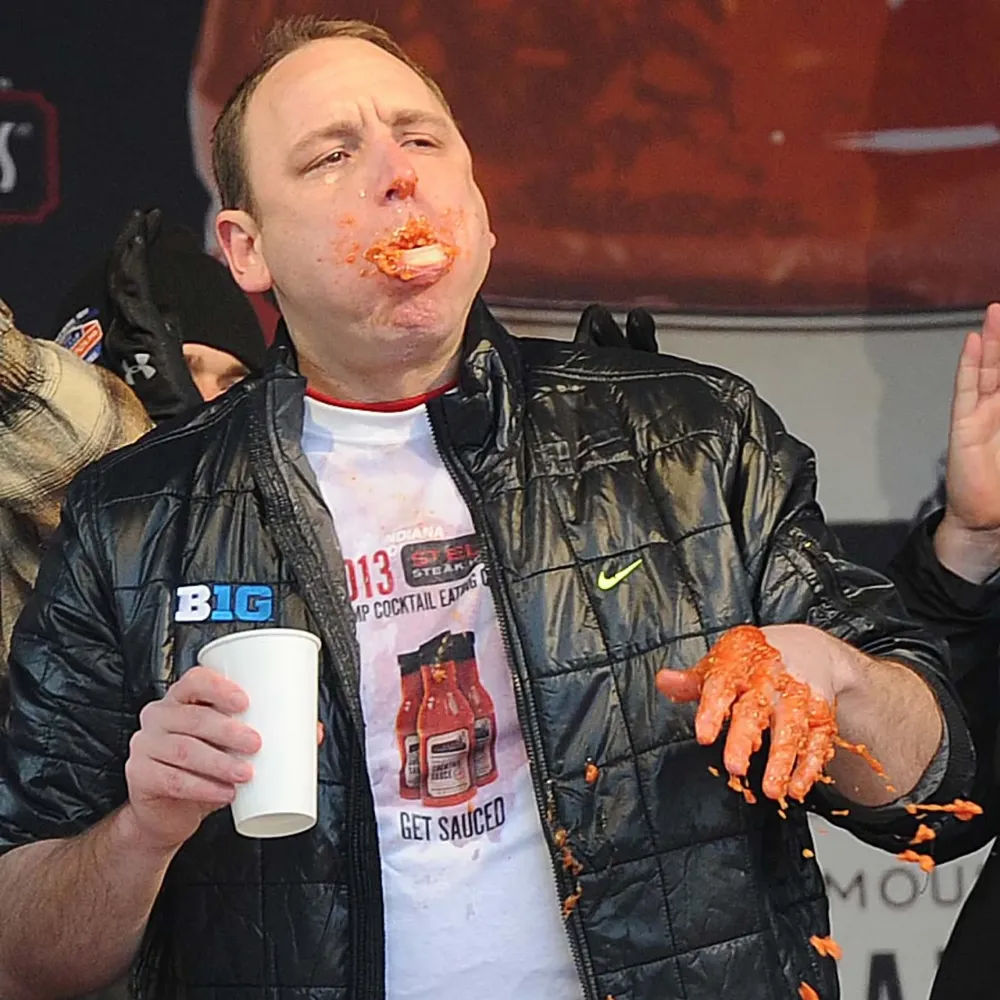 You shouldn't visit if you're not a fan of spicy food, as the cocktail sauce comes directly from St. Elmo's. There is more than a punch with the level of spice! The current champion is Joey Chestnut, who scoffed 10 pounds in only 8 minutes.
Caviar
Most people consider caviar to be a delicacy, but the truth is that it's far from it. Caviar is made from the eggs of the sturgeon fish, covered with salt. It's usually used as a garnish, but people at this contest eat it from bowls.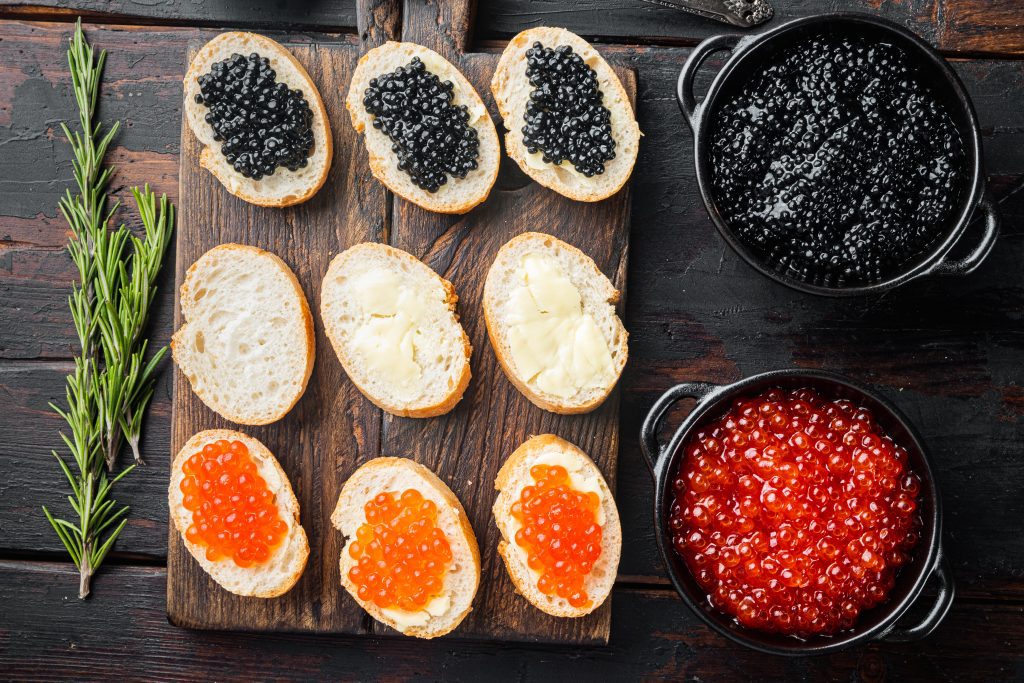 What we're referring to is the Caviar Speed Eating Contest, held in Moscow each year. However, caviar is an expensive dish to buy, so the contest usually runs up hefty fees. In 2012, the winner ate around $70,000 worth of fish eggs!
Grits
Ask anyone from the south of the United States, and the majority of them will tell you how much they love grits. It's the comfort breakfast food for so many! Each year, South Carolina hosts the World Grits Festival with two grits competitions.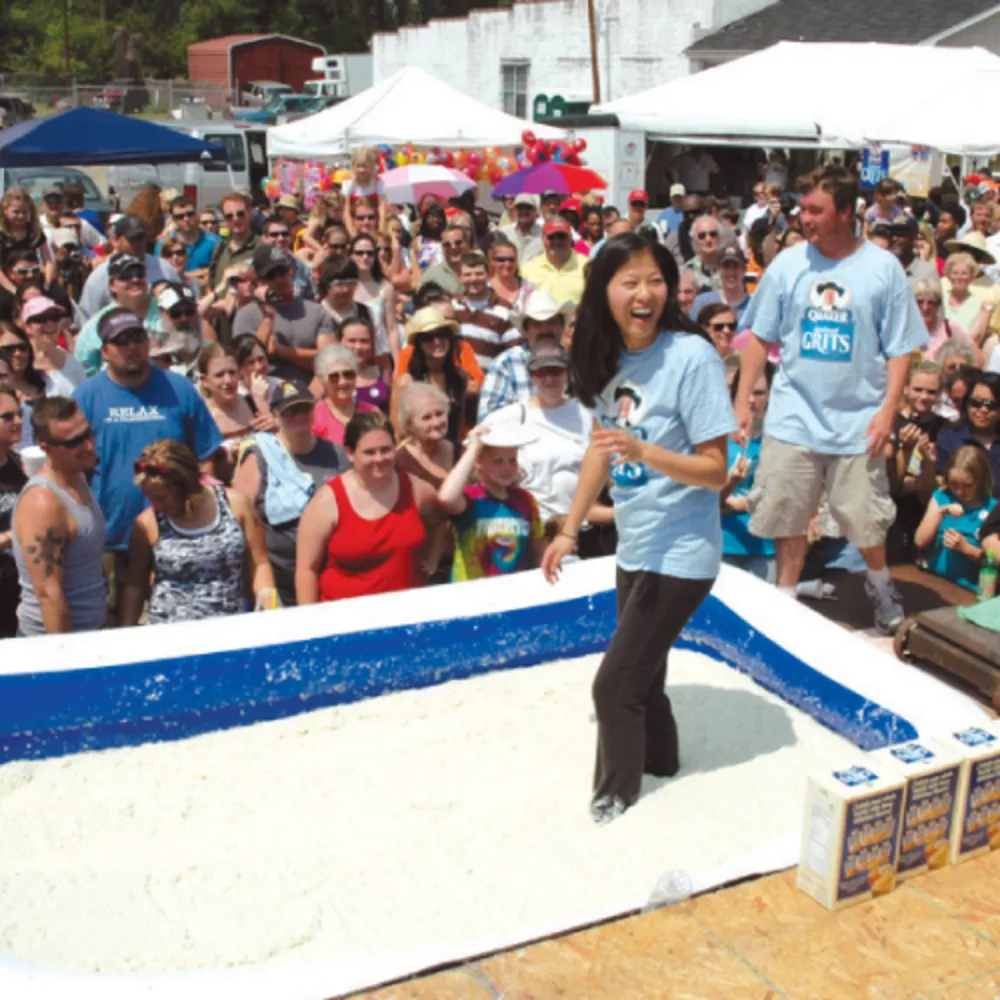 The first competition involves contestants trying to eat grits as fast as possible. The second competition is stranger – the competitors have to cover themselves with grits by rolling in them. Let's hope they do the second competition after the first one!
Jalapeños
If the habanero contest from earlier is too difficult for you, perhaps you should try the Jalapeño Eating World Championship. It's still spicy but far more manageable! Many places host a similar contest each year, but the largest one is part of the Texas State Fair.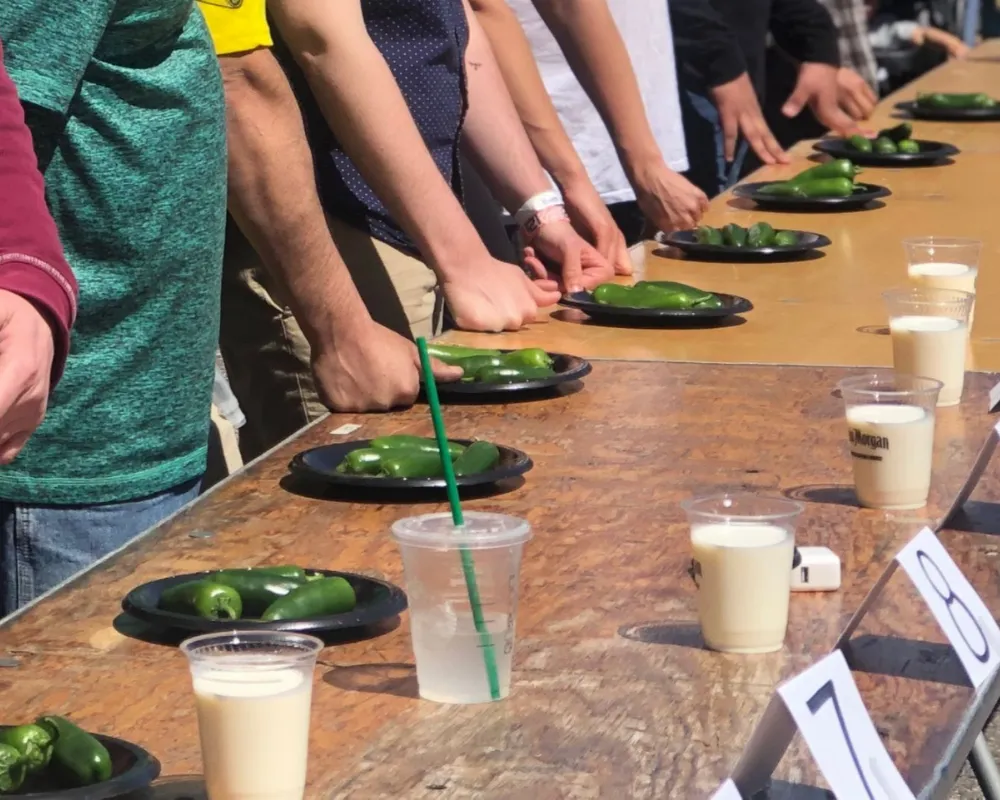 However, the current world record holder was at the La Costeña Jalapeño Contest in Laredo, Texas. Pat Bertoletti somehow managed to eat 266 jalapeños in 15 minutes and won $3,000! This score almost doubles the last record of 141 jalapeños.
Oysters
Oysters are similar to mushrooms in that some people can't get enough of them, whereas others detest them. In New Orleans, fans can visit the Oyster Eating World Championship and see contestants scarf down as many as they can in 8 minutes.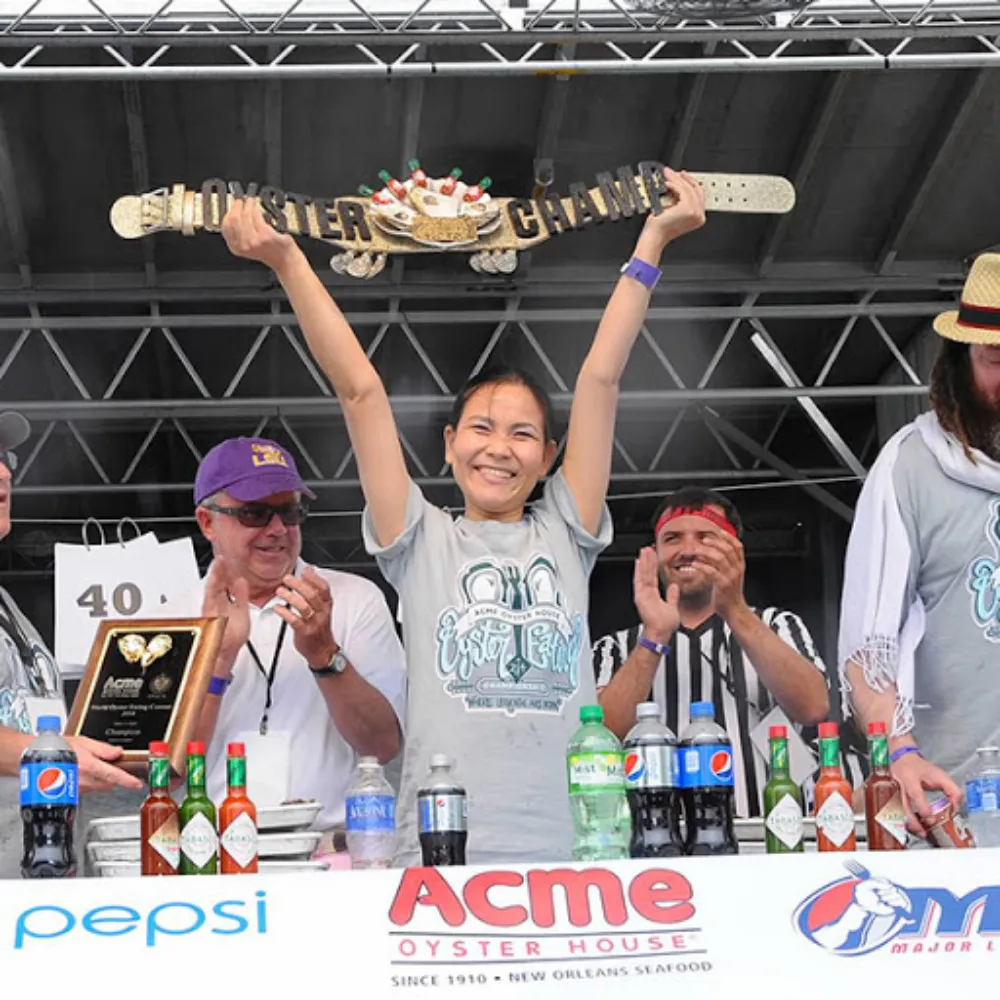 Let's just hope none of them still had the pearls in them! The world record goes to Darron Breeden after he ate 44 dozen oysters in just 8 minutes. It takes some serious guts to eat that many – oysters are so slimy.
Balut
Balut might sound like a delightful exotic food, but it's far from that. Balut is a duck embryo that is popular in the Philippines. It's regarded as a delicacy in this region, but most people would consider it far from that.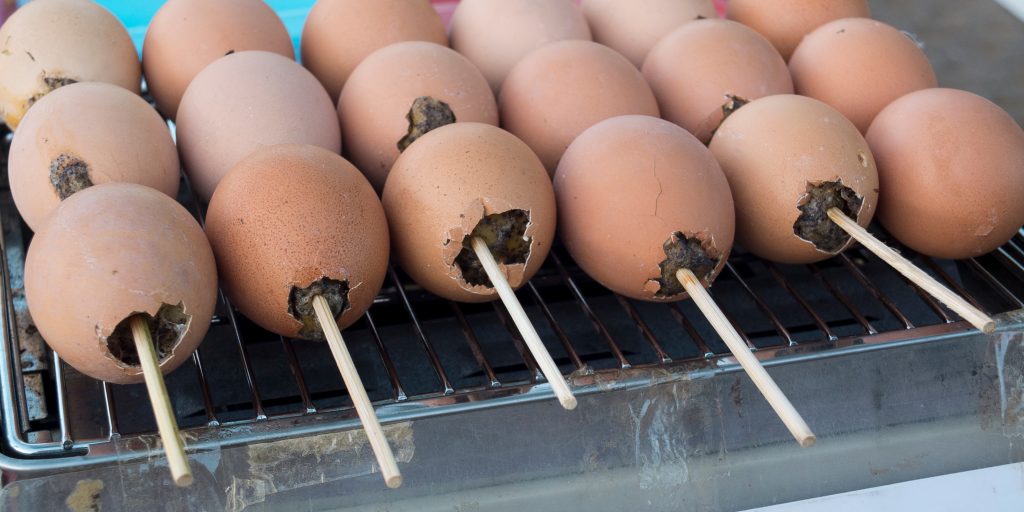 However, the biggest Duck Embryo Eating Contest takes place in New York City at the Hester Street Fair. At this contest, competitors need to gorge themselves out on the shells – yuck! Wayne Algenio is the world champion, having eaten 38 embryos in 2014.
Broccoli
The strangest thing about this food contest is how normal the food is! Seriously – who would've thought there would be a Broccoli Eating Contest? At least it's one that's guaranteed to keep you healthy. Unfortunately, the broccoli is served raw.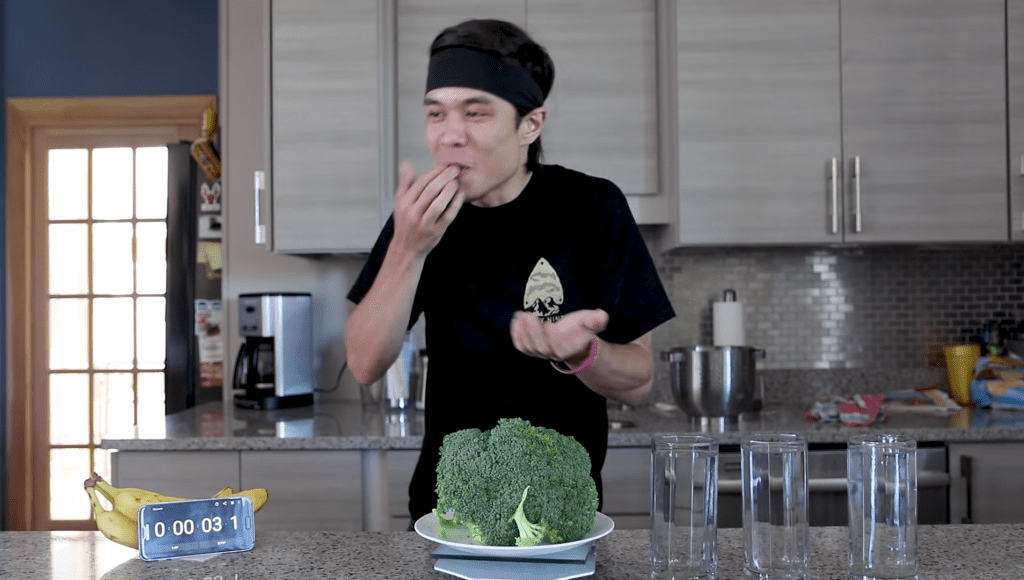 Record-breaking foodie Matt Stonie recorded his attempts to smash the world record by eating 500g of broccoli. Sadly, Tom Landers remains supreme after eating one pound in just 92 seconds. 11 others have attempted to do the same, and just seven could complete it!