Fowl Play: A Delicious Dive Into Chicken Sandwiches Throughout The US
By Sachin P May 19, 2023
---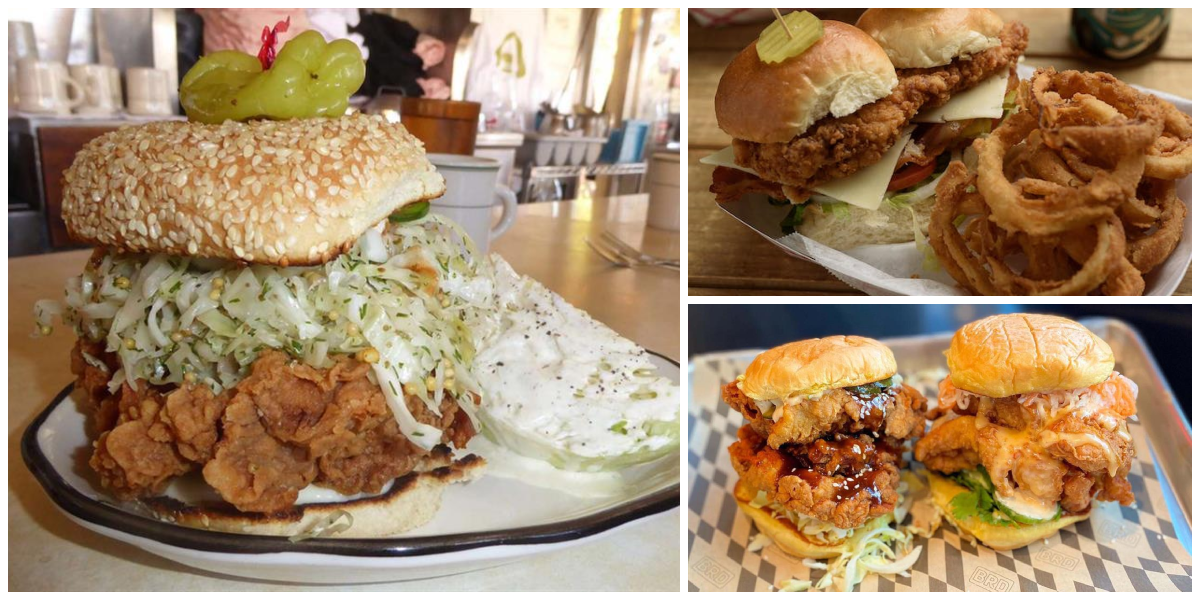 Chicken sandwiches are some of the popular food items on any menu. A delicious chicken sandwich will always satisfy, whether served on a roll, bun or between slices of bread, hot or cold, roasted or fried. The varieties available cater to different preferences and tastes; there's always something for everyone. However, not all chicken sandwiches are made equally, and connoisseurs will tell you that certain restaurants have tastier and better options than others. If you have been searching for the best places to have chicken sandwiches that will blow your mind and tickle your taste buds, you have come to the right place. Get ready to go hungry as we journey through this foodie-approved list of each state's winning chicken sandwiches.
Fried Chicken Sandwich at the Bodega Food Truck – Teton Village, Wyoming
The Bodega food truck occupies a spot right outside the gourmet market and a wine store of the same name. It delivers some of the most mouthwatering fried chicken sandwiches you'll ever taste. Try what they offer, and you'll know we're not exaggerating.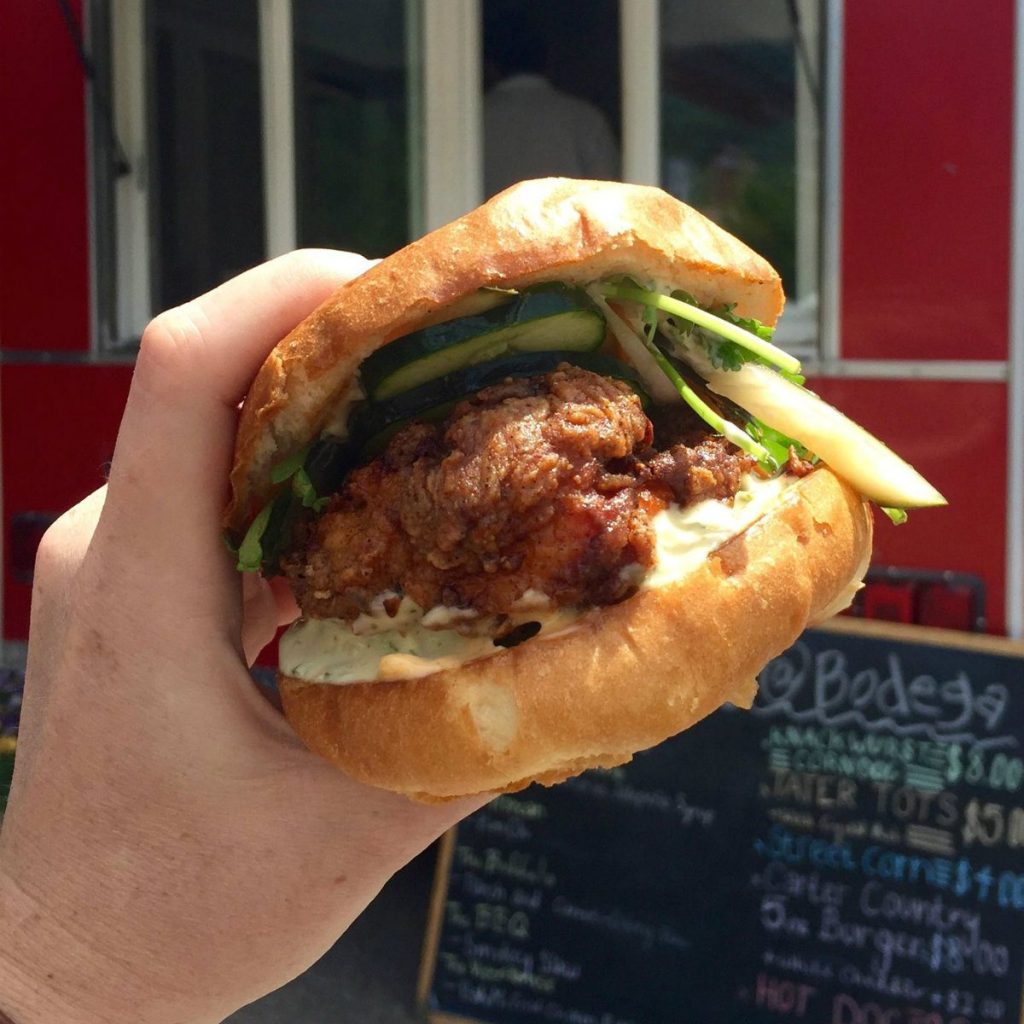 The fiery Mexican sauce with the triple-fried chicken sandwich gets glowing customer reviews. They praise the moist, succulent chicken, which makes eating this an enjoyable affair. Wrap up this meal with the stunning Teton mountain backdrop. What more can you ask for, honestly?
Blackened Chicken Bacon Avocado at Swingin' Door Exchange – Milwaukee, Wisconsin
Most of you would rightly agree that the Swingin' Door Exchange is a wonderful place for supper in Milwaukee. It provides a lively, old-timey saloon ambiance, and, as stated by enthusiastic clients, the Blackened Chicken Bacon Avocado sandwich will not disappoint either.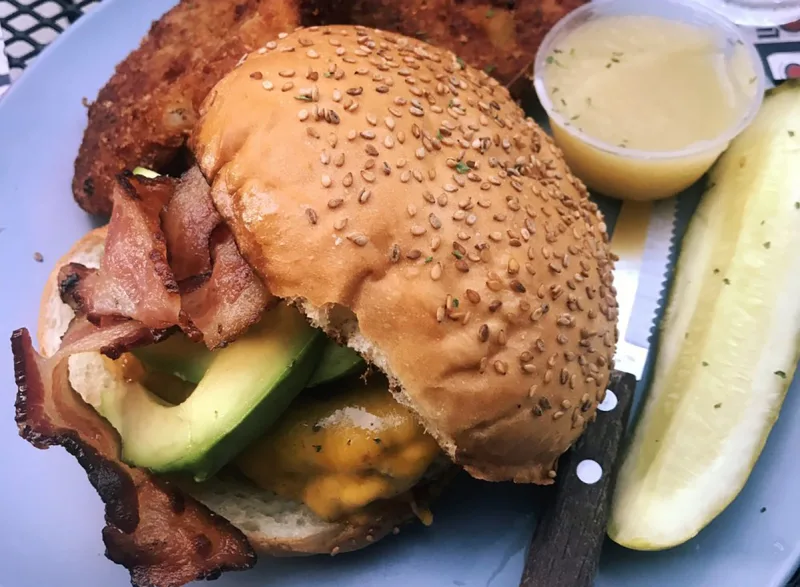 If you're curious how it is made, a spicy chicken breast is scorched and covered with cheese in a cast iron pan before being served alongside avocado slices, bacon, and mayo, all packed inside a warm sesame roll. No need to tell us twice to eat.
Vera Cruz at Dirty Bird – Morgantown, West Virginia
The residents in Morgantown have been blessed with good fortune because they have the tastiest fried chicken in their backyard. Dirty Bird has been open for at least a decade, and as you can guess from the name, the menu consists of fried chicken and a few specialty sandwiches.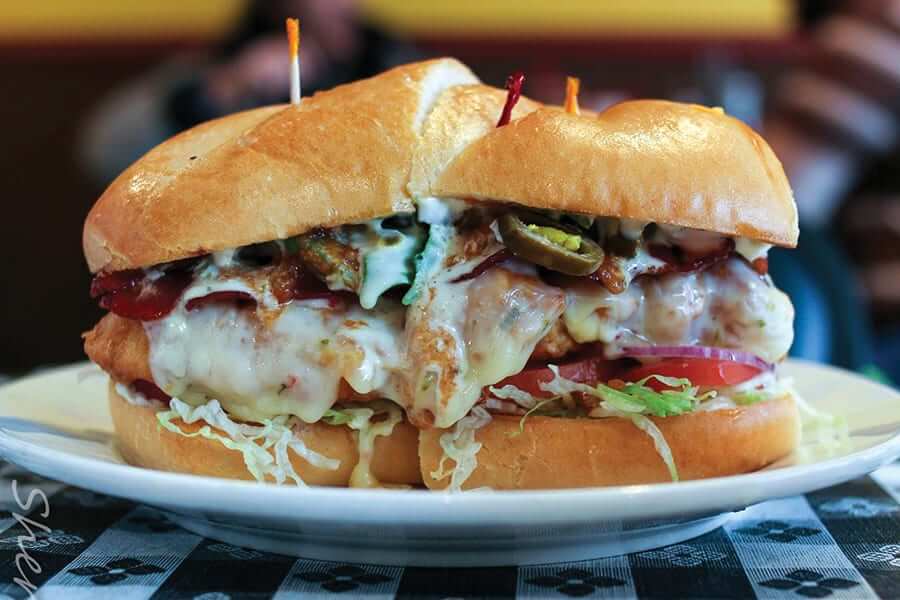 One of the most unique options is the Vera Cruz sandwich, made up of fried chicken breast, pepper jack cheese, jalapenos, cut avocado, strips of bacon, iceberg lettuce, and tomato over cilantro lime mayo. No wonder this sandwich is a favorite among customers.
Fried Chicken Sandwich at Ma'ono – Seattle, Washington
Hawaii-born and bred, and James Beard Award winner Mark Fuller, owns the restaurant chain Ma'ono. Ma'ono has a few outlets in Seattle full to the brim with devoted fans who swear by their signature brined, buttermilk-soaked, umami-seasoned, twice-fried chicken sandwich.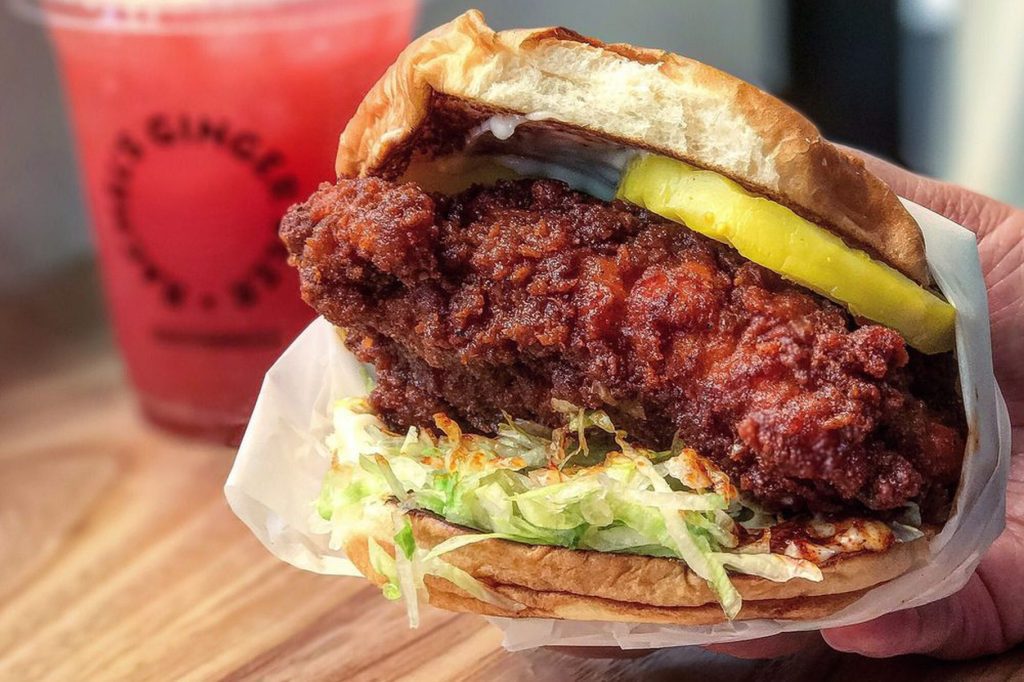 With the prep level that chicken goes through, we can guarantee it's delicious. It's served on a Hawaiian bun alongside iceberg lettuce, daikon pickles, and kewpie mayo. It is prepared according to the customer's taste, from "naked" to liberally flavored with Carolina Reaper and ghost peppers.
Stevie at Handsome Biscuit – Norfolk, Virginia
Technically, there are legit reasons for foodies to say that this isn't exactly a sandwich, but we must make an exception because Stevie from Handsome Biscuit is so good. With chicken so delicious, we're prepared to readily overlook arguments about buns. All we want is to eat.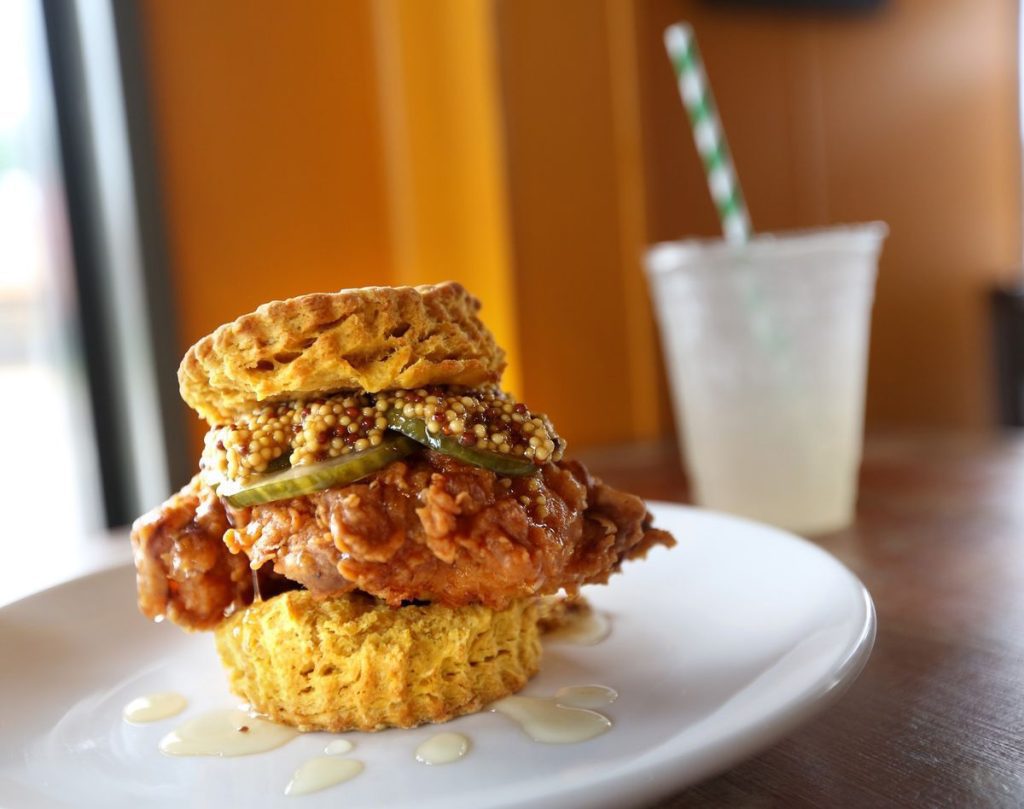 The fried chicken is served between house-made biscuits instead of a traditional bun and liberally garnished with fresh pickles, whole-grain mustard, and honey. Although buns are on the menu too, why go with them when you can try something new, like biscuits?
Worthy Chikwich at Worthy Kitchen – Woodstock, Vermont
Worthy Kitchen offers a unique perspective on contemporary American restaurants, and they pride themselves on serving various dishes to satisfy their hunger and sandwich cravings. Customers love the buttermilk fried chicken, which comes with poultry the way it should, thick and juicy.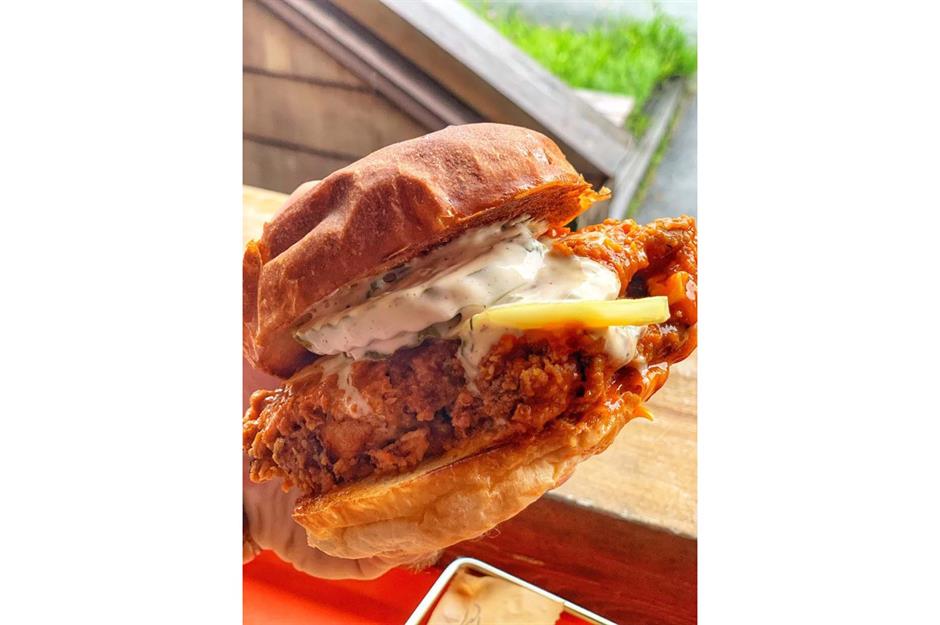 The chicken is served with pickles and buttermilk ranch inside a soft bun. You can get the Worthy Chikwich spicy, with buffalo sauce, but if you're not a fan of the sauce, you can have it with maple bacon. In either case, it tastes excellent.
Fried Chicken Sando at Pretty Bird – Salt Lake City, Utah
If you want the best chicken, Pretty Bird is the place to be; they have successfully brought a taste of Nashville-style hot chicken to the state. Their fried chicken sandwiches are a specialty and a must-try if you're in the area.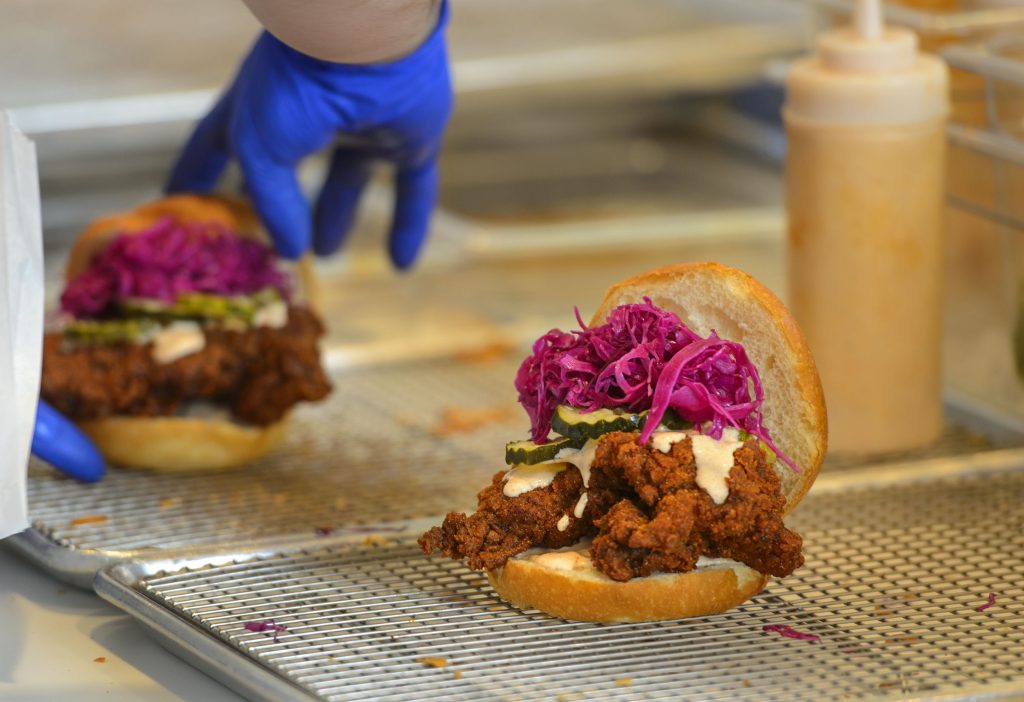 Customers can't get enough of their succulent and flavorful fried chicken thighs. The chicken pieces are served on a freshly buttered bun, packed with slaw, pickles, and a velvety buttermilk-based sauce that tastes amazing. We're hungry and want one for ourselves as well.
The O.G. at Tumble 22 – Austin, Texas
Tumble 22 in Austin is a restaurant that knows its priorities quite well. They have mastered the art of feeding their customers tasty food, so if you visit this place, come hungry. Their O.G. chicken sandwich is stuffed with nothing but goodness.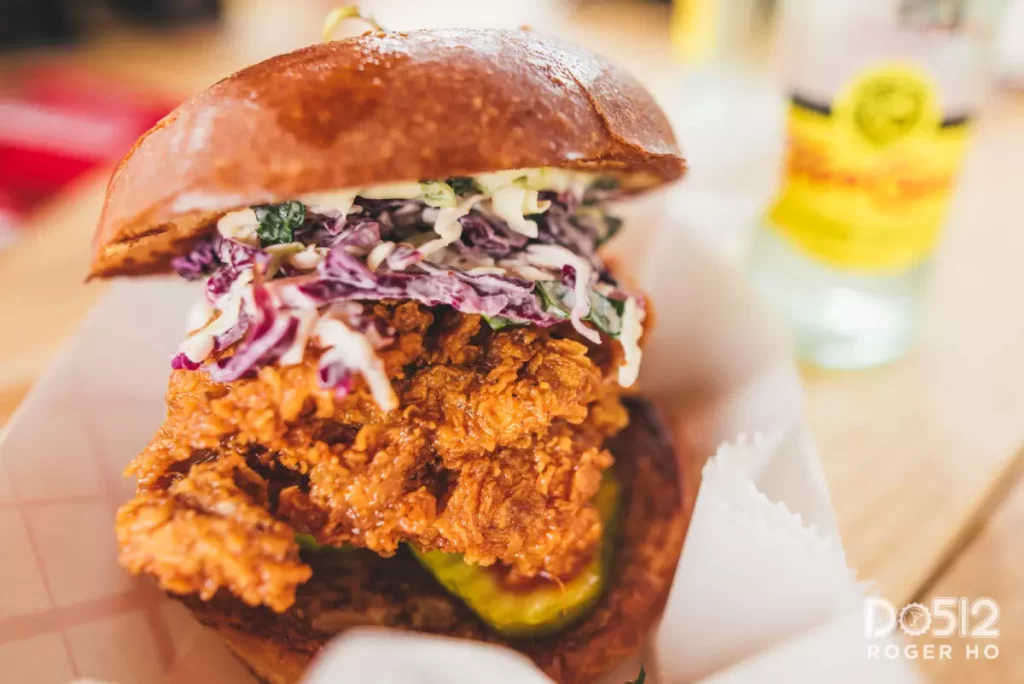 The combo includes fried chicken breast, pickles, coleslaw, and Duke's mayo, and it's a huge hit with customers. The sandwich is enormous, but if you're not quite as hungry, there is a smaller variant called "The Lil". Furthermore, Tumble 22 has monthly sandwich specials too.
The André Chicken Sandwich at Prince's Hot Chicken – Nashville, Tennessee
An institution everyone should visit when in the area, Prince's Hot Chicken is a storied shack that has been operating for over seven decades and is frequently listed as one of the nation's top eateries. Its delectable fried chicken is a favorite among patrons.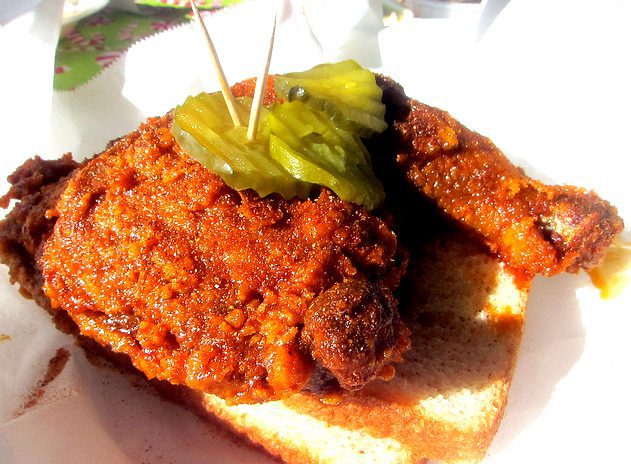 The eatery's signature sandwich includes a symphony of flavors of boneless chicken breast, slaw, and fresh pickles. The only way to enjoy the signature sandwich is to eat it with either Kickin' Ranch or Sweet Heat sauces. Take our for word for it.
Vietnamese Fried Chicken at Bread & Circus – Sioux Falls, South Dakota
The Bread & Circus Sandwich Kitchen boasts some of the tastiest sandwiches in South Dakota. Founded by childhood pals Barry Putzke and Jordan Taylor, all their sandwiches are made using only regional products, and the star of their menu is Vietnamese Fried Chicken.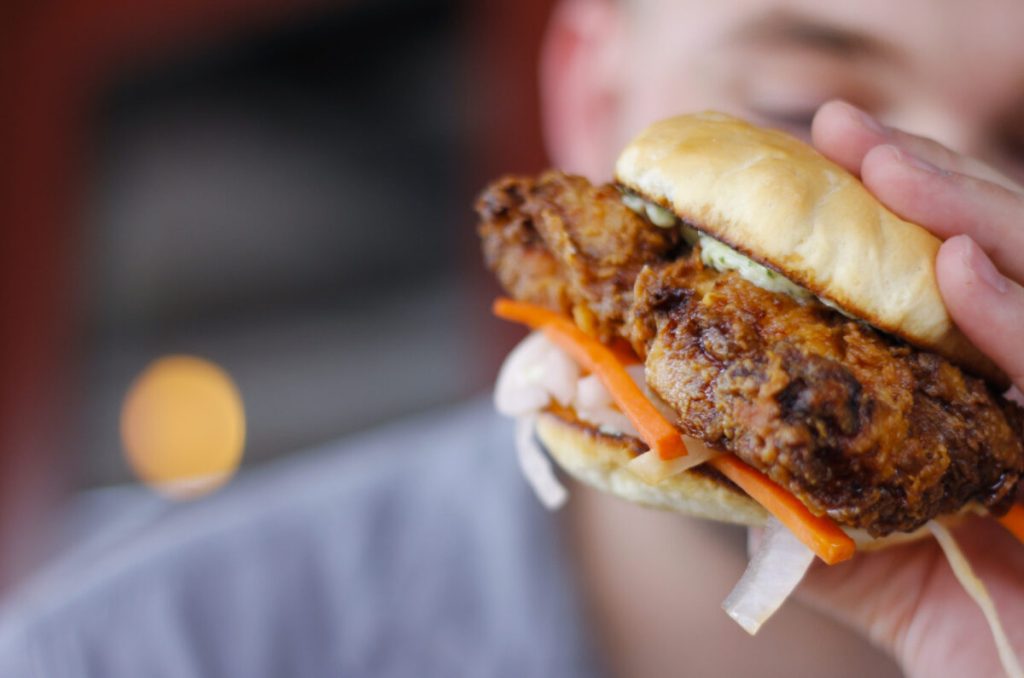 The sandwich is made in a toasted brioche bun and comes with chicken, cilantro aioli, banh mi pickles, and Nước chấm (a traditional Vietnamese dipping sauce). The Southeast Asian touch makes this sandwich truly unique and a favorite among regulars and first-timers.
Boxcar at Boxcar Betty's – South Carolina
Boxcar has come a long way since it first opened its doors. Currently, Boxcar has three locations in South Carolina, one in Charlotte and two in Chicago. Betty's is proud to offer delicious sandwiches made with incredibly crispy and flavorful chicken enough to make anyone drool.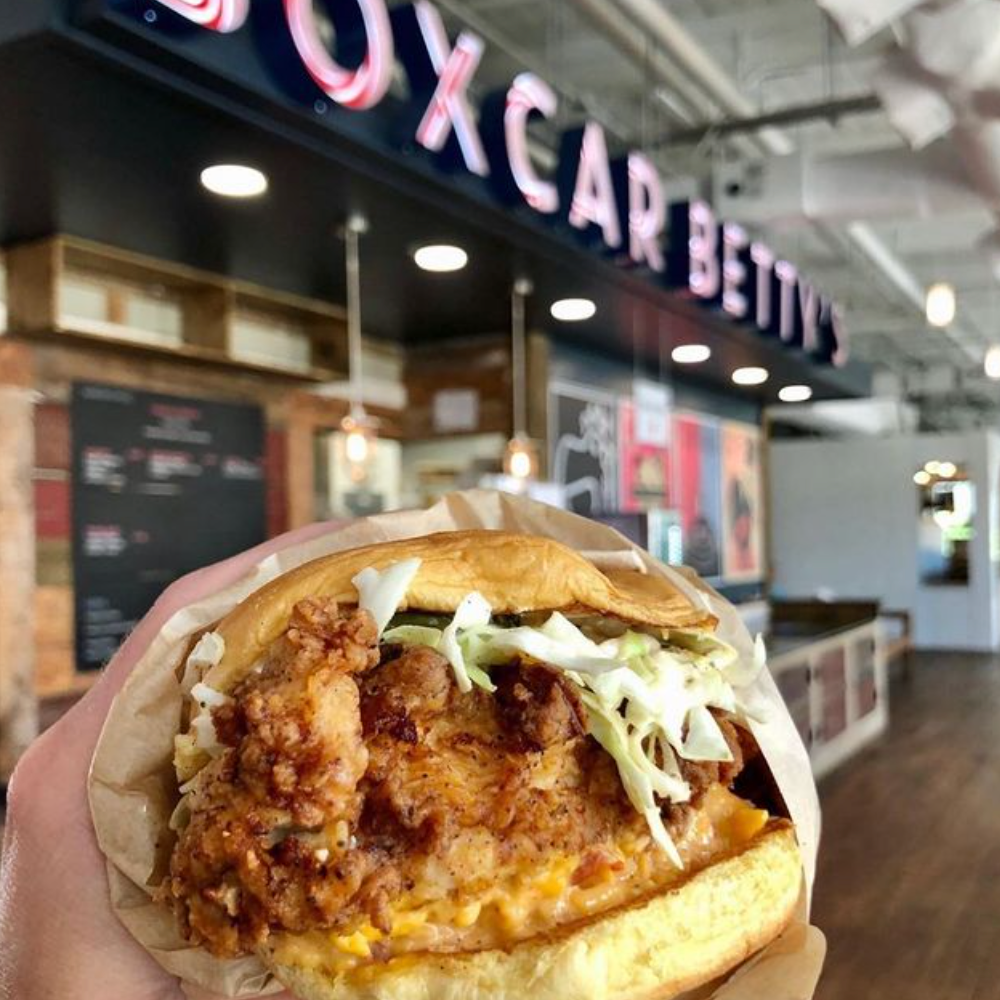 Their famous Boxcar signature sandwich has house pickles, pimiento cheese, peach slaw, and spicy mayo on top. Customers can substitute the grilled chicken with fried chicken if they like. Frequent customers say it is the best sandwich in town and a must try for tourists.
BBQ Hot Honey Fried Chicken at the Chomp – Rhode Island
Chomp is well known for its comfort cuisine. Currently, it has two locations, one each in Warren and Providence. Their signature BBQ Hot Honey Fried Chicken is the most popular item on the menu, and that's quite a feat since there are five chicken sandwich options.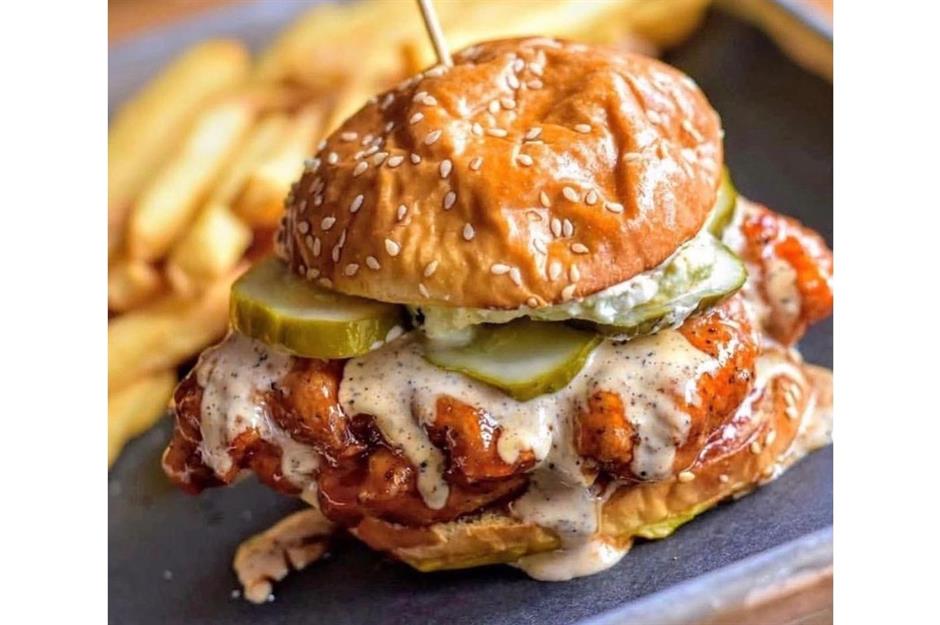 This chicken sandwich has jalapeño cream cheese, Alabama white BBQ Sauce, and house pickles on top of a soft Southern fried chicken coated in BBQ hot honey. Long-time lovers of this sandwich never tire of it and describe it as tasty, juicy, and unique.
Nashville Hot Chicken Sandwich at Love & Honey Fried Chicken – Philadelphia, Pennsylvania
Eating this excellent chicken sandwich by Love & Honey Fried Chicken is always a pleasure, and we stand by what we say; we're not telling tall tales here. The main attraction is the hot chili oil-drenched buttermilk fried chicken breast.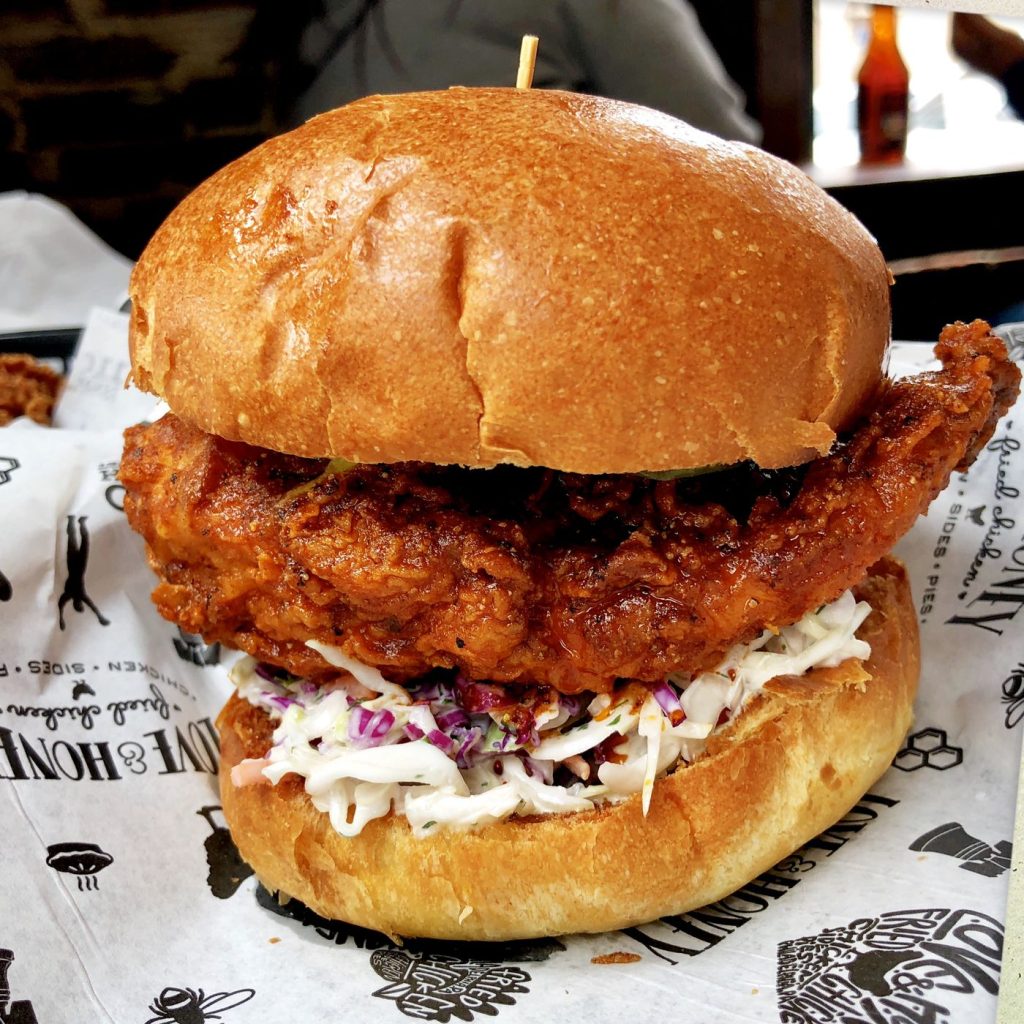 It comes with buttermilk ranch slaw, buttermilk ranch dressing, and a heaping serving of sweet pickles. Regulars have nothing but good things to say, and can't get enough of the sandwich. They often say how tasty, juicy, and crunchy the chicken is.
Fried Chicken Sandwich at Basilisk – Portland, Oregon
If you've got your sights on visiting Basilisk (no, not the mythical serpent from Harry Potter), be sure to come hungry, or else you won't be able to handle their classic Fried Chicken Sandwich piled high with house-pickled cucumbers and cabbage slaw.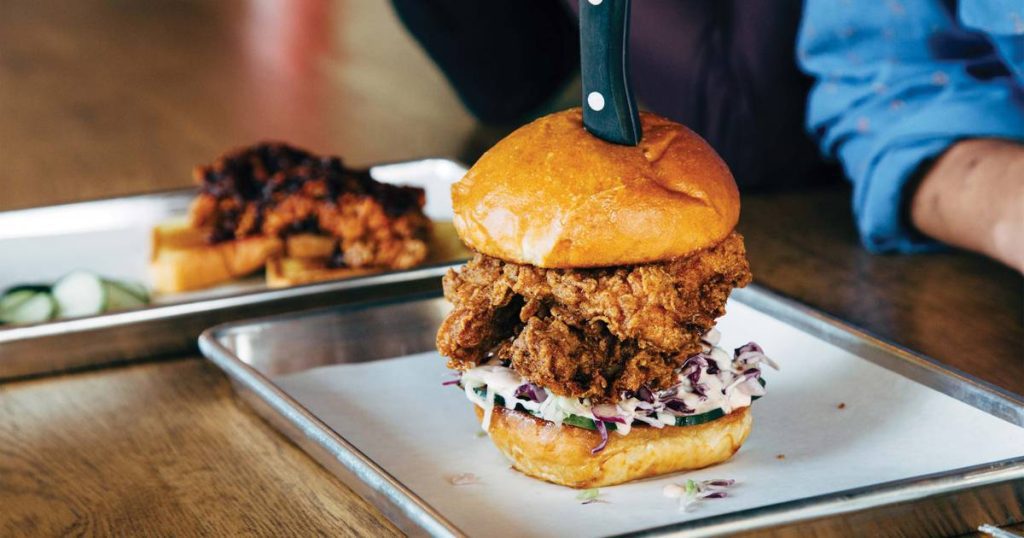 Customers praise the chicken's exquisite outer crispiness and succulent insides. It must feel like heaven when you bite into it. Also, the portions are pretty large. People often credit the sandwich for making the restaurant the most popular in Portland.
Nashvillain at Nashbird – Oklahoma City, Oklahoma
Nashbird is a local favorite because of its soft, juicy chicken. They have the right amount of outer crispiness that gives you ASMR vibes when you bite into them. Nashbird has five outlets near and within Oklahoma City, and the Nashvillain is their signature chicken sandwich.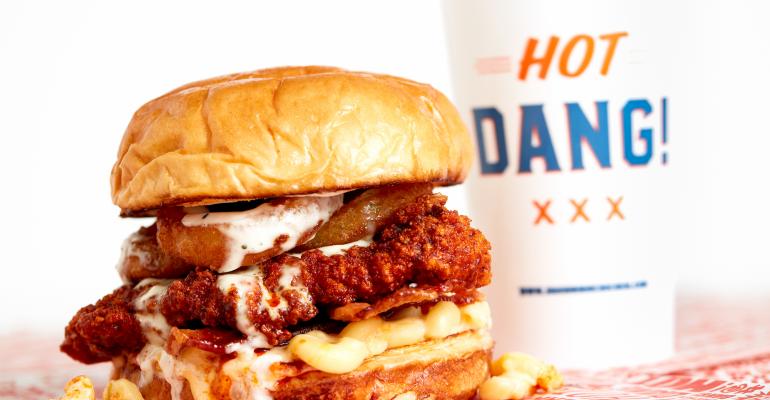 This sandwich comes in a brioche bun and is made up of fried boneless breast with mac 'n' cheese, bacon, onion rings, and ranch dressing. Another popular item among regular customers is the Hot! Chicken Sandwich, served alongside slaw, pickles, and tangy lemon mayo.
Cleveland Hot Chicken Sandwich at Sauce the City – Cleveland, Ohio
If you're up for a fiery sandwich, go to Sauce the City. The restaurant offers a variety of chicken sandwiches with varying degrees of heat, but the Cleveland Hot Chicken Sandwich remains the most popular, served with the famous Cleveland Hot Sauce.
The sandwich is seasoned before being garnished with kale slaw, cooling sauce, and signature sauce. It has a seven out of ten rating for spiciness (there are stronger versions if you're feeling particularly bold), and customers often ask for even more!
Buff Bird at Brew Bird – Fargo, North Dakota
Brew Bird in Fargo specializes in everything and anything related to fried chicken. Conveniently located in a former tow truck station, folks who've eaten there rave about their famous chicken sandwiches describe them as "outrageously delicious", which come with an array of toppings.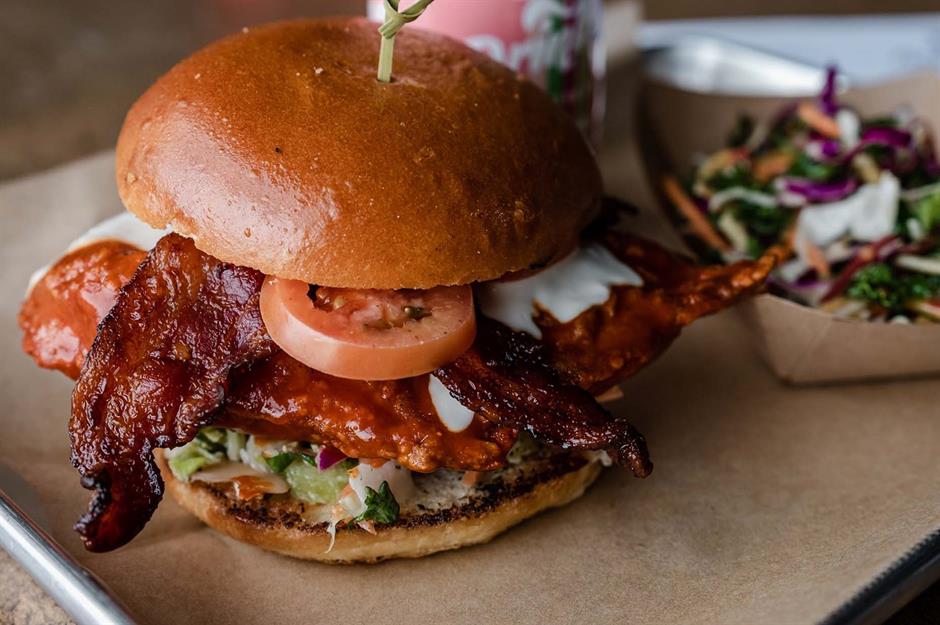 Buff Bird has established itself as an institution in the area, thanks to their delicious food offerings. Their bestseller chicken sandwich has buffalo sauce drizzled over crispy chicken breast, which is then topped with bacon, slaw, tomato, and blue cheese ranch dressing.
Rocky's Way Chicken Sandwich at Rocky's Hot Chicken Shack – North Carolina
Rocky's Hot Chicken Shack's menu is focused on Southern soul food and Nashville-style hot chicken. Their chicken is graciously seasoned with options that go from light honey to very hot, and they insist on using regional ingredients and traditional American techniques to make their sandwiches.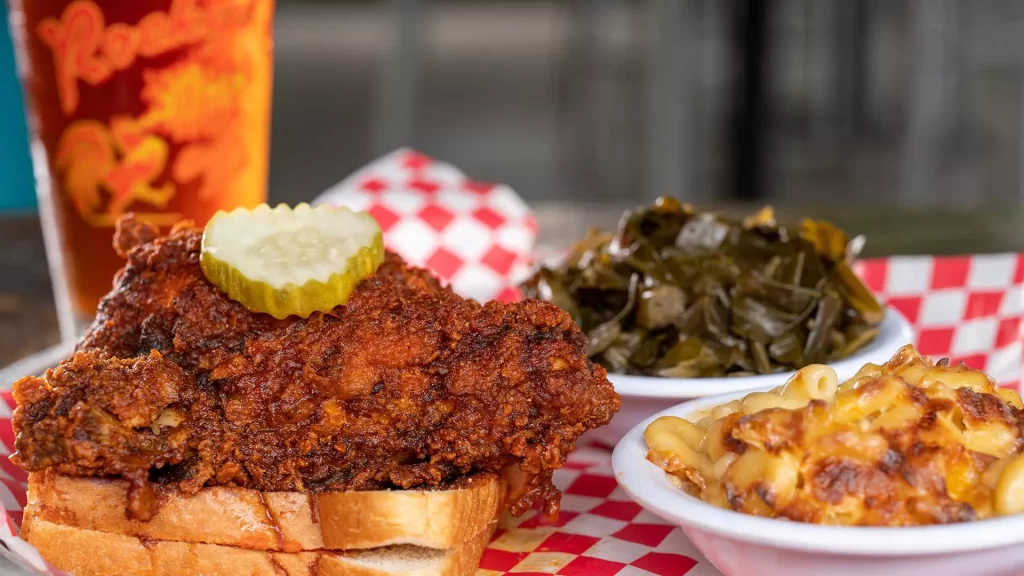 The best-rated food is the Rocky's Way Chicken Sandwich, made exclusively with tenders and packed with cheese, lettuce, and mayo, all in toasted white bread. Many people claim Rocky's is the best spot to have a genuine fried chicken sandwich in North Carolina.
OG at Sweet Chick – New York
It can be difficult for a restaurant to stand out in a city with so many great options, but Sweet Chick has made a name for itself by providing excellent fried chicken. If you want your taste buds satisfied, visit any of their five outlets in New York City and Los Angeles.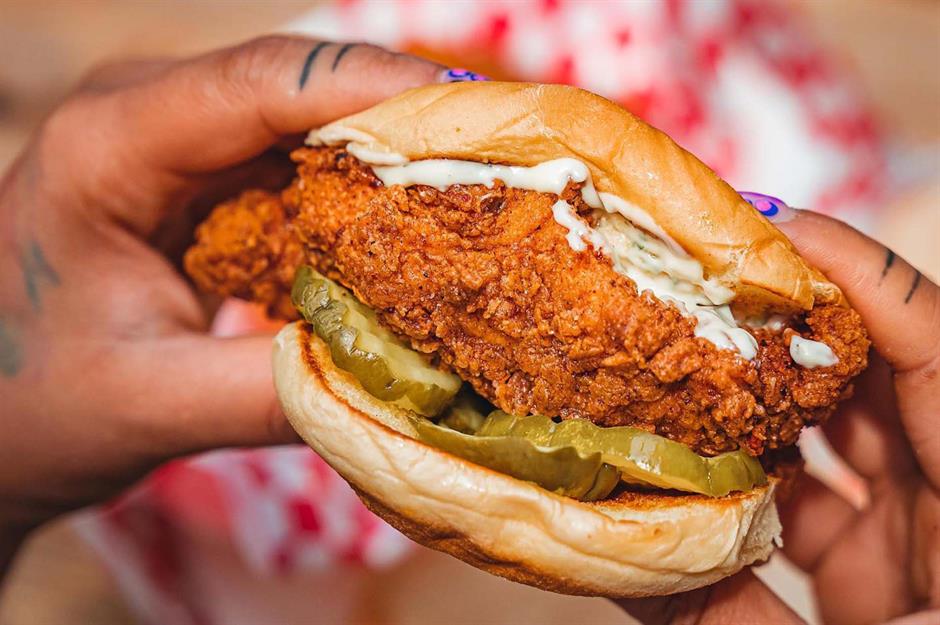 The eatery is well-known for its succulent, crunchy chicken, which comes in generous portions. Customers' mouths water just thinking of the chicken served on a classic potato bun sandwich with herbed mayo and butter pickles, and they can't wait to get their hands on it.
The Mother Klucker at Kamikaze Kitchen – Albuquerque, New Mexico
Kamikaze Kitchen in Albuquerque prides itself on delivering unexpected flavor combinations, and the restaurant has been adored by patrons since it opened its doors. They are known for fusing Asian-inspired ingredients with Southern Tex-Mex cooking. Quite a unique blend, if you ask us.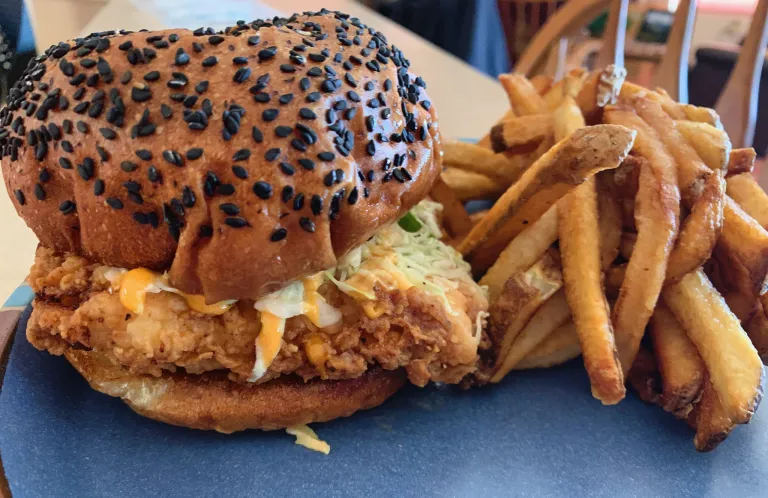 The Mother Klucker serves up a belly-busting chicken sandwich that comes on black sesame seed brioche bread. It features fried chicken breast, orange house sauce, Asian slaw, and sriracha mayo. The distinct tastes and evenly distributed heat levels are a big hit.
Chicken Parm Submarine at White House Sub Shop – Atlantic City, New Jersey
Since it opened its doors in 1946, this place has become a fixture for residents of Atlantic City. The White House Sub Shop was established by a tailor after World War II, and has hosted a few famous people throughout the years.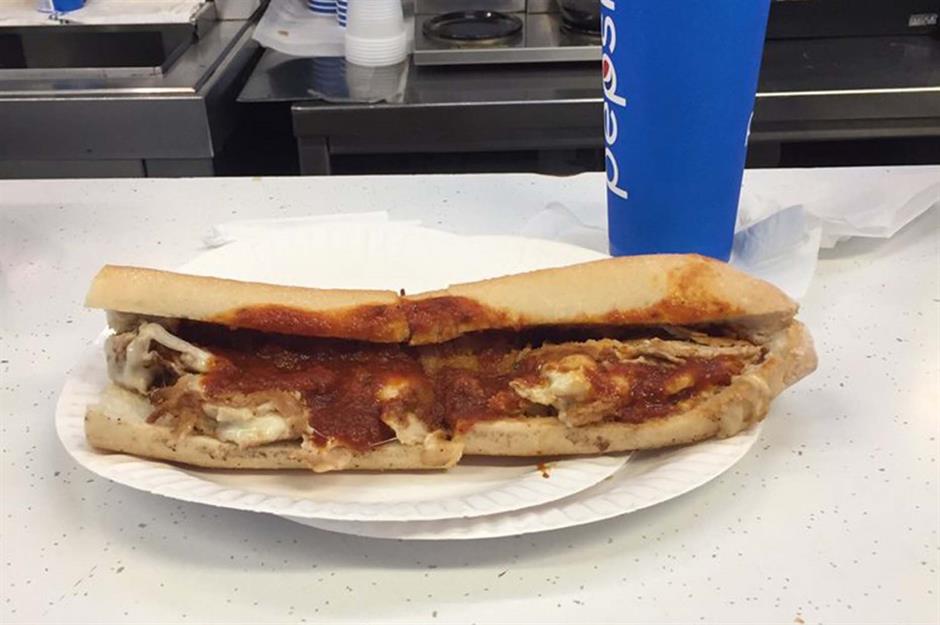 Its clientele includes The Beatles, Frank Sinatra, and Oprah Winfrey. The Chicken Parm Submarine, which has an abundance of melted cheese with sauce on top, remains a close competitor to the White House Special as the most commonly recognized sandwich.
C.B.C. Specialty at Black Mtn. Burger Co. – Lincoln, New Hampshire
Lincoln is a charming town in the White Mountains, but it's not the scenery that has captivated people; it's the burgers! Visitors frequently return to Black Mtn. Burger Co. to relish their beloved burgers, and those that favor a chicken sandwich are also at home here.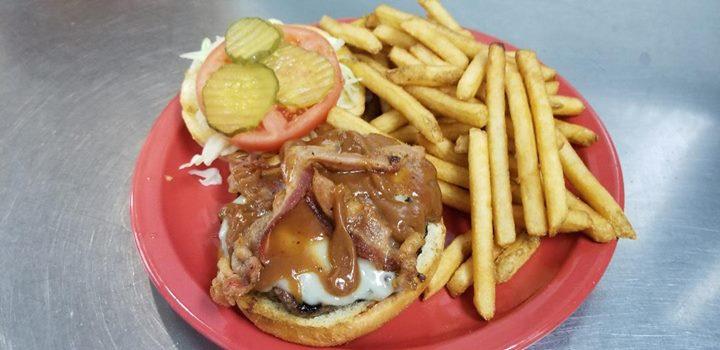 The C.B.C. Specialty is their signature chicken sandwich. It consists of freshly grilled chicken breast, melted cheddar, hickory smoked bacon, tomato, romaine lettuce, and dill pickles, all packed inside a Kaiser sandwich bread. People can't get enough of it and travel for it.
Firebird at The Crack Shack – Las Vegas, Nevada
Like most places on this list, Crack Shack has a menu that focuses on fried chicken. Their offerings include fried chicken pieces and a variety of genuinely mouthwatering sandwiches. The Firebird, made with fiery fried chicken thigh inside a potato roll, is a perennial favorite.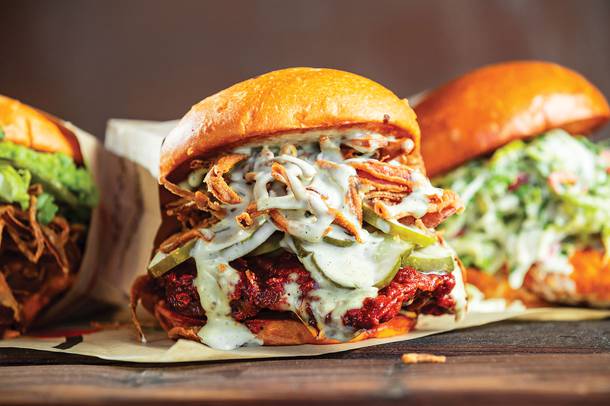 Pickles, chilled ranch, and crisp onions go well when combined with juicy and crunchy chicken. Customers have nothing but good things to say about how flavorful the meat is, as well as the way the cool pickles and mild sauce counteract the heat.
OmaHAWT – Dirty Birds, Omaha, Nebraska
Dirty Birds in Omaha's Switch Beer and Food Hall treats its chicken through a fantastic transformation. After pickling cucumbers and green beans for two days the meat is brined in the liquid left over. Then it is battered and fried to a precise golden-brown hue.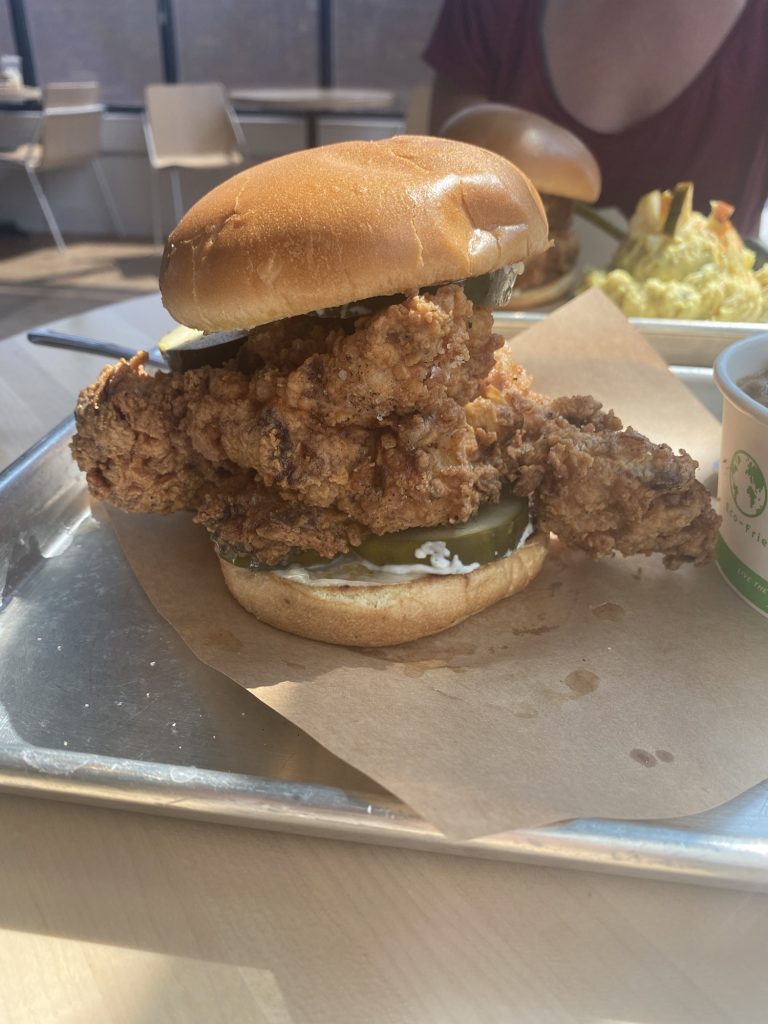 This method produces the moist, supple flesh that customers are nuts about and a crunchy, salty coating. Fried chicken, a Cayenne pepper mixture, pickles, and mayo are all included in the OmaHAWT sandwich, served on a brioche roll. Many cite the heat as absolutely worth it.
Fried Chicken Sandwich at Backslope Brewing – Columbia Falls, Montana
Local breweries are not just for beers; they are also frequently terrific places to find delicious, satisfying cuisine. Columbia Falls' excellent Backslope Brewing is no exception when it comes to this. The restaurant's Fried Chicken Sandwich is a crowd favorite.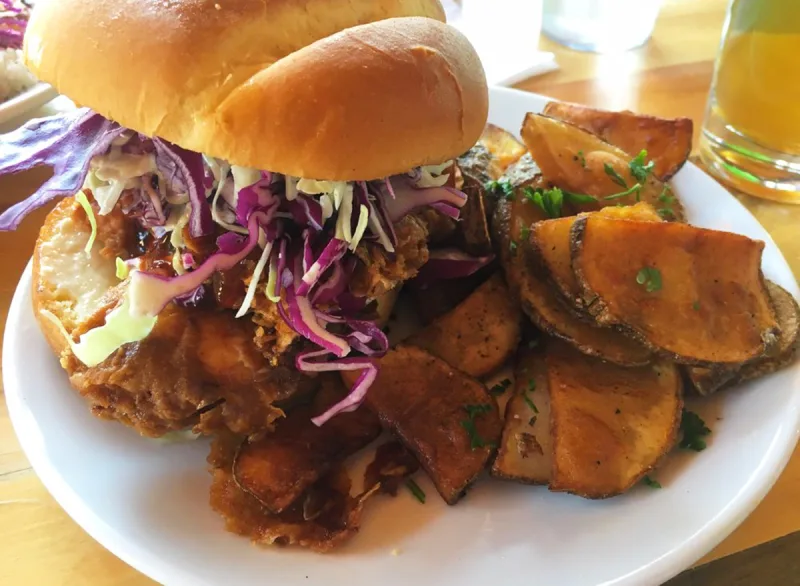 The sandwich's outstanding flavor composition is highly regarded by customers. Also, the chicken tastes cozy and at home to diners. The chicken is fried and presented alongside house slaw, aioli, and a seasoned tomato glaze after being brined in pickling liquor.
Southern Chicken Sandwich at Southern – St Louis, Missouri
The chicken at Southern is juicy, crispy, and wonderfully seasoned, and the story goes that it has been influenced by Nashville's hot chicken. Patrons who enjoy the Southern Chicken Sandwich have a bit of fantastic advice up their sleeves for first-timers who are yet to try it.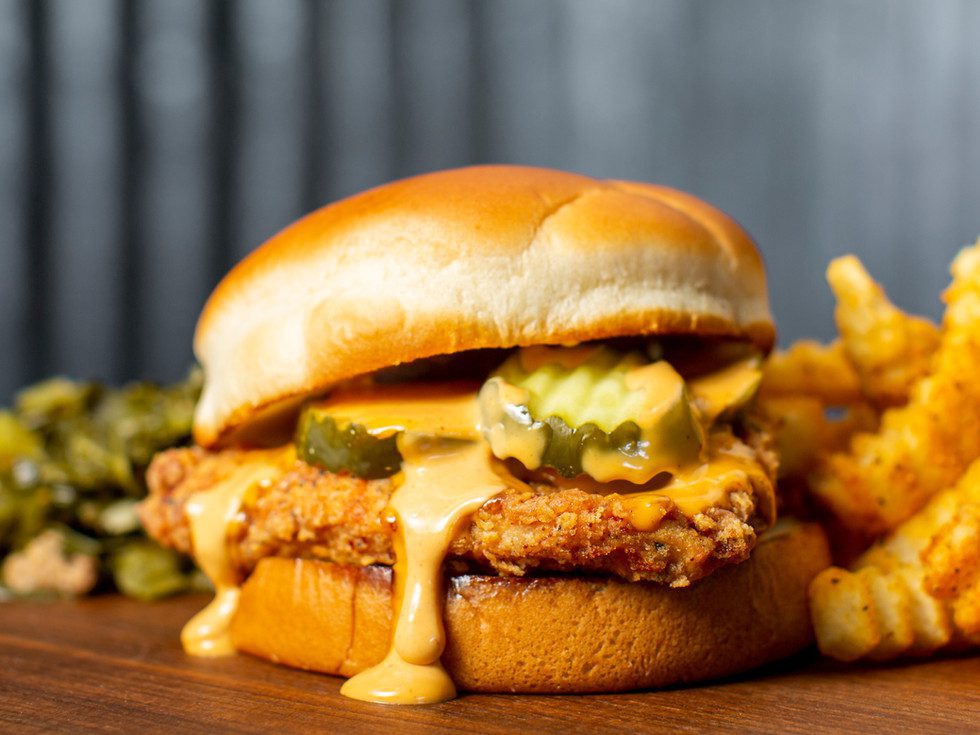 Make sure to order your chicken spicy for the maximum taste. The sandwich comes with fairly typical extras such as chipotle mayo and pickles. Additionally, you can go sweet and sour by choosing General Tso's spice or a spicy honey glaze.
Fried Chicken Sandwich at Rooster's – Jackson, Mississippi
Roosters still remain an ideal spot to grab a quick bite for lunch or dinner. They offer a variety of chicken sandwiches with options including grilled chicken and club sandwiches. However, the fried chicken kind is the one that the majority of patrons prefer.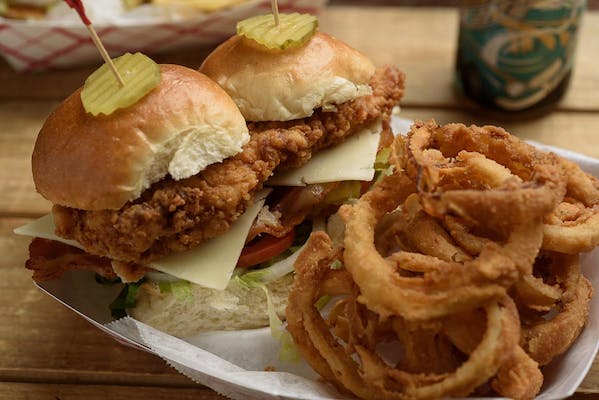 Impress your taste buds with this chicken sandwich that has lettuce, tomato, pickles, onions, and your choice of bread (going from white to jalapeño cheddar buns). The sandwich's quality ingredients and excellently-cooked chicken constantly get the seal of approval from customers.
Fried Chicken Thigh Sandwich at Revival – Minnesota
Minnesota is home to four Revival establishments providing a wide variety of Southern cuisine. Notable mentions include shrimp 'n grits and mac 'n cheese, but their chicken remains the main attraction; just ask anyone who has eaten there, and they'll tell you the same thing.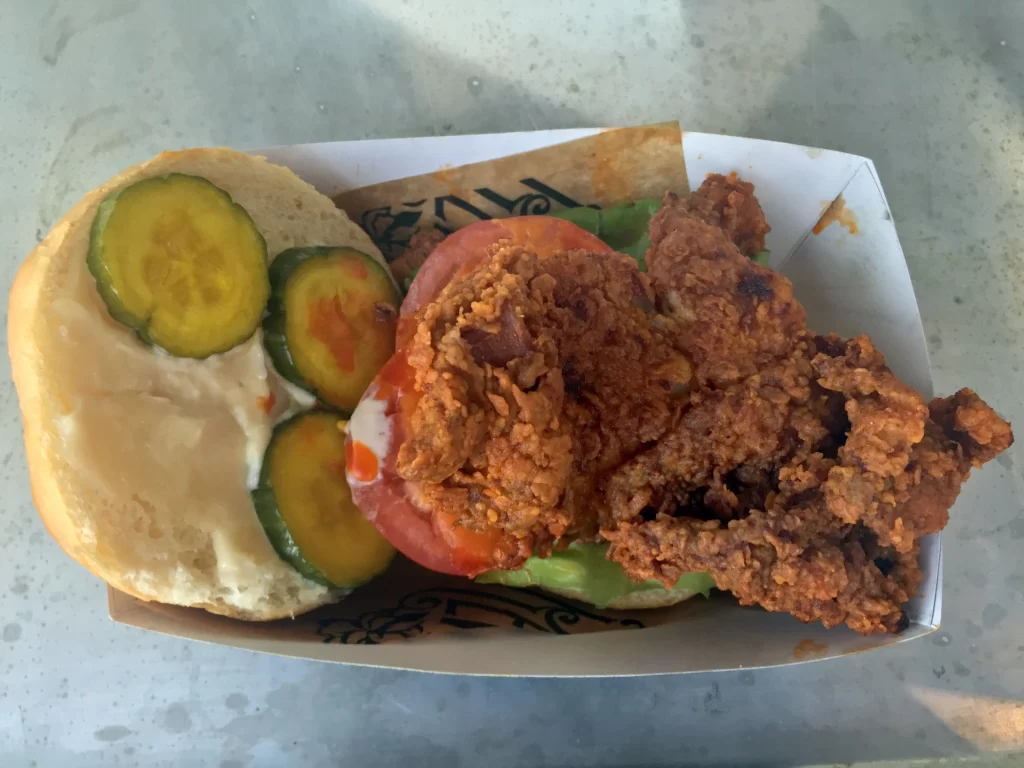 Customers absolutely love their fried thigh sandwiches. Fried chicken, mayo, lettuce, pickles, and tomato all make up a simple but delectable sandwich. For an added punch, many recommend ordering the sandwich Tennessee hot. The Southern style is another customer favorite. Try both and let us know which one is your favorite.
The Hot Chick at Ma Lou's Fried Chicken – Ypsilanti, Michigan
If you haven't tasted Ma Lou's Fried Chicken, you're not a sandwich connoisseur. This Hot Chick offers an extensive selection of food, all patron favorites. Order the OG, a sandwich with fried chicken breast or thighs plus Cheddar, smoked Gouda, slaw, and pickles.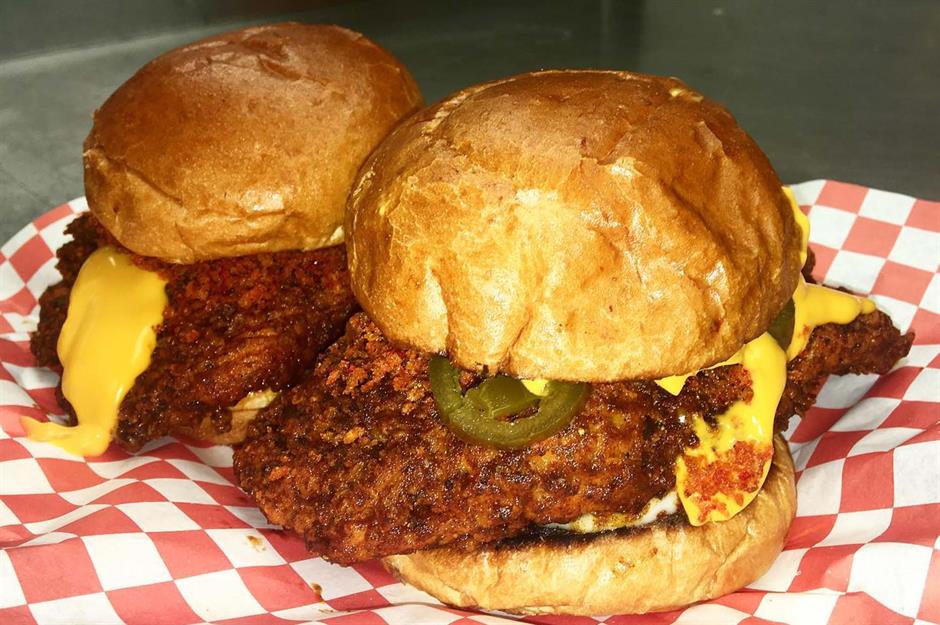 Don't forget to try the Hot Chick if you want something challenging for your taste buds. Nashville hot baste is used for the fried chicken, and the meat is topped using bacon, lettuce, tomato, and jalapeño ranch, with pepper jack cheese.
Asian Fried Chicken at Dash Cafe – Brighton, Massachusetts
Dash Cafe is a straightforward restaurant in Brighton that offers anything from fresh soups and salads to breakfast baked goods. If you need a quick bite, go to Dash Cafe. If you happen to stop by, remember to get the Asian Fried Chicken Sandwich.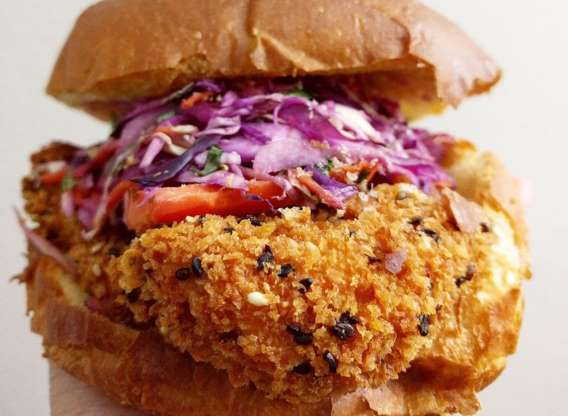 That's one chicken sandwich patrons can't stop raving about and recommending to everyone. The chicken breast is fried and coated in a creative (and extremely crispy) sesame-panko breadcrumb layer. It is served alongside Asian slaw, toasted brioche, as well as sriracha mayo. Yum yum!
Sweet Chili Brd at BRD – Baltimore, Maryland
BRD prides itself on selling succulent, boneless fried chicken thighs in various sandwiches. The restaurant is a cross between a fried chicken establishment and a sandwich shop, a genius concept, if you ask us. Most notable of their fare is the crowd favorite Sweet Chili Brd.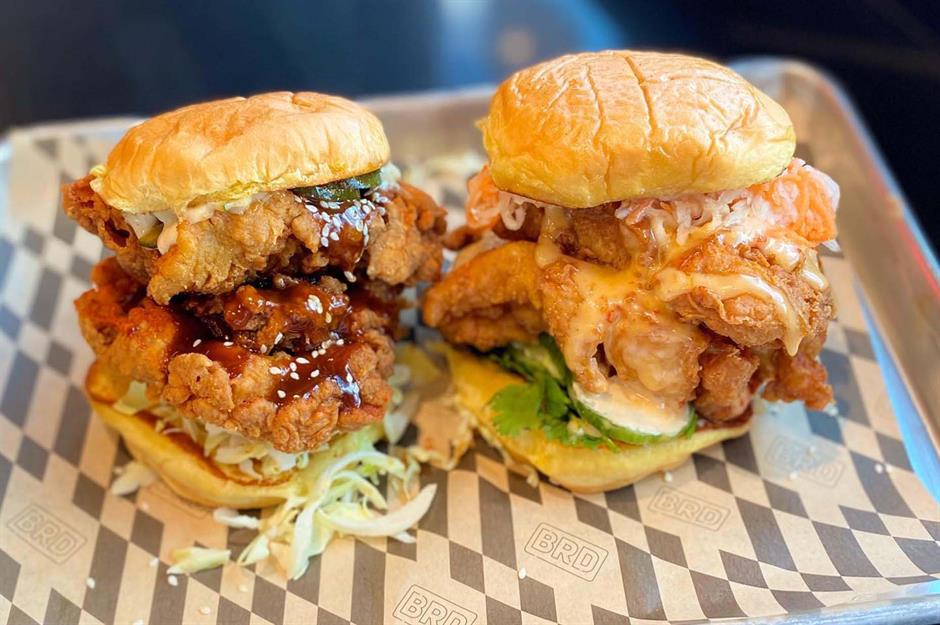 Formerly known as Hanoi Hen, the sandwich comes stuffed with chili mayo and pickled carrots. Customers only have good things to say about the exquisite taste and can't stop talking about how the crisp carrot cuts through the fatty fried chicken. Wouldn't you want to bite into that?
Fried Chicken Sandwich at Palace Diner – Biddeford, Maine
The menu of the modest Palace Diner is limited compared with most of the places on this list. The trolley car-style restaurant with 15 seats provides just a few meals for breakfast and four sandwiches for lunch, but they always satisfy.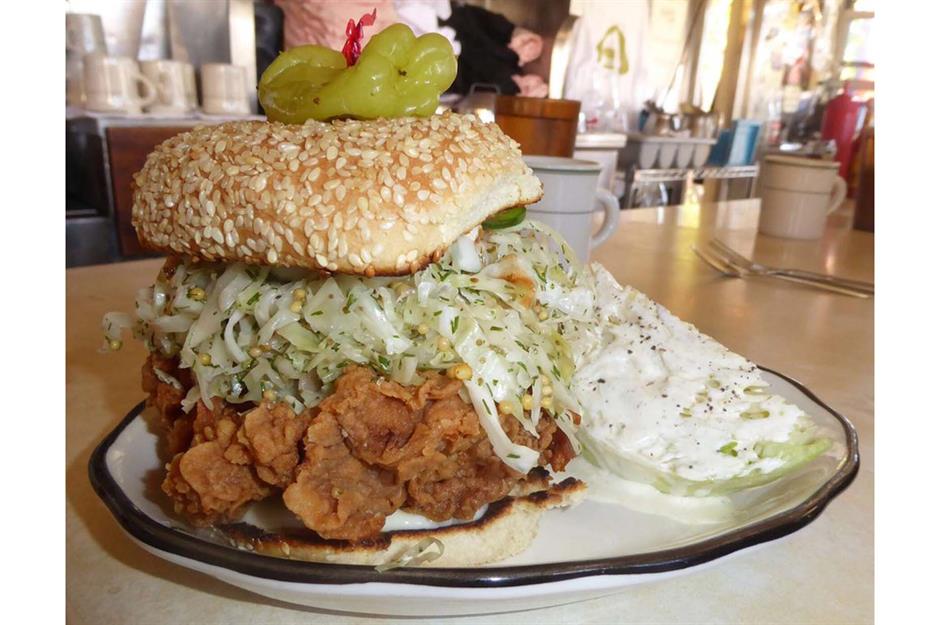 What they lack in the number of menu items they make up for in deliciousness, and the fried chicken sandwich is a crowd-pleaser. Customers compliment the wonderfully prepared and delicious fried chicken breast, served with fresh jalapenos, cabbage slaw, and a piece of iceberg lettuce.
The Willie Mae Chicken Sandwich at Willie Mae's Scotch House – New Orleans, Louisiana
Scotch House was launched in 1957 by Willie Mae as a pub, barbershop, and beauty parlor, quite the assortment of shops, if you ask us. Willie Mae's won a coveted James Beard Award in 2005, but Hurricane Katrina tragically hit the cafe in the same year.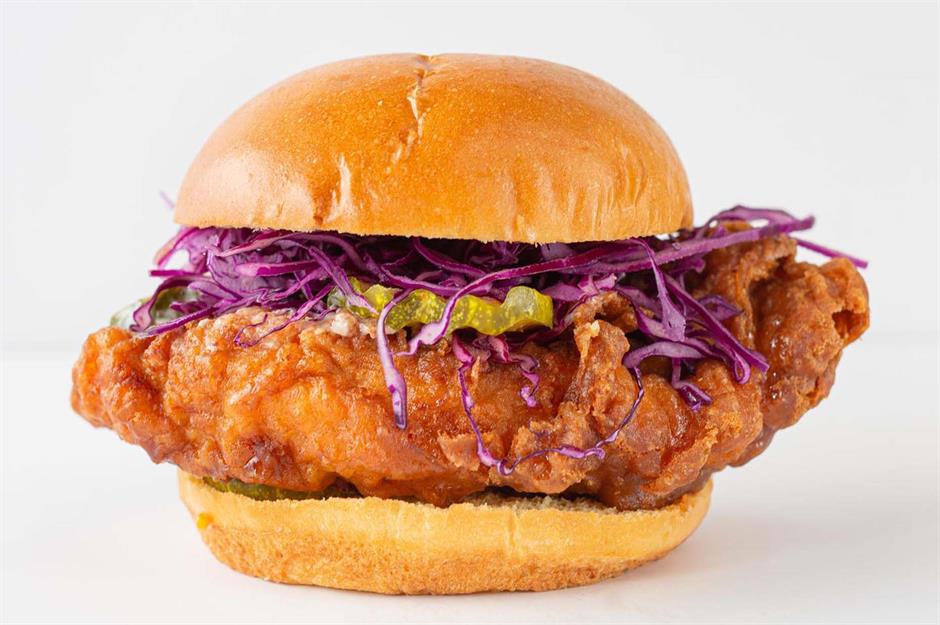 Since then, the eatery has fully recovered and now offers its famous fried chicken sandwich featuring pickles, zesty slaw sauce, purple cabbage, and honey. Just the description sounds watering. If this assortment doesn't make you hungry, we honestly don't know what will.
Orange Marmalade Chicken at DV8 Kitchen – Lexington, Kentucky
This beloved sandwich eatery in Lexington has received excellent ratings, and that is not without good reason! In addition to providing delectable food, DV8 Kitchen offers those in the early phases of alcohol or drug addiction treatment another shot at employment.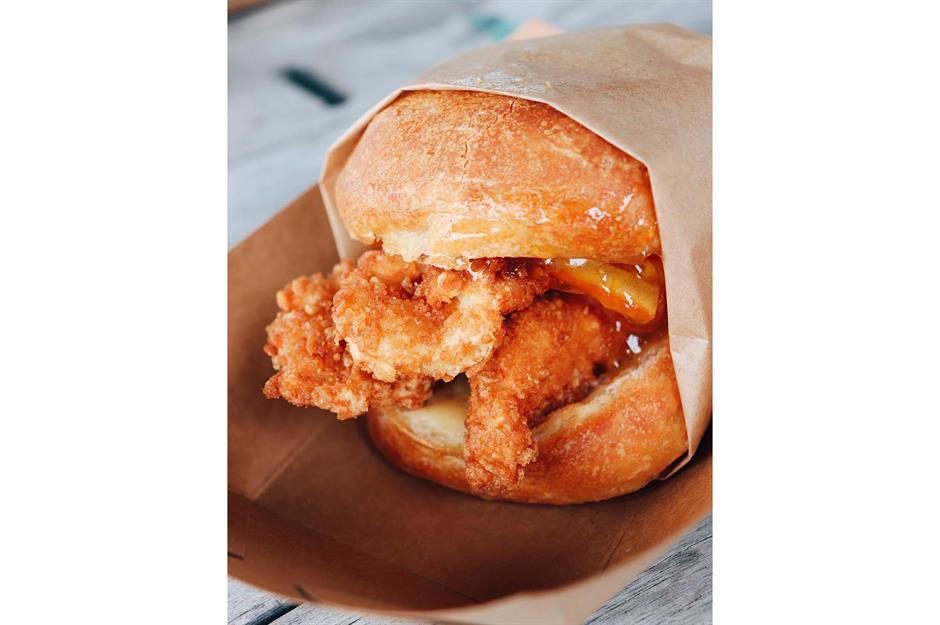 While many tantalizing alternatives are on the menu, the Orange Marmalade Chicken is a must-try. Believe us when we tell you that it doesn't disappoint. Covered with delicious honey butter and orange marmalade, the fried chicken tenders are served in a brioche bun.
Chicken Z-Man at Joe's Kansas City Bar-B-Que – Kansas City, Kansas
If you're hungry is Joe's Kansas City Bar-B-Que is the best place to be. Why, you ask? It is because it is THE place to savor genuinely amazing BBQ meat, plus it's the perfect location for fantastic pulled chicken you won't forget.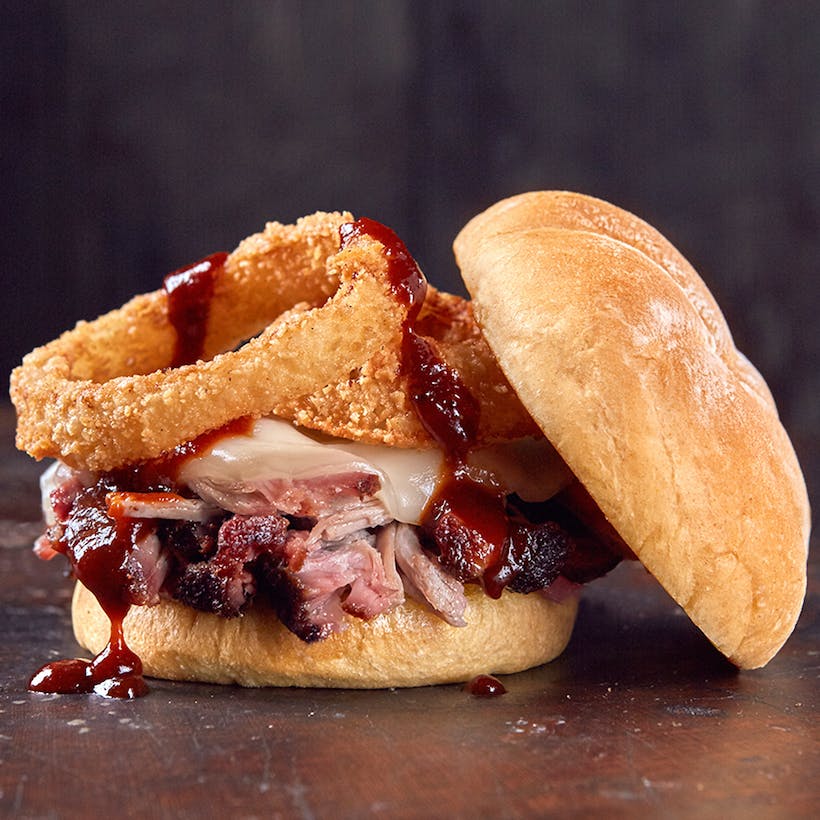 This place is renowned for its beef brisket, pulled pork, burnt ends, and ribs. The Chicken Z-Man topped off with the restaurant's excellent smoked chicken, crunchy onion rings, and BBQ mayo, is a favorite among customers and something first-timers must try.
Stuntman Mike's Chicken Sandwich at Zombie Burger – Des Moines, Iowa
According to the restaurant's loyal customers, Zombie Burger's flavor is anything but frightening because they only use quality toppings and the freshest of ingredients. Most of the burgers on their menu come with the option of fried or grilled chicken, both made to perfection.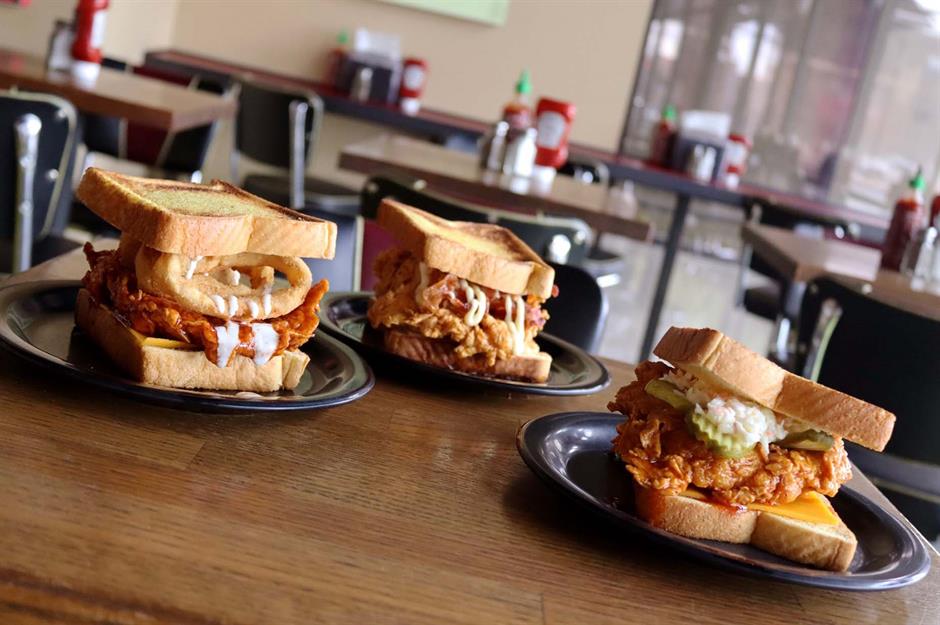 Various sandwiches are on the menu, and any of them will satisfy your sandwich cravings. However, the bestseller has always been Stuntman Mike's Nashville hot chicken with cheddar, coleslaw, and pickles (that would be the sandwich shown on the right).
Fried Chicken Sandwich at The Eagle – Indianapolis, Indiana
Customers can't stop raving about The Eagle's fried chicken sandwich, and their love for it is reflected in the constant excellent reviews. Their signature Eagle sandwich is complemented with spicy hot honey. The succulent yet crisp chicken breast is a masterclass in itself.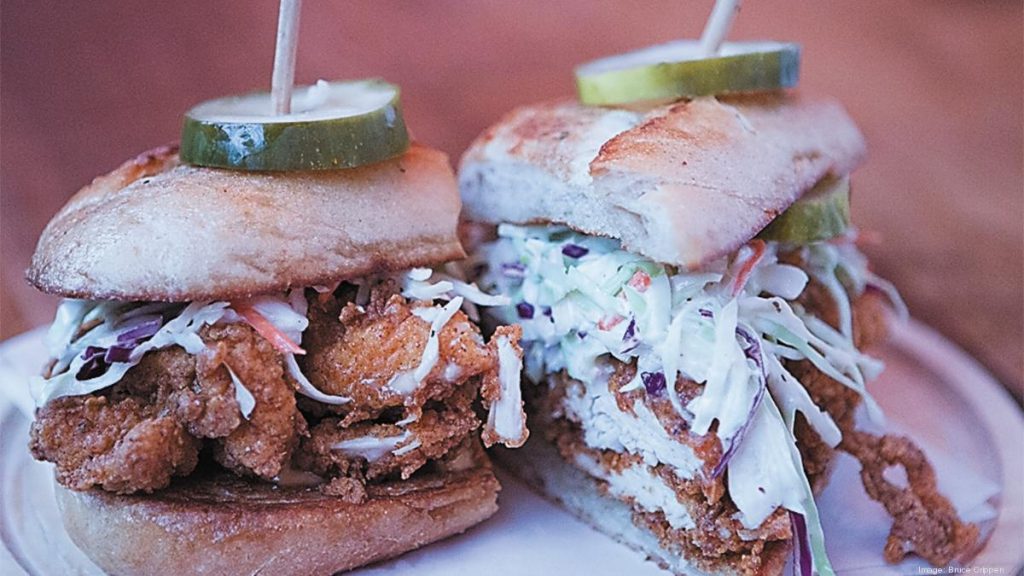 The chicken breast is served with house pickles, coleslaw, and spicy mayo. The chicken's extreme crispiness plus the tender sub bun will get your stomach rumbling. Keep in mind that this sandwich is massive, so make sure you go there hungry.
Honey Butter Fried Chicken Sandwich at Honey Butter Fried Chicken – Chicago, Illinois
Mouthwatering sandwiches and crunchy, tender, flavorful chicken are some of the things you can expect at Honey Butter Fried Chicken. The Honey Butter Fried Chicken Sandwich is one of the restaurant's key draws despite the establishment offering a variety of fried chicken items, which says a lot about the sandwich.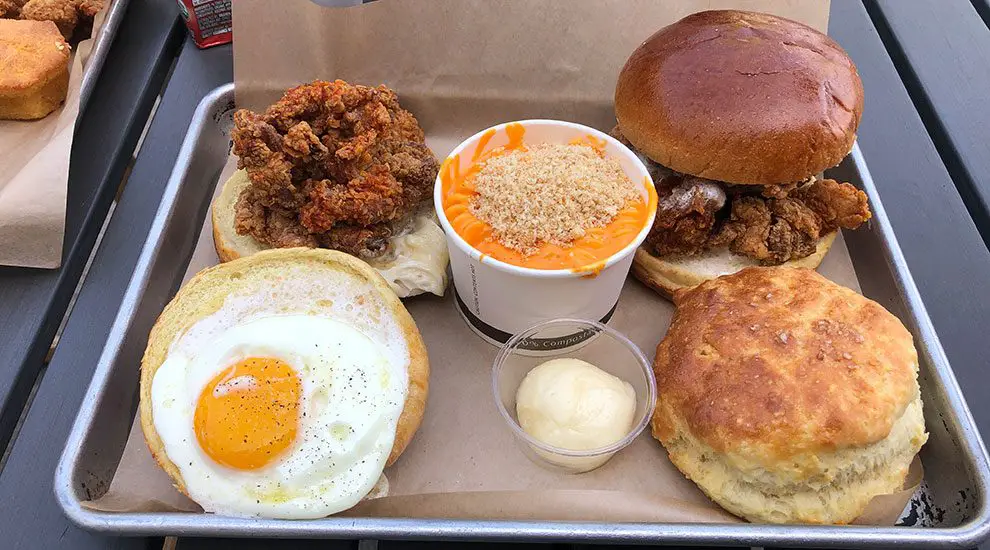 The sandwich consists of fried chicken and copious amounts of honey butter. All this goodness is wedged between a soft brioche bun. People regularly exclaim that it is "over and above the norms of deliciousness" and praise the exquisite flavors. Brb, while we go there.
Twice Fried Chicken Sandwich at Republic Kitchen+Taphouse – Post Falls, Idaho
The Twice Fried Chicken Sandwich from Republic Kitchen + Taphouse is the ideal for satisfying anyone's fried chicken cravings. The extra-crispy chicken is fried twice, and served in a brioche bun, which the masses are not complaining about. How can they?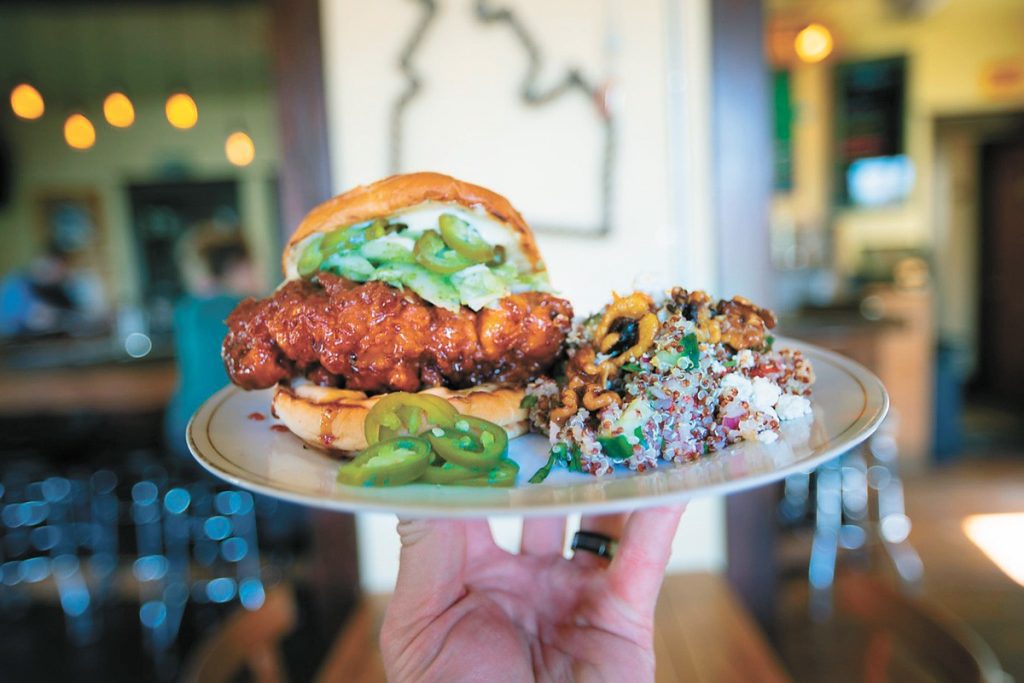 You can order the sandwich in Southern or Korean style. The latter is coated in Korean honey butter and garnished with kimchi, pickled jalapenos, and garlic aioli for an intense flavor, while the former has beer mustard, pickle, and slaw.
The No Comply at Sprout – Honolulu, Hawaii
The unique selling point of this health-conscious Honolulu eatery is its use of local products and healthy ingredients. Copious amounts of leafy greens, and Hawaiian vegetables, are heavily stuffed into Sprout's sandwiches. This is the place to be if you're conscious of what you eat.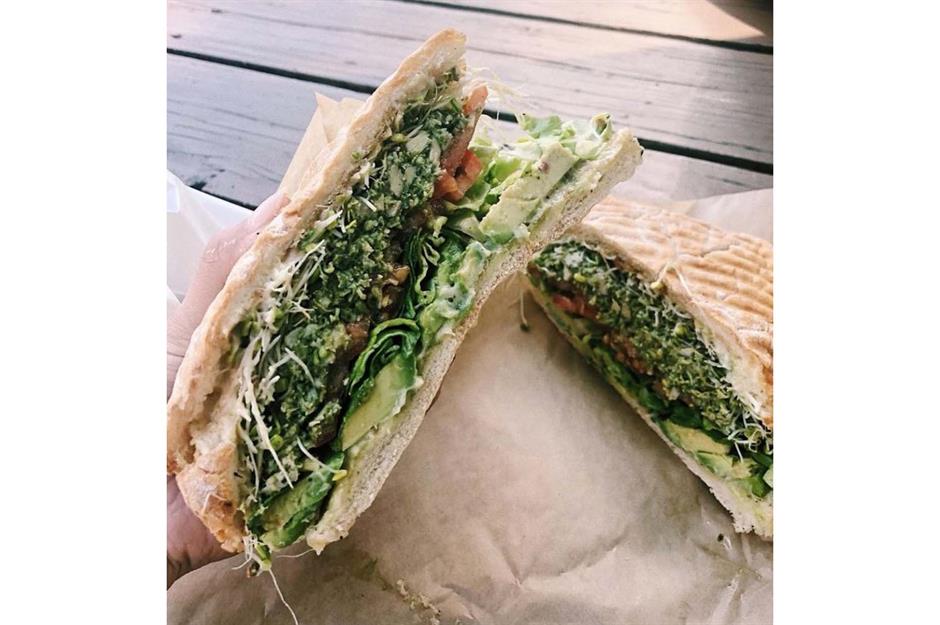 The sandwiches also include Waialua sprouts and luscious local tomatoes. The No Comply, one of the restaurant's crowd-pleasers, is a delicious chicken salad sandwich that features roasted garlic mayo, Maui butter lettuce, and tomatoes. Customers say it is the one sandwich that keeps them returning.
Tea Bird at Victory Sandwich Bar – Atlanta, Georgia
With its suspended lighting, hardwood booths, and a bar lined with leather stools, this Atlanta establishment has a distinct industrial chic decor. The Victory Sandwich Bar's menu is also full of creative combinations which show that style does not always trump content.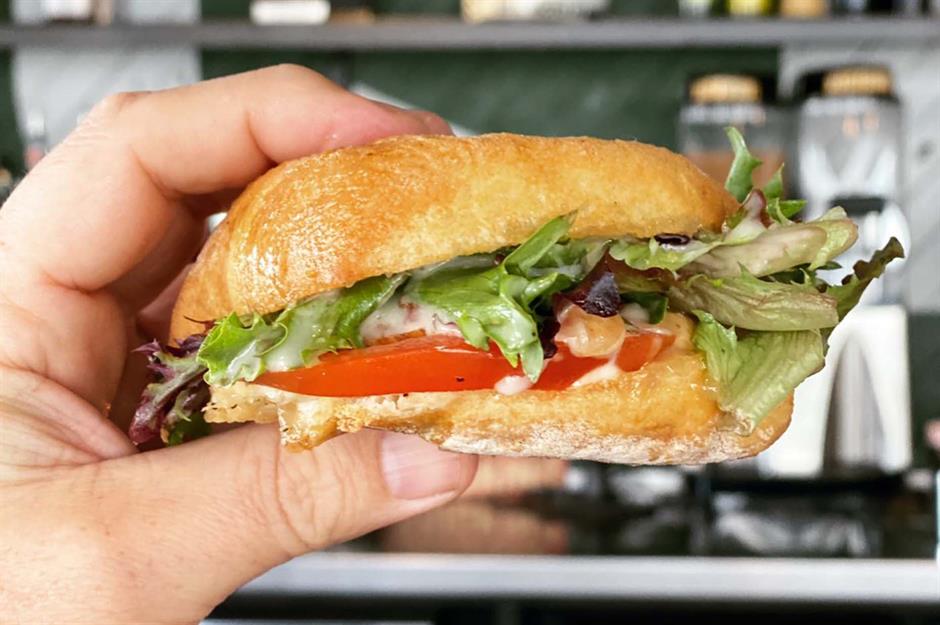 Their hot Tea Bird sandwich combines succulent chicken, sweet tea mayo, and ghost pepper jack cheese. The sandwich gets toasted before being served with a few salt-and-pepper chips and is a perennial favorite of the clientele. We can't wait to get our hands it.
Gra-Prow Chicken – KrungThep Tea Time, Winter Park, Florida
You are well within your rights to be surprised upon learning that Thai tea shop makes the best chicken sandwich in Florida! Yup, Asians can also make a mean sandwich, and this shop constantly gets high ratings from customers.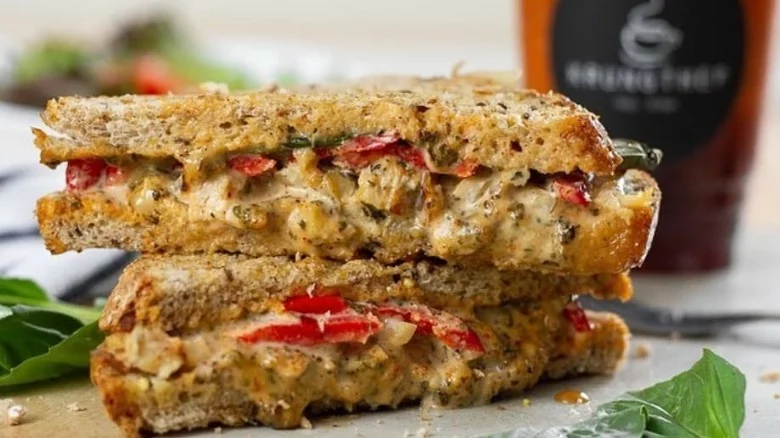 The Gra-Prow Chicken sandwich, which blends chicken, basil, red pepper, onion, plus mozzarella over spicy basil mayo, is a signature dish of the Thai fusion eatery. Fresh Thai chili can be added to the sandwich for those who want to amp up the heat.
OG Crispy Hot Honey Sandwich at Dewey Beer Company – Dewey Beach, Delaware
This lively Delaware establishment offers a wide selection of good beers and some excellent food items that are perfect when paired with their cold beverages. The restaurant's version of a fried chicken sandwich is the OG Crispy Hot Honey Sandwich. If you can only eat one thing, get the OG.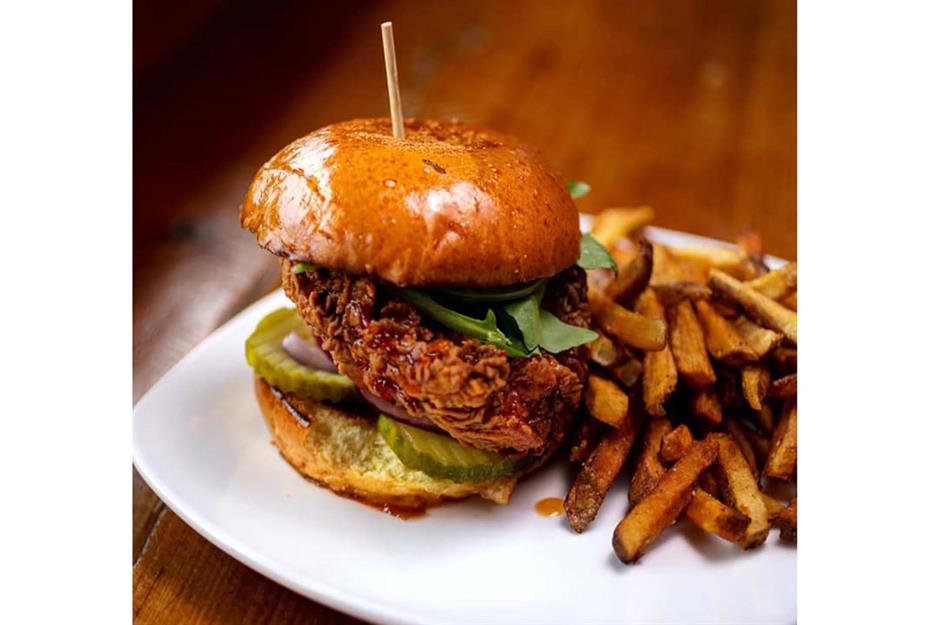 This sandwich is served with pickle, red onion, and arugula. Their house-fermented garlic hot honey needs to be mentioned too. It is liberally seasoned using an Old Bay and brown sugar mixture. Customers approve of the tall sandwich's incredible flavor and the meat's excellent seasoning.
Yardbird Chicken Sandwich at Craftbird Food Truck – Hartford, Connecticut
The Craftbird Food Truck offers a variety of mouthwatering goodies, and some of the most notable options are the truffle mac 'n' cheese bits and chicken tenders. However, the Yardbird Chicken Sandwich takes the cake, with a large chunk of perfectly done fried chicken.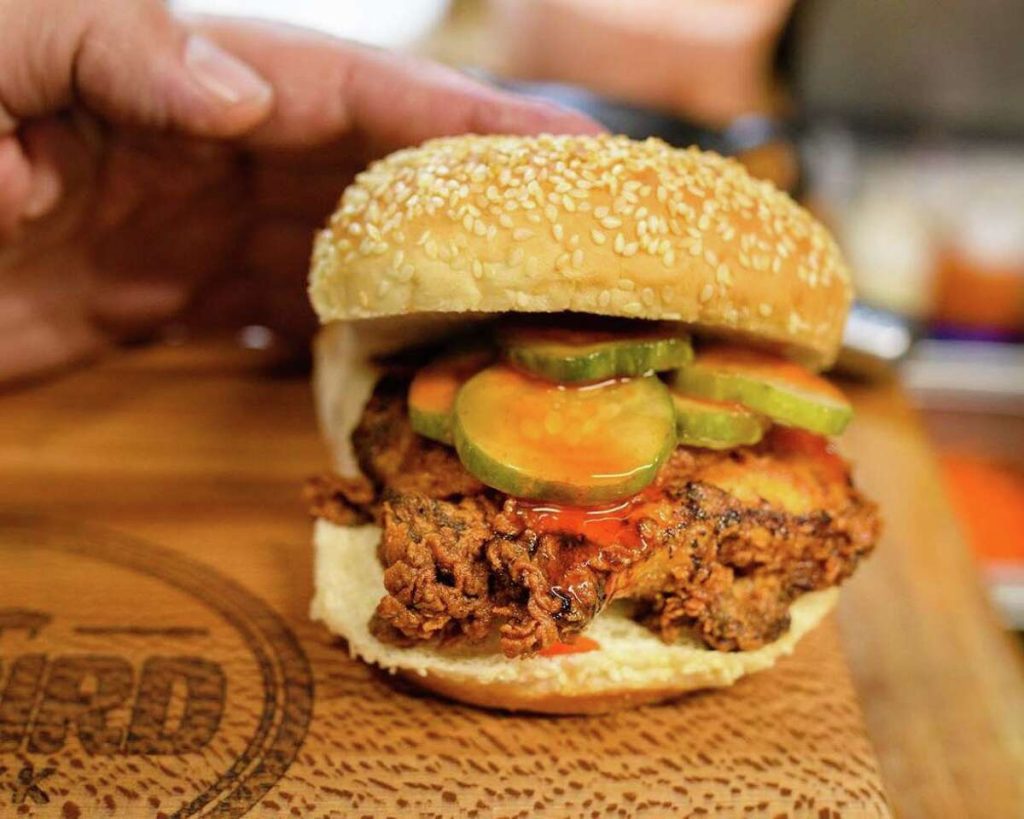 The delicious juxtaposition of rich, spicy, sweet, and acidic flavors makes this sandwich so unforgettable that customers keep coming back for it. It is served with pickles and sriracha honey over a sesame bun with a big portion of fried chicken.
Southern at Birdcall – Denver, Colorado
Nothing beats classics, and this is what Birdcall is all about. The menu is chock-full of delectable selections that capitalize on amazing comfort food that reminds customers of home. Customers compliment the Southern, a crispy fried chicken sandwich featuring southern slaw and a pimento cheese spread.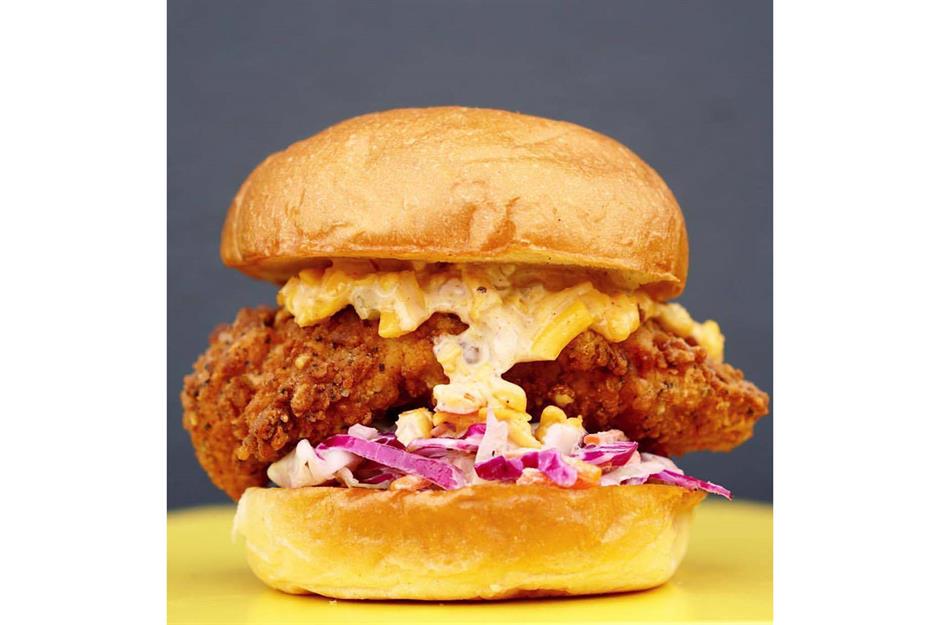 This chicken sandwich continually gets high ratings for its huge portion and customers love how tender and crunchy the chicken is. You must come hungry because you are going to need that a huge appetite to eat the entire sandwich.
The Sando at Howlin' Ray's – Los Angeles, California
There is no denying the fact that Howlin' Ray's menu is limited, but don't worry, it has everything you want if you're after a fantastic chicken sandwich. The Sando offers the restaurant's renowned crispy fried chicken that can be seasoned to your preference.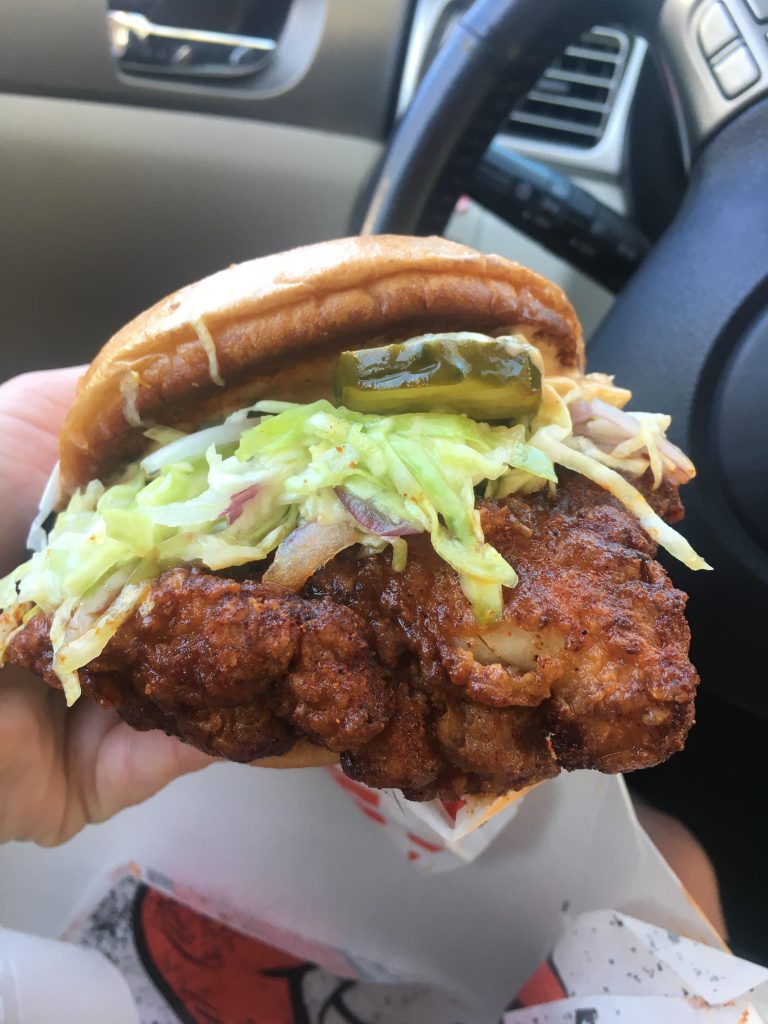 The spice level ranges from mild to extremely hot, and the sandwich is served with pickles, slaw, and comeback sauce, all inside a butter bun. Many who've eaten there say it is the best sandwich they've ever had. We're getting hungry just thinking about it.
Hot 'N' Hot Chicken Sandwich at Big Orange – Rogers, Arkansas
Rogers' Big Orange is a reputed burger establishment with two locations, both in Little Rock. The Hot 'N' Hot Chicken Sandwich remains a staple menu item at Roger's. One look at what is included in this sandwich gives enough reason to bite into it.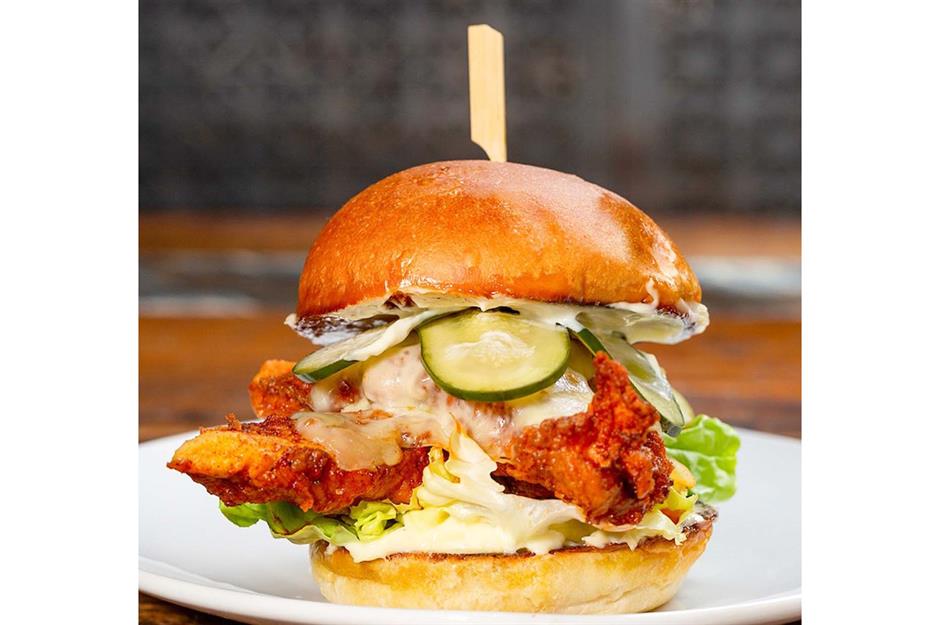 This tasty sandwich is made up of hot Southern fried chicken, butterleaf lettuce, mayo, pepper jack cheese, and dill pickles. Fans claim that the sandwich has the right amount of spice level and doesn't disappoint, but don't believe what they say, try it.
Buffalo Chicken Sub at Sidewinder Subs – Gilbert, Arizona
Although most customers at Sidewinder Subs prefer the Buffalo Chicken Sandwich, a spicy sub with chicken breast in buffalo sauce, ranch, and provolone cheese, various alternatives are available on their extensive menu. You can never go wrong with ordering any of their food as they are all crowd favorites.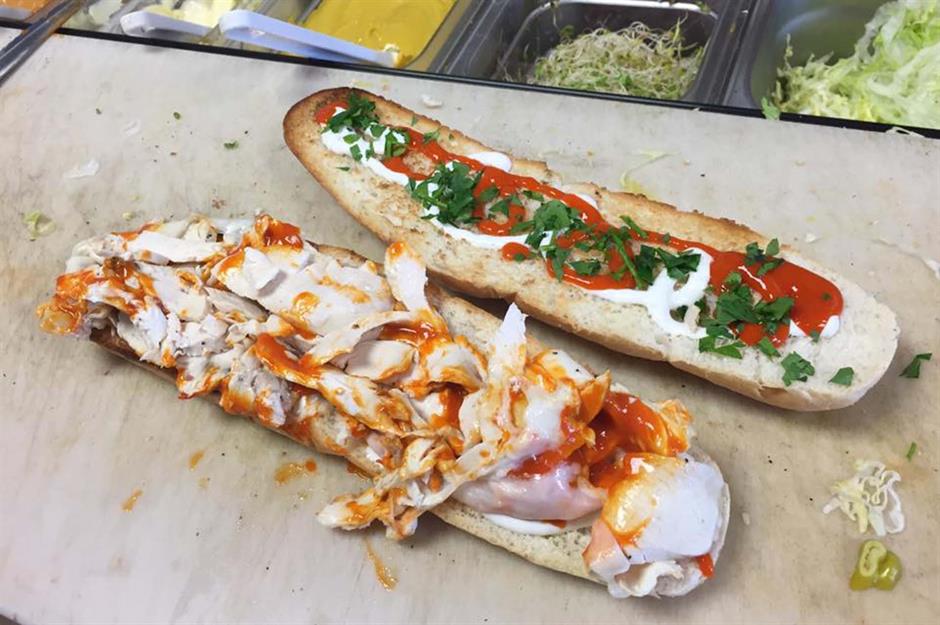 Happy customers frequently compliment the welcoming staff, which makes eating there always a pleasant experience. The sandwich also gets praised continuously for its soft bread, deliciously cooked and seasoned chicken, and properly melted cheese. All these things should be enough to convince you to eat there.
Chicken Bacon Ranch Sub at Krazy Moose Subs – Wasilla, Alaska
The bread distinguishes Krazy Moose Subs' sub sandwiches from the other contenders on this list. It is deliciously soft, freshly prepared every morning, and comes with a crust with precisely the right amount of crunch. Additionally, the fillings are excellent.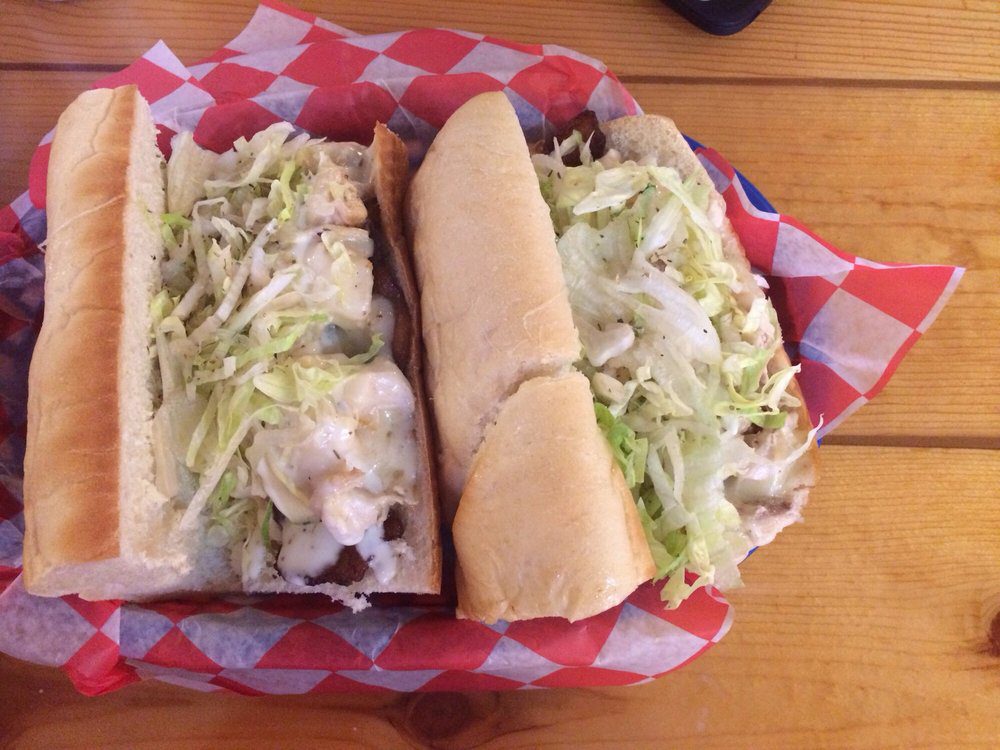 Clients love the Chicken Bacon Ranch Sub, which has ample stuffing and a delicious sauce, and many of them claim that it is their go-to dish. If you're looking for a sandwich with a little more heat, try the Buffalo Chicken Sub, also a crowd favorite.
Hot Chicken Sandwich at Hattie B's Hot Chicken – Birmingham, Alabama
Hattie B's Hot Chicken might be modest, but it serves BIG flavors and is renowned for its Hot Chicken Sandwich. It also has roots in Nashville, Tennessee. The fried chicken breast, seasoned to the customer's preference, is served with coleslaw, pickles, and their signature Nashville comeback sauce.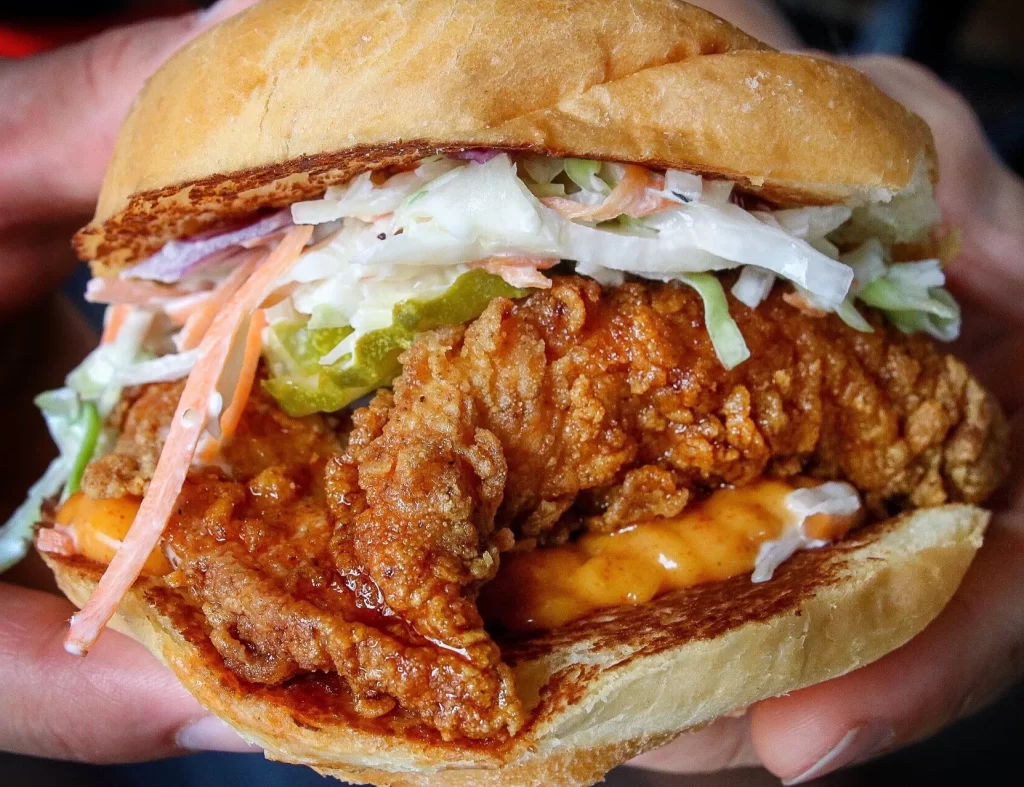 The spicy preferences go from mild Southern style with no heat to very hot, also known as Shut The Cluck Up, (the name is a good indication of how spicy it is!). Regular customers, as well as first-timers, describe it as tasty, juicy, and spicy.