45 Christmas-Themed Cupcakes That Look So Pretty We Don't Think Anyone Will Want To Eat Them
By Navkiran K November 17, 2022
---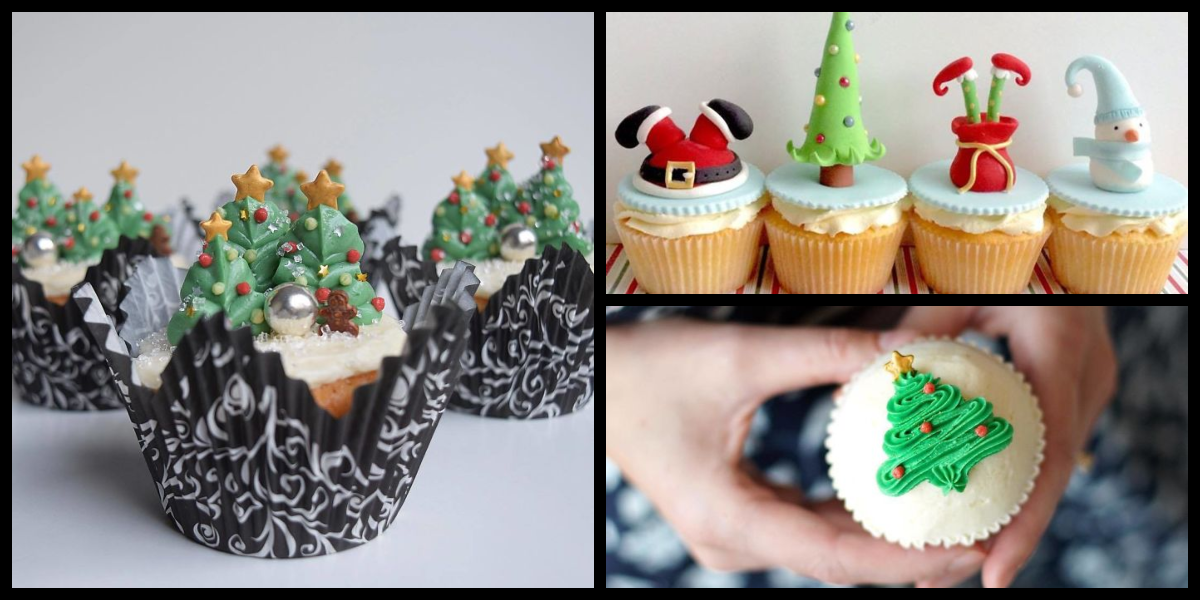 Christmas is just around the corner! We're all aware it's the time of year for seasonal baking. When it comes to this holiday, nothing could fit more perfectly than a delicious cupcake. When you have lots of tasty options, how can you decide which cupcake recipe is the best?
Well, in the spirit of this festive season and the endless possibilities, we have a list of some of our favorite homemade Christmas cupcake recipes that will become instant classics.
Whether you're into traditional flavors or something a little more creative, these 45 Christmas cupcake ideas will have you baking up a storm this season. With each of these, you might also question why you ever bothered with store-bought cupcakes.
So, without further ado, let's dig into the most creative Christmas cupcake ideas and get baking!
White and sky snowflake cupcakes
Now, we have given this unique name to the cupcake as per its color combination. These white and sky snowflake cupcakes will make a statement! The fluffy cupcakes are blue in color and are decorated with a beautiful white snowflake design over them.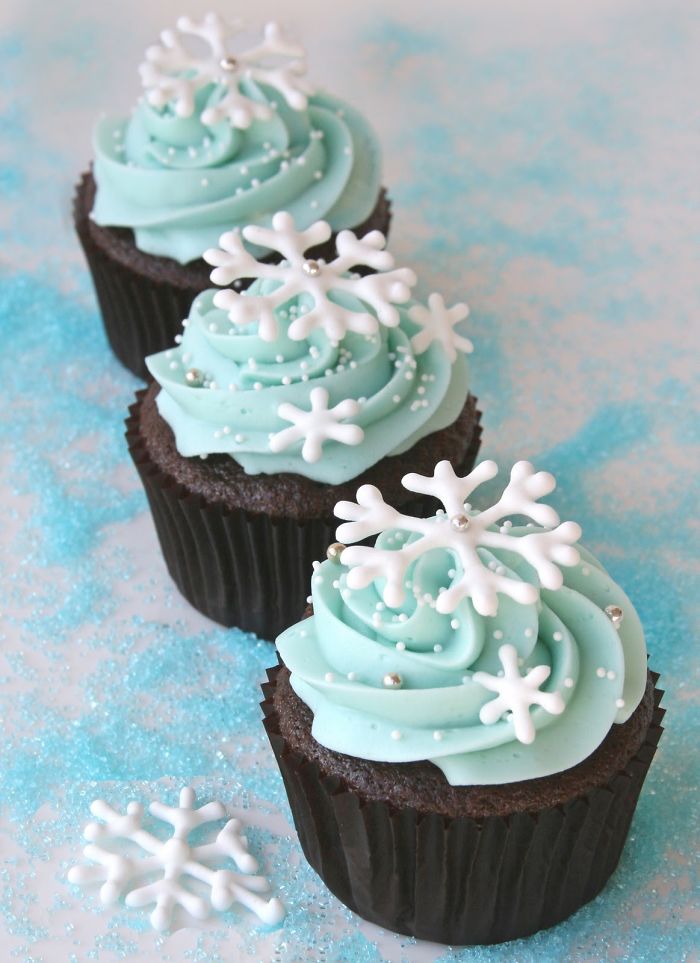 You can get a chocolate cupcake and top it with sky-blue frosting. This will give a pop-up color to your cupcake. In addition to a white snowflake, you can sprinkle white or silver sprinklers to make it look even more beautiful.
Strawberry-influenced Xmas cupcakes
Since strawberries are such a popular flavor around this time of year, these delicious little treats are sure to please everyone in the family. Not only will your guests love the taste of these delightful little cakes, but they'll also love their festive look.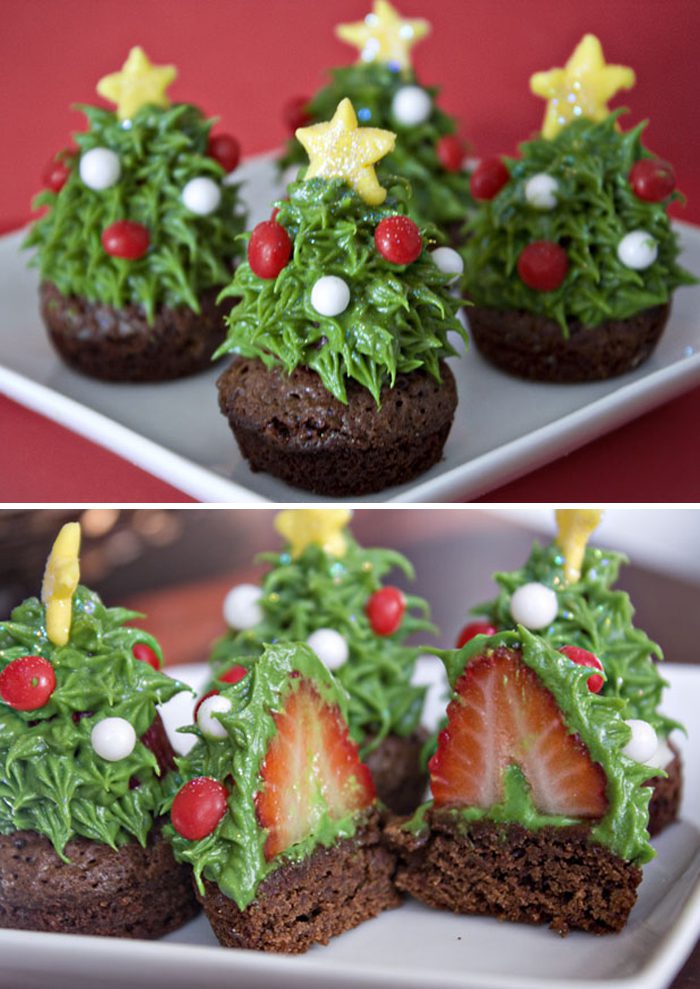 The most exciting part of the cupcake is hidden inside the Christmas tree placed over the cupcake. As soon as you eat the tree part of the cake, you'll realize it is made up of a strawberry. Yes, a strawberry inside the Christmas tree.
Fancy reindeer cupcakes
As soon as you search for reindeer cupcakes on the internet, you will see numerous ideas. These ideas make it harder for all of us to decide which reindeer we should choose to create on our cupcakes. However, we have to choose the fanciest one.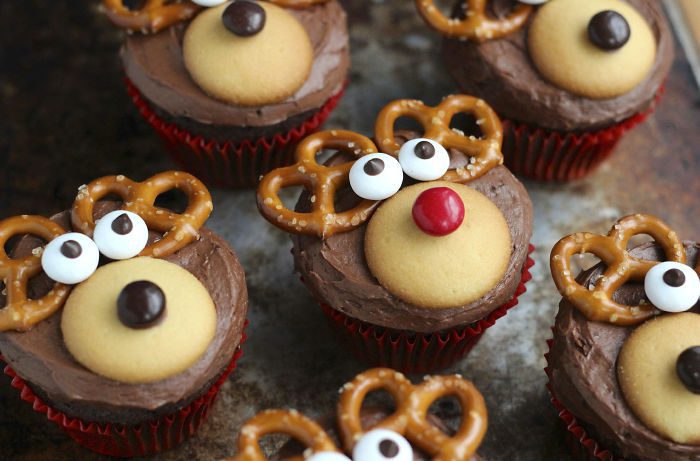 You can create a cupcake combo by baking cupcakes with each different reindeer. Moreover, you can use other frosting ideas for these reindeer cupcakes, including cream cheese or peppermint-flavored frosting. Double check you have enough to spread on all of your sweet treats.
Red bulb cupcakes
After hearing the name, this cupcake is exactly what you imagined it to be. These cupcakes can add a touch of whimsy to any festive table and come in a lot of flavors, so there's sure to be one that will suit your palate.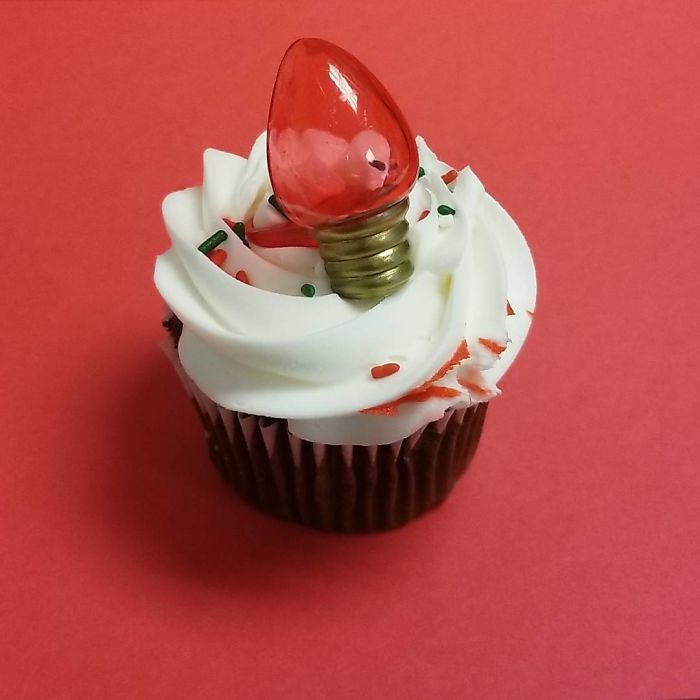 Try out raspberry or apple cider vinegar for something fruity and refreshing, or switch things up with chocolate mint for a taste that will surprise and delight you. Once you bake your cupcake flavor, you have to place a red bulb made of fondant or anything else you like.
Bauble cupcakes
Baubles are a significant part of Christmas. So, why not make bauble cupcakes to give a little festive vibe? These delicate treats are decorated with elegantly designed baubles, giving them a look sure to wow anyone who takes a bite.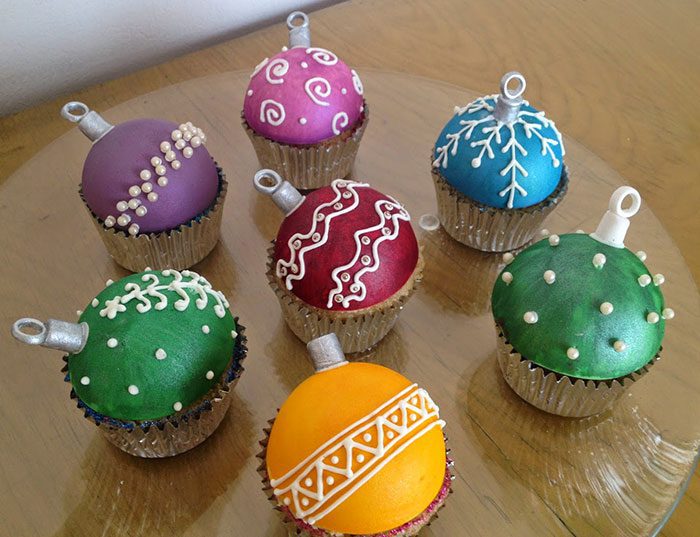 You can use different colors to make bauble cupcakes look more tempting. Also, you may add some white designs to your cakes. Whether you're planning to make a batch or share it with your friends and family, these delicious cakes will be the party's hit.
Skittles cupcakes
Like the classic red and green flavors, these frosted treats will please everyone at your party. They're not too sweet and will leave you with a satisfying aftertaste. Whether team Christmas or team frosting, these perfect treats are worth adding to your dessert repertoire.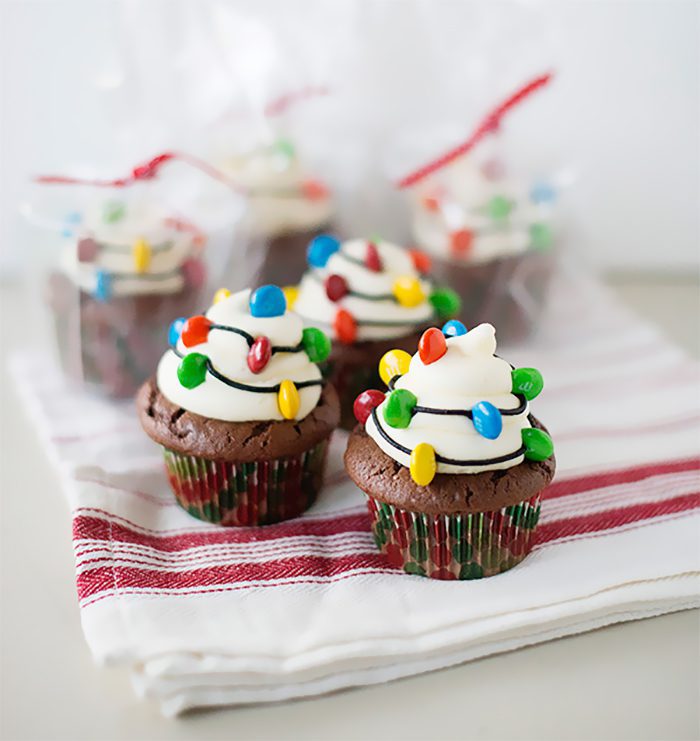 Skittles cupcakes are among those basic cupcakes that take only some time to get baked. You have to add white frosting and some Skittles over your sweet dish. They look perfect on the table, and they are also incredibly addictive.
Bow basket cupcakes
These white and red cupcakes will turn out to be the best. To make these yummy little cakes, start by prepping the baking supplies you'll need. Once done, bake your cupcakes and let them cool. These are matte cupcakes, so you don't have to worry about adding glitter or sprinklers.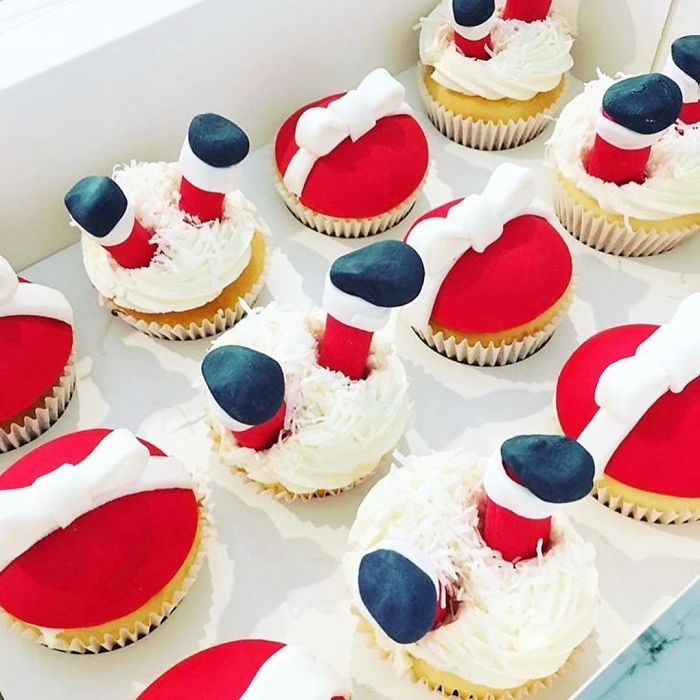 After you top the cupcakes with thick red bedding, it's now time to put on those bows! You can do this using a Wilton Bow Tack or a royal icing pen. Once the bows are on, let people enjoy these cupcakes.
Grinch cupcakes
There's no one here who doesn't love a good Grinch cupcake. While they are usually reserved for Christmas, these tasty treats are perfect any time of year! These easy-to-make cupcakes are made with rich chocolate cake and frosted with creamy green buttercream.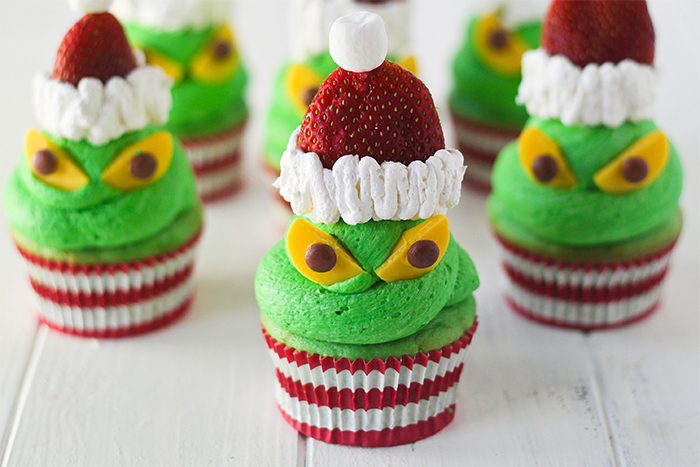 These cupcakes look like the naughty Grinch himself; the only difference is that they are a cuter version! Whether you're celebrating Christmas or just want to enjoy some delicious treats on a chilly day, these Grinch cupcakes are sure to please.
Icy blue cupcakes
Are you looking for an exhilarating way to celebrate this Christmas? Why not coordinate a cupcake party instead? Icy blue Cupcakes would be the right pick for Christmas eve. Add a polar bear to the cupcake to make it look more appealing.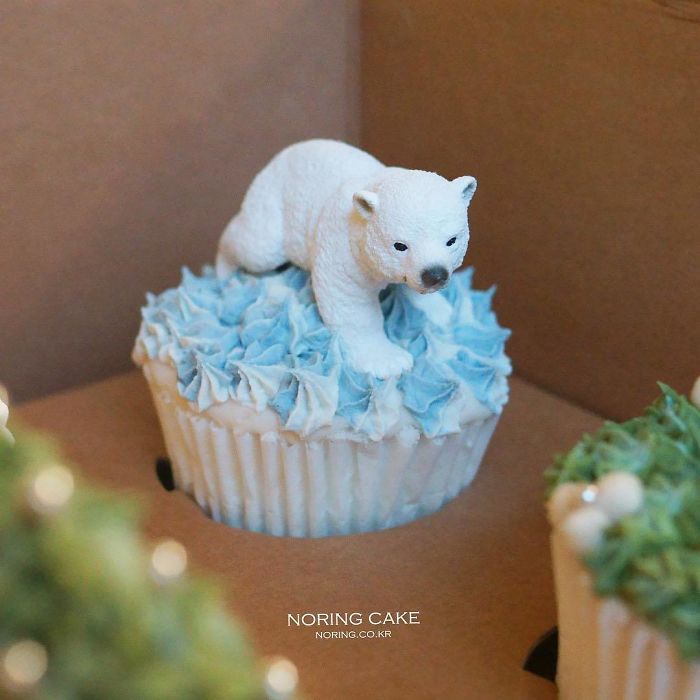 The cupcakes are fluffy and delicate, and they are the perfect balance between sweet and crunchy. Plus, they can be decorated to match any theme or color scheme. So set aside time this year and plan an icy blue Christmas cupcake.
Rosy cupcakes
If you are fond of vibrant colors, try making these rosy cupcakes. However, to make it look more beautiful, make your cupcake with chocolate batter. Your cupcake will look much more attractive when you top it with a dark red rose or another red flower.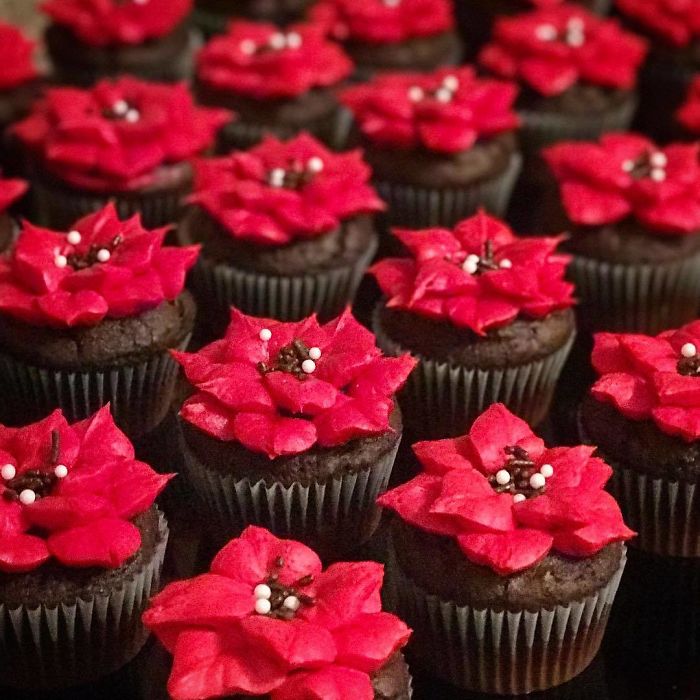 You can use red frosting to make your cupcakes, or you can even go for fondant. Along with being tasty and colorful, these cupcakes also make for a special Christmas present. Who wouldn't love getting a rosy cupcake as their present?
Pink Christmas tree cupcakes
Another pink cupcake idea that girls are going to love. And only girls? Pink can be anyone's favorite color. This beautiful pink Christmas tree cupcake is everything you could ask for. You even add white or pink sprinkles and glitter to make it a bit fancy.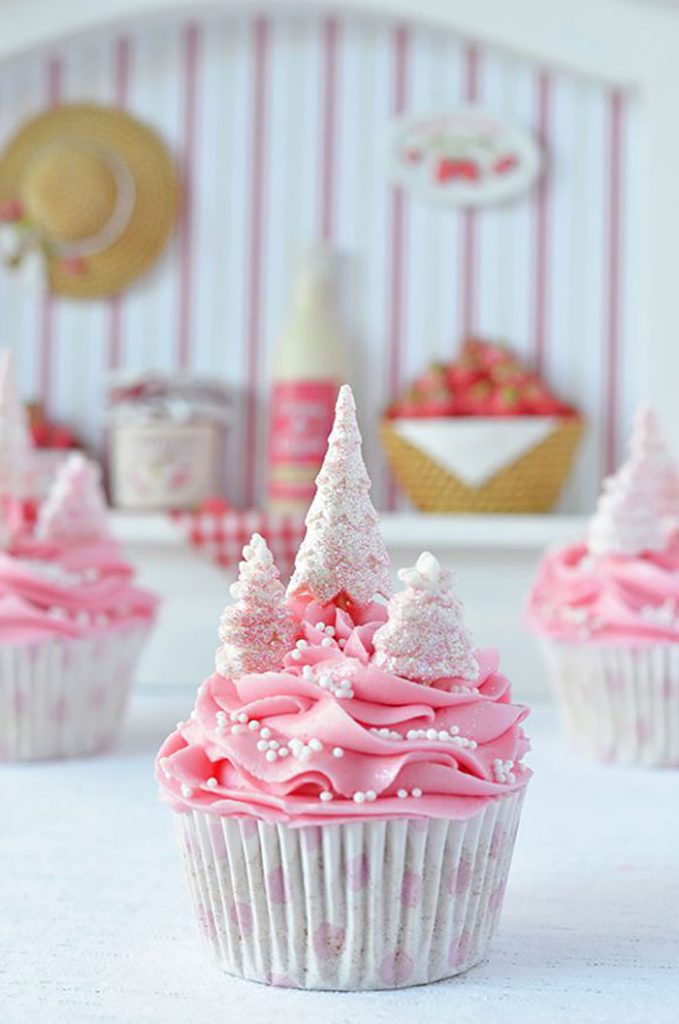 It would be best if you first bake a strawberry cupcake to make it look pink and then decorate it with pink frosting. Then place a Christmas tree on it and sprinkle small silver or white marbles. This will work as snow on the cupcake.
Paw cupcakes
Cute tiny polar bear paw cupcakes are as adorable as you imagine them to be. These are oreo cupcakes that are topped with frosting and coconut. So, to start with, assemble the ingredients as needed and start your baking immediately.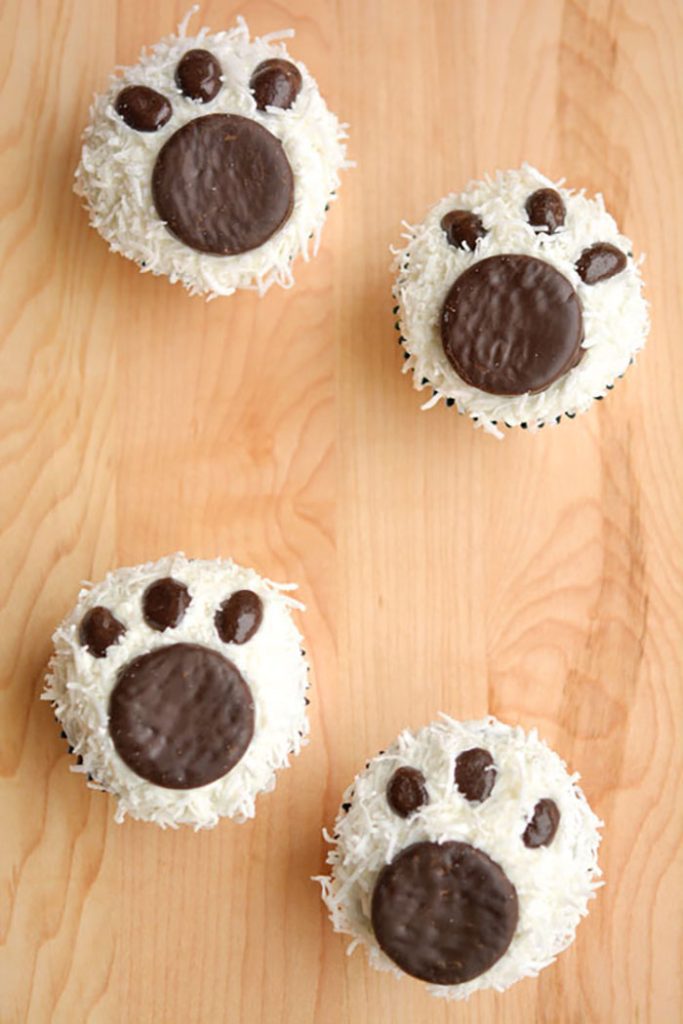 If you don't know how to create a paw over the cake, you have to take an oreo biscuit and remove the top and the bottom. Place either of the removed biscuits over the cupcake. You can finish it by using chocolate balls or brown edible marbles.
Spiky leaf cupcakes
With so many other options, there's another twist that you can add to your cupcake, top it up with some spiky leaves. These cupcakes will be among the best creative Christmas cupcake options this year. Make use of fondant to create that spiky effect on the leaves.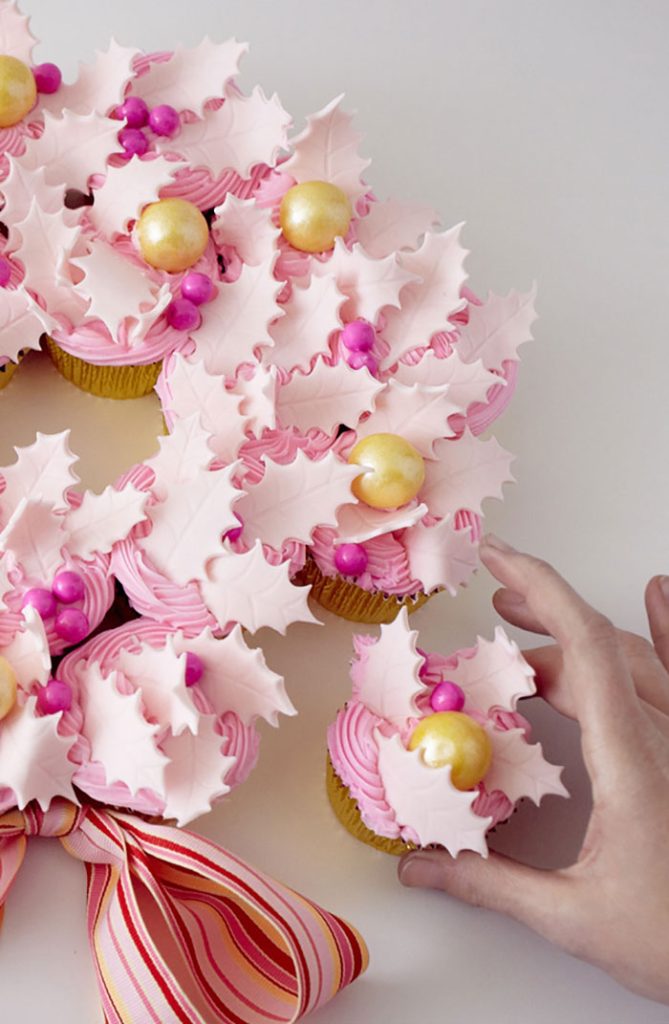 Once you are done with making the leaves, take your cupcake and top it with the green thing you just made. You can choose a cupcake of any flavor and add some extra ornaments to make it look more enhanced.
Branchy and snowy tree cupcakes
A branchy and snowy tree cupcake is a cupcake that has branches and snow over it. With not even a single leaf on the tree, this brown beauty will amaze everyone. You need to have chocolate and grated coconut to complete this delicious cupcake.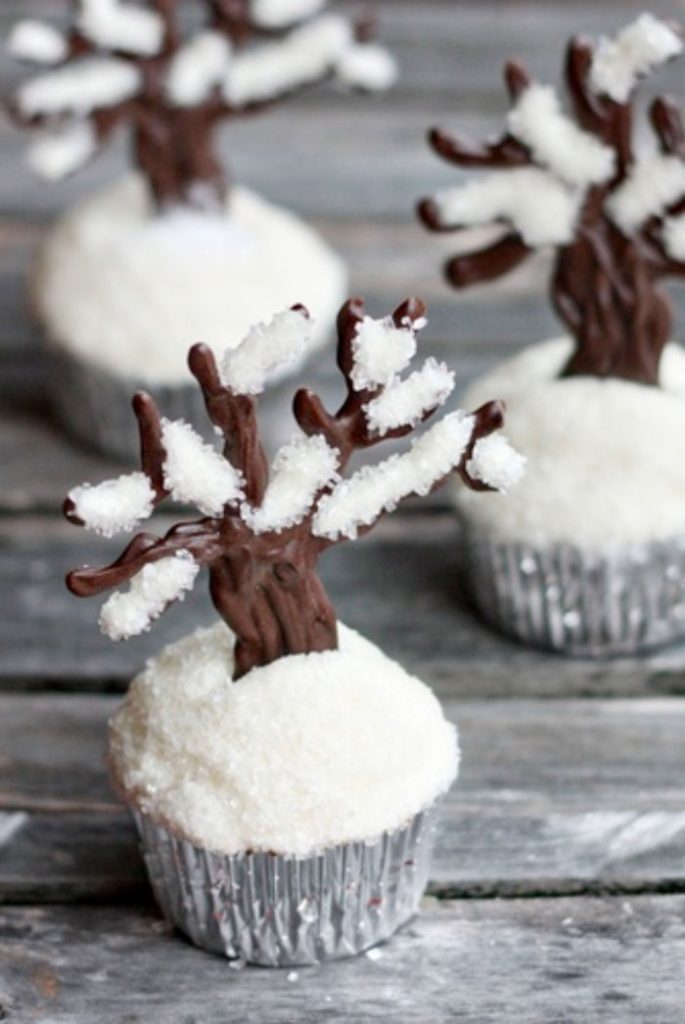 To make the brown branches, melt chocolate and then draw a tree with branches on a flat surface. Freeze it for a little while, then take it out. Place the tree made of chocolate on the cupcake and use grated coconut to add a snowy effect.
Snow globe cupcakes
Are you fond of those snow globe showpieces? Why not make a snow globe cupcake? This delicious treat is made from a cake base covered in fluffy frosting and sculpted into a snow globe. This will be one of the most beautiful cupcakes ever.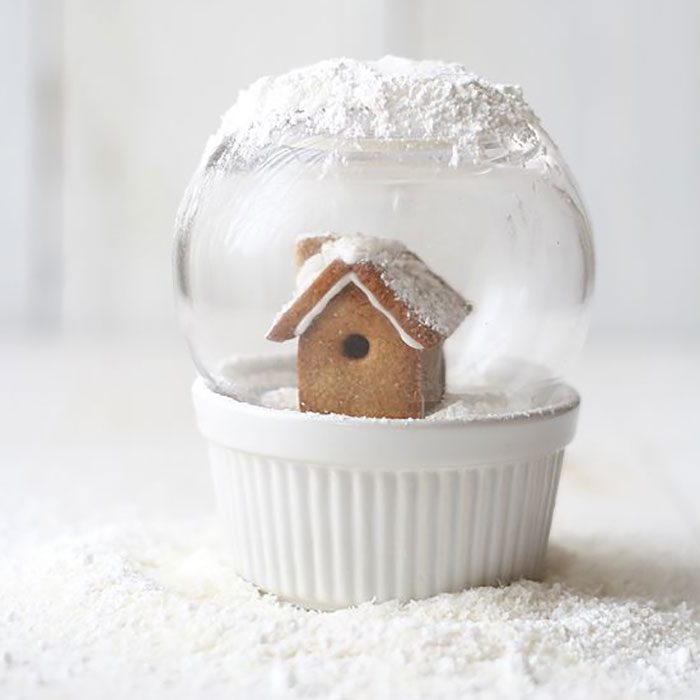 This classy cupcake is enough to make people compliment your creativity skills. You must be wise about making your cake look like a snow globe. You can either bring some decorations to make it look that way or spend time doing everything on your own.
Xmas cupcake combo
You can choose this option if you want to prepare Christmas-based theme cupcakes. The best thing about these cupcakes is that you don't have to give any specific shape or design. You can shortlist three or four items related to Christmas and start working on that.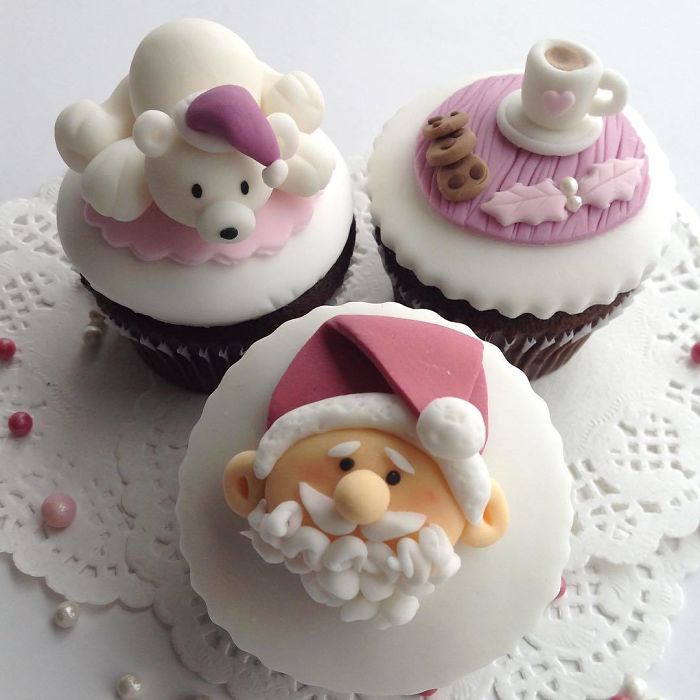 For instance, you can choose Santa Claus, a Christmas tree, and a reindeer. Prepare your cupcakes and buy all three and place these over them. Or else, you can make your own mini Santa, tree, and reindeer and stick it over the cupcake. These can also be used to gift your family and friends.
Sprinkler Christmas tree cupcakes
We are trying to list some of the most creative Christmas cupcake ideas here, so here are some more, including a Xmas tree. But this one is different from the ones we have already talked about. This sprinkler Christmas tree cupcake is worth trying if you want to go colorful.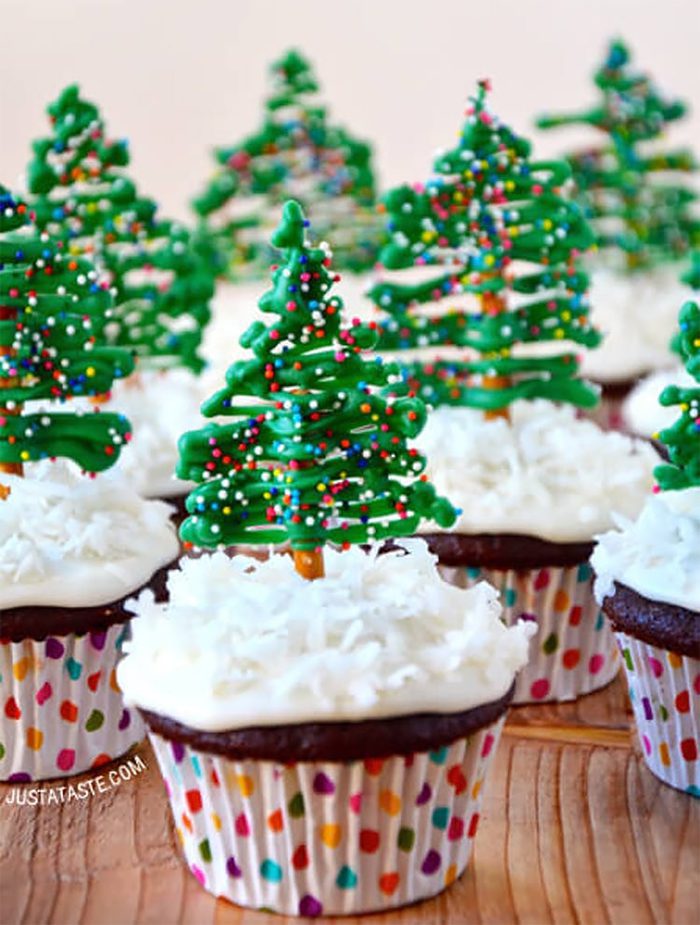 The choice is yours; give whatever shape you want to give to your Christmas tree on top of your cupcake. The only thing you need to take care of is to remember to add those colorful sprinklers to your Christmas tree.
Snowflake cupcake
Snowflake patterns are the most underrated patterns ever. However, we can't deny that the beautiful snowflake designs give life to everything. So, if you wish to go for a simple yet pretty cupcake, bring your cake decoration tools along and design snowflakes on your cuppies.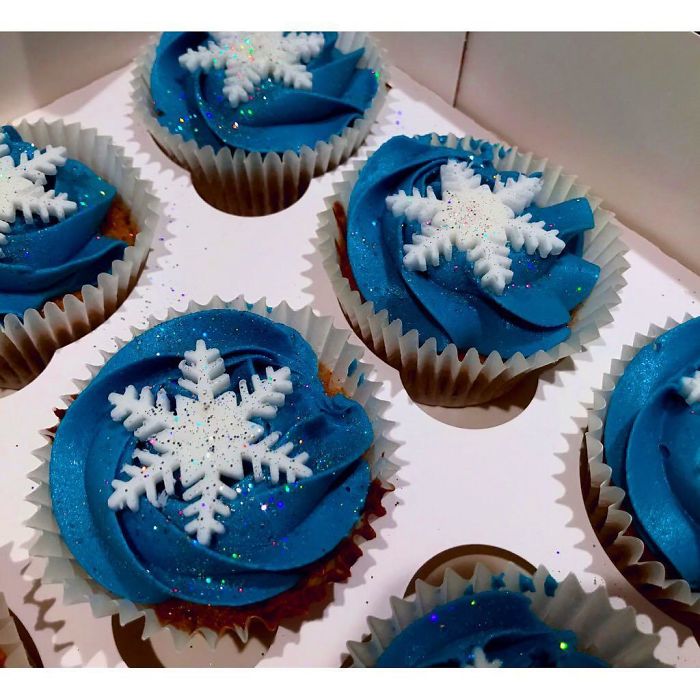 Bake your cupcake and decorate it using the tools. You can draw a snowflake design of your choice and keep it the way you like. Make a batch of these festive snowflake cupcakes and give them as part of your holiday gifts.
Baby reindeer cupcake
We have this baby reindeer cupcake idea for those who are fans of adorable, cute little things. Moreover, Santa's favorite animal is a baby reindeer! These petite little cakes are perfect for little ones and will also be a hit for your house party.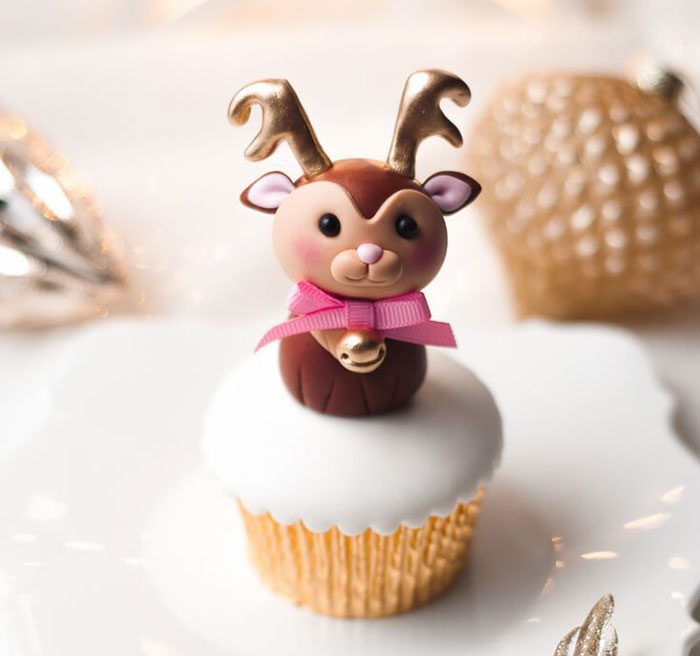 The cakes are decorated with pink and green frosting, reindeer antlers, and little candy carrots. Whether you make them as an individual decoration or serve them in a festive baking dish, these adorable cakes will surely add sweetness and fun to your holiday festivities.
Melting snowman cupcakes
You can have a variety of snowman cupcakes, so to make it a bit unique to look at, we have this melting snowman cupcake. All you need is a baked cupcake and your extra creative side. The concept is a simple one.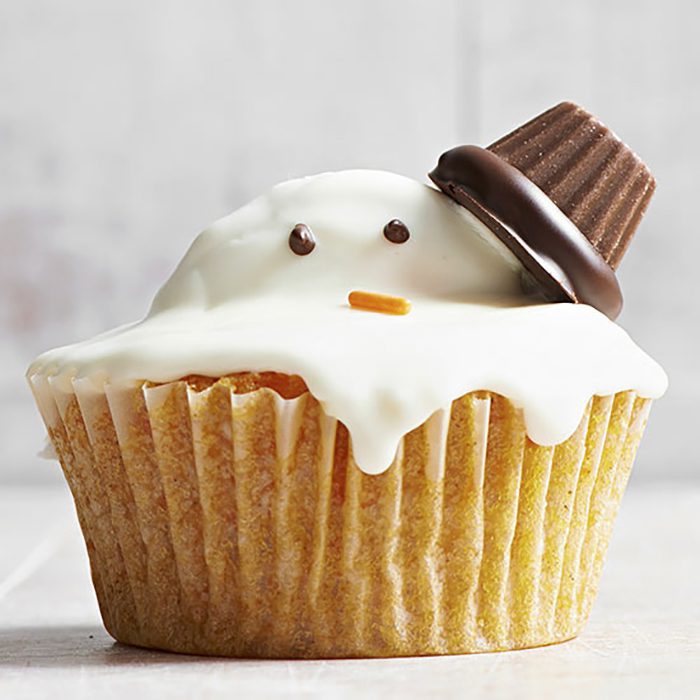 Instead of an ordinary snowman on the cupcake, prepare a snowman that seems to be melting. Trust us; this will turn out to be one of the most creative ideas that anyone could ever think of. Be prepared to get compliments for serving these to your guests.
Dark Christmas theme cupcakes
We understand that it gets boring while working on the same concept when it comes to baking cupcakes. So, we have another idea for you to make it more fun and different. Just like you can make a Xmas cupcake combo, you can try dark Christmas theme cupcakes.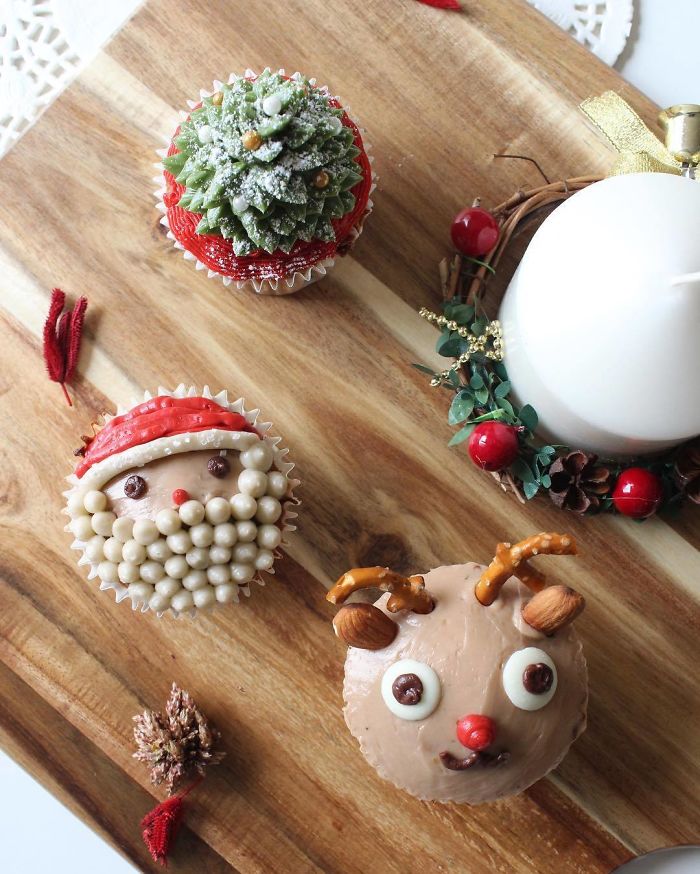 Prepare your cupcakes as you usually do. Decorate them with a tree, Santa, and a reindeer. But be sure your cupcakes look a little darker; to be precise, go for chocolate-flavored cupcakes for the theme. This way, you can have your chocolate cupcakes.
Christmas forest cupcakes
Well, now you can enjoy that delicious treat without even leaving your living room. All thanks to these Christmas forest cupcakes, all you need are some festive decorations and some tasty ingredients to make your very own little Christmas forest.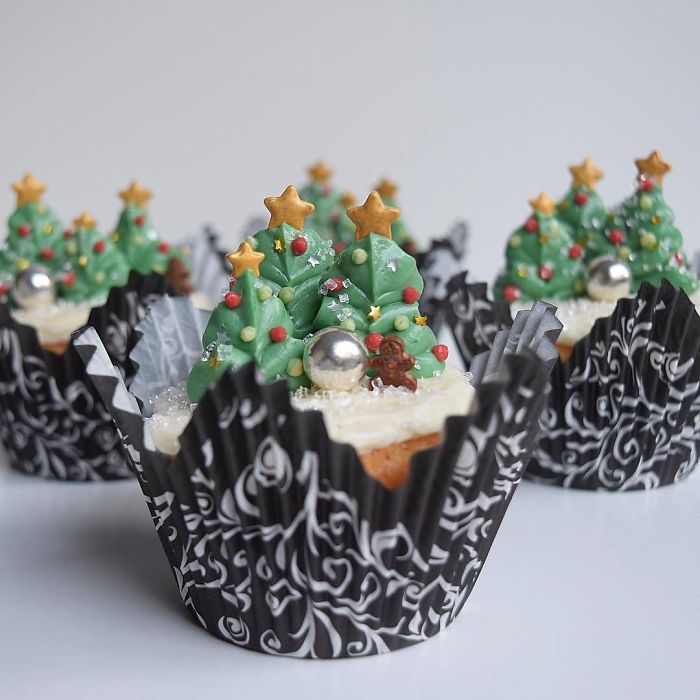 To create these delicious and amazing treats, you'll need colorful frosting, tree-shaped sugars, and small decorations. You can find all of these items at most craft stores or online. Once you have everything, it's time to get busy decorating your cupcakes!
Christmas-spirited cupcakes
These delightful little cakes are decorated with beautiful snowmen, Santa Claus, and Christmas trees. This theme mix makes them perfect cupcakes for any Christmas party. Moreover, these are the right choice if you want your frosting to be sweet and creamy.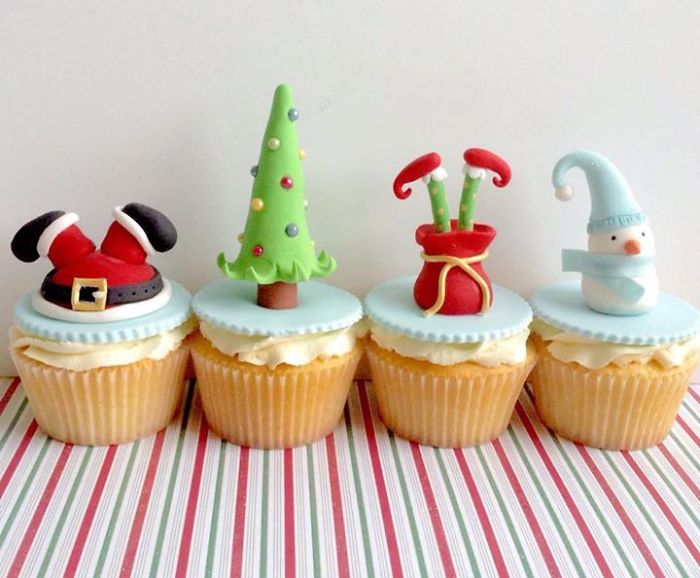 Once you are done preparing your cupcakes, you can keep them in a beautiful box and serve them to your friends and family. Also, you can gift these cupcakes to your loved ones. Just keep thinking about what else you can do with the cupcakes to make them stand out.
Snow tree cupcakes
Snow tree cupcakes will turn out to be as beautiful as they sound. A snowy white cupcake is a suitable pick for everyone out there. The making process of this one is similar to the ordinary Christmas tree cupcake, but you just have to go white with its decoration.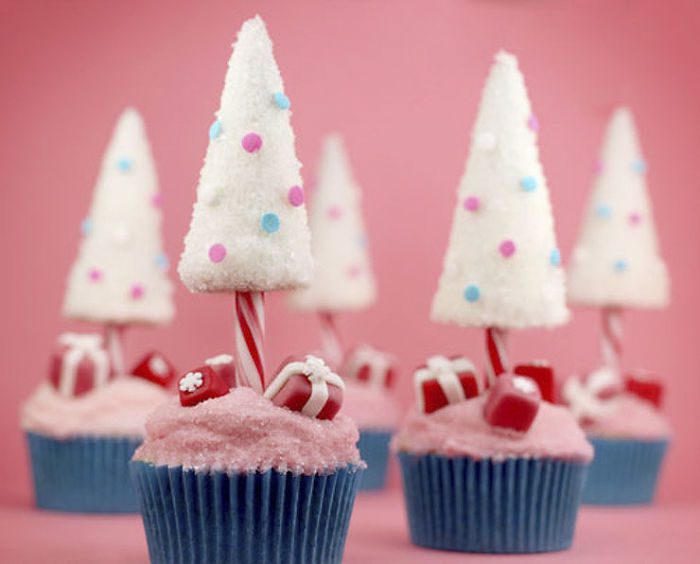 Once you finish preparing the cupcake, you will notice that it looks exactly like a Xmas tree covered in snow. The white beauty is something that will make you and your friends admire the cupcakes. So, what are you waiting for? Get to baking!
Red and green garland cupcake
Red and green are both crucial colors in the Christmas season, so they make an ideal color combination for our garland cupcake. These cupcakes will make you drool; once you try them, there's no going back. Moreover, these can be made in just a few simple steps.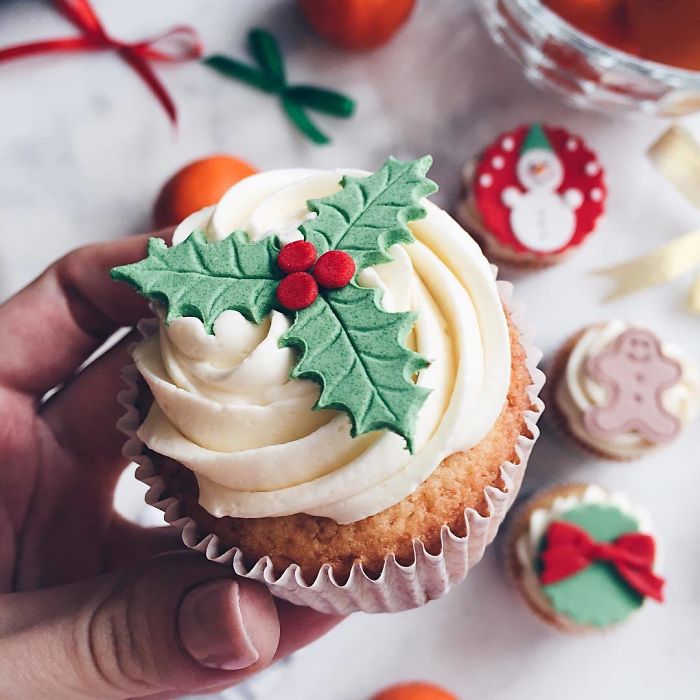 To start, prepare your cupcake batter as per your preferred flavor. Once you set the batter in liners, bake them. After you are done making your cupcakes, now you have to show your creativity. Make two green leaves with a small red ball between them and place them over the cupcake.
Xmas present cupcakes
As the name suggests, the cupcakes that have those little edible gifts over them are a suitable holiday treat. If you want your cupcakes to be different from the ones already available in the market, design your cupcake and be a little different.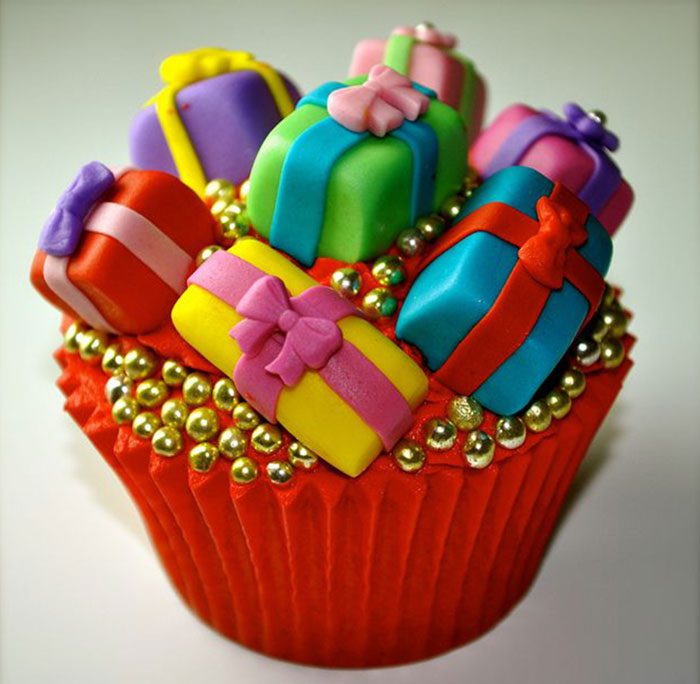 You can go with your own choice of cupcake flavor; give it any shape and color. Just be a little careful while making mini gift hampers for your cupcakes. However, making little gifts can get tricky, so you can buy artificial ones from the market.
Christmas tree cupcakes
If you're looking for a festive treat that will leave everyone in your crowd in awe, look no further than these Christmas tree cupcakes! Not only are they adorable and visually appealing, but they're also delicious – especially when frosted with chocolate frosting and decorated with colorful sprinkles.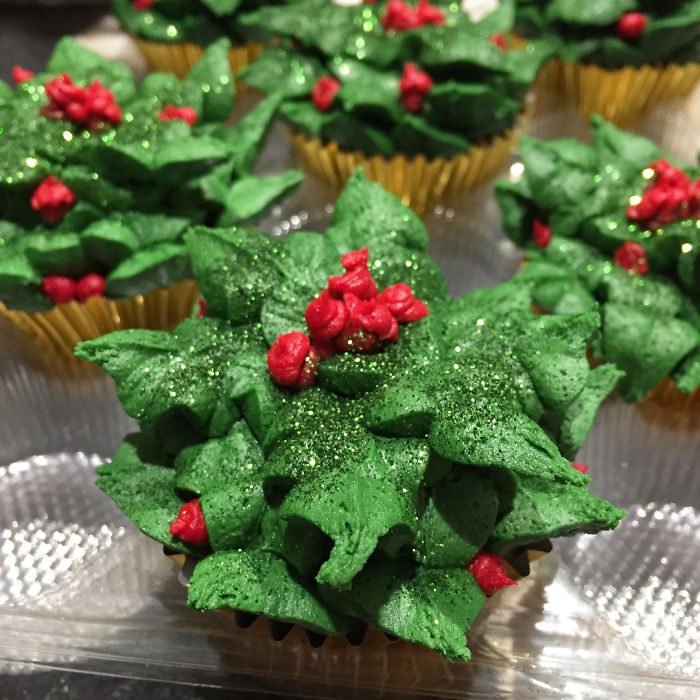 They're both festive and delicious, and you can be sure that everyone will love them. Not to mention that they make a great addition to any Christmas party. So put on your Santa hat and get started – these cupcakes are going to be a hit!
Gingerbread Cupcakes
Who doesn't love a gingerbread cupcake? And what's not to love about the gingerbread cups topped with cinnamon browned buttercream? It gives the perfect amount of spice and sweetness that you might look for in an ideal cupcake for Christmas.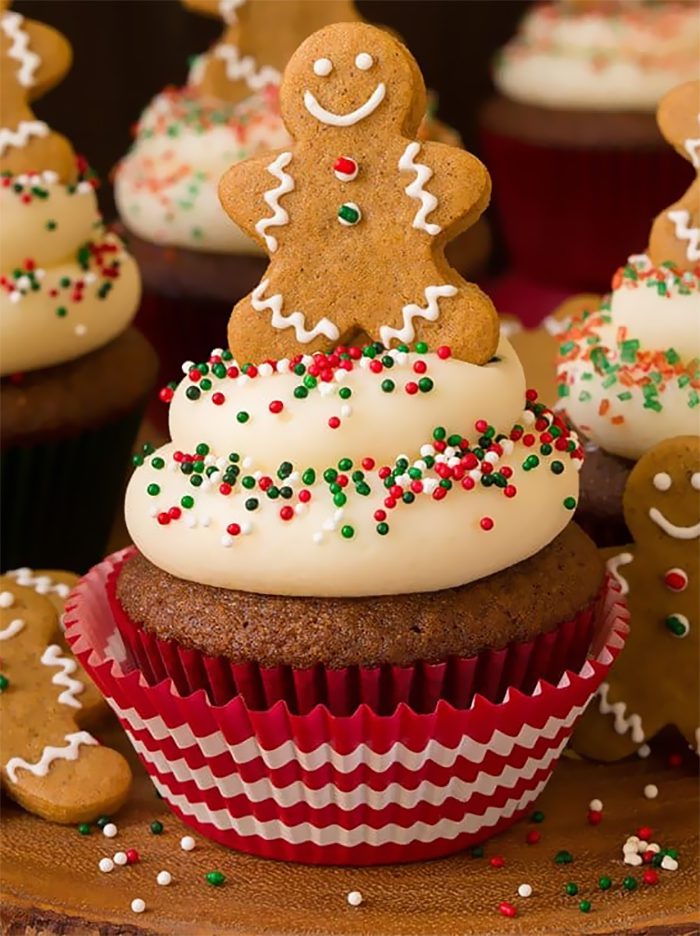 They're easy to make and require minimal ingredients, so you can be sure they'll come out tasting great. Plus, if you're feeling extra festive, why not add some colorful peppermint candies or holiday sprinkles to the frosting before frosting them?
Polar bear with Xmas cap cupcakes
The polar bear with a Xmas cap cupcake is everything that you might be looking for. For this cupcake, you must first prepare a basic vanilla cupcake. Once done, top it up with a cute little polar wearing a red Christmas cap.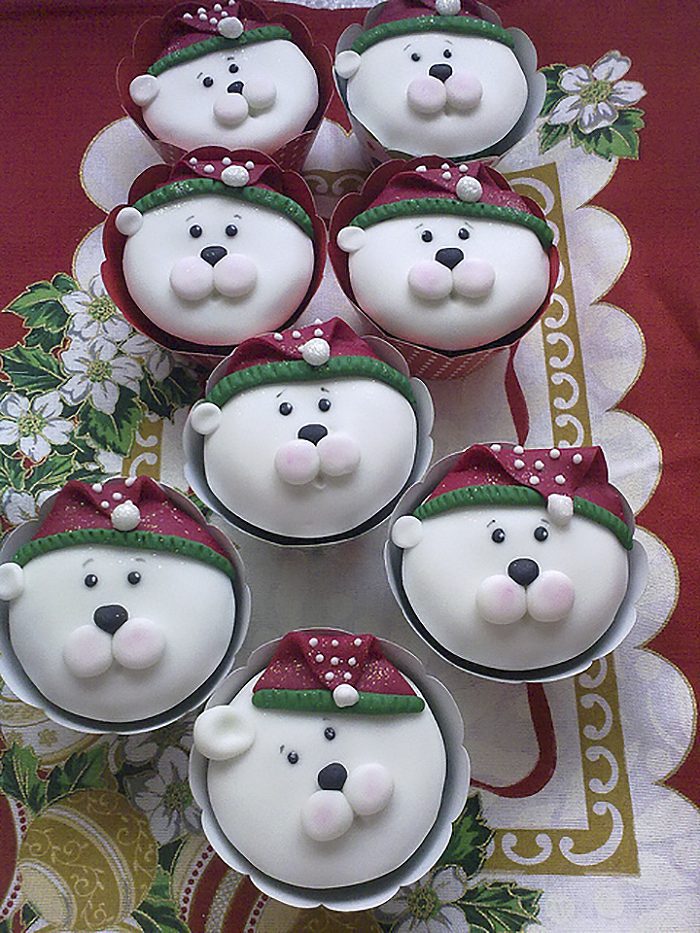 This will be delicious to eat and give you a whole new holiday season vibe. The cupcakes are also super easy to make and require little kitchen skills. Whether you're hosting a small get-together or planning an epic holiday bash, these beauties will impress everyone.
Cupcake wreath
If you are looking to add a bit of sweetness to your holiday decor, then a cupcake wreath is perfect! These delicate wreaths can be made in any color or style. A cupcake wreath is an ideal dessert that you can serve people.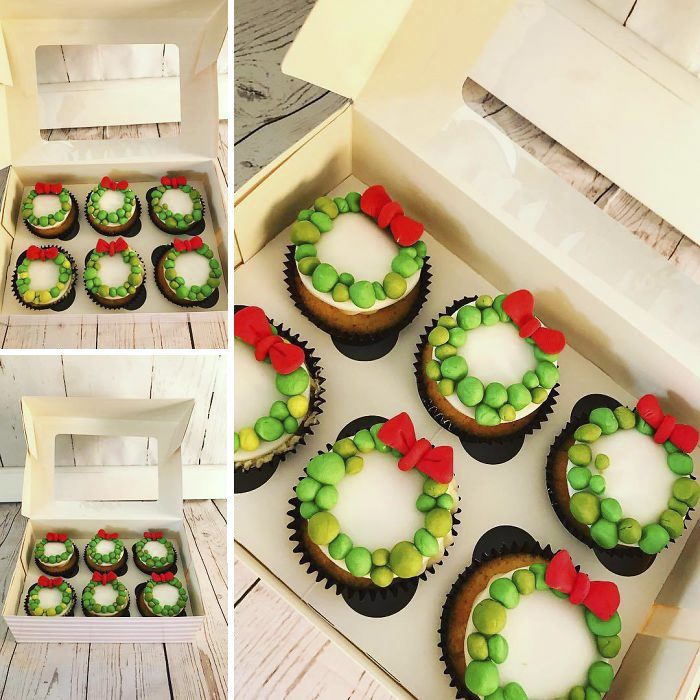 Also, if you are looking for a unique way of decorating your Xmas tree, why not try a cupcake wreath? This will work both as a decoration piece and a dessert. Be sure to get creative and find recipes for cupcake wreath decorations that are super simple to make.
The Jolly snowman cupcakes
You can already imagine how much fun it would be to make snowman cupcakes and decorate them per your preferences. All you need are some standard cupcake ingredients, a few essential decoration tools, and creativity. With these, you can start making your snowman cupcakes.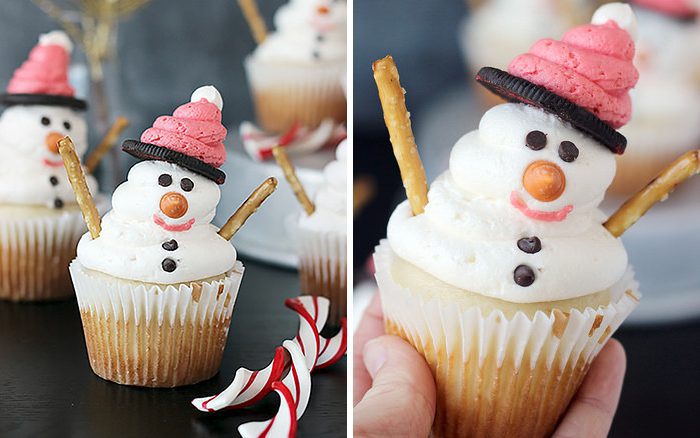 You can use any type of frosting or decoration to make each one look unique. Add a few simple shapes to a Duncan Hines Snowman Cake mix, pipe frosting around the inside of each cupcake wrapper, and top with a mini frosted snowman on top.
Gazelle cupcake
Try adding a gazelle over the top to give a new look to your Xmas cupcake. You can try fondant icing on your cupcake if you wish to eat that deer later on. Or you can place a toy deer on the cupcake to make it look more realistic.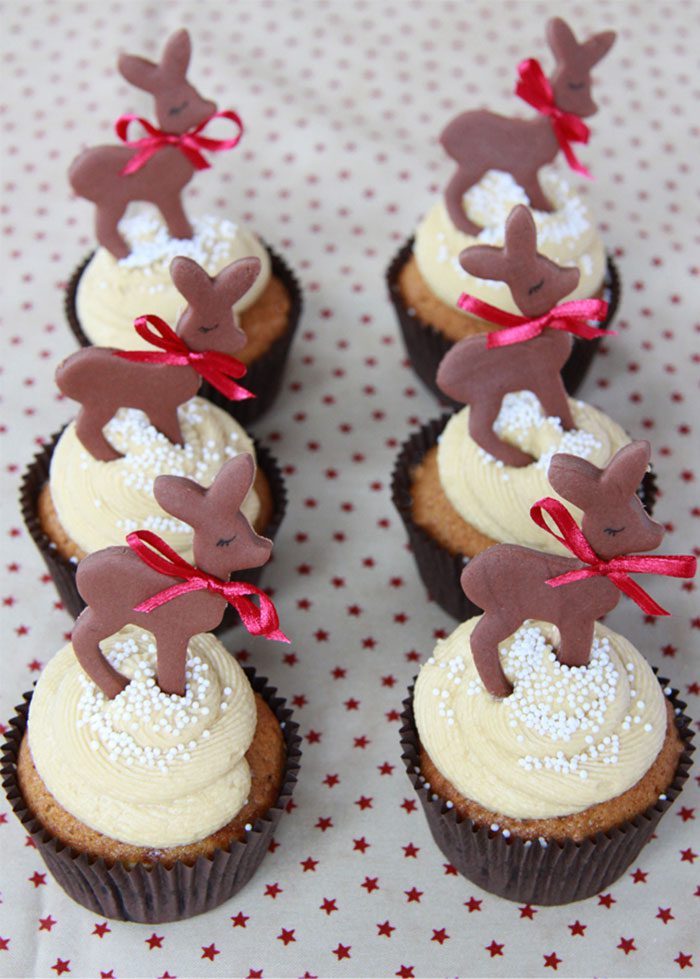 Gazelle cupcakes are darling little creatures sporting long ears and a penchant for chasing down small prey. These are made from a fluffy cake mixture layered with rich chocolate frosting, then decorated with sparkling sugar shavings and a sprinkle of confectioners' sugar.
Squinted reindeer cupcake
Most people have tried all sorts of reindeer cupcakes available in the market. But this one is a unique one. Why? Because this is a squinty-eyed reindeer. No one can ever resist nibbling on frosted treats that feature these adorable pups.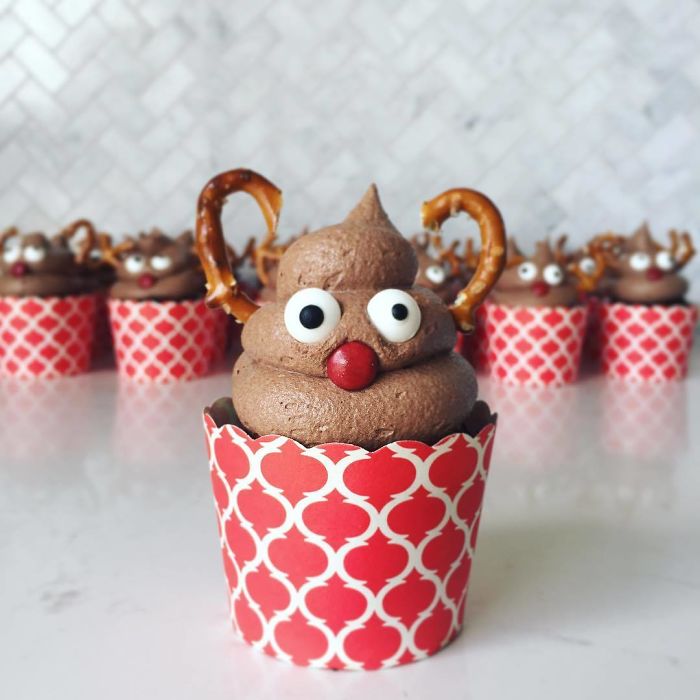 If you're looking for an adorable and festive way to top off your Christmas dessert menu, you can't go wrong with a batch of squinted reindeer cupcakes. These can also be among those gifting options for younger ones. What's better than a playful yet tasty present?
The laughing snowman
One of the best ways to celebrate this holiday is by enjoying cute characters like Olaf. This character is sure to make everyone laugh with his goofy expression and enthusiastic laughter. So, you can use this character for your cupcake as well.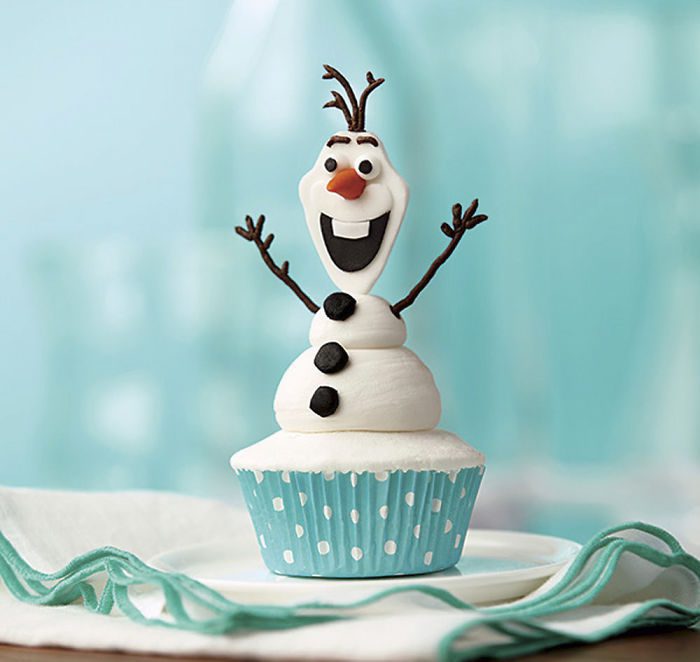 The frosting is white and sparkling, and it looks like snow is falling around him. Add some candy canes for extra festivity, and you're ready to go! Serve them fresh out of the oven at your next party, or keep them in a storage container for later use. Your Frozen-loving kids will adore this one.
Christmas star cupcakes
What could be more fun than getting together to make some delicious Christmas star cupcakes? Not only are they festive and delicious, but they can also be made in minutes using essential baking ingredients, including all-purpose flour, sugar, salt, and baking powder.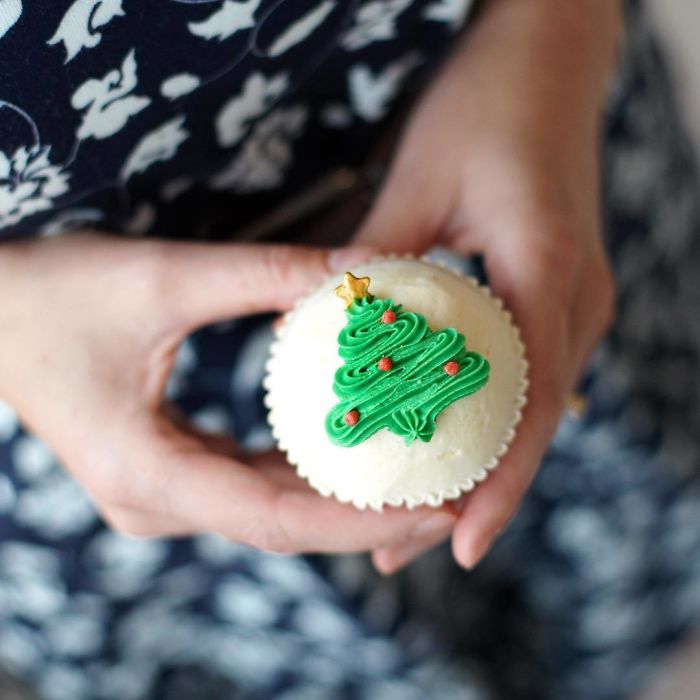 Most people prefer using chocolate or peppermint star-shaped candies in their cupcakes, but there are lots of other options out there. Go with whatever strikes your fancy! Just beware that the more variety of candy you use, the more difficult it will be to frost them without looking like a total mess.
Miniature gingerbread cupcakes
Making these adorable cookies isn't as hard as you might think. They are perfect for those people who are short on time during the festive season. All you need is some gingerbread mix, eggs, butter, sugar, and vanilla extract – and that's it.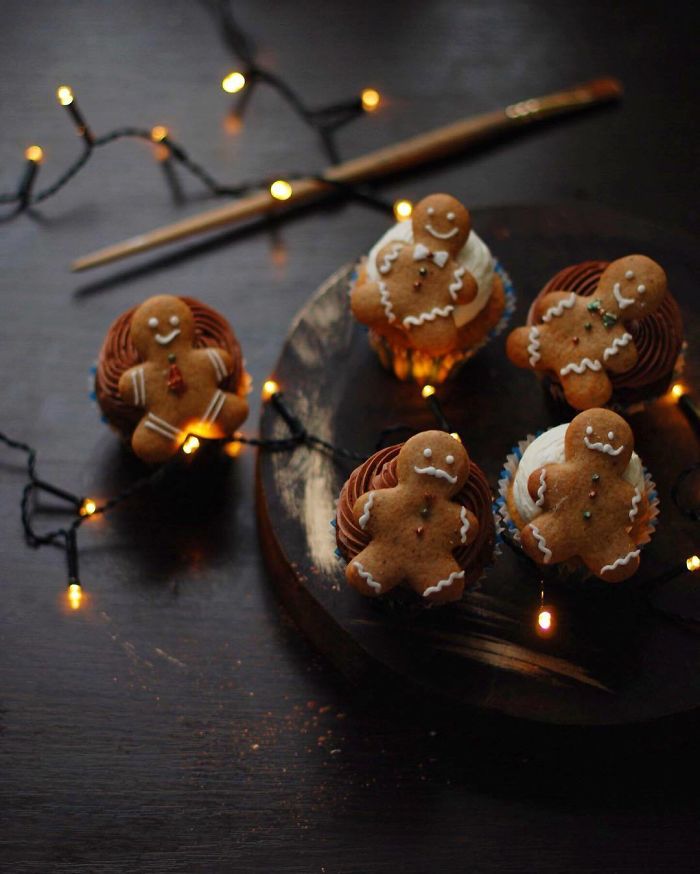 Once you have everything prepared, it's just a matter of filling them up with whipped cream or ice cream and decorating them to perfection. No matter which flavor you choose, these miniature Gingerbread Cupcakes will steal the show this Christmas season.
Candy cane cupcakes
Do you love candy canes? Well, these cupcakes are perfect for you! They're made with a fluffy cookie batter and frosted with a delicious chocolate ganache. Plus, they're decorated with a shiny candy cane ring, and who could resist these festive treats?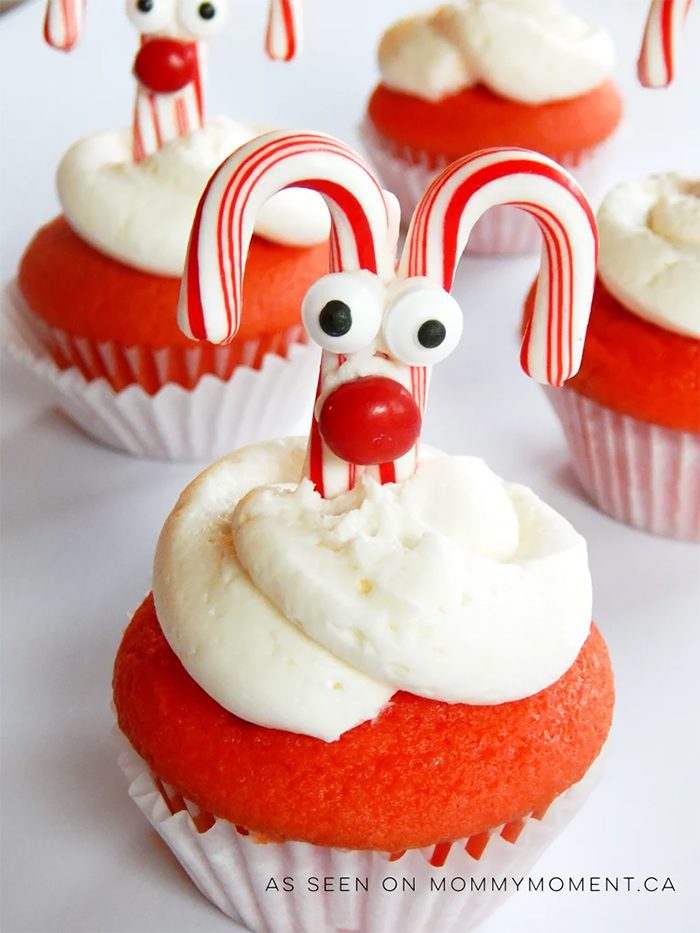 The unique flavor and appearance of candy cane cupcakes will steal the show. You have to add a little life to your candy cane. So, you can add eyes and a nose to your candy canes. This will for sure enhance the look of your cuppies.
Chocolate reindeer cupcakes
If you want people to get impressed with what you serve them, these chocolate reindeer cupcakes will do the trick! With their yummy frosting and festive decorations, they're sure to put a smile on everyone's face. They're sure to impress your guests with a festive red and green frosting.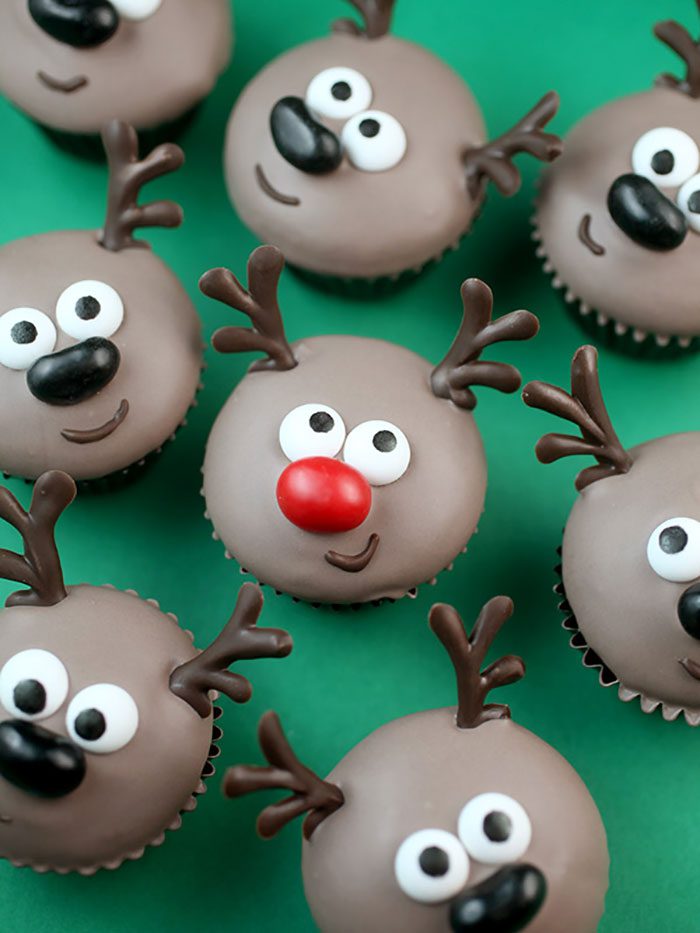 If you want instant cupcakes, choose your favorite flavor for the mix and follow the baking instructions on the box. Prepare melted chocolate and creamy vanilla frosting for frosting according to package instructions. Once everything is assembled, it's time to add the festive decoration!
The basic Christmas tree cupcakes
You can do numerous things to decorate your cupcake, but decorating your cupcake with a basic Christmas tree will always remain the best option. These simple cupcakes are packed with flavors, are easy to make, and people find them mouth-watering.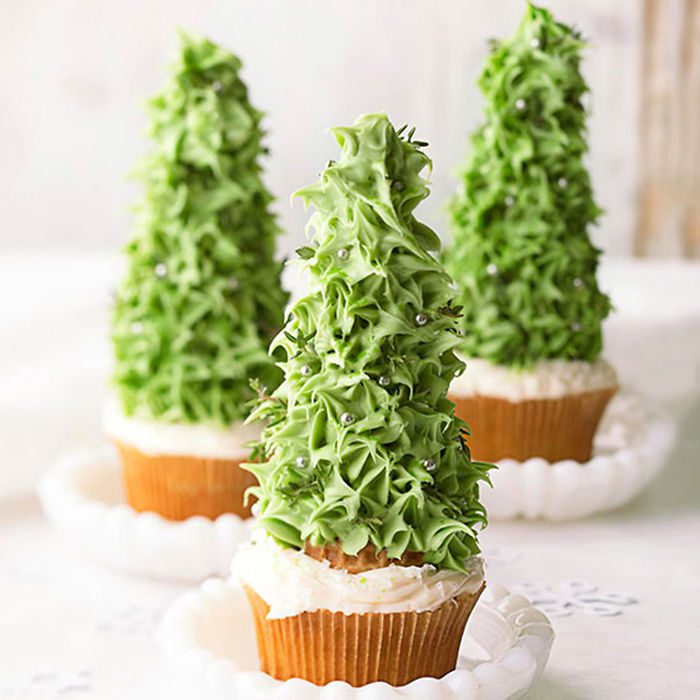 So whether you're all about the basics or up for some more creative ideas, there's sure to be a Christmas tree cupcake that'll fit your needs. Just be sure to get started early so you can have everything ready when December 25 rolls around.
Santa and the tree cupcakes
Santa is coming to town, and he's bringing the best cupcakes of the year! You can't go wrong with a classic Santa cupcake, but why not try something a little different this year? Why not make some Santa and tree cupcakes?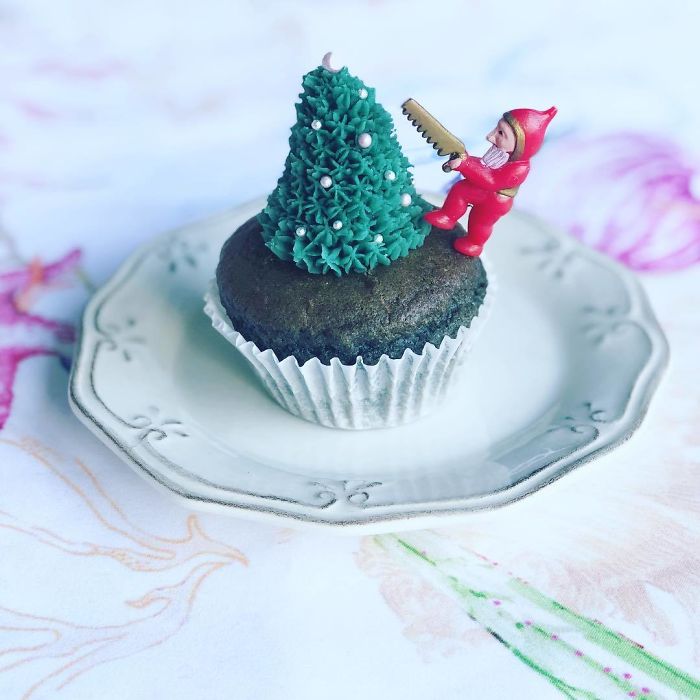 There are so many ways to customize your tree cupcakes. You could add colorful sprinkles and ornaments to the top of your cakes or use edible fiberglass leaves to create a Xmas look. Or you can even go with the same cupcake design that you can see in the picture above.
Dark chocolate cupcakes
When it comes to baking, there is no one better than a chocolate lover. And what's better than a chocolate cupcake? A dark chocolate cupcake, of course! They're so delicious that even the most novice baker can create them easily.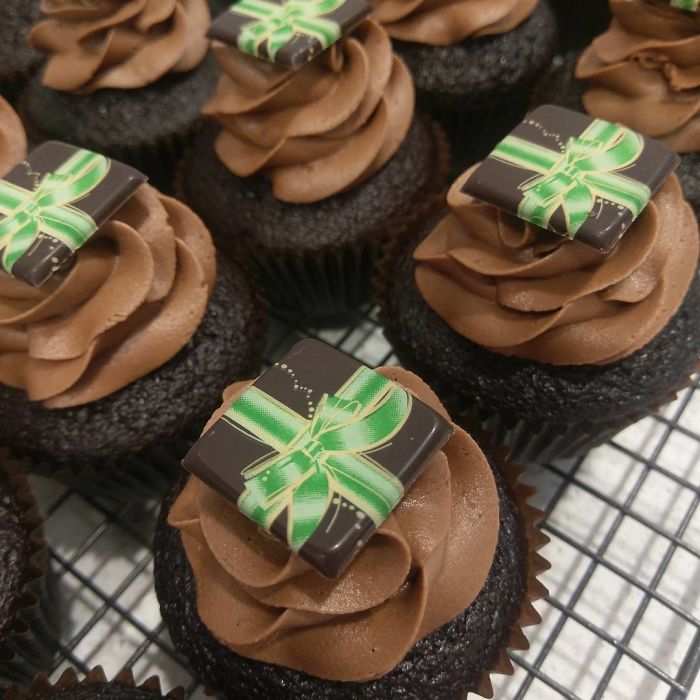 These cakes are made with a rich and fudgy batter and act as a perfect dessert or snack. The cupcakes will even leave you craving more. You can also use a piece of chocolate and make a ribbon to make it look like a present on the cupcake.
Decorated spruce cupcakes
A spruce tree is a perfect addition to any Christmas decor. Not only are they festive, but cupcakes decorated with a spruce tree are also sure to please guests. On top, these are not very hard to make and are yummy.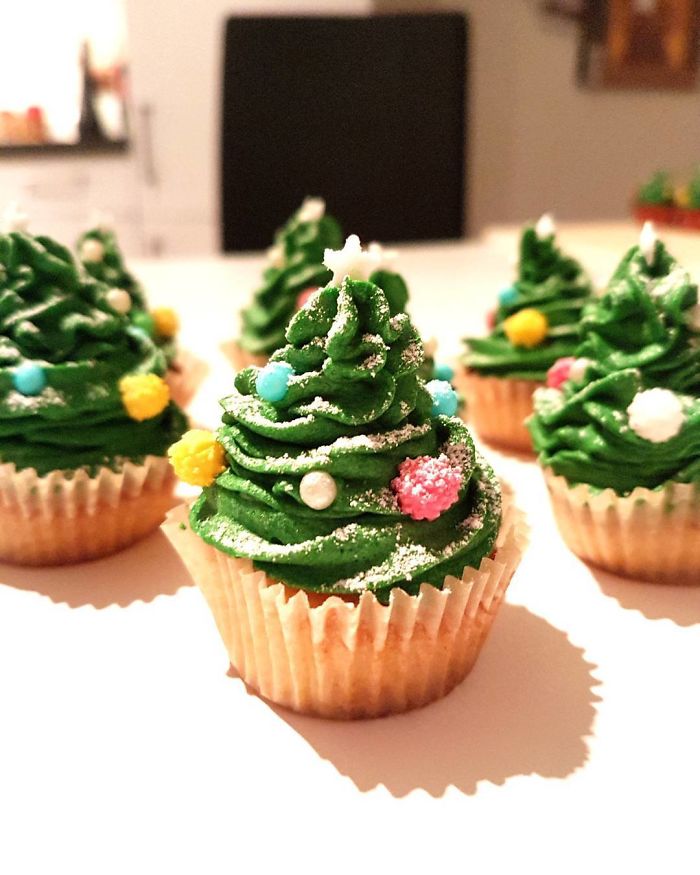 You can try using different colors of icing tubes to create a more festive look on your Tree Cupcakes. This will help to break up the monotony of all those white cupcakes sticking out from under the green and red flags of yarn.
Big red-nosed reindeer cupcake
There's nothing like a big, red-nosed reindeer cupcake for Christmas. These cupcakes will not only look creative but will as well taste delicious. You can add a big red rose to differentiate this cupcake from the rest of the cupcakes with a reindeer theme.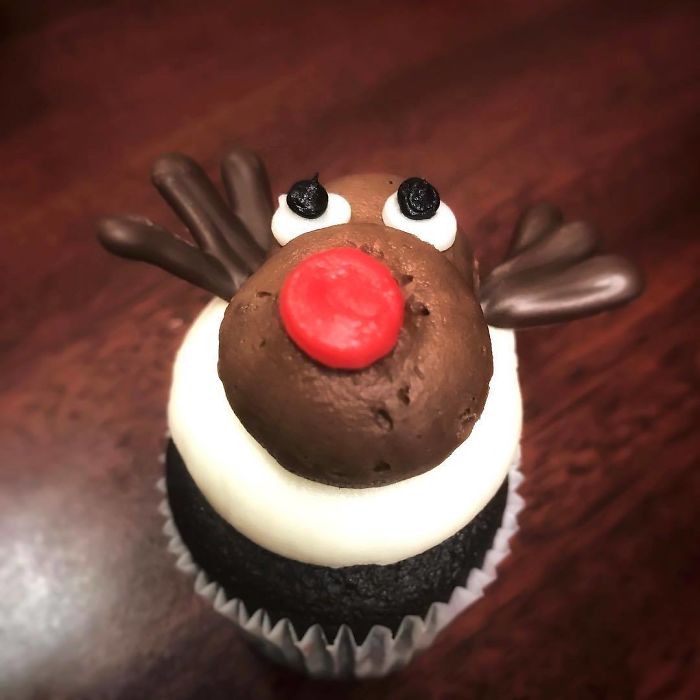 You can either use a red Skittle for the nose of the reindeer or go for a small cherry. Whatever you may choose, we assure you that this cupcake will be enough to impress everyone having it. You can use your ideas to make it look more unique.
Chubby penguin cupcakes
Nothing says "Merry Christmas" during this season like a few chubby penguin cupcakes. Not only are these cupcakes adorable, but they also taste fantastic. These cupcakes are so adorable that people may just use them as a Christmas decoration piece.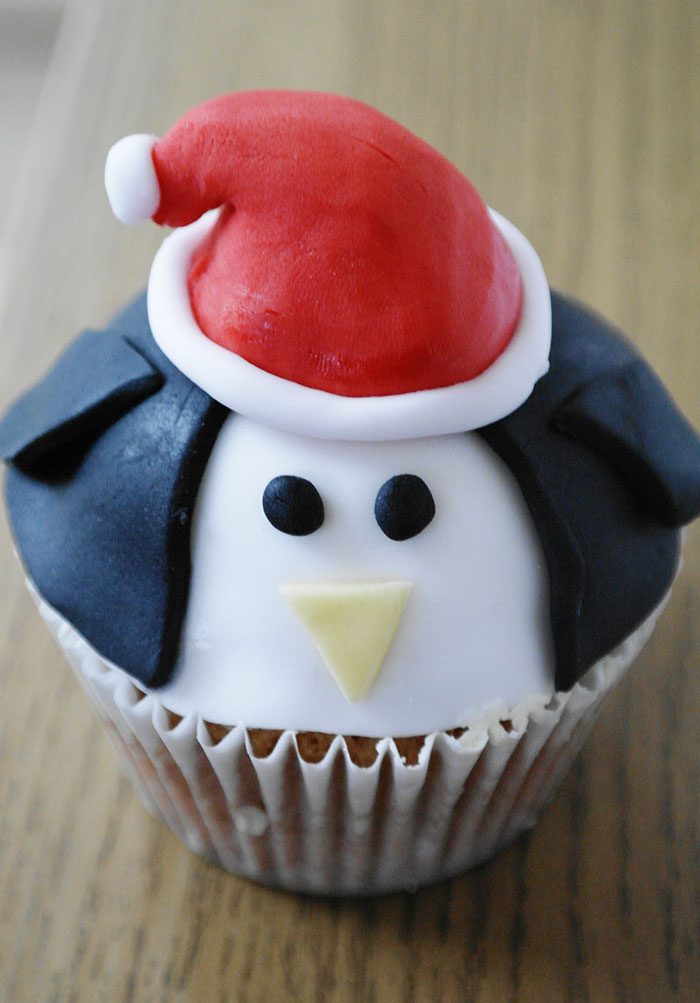 To make your penguin look like he's ready for the Christmas bash, you can add a red Xmas cap on the penguin. Everyone would appreciate this unique and creative cupcake idea. However, these cupcakes might require a little extra effort and time.
Red cap cupcake
You are not required to spend a lot on Christmas gifts this time, as you can get your loved ones some delicious homemade treats! One excellent option is to get them a red cap cupcake. Among numerous other options, this one is the most popular treat.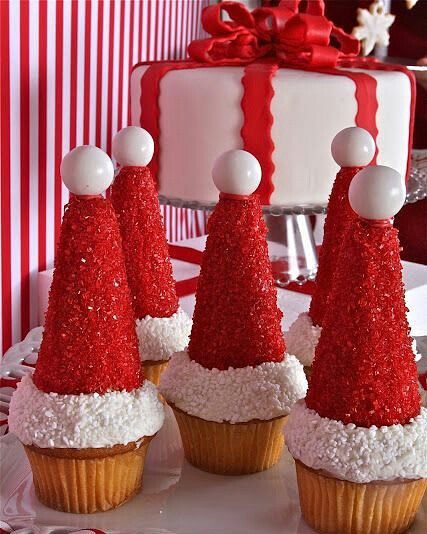 They're also quite simple to make, so whether you want to give them as a last-minute gift or keep them on hand for yourself, there's no reason not to try your hand at baking some red cap cupcakes this holiday season!